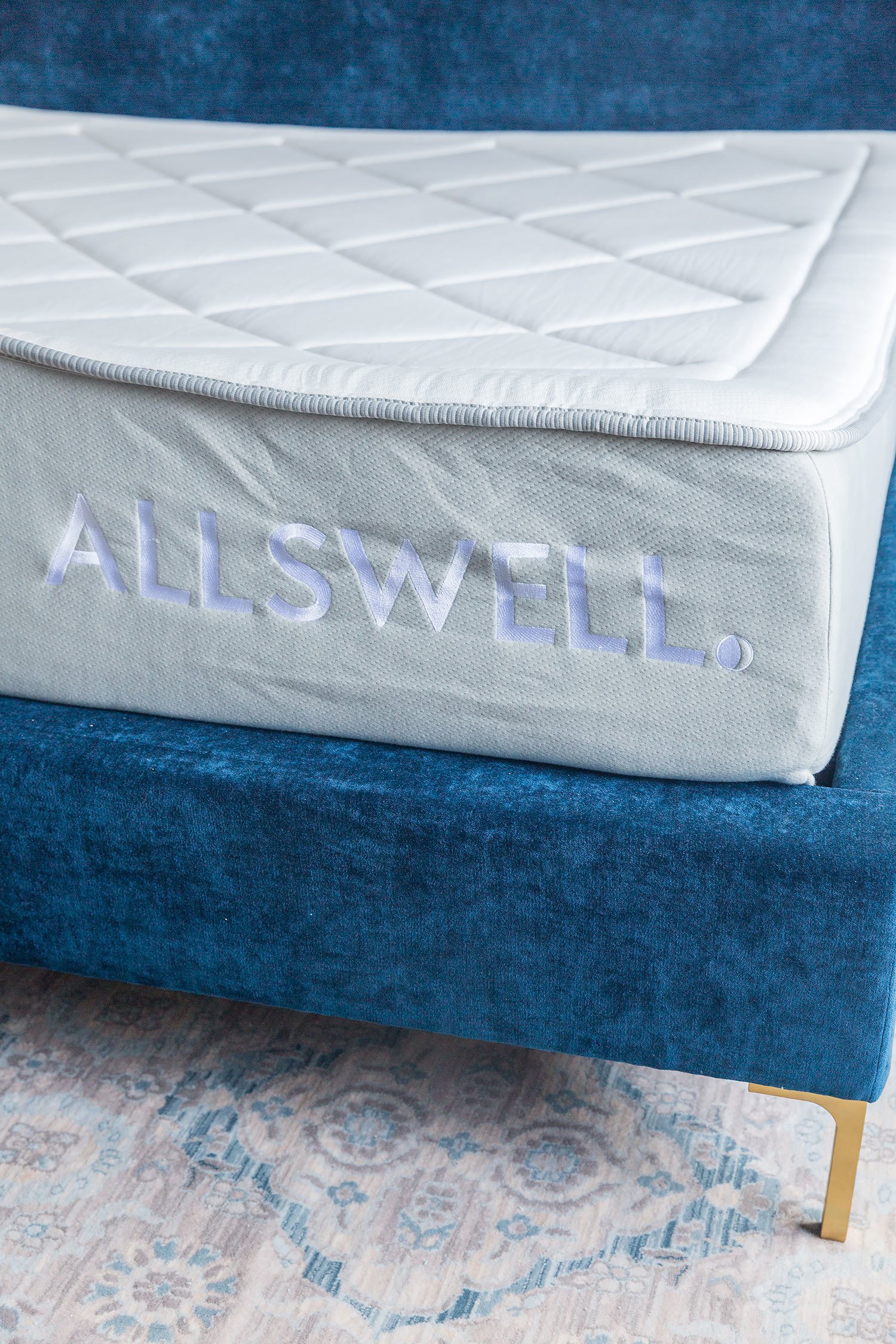 Allswell Mattress Review
I see ads plastered around the subway weekly at this point, advertising 'bed in a boxes'. So what made me consider Allswell?
Allswell is a design centric home brand, offering not only 2 different types of memory foam mattresses, but an array of stylish bedding as well.
They've mastered the 'bedroom aesthetic' by inviting home designers to curate entire bedroom solutions (sheets, pillows, shams, accessories) that are Instagram ready from the get go.
It's a nice all-in-one solution, especially if you're moving to a new place and don't want to wait months to settle in!
ADVERTISEMENT
---
---
Allswell Luxe Classic vs. Allswell Luxe Firmer
Allswell offers 3 mattresses:
They come in different heights, from 10 to 12 to 14 inches tall. All come with a built-in topper made from quilted performance memory foam.
They're heavenly soft to sink in to, without being so soft that you feel like you're smothered or stuck, and are made from natural ingredients without chemical deodorizers, mercury, lead or formaldehyde.
Allswell builds its mattresses to feel cool to the touch, which is great because memory foam mattresses can be quiet warm.
The Supreme option offers a more medium-firm feel thanks to coils underneath the memory foam. Allswell generously offered us the Allswell Luxe to try out.
Btw – you can get 20% off all Allswell bedding with code SHERSHEGOES!
ADVERTISEMENT
---
---
Allswell on Sale
The best part about Allswell, when compared to competitor bed-in-the-box companies, is how attractive the price point is.
Their Classic mattress starts at just $495 and comes with free shipping!
We went with a King (which Allswell calls a 'supreme queen') which retails for $1,035. The brand frequently has promotions and sales, so for example right now the Allswell King is just $745.
That's an insanely good deal!
So I wondered… what's the catch?
ADVERTISEMENT
---
---
I can't seem to find one.
Allswell was launched by Walmart in February 2018, so the heavyweight retailer likely helps them offer more, for less.
Each mattress comes with a 100 night free trial period – and even better- a 10 year warranty.
Allswell also offers white glove delivery for $99 as well as optional removal of your existing mattress. If you do ask Allswell to remove your mattress, note that you waive your right to the free trial.
I don't think that's necessarily a bad thing. Mattress removal is no joke and in New York, you can't just dump your mattress on the sidewalk.
If a company can take yours away, then I would opt for that over the expense and hassle of doing it myself.
ADVERTISEMENT
---
---
Our Mattress
We didn't spring for white glove delivery, but maybe we should have!
The compact delivery box weighed a ton and between the two of us, we couldn't even lift it. In the end, we pushed, pulled and flipped it to haul the package up the stairs, ha.
It definitely helps to have 2 people to help set up.
After opening the box and unrolling the vacuum packed mattress on our bed frame, we found one last nice design surprise in the box. Allswell packs each delivery with a handy pouch containing a thank you card, some instructions, a pretty eye mask and a letter opener.
With the envelope-style letter opener, you don't have to worry about accidentally slicing the mattress as you would with scissors. Once the plastic was cut open, it immediately started inflating.
I did notice a noticeable smell with the Allswell mattress, so I would recommend well ventilating the room. I believe the gas-like smell is due to the way the foam is made and how long it's left in the package.
After a couple days, we didn't notice the smell any longer.
ADVERTISEMENT
---
---
Overall, the mattress was quite comfortable to sleep on, especially if you're a back or side sleeper.
With the roomy nature of the Supreme Queen size, neither of us felt the other fidget or shift at all. In fact, we didn't even notice when someone got out of bed!
Ultimately, Allswell is a fantastic bed in the box option if you want a luxe mattress at an affordable price. You can also take advantage of their curated Bedscapes for a stylishly designed bedroom, without the need for an interior designer!
Get 20% off all Allswell bedding with code SHERSHEGOES!
ADVERTISEMENT
---
---
Small Space Living
Living in a New York City apartment means space is a premium! Over the years, we've learned to ruthlessly purge our closets, adapt the Konmari method and max out every inch of space. Despite the challenges, we love interior design, NYC real estate and wouldn't trade living here for anywhere else. Follow along on our small space living adventure!
You Might Also Enjoy:
Small Space Living
25+ Small Apartment Hacks to Transform Your Space
The Best Makeup Storage Ideas When Space is Tight
Aerogarden Harvest Review: Growing Plants Indoors is Now Doable!
How to Dress a Bed as Luxuriously as a 5 Star Hotel
Small Apartment Entryways: 4 Decorating Ideas
Storage Hack: Saving Space When You Don't Have a Pantry
Home Decor
The Best Affordable Wall Art - from Amazon!
Crazy Real Faux Plants (for Black Thumbs)
The Best Smelling Candles to Create a Sense of Hygge
Amazon Home Finds: Stone & Beam
Our NYC Renovation
Renovating a Kitchen in NYC: Tips, Tricks & Cost
Everything We Learned About Renovating Our NYC Kitchen (Video)
How to Remodel a Small Kitchen for Maximum Storage
Home Appliances
The Best Compact Appliances for a Tiny Kitchen (Video)
The Best Compact Washer Dryers for Small Apartments
How We Installed a Washer & Dryer... in the Kitchen!
Home Tech
The Best Vacuums Under $100
How to Build Your Own Sunrise Alarm Click Using Smart Bulbs
Are Standing Desks Worth the Hype? Testing the BDI Sit/Stand Desk
Robot Vacuum Review: The Roborock S5 (an affordable roomba alternative)
Roborock vs. Roomba: Which Smart Vacuum is Best?
Home Security Systems: How to Protect Your Home on Vacation
Furniture
All the Best Furniture Stores in New York City
Article Modern Furniture Review
Gardening
The Best Raised Garden Beds on Wheels
Aerogarden Harvest Review: Does This Really Work?
How to Clean & Sanitize the Aerogarden for a New Planting
How to Setup the Aerogarden Farm XL (grow bigger plants!)
Follow me @Sher She Goes on