Thank you Amazon for sponsoring this post. To save time and energy, pick out your Amazon Dash Buttons now!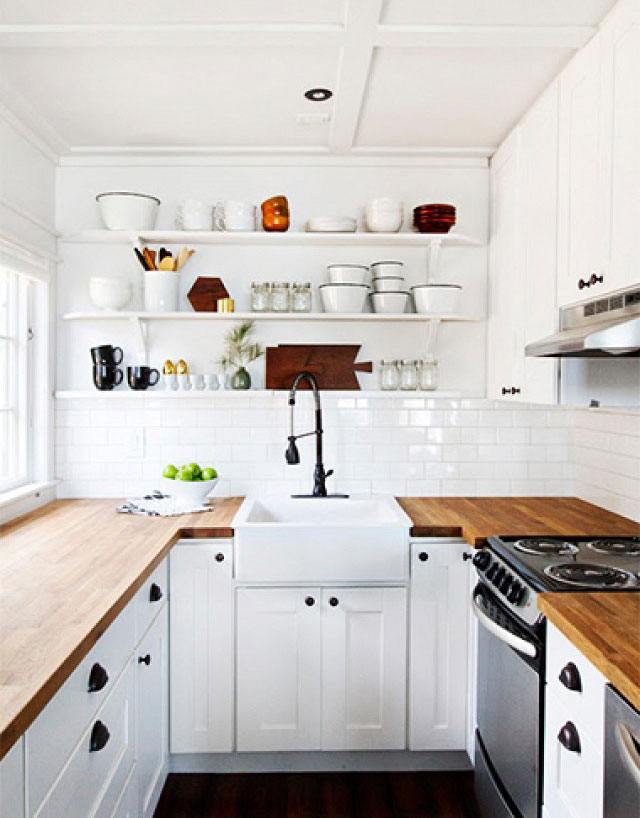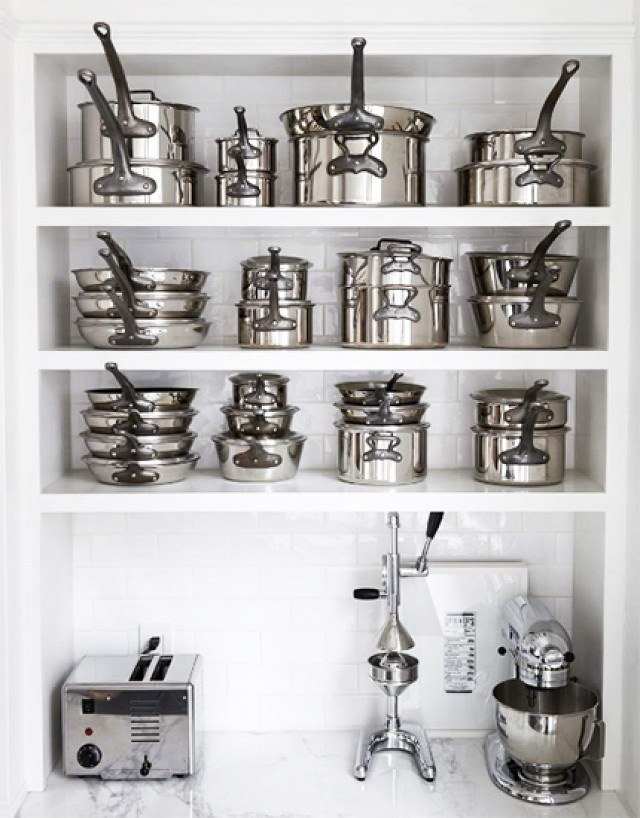 Small Kitchen Storage Hack
They say the kitchen is the lifeblood of a home but what do you do when your kitchen is 3 feet long and can barely fit 2 people?
Living in New York City, space is at a huge premium and my galley kitchen is incredibly tiny! It's really only got enough room for the appliances and I'm always scrabbling for counter space.
ADVERTISEMENT
We are fortunate to have a washer and dryer in the apartment… but it's in the kitchen base cabinets so I don't have much storage for actual groceries or even basic necessities like paper towels, detergent, cleaning supplies, etc.
For a while, I was cramming everything (pantry items, cleaning supplies, bathroom supplies and laundry supplies in my one hall closet… along with my shoes, coats, brooms etc.
It was one jumbled mess and probably not very sanitary. I recently discovered Amazon Dash Buttons and they have been a game changer for small space living!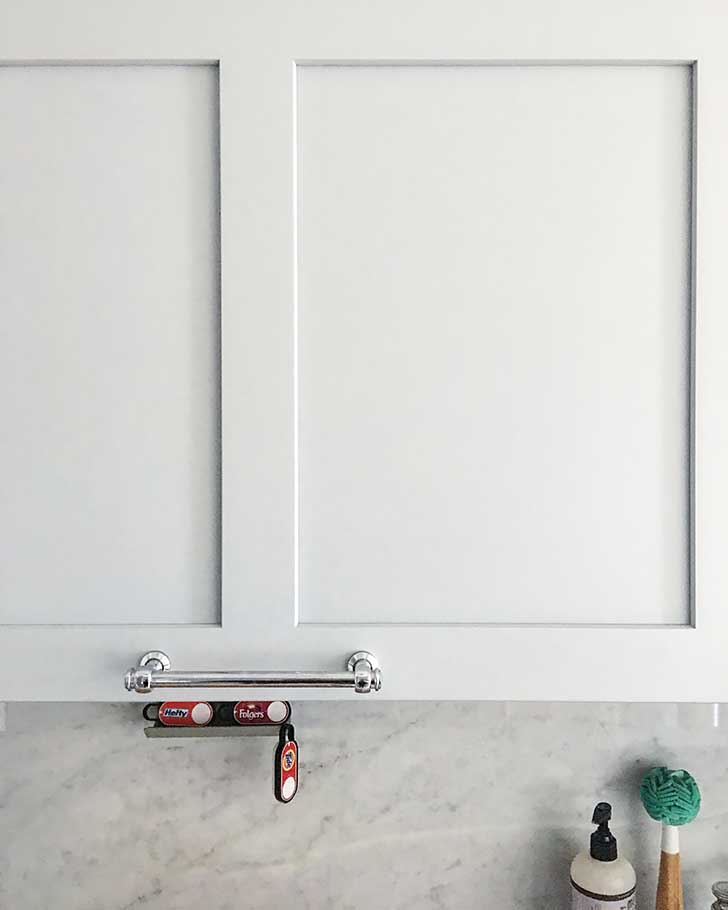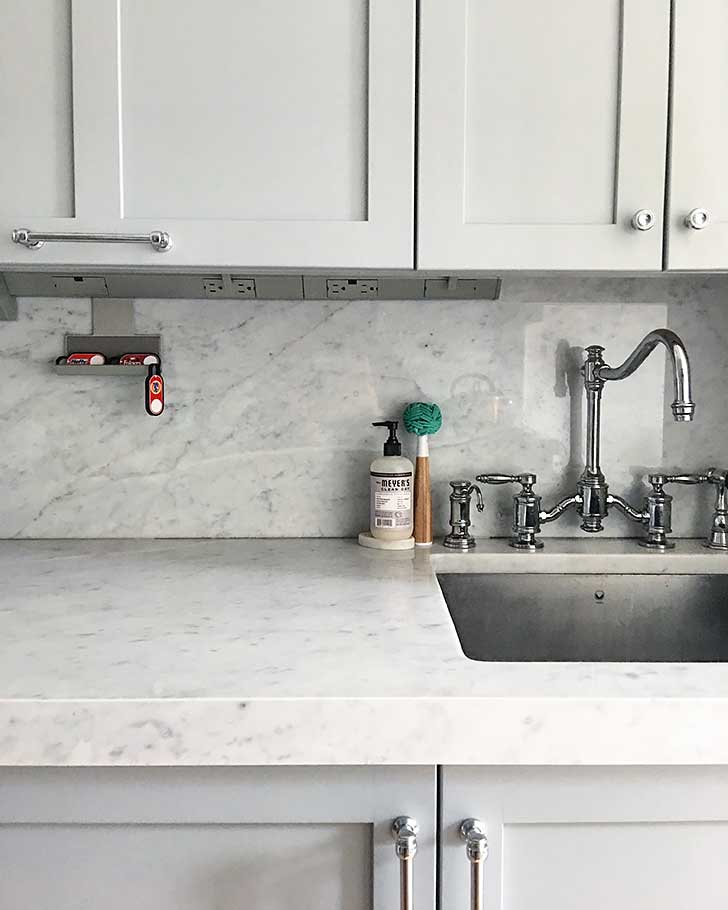 What Are Amazon Dash Buttons
Amazon Dash Buttons are WiFi connected devices for grocery, beverage and common household essentials.
Each button is paired with a specific product (there are over 250 Amazon Dash Buttons to choose from) and when you're low on supplies, you just press your button and it will reorder the item through your Amazon account.
ADVERTISEMENT
---
---
Brands that have an Amazon Dash Button:
A lot of brands participate in Amazon Dash's program. Some of the more common household brands include:
Bounty
Tide
Charmin
Puff's
Glad
Clorox
Cascade
Gatorade
Maxwell House
smartwater
Izze
Larabar
Olay
Gillette
Goldfish Crackers
Colgate
Playtex
L'Oreal
Gerber
Wellness
Finish
Optimum Nutrition
Greenies
Hefty
Ziploc
Ice Breakers
Digestive Advantage
Mrs. Meyers
… and more are constantly being added!
ADVERTISEMENT
---
---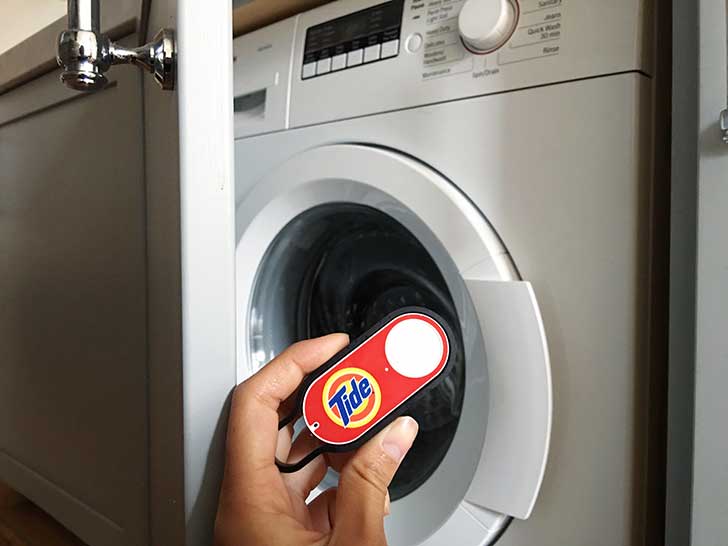 To use, you need an Amazon prime account (you can sign up for a 30-day free Prime trial here – items ship free). Anytime I notice I'm low, I press the Amazon Dash Button and the item arrives right to my doorstep.
I have buttons for my coffee grounds, laundry detergent and paper towels – things I am always running out of and tend to buy in bulk, but are heavy and space-consuming to store.
Every time an order is placed, you'll see a notification in your Amazon account. The buttons respond only on the first press so until the order has shipped and arrived, accidental additional presses won't result in more orders.
ADVERTISEMENT
---
---
Have you tried Amazon Dash Buttons? How do you manage your storage?
Small Space Living
Living in a New York City apartment means space is a premium! Over the years, we've learned to ruthlessly purge our closets, adapt the Konmari method and max out every inch of space. Despite the challenges, we love interior design, NYC real estate and wouldn't trade living here for anywhere else. Follow along on our small space living adventure!
You Might Also Enjoy:
Small Space Living
25+ Small Apartment Hacks to Transform Your Space
The Best Makeup Storage Ideas When Space is Tight
Aerogarden Harvest Review: Growing Plants Indoors is Now Doable!
How to Dress a Bed as Luxuriously as a 5 Star Hotel
Small Apartment Entryways: 4 Decorating Ideas
Storage Hack: Saving Space When You Don't Have a Pantry
Home Decor
The Best Affordable Wall Art - from Amazon!
Crazy Real Faux Plants (for Black Thumbs)
The Best Smelling Candles to Create a Sense of Hygge
Amazon Home Finds: Stone & Beam
Our NYC Renovation
Renovating a Kitchen in NYC: Tips, Tricks & Cost
Everything We Learned About Renovating Our NYC Kitchen (Video)
How to Remodel a Small Kitchen for Maximum Storage
Home Appliances
The Best Compact Appliances for a Tiny Kitchen (Video)
The Best Compact Washer Dryers for Small Apartments
How We Installed a Washer & Dryer... in the Kitchen!
Home Tech
The Best Vacuums Under $100
How to Build Your Own Sunrise Alarm Click Using Smart Bulbs
Are Standing Desks Worth the Hype? Testing the BDI Sit/Stand Desk
Robot Vacuum Review: The Roborock S5 (an affordable roomba alternative)
Roborock vs. Roomba: Which Smart Vacuum is Best?
Home Security Systems: How to Protect Your Home on Vacation
Furniture
All the Best Furniture Stores in New York City
Article Modern Furniture Review
Gardening
The Best Raised Garden Beds on Wheels
Aerogarden Harvest Review: Does This Really Work?
How to Clean & Sanitize the Aerogarden for a New Planting
How to Setup the Aerogarden Farm XL (grow bigger plants!)
Follow me @Sher She Goes on