In collaboration with Article Furniture.
Happy Labor Day weekend!
I'm typing this post out on my new sectional and oooh it couldn't be more comfy :) I'm so excited to share some photos of our new living and dining rooms! The space was empty for a bit as we were traveling and hadn't had time to pick out furniture.
We ended up getting a majority of the bigger items from an online furniture company called Article. Have you heard of the brand? They're an online only, direct to consumer furniture brand that's disrupting the market. Think the Casper of the furniture industry.
This is the first time we've ordered from Article so I wanted to write up a review of the experience, from start to finish. I've got lots of pictures of the new spaces as well!
Keep reading for our Article furniture review.
Or jump to
ADVERTISEMENT
What We Were Looking For
A couple years ago when I bought my first couch, I went for a deep blue velvet. I thought it was bold, different and dramatic. I still love that couch and even got a second blue velvet couch in our new place!
This time, I wanted a light colored couch. White couches get a bad rap for being difficult to maintain, but there's nothing like a white couch to brighten a dark room or bring in light to a space. Since we have blue couches in our family room, it was going to be white for the living room!
After browsing furniture online everywhere, I came across Article.
Keep reading or save this article for later ⇟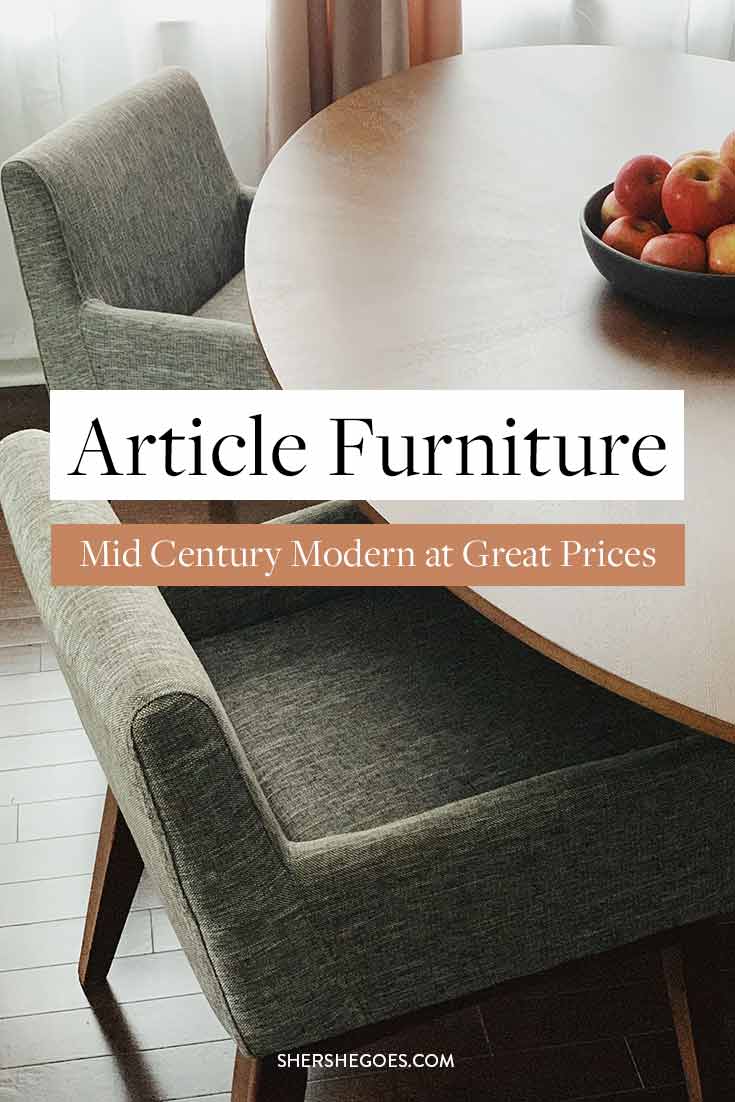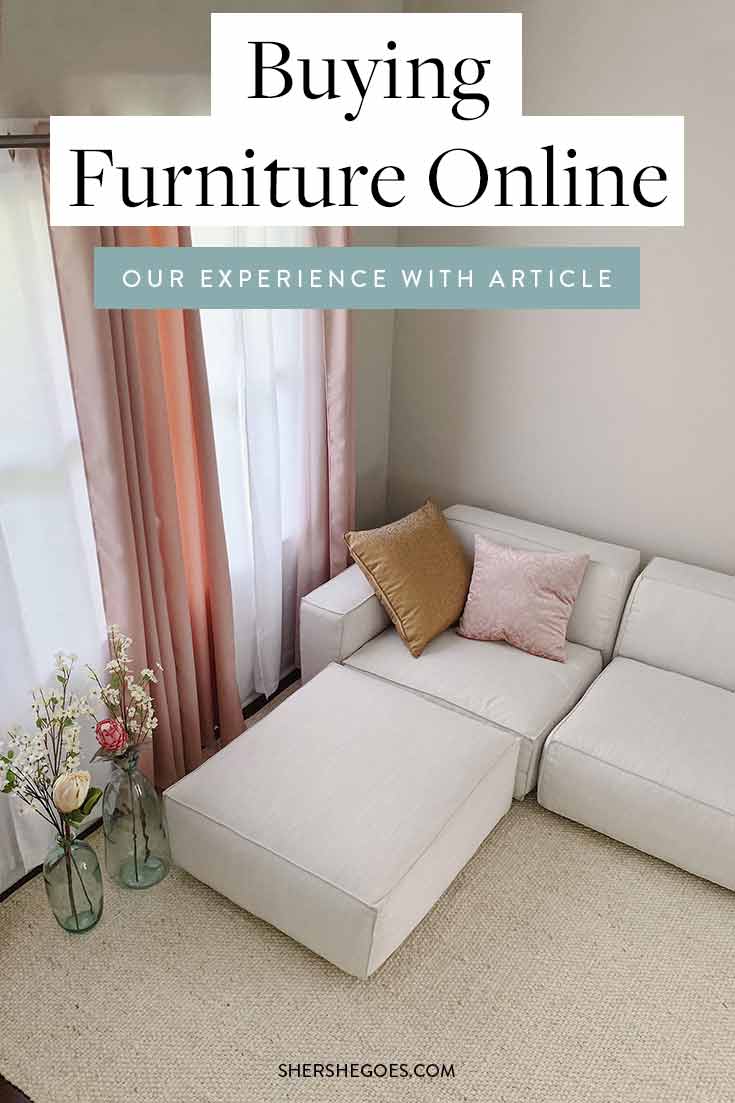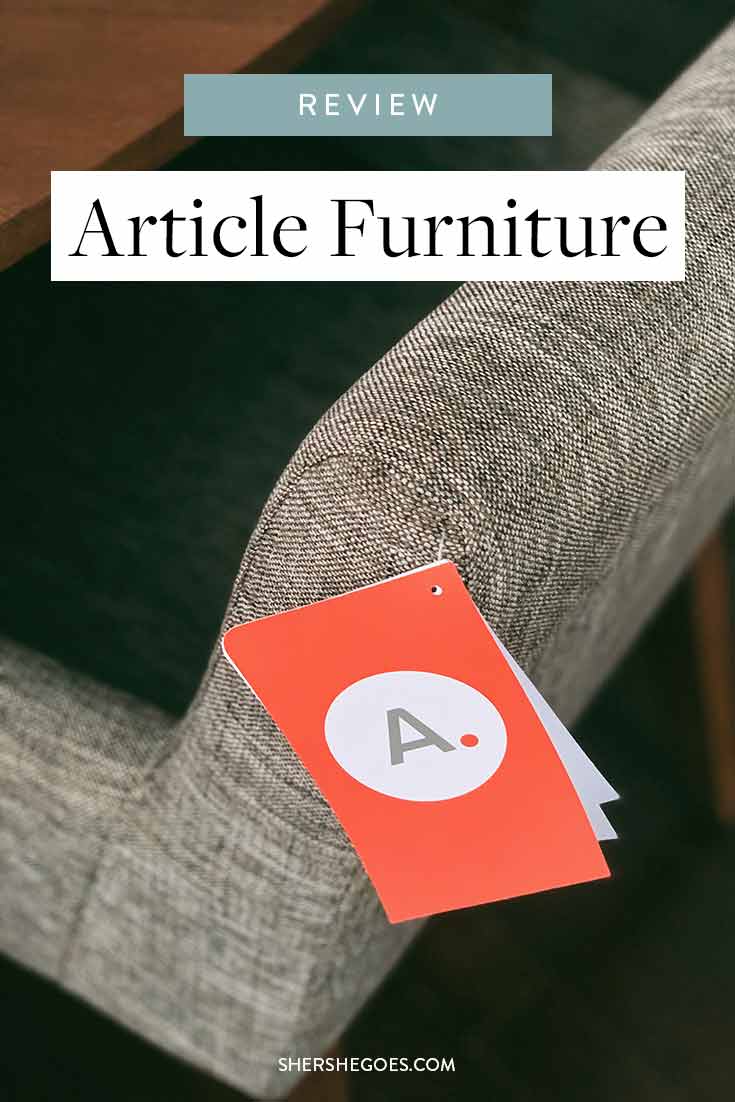 ADVERTISEMENT
---
---
Article Furniture
The direct to consumer furniture brand makes modern furniture at wallet-friendly prices. They have a huge selection of couches and chairs and are slowly expanding into bedroom, decor and outdoor furniture.
What I liked in particular was how simple the couches looked. Article specializes in modern mid century design. Many of the sofas are modular, which is perfect if you like to change up your space every so often or need to re-configure a room for guests or entertaining.
What Article doesn't have is showrooms. They're available to US and Canadian consumers and entirely online – from order to customer service to shipment.
If it was the first couch I was buying, I think I would have been more nervous. There's a saying that you really need to sit on a couch to know if it's right for you.
ADVERTISEMENT
---
---
While you can't try Article sofas at a showroom, what I do recommend is going to lots of furniture stores and sitting on all kinds of sofas to figure out the style you like.
Some people love curling up on a deep couch… others hate how deep couches require pillows for your feet to hit the ground.
Some people like low couches that are right on the ground, others prefer legs for easy cleaning underneath.
Look closely at fabrics (velvet is luxurious but can wear more easily than a performance fabric; leather is very comfortable but needs maintenance) and get a feel for the style you like.
Some people feel comfortable enough on a 3-seater, while others want to stretch out and might prefer a sectional.
Once you have a solid idea of what you want, ordering online is a breeze.
ADVERTISEMENT
---
---
Modern Furniture
Article's website is really easy to browse. You can filter by product type, color, material, price and stock.
Each of the product pages have measurements (which is key when you live in a small space) and the customer images in particular really helped us to envision the furniture in our space.
I had my eye on a light colored sectional, and Article had a couple to choose from. Before pulling the trigger, I took a measuring tape and taped out what each item would look like on the floor to make sure everything would fit.
Another great aspect of Article? Inventory!
ADVERTISEMENT
---
---
Let me explain.
Most big box retailers don't carry large furniture items in stock. They wait for someone to purchase, then fulfill the order, so it's not uncommon to wait months for your sofa or large furniture item to arrive. Add on even more time if you spring for a custom fabric.
That's a huge pain, especially when you're excited to get your space furnished right away.
I really appreciated how Article displays availability right on each product page. If you put your zip code, it literally gives you a date that you can expect to receive your shipment! All of our items arrived within 12 days.
Still, anytime you're buying a big-ticket item, pulling the trigger can be hard. Luckily, Article offers a 30 day full refund so you can try out their furniture risk free. If you're on the fence, make sure to keep all the packaging for the return (otherwise a repackaging fee of $50 applies).
The Article Pieces We Chose
In the end, we went for the Solae White Modular Sofa with Ottoman, the 9 x 12 Ivory Rug, the Conan Oval Dining Table and Chanel Dining Chairs.
ADVERTISEMENT
---
---
Delivery
Like most furniture companies, Article has a couple different shipping options.
If your order is over $999, the $49 basic shipping charge is waived. With basic shipping, the delivery team will drop off the items to your front door.
There's also in-room shipping which costs $99 and includes extra convenience. The delivery men will take each box to the room of your choice and set everything up for you.
We went with in-room shipping and got a tracking number with our shipping date right away. On the day of, Article's delivery truck pulled up and the team efficiently unpacked everything! If you have a home, basic shipping might be fine. But if you have a walk up, apartment or want extra convenience, I'd suggest the in-room shipping option.
The Solae sofa we picked is modular, so each piece of the sectional came in its own box with connecting bands to hook them together. The dining table also required some small assembly.
The in-room shipping option is equivalent to 'white glove shipping' options from other companies. Our delivery guys set everything up in record speed and were very friendly. They even broke down and took away all the shipping boxes!
ADVERTISEMENT
---
---
Article Furniture Review
We've had our Article furniture for a couple weeks now. While it's too early for extensive wear and tear, so far we love everything.
Solae Sofa Review
The sofa is firm, but not too firm. It's comfortable enough to sit on for hours while working or just hanging out and the modular configuration is genius.
When it's just us, we use the ottoman to make the sofa an 'L' shape so we can fully relax. But if we have guests over, we can separate the ottoman for extra seating or as a makeshift coffee table to hold snacks.
I'm also a huge fan of the low back profile. It makes the sofa look sleek and modern and also helps accentuate our ceilings to make the room look taller.
The Solae comes in a couple different colors and we opted for the lightest shade. It's a performance weave fabric that certainly feels sturdy and durable, but I would recommend being careful with food, dark drinks and rowdy kids. Since the couch is one piece (the seat cushions are not removable or reversible), you wouldn't want to spill anything on it.
ADVERTISEMENT
---
---
Texa Rug Review
It's surprisingly difficult to find affordable solid colored area rugs, so when I saw that Article carried a 9 x 12 ivory option that's made from wool and under $1,000 – I jumped on it.
The rug is really, really soft. From far away it looks like a normal rug but when you get up close you can see the hand woven looped fibers. It looks a bit like the white knit sweaters I wear on repeat in winter :)
I expected it to feel thin, but the fibers are really soft and it's a dream to walk on. I think the Ivory Vanilla color gives a nice organic, earthy look to our dark floors and pairs well with the Solae, even though they're not the same shade of white. Together, the living room is exactly how we envisioned! Comfy, but clean and calming.
The one thing I wish the Ivory Rug had was a backing. The rug tends to slip and move quite a bit, so it really needs a carpet pad. If you're setting up all the furniture yourself, you'll want to completely pull the rug into place before placing any furniture on it, to avoid more sliding.
ADVERTISEMENT
---
---
Chanel Dining Chair Review
The Chanel dining chairs are quite firm and also have a low back. It was a slight adjustment at first, since we're used to dining chairs with a taller back.
But again, we went with these because we liked the sleek, modern look and they're quite plush. I have a bad habit of pulling my legs up to sit cross legged and the Chanel chairs are roomy enough to do that, which is nice :)
The legs match the Conan dining table and I like the contrast between the fabric seat and wooden legs even more in person! You can also reverse the seat.
ADVERTISEMENT
---
---
Conan Dining Table Review
We debated between the oval and circular Conan dining tables and opted for the oval in the end.
The Conan looks much more expensive than it is and the subtle starburst pattern on the top is stunning. Add a bowl of fruit or a pretty vase and you have a statement table!
Best of all, the table top is a generous amount of space for 4 people. If we were to have people over, we would more than comfortably have 6 chairs and perhaps even seat 8 – it's that big!
The one thing I would suggest is to treat the tabletop carefully and use coasters for drinks.
ADVERTISEMENT
---
---
Overall, we're quite happy with the quality of furniture for the price point. If you're looking for mid century style at an affordable price, Article is a great option.
Thank you to Article for sponsoring this post!
Small Space Living
Living in a New York City apartment means space is a premium! Over the years, we've learned to ruthlessly purge our closets, adapt the Konmari method and max out every inch of space. Despite the challenges, we love interior design, NYC real estate and wouldn't trade living here for anywhere else. Follow along on our small space living adventure!
You Might Also Enjoy:
Small Space Living
25+ Small Apartment Hacks to Transform Your Space
The Best Makeup Storage Ideas When Space is Tight
Aerogarden Harvest Review: Growing Plants Indoors is Now Doable!
How to Dress a Bed as Luxuriously as a 5 Star Hotel
Small Apartment Entryways: 4 Decorating Ideas
Storage Hack: Saving Space When You Don't Have a Pantry
Home Decor
The Best Affordable Wall Art - from Amazon!
Crazy Real Faux Plants (for Black Thumbs)
The Best Smelling Candles to Create a Sense of Hygge
Amazon Home Finds: Stone & Beam
Our NYC Renovation
Renovating a Kitchen in NYC: Tips, Tricks & Cost
Everything We Learned About Renovating Our NYC Kitchen (Video)
How to Remodel a Small Kitchen for Maximum Storage
Home Appliances
The Best Compact Appliances for a Tiny Kitchen (Video)
The Best Compact Washer Dryers for Small Apartments
How We Installed a Washer & Dryer... in the Kitchen!
Home Tech
The Best Vacuums Under $100
How to Build Your Own Sunrise Alarm Click Using Smart Bulbs
Are Standing Desks Worth the Hype? Testing the BDI Sit/Stand Desk
Robot Vacuum Review: The Roborock S5 (an affordable roomba alternative)
Roborock vs. Roomba: Which Smart Vacuum is Best?
Home Security Systems: How to Protect Your Home on Vacation
Furniture
All the Best Furniture Stores in New York City
Article Modern Furniture Review
Gardening
The Best Raised Garden Beds on Wheels
Aerogarden Harvest Review: Does This Really Work?
How to Clean & Sanitize the Aerogarden for a New Planting
How to Setup the Aerogarden Farm XL (grow bigger plants!)
Follow me @Sher She Goes on