Thank you to Blink for Home for sponsoring this post.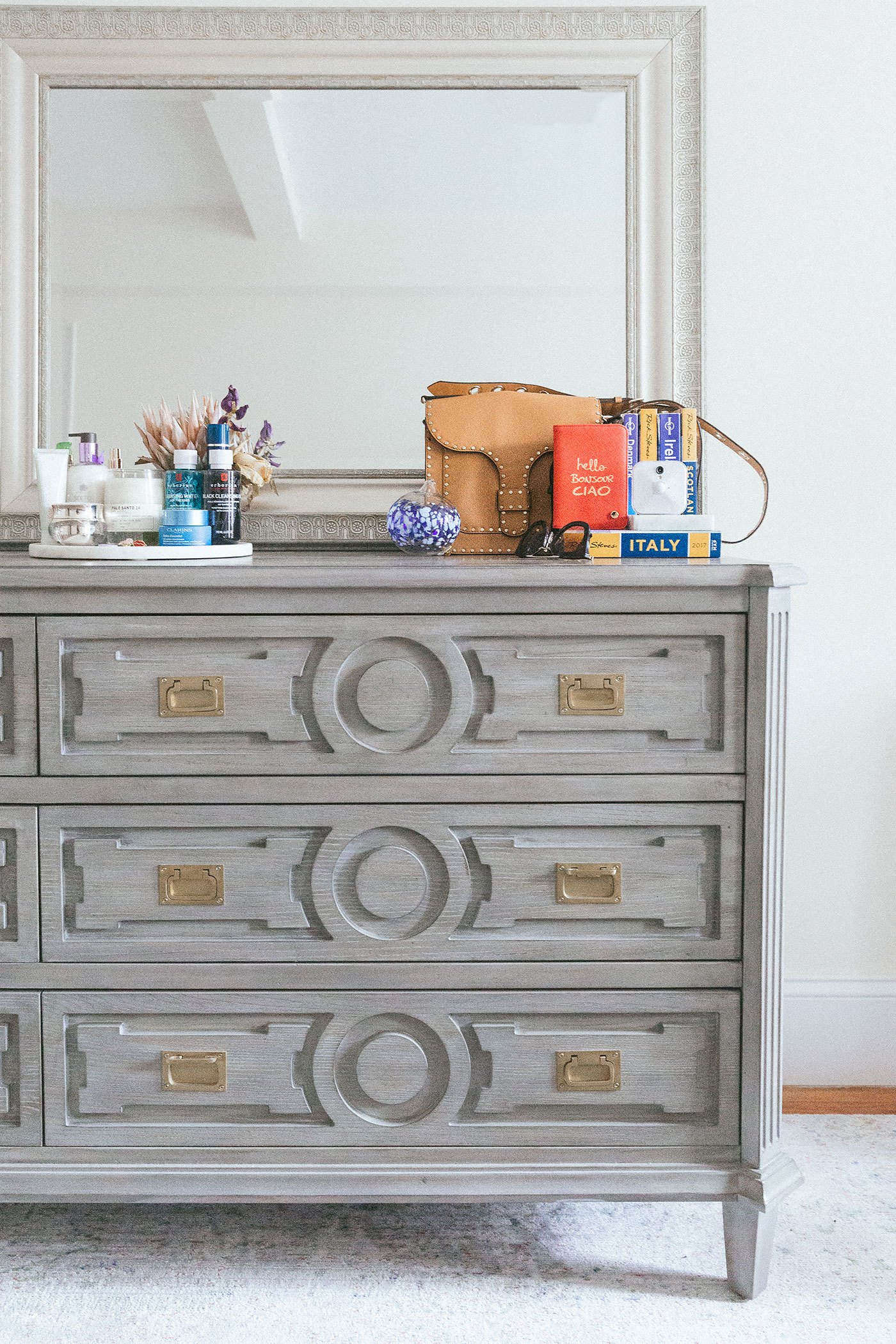 Blink Home
As I travel more often and am away from home, I've started thinking about home security for my apartment.
Nothing fancy, just a simple video monitoring service and hopefully something unobtrusive and easy to set up. So when Blink For Home wanted to partner together, I figured it was the push I needed to finally set up some home security cameras and get to it!
I've been using Blink for about a month and half now and wanted to share my experience.
ADVERTISEMENT
About Blink
Blink is a relatively new company in the wireless home security space.
They have such an interesting backstory, as they originally launched on Kickstarter in 2014. I guess I'm not the only one who wants an easy to set-up, affordable home security system because Blink's Kickstarter was one of the most successful launches in that year.
They released their first product in 2016, an indoor HD camera and this year, released an outdoor weatherproof HD camera. As of 2019, you can use any of their cameras indoors and outdoors!
ADVERTISEMENT
---
---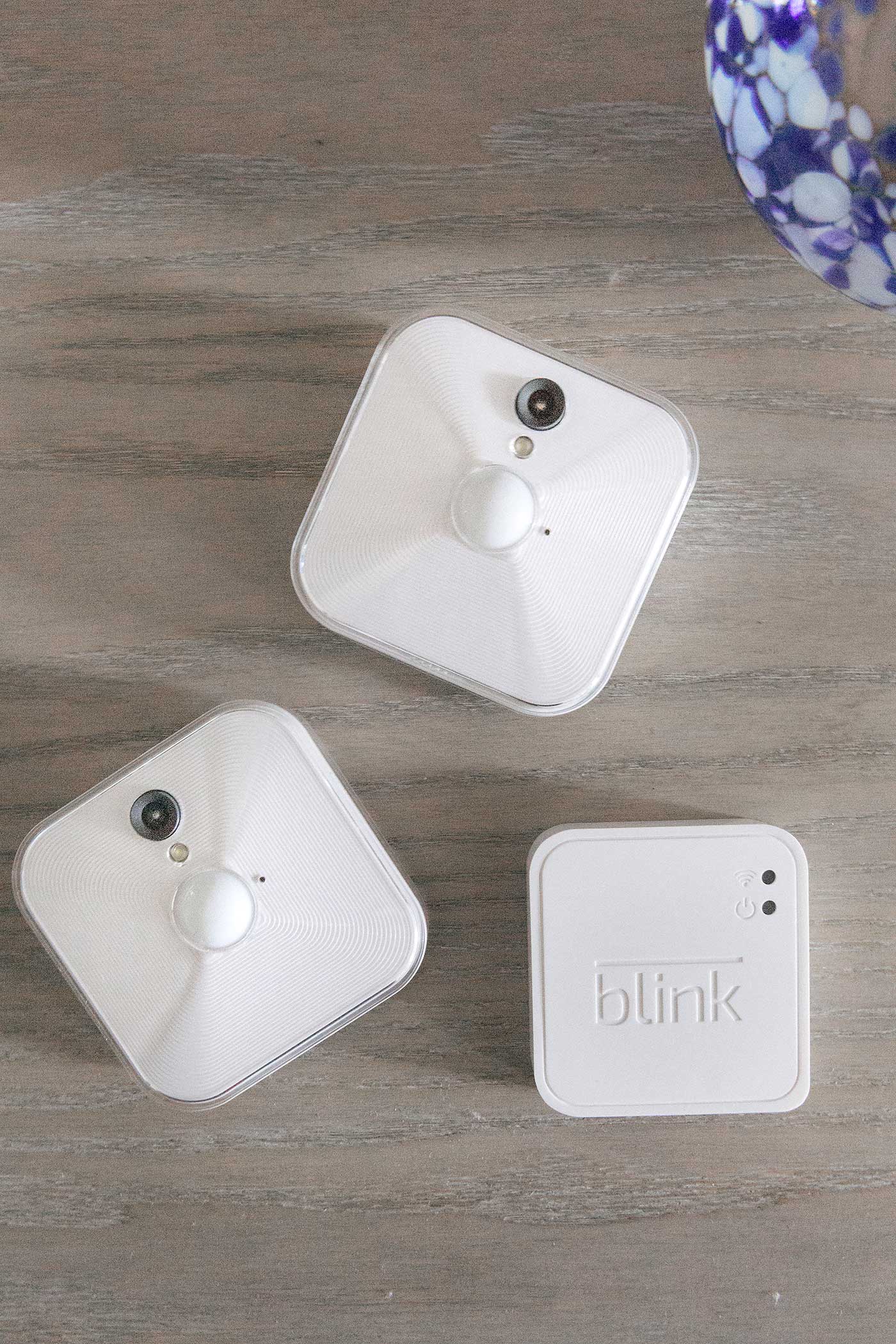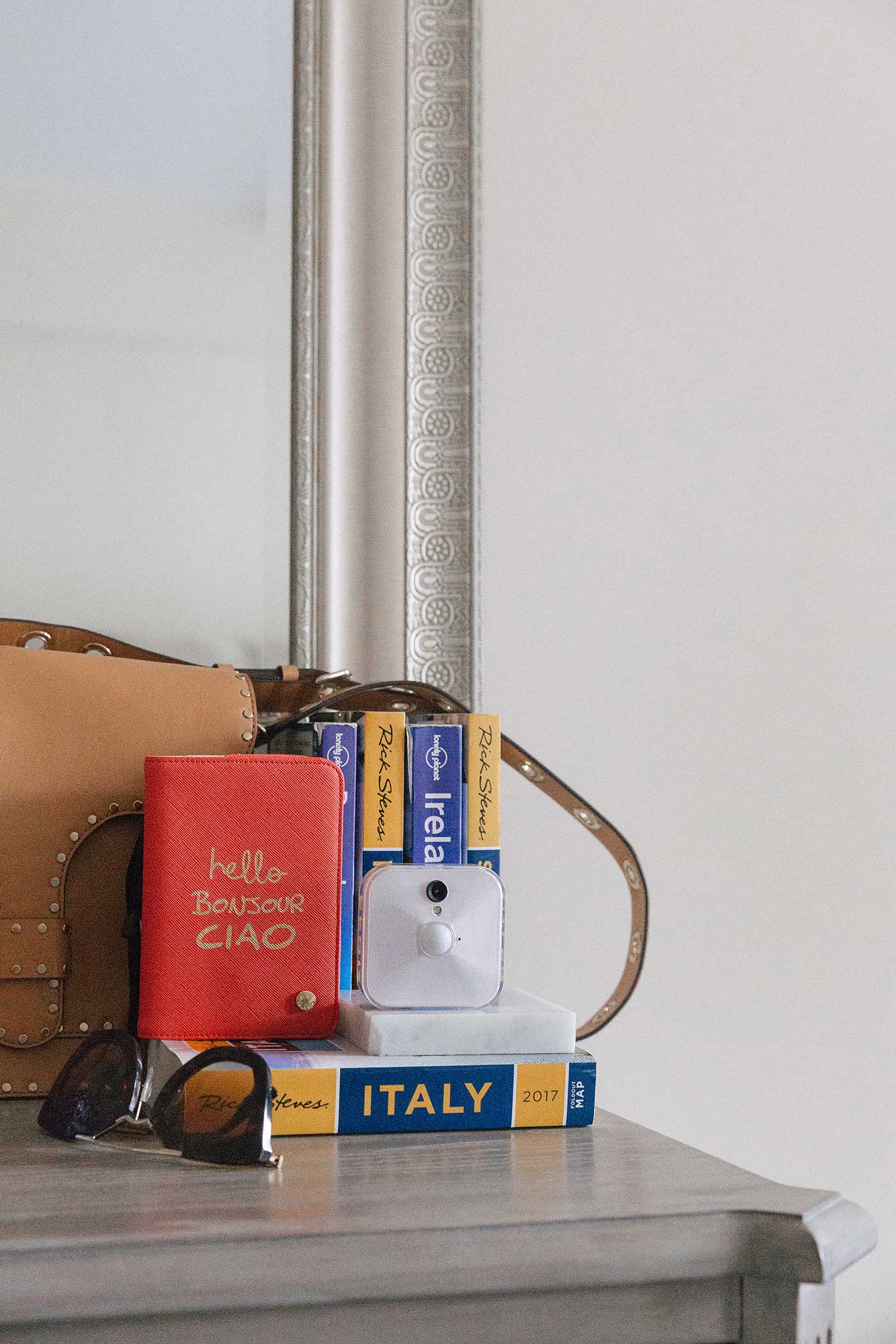 How Blink Home Works:
Blink offers a wireless security camera system. Essentially, you purchase the cameras and a sync module and set up each camera in every room you want to track. The cameras themselves are designed to be tiny, unobtrusive and inexpensive.
Each camera features a modern, minimalist design and I like that they protect your home while also looking stylish! Blink sells one camera systems for $99 and additional cameras for ~$90. You can check out all their products here.
The camera comes with a sync module that hooks to your local WiFi and acts as a communication hub between all of your Blink cameras. You can sync up to 10 cameras together to each sync module as part of the home security system.
Because I live in a small NYC apartment, I picked up two indoor cameras, one for my living room and one for my bedroom.
What really sold me on Blink is how affordable they are – their cameras are a fraction of the cost of other home security systems and there are no subscription fees or data storage charges so it's a flat cost.
It feel like every company is trying to switch to a subscription model with monthly fees, so I'm happy to see that Blink isn't.
ADVERTISEMENT
---
---
How to Install the Home Security System
Sometimes I leave products in their boxes for months because I just don't want to deal with installation. Luckily, setting up Blink Home was super easy.
I scanned the QR code on the product, downloaded the Blink for home app and essentially the system set itself up!
As I mentioned, I picked up a Blink 2 camera system. The cameras can be placed anywhere and don't have wires or cords. This is the best part of the design, in my opinion. You can place the cameras on a shelf, attach them to wall or mount them higher up, even on the ceiling!
If you have a bigger home (we live in a small apartment), you might prefer the 3 camera kit or 5 camera kit.
ADVERTISEMENT
---
---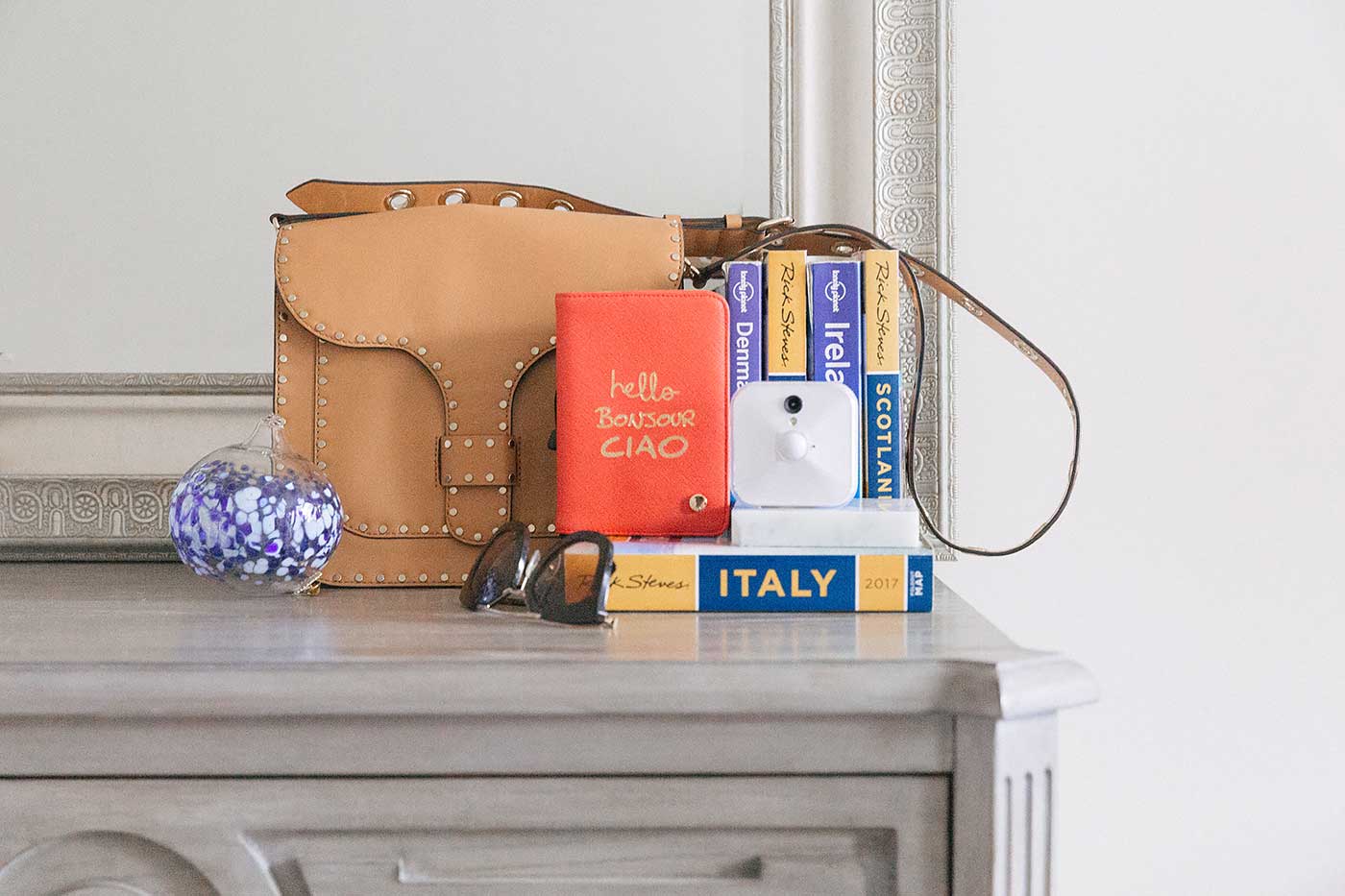 Blink Home Security Features
Each Blink camera shoots 720p video and features a microphone, temperature sensor and adjustable LED lamp, which will illuminate the room at night if the motion sensor is tripped.
The best part?
Blink cameras are battery powered and just two AA batteries can power Blink for two years! Wish my computer mouse would get on board…
Essentially, the cameras are in an off position and turn on when they detect motion, so battery life can be conserved. You can set up the home system to automatically arm itself at night and disarm itself in the morning when the house wakes up.
ADVERTISEMENT
---
---
Blink cameras have a 110 degree video view, which lets me see most of the room. If you wanted a bird's eye view, you could mount it up higher (if your room is really large).
You can also place the cameras to face outside, say if you wanted to monitor your driveway. But, Blink won't detect motion through the glass so in this instance you could need to turn on live view.
No Storage Fees or Additional Charges
Up to 7,200 seconds of video footage can be stored for free on Blink's servers, so you don't have to pay additional storage fees. As you reach your limit, older clips are automatically deleted to allow for new videos.
On your phone, you'll download the Blink app which you can use to remotely control your cameras and also adjust your storage settings.
The app is available for both iOS and Android and also works with some Alexa devices like the Echo!
ADVERTISEMENT
---
---
Blink Home Review
Overall, I'm very happy with Blink Home video security as it's an inexpensive home security option.
The sleek, small and scale-able cameras are excellent for anyone looking for a budget-friendly home security system. With the indoor and outdoor camera options, you can sync up your entire home!
For more information, check out Blink for Home here.
Small Space Living
Living in a New York City apartment means space is a premium! Over the years, we've learned to ruthlessly purge our closets, adapt the Konmari method and max out every inch of space. Despite the challenges, we love interior design, NYC real estate and wouldn't trade living here for anywhere else. Follow along on our small space living adventure!
You Might Also Enjoy:
Small Space Living
25+ Small Apartment Hacks to Transform Your Space
The Best Makeup Storage Ideas When Space is Tight
Aerogarden Harvest Review: Growing Plants Indoors is Now Doable!
How to Dress a Bed as Luxuriously as a 5 Star Hotel
Small Apartment Entryways: 4 Decorating Ideas
Storage Hack: Saving Space When You Don't Have a Pantry
Home Decor
The Best Affordable Wall Art - from Amazon!
Crazy Real Faux Plants (for Black Thumbs)
The Best Smelling Candles to Create a Sense of Hygge
Amazon Home Finds: Stone & Beam
Our NYC Renovation
Renovating a Kitchen in NYC: Tips, Tricks & Cost
Everything We Learned About Renovating Our NYC Kitchen (Video)
How to Remodel a Small Kitchen for Maximum Storage
Home Appliances
The Best Compact Appliances for a Tiny Kitchen (Video)
The Best Compact Washer Dryers for Small Apartments
How We Installed a Washer & Dryer... in the Kitchen!
Home Tech
The Best Vacuums Under $100
How to Build Your Own Sunrise Alarm Click Using Smart Bulbs
Are Standing Desks Worth the Hype? Testing the BDI Sit/Stand Desk
Robot Vacuum Review: The Roborock S5 (an affordable roomba alternative)
Roborock vs. Roomba: Which Smart Vacuum is Best?
Home Security Systems: How to Protect Your Home on Vacation
Furniture
All the Best Furniture Stores in New York City
Article Modern Furniture Review
Gardening
The Best Raised Garden Beds on Wheels
Aerogarden Harvest Review: Does This Really Work?
How to Clean & Sanitize the Aerogarden for a New Planting
How to Setup the Aerogarden Farm XL (grow bigger plants!)
Follow me @Sher She Goes on