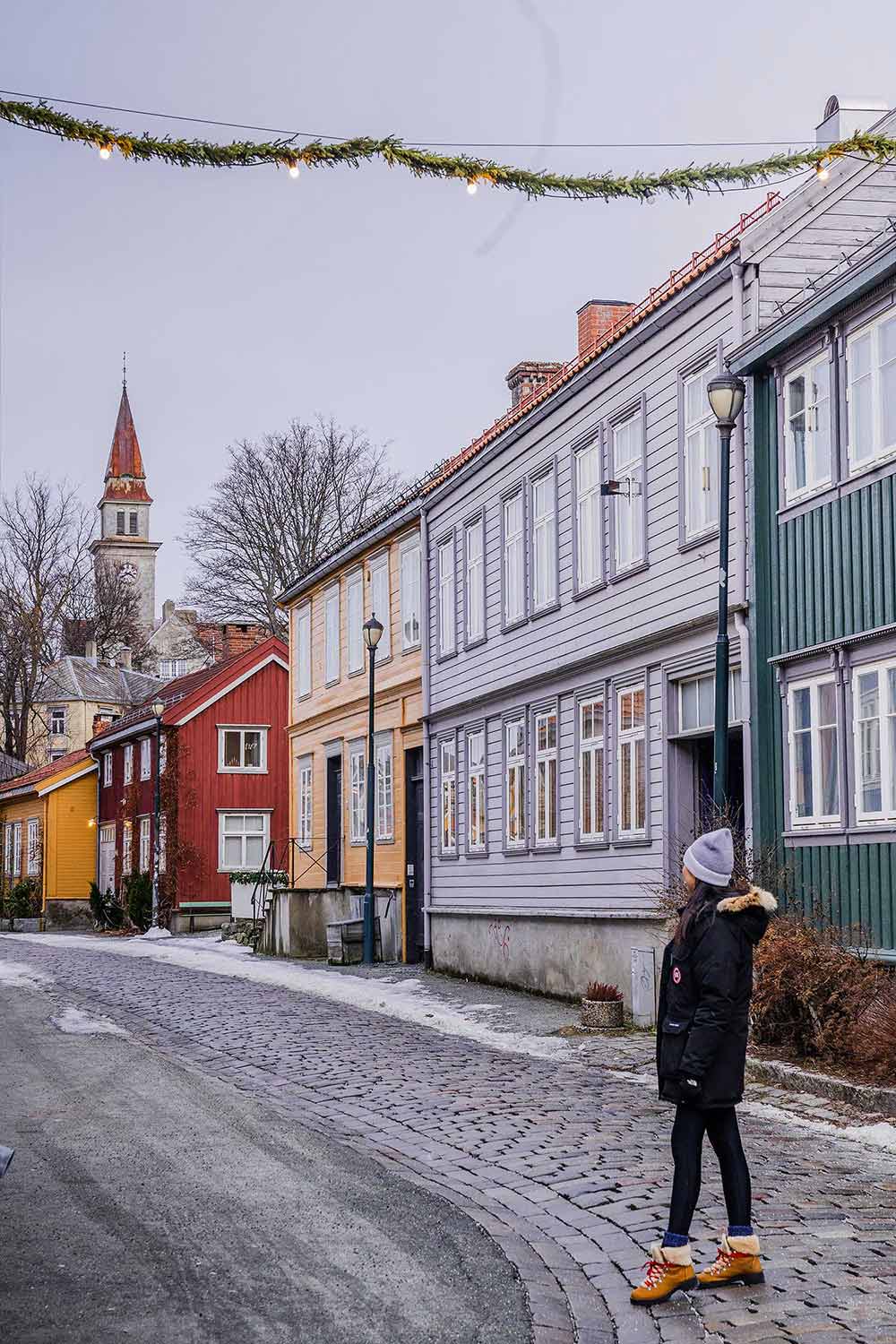 Trondheim
Our first stop in Norway was to the northern city of Trondheim.
Since it would be the only 'big city' on our first visit to Norway, I had pretty high expectations… and they were met! Trondheim is colorful and cozy, even in the dead of winter.
The city's colorful warehouses, misty rivers and great restaurants make it a great introduction to Norway… and something we wouldn't find anywhere else on our road trip.
Here's a quick guide to visiting Trondheim!
ADVERTISEMENT
quick jump to:
Pin this post to read later ⇟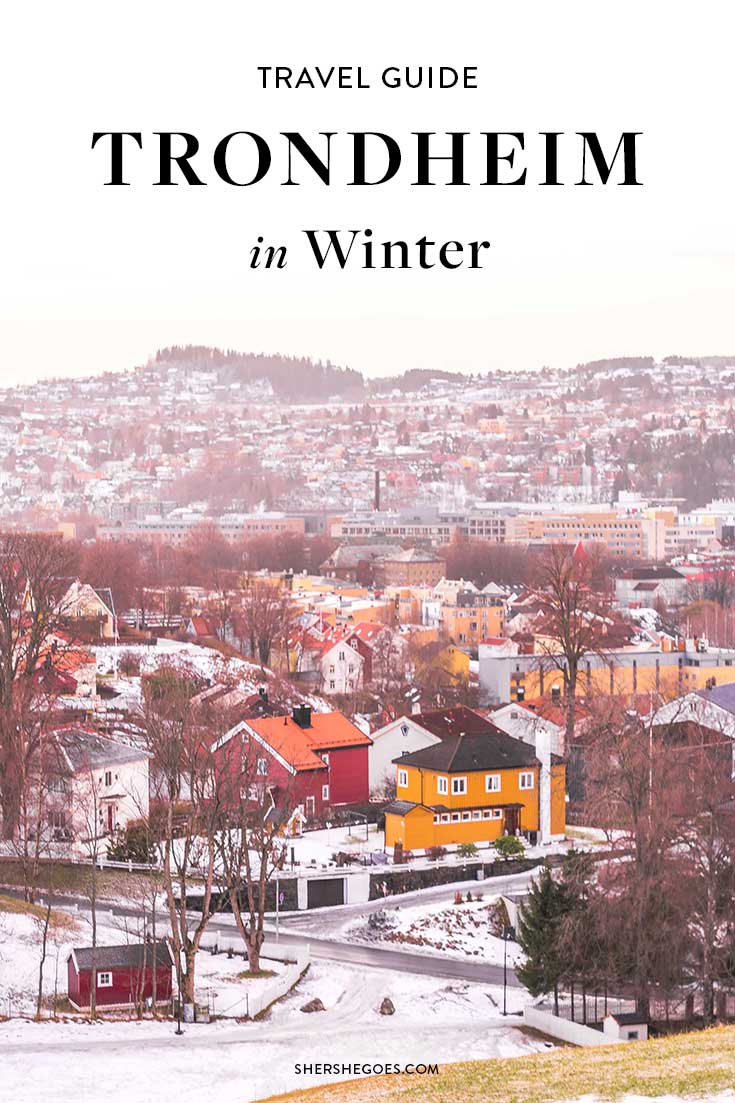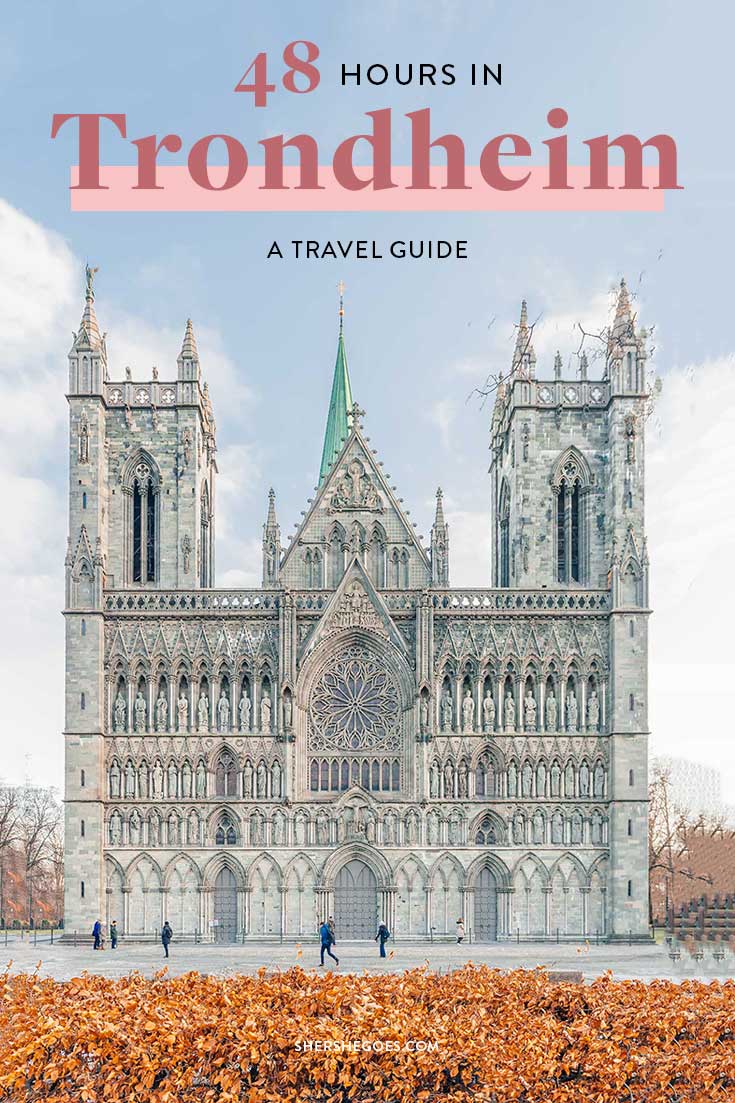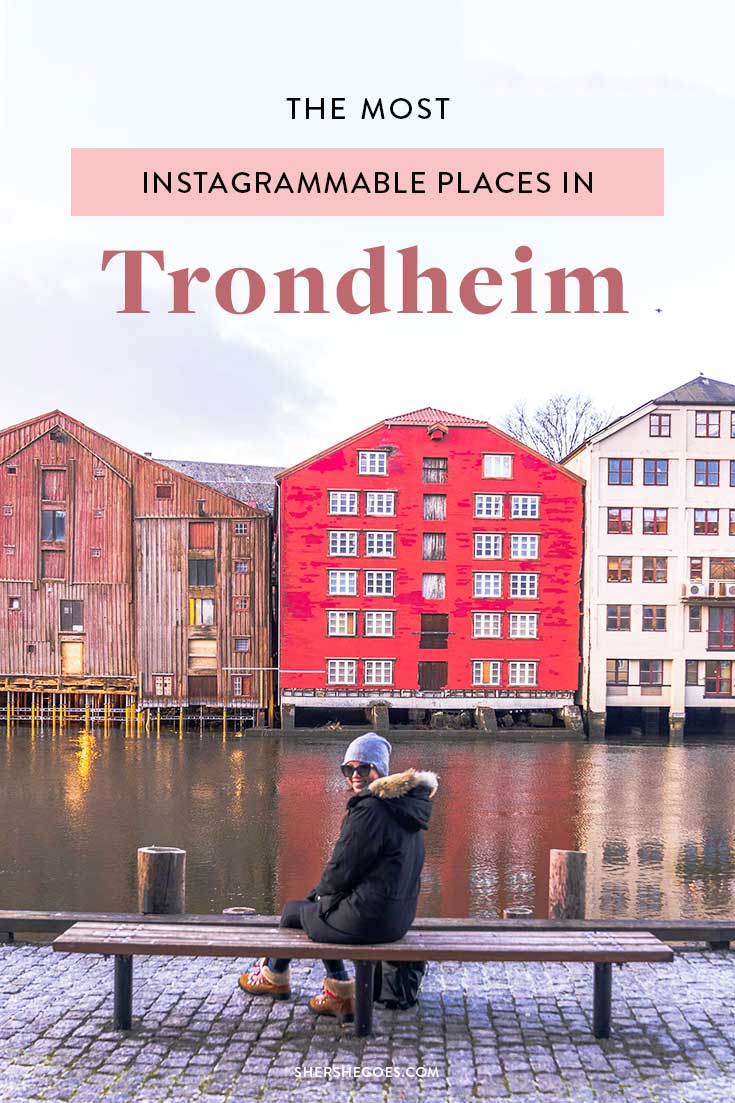 Trondheim's History
Trondheim dates back to the Viking Age.
Founded as a trading post in 997 by Viking King Olav Tryggvason, the town was considered a 'good place to live' for its location on the south shore of Trondheim Fjord. For the next 200 years, Trondheim served as the base for Norway's religion and royalty.
During this time, Nidaros Cathedral was built and the Royal Residence constructed. Both stand today and the latter is considered Scandinavia's largest wooden palace. Although the capital was moved to Oslo, new kings still come to Trondheim for a ceremonial blessing.
Today, the city is Norway's capital of technology and a thriving university town. A lively student population, cultural events and world class skiing make the city charming yet vibrant.
ADVERTISEMENT
---
---
How many Days in Trondheim?
1 day in Trondheim is really all you need to see the highlights. We spent two nights in the city, just to relax and have a leisurely introduction to Norway.
If you're heading onward to some smaller towns, note that Trondheim is considered a 'big city' so it's a great place to have that Michelin star fancy meal, buy souvenirs or stock up on winter gear.
ADVERTISEMENT
---
---
Where to Stay in Trondheim
Ideally, you should stay in the center of downtown Trondheim in the neighborhood Midtbyen. This is that island-looking piece of land surrounded by the Nidelva river.
Trondheim has lots of hotel options, from boutiques to chain hotels. Check here for last minute hotel deals.
But, I know Norway can be an expensive country to visit! Airbnb is also a great option with lots of accommodation slightly outside the downtown section, across the Nidelva river. Browse Airbnb rentals in Trondheim here.
The Britannia
We stayed at the Britannia, a luxury landmark property right in the center of downtown. The hotel recently finished an extensive 4 year renovation and every inch of the hotel is gorgeous. We'd recommend staying here for the breakfast alone!
Book rooms: Booking.com, Hotels.com | Check rates on TripAdvisor
Read our in-depth review
The front desk was especially helpful.
After breakfast, we all met in the lobby to head out for the day when a friendly attendant offered a map and suggested some restaurants, coffee shops and walking loop to see the main highlights.
Below are some of the things she suggested!
ADVERTISEMENT
---
---
Things to Do in Trondheim
Trondheim is Norway's third largest city, but has just 200,000 people. The charming and colorful city is home to a walkable city center, wooded hills and fantastic restaurants. Here are some of the best things to do in Trondheim!
1. Nidaros Cathedral
We started with the most visited sight in Trondheim: Nidaros Cathedral. The impressive building is right in the city center, and a great place to start a walking tour of the city because you can't miss it!
Built in 1070, Nidaros' altar was constructed over the grave of Olav, the Viking king who transitioned Norway from pagan religion to Christianity. The cathedral was the seat of Catholicism in Norway and an important pilgrimage site during the Middle Ages.
Today, the Pilgrim's Route of St. Olav's Way is re-instated. The 400 mile (640 km) long route starts in Oslo, heads north over Dovrefjell mountain, down the Oppdal valley and ends at Nidaros Cathedral.
After Norway gained independence, Nidaros became the coronation and later, consecration church for the country's kings. Head down the crypt to find medieval tombstones.
Note: Nidaros has a entrance fee to go inside, which can be combined with the ticket to the Archbishop palace and crown jewels next door.
It's probably worth looking into the Northernmost Gothic Cathedral in the world, but if you're like us… just walk around the perimeter to soak in the view. The west wall has the most ornate embellishments, with a striking stained glass window and top to bottom statues of biblical characters.
2. Archbishop's Palace Museum
Right next door is the Archbishop's Palace, the 12th century residence of Norwegian Archbishops. It's one of Scandinavia's oldest secular buildings dating back to 1160. Buy a combo ticket to view the museum, cathedral gargoyles and crown jewels.
ADVERTISEMENT
---
---
3. Art Museums
Right next to the cathedral is Trondheim's Art Museum. Inside you'll find Norway's third largest collection of public art, filled with mostly Norwegian art over the last 150 years.
If you love museums, there's also a couple other spots in town to explore:
The National Museum of Decorative Arts
The Armory & Resistance Museum
Rockheim, the Rock Music Museum
Sverresborg, the open air museum
ADVERTISEMENT
---
---
4. Take a Photo on the Nidelva River
From the cathedral, walk towards the Nidelva river and cross Gamle Bybroa, the old town bridge. Originally built in 1681, the ornate red bridge connects the city center to the charming suburb of Bakklandet.
Don't forget to get a group photo! The colorful view of warehouses here is one of the most Instagrammable places in Trondheim.
ADVERTISEMENT
---
---
5. Kristiansten Fort
After the bridge, climb 10 minutes up the semi-steep hill to reach Kristiansten Fort.
Built after Trondheim's great fire of 1681, the fortress has a commanding view of greater Trondheim below. The grounds were open even in the dead of winter, although coming in summer to picnic would probably be nicer!
During World War II, Nazi Germany occupied Trondheim to use the city as a base for their submarines. Kristiansten Fortress became a prison and execution ground for members of the Norwegian resistance.
ADVERTISEMENT
---
---
6. Bakklandt
On the way back down the hill, take a right and you'll find yourself in the charming neighborhood of Bakklandt.
The cobblestone streets are lined with small, colorful wooden houses which have been turned into cozy restaurants, bars and street side cafes. It's one of the most popular neighborhoods in Trondheim to eat, drink and people watch.
Even in winter, Norwegians like to sit and eat outdoors! Grab a pastry and cup of coffee and watch tourists try to use the world's first bicycle lift.
ADVERTISEMENT
---
---
7. Stroll through the Alleys
A catastrophic fire in 1681 burned most of Trondheim to the ground.
However a number of alleys date back to the city's medieval history and are still intact in the city center. Join a guided tour of Trondheim's alleys to learn the history of the city from a local and explore the cutest streets off the beaten path.
ADVERTISEMENT
---
---
8. Explore the Local Food Scene
Trondheim has a great restaurant scene with a focus on local food. And, if you love burgers, there are tons of great burger joints in town like Bror, Cowsea and Døgnvill. We tried Graffi Grill, which was nice!
ADVERTISEMENT
---
---
9. People Watch in a Trondheim Cafe
Trondheim has a strong coffee culture, with lots of fantastic baristas and roasters.
We tried a spiced chili latte at Kopi, which had a nice kick! Other great coffee shops in Trondheim to check out: Dromedar, Sellanraa Bok and Jakobsen & Svart.
ADVERTISEMENT
---
---
10. Try a Cinnamon Bun
Norwegian cinnamon buns are a staple throughout the country's bakeries. Grab a kanelknute at Hevd in Trondheim, or my personal favorite, Kardemumme Knute (cardamom buns)!
ADVERTISEMENT
---
---
11. Ride the Tram
We didn't get to do this since we visited Trondheim in winter, but the Trondheim Tram is a fun experience when the weather is better!
The 5.5 mile (8.8 km) route goes from the city center up into the mountains. If you like walking, jogging or hiking, get off at Bymarka which has lots of trails, viewpoints and cabins selling food.
ADVERTISEMENT
---
---
12. Shop
Trondheim's city center is filled with shops. Over the holidays, the streets are lit, the Christmas markets open and there's such a cheery vibe exploring the independent boutiques and clothing stores.
ADVERTISEMENT
---
---
Getting In and Around Trondheim
Flying In to Trondheim
Trondheim's international airport, Værnes, is the fourth largest in Norway with great connections to European cities like London, Copenhagen and Amsterdam. If you're lucky, you can fly directly into the city and avoid an extra layover (and time delay) in Oslo.
Check flight options and set a fare alert here.
From New York City, we flew Norwegian Airlines to Oslo and then took a short 1 hour domestic flight to Trondheim.
Norwegian is really the only airline that offers nonstop flights from New York City to Oslo in low season, so unfortunately there isn't much choice. On the other hand, Norwegian is a low cost carrier and if you book early enough, flights can be a deal.
ADVERTISEMENT
---
---
Norwegian Air Review
A quick note on Norwegian: as a low cost carrier, everything will be extra: bags, meals, seat selections, you name it. It's fine so long as you read the fine print before booking!
Norwegian significantly marks up the fares if you pay in USD. If you can book flights on the airline's website in Norwegian and pay in Krona (using a credit card with no foreign fees), you'll save significantly on the fare. It was about $150 cheaper to pay in Krona one way.
Finally, from reviews and our experience, it seems the JFK to OSL overnight flight is regularly delayed by an hour or more, so leave enough time for your layover at Oslo Airport if you are connecting onward.
The Oslo to Trondheim route is a hugely popular route, so there are typically tons of domestic flight options. For convenience, we booked Norwegian Air for the second leg as well so that our checked bags could meet us in Trondheim. If you switch carriers, you'll have to enter a separate line at Oslo immigration to pick up and re-check your bags. Or you can go carry on only (but that's a little difficult in winter)!
ADVERTISEMENT
---
---
By Train
Trondheim is connected to Norway's major rail stations, so if you're already in the country (or nearby Sweden), it's easy to take the train.
Train lines that stop in Trondheim include:
the northbound Nordland Line to Mo i Rana
the eastbound Meråker Line to Åre and Östersund in Sweden
the southbound Røros and Dovre Lines to Oslo
By Ferry
The Hurtigruten coastal ship calls at Trondheim port on the Bergen to Kirkenes route. Typically there's one ship heading in each direction, north and sound, per day. Lots of ocean cruises, like Viking, will also include a visit to Trondheim!
ADVERTISEMENT
---
---
Planning a Trip to Norway – Travel Checklist
Go | We flew from New York to Oslo and then caught a domestic flight to Trondheim. Low cost carrier Norwegian Airlines offers some great deal fares if you book early, but amenities like meals, blankets and luggage cost extra. Wideroe and SAS are other great options. Check here for flight deals.
See | Norway may look small on a map, but it's a huge country! Driving distances are much, much longer than you think so choose a region to base yourself in and budget 1 to 2 weeks to see it all. 
Getting Around | The best way to experience Norway is on a road trip. The country has a number of National Scenic Roads that blend epic landscapes, active adventures and modern art. Book car rentals well in advance to save. Auto Europe is a great comparison tool and Sixt rentals offers lots of great deals.
Stay | From red fishing cabins to glamorous luxury hotels, there are tons of unique lodging options throughout Norway. Best of all, breakfast is typically included and Norwegians know how to offer a fantastic breakfast spread! Check here for great deals on accommodation.
For groups, give Airbnb a go. There are some beautifully renovated cabins and rorbu available for rent!
Protect | Whether you get injured and need to be hospitalized, your phone gets stolen, or a flight delay leaves you with nothing but the clothes on your back, travel insurance will help when you need it most. Get a quote for your trip here.
You Might Also Enjoy:
Norway Vacation Planning Articles
Driving in Norway: Everything You Should Know
What to Pack for Norway in Winter
City Guides
Trondheim Travel Guide
Activity & Hotel Reviews
Britannia Trondheim: A Northern Palace
Follow me @Sher She Goes on