Thank you to Walmart for sponsoring this post.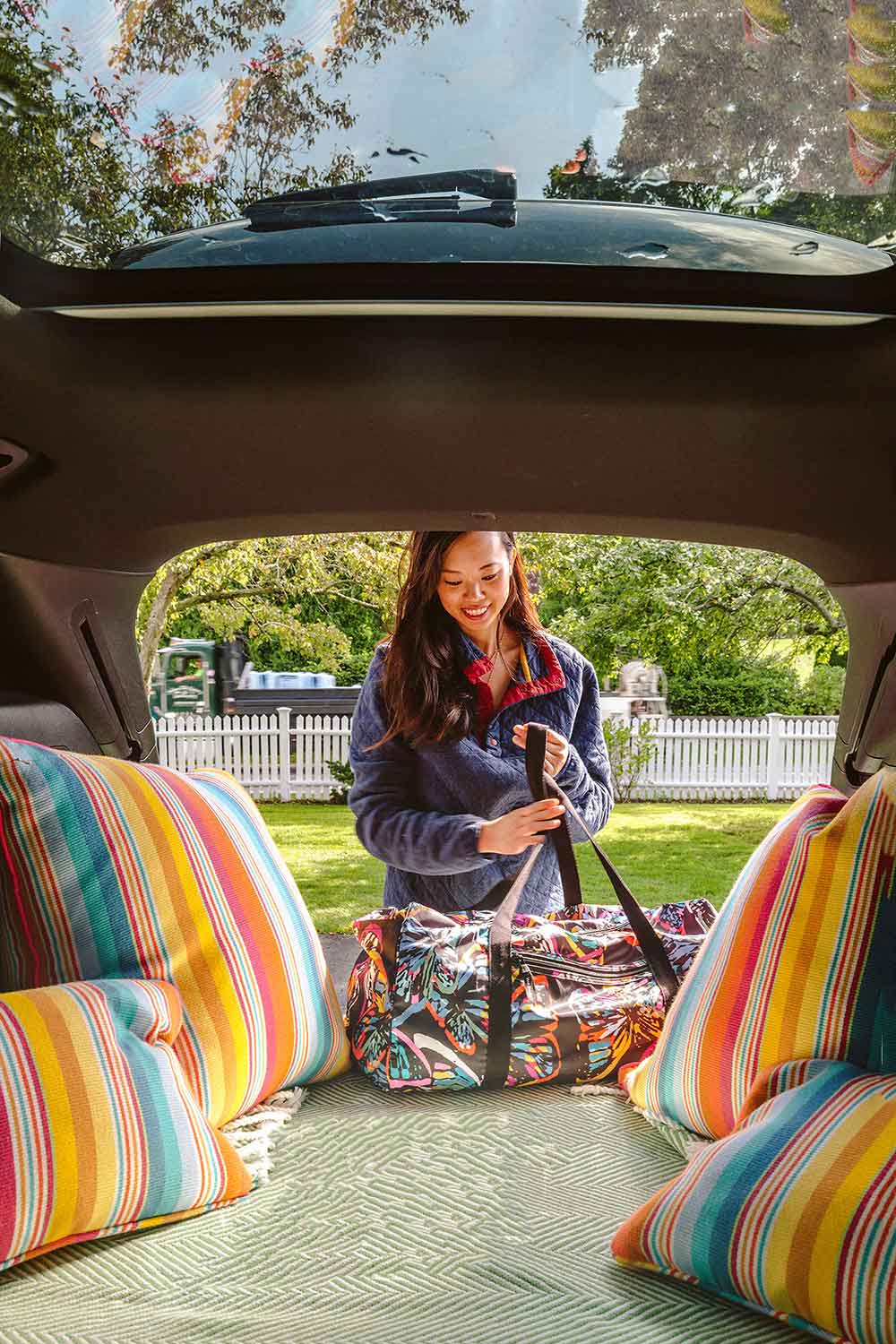 Road Trip Essentials
Ah, the summer road trip.
Some of our favorite summer getaways are long drives across the country. We've explored Maine, Boston and more on long drives and even rented a car internationally to give driving on the left a go!
If you're headed on a road trip this year, here's our complete packing guide for everything you need on a cross country drive.
ADVERTISEMENT
The Perfect Road Trip
If it's your first road trip, I recommend ordering everything online at Walmart. They're a one stop shop carrying literally everything you need: travel bags, everyday supplies, car stuff, drugstore items and even food.
Recently, we started doing some adventure travel and I needed to pick up outdoor gear – but I didn't want to spend too much on things I didn't think I'd use more than a couple times.
Walmart's private label brand Ozark Trail came in handy. They have everything from foldable chairs to sleeping bags, plus even giant camping tents. I was particularly impressed by their small accessories (backpacks, water bottles, drink coolers, flashlights, etc) that were budget friendly – and cute!
Since cross country road trip supplies can easily add up, Walmart is the best affordable option (imo). They offer free shipping and free returns with orders over $35!
Off on a last minute weekend road trip and need everything ASAP?
No worries! You can place your online, pick it up the same day, and drive off into the sunset. How's that for packing efficiency?
Road Trip Packing List
Now on to the essentials. I've organized the road trip packing list into sections, which you can click to jump straight to the relevant packing guide!
Keep reading or save this article for later ⇟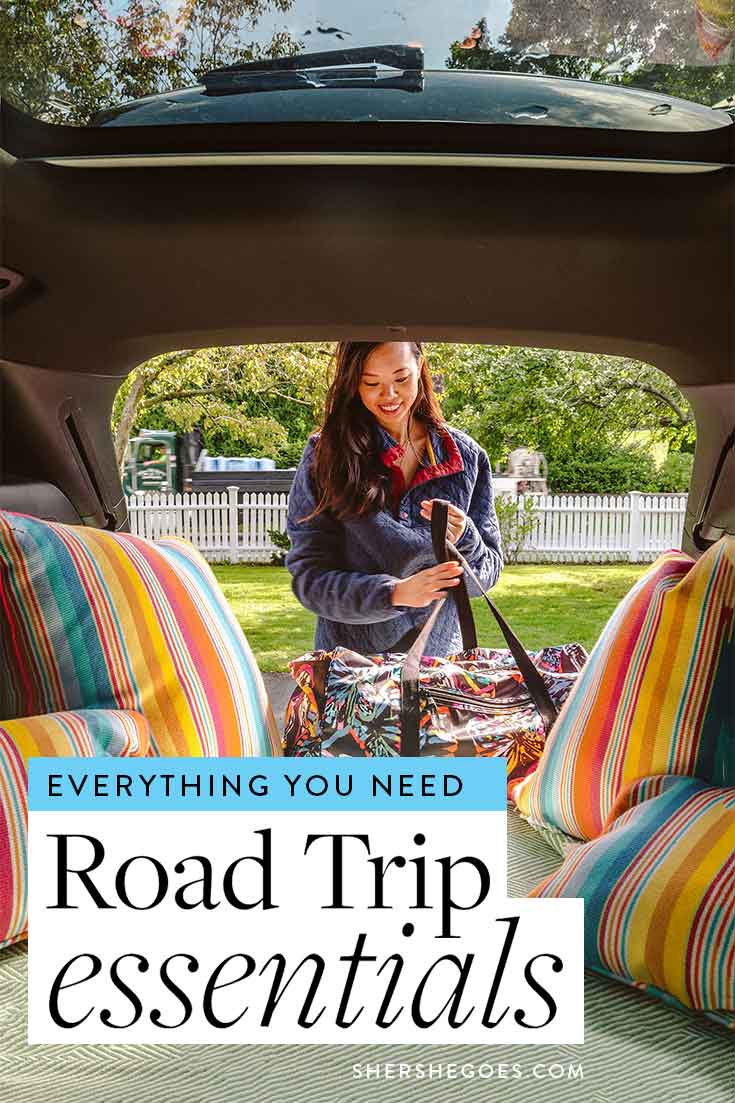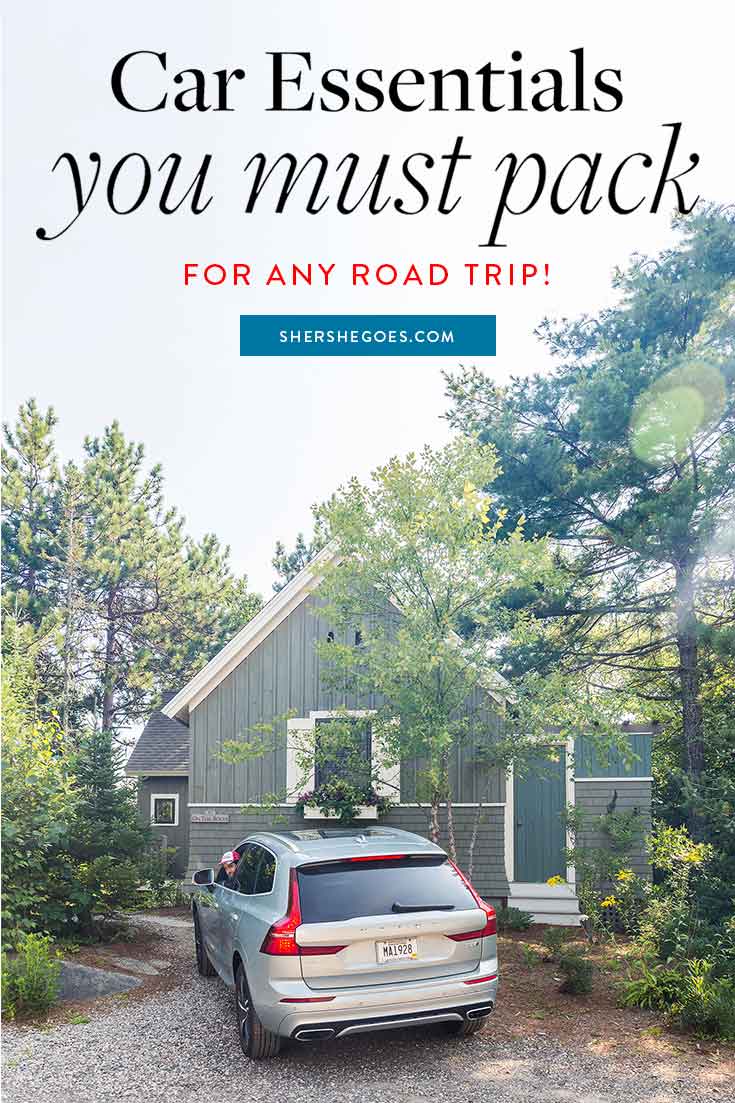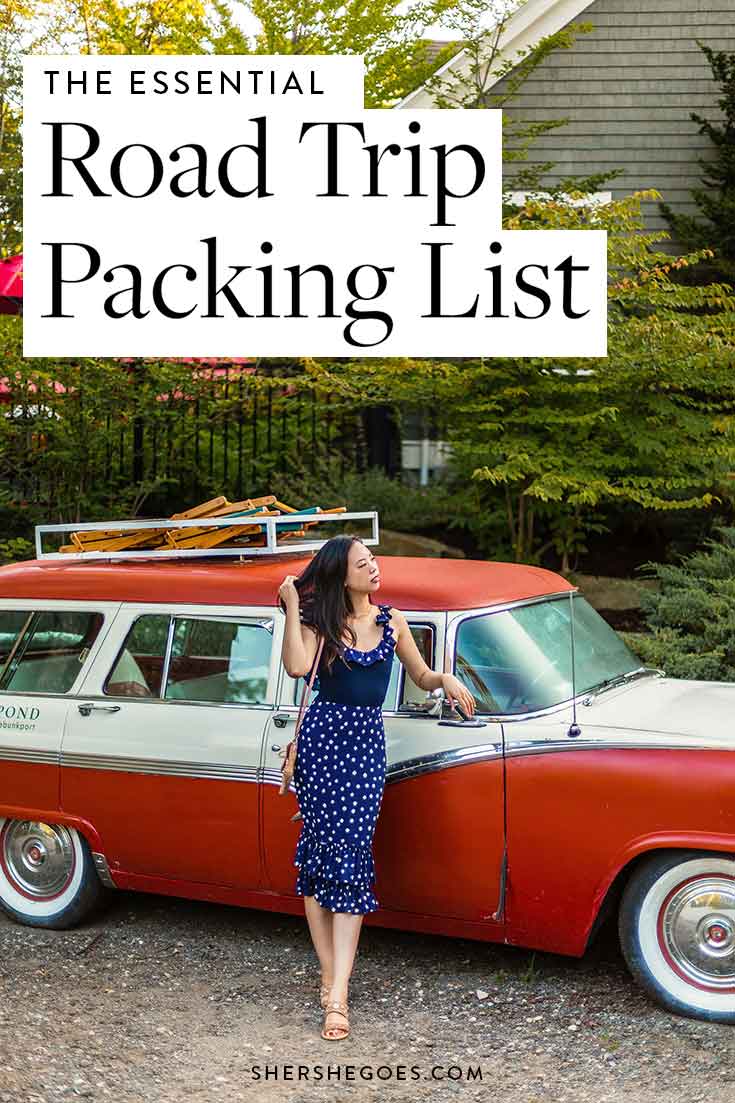 ADVERTISEMENT
---
---
Car Essentials
1. Valid Driver's License & Registration
Obvious, but necessary!
2. Car Insurance & Car Manual
You probably have these tucked into the dashboard already.
3. Cash for Tolls
While we have an EZ Pass for toll roads in the tri-state area, a cross country road trip means unfamiliar state toll systems! Best to have both credit cards and cash on hand for any road charges all the way.
ADVERTISEMENT
---
---
To Stay Organized & Comfortable
Duffel Bag
Soft, wheeled duffels work best for road trips. They're compact, have lots of pockets for organization and can compress easily in a crowded car trunk!
Shop
affordable,
roomy duffel bags here
.
Packing Cubes
If you're doing a cross country road trip or especially long drive, I find it easy to organize clothing in packing cubes. That way, if you're only stopping for a night or two you can grab just 1 or 2 cubes with the clothes and toiletries you need, rather than lugging a giant duffel or suitcase every time.
Shop
colorful packing cubes here
so you can organize everything neatly!
Backpack for Hikes, Day Trips & Activities
Everyone needs a day pack to store water, snacks and essentials like keys and your wallet.
Shop
backpacks under $50 here
Travel Pillow
Maybe your side kick or the kids in back want to take a nap… grab a travel pillow to ease that neck!
Shop
travel pillows
Cozy Blanket
On chillier winter drives, a cozy blanket makes the car feel just like home. Or, if you plan to go camping, bring along a sleeping bag.
Shop
thick, fluffy blankets here
Umbrella
Throw a couple small umbrellas in the car so that you won't have to wait out sudden rainstorms.
Shop
travel umbrellas here

ADVERTISEMENT
---
---
Fun Road Trip Essentials
Tablet filled with movies and games
Whether you need something to watch at night or the kids need something to occupy their time, a tablet pre-loaded with movies and games is crucial. No driver can stand more than one or two "are we there yet?"s!
Multi Headphone Audio Splitter
Something nice to have? An audio splitter so you can share what you're listening to with a friend!
Road Trip Playlist
Whether you like audio books, podcasts or country music, make one person the designated entertainment picker. Queue up a great playlist to make your road trip unforgettable.
Hotel Apps
The best road trips leave some wiggle room. Download hotel apps like Expedia, Travelocity and Hotel Tonight so that you can browse for hotel rooms on the go.
Car Seat Organizer
Chances are, your car is looking pretty full at this point. Keep everything neat and tidy with a car seat organizer.
Camera
Document your family road trip and make sure to bring a camera! Even better? Pack a polaroid or instant camera for some fun and quirky shots.
Books
We're partial to a paperback but kindles work great too. Browse current bestsellers here.
Games
Slip in a pack of cards and even a board game if there's room!

ADVERTISEMENT
---
---
To Stay Connected
Car Phone Charger
Keep all your electronics fully charged even on extra long drives by picking up a car phone charger.
Portable WiFi
If you're doing an overseas road trip, you can pick up a portable wifi device to stay connected on the road. We did this on our Ireland road trip and it really came in handy!
Bluetooth Headset
Most countries require you to keep both hands on the wheel while driving. Grab a bluetooth headset so you can safely drive and communicate hands free.
Map Apps
An up to date GPS is especially handy for road trips. If you're traveling in a foreign country and don't want to buy or rent a GPS, you can also use Google Maps! Download an offline map of the destination so that you can access the map features even without wifi.
And as a backup, say if cell service is patchy, a paper map can come in handy!

ADVERTISEMENT
---
---
For When You Get Hungry
Water Bottle & Travel Mug
I would go for one large reusable water bottle and one fancy travel mug, that can double as a french press for coffee or tea!
Instant Coffee
If you're like me and need coffee first thing in the morning, I love bringing some instant coffee with me. And thankfully, there are lots of brands that now make cold brew packs, that you can take on the go!
You can either use cold water to seep the pods in a hotel cup (the night before) or rip open the pods the morning off, and drop them into your travel french press for fresh, hot coffee.
Cooler Filled with Drinks & Snacks
Once we got a portable mini fridge, we've never looked back. These plug into the car charging port to keep your drinks icey cold no matter how long your drive!
Or, you can always go with a giant cooler and ice if you plan to hike. Ozark Trail makes some great leak tight coolers!
Shop
ice coolers here
Snacks
One of my favorite parts about road tripping is enjoying the ride with snacks! Pack along a mix of chips, granola bars, healthy nuts and candy.
Wet Wipes & Hand Sanitizer
Throw in some wet wipes, makeup remover wipes and hand sanitizer for sticky situations. Now you never have to worry that the highway rest stop bathroom may run out of soap!
Paper Towels
Don't wait for an emergency. Stick a roll of toilet paper in the trunk for gross gas station bathrooms.
Small Storage Containers
If you're planning to go camping or hiking, bring along some tupperware to hold snacks and leftovers.
Trunk Organizer
Have you ever breaked suddenly and heard everything in the trunk slam forward? Organize and protect your stuff with a trunk organizer that will keep everything neatly in place.

ADVERTISEMENT
---
---
Summer Road Trip Packing List
Sun Shade
To keep the car from overheating when parked, a car shade is a must.
Sunglasses
A must for the driver – no one can drive with glaring sun in their eyes! Pick up an inexpensive pair of sunglasses here.
Towel
You never know when you'll have a spontaneous beach day! Throw in a beach towel just in case..
Bug Spray
Grab bug spray with DEET to protect yourself.
Winter Road Trip Packing List
Ice Scraper
A 2-in-1 snow and ice pick tool is a must if you're driving anywhere cold.
Gloves
An icy steering wheel can chill you to the bone. Pack some cozy gloves!

ADVERTISEMENT
---
---
Things to Keep In Your Car for Emergencies
Car Emergency Kit
Just in case, make sure to pick up a car emergency kit with battery booster cables, a heavy duty tow strap, rain poncho, window breaker and everything else you need for auto safety.
First Aid Kit
Grab some basic medical supplies too – band-aids, bandages, antiseptic medication and cortizone for itchy bug bites. This first aid kit has everything you need for an emergency, and then some!
Flashlight
You never know if you need to find something in the dead of the night. Grab a small flashlight and some spare batteries for the road.
Shop
travel flashlights here
Spare Gasoline Container & Tire Jack
Hopefully you won't have to change a tire in the middle of your road trip, but better to be safe than sorry. Pick up a gasoline can just in case. Luckily, Walmart has an auto & tire shop so that you can conveniently add them to your order.
Swiss Army Knife
This compact, multi purpose knife is just good to have on hand for emergencies.

ADVERTISEMENT
---
---
Whew! That was a big list. Let me know in the comments if there's anything I'm forgetting!
You Might Also Enjoy:
Road Trips Around the World
The Most Scenic Drive in South Africa
The Best Coastal Drives in the World
Follow me @Sher She Goes on