Thank you to Orbitz for sponsoring this post
The Best Paris Itinerary
Like major global metropolises including New York, London, or Rome, Paris is, quite simply, impossible to fully see in 3 days.
I've lived in New York for over a decade, and I am still discovering new and exciting parts of the city that were literally lying right under my nose.
While accepting that vacation time is unfortunately scarce, 3 days is still enough to create an incredibly memorable vacation – especially in a city like Paris, which has reliable and safe public transportation, is pedestrian-friendly, and where every street corner seems to have a gorgeous building, adorable coffee shop, or delicious patisserie.
The key to a 3-day vacation is tackling the major attractions while accepting that you'll have to leave some things unexplored for your next visit!
Keep reading for our best 3 days in Paris itinerary!
ADVERTISEMENT
Pin this post to read later ⇟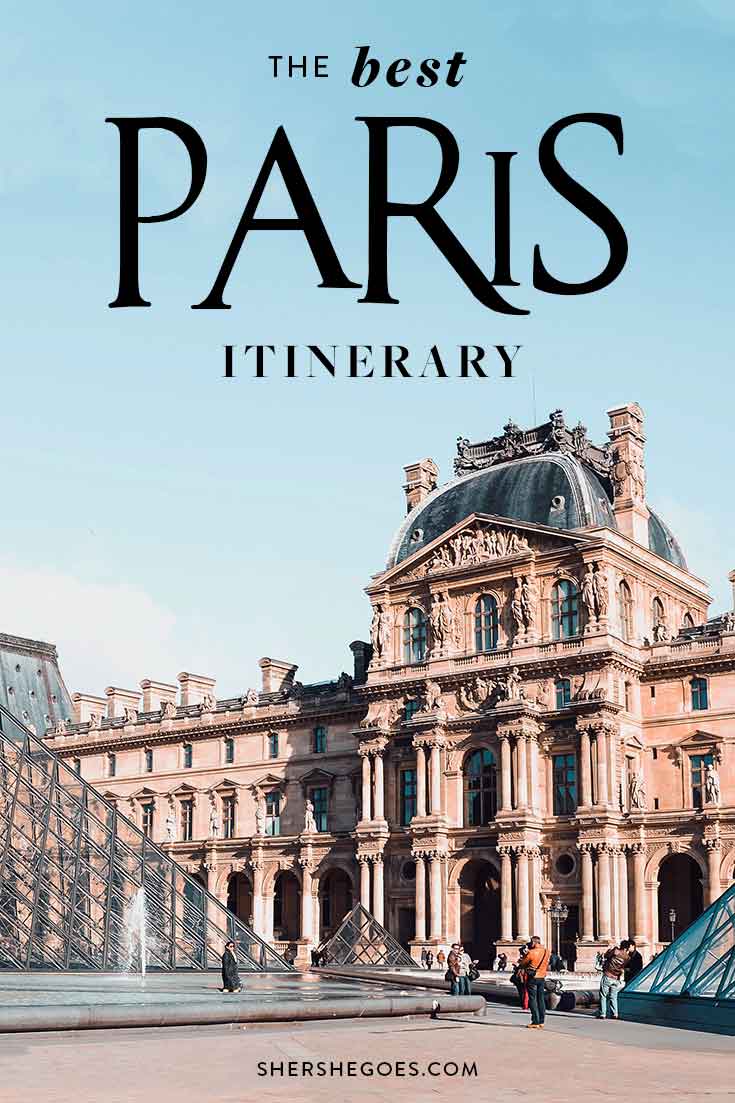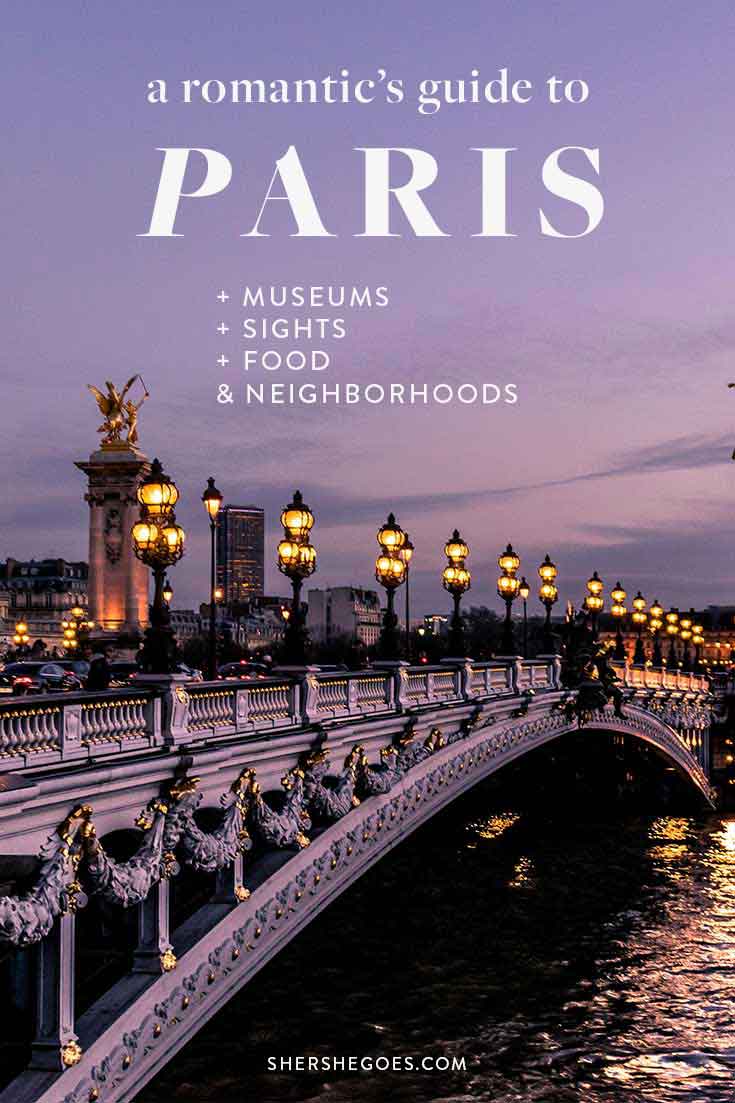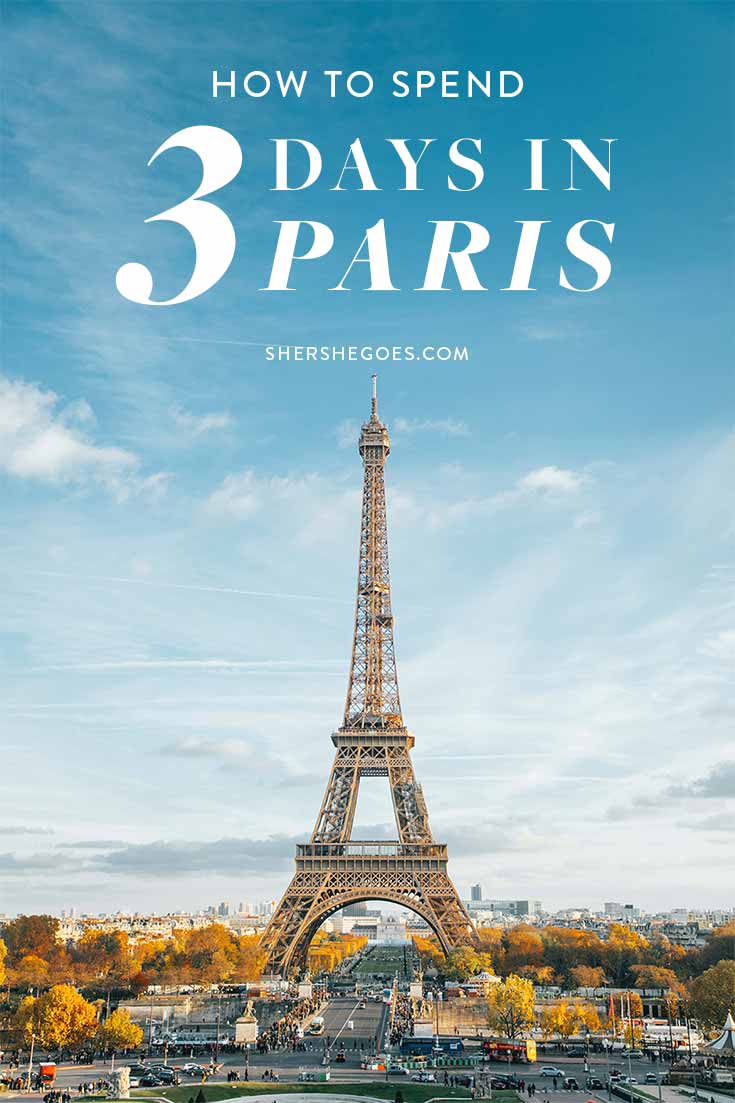 Where to Stay in Paris
1. Prince de Galles
Having opened 90 years ago during the Roaring 20s, the Prince des Galles hotel is perhaps the most famous, stylish, and ornate of the 5-star hotels in Paris.
The beautiful Art Deco building features tastefully-appointed guest rooms (many of which have balconies or terraces), a gorgeous marble-floored lobby and sitting room, a serene interior garden, and a wellness suite to recharge and rejuvenate.
Located on Avenue George V, the Prince de Galles also lies mere steps from Paris landmarks including the Champs-Élysées, the Arc de Triomphe, and the lovely Seine river.
Book rooms: Booking.com, Hotels.com, Orbitz
Check Rates: TripAdvisor
Orbitz is the rewards hotel booking site. If you're the kind of traveler who loves travel perks, like complimentary hotel upgrades, pet fee reimbursements and TSA PreCheck Membership, you'll love Orbitz's rewards program.
To earn rewards, make sure to sign up for an Orbitz account! Each $1 spent earns 1 Orbuck that you can redeem how you'd like.
2. Maison Souquet
For a more unique Paris hotel experience, check out Maison Souquet, a 19th-century "pleasure house" (yes, that's exactly what you think it is!) converted into an exclusive boutique hotel featuring just 20 rooms – each with a custom theme such as "Napoleon" or "Empire".
Aside from the opulent tapestries and furnishings located in the Maison Souquet guest rooms, the hotel also features amenities including a winter garden, private spa and steam room, and Hermès products (jackpot!).
Located in the buzzing Montmarte neighborhood, Maison Souquet also provides guests with convenient access to the beautiful Basilica of the Sacré-Cœur as well as Paris's hottest nightclub and wine bar district!
Book rooms: Booking.com, Hotels.com, Orbitz
Check rates: TripAdvisor
3. Hotel Grand Powers
Entering its 100th year of service, the Hotel Grand Powers (opened 1920) represents a unique commitment to luxury, craft, and material.
The Hotel Grand Powers' 50 guest rooms feature refined moldings, antique fireplaces, and furnishings made exclusively of brass, marble, oak, walnut, velvet, and silk.
Located at equal walking distances from the Seine, Arc de Triomphe, Louvre Museum, and Eiffel Tower, the Hotel Grand Powers also offers an unbeatable location!
Book rooms: Booking.com, Hotels.com, Orbitz
Check rates TripAdvisor
Read more:
The Best Hotels in Paris with Views of the Eiffel Tower
ADVERTISEMENT
---
---
3 Days in Paris
Day 1: Museums
Surprisingly, Paris doesn't even crack the planet's top 15 cities by number of museums. However, what the City of Light lacks in quantity, it amply makes up for in quality.
You could spend weeks in the capital of France visiting all its magnificent museums, so dedicating an entire day is well worth the time!
Morning: Visit the Louvre
Louvre Museum
Housed in the Louvre Palace, a 12th-century castle built under French monarch King Philip II, the Louvre is, unsurprisingly, the world's most visited museum.
And with darn good reason!
With over 780,000 square feet of exhibition space, the Louvre is the world's most comprehensive art museum featuring works from prehistory to the present.
Make sure to spot: Hammurabi's Code, the I.M. Pei's famous glass pyramids, Delacroix's Liberty Leading the People, the sculptures of Venus de Milo and the Winged Victory of Samothrace.
And of course, you can't leave without a glance at Leonardo da Vinci's Mona Lisa.
Tips for Visiting the Louvre
Purchasing tickets online is the fastest way to gain admission.
If you plan to visit a couple of Paris' most famous museums, pick up the Paris Pass before your trip. The pass includes free admission to the city's top museums and lets you skip the line! We thought it was well worth the money.
Closest metro stations: Palais-Royal Musée du Louvre (Lines 1 & 7) and Pyramides (Line 14)
Closed Tuesday
Open 9 am – 9:45 pm Wednesday and Friday
Open 9 am – 6 pm all other days
Early Afternoon: Musée d'Orsay
Orsay Museum
Often overshadowed by the Louvre, the Musée d'Orsay is no slouch itself, ranking 10th globally by total visitors last year.
Located in the former Gare d'Orsay, a Beaux-Arts train station, the Musée d'Orsay is a spellbinding building on its own, featuring incredible arched ceilings, dazzling skylights, and wide-open exhibition spaces.
The museum itself is mostly a dedication to French art and features the world's largest impressionist and post-impressionist collection, including works by Cézanne, Degas, Gauguin, Manet, Monet, Renoir, and van Gogh!
Before you leave, make sure you head upstairs to the museum's cafe and terrace for delicious bites and incredible views of the Seine and Parisian skyline!
Tips for Visiting the Orsay Museum
Admission to the Osray Museum is included with the Paris Pass.
Closest metro station: Solférino (Line 12)
Closed Monday
Open 9:30 am – 9:45 pm Thursday
Open 9:30 am – 6 pm all other days
Late Afternoon: Explore Musée Rodin
Rodin Museum
Among the City of Light's most unique museums, the Musée Rodin is located within the Hôtel Biron, an erstwhile hotel that French sculptor Auguste Rodin used as his workshop.
When Rodin passed in 1917, he dedicated his entire sculpture collection to the French state on the condition that the Hôtel Biron be converted into a museum showcasing his works.
Today, the gorgeous estate features recreations of Rodin's working spaces as well as his most famous works, including The Thinker, The Kiss, and (my personal favorite), The Gates of Hell.
Tips for Visiting the Rodin Museum and Sculpture Garden
Closest metro station: Varenne (Line 13) and Invalides (Lines 8 & 13)
Closed Monday
Open from 10 am – 6:30 pm all other days
Other Great Paris Museums
Want even more of Paris' hidden gems and gorgeous museums? Here are a couple extra Paris sights that we enjoyed:
Musée de l'Orangerie, located opposite the Louvre along the Jardin des Tuileries, is an impressionist and post-impressionist museum exhibiting 8 incredibly beautiful (and huge!) Water Lilies murals by Claude Monet.
The Musée des Arts Forains, located in the 12th arrondissement, is a museum of historical funfair objects from the private collection of Jean-Paul Favand including 14 amusement rides, 16 fair stalls, merry-go-rounds, carousels, and thousands of other objects!
Visit the Centre Pompidou in Paris's 4th arrondissement to see one of the city's coolest multi-purpose venues which houses the city's public information library, modern art museum, and a center for music and acoustic research.
ADVERTISEMENT
---
---
Day 2: Churches & Cuisine
Aside from museums, Paris is probably most well-known for its gorgeous churches and delicious cuisine.
Below are the churches you should see on Day 2 in Paris, as well as the spots you need to hit for the holy trinity of French cuisine: steak frites, wine, and macarons!
Morning: See Notre Dame
Notre Dame Cathedral
The tragic April 2019 fire definitely puts a damper on visiting what's probably the world's most famous church, but that doesn't mean visiting Notre Dame is fruitless.
Located on the gorgeous Île de la Cité (one of the Seine's 2 natural islands), the Notre Dame remains partially visible amid heavy scaffolding and repair work.
Viewers can still enjoy the grounds surrounding Notre Dame, which represent the center of medieval Paris!
Walk to Sainte-Chapelle
Another reason to visit Notre Dame is the fact that just steps away on the Île de la Cité lies the famous Sainte-Chapelle, known colloquially by many as the Miracle of Light.
Commissioned by King Louis IX nearly 800 years ago in 1242, the Sainte-Chapelle is a Gothic chapel that houses the French monarchy's Passion relics, including Christ's Crown of Thorns.
Visually, the otherwise modestly-sized chapel is famous for its prodigious collection of stained-glass windows that cover nearly every square foot of the chapel's walls and roof!
Climb up to Sacré-Cœur
Exploring Montmartre
Lying atop Montmarte at the highest point in Paris, the Sacré-Cœur (Basilica of the Sacred Heart) is, having been completed in 1914, a veritable baby by the historically rich standards of Parisian churches.
Despite its youth, the Sacré-Cœur is among Paris's most famous landmarks, having received the 2nd-most visitors of any Parisian monument in 2018 – and it's easy to see why.
While the Sacré-Cœur – with its trademark white domes more reminiscent of the Taj Mahal than a typical Parisian church – is visually stunning, the true beauty of the Sacré-Cœur lies in the breathtaking views (particularly at sunset!) of Paris visible from the Basilica's grounds!
Cuisine
Just off the Champs-Élysées at 15 Rue Marbeuf lies Le Relais de l'Entrecôte, a restaurant world famous for its simplicity – a delicious steak, crispy thin frites, and the cocktail of your choice!
Called one of Paris's best-kept secrets, Ô Chateau, located just a few blocks northeast of the Louvre and housed in a converted private home dating to the 17th century, is a wine bar famous for its wine & cheese lunches and self-described "irreverent" wine tastings!
For a delicious macaron that's not from Ladurée (basically the McDonald's of the macaron game), check out any of several Pierre Hermé locations, a macaron house known for its daring – yet still delicious – flavors!
ADVERTISEMENT
---
---
Day 3: Monuments & More
For your last day in Paris, do what any proper vacation demands: take pictures outside famous sites to prove you actually were on vacation, and do some last-minute shopping for friends and family – or yourself!
Walk Along the Seine
Running through the heart of Paris, the Seine river is Paris's most famous natural monument.
You can walk along the Seine at street level or directly alongside the river itself – many sections of the river feature wide walkways accessible by public staircases spaced at frequent intervals.
A morning stroll along the Seine is the perfect place to take in Paris's natural beauty.
Arc de Triomphe
Flanking the western end of the Champs-Élysées, the Arc de Triomphe is, aside from being a gorgeous monument from which guests can view the entire length of Paris's most famous street, a monument laden with historical significance.
Officially, the Arc memorializes those who perished during the French Revolution and Napoleonic Wars by inscribing the names of all French generals and describing the military victories throughout the entire arch.
Additionally, the Arc de Triomphe also sits over a vault that houses the Tomb of the Unknown Soldier from World War I.
ADVERTISEMENT
---
---
Eiffel Tower
You knew this was coming at some point, right?
Right up there with Times Square, Big Ben, and the Colosseum, the Eiffel Tower – constructed for the 1889 World's Fair – is among the world's most recognizable monuments.
The Tower has 3 separate observation decks for intrepid visitors, the tallest of which is, for good measure, the European Union's tallest publicly-accessible observation deck!
Shopping
There may be no better vacation destination for shopping than Paris, historically known for its high fashion, craft jewelry, and custom art and antiques.
For mainstream designer shopping, look no further than the Champs-Élysées, which features known brands from Louis Vuitton to Zara to Zegna.
Once known for being a cafe-filled intellectual hub, the St-Germain-des-Prés neighborhood (located between the Seine and the Jardin du Luxembourg) today features high-end boutiques including Sonia Rykiel, Berluti, and Diptyque!
Thank you to Orbitz for sponsoring this post
ADVERTISEMENT
---
---
Visiting Paris – Travel Checklist
We took a red eye to Paris from JFK. You can find cheap Paris flights from low cost carriers almost all year round – check for flight deals here.
Paris has some of the best museums in the world. I spent an entire summer living in the city, visiting different churches, museums and historic homes and still couldn't get enough. If you plan to sight see, look into a Paris Pass – it's a great value! The pass can be purchased for multiple days and allows you to skip the line at 60+ attractions. See the full list of included sights and attractions here.
Lastly, be sure to visit Paris with travel insurance. Whether you get injured and need to be hospitalized, your phone gets stolen, or a flight delay leaves you with nothing but the clothes on your back, travel insurance will help when you need it most. During our recent trip, riots in Paris shut down the city center and forced a closure of all the main sights (the Louvre, Versailles, etc). Get a quote for your trip here.
You Might Also Enjoy:
Paris Vacation Planning Articles
3 Days in Paris: A Travel Guide & Itinerary
What to Wear in France (to Blend in with Chic Parisians!)
Where to Stay in Paris
Luxurious Hotels with Eiffel Tower Views
Cozy Airbnbs with a View of the Eiffel Tower
Popular Paris Sights 
Musee d'Orsay & The D'Orsay Clock
Notre Dame & its Rooftop Gargoyles
Paris Off the Beaten Path
Musee Jacquemart Andre and The Paris Pantheon
Where to Eat in Paris
Delicious Desserts in Paris
Lunch at Paul & a Romantic Dinner at Potager du Pere Thierry
Outside Paris
Day Trip to Giverny, Vernon & Auvers sur Oise
Exploring Normandy
Follow me @Sher She Goes on