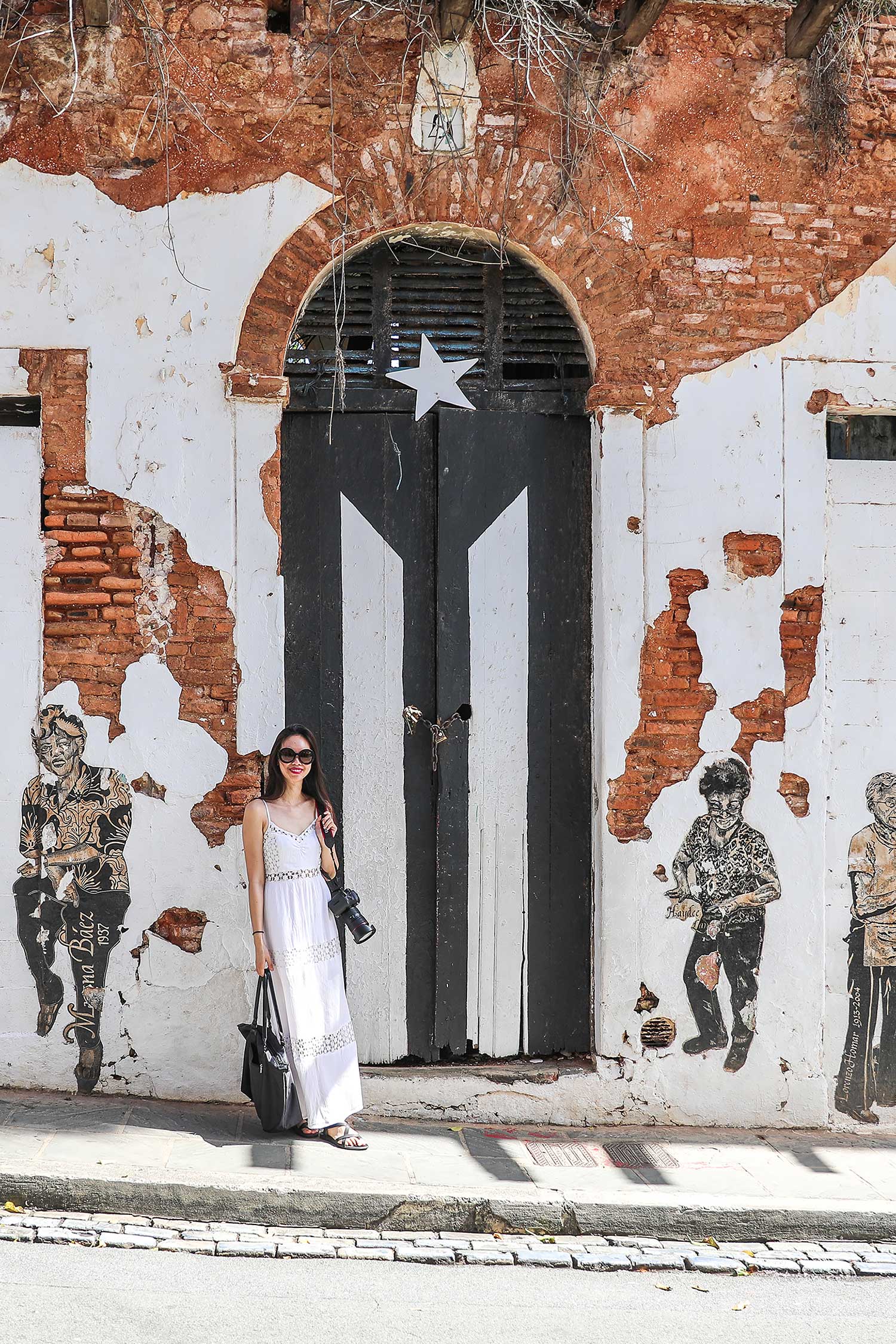 5 Days in Puerto Rico
We recently returned from our first visit to Puerto Rico.
We spent 5 days in San Juan, exploring the capital city with a couple day trips in between. The island is all the things you expect from the Caribbean and more!
If you're looking to plan your own trip to Puerto Rico, we've got you covered. Keep reading for a sample Puerto Rico itinerary!
ADVERTISEMENT
Keep reading or save this article by pinning it ⇟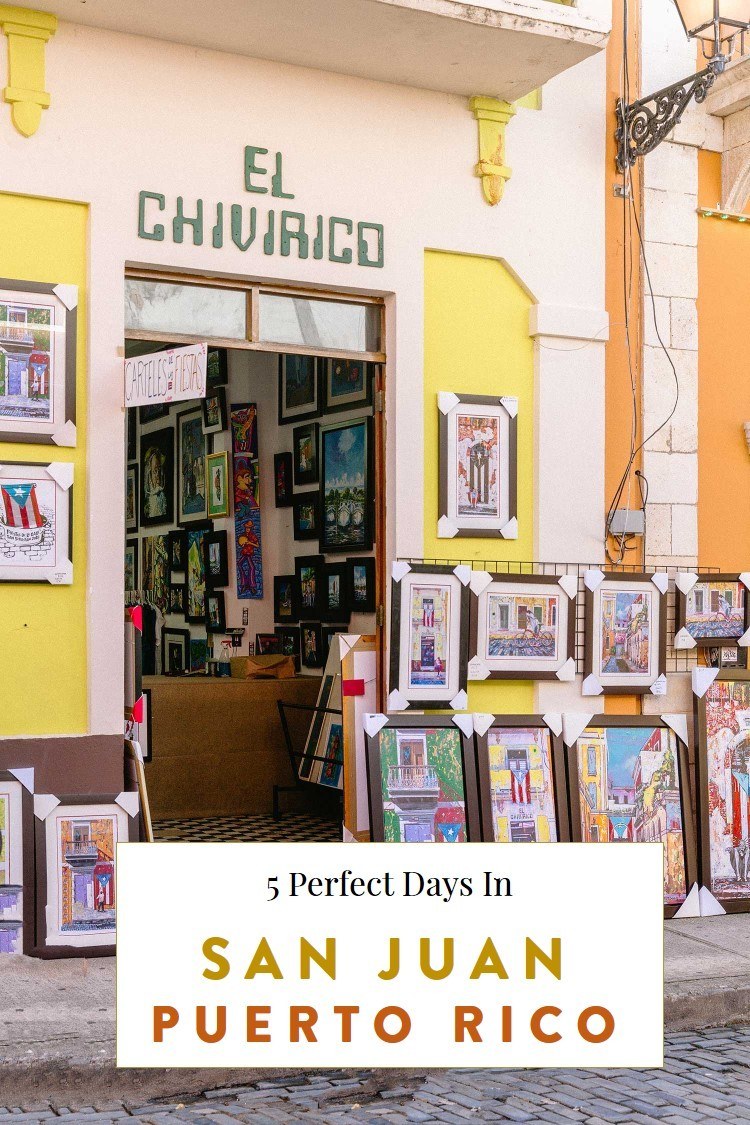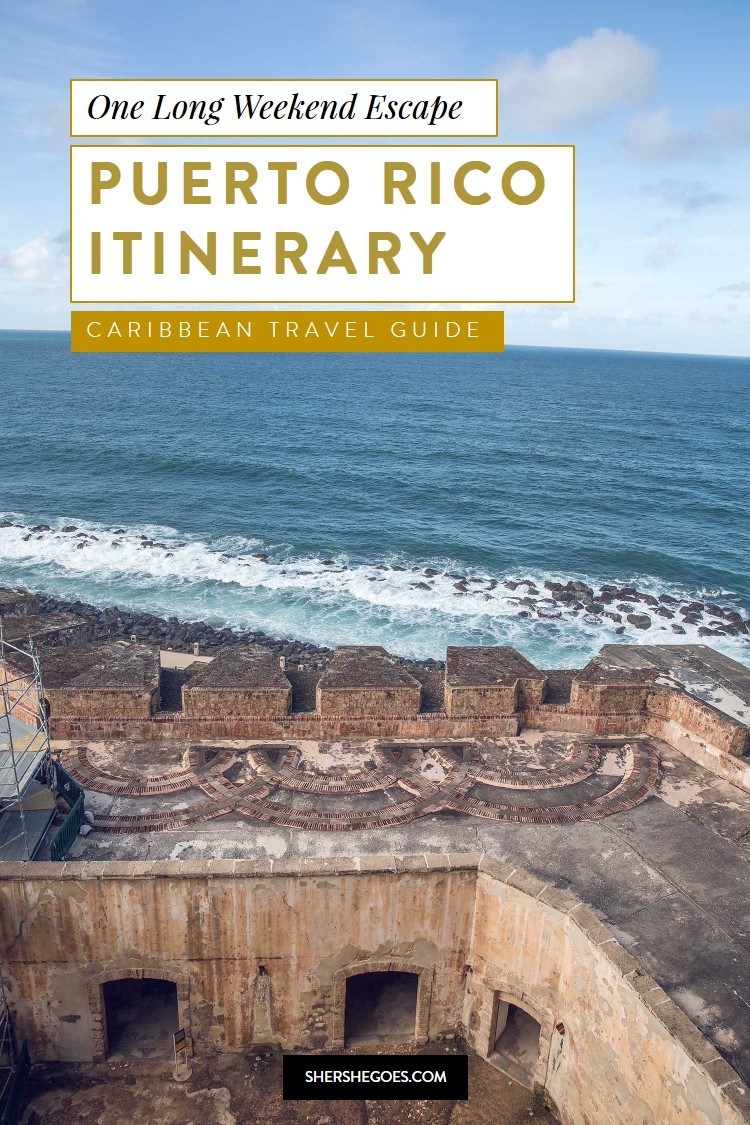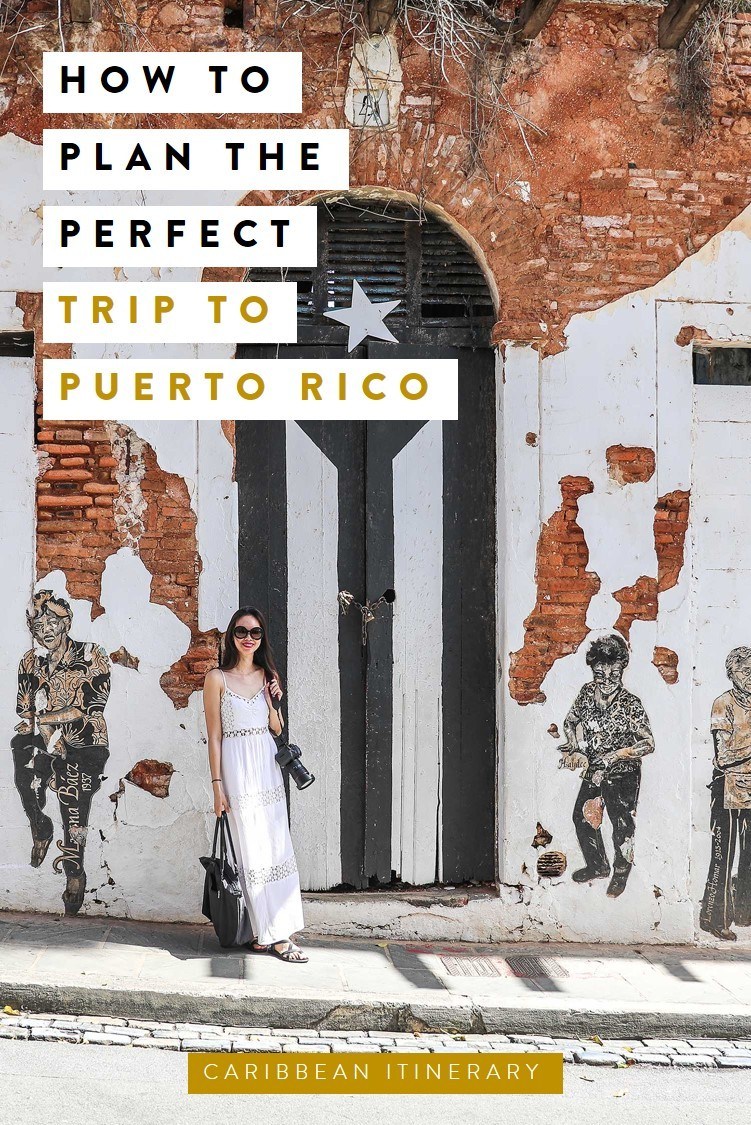 ADVERTISEMENT
---
---
Puerto Rico Itinerary
Colorful streets, Old World architecture, killer cocktails and a wonderfully warm people lend Puerto Rico a casual and fun vibe.
Since we visited Puerto Rico after Hurricane Maria, we weren't quite sure what to expect but quickly realized how fast the country has mobilized to rebuild itself.
We recommend spending 4 to 5 days in Puerto Rico. While the island is quite small (about the size of Connecticut) there's lots to see, do and eat!
Read more:
What to Pack for A Puerto Rico Getaway
ADVERTISEMENT
---
---
1 Week Puerto Rico
Day 1: Arrival to San Juan
We flew from New York City to San Juan on a short, 3.5 hour flight.
If you fly Jet Blue, the San Juan terminal is brand new and we were off the plane and into our car in under 15 minutes (I kid you not!). I've never breezed out of an airport so easily or quickly.
If you haven't booked flights yet, set an alert to be notified when deals occur.
Puerto Rico airport is located just 20-30 minutes outside the capital city and we checked into our hotel in Condado right away.
ADVERTISEMENT
---
---
After a refreshing lunch by the ocean with fish tacos and some coffee, we set out to explore Old San Juan.
The colonial Old City was first settled by the Spanish in 1508, and formed an essential stopover from Europe to the Americas.
Due to the strategic position in the Caribbean for merchant and military ships transporting gold and silver, Old San Juan was heavily fortified and on a walking tour of the city you can spot the thick, tall limestone city walls, the old city gates and 3 old forts.
Read more:
The Best Hotels in Puerto Rico
ADVERTISEMENT
---
---
Things to See in Old San Juan:
Shop for designer outlet goods on Cristo Street
Tour the blue governor's mansion La Fortaleza
Visit San Juan Cathedral, the burial place of Ponce de Leon
Explore San Cristobel Fort, the city's largest defense fort
Read more:
The Best Sights in San Juan
Overnight: La Concha Hotel
La Concha is an upscale hotel right on the beach in Condado, a residential district known for its pedestrian friendly sidewalks and great shopping. With lots of on site restaurants, a hip happening lobby bar and infinity pools overlooking the ocean, La Concha is a great hotel choice for Puerto Rico!
Check rates: Booking.com, Hotels.com | Read reviews: TripAdvisor
ADVERTISEMENT
---
---
Day 2: Day Trip to Culebra
Culebra is a remote island east of Puerto Rico mainland, with a series of beautiful beaches and cays.
There's Flamenco Beach famous for its hills and white sand beaches, Culebrita known for its great snorkeling and Punta Melones for its dramatic sunsets.
It's quite popular for locals and visitors to head out east for the day to snorkel, scuba dive and relax in the turquoise waves.
We booked this tour for the day on a catamaran and thoroughly enjoyed the experience (it also came with plenty of rum punch!)
Overnight: La Concha Hotel
Read more:
Fun Day Trips in Puerto Rico that You Should Take
ADVERTISEMENT
---
---
Day 3: The Bacardi Rum Factory
Bacardi's largest rum factory in the world is based in San Juan, Puerto Rico. A visit here is not to be missed!
Tours come with 1 free cocktail but we also opted to take the rum tasting tour, where we were introduced to Bacardi's 5 different rums and taught to sip and taste them properly!
It was such a fun experience – especially because I never thought I'd enjoy sipping rum on the rocks.
Read more:
Where to Eat in Puerto Rico: A Food Guide
ADVERTISEMENT
---
---
The previous night, we also tried some local Puerto Rican rums after dinner which I also highly recommend.
My personal favorite was Barrilito 3 stars, which has much stronger caramel notes than Bacardi's 8 year rum.
For dinner, we headed to a local hot spot called Lote 23.
The original lot was transformed into local food trucks, each selling different appetizers, dishes and drinks. There are plenty of outdoor tables to sit and chat with friends and on the night we went, there was also a chef battle on the center stage!
Overnight: La Concha Hotel
ADVERTISEMENT
---
---
Day 4: Revisiting Old San Juan
We decided to cancel our plans for our last full day in Puerto Rico and revisit Old San Juan.
We loved the colorful streets and architecture reminiscent of New Orleans and wanted to spend the day relaxing, trying out some coffee shops and local restaurants.
The first day, we did a historical walking tour and focused on the museums, forts and churches so today was a more local experience!
It also happened to be the week of San Sebastian Festival, a Puerto Rico version of Mardi Gras.
Food trucks set up early in all the main squares, selling delightfully heavy fried goodies and Medalla beers. All the bars opened early and dance troops took over the streets for fun parades! We loved the crazy, packed atmosphere and if you can time it, would definitely recommend visiting the tropical island during any of its many festivals!
Read more:
The Best Time to Visit Puerto Rico
ADVERTISEMENT
---
---
For lunch, we opted for something light since it was quite humid and tried out Verde Mesa, a cute rustic pescatarian spot on the edge of the city. It's also just a block away from Senor Paleta, a famous local ice pop shop.
Afterwards we browsed some art galleries and then headed back to our hotel to spend the afternoon at the beach!
Overnight: La Concha Hotel
ADVERTISEMENT
---
---
Day 5: Pool Time and Relaxation
On our last day, we got some food by the bar and had one last dip in the pool before our flight home!
And that's it, our 4 days in Puerto Rico in a nutshell!
Hope you liked our San Juan itinerary and that it gave you inspiration as you plan your own trip to Puerto Rico. While most cruise ships dock on Old San Juan for just an afternoon, we highly recommend extending your stay if you can.
We heard that Viking River Cruises offers pre and post extensions in San Juan (they happen to also stay at the La Concha resort) so that could be a great way to experience a week in Puerto Rico!
ADVERTISEMENT
---
---
Visiting Puerto Rico – Travel Checklist
Many U.S. airlines offer daily, direct flights from select US cities. We flew Jet Blue from New York City's JFK airport. Puerto Rico is offering cheap flights to encourage visitors to the island – you can set an alert flight deals here.
Traveling to Puerto Rico as an American citizen is incredibly convenient. All you need is your license, no passport required, as the island is a U.S. territory. Likewise, no need to bring a travel adapter, exchange currency or purchase a SIM card. American phones, dollars and plugs work just fine throughout the island.
As a result of Hurricane Maria, life in Puerto Rico has changed. We visited in mid January 2018 and found that electricity was up and running throughout the capital of San Juan. Select hotels and restaurants are open; we've listed the hotels we visited and used here. Check here for great deals on accommodation.
Lastly, be sure to visit Puerto Rico with travel insurance. Whether you get injured and need to be hospitalized, your phone gets stolen, or a flight delay leaves you with nothing but the clothes on your back, travel insurance will help when you need it most. Get a quote for your trip here.
You Might Also Enjoy:
Puerto Rico Vacation Planning Articles
Planning a Trip to San Juan: 1 Week Puerto Rico Itinerary
A Neighborhood Guide to Where to Stay in Puerto Rico
THIS is the Best Time to Visit Puerto Rico
Packing Checklist: What to Wear in Puerto Rico
Puerto Rican Sights, Activities & Tours We Especially Enjoyed:
9 Incredible Sights in San Juan You Simply Can't Miss
Puerto Rico Day Trips You Need to Take!
Where to Eat in Puerto Rico: 6 Restaurants to Try!
Follow me @Sher She Goes on