The Best Things to Do in Cuba
Cuba is the largest island in the Caribbean, just 90 miles south of Key West, Florida. With crumbling, majestic architecture and a rich political history, I guarantee this island is unlike any other you might have visited in the Caribbean!
While American Cuban relations might be unclear, if you have the chance to visit Cuba, I would highly recommend you to leap at the opportunity. From grand museums to colorful beaches, colorful Old Towns and fields of tobacco, there is lots to see and do in Cuba.
In today's post, I've narrowed down my top recommendations for fun things to do in Havana, Cuba!
Or pin this article to save it for later ⇟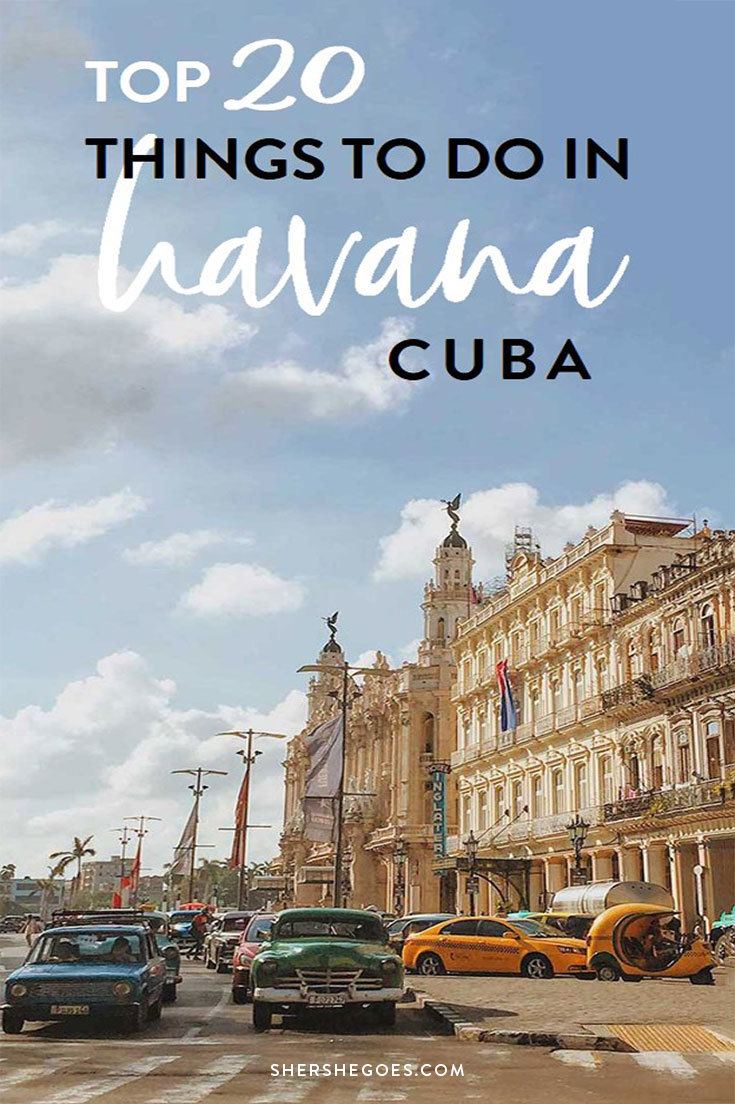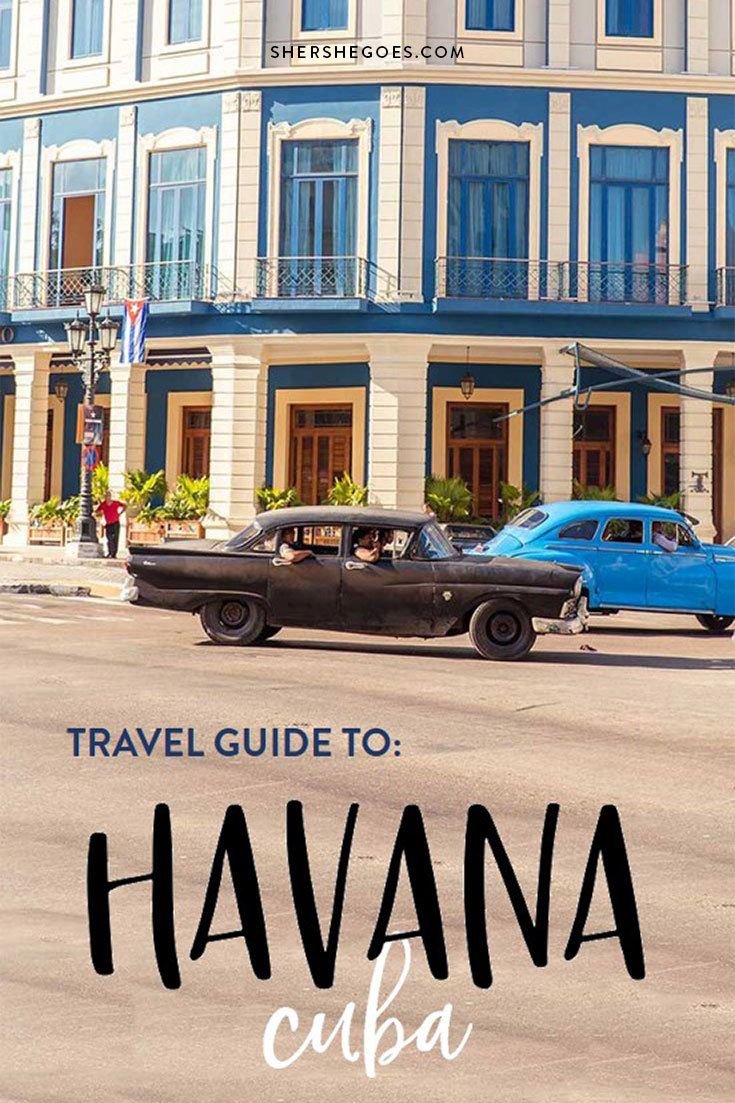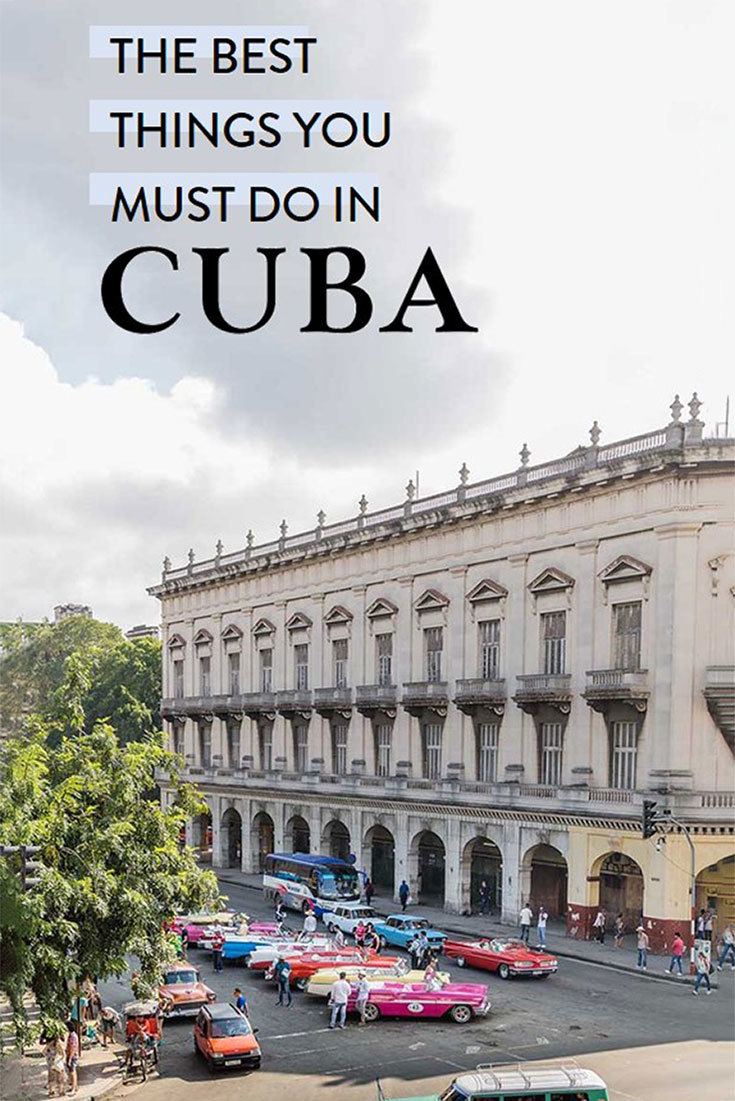 ---
---
Where to Stay in Havana
Cuba's tourist infrastructure is more limited than say, the Bahamas. Rather than luxurious all-inclusive hotels, expect a more local experience! Whether you prefer hotels, Airbnb or casa particulars, there are a number of options for accommodation in Havana.
Here are 3 of the best hotels in Havana:
1 | Hotel Saratoga – Stay here to live large like Beyonce, Katy Perry and Madonna. This hip baroque style hotel is conveniently located in Old Havana and features multiple bars and restaurants. Make sure to check out the rooftop pool.
Check rates: Booking.com, Hotels.com | Read reviews: TripAdvisor
2 | Hotel Nacional de Cuba – This is the historic, #1 hotel in Havana that has seen iconic legends like Winston Churchill, Ava Gardner, Frank Sinatra, Ernest Hemingway and more grace its rooms. Old world glamour is evident everywhere in its art-deco interiors.
Check rates: Booking.com, Hotels.com | Read reviews: TripAdvisor
3 | Hotel Florida – Hotel Florida features gorgeous Spanish architecture with beautiful columns and checkerboard floors. It's also conveniently located in Old Havana, near Calle Obispo (which is pedestrian only), making it perfectly safe for those wanting to enjoy Havana's nightlife.
Check rates: Hotels.com | Read reviews: TripAdvisor
Read more:
The Best Airbnbs in Cuba
---
---
The Best Things to Do in Havana, Cuba
Cuba is one of the most unique islands in the Caribbean, due to its history and politics. From brilliant Spanish architecture crumbling into disarray, pristine deep blue beaches and highly charged political museums, there is lots to keep you busy in Cuba for at least a week!
Below I've listed some of the top things to do in Cuba as well as fun nearby day trips to Cuban cities like Cienfuegos, Santiago and Vinales.
1. Explore Colorful Old Havana
Havana is Cuba's capital city and displays lots of 16th century Spanish colonial architecture. From the iconic National Capital Building built in the 1920s to the fort / maritime castle and baroque Cathedrals, Old Havana has many vibrant architectural styles!
The city is best explored on foot, although note that there are many cobblestone streets so wear good walking shoes. A great way to support the local economy is to book a tour guided by a local.
There are 4 main plazas so it's difficult to get "truly" lost and in fact, the side streets are often the most charming!
Many of the buildings have grand, colorful facades painted in various pastel shades with beautiful columns and yes, much of the paint is peeling and the mortar crumbling.
Book
Small Group Guided Walking Tour
---
---
2. Ride in a Vintage Convertible
While this is totally touristy, where else can you find 50s era cars in tip top condition? After the US erected the embargo against Cuba, it became quite difficult to import new cars to the island and so that's why you see so many "old" cars on the streets today.
The exteriors have been carefully waxed, maintained and restored while the interiors often contain brand new parts. Go for a ride at least once on your vacation to Cuba!
How much do vintage car rides in Cuba cost?
On average, expect to pay anywhere from $25 CUC to $50 CUC per hour, depending on the season and where you want to go. Naturally, the prettiest and fanciest convertibles will cost more! You can combine a guided tour with a vintage car ride here.
Book
2 Hour Classic American Car Tour
---
---
3. Attend the Ballet at the Gran Teatro de La Habana
I was lucky enough to visit Cuba right after they finished restoring the Grand Theatre and it is stunning inside! Make sure to at least visit the beautiful museum and ideally, stay to watch a ballet performance!
---
4. Shop the Vintage Flea Market at Plaza de Armas
If you like collecting political posters or vintage anything, this is the place!
I saw everything from posters of Che Guevara to Fidel Castro's manifesto in many different sizes and pictures. There were vintage suitcases, books, stamps and pins.
It's fun to walk around and browse and this area is one of Havana's 4 main plazas so you will likely find yourself in the square naturally.
---
---
5. Visit the 4 Plazas of Habana Vieja
Old Havana has 4 main plazas:
Plaza de Armas
Plaza Vieja
Plaza de San Francisco de Asis
Plaza de la Catedral
If you've ever visited Spain, Old Havana is set up very similar with grand boulevards and side streets that converge on these large, open plazas. Expect lots of majestic architecture from different periods (Colonial, Neoclassical, Baroque), churches, cathedrals and monuments as well as lots of shops and restaurant courtyards.
I discovered a tiny but excellent coffee roaster off Plaza de la Catedral and fun antique souvenirs in Plaza de Armas. There are also excellent ice cream and chocolate shops, bars with live music and quaint art shops that visitors will love!
Book
Small Group Guided Walking Tour
---
---
6. Marvel at the Museum of the Revolution
This was such a fun museum to visit.
It used to be the Cuban Presidential Palace until the Cuban Revolution, when it became a museum. The exterior is designed in Neo-Classical style, while Tiffany Studios designed the interiors.
Much of it today is devoted to the revolutionary war, War of Independence against Spain and military history. The signs and exhibits are all in Spanish.
Unfortunately I couldn't read them so I browsed rather quickly, but it's a beautiful museum to just wander! There are stunning rooms with gilded gold mirrors, painted ceilings, etc.
---
---
7. Smoke a Cuban Cigar
One souvenir you can't forget to bring home is an authentic, classic Cuban cigar. Cohiba is the brand that I'm more familiar with.
Did you know how it started?
One of Fidel Castro's bodyguards used to get a private supply from Eduardo Ribera, a local cigar maker / artisan.
Castro liked them so much that he set up a factory with a group of cigar makers and created the brand. His preference for the cigars was so well known that at one point the CIA tried to create exploding cigars as an assassination method…
---
---
8. Eat at a Paladar
Paladars are privately run restaurants. Technically in Cuba the government owns and operates state run restaurants for tourists. However, enterprising families can open their own private establishments.
Try out one of these at least once on your visit to Cuba! While at a state run restaurant the menu typically offers steak or lobster, paladars usually serve Cuban food classics like ropa vieja (slow cooked shredded beef), fried plantains and beans.
There are lots of different types of paladars – some are right in the family home while some are much more elaborate in former mansions.
Some use family help as staff and cooks while others employ more professional chefs.
Read more:
The Best Restaurants in Havana
---
---
9. Marvel at Fusterlandia
We took a day trip to see Fusterlandia, where Cuban artist Jose Fuster transformed his poor neighborhood into a Picasso-like masterpiece.
Inspired by Gaudi's works in Barcelona, Fuster first re-tiled his own studio and then gradually tiled and colored his neighbors.
This area was almost a slum before but tourism has really helped the area and encouraged new artists to create in Cuba. You'll see lots of homes selling colorful, unique souvenirs like hand made baseball hats, magnets and art.
---
---
10. Take a Day Trip to Vinales
Vinales is a rural town in Cuba that's famous for scenic beauty and tobacco production. If you like Cuban cigars, this is THE place to visit.
The easiest way to get there is to book a tour that covers transportation, since it's almost impossible to rent a car on your own and the local bus that connects the country is for locals only.
Check availability:
Sunny Vinales Day Tour from Havana
11. See the Tropicana Show
Unfortunately I missed this on my trip to Cuba, as my visit coincided with Fidel Castro's funeral so all Tropicana performances were canceled. I've heard its quite thrilling and great fun! With lots of elaborate costumes, dancers and cocktails you can expect an Old Time Cabaret meets Nightclub vibe.
Check availability:
Tropicana Cabaret Tickets
12. Visit Ernest Hemingway's house, Finca Vigía
Another popular day trip from Havana is visiting Ernest Hemingway's Cuba house, called Finca Vigia or lookout house.
Hemingway opted to live in a modest, working class town of fishermen and it's here that he penned For Whom the Bell Tolls and The Old Man and the Sea. They're such classics that we had to read both of these in high school! If you're a true Hemingway fan you can't miss seeing this.
Check availability:
Ernest Hemingway Tour
---
---
13. See the Parisiene Dinner Show at Hotel Nacional
The Hotel Nacional offers a Parisien Cabaret and Dinner show. It's meant to illustrate the fusion of cultures that has formed Cuba today, including Indoamerican, Hispanic and African peoples. Stay for dinner and linger if you want to learn how to dance!
14. Visit Cienfuegos & Trinidad
Cuba is more than just Havana. Cienfuegos is a colorful colonial town, with several notable government palaces and stunning architecture. Trinidad is famous for its museums and churches. Both have a much different look and feel than Havana, so if you have the time, why not take a day trip to explore them?
Check availability:
Trinidad & Cienfuegos Day Trip
15. Stroll the Malecón Esplanade
This broad, long hallway stretches for 5 miles along Havana's coast, from the cruise ship habor all the way to the Vedado neighborhood. It's popular at night for romantic strolls and also popular during the day for local fishermen!
---
---
16. Learn to Salsa
Cuba has its own distinct style of salsa! In the 1920s upperclass white Cubans often hung out at dancing casinos so it's very much a societal and cultural institution dating back to pre-revolutionary times.
17. Go to a Jazz Club
If you love going out, grab a cocktail and hit Havana's best jazz clubs. The jazz scene is booming and you can be entertained long into the night at any club but particularly popular ones are the Jazz Cafe in Vedado and La Zorra (which does more Afro-Cuban music). Most all of Cuba's jazz clubs charge a cover.
18. Have a Cuba Libre by the Pool at El Presidente Hotel
When El Presidente was first built in 1928, it defined the standard of luxury, largesse and class. Every famous political, business or art figure has typically stayed here and it's location just off the Malecon Pier on the Avenue of Presidents is a landmark.
---
---
19. Toast Hemingway with a Daiquiri at El Floridita
El Floridita is a cocktail bar in Habana Vieja that was one of Ernest Hemingway's hangouts in the 1930's. All the famous Cuban and foreign intellectuals of the era were regulars here and today the bar still maintains that Regency era decor.
You absolutely have to come here for a daiquiri! It also serves (really expensive) seafood.
20. Dine at the Famous La Guarida
La Guarida is the most famous restaurant in Cuba and an iconic Havana establishment. It's elegant location on the rooftop of a dilapidated mansion and tasty twists like guava passion fruit dessert have kept visitors coming back visit after visit!
---
---
Fun Tours in Cuba
---
---
What are you most looking forward to doing in Cuba?
Visiting Cuba – Travel Checklist
Flights | Traveling to Cuba is unpredictable, given the political relations between the U.S. and Cuba. When I visited in the end of 2016, President Obama had relaxed restrictions and as a result, airlines and cruises actively promoted travel to Cuba so long as your journey fell under the approved visitation categories. Today's climate is slightly more dicey, but you can check here for flight deals.
Insurance | Be sure to visit Cuba with travel insurance. Whether your flight is cancelled, your camera & electronics get stolen or you get and need to be hospitalized, travel insurance will help when you need it most. Get a quote online for your trip here.
Tours | If you want the same quality of accommodation and food you're used to at home, I would suggest visiting with a cruise company. Cruises offer gourmet, all you can eat meals, western style accommodation with hot showers and air conditioning, plus often there is the option to get wifi on board. Browse cruises to Cuba here.
If you're up for an adventure and more easy-going, give casa particulars a go. You can book a tour with Intrepid on a People to People visa. They organize everything, explore Havana, Vinales, Cienfuegos and Trinidad while supporting local businesses – check out the itinerary and more info here.
You Might Also Enjoy:
Cuba Vacation Planning Articles
How Americans Can Travel to Cuba FAQ + Everything You Need to Know
20 Fun Things to Do in Cuba Cigars, Cars & More!
What to Pack for Cuba to Beat the Heat
Havana, Cuba
40 Breathtaking Photos of Cuba for Trip Inspiration
25 Things I Learned About Life in Cuba
Where to Stay in Havana: A Guide to Accommodation Types
Where to Eat in Havana: Some Restaurant Suggestions!
Follow Sher She Goes on