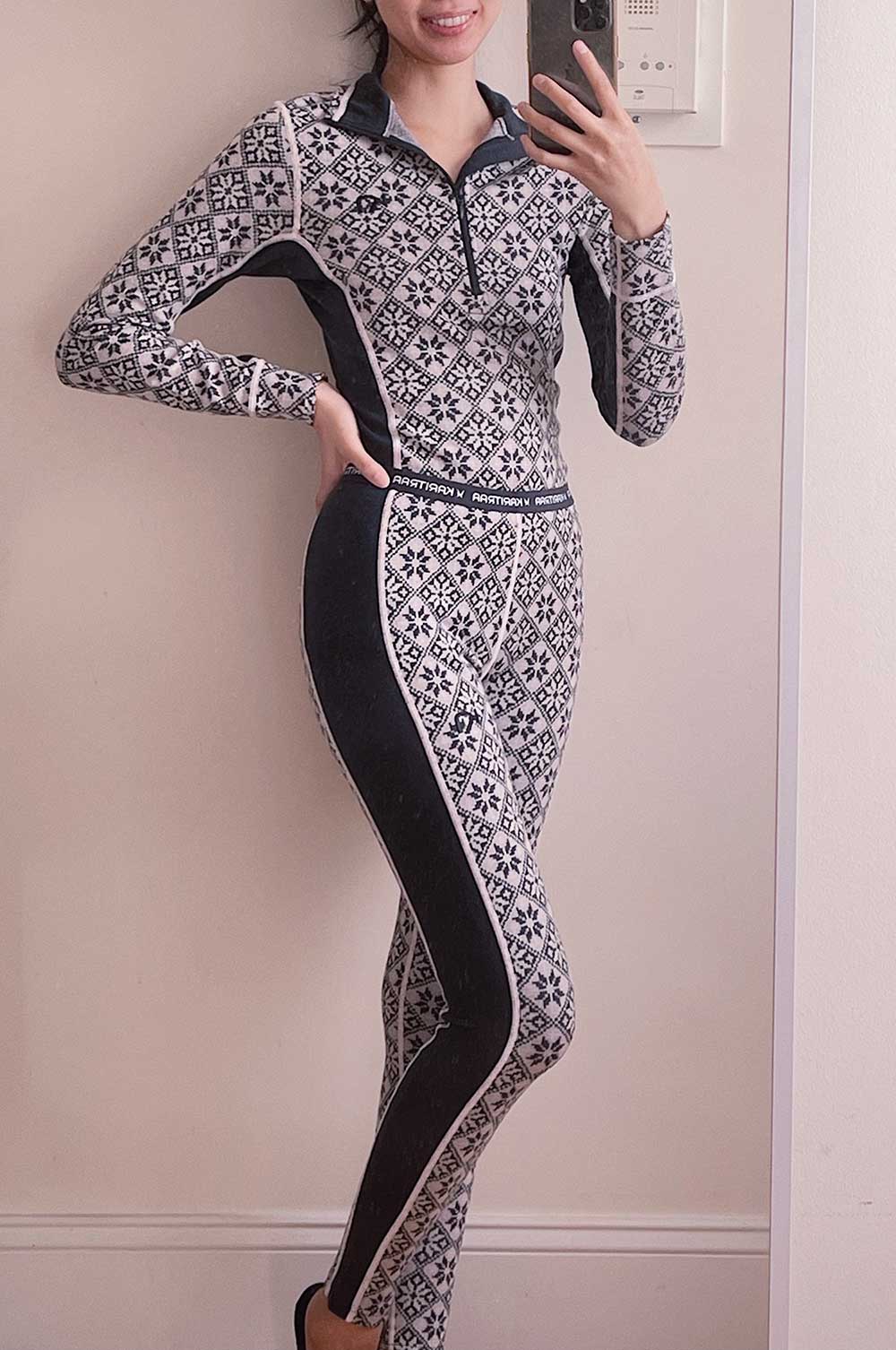 Kari Traa Review
On my trip to Norway, it seemed like every woman I met was wearing these gorgeous base layers and fleeces.
They were all a distinctive Norwegian-style pattern, but modern and colorful at the same time. Eventually I asked them where they got their clothes from and they all said, Kari Traa.
So finally, I bought my own pair!
And then, another pair.
Kari Traa makes some of the prettiest and most functional thermal underwear for women. Base layers are an absolute must in winter, and there are few brands that specifically cater to women.
So I thought I'd share the secret on Kari Traa and tell you all about my favorite base layer company.
Here's an in-depth review of the Kari Traa Rose base layer set.
Keep reading, or pin this article to save it for later ⇟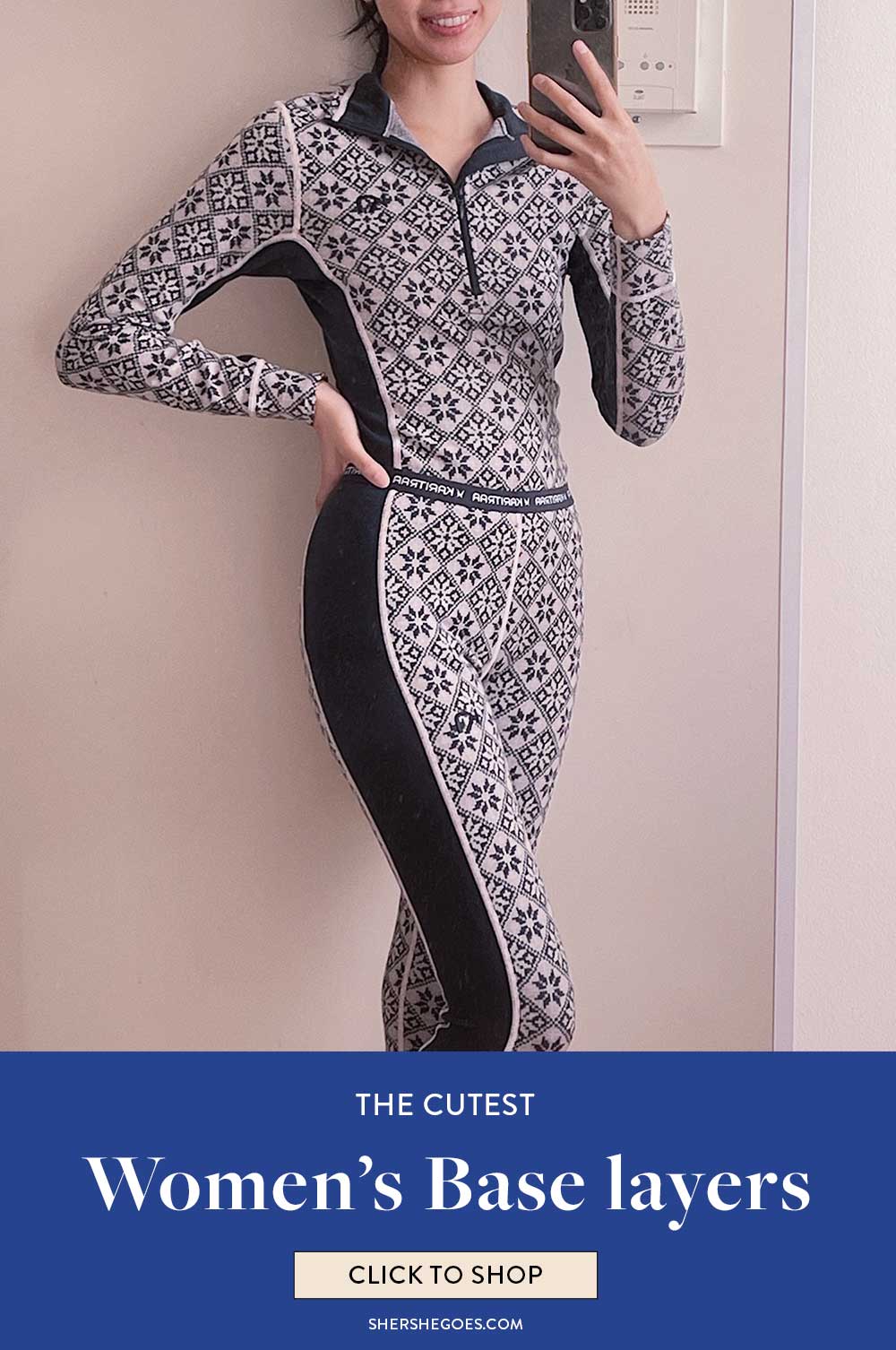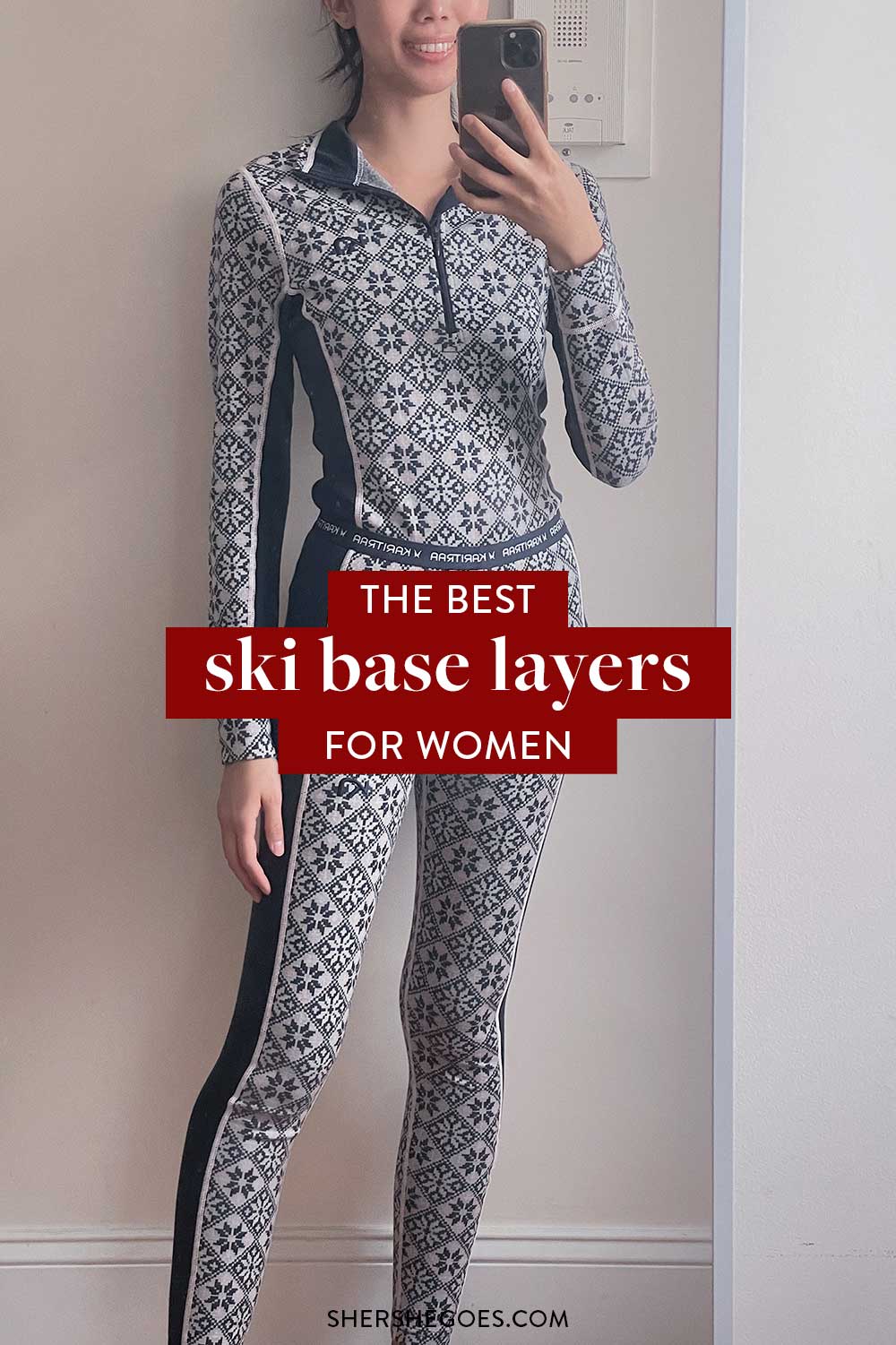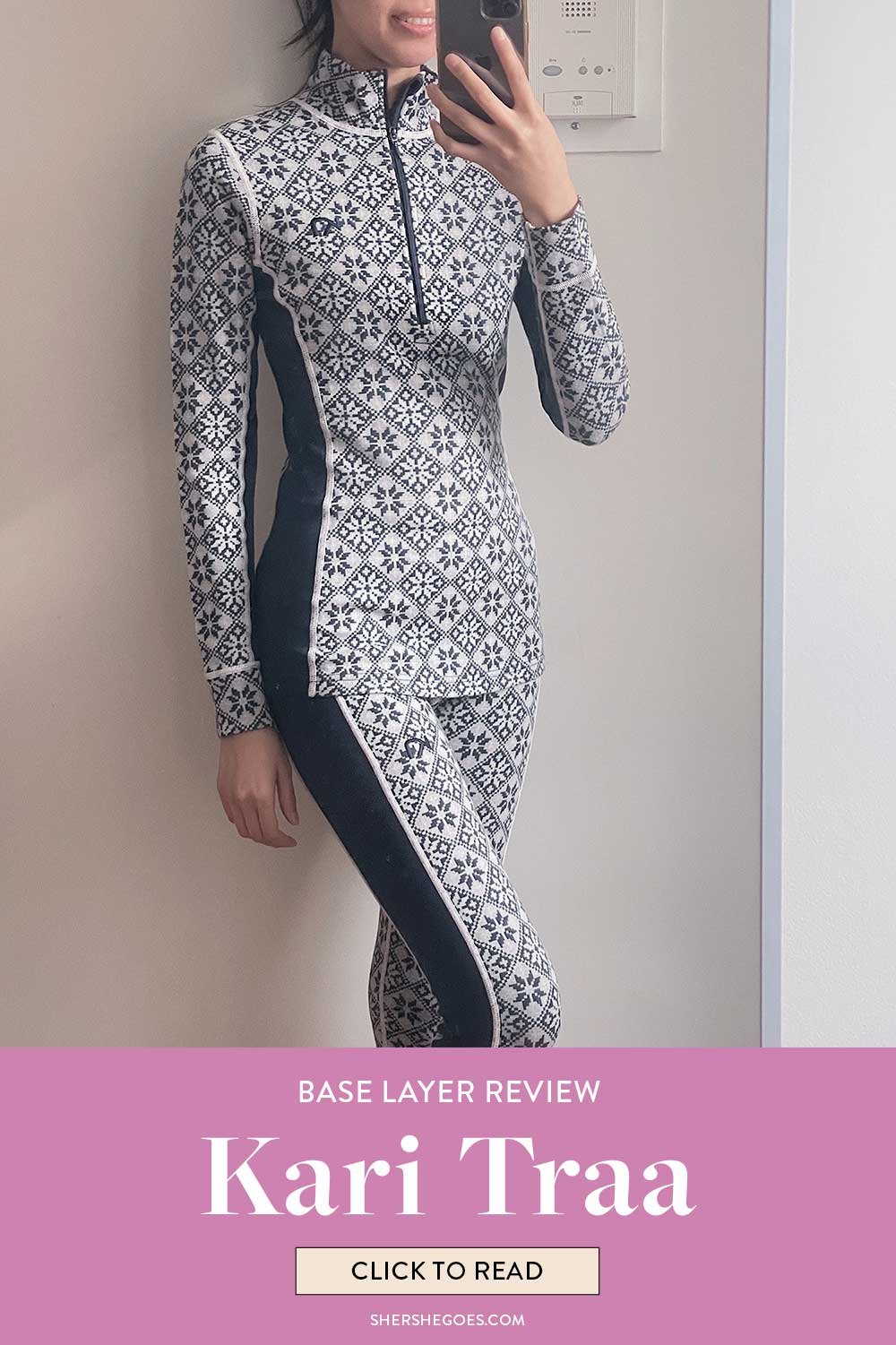 ADVERTISEMENT
---
---
Kari Traa
Skiwear is notoriously difficult to shop for.
Most brands cater to men and most ski clothing, from base layers to pants, come in solid black. Kari Traa stands out with its distinctive designs and colorful collection.
The brand was founded in 2006 by Norwegian Kari Traa, an Olympic champion freestyle skier.
She often knit beanies in her free time and customized her own ski wear, and started creating headbands and hats for friends and family. Eventually, she turned her hobby into a sportswear brand focused exclusively on girls and women.
Most of the patterns are inspired by Scandinavian traditions and rugged Norwegian conditions. They're colorful without being too loud or clash-y, and they're fitted for women's bodies without being too tight or uncomfortable.
Kari Traa makes everything from jackets to sweaters but the brand is most famous for its base layers.
ADVERTISEMENT
---
---
Kari Traa Rose Base Layer Review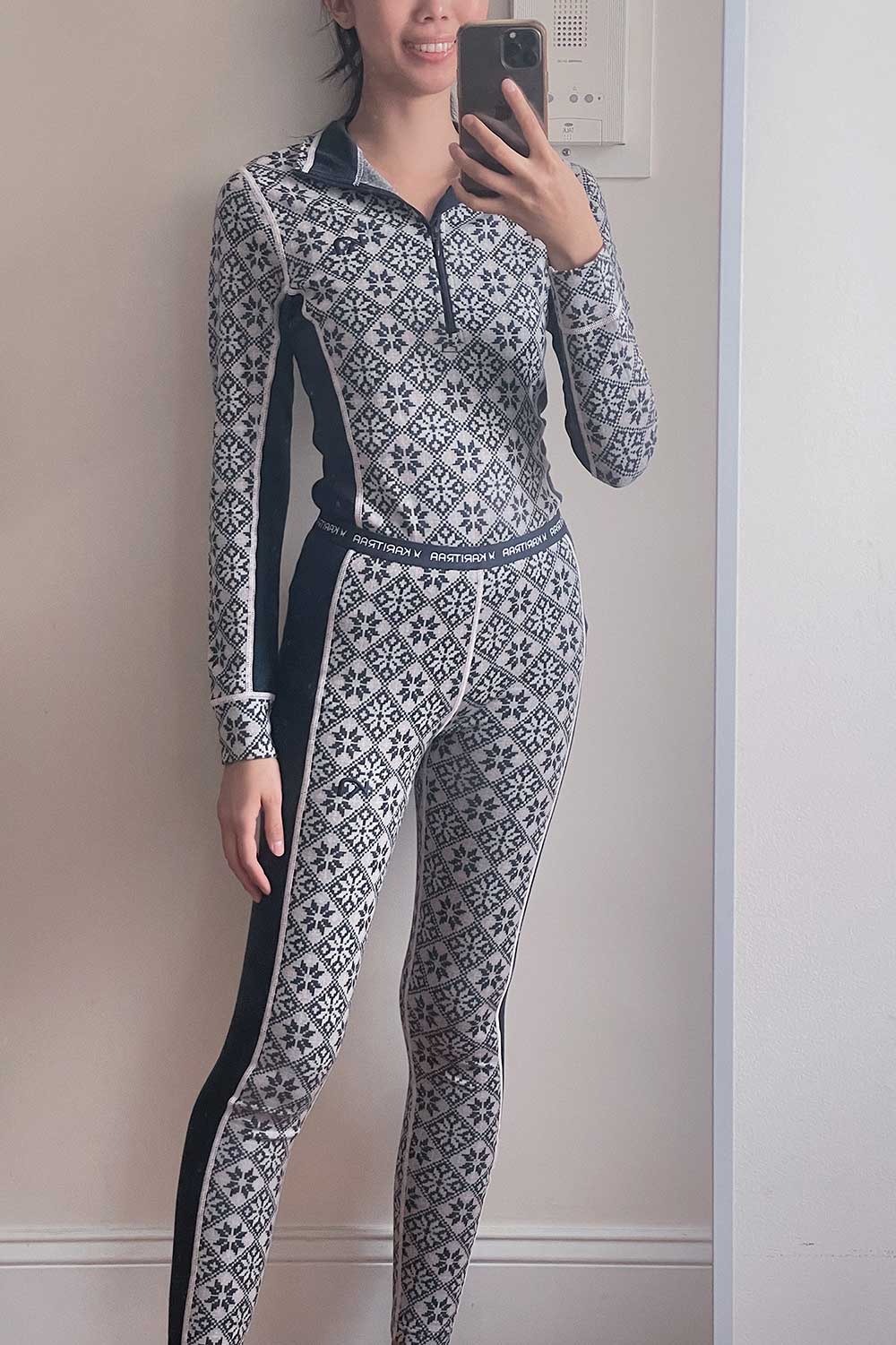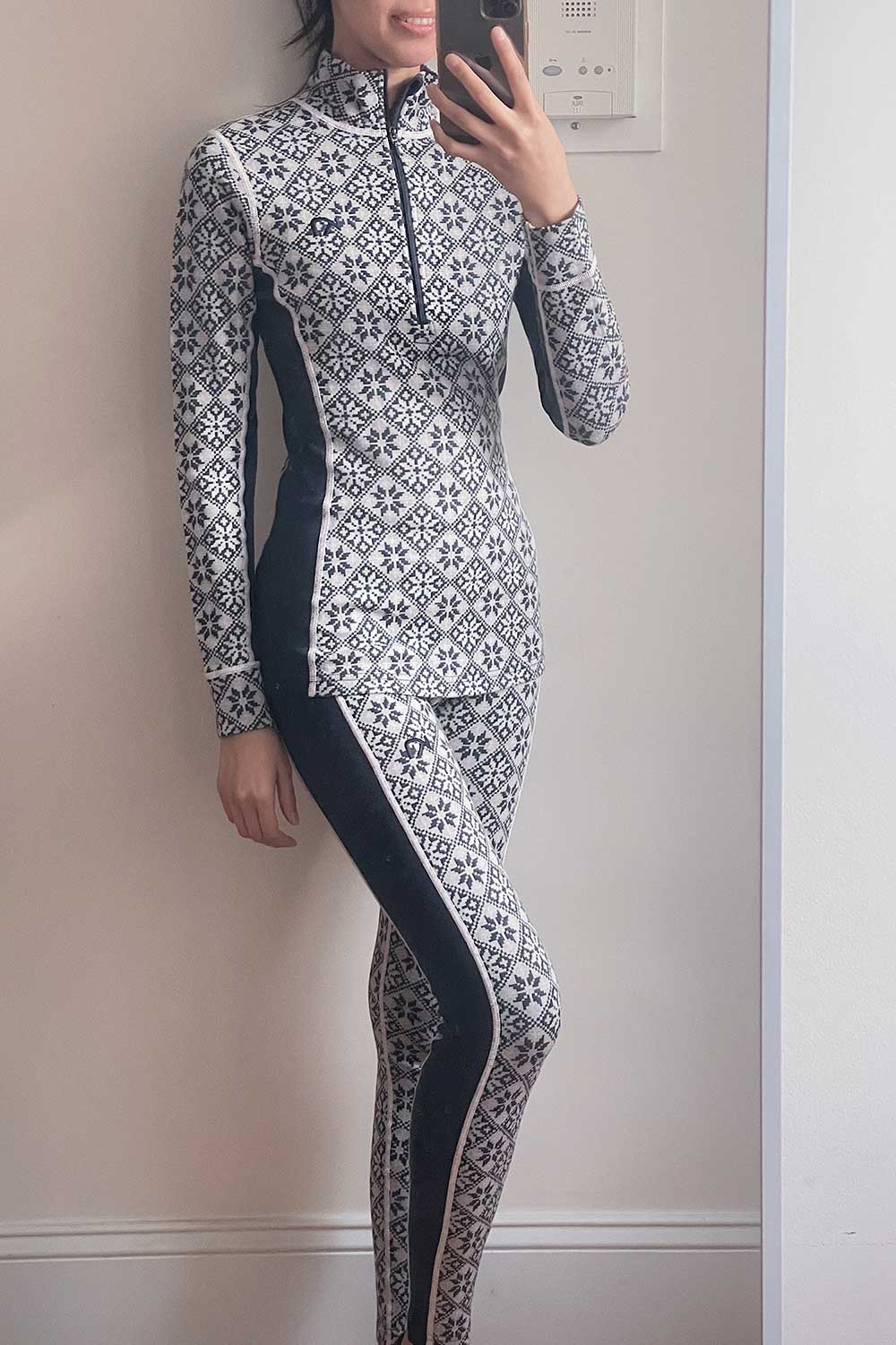 I first picked out the Rose set.
Tops and bottoms are sold separately, and the tops often come in different neckline styles. In fact, the brand makes a huge variety of base layers, in lengths and materials, including synthetic and wool blends.
But the original and most popular line in the collection is 100% merino wool based.
ADVERTISEMENT
---
---
Fit
Base layers are meant to be the first layer you put on, and to sit close to the body in order to keep you warm.
While both synthetic and merino wool options are available, merino wool is considered one of the best materials since it's breathable, moisture wicking and warm.
Lots of brands will say 'merino wool' but it's important to check the label for the actual wool percentage. Kari Traa's base layers are 100% merino wool.
This makes them highly breathable and naturally odor resistant, so they're especially great for winter hikes, skiing or snowboarding.
The tops and bottoms have a snug fit and four way stretch to move with you on the go.
There are also mesh ventilation panels on the sides of the torso and leg to help regulate your body temperature.
Finally, the seams are designed to lay flat so that they don't chafe your skin.
I do have really sensitive skin, so I don't find merino wool as comfortable as synthetic polyester or silk, but it's a trade off for the warmth and anti-microbial properties that only wool can give.
ADVERTISEMENT
---
---
Design
Like I mentioned, most base layers for women come in basic black or pepto-bismal pink.
There are surprisingly few options out there for women!
So one area that Kari Traa really stands out is in their designs. I love the Scandinavian prints and color patterns – they have bolder options, more traditional Norwegian patterns and wintery pastels.
The base layers also come in lots of different styles (crewneck, buttoned henley, half-zip, hooded), but I opted for both base layer tops in the half-zip style.
At first, I was going to get the round neck, until I went skiing for the first time and realized how crucial it is to keep your neck warm.
I recommend getting the half zip, since it adds a bit of extra protection and the collar can be folded down when you need it.
For the bottoms, they're available in both full length and cropped. If you're skiing or snowboarding, you might prefer the capri length so the pants can stay outside your boots.
ADVERTISEMENT
---
---
Price
Most 100% merino wool base layers will run about $70-120 each for the top and bottom.
Kari Traa is about average in price, at $110 each, and their clothing is pretty well made.
One of the drawbacks with merino wool is that because it's quite a thin material, it can stretch out over time, or develop holes.
But in my experience the Kari Traa thermal underwear has held up really well.
And, because these base layers are so pretty, they're versatile enough to wear as pajamas or even out to dinner on the town. The fabric hasn't pilled or torn, and it always keeps me warm.
ADVERTISEMENT
---
---
Overall, I love Kari Traa's winter clothing!
Whether you're looking for cute base layers for an upcoming ski trip, or want something cute and cozy for a winter getaway, Kari Traa is a great option.
The clothing is well made, highly functional and really cute.
I guarantee you won't reach for your all-black tops and leggings after trying out a set of these base layers!
Shop on: Kari Traa, Zappos, Backcountry, REI, Moosejaw & Amazon
Shop Women's Base Layers
---

ADVERTISEMENT
---
---
Ski Wear Haul
SKI CLOTHING TRY-ON HAUL: do cute ski pants exist ?? | women's ski pants + bibs review
ADVERTISEMENT
---
---
ARE DESIGNER SKI PANTS WORTH $$$? | luxury ski pant try-on (bogner, cordova, holden, helly hansen)
I posted a couple try-on hauls of all the ski wear brands that I've tried. You can check them out on my Youtube channel here.
ADVERTISEMENT
---
---
Ski Wear Haul
I posted a couple try-on hauls of all the ski wear brands that I've tried. You can check them out on my Youtube channel here.
ADVERTISEMENT
---
---
ADVERTISEMENT
---
---
ADVERTISEMENT
---
---
Read More: in our ski style series:
Ski Trip Packing Essentials
What to Wear Skiing: Packing List Must Have's
The Best Ski Pants for Women (Stylish & Functional)
I Found the CUTEST Women's Ski Pants (Video)
Are Designer Ski Pants Worth It? (Try-On Haul)
The Best Ski Sweaters for Apres-Ski 
Planning the Perfect Ski Trip
What to Know Before Skiing in Vermont for the First Time
Ski Trip Recaps + Mountain Guides
Lake Tahoe, California: Heavenly, Kirkwood & Northstar
Montana: Big Sky
Vermont: Stowe
Catskills, New York: Belleayre Mountain
Quebec, Canada: Mont Tremblant
+ More Ski Vlogs on Youtube
Follow me @Sher She Goes on