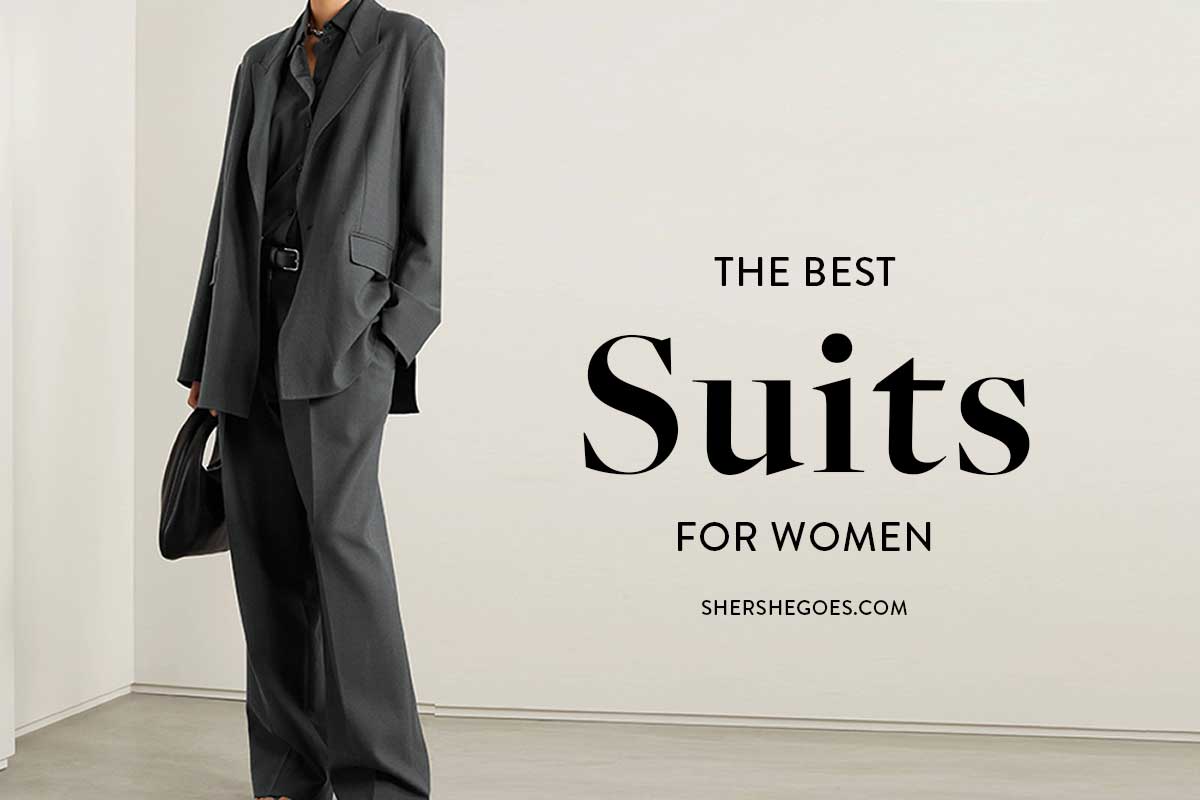 Best Women's Suit Brands
ADVERTISEMENT
Where to Buy Women's Suits
There's nothing more powerful feeling than a well tailored suit.
Whether you're looking for just a blazer or the best fitting trousers, we've got you covered! Here are the best places to buy women's suits and workwear.
Keep reading, or pin this article to save it for later ⇟
ADVERTISEMENT
---
---
What to Look for When Buying a Suit
Suit shopping, especially in the early stages of your career, can be confusing. You're not quite sure what the difference is among different suit types, wondering if you can 'get away' with a more casual option and most likely on a budget.
So here's some things to consider:
The Rules of Power Dressing
Offices are only getting more and more casual, so chances are the only times you really need to dress up in a suit are for interviews and business meetings.
In those instances, you want to be confident and knowledgeable and let yourself shine, not your clothes. So wearing a suit you feel confident and powerful in is key!
ADVERTISEMENT
---
---
Skirts vs. Pants
Suits are often sold separately, and you have the option to choose between trousers, skirts or even a dress.
Personally, I prefer a pant suit set but everyone has their own preferences.
When you're just starting out (say, in college) and looking for a suit for interviews, you're most likely on a budget. So in that instance, I'd recommend looking at skirts.
Pencil skirts are a much simpler piece of clothing to make, and so an inexpensive skirt suit can look more put together than an inexpensive pair of pants.
There's also not as many factors to weigh with a skirt. It's a simple piece of clothing and as long as it's long enough, you're all set!
With pants, you have to consider the pant style (straight leg, wide leg, flared) and also the length (cropped, full length with heels, full length with flats).
And often, a skirt won't need any alterations while pants typically will.
So if you're on a budget, try looking for off the rack skirt suits!
ADVERTISEMENT
---
---
Color Choice
You might assume that suits should be black, but actually, dark grey and dark navy are more commonly worn and more practical.
A matte black suit can look a bit like you're going to a funeral.
Fabric
It's also important to look at the fabric content when purchasing a suit.
Suits, even on the cheap end, can cost $100 and you want to make sure you're paying for good quality fabric that won't hold on to odors, warp or fall apart. Avoid suits that are primarily made of polyester, linen, rayon or anything shimmery.
Instead, go for wool. There's all different thicknesses and stretchiness in wool so a good quality wool suit will look much more flattering!
ADVERTISEMENT
---
---
Buttons
Formal suits are typically offered in two button or three button jackets.
Which you prefer is personal preference! Men have certain rules about buttoning and unbuttoning their suits as they sit or stand, but women generally don't have that rule.
And one of my favorite suits that I wore to practically every interview had no buttons at all!
Just make sure the jacket has buttons that are sewn on nicely and not cheap looking.
Tailoring
Suits off the rack can often need some adjustments.
It's a good idea to consider taking an inexpensive suit to the tailor and having some alterations made for it to fit perfectly to your body. I did that with my first suit when I was still in college.
A good tailor can hem pant lengths, nip in the waistband of trousers, shorten jacket sleeves, etc. But major changes, like fixing the body of the suit or re-working the shoulder and arm area is a bit more difficult.
Just keep in mind that tailoring isn't cheap and can't work miracles. So if the suit is already at the top of your budget and has a whole host of things to fix, it's probably not worth purchasing.
ADVERTISEMENT
---
---
Check Yourself in the Mirror
And finally, make sure to always cut the threads!
Jacket vents are often sewn shut, so make sure to double check and cut the 'x' if there's one in the back. Pockets are also sometimes sewn shut, so double check a) if there's really a pocket and b) make sure to open them gently with a seam ripper.
And as for where to buy a great quality (but budget friendly) suit?
We've got you covered!
ADVERTISEMENT
---
---
Best Suits for Women (2021)
MM LaFleur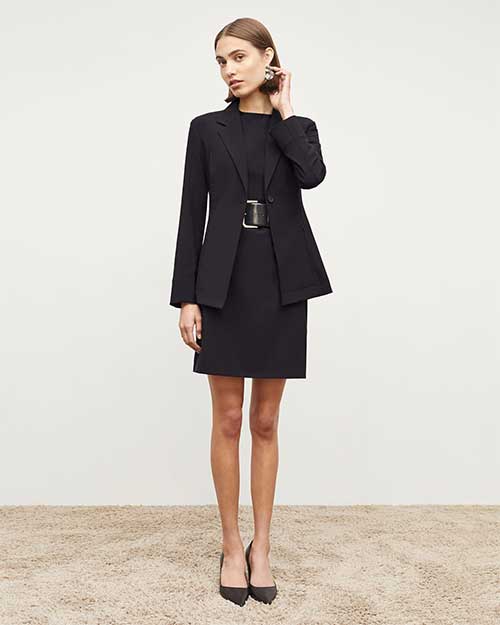 MM LaFleur is one of my go-tos for workwear for the modern woman.
Their clothes are always expertly tailored and well designed, with features like clasps to hide bra straps, adjustable pant hems and dresses with pockets.
Their suits are fantastic too!
They offer everything from suit dresses, to 'jardigan' jacket cardigans and of course, business formal suits.
ADVERTISEMENT
---
---
Theory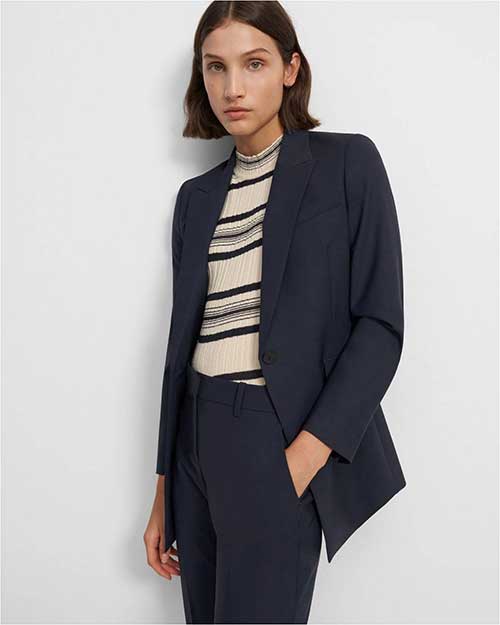 My favorite suit set is from Theory.
The brand nails strong feminine silhouettes and has a knack for creating really well fitting pants – something that is shockingly hard to find!
I especially love the Lanai open blazer! It doesn't have buttons but is still formal enough to wear to a conservative interview.
ADVERTISEMENT
---
---
J.Crew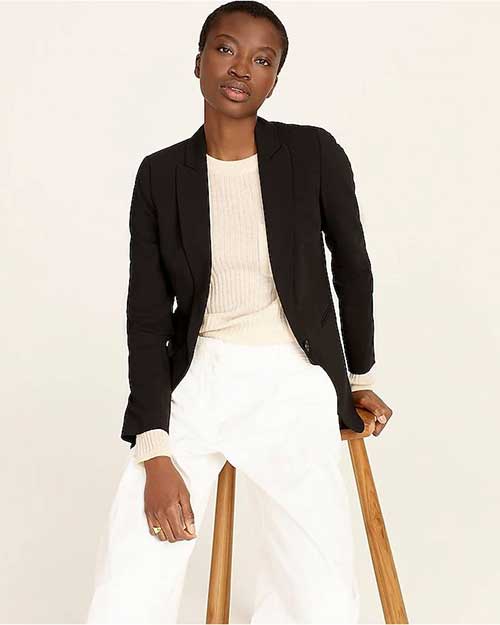 J Crew is another great place to find suits.
The brand sources their blazers and trousers from high quality Italian wool mills, so the suit sets are always great quality.
ADVERTISEMENT
---
---
Banana Republic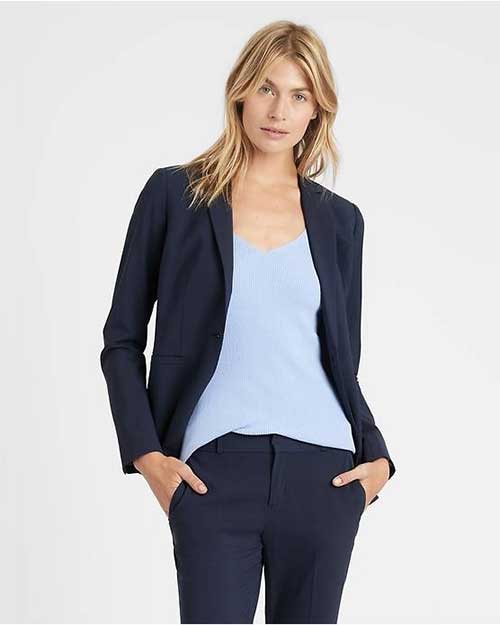 Banana Republic offers a great mix of formal suits and more modern, casual options.
ADVERTISEMENT
---
---
Ann Taylor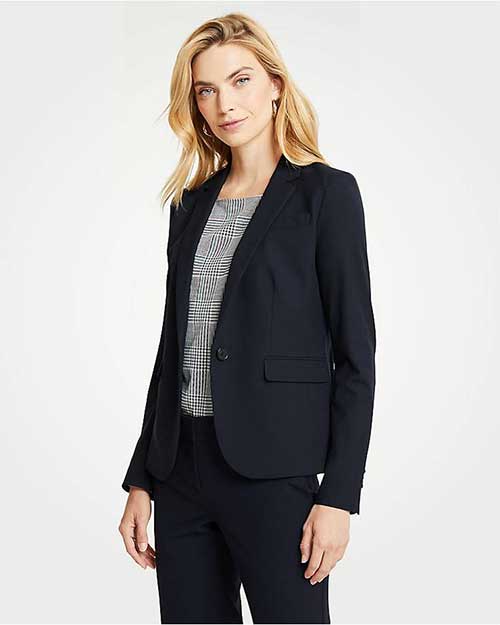 I've gotten some great deals on suits from Ann Taylor.
They make beautiful blazers and suit jackets, and I usually find a great sheath dress to pair them with!
ADVERTISEMENT
---
---
Shop Work Suits for Women
---

ADVERTISEMENT
---
---
Read More: in our work wear series:
Wardrobe Staples
How to Look Stylish at Work: 7 Work Wear Staples
The Best Classic Sheath Dresses for the Office
How to Wear an Oversized Blazer
The Cutest Sweater Sets (to dress up or down)
Work Shoes
The Most Comfortable Heels (you can actually walk in)
The Best Classic Pumps to Wear to Work
The Cutest Cap Toe Flats
Review: Are Everlane's Best Selling Flats Worth Getting?
Affordable Workwear
Reviewing Amazon's Affordable Workwear Line
5 Amazon Work Dresses - budget friendly!
10 Work from Home Outfit Ideas
Formal Work Wear
What to Pack for a Business Trip
The Best Business Luggage (durable + carry on only!)
7 Cute & Stylish Laptop Bags
Follow me @Sher She Goes on