Date Night Outfit Ideas
What to Wear for A First Date to:
ADVERTISEMENT
---
---
Keep reading, or pin this article to save it for later ⇟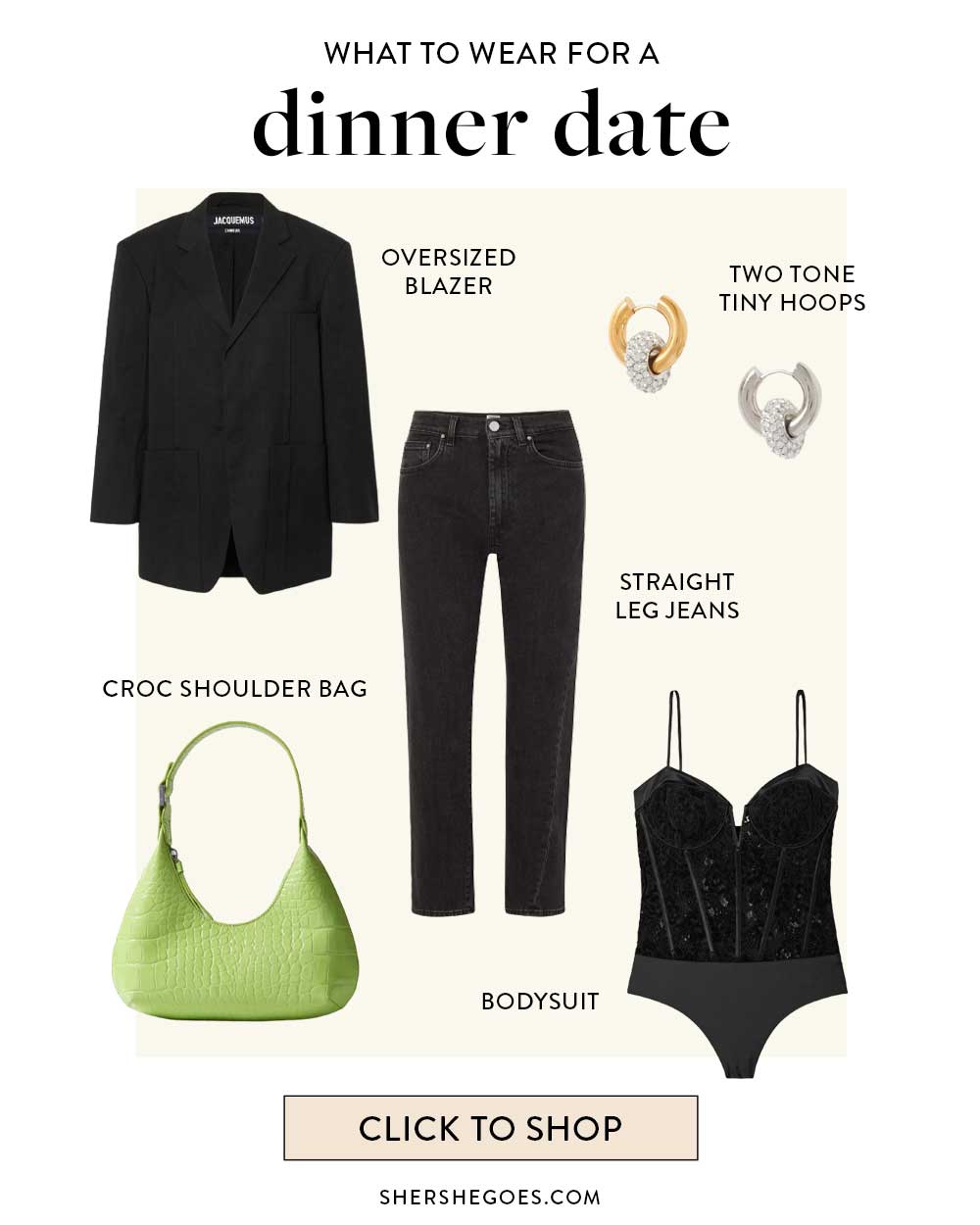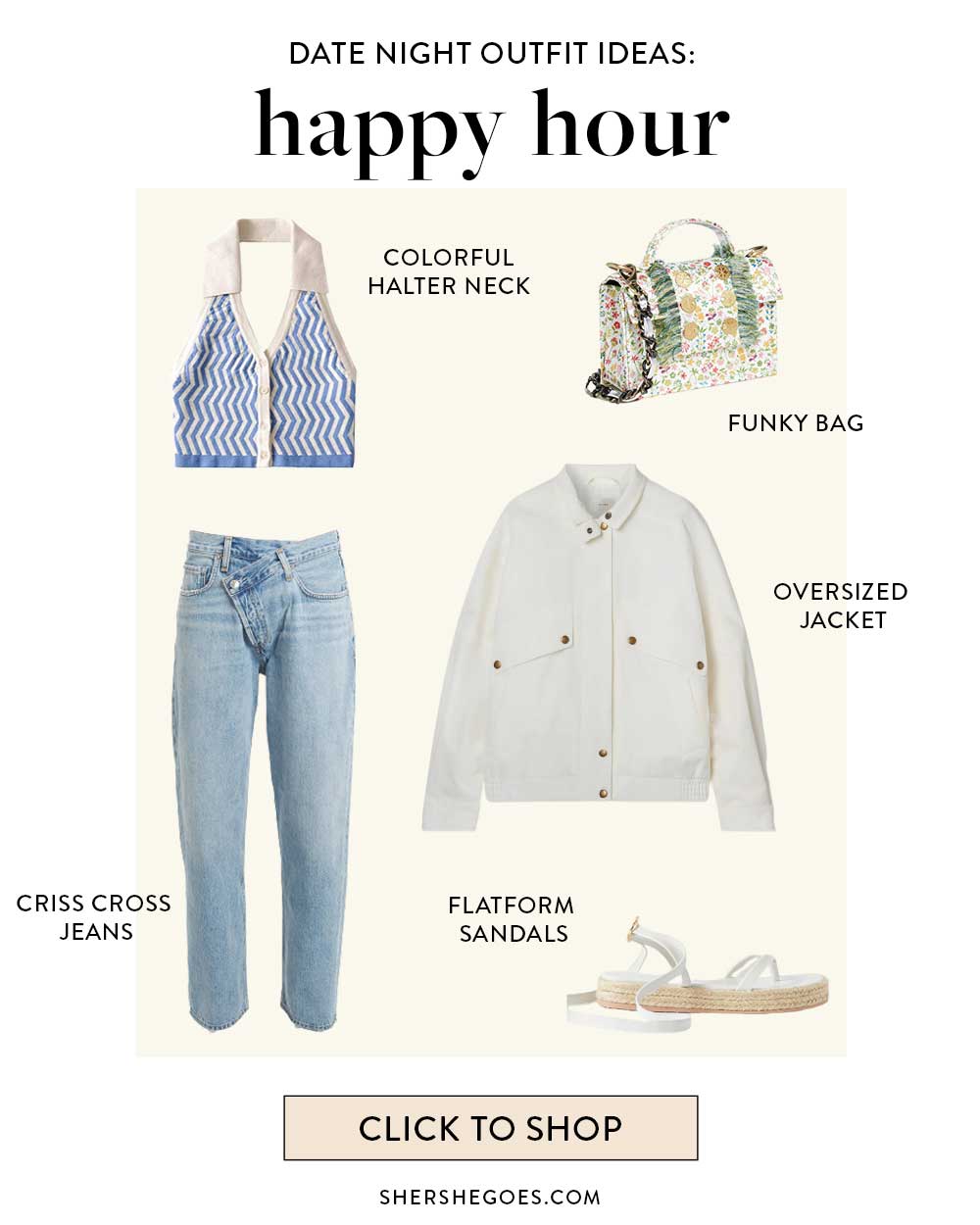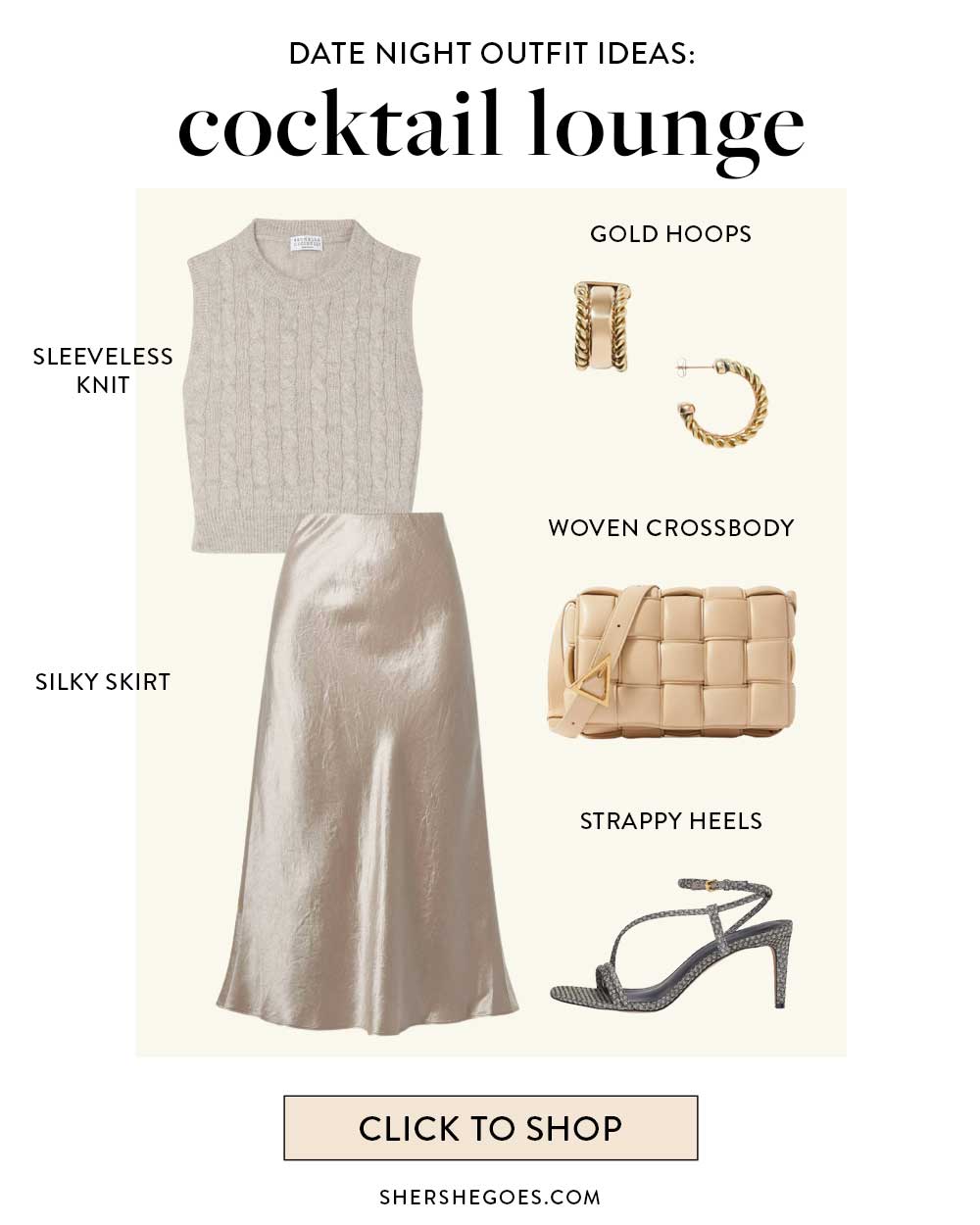 ADVERTISEMENT
---
---
Casual Date Night Outfits
Awkward small talk…
Endless swiping and pen-pal texting..
Guys who think 5'7″ and 5'11" are the same thing…
There's a lot to dislike about the dating process – but getting dressed for them shouldn't be part of the stress!
Whether it's a first date or the last date you'll ever go on, here are some cool and casual date night outfit ideas to help you get ready!
ADVERTISEMENT
---
---
Date Night Outfits (2023)
Dating can be a weird, complicated process where you're constantly second guessing yourself, wondering if you're reading the situation wrong.
But, choosing what to wear is always fun (at least I like to think so)!
Here are some easy date night outfits to look and feel your best, without trying too hard.
For Drinks at a Wine Bar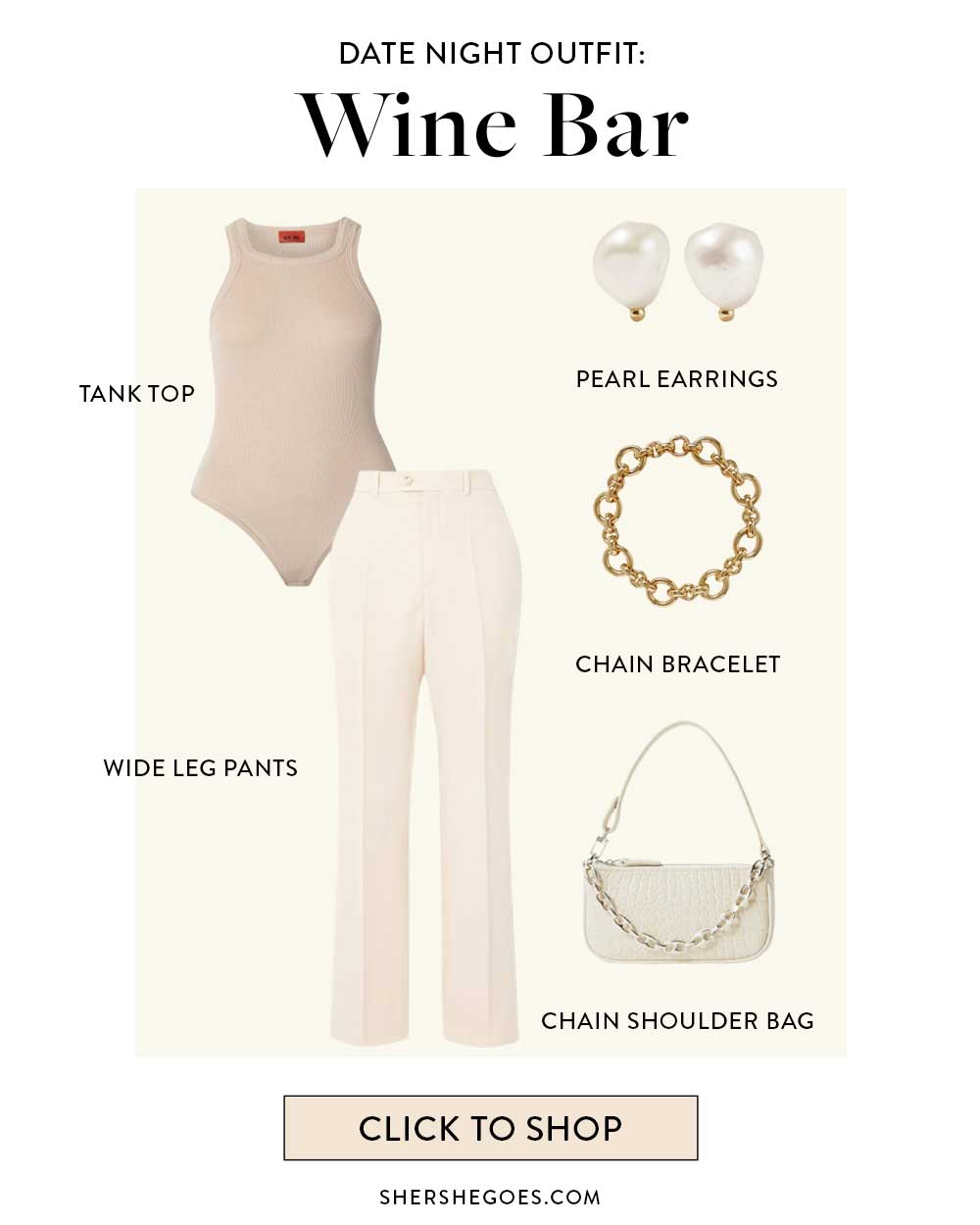 Heading to a cozy wine bar to chat over a glass of red and some bar snacks?
Then try this easy but sophisticated look with a simple ribbed tank (or sleek tank bodysuit) and some wide leg trousers (and maybe opt for a glass of white instead!)
Keep the accessories minimal – just a tiny shoulder bag, gold jewelry and some strappy sandals – and keep the focus on the conversation!
ADVERTISEMENT
---
---
For A Brunch Date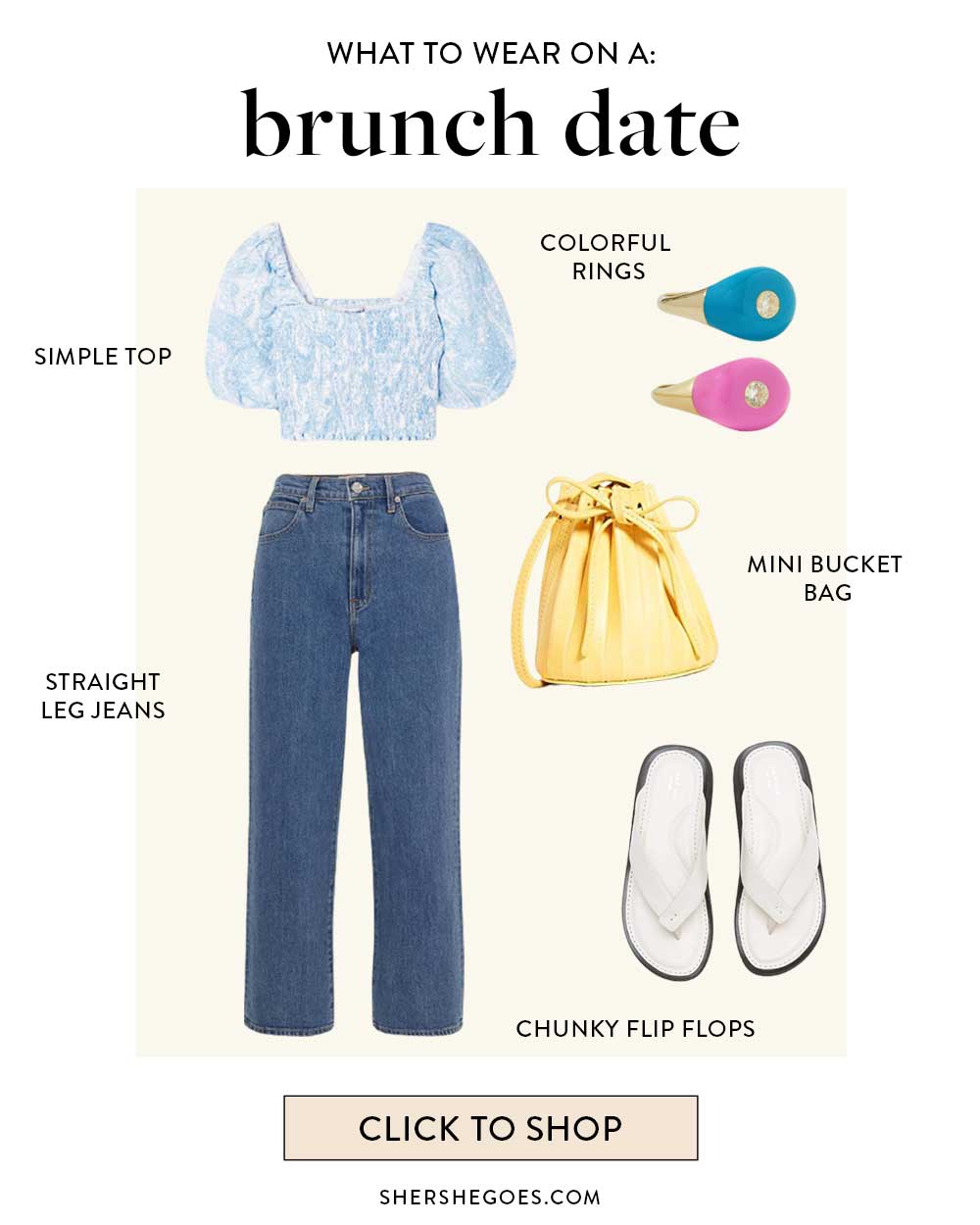 Brunch dates are fun, casual and a great way to try out that new restaurant you've been eyeing.
Keep your look simple, colorful and effortless with a puff sleeve square neck top and high waisted loose jeans.
Colorful accessories like these chunky resin rings and mini bucket bags are in right now and a great way to add interest to your outfit!
And in the off chance the date goes really well, make sure you're wearing comfortable shoes like these chunky flip flops so you can walk and continue to chat afterwards!
ADVERTISEMENT
---
---
For A Romantic Dinner Date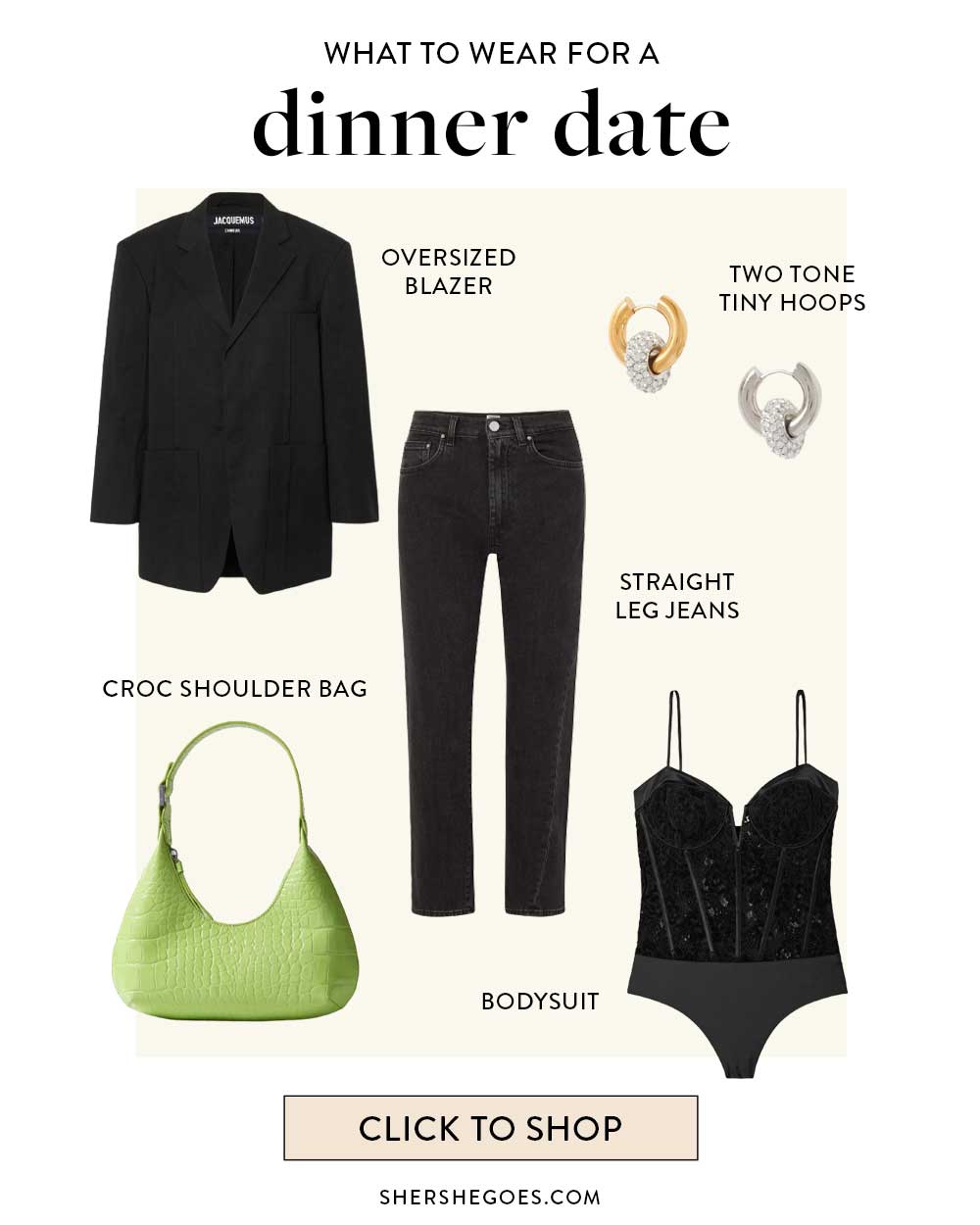 ADVERTISEMENT
---
---
For A Coffee Date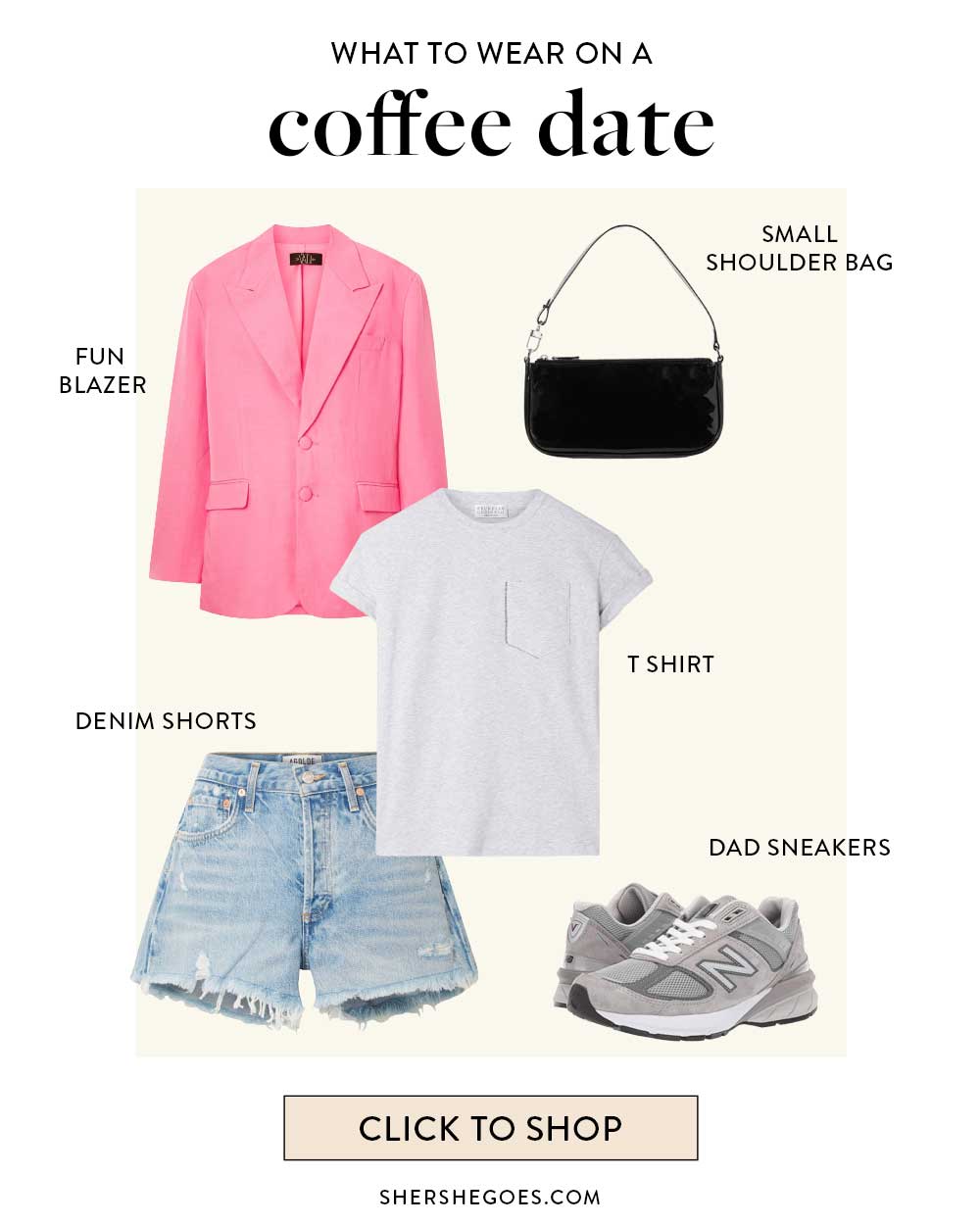 I always like to match my look to the occasion.
So for something quick and fast, like a daytime coffee date, dress accordingly!
Put on your favorite everyday t-shirt and your most comfortable denim shorts.
Throw on a colorful oversized blazer and chunky sneakers, like the ever-so-popular New Balance dad shoes, and you look cute but comfy!
Add a small shoulder bag to carry the essentials and you can go from coffee date to brunch to errands, without having to change!
ADVERTISEMENT
---
---
For A Museum Date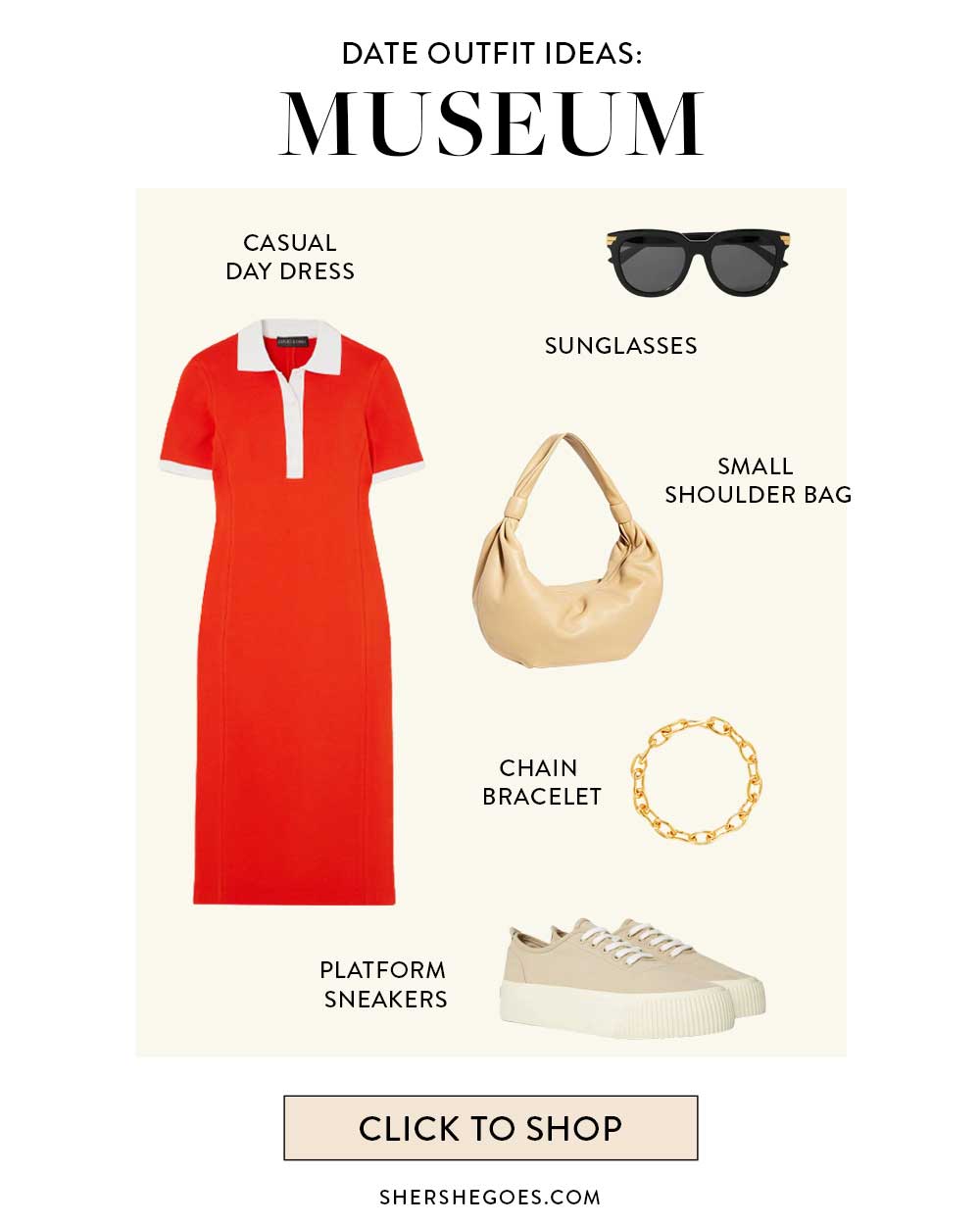 Going on a classy date to soak in some culture?
Try a casual twist on a sophisticated look by pairing a polo day dress with platform sneakers. Throw on oversized sunglasses, some gold jewelry and a cute shoulder bag and you look so stylish!
But importantly – you'll be comfortable enough to walk through the entire exhibit.
ADVERTISEMENT
---
---
For Mini Golf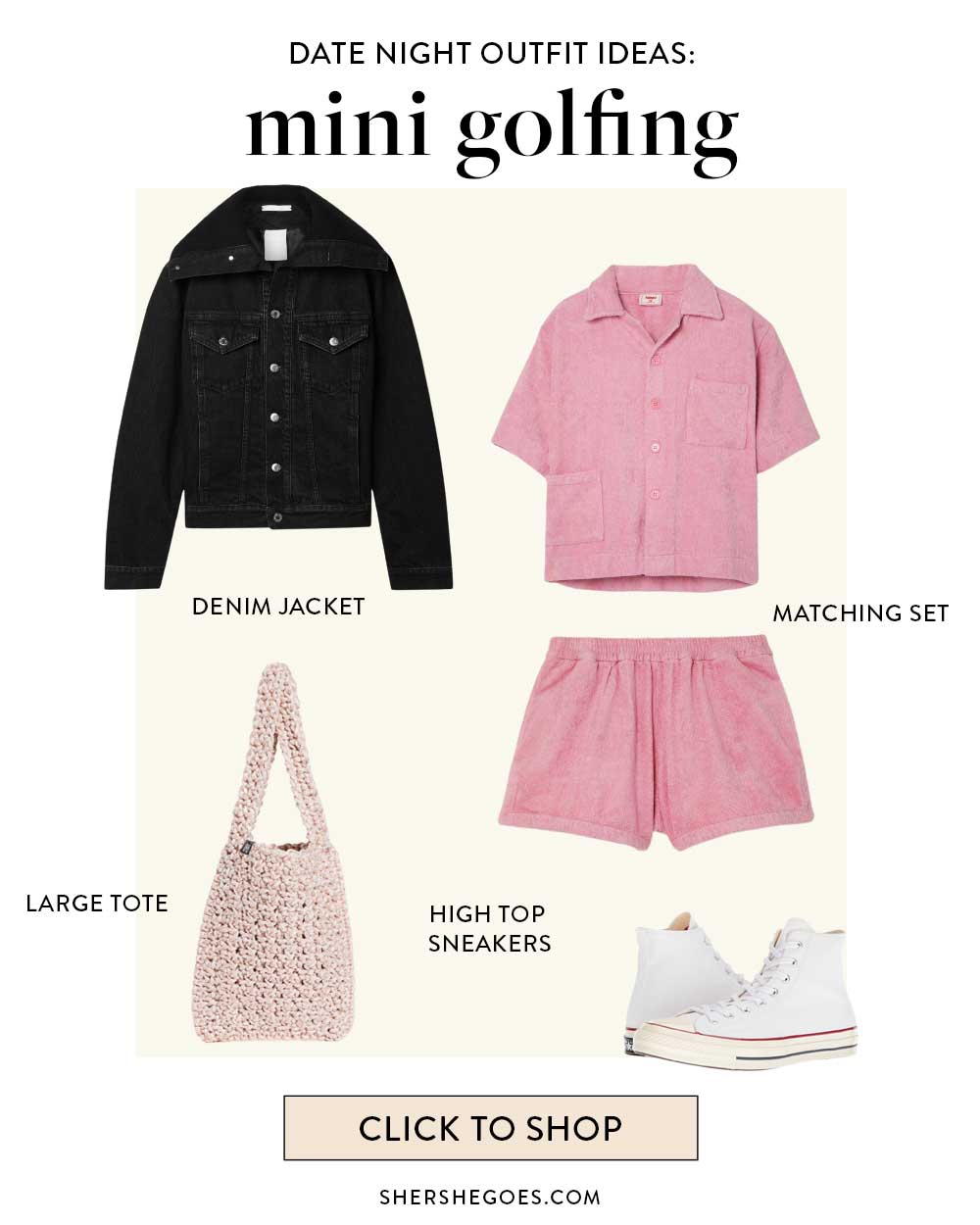 Activity dates are always fun.
Whether you're going bowling, mini golfing, axe throwing.. anything that gets you moving and in a competitive spirit is a good time!
So make sure your outfit is easy, breezy and accident proof!
Try a cute matching set or one piece romper – they always look put together. This one from Free People is a nice option!
Throw on some high top sneakers, a roomy tote bag and an oversized jacket just in case one round turns into five!
ADVERTISEMENT
---
---
For A Walk Or Hike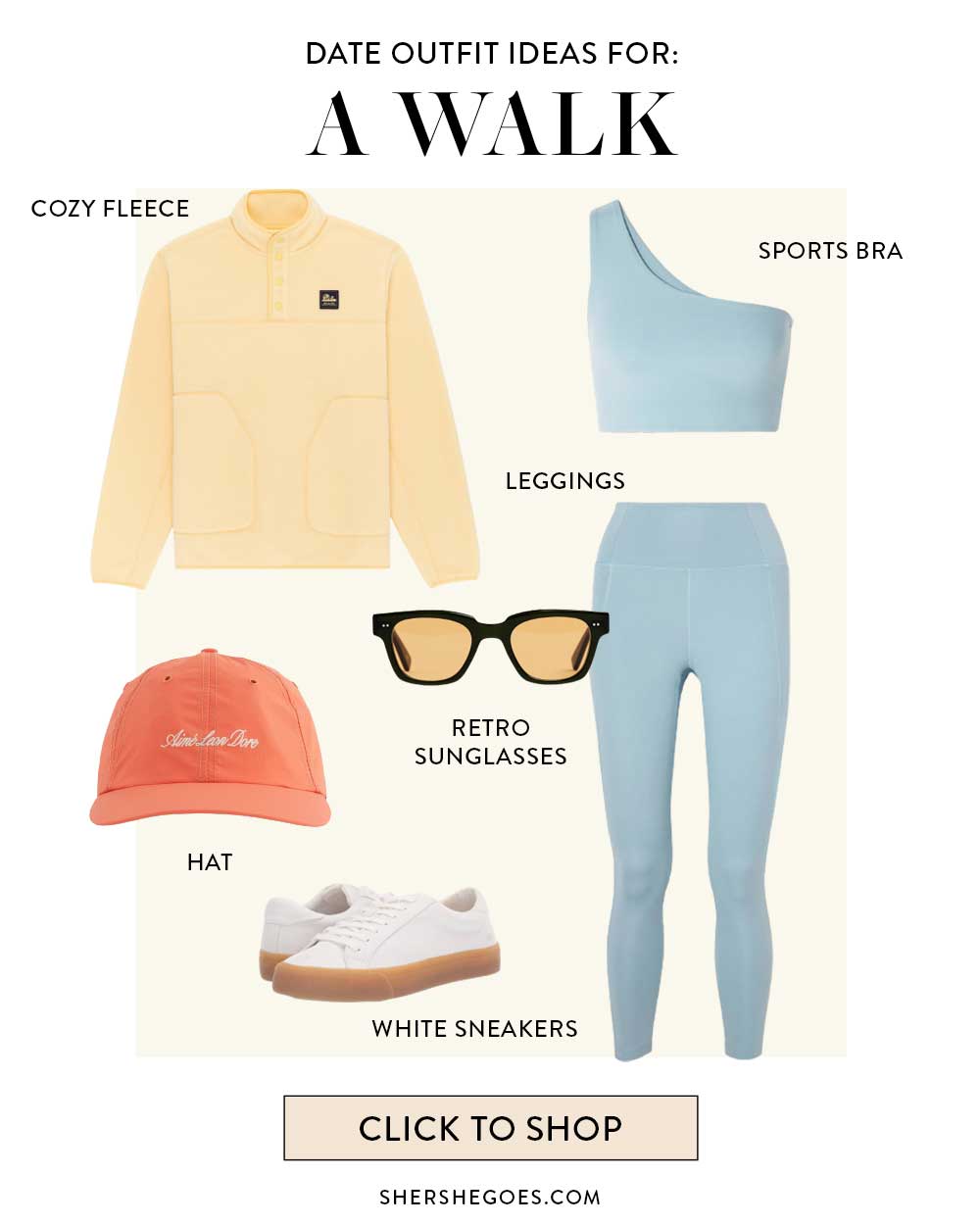 If you're outdoorsy and love getting to know someone in the fresh air, then here's a casual date outfit suggestion.
Pair a sports bra with matching leggings to look extra cute.
Throw on some retro yellow tinted sunglasses, your comfiest pair of white sneakers and a simple hat. Don't forget a cozy fleece in case it gets chilly!
Whether it's a stroll in the park or a multi mile hike, you'll feel and look great!
ADVERTISEMENT
---
---
For Drinks at a Cocktail Lounge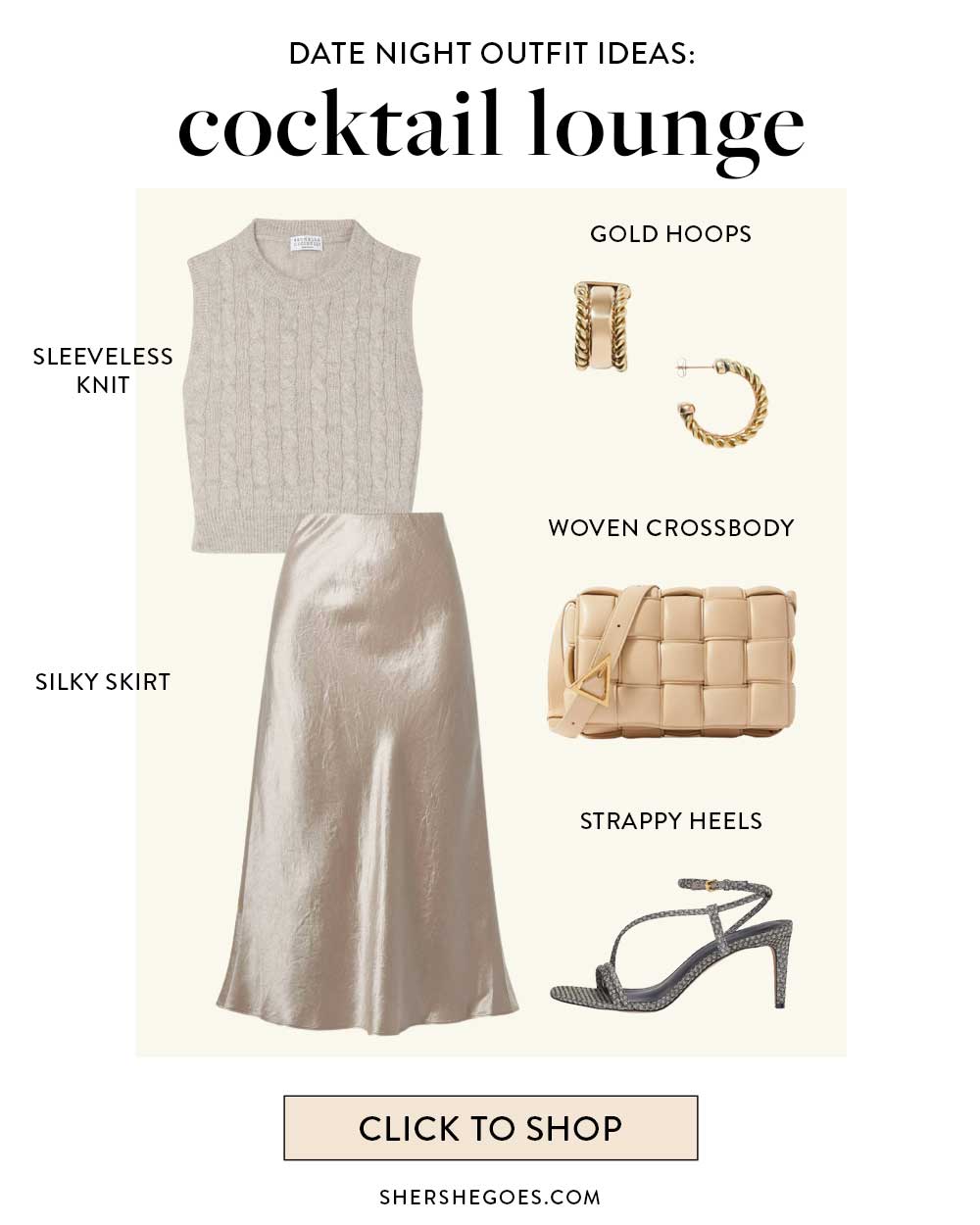 Heading to a hidden speakeasy or fun cocktail lounge?
Try this subtly glamorous date night outfit.
Pair an oversized tailored vest (or sleeveless knit version) with a silky slip skirt. The balance in proportions and textures keep the look sexy without trying too hard.
Add on some simple gold jewelry, a dumpling clutch to fit all your essentials and some low heeled sandals!
ADVERTISEMENT
---
---
For Happy Hour Beers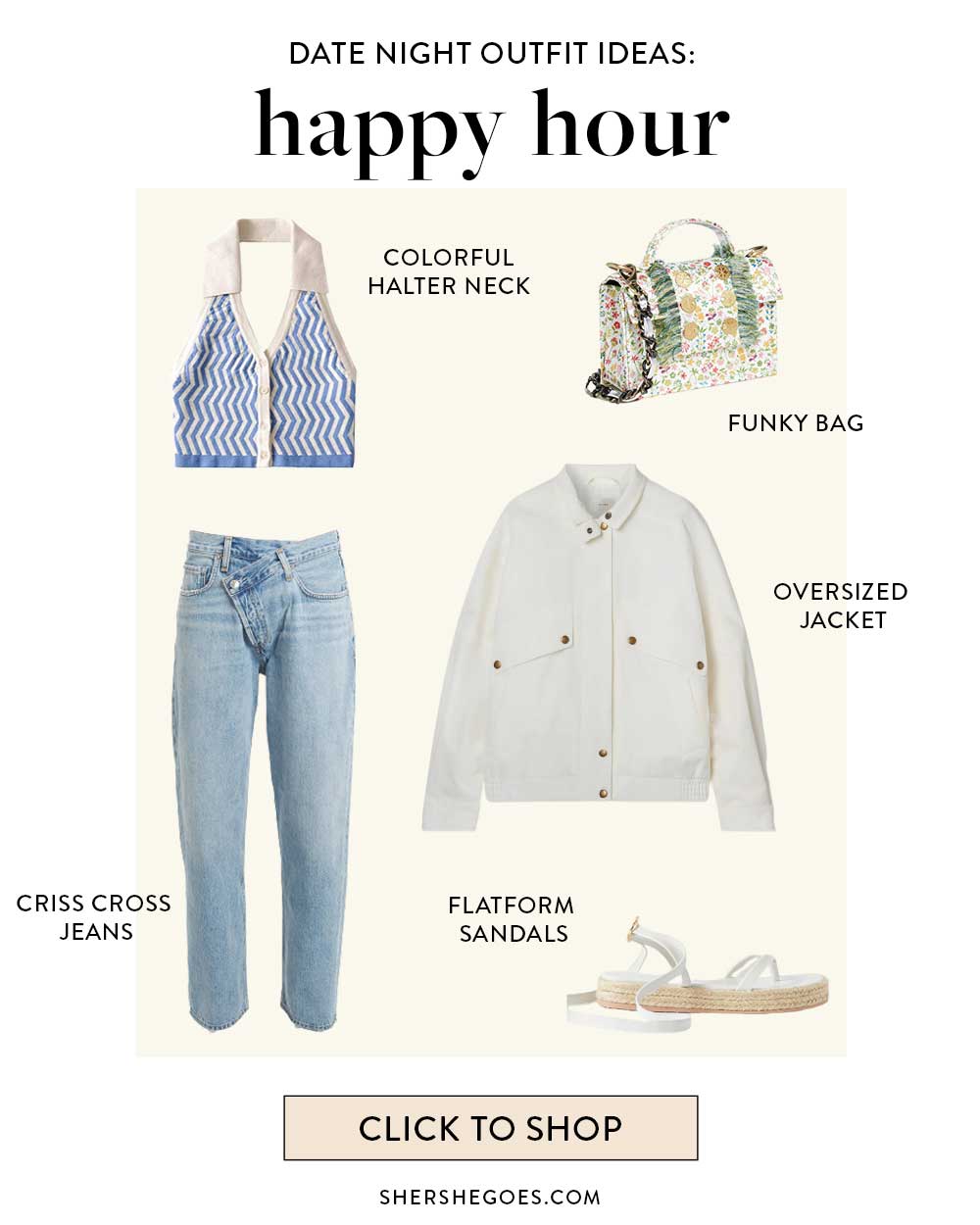 Happy Hour dates are always a good time!
The food is fantastic (burgers, beers, tapas), the atmosphere is relaxed.. and if the date isn't living up to your expectations, you can bow out quickly once happy hour pricing ends!
So for a laidback date, try a funky, nonchalant look like this:
Pair a halter neck top (this funky stripe option is cute) with some looser mom jeans, like this super popular criss-cross pair.
Add your favorite embellished bag, flat form sandals and an oversized jacket in case you hit it off enough to progress on to dinner!
ADVERTISEMENT
---
---
Shop Date Night Looks
---

ADVERTISEMENT
---
---
Read More: in our summer style series:
Summer Essentials
Everything You Need for a Classic Summer Wardrobe
The Best White T Shirts in Every Style
The Best Classic White Button Down Shirts
Summer Dresses
7 Easy, Comfortable T Shirt Dresses for Summer
The Most Chic Slip Dresses to Dress Up or Down
The Best Fit and Flare Dresses
The Best White Dresses on Amazon
25 Cute & Affordable Amazon Dresses
Summer Shoes
The Most Comfortable Summer Sandals
The Best Minimalist Strappy Sandals
The Best Classic White Sneakers
Review: Olukai Sandals
Review: Everlane Flats
The Best Chanel Espadrille Lookalikes
Summer Accessories
The Best Sun Hats that Offer Full Sun Protection
7 of the Cutest Straw Basket Bags
Summer Linen
The Cutest Linen Dresses for Hot Summer Nights
The Best Men's Linen Pants - Summer Casual
The Best Women's Linen Pants for Coastal Chic Style
The Best Women's White Linen Pants - Simple, Clean & Breathable!
Summer Swim
The Best Online Sites to Shop for Swimwear
The Best Swimwear Brands at Every Price Point
The Best Swimsuits for Small Busts
Amazon Fashion Finds: Modest Swimsuits
The Best High Waisted Bikini Bottoms to Keep Everything Tucked In
Follow me @Sher She Goes on