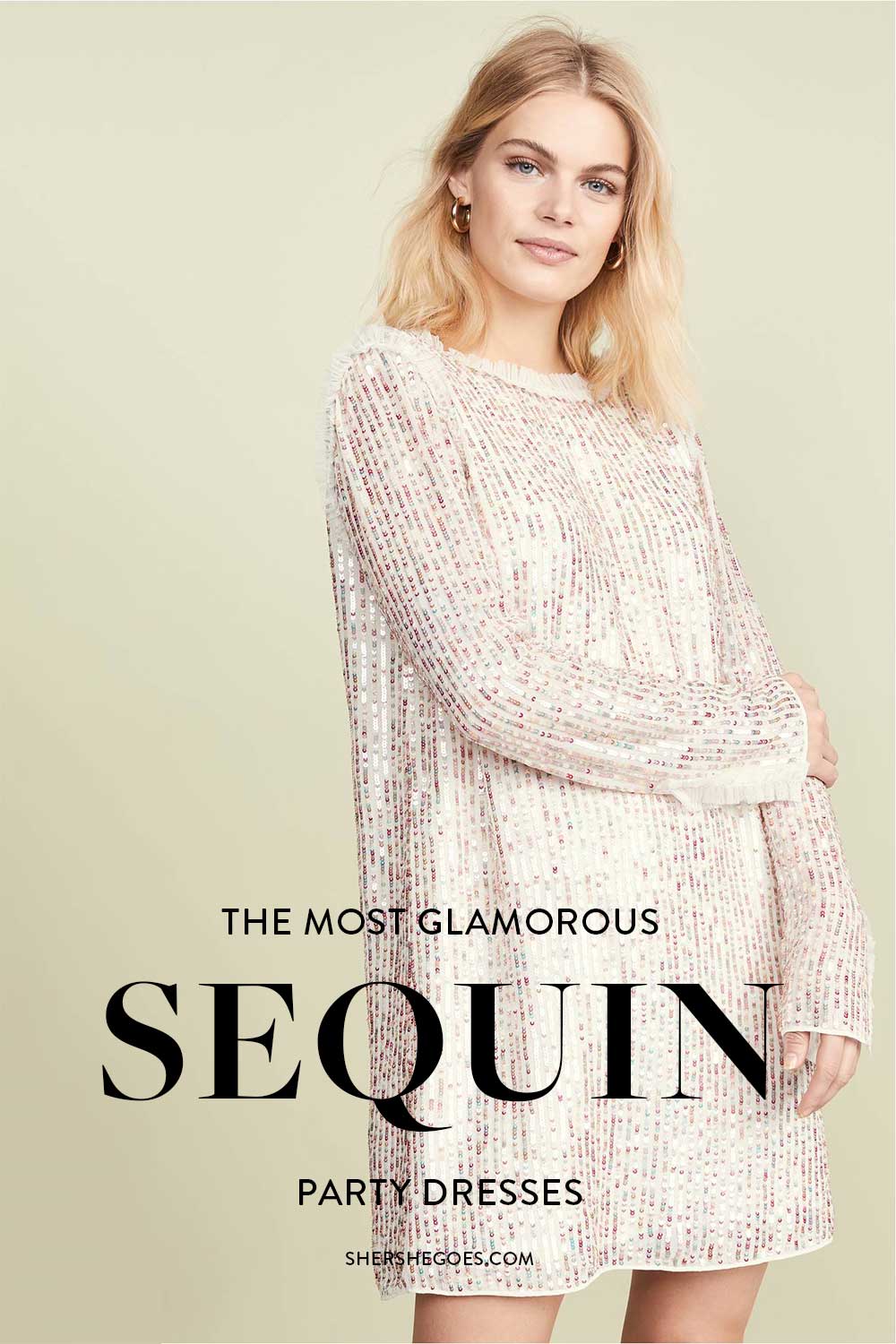 Thank you to Zappos for sponsoring this post!
Best Sequin Dresses (2021)
Once the provenance of arts and crafts sessions or ironic costume parties, sequin dresses are making a bona fide renaissance.
Although matte fabrics and finishes have recently captivated fashion sensibilities on the runway, trends are slowly but surely rotating back toward the gloss, shine, and brightness that sequin dresses can offer.
I was certainly surprised by this when I first started exploring this season's hottest looks, but the sequin dress is surprisingly versatile.
Different colors, cuts, and even the differences in the amount of sequins on the dress can invariably work great for cocktail parties, date nights, and even as bridesmaids' dresses!
Keep reading for our 5 favorite sequin dresses that will make your wardrobe sparkle in the new year!
ADVERTISEMENT
Keep reading, or pin this article to save it for later ⇟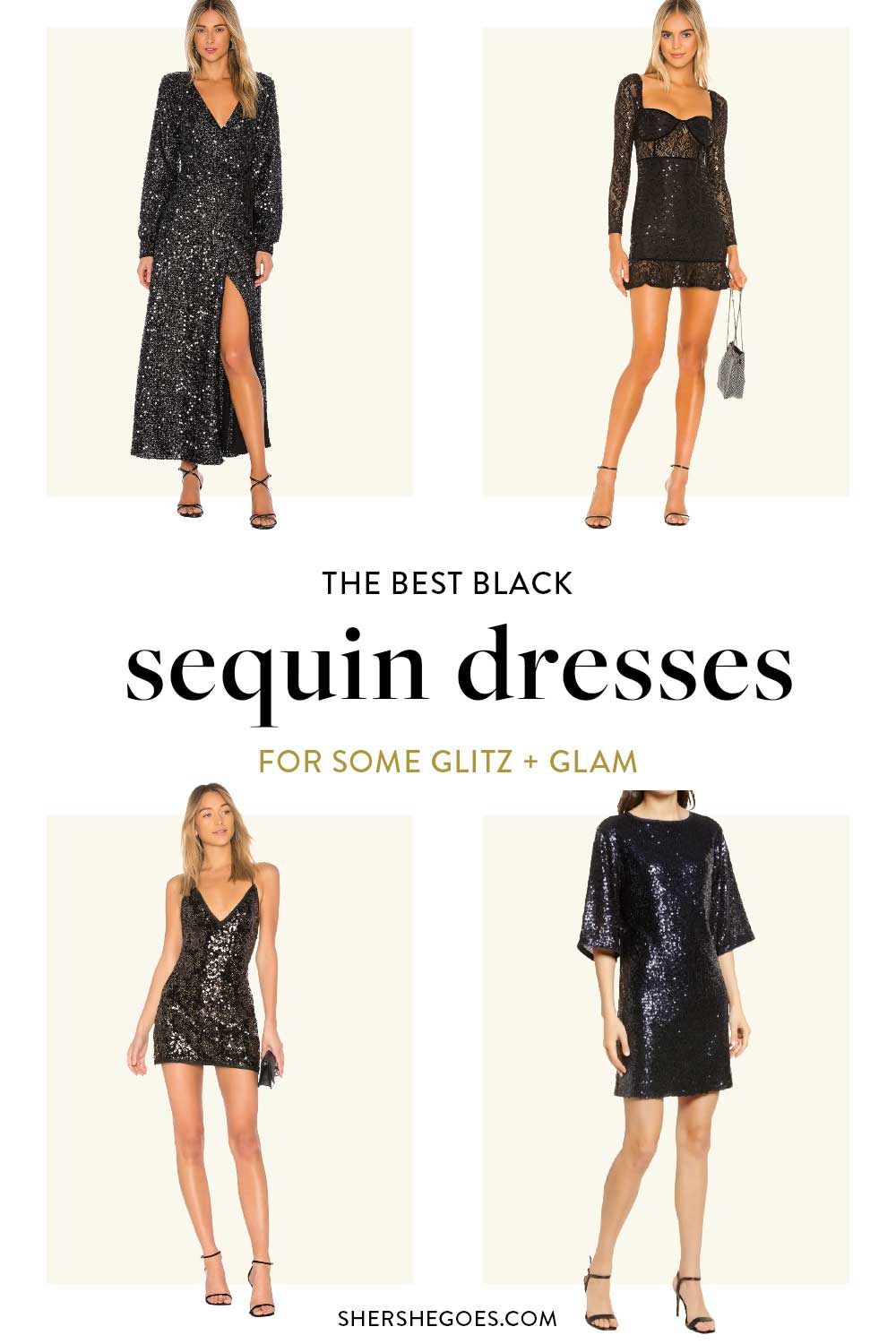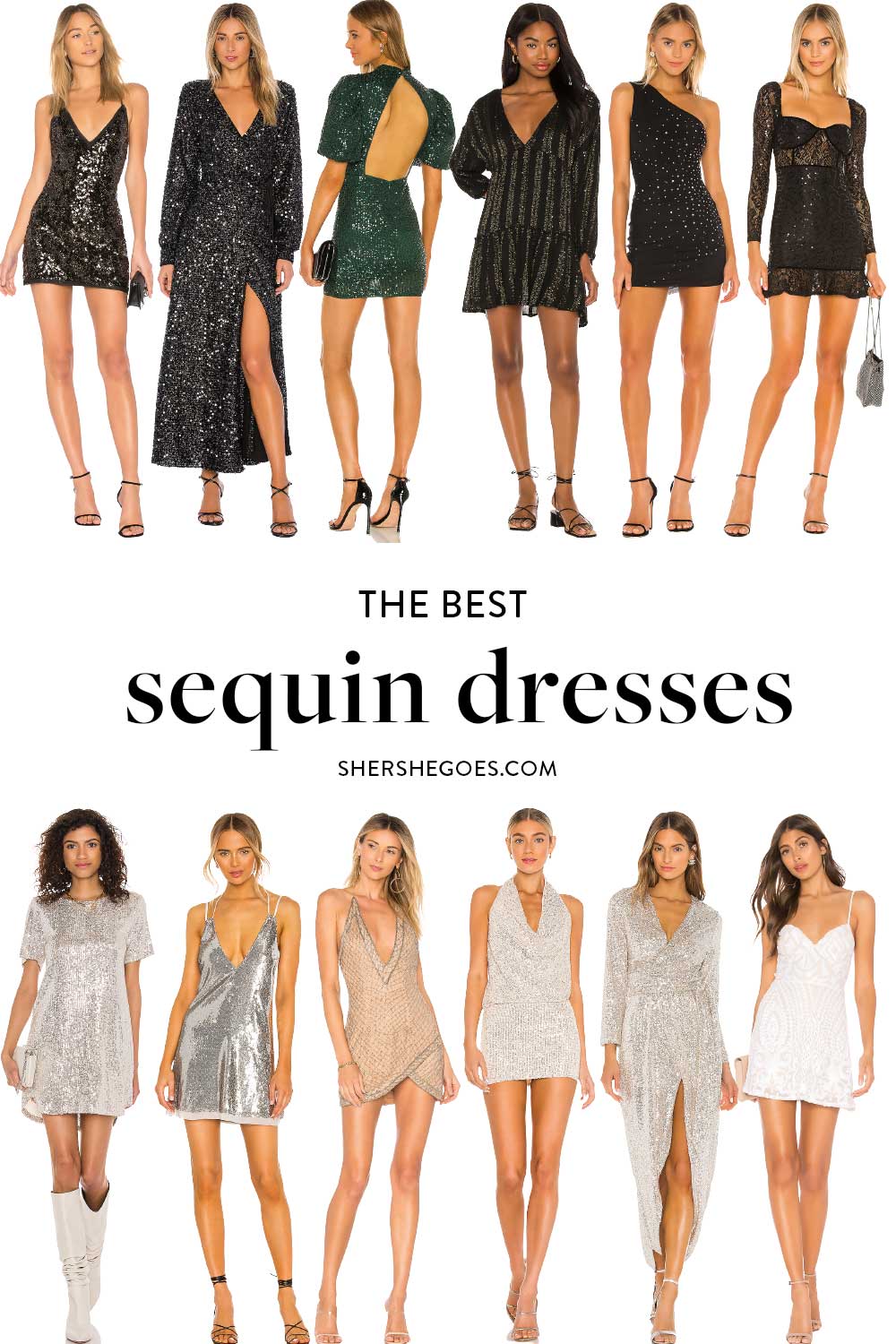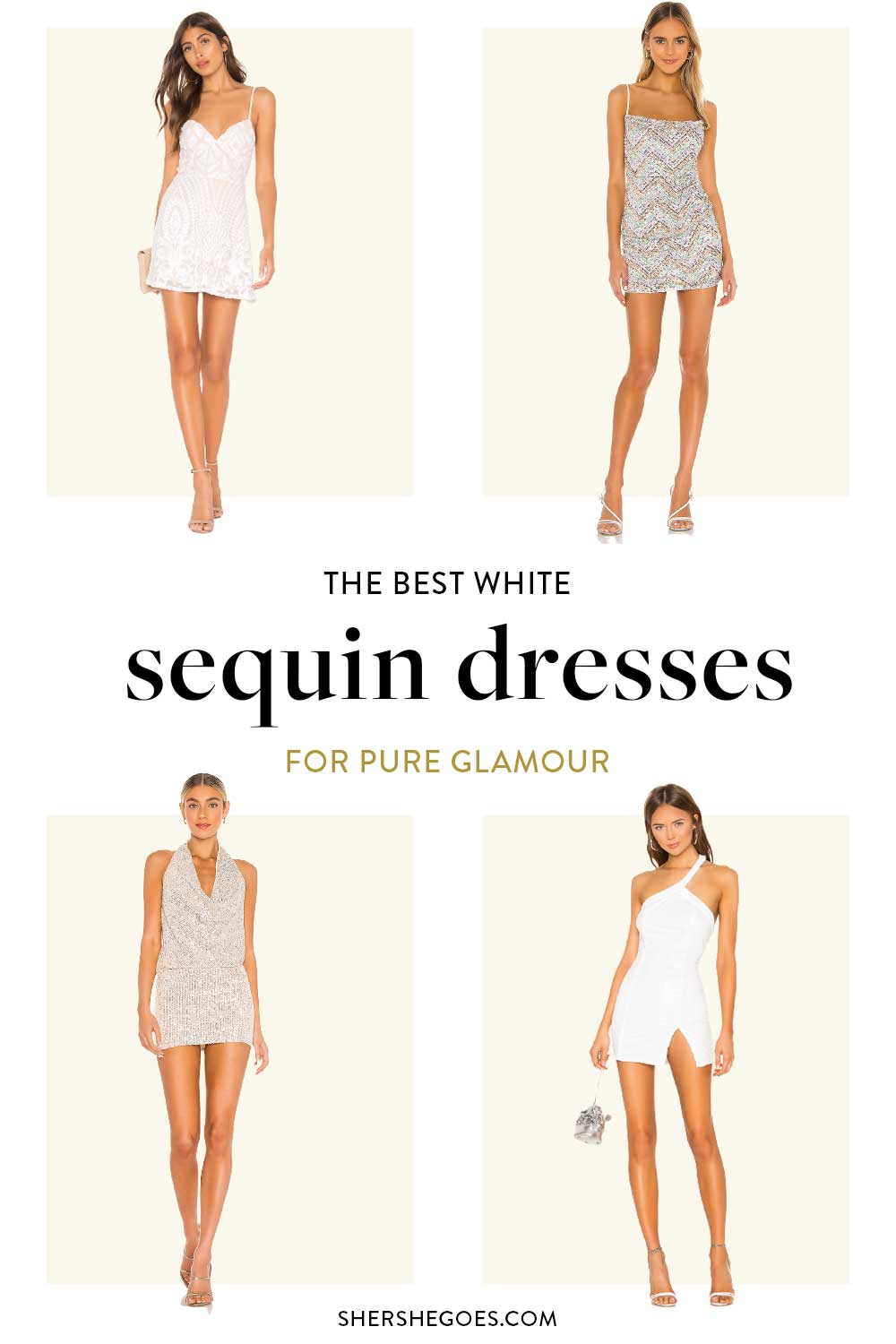 The Best Sequin Dresses for Women
From the understated and modest to the big and bold, keep reading for our 5 favorite sequin dresses this season!
Our Favorite Sequin Dresses
ADVERTISEMENT
---
---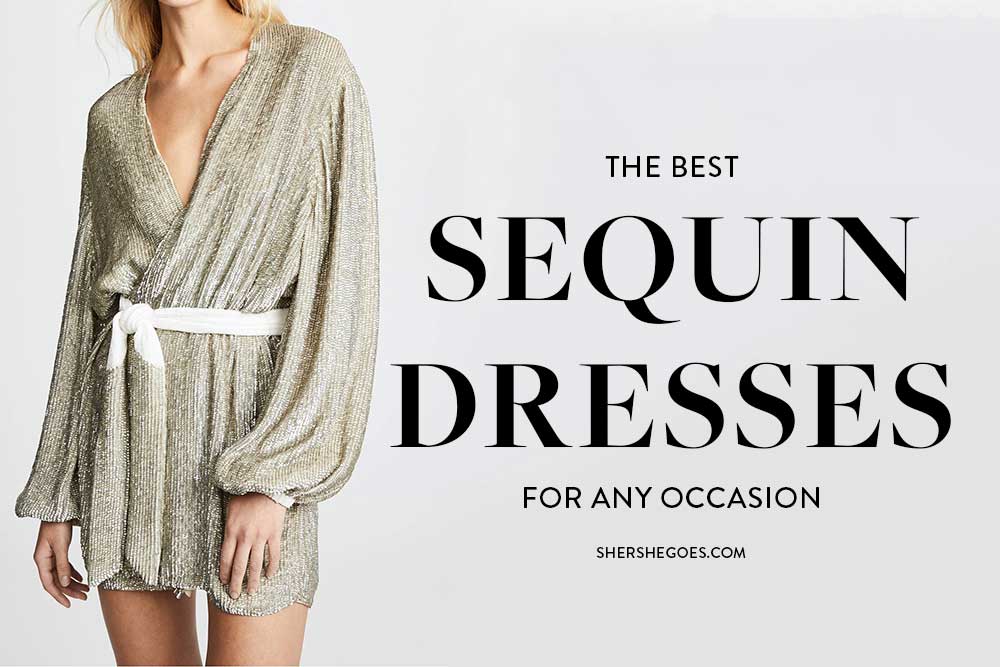 Sequin Party Dresses
Best White Sequin Dress: ONE33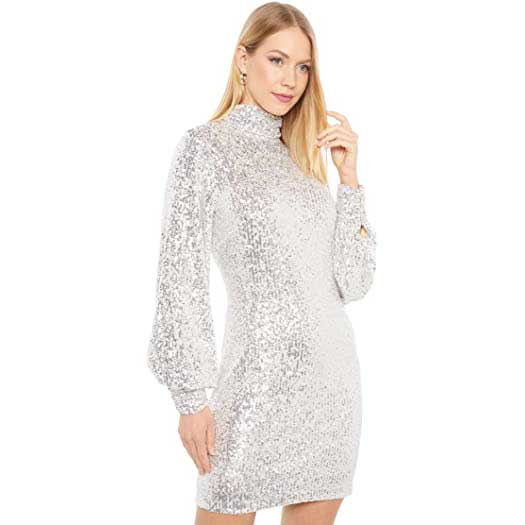 One stereotype of sequin dresses is that many people automatically assume they must be full of bright, garish colors.
This mock neck sequin dress from ONE33 immediately dispels that notion. Pair this white sequin dress with black leggings and a black blazer or shawl and you immediately have a sleek look that will look stylish and sophisticated for any night out!
ADVERTISEMENT
---
---
Best Sequin Party Dress: Free People
One amazing thing about sequin dresses, particularly since they represent a newly ascendant fashion trend, is that they are phenomenal picks for a fresh look at cocktail parties.
Wear this gorgeous sequin dress from Free People to any cocktail party, and you will feel confident, sexy, and stylish knowing you're bringing a trendy new look to whatever room you enter!
ADVERTISEMENT
---
---
Best Sequin Cocktail Dress: WAYF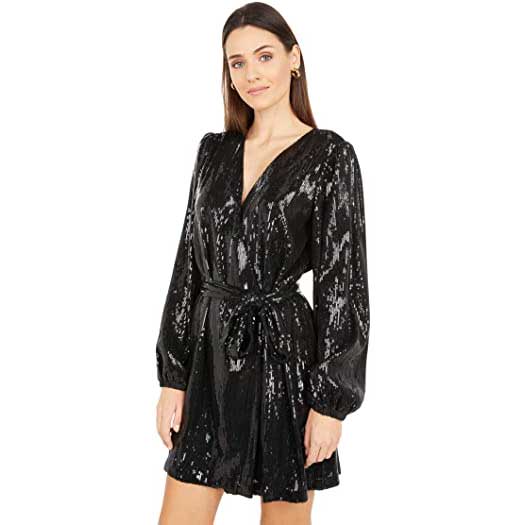 I love looks that buck trends or preconceived fashion notions, so this sequin dress from WAYF is right up my alley.
While most people may think of loud, primary colors when they think of sequin dresses, this dress proves you can bring a modest cut and the standard all-black city look to the gloss and glamour of a sequin dress!
ADVERTISEMENT
---
---
Best Bodycon Sequin Dress: Bardot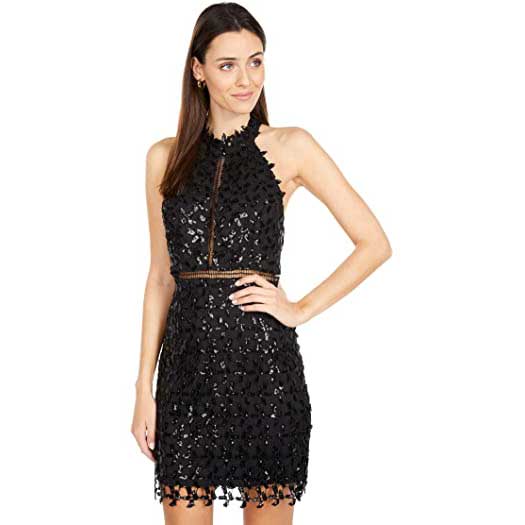 Another common misconception regarding sequin dresses is that only twigs can look good in them, since they are almost always made from light fabrics that don't offer much in the way of shaping.
While this was probably true in the old days, fortunately technology has evolved in the form of this Bardot sequin dress, which features flattering effects including a scalloped hemline, sheath silhouette, and lattice trimming throughout the bodice.
ADVERTISEMENT
---
---
Best Long Sleeve Sequin Dress: Vince Camuto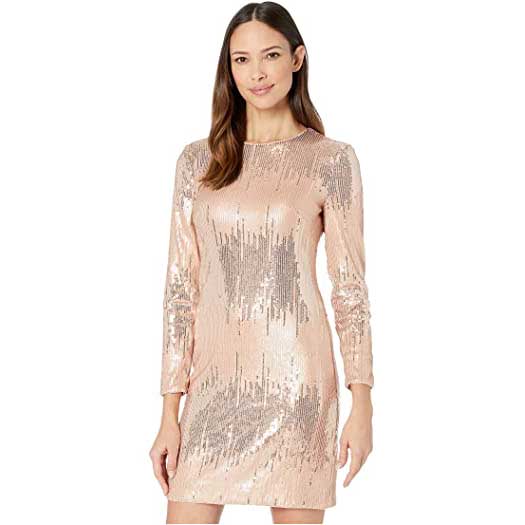 Another long sleeve sequin dress that would look great with a sweater and leggings is this gem from Vince Camuto.
What I love most about this piece is the inconsistent sequin approach, meaning this dress glistens only when viewed at just the right angle!
ADVERTISEMENT
---
---
We know how difficult finding the perfect present can be! Browse gift guides for everyone on your list:
Affordable Gift Guides
Secret Santa Gift Ideas for Guys Under $25
The Best White Elephant Gift Ideas - Useful, Funny & Quirky
Gift Guides for Her
Monogram Gift Ideas - Personalized Gifts for Everyone on your List
The Best Beauty Advent Calendars to Count Down Christmas
Gift Guides for Him
The Best Christmas Gifts for Dad
Useful Gifts for The Guy that Has Everything
Gift Guides for Parents
Gift Ideas for Parents (who have everything)
Insanely Good Gift Ideas for your Boyfriend's Mom
The Best Gifts for your Boyfriend's Parents
Black Friday
Black Friday Shopping Tips - retailers DON'T want you to know!
Holiday Parties
The Best Matching Christmas Pajamas - for the whole family!
The Best Christmas Socks - cozy & festive!
The Best Holiday Dresses You Won't Believe are on Amazon
The Best Cute Christmas Sweaters for Classic Winter Style
The Best UGLY Christmas Sweaters for a Holiday Party
Ugly Christmas Sweater Party Invitations
The Best Winter Cocktail for Holiday Parties - Looks Fancy, but Easy to Make!
Decorating for the Home
The Best Amazon Christmas Decorations (Stylish + Affordable!)
Rustic Christmas Tree Decor Ideas
Cozy Chic Christmas Gifts for the Home
Follow me @Sher She Goes on