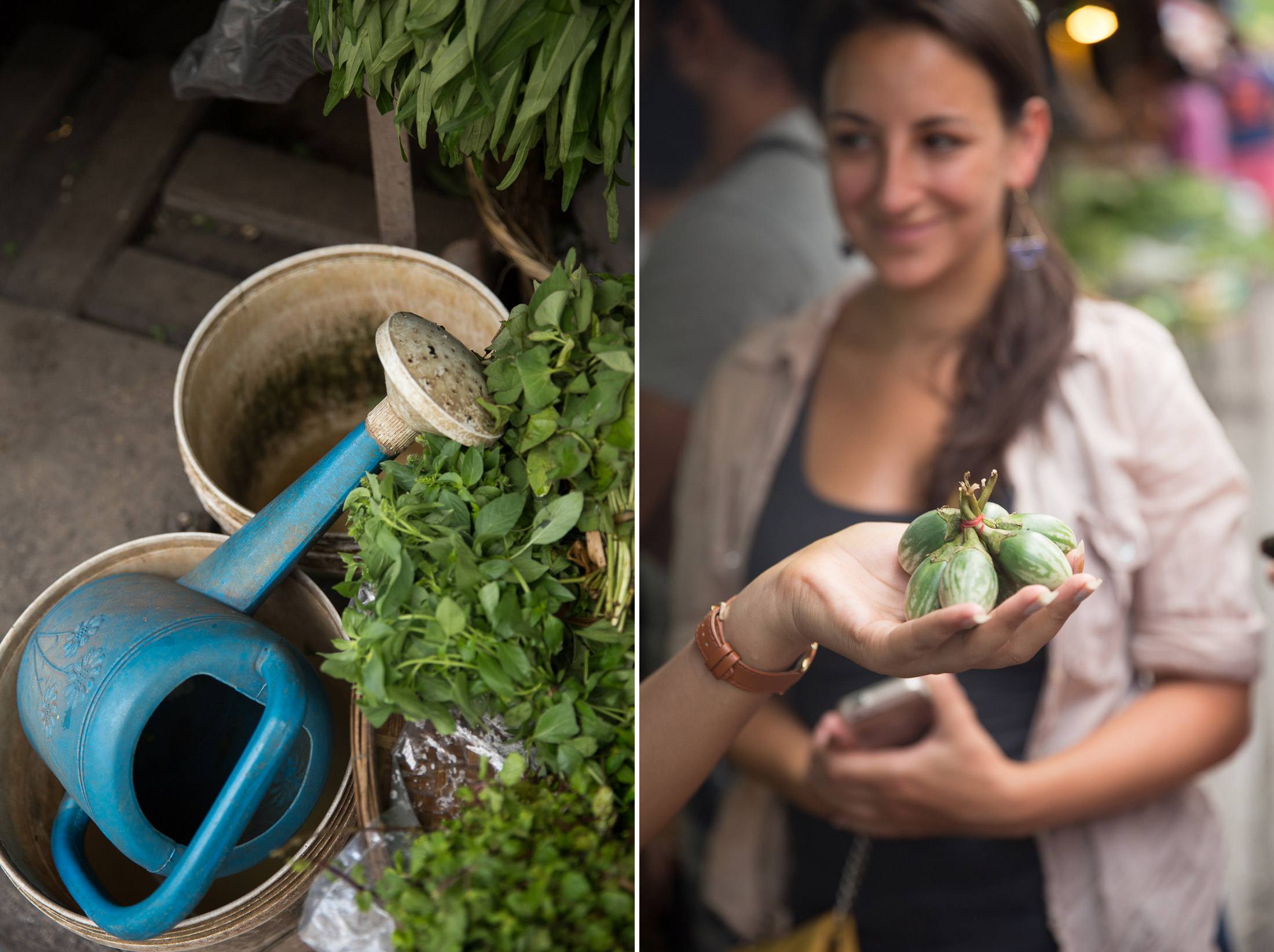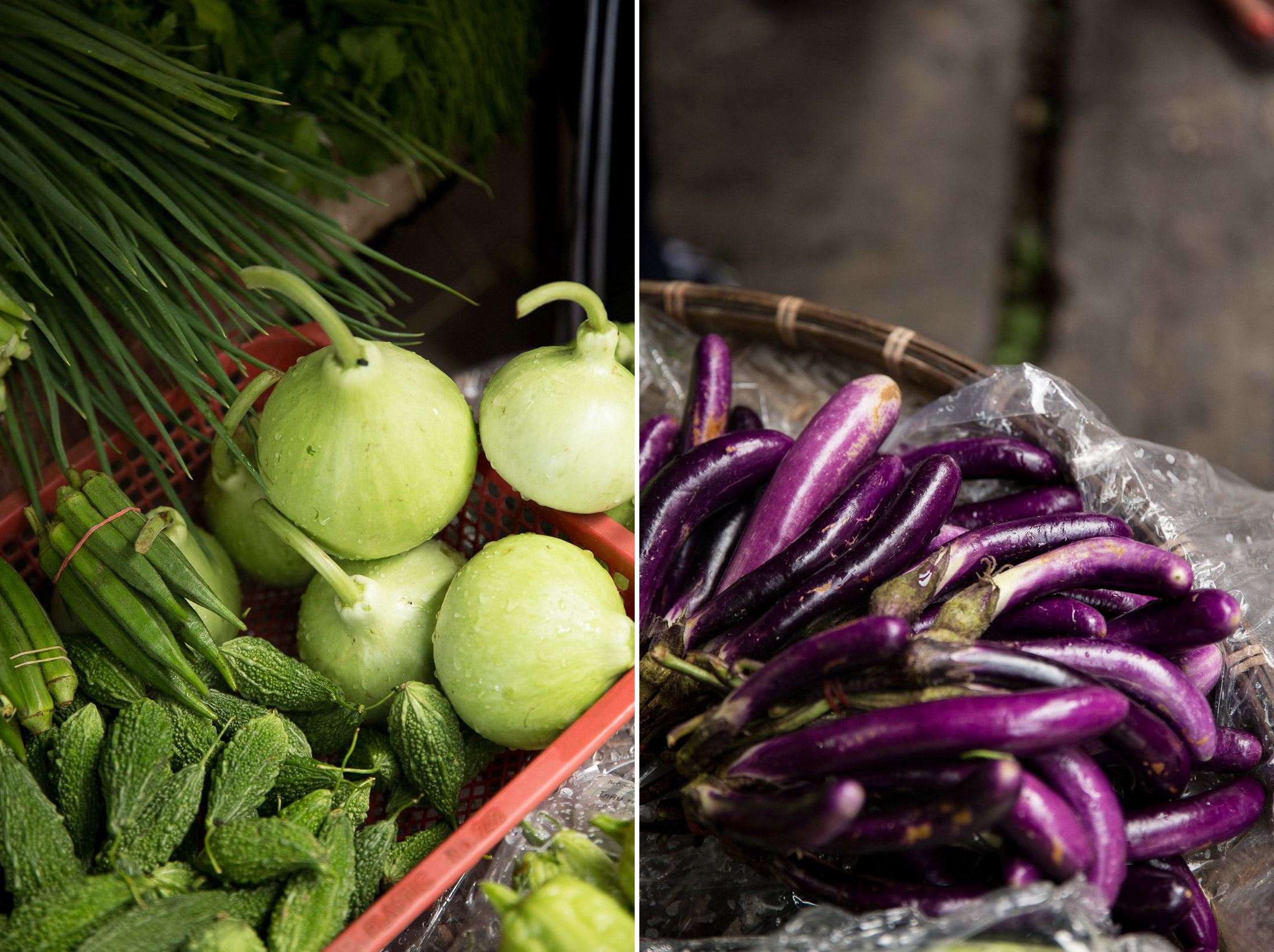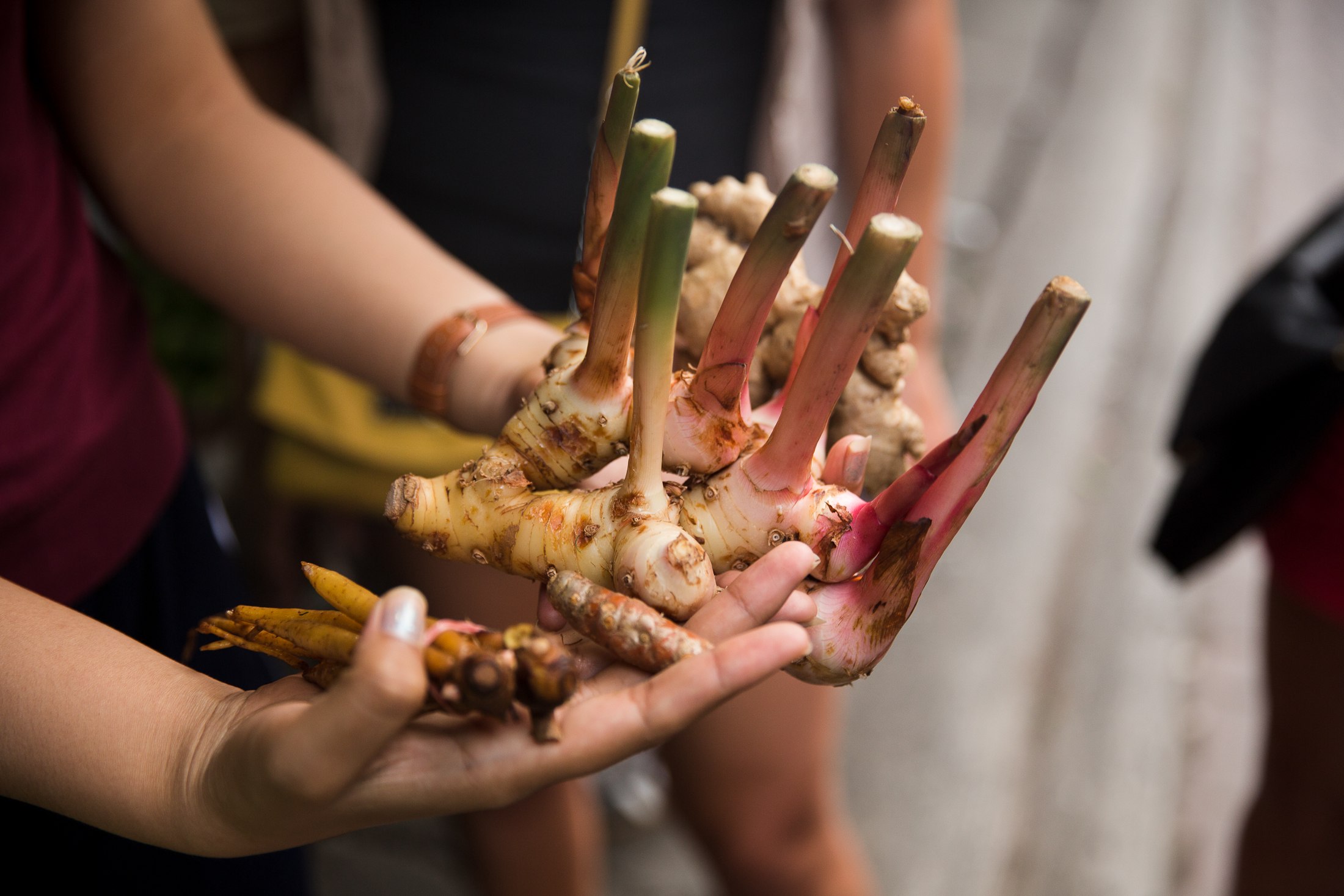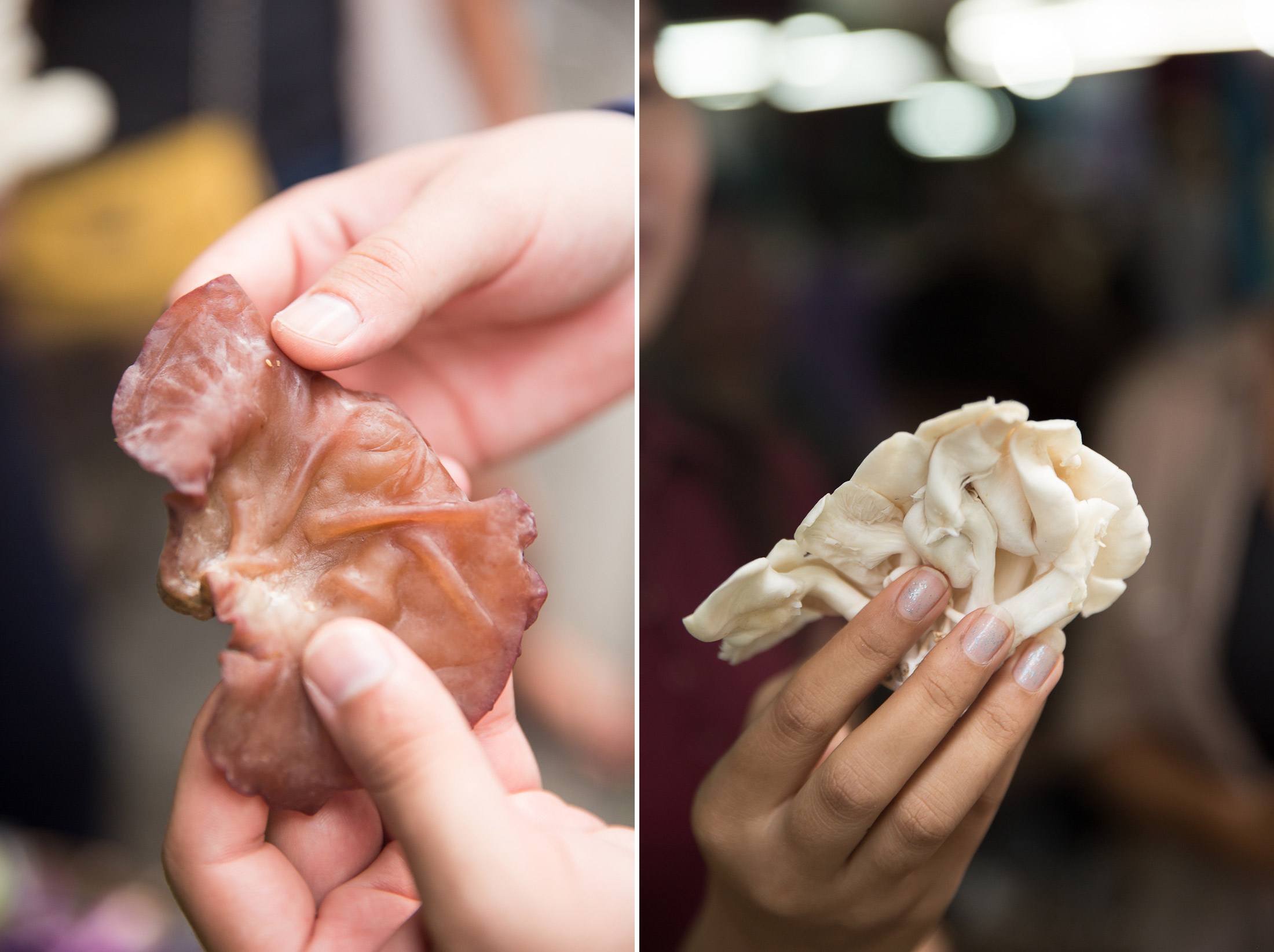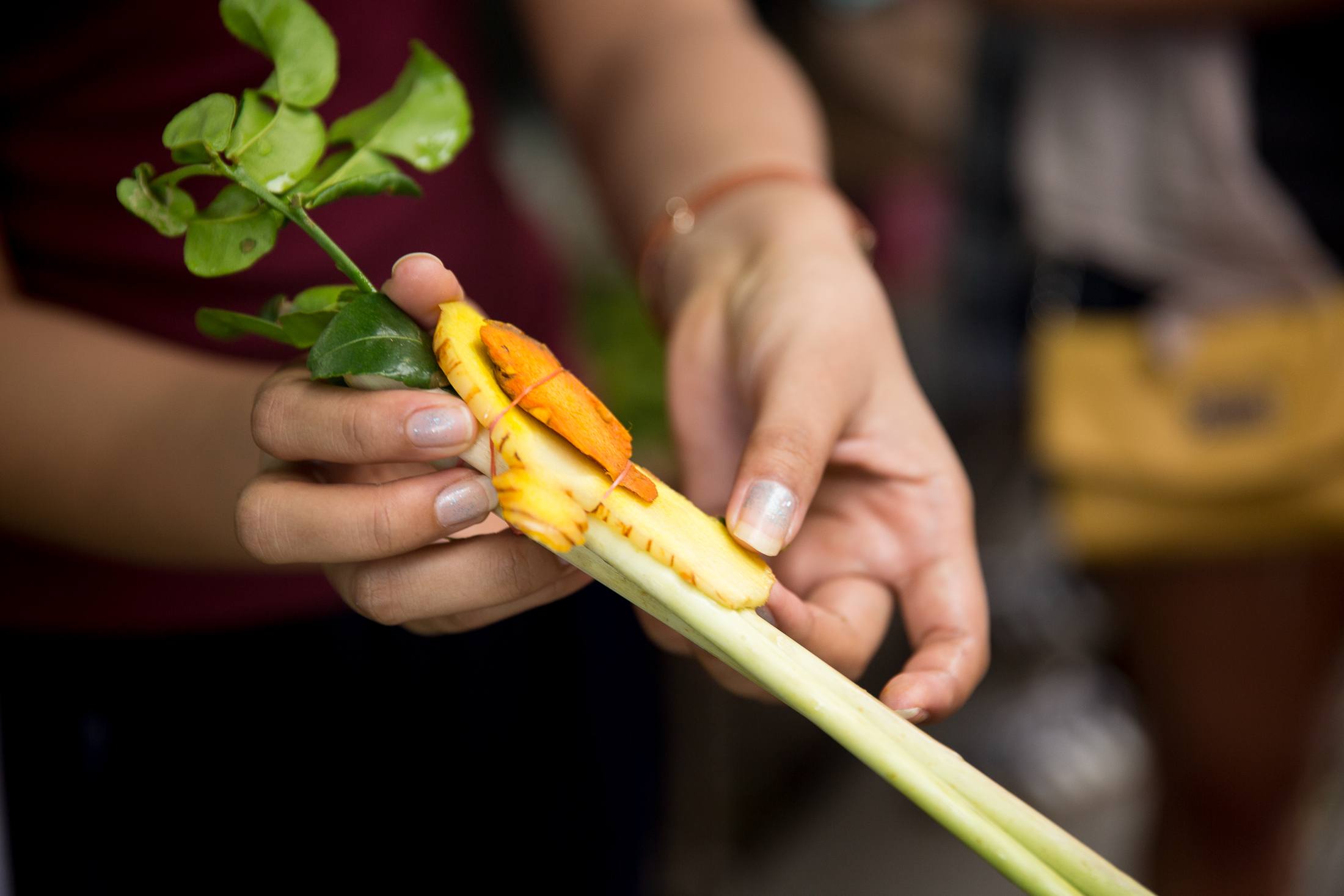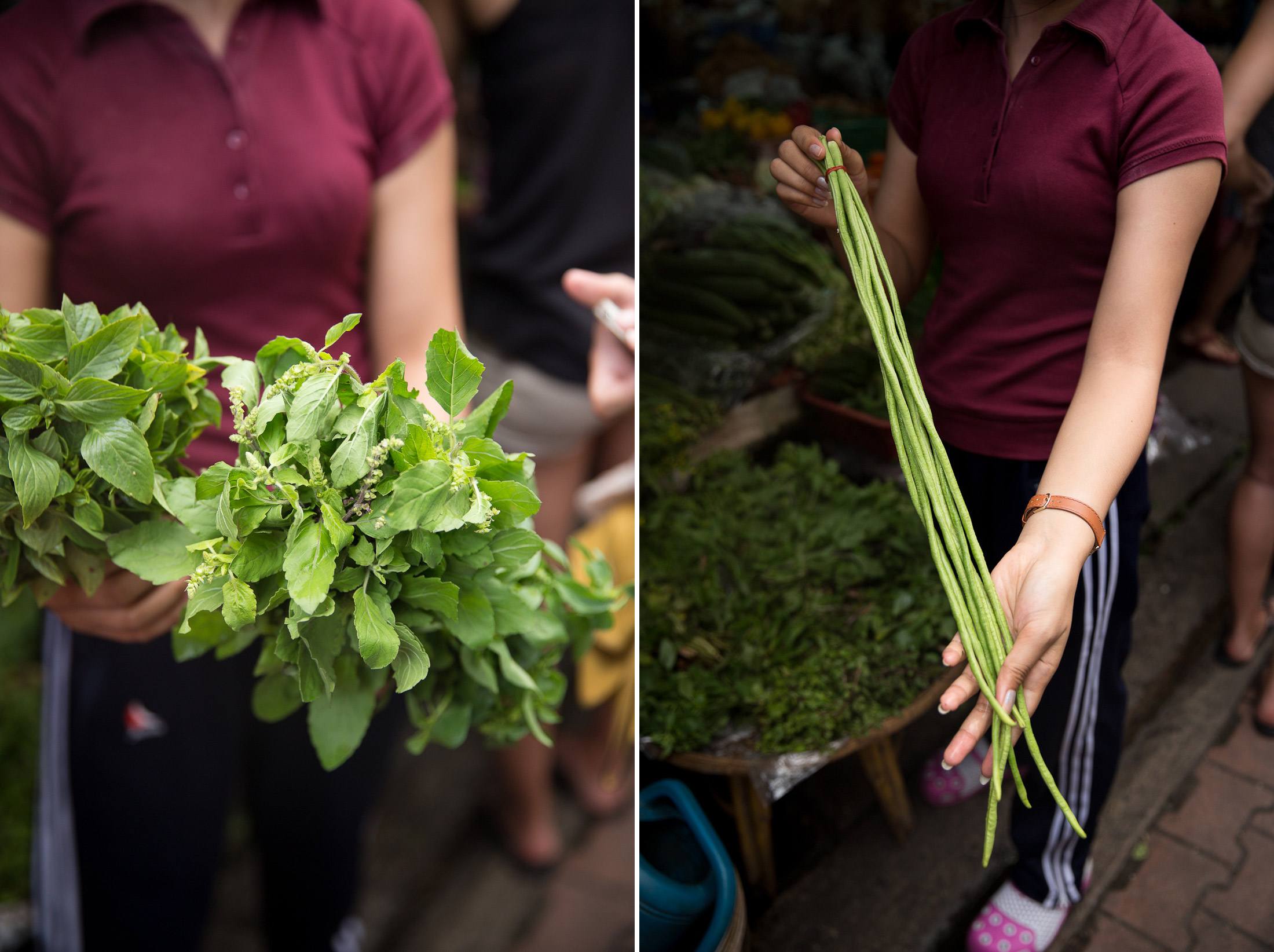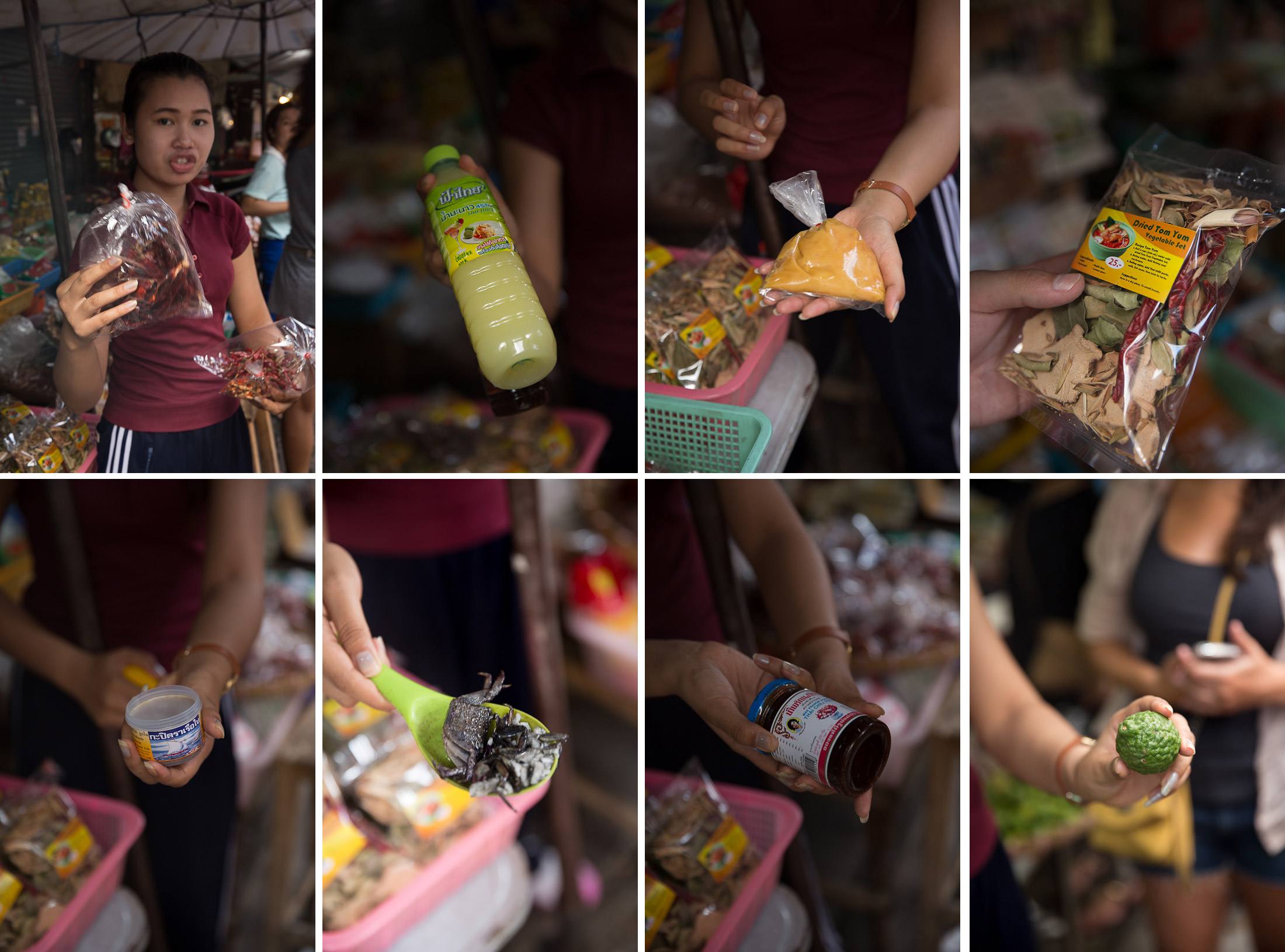 While in Chiang Mai, we decided to take a Thai cooking class to learn how to make some of our favorite thai dishes! I didn't realize (insert cuisine) cooking classes were a "thing" but apparently they are a pretty popular activity in a number of asian countries. I was pretty excited for this – the class is structured with a market visit to learn about the ingredients you'll need, followed by the cooking lesson.
We opted for an evening class (which happily doubled as dinner) and after selecting the 5 dishes we wanted to make, headed off to a local market to shop for ingredients. Our instructor gave us an overview of classic thai cooking ingredients and it was fun to see local varieties of some things we have back in the states, as well as exotic Thai produce.
Essential Thai Ingredients
Sauces
Most stir fry thai dishes, including pad thai, chicken with cashews, basil fried rice, etc. use the same base of sauces. The instructor pointed out chili sauce, oyster sauce, fish paste (which she affectionately called thai chocolate) and soy sauce as essential to a Thai kitchen. She also showed us palm sugar, the Thai sugar of choice, which is more of a paste in block form. It's especially used in desserts and has a more fuller flavor compared to brown sugar.
Fermented vinegar is also used to add acidity to dishes. Shrimp paste is a dark purple paste made up of ground shrimp. The paste comes in jar form and has a distinctive seafood smell; our instructor mentioned that shrimp paste is an essential ingredient for Thai curry paste.
Herbs
The local thai market sold plastic bags full of an assortment of ingredients that our instructor called a "soup package", meaning they formed the base for soup stocks like tom yum soup. I don' t recall the exact combination, but I believe it included lemongrass and ginger. She pointed out three different versions of ginger, including the regular ginger found here in the states as well as Thai ginger, which has offshoots off the bulb, and lesser ginger or finger-root, which looks, well.. like fingers!
Thai chilies also come in threes: the spur chili, a large red chili and the mildest variety; sky pointed chili, a medium variety usually used for thai curry paste and "mouse shit chili", which is an unfortunate name but is the smallest variety and the hottest – used in soups, salads and curries. Thai food as a whole is pretty spicy and we used the small chilis in almost all the dishes we cooked later. If you're looking to tone down the spice, pick red chilis. Surprisingly, red chilis are milder and sweeter than their green counterparts.
Also integral to Thai cooking is the lime. They've got the regular smooth limes in addition to kaffir lime, which has a knobbly outer peel. Kaffir lime leaves are also used in tom yam soup, tom kha and all thai curries.
Vegetables
Mushrooms! Thai food loves using mushrooms, including white fleshy oyster mushrooms, elephant wood ear mushrooms, a rubbery dark purple or brown colored variety and shiitake mushrooms. I never used to like mushrooms but they're growing on me. Shiitakes are a recent favorite – the secret is to soak them in water before use, the longer the better. Most shiitakes can be bought dried and they need the water to soften up and re hydrate.
Eggplants are also a popular vegetable. Unlike the large purple bulbed eggplants I'm familiar with, thai varieties are green and smaller. The long eggplant looks similar to a cucumber, while the tiny bulbed eggplants and pea eggplants are tiny green shoots.
After explaining all the ingredients, our instructor gave us some free time to explore while she finished shopping. More on the actual cooking to come in part II here.
Since we've been back from our trip, we've actually cooked a couple of the thai dishes we learned in class – pad thai, chicken with cashews and our own spin on minced pork in lettuce leaves. It was pretty easy to find all the sauces in our local grocery stores and chinatown. I used regular limes, vegetables and thought the taste was comparable. The hardest part, surprisingly, was locating chilis. But I recently discovered the Whole Foods in columbus circle carries 10 different chili varieties, including the thai mouse shit variety! That was an exciting day.
Want to know what else to do while in town? Check out these unusual things to do in Chiang Mai or food recommendations!