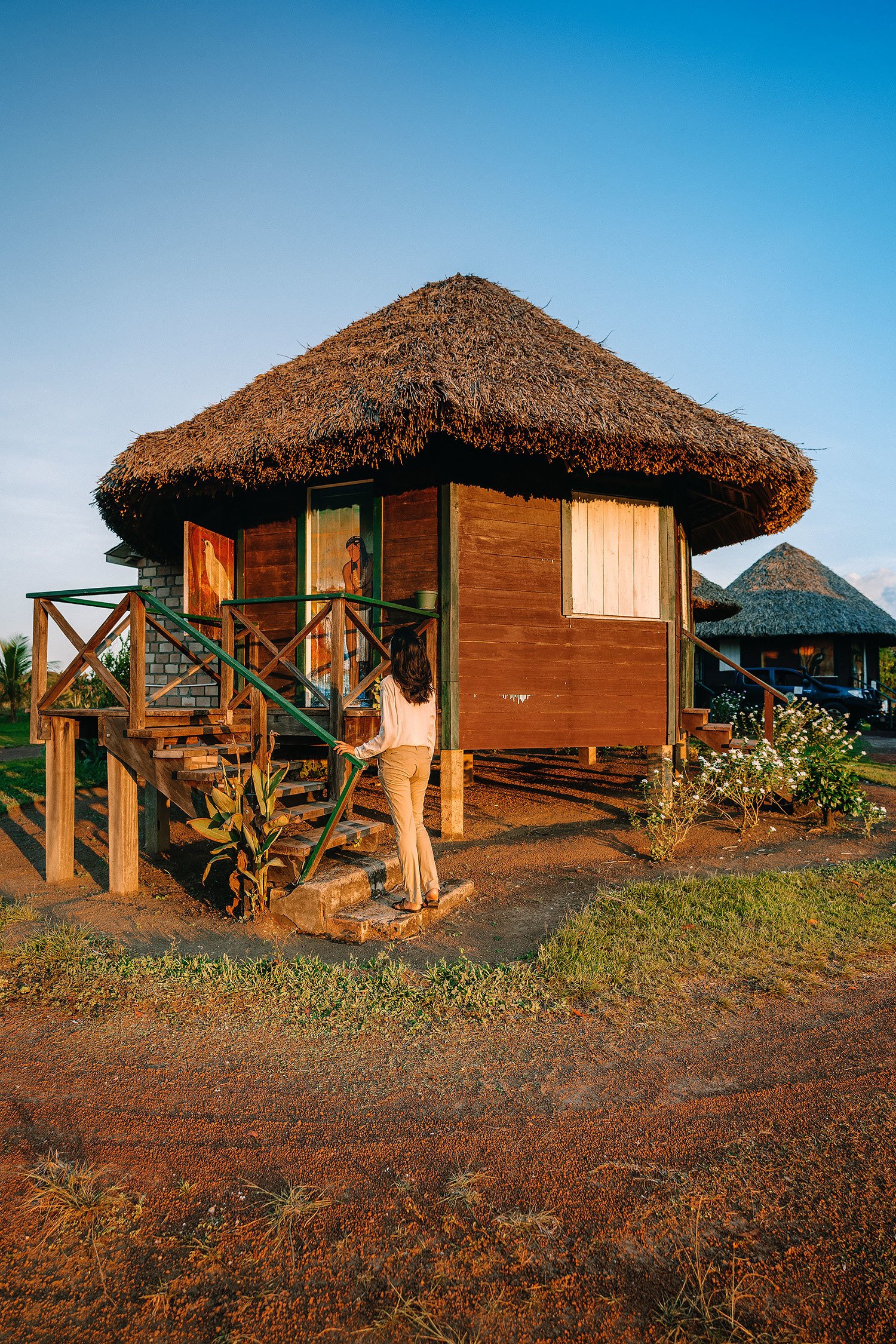 Visiting Guyana
When we mentioned to friends and family that we were headed to Guyana, we received lots of blank stares. Some people outright asked where in the world it was, while others assumed we were going to Africa (lol).
Part of the reaction was probably our fault – we alternated between pronouncing it "GUY-ana" (as you're supposed to) and "GEE-ana" (as in French Guiana).
ADVERTISEMENT
It's true Guyana doesn't have a reputation as a hot travel destination, but what we discovered is how nice that was!
Guyana was the first place we'd been to that had beautiful natural scenery, jaw dropping wildlife… and no crowds. It's so far off the beaten path that our company consisted mostly of howler monkeys and blue heron birds for the week.
While today Guyana is one of the world's last remaining remote places, it won't be for long.
Here are just a few reasons to visit Guyana and the Amazon basin!
Keep reading or save this article for later ⇟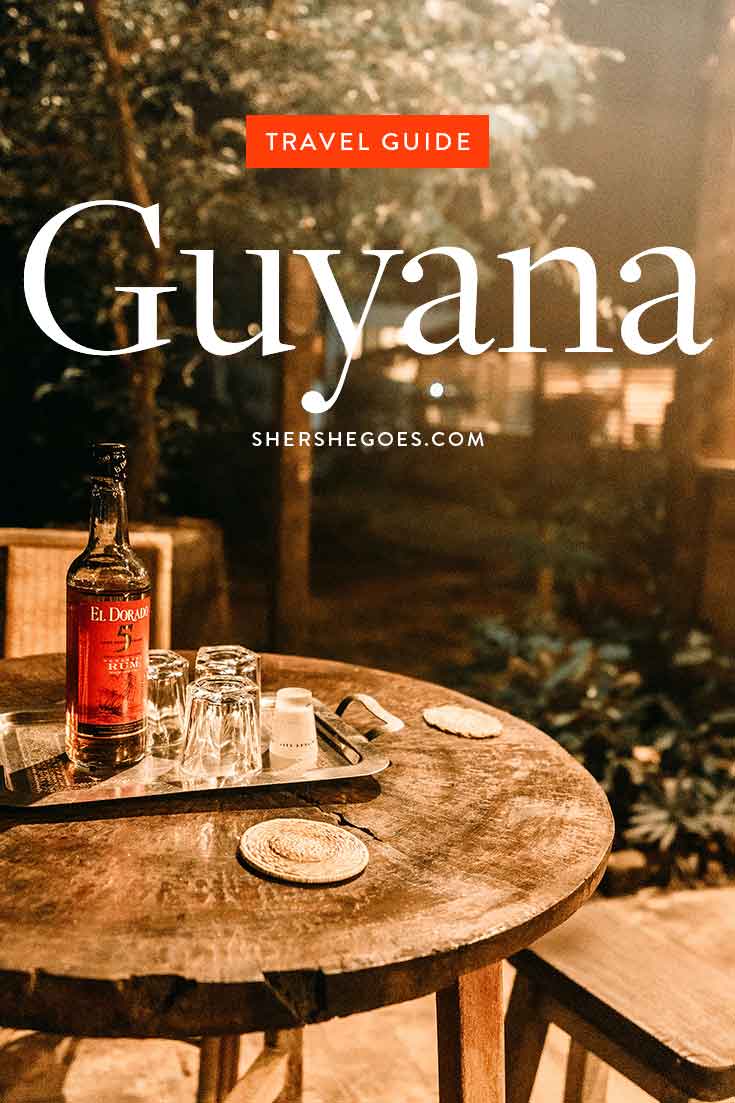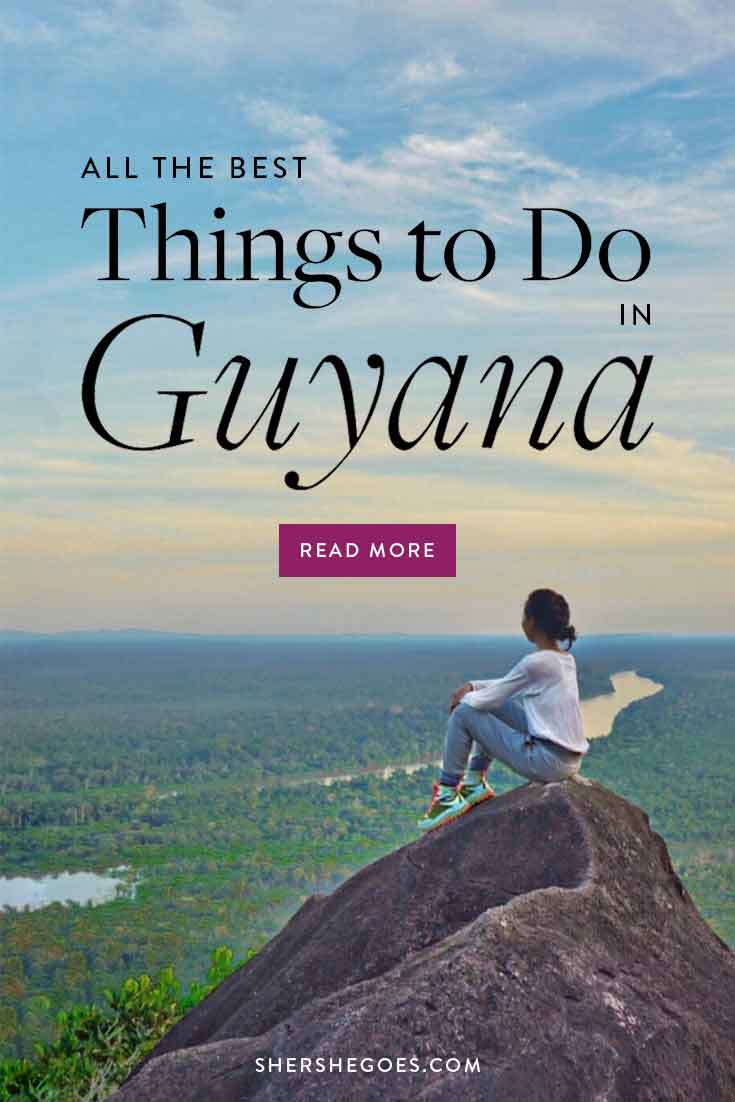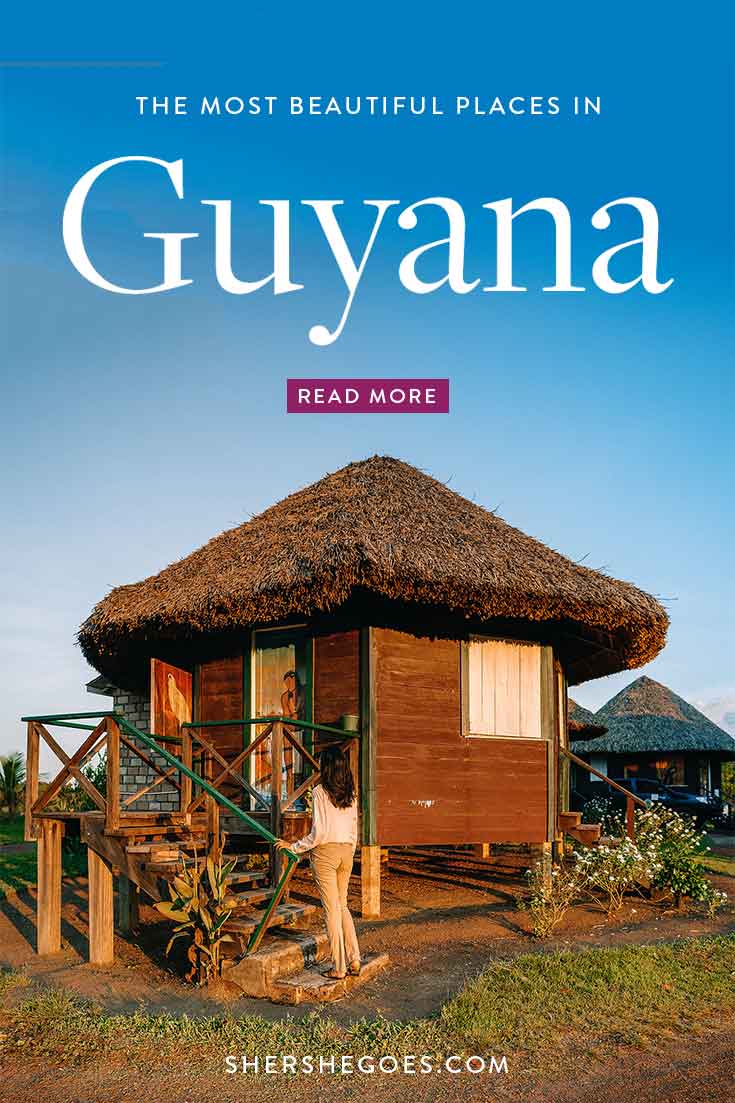 1. They Speak English!
Guyana is South America's only English-speaking country!
That doesn't exactly mean chatting with the locals is a breeze because they like to use slang where they drop portions of words, but it sure is nice to not have a language barrier!
If you're not sure where Guyana is, the country is nestled between Venezuela and Brazil in north-east South America. It's bordered by the Atlantic Ocean in the north and forms the Amazon basin in the south. Guyana is often grouped with its neighbors French Guiana and Suriname as they're nicknamed the '3 Guianas'.
ADVERTISEMENT
---
---
2. Caribbean Meets South America
Originally colonized by the Dutch, then ruled by the British, modern-day Guyana has a fusion of cultures, traditions and cuisine.
Today, the government officially recognizes 7 races: Europeans, Portugese, Chinese, East Indians, Africans, Amerindians and Mixed Race!
In Guyana you can experience coastal cities that mimic the Caribbean, lush Amazon jungle in the interior and even grassy savanna plains! Guyana is a beautiful melting pot!
Read more:
What to Pack for the Jungle
ADVERTISEMENT
---
---
3. Breathtaking Natural Wonders
Guyana is largely untouched. Over 90% of the population lives along the coast, leaving the interior jungle to grow thick, dense and wild.
Only in Guyana can you can go on a 4×4 safari drive to spot jaguar, canoe down piranha filled rivers and scale 4 different mountain ranges to sleep under the stars.
Guyana is home to the tallest free-falling waterfall in the world and villages so remote that the only inhabitants are Amerindians. For the adventurous, Guyana is unlike anywhere else in the world.
Read more:
A Day Trip to Kaiteur Falls
ADVERTISEMENT
---
---
4. …That You Have All to Yourself
Guyana is roughly the size of Britain but sees just 250,000 visitors per year, most of whom are of Guyanese descent.
Throughout our time in the Amazon basin, we were often the only travelers around for miles. When we visited Kaieteur Falls, the country's number 1 tourist attraction, we had the entire experience to ourselves. There are almost no words to describe that magical moment as our tiny group of 7 stood on the edge of a mountain.
Kaieteur is 5 times as tall as Niagara falls and dumps up to 30,000 gallons of water per day in peak season. Where else in the world can you experience a natural wonder as it was originally discovered, without manufactured walkways, kitschy souvenir stands every couple of feet or hoards of tourists jostling for a view?
Only in Guyana!
ADVERTISEMENT
---
---
5. Wildlife So Cool It's Nicknamed Land of the Giants
While we were the only international travelers for most of our visit… we shared the jungle with plenty of creatures, big and small.
From tarantulas dropping in at turn down service to rats crawling on our back as we slept, a visit to Guyana is one very much in tune with nature. Howler monkeys woke us up at sunrise while black caimans eyed us warily as the sun went down.
Guyana is often nicknamed the Land of the Giants for its incredible wildlife. There are over 225 species of mammals, 1000 types of fish and most impressively, some seriously big creatures. Rewa, Guyana, is the only place in the world to spot Arapima fish, the largest scaled freshwater fish in the world. In the savanna plains, giant anteaters roam free, their rolling knuckle gait surprisingly funny to watch.
ADVERTISEMENT
---
---
6. But Also Exotic Birds
Birders have long known about the secret of Guyana. With over 900 species of rare exotic birds, enthusiastic birders have long traveled from all over the world to Guyana just for a glimpse.
Even those of us that weren't avid bird watchers got in on the fun! We couldn't believe a bird like the Harpy Eagle existed and stood silent in wonder when 4 colorful Cock of the Rock males posed patiently for our cameras.
From the fiery tailed awlbill hummingbird to the Guyana red cotinga, the list of exotic species native to Guyana is long and impressive.
ADVERTISEMENT
---
---
7. And Giant Fish (Some With Teeth!)
Guyana is also called the Land of Many Waters. With over 1,800 different species of fish, including 6 different types of piranha, you never know what your line will bring up in Guyana!
We fished on the Essequibo River and discovered arapaima, swordfish, red bellied piranas and even vampire fish!
ADVERTISEMENT
---
---
8. Perfect for Adventurers
Shows like River Monsters and Naked and Afraid have shot on location in Guyana due to its unique atmosphere.
Whether you want to camp overnight for a sunrise view of the jungle, walk through the rainforest canopy 33 meters above the floor or go for a night spotting sail in caiman sleeping quarters, Guyana offers no shortage of adventure.
We did a mostly soft adventure itinerary but survival style camps and wilderness trekking are offered if you want to test your skills!
ADVERTISEMENT
---
---
9. And Those Who Want to Support Local Communities
Visiting Guyana's interior goes directly to support local villages.
Many Amerindian tribes in the Amazon basin have pooled their resources to create community run eco-lodges, offering expert guides to lead visitors on fishing trips, survival camp experiences and overnight hikes.
Guyana is one of the few countries that has developed sustainable tourism from the outset and is a dramatic contrast to the mass all-inclusive resort trend taking over elsewhere in the Caribbean.
Our stays at Rewa, Surama and Atta lodges put us directly in contact with native tribes and we had fun learning to adapt to jungle life. From sleeping in hammocks to piranha fishing to learning to shoot bow and arrow, our local guides were with us every step of the way and some of the most memorable aspects of our trip!
There's no better guide than a native to teach you how to survive in the rainforest!
ADVERTISEMENT
---
---
10. You can be a trailblazer
There aren't many countries left in the world where you can genuinely be one of the first to visit. How many people do you know that have been to Guyana? With Guyana, you can be the one telling the story.
But quick, word's getting out!
Even American Airlines knows that Guyana is a gem of history, culture and sunshine. In December, AA will start operating nonstop flights from Miami to Georgetown, making now the perfect time to visit.
Set an alert
for flight deals
ADVERTISEMENT
---
---
If you're looking for adventurous days and tranquil nights spent getting in tune with Mother Nature… head to Guyana for a truly wild time!
Things to Do in Guyana
Don't miss out on these fun things to do in Guyana!
Visiting Guyana – Trip Planning Checklist
Flight Deals | Caribbean Airlines offers nonstop flights from New York and Miami to Georgetown. You can set a fare alert here to be notified of discounts.
Getting Around | Book a driver for Georgetown or a tour to handle transportation in the Amazon basin. Most arrangements must be set up in advance, for minimum parties of 4, due to the high cost of gas and overland vehicles as well as the limited internet communication in the jungle.
Accommodation | In Guyana's interior, accommodation is remote and consists of comfortable but simple eco-lodges run by local communities. Many do not have internet access, so it's best to book a tour package that will handle transportation, activities and accommodation for you. Or, you can call to make reservations online. In Georgetown, there are plenty of boutique and international hotels to choose from. 
Insurance | Lastly, be sure to visit Guyana with travel insurance. Hospitals and medical assistance are scarce in the jungle interior and yellow fever vaccinations are strongly recommended. Whether you get injured and need to be hospitalized, or your phone gets stolen, travel insurance will help when you need it most. Get a quote for your trip here.
You Might Also Enjoy:
Guyana Vacation Planning Articles
Quick Guide to Guyana
What to Pack for the Amazon Jungle Clothes + Recommended Gear
2 Weeks in the Guiana Shield: Our Guyana Itinerary
Explore All the Best Things to Do in Guyana
Visiting Georgetown: What to See & Do in Guyana's Capital!
Guyana's Interior: The Amazon Basin
Day Trip to Kaieteur, the World's Longest Free Falling Waterfall
Day Tour: Learning How to Fish for Piranha in the Amazon
Guyanese Food: What to Expect, Where to Eat & More!
Guyanese Culture & It's Amerindians
Photos of Guyana from our trip!
Follow me @Sher She Goes on