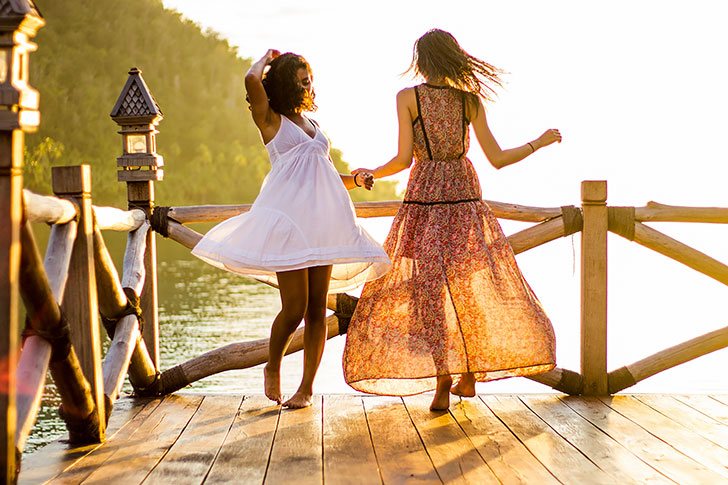 What to Pack for Bali, Indonesia
Bali Packing List, Outfit Advice and Travel Tips
Only joking by the title.
Today's post is a Bali packing list to help make the most of your trip to Indonesia! I've gotten lots of questions about what to pack for a trip to Southeast Asia, so more generally this post will cover that as well.
---
---
How Conservatively Should You Dress in Indonesia?
I didn't think much about packing until the night before (I hate packing) but I did have a moment of panic as I wasn't sure if Indonesia, as the world's largest Muslim country, might have more conservative standards of dress so I only brought one pair of shorts and stuck to mostly dresses.
It depends where in Indonesia you're traveling to. Bali can be pretty similar to America in terms of what the women wear (shorts, sundresses, etc) so you don't need to cover head to toe. Locals are more accustomed to the heat than we are so I saw lots of midi skirts and longer dresses and few short dresses.
I wore sleeveless tops a couple times around Jakarta, Bandung and Yogyakarta and never felt uncomfortable or stared at. On the more touristy islands like Lombok and Gili, the islands are completely overrun with Westerners wearing whatever the heck the want.
Indonesia runs on a pretty broad clothing spectrum. For instance, there were lots of women in the hijab and layers when we went outlet mall shopping in Bandung but there were also girls dressed in tank tops and shorts. So, I would bring the more conservative summer clothes that you have but you don't necessarily need to stress and buy a whole new wardrobe.
For temples like Borobudur and Prambanan, there are no overt clothing restrictions but be respectful as they are ancient religious sites. I packed scarves and maxi dresses as I thought the temples would have knee and shoulder covering requirements like in Bangkok (the King's Palace is especially strict and also Ayutthaya and Sukhothai temples) but they did not. I'm sure if you visit Muslim mosques in Indonesia they will have strict clothing requirements.
Here's what I would most recommend to pack for Bali, Indonesia:
---
---
Maxi Dresses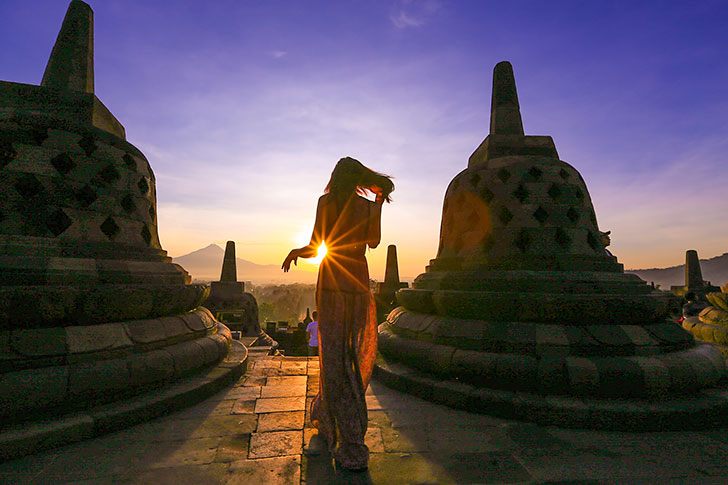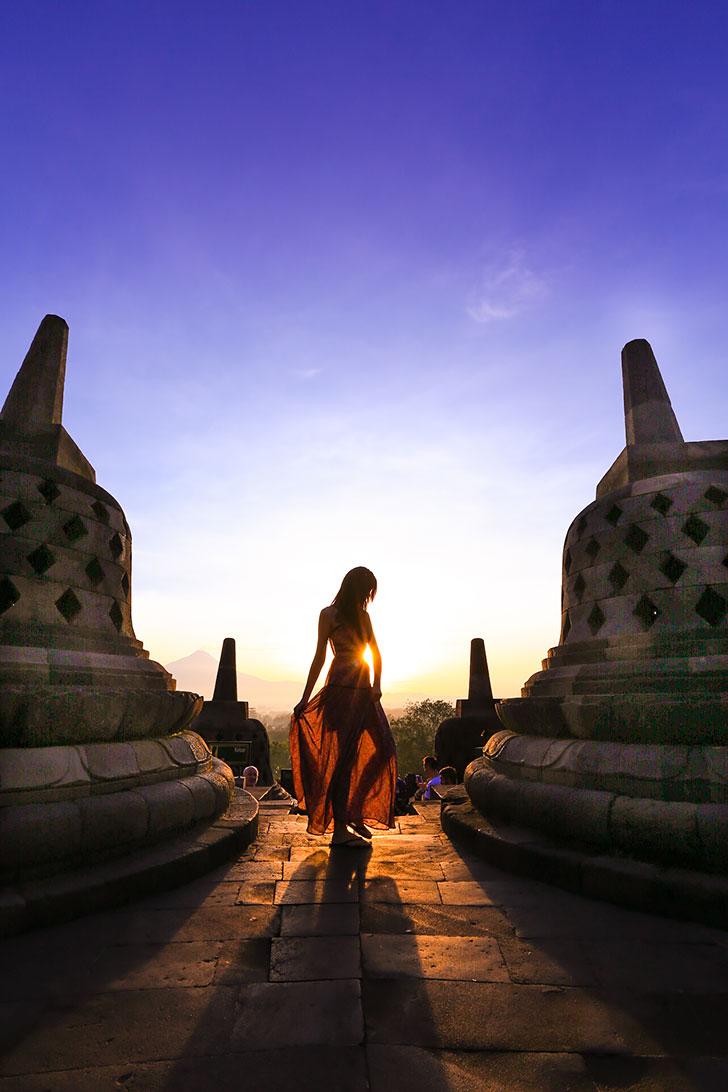 ---
---
I always bring a couple maxi dresses if I'm going somewhere tropical. The longer length makes them versatile for temples or religious sites while the flowy fabric doubles as a swim cover up.
I got this maxi in a size small and it fit well. The arm holes were slightly big but I tightened the front laces, which was a handy touch. The skirt length fit but probably could use a 1″ hem just to look a little tidier (or I should just wear it with a slight heel) and I liked the long side zipper – it made getting in and out of it super easy.
When visiting temples in Indonesia, try to wear more conservative clothing. We visited Borobudur and Prambanan which are ancient Buddhist and Hindu temples / religious sites and there weren't any entrance clothing constraints but everyone still was covered up.
I remember in Thailand the Buddhist temples all required covered shoulders and covered knees – nothing like that in Indonesia. Still, I recommend wearing a dress that covers to the knees and ideally covers the shoulders. Or, just bring a scarf in case you need to cover either end.
---
---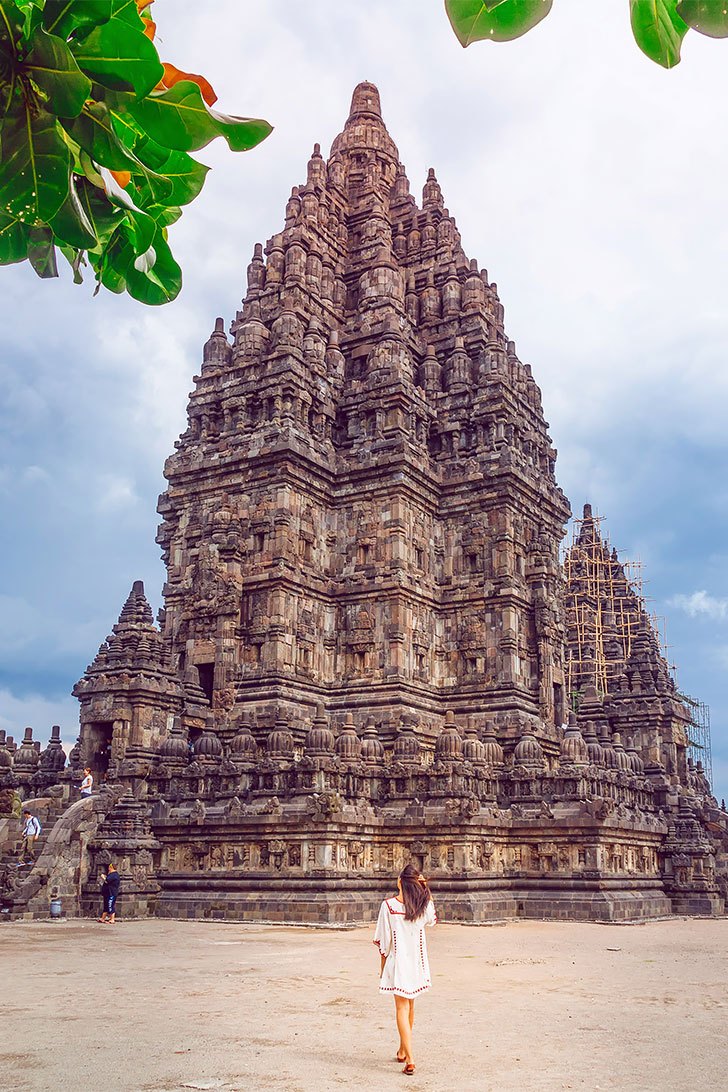 ---
Free People Shift Dress (now on sale!) // Everlane Sandals
---
I got this Free People dress just for the trip and was SO thrilled with the dress. It comes with a slip dress underneath with adjustable straps so that nothing shows through. The fabric is a beautifully soft, light weight cotton that was comfortable even in 90 degree weather. Also I loved the pink embroidery detailing and was really happy that the embroidery continues from the front to the back of the dress as well. Free People tends to be more expensive but they really get all the details right! Overall, I got tons of compliments on it and would recommend.
I'm wearing an XS and I think it fits a bit over sized, which I like. The sleeves are a bell shape and the bottom skirt is incredibly flowy. I washed it a couple times and it seems to have gotten shorter so I would recommend air drying.
The sandals are an old pair from Everlane. I was drawn to them as they're genuine leather but C calls them Jesus sandals and is not a fan. They took about 3 days to wear in and have been extremely comfortable ever since.
I've had them for about two years now and finally had to chuck them at the end of this trip as the leather on one shoe completely stretched out and slips off my foot at each step. My fault, I wore them in the rain a couple times and the leather got slightly stretched.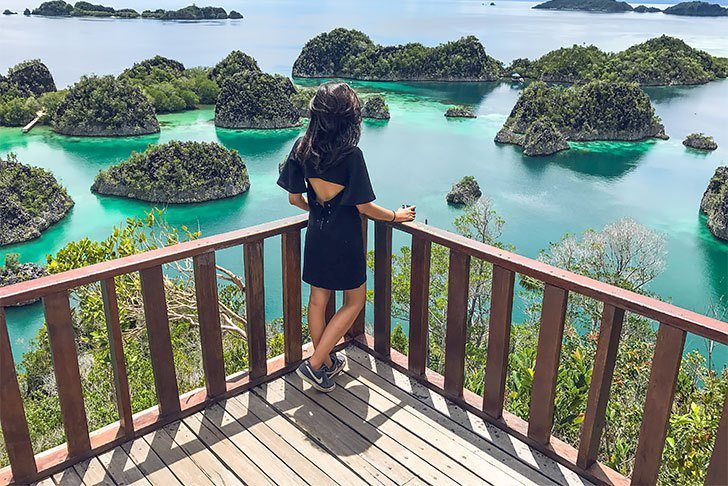 ---
Revolve Backless Lace Up Dress // Nike Sneakers
---
I wore this backless dress the day that we hiked Piaynemo. It wasn't the most practical since that day felt like 110 degrees and there is absolutely no shade up high on Piaynemo. But, the back is slightly open so it wasn't too bad!
I love the bell sleeves on this dress and of course the lace up back. The dress has a longer hem length, it comes about 1″ almost to the knees so even though there is skin exposed on the back I think it still look relatively covered up and I packed a scarf to wear as a shawl just in case. Raja Ampat is remote so you likely won't encounter anyone else there except other tourists.
Another great site for summer clothing (rompers, dresses, tops) is Revolve. I always have to resist browsing because I just end up wanting everything. The nice thing is they have sales pretty often so I try to wait for those!
---
---
Swim & Coverups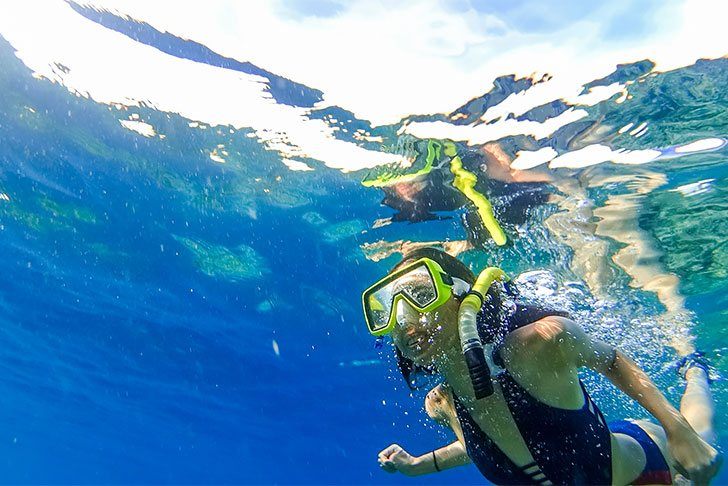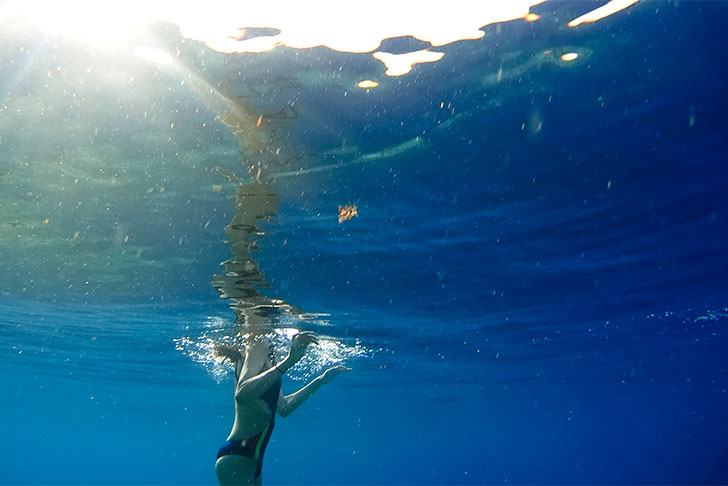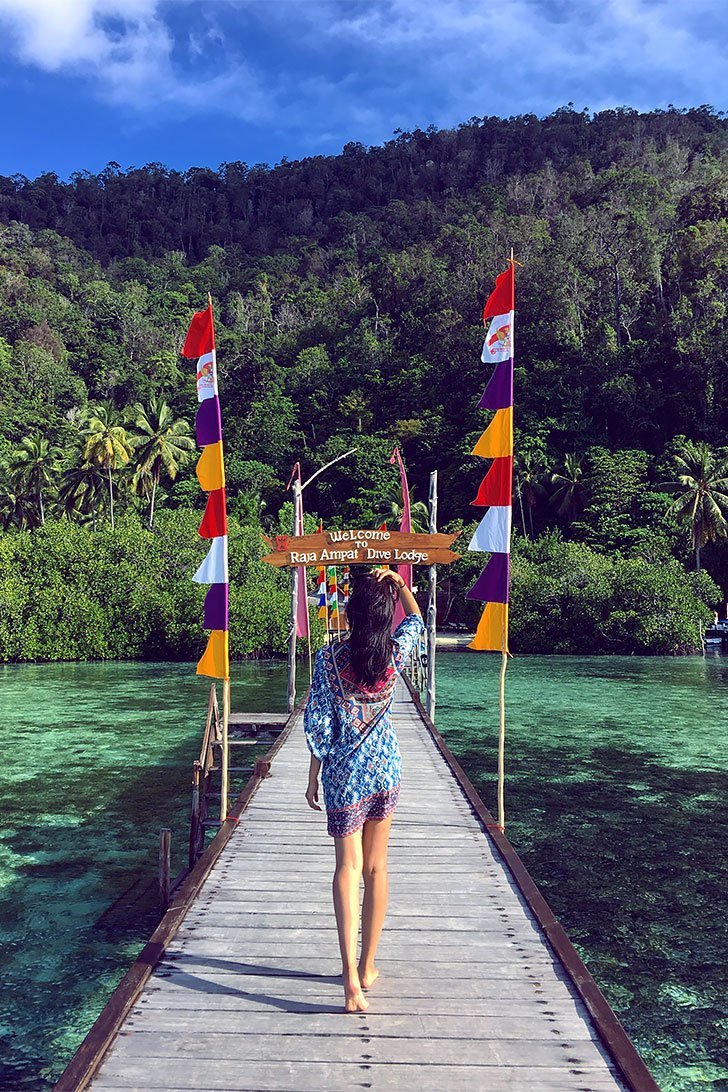 ---
Abercrombine One Piece Swimsuit / Tolani Beach Cover Up
---
I've been quietly shopping at Abercrombie for about two years now. It's one of those places I don't really mention since they went through such a decline but I love browsing every so often because they've really made a comeback and have a couple standout items every season or so at amazing deals simply because no one thinks to shop there!
I now get a bunch of new swimsuits from them each year. I love their one pieces, they tend to have strategic cut outs in all the right places and are also really affordable.
The one bad thing about one pieces is how annoying it is to go to the bathroom. I may switch back to bikinis next year – that was a big problem on this trip ha!
When we stayed at Raja Ampat, we stayed on our own private island at Raja Ampat Dive Lodge. Each day for activities we would zip over by speedboat to a different island. Some were surprisingly far away (almost 2 hours for the dive day) so I wore this handy beach cover up dress by Tolani many, many times.
I love how lightweight the fabric is so even when it got wet, the dress dried very quickly. The print I think is quite fun for a beach-y environment. It's also a three quarters sleeve dress. I try to cover up as much as possible with sunscreen, hats etc when I'm out without shade so I liked that this wasn't sleeveless. The only downside is that after I machine washed it, the fabric got insanely wrinkled. Nothing a little steam dryer won't fix though! I use this small one from Conair that easily steams out any fabric in under 5 minutes.
One thing to mention – it's socially acceptable to wear your swimsuit (two piece, bikini, one piece, whatever) in the water but when walking around on the islands you should wear a cover up or real clothing. Many of the Raja Ampat islands are Christian, not Muslim, but still feel uncomfortable and disrespected if you strut around in a bathing suit. I recommend a cover up with long sleeves to the knees that's lightweight (similar to the above) or just a sarong and t shirt at the very least.
---
---
Other Important Essentials to Pack for Indonesia
Bali and Indonesia in general use a 2 pin socket and plug. I always bring my universal travel adapter so that I don't have to sort it out.
2. Wet Wipes
Indonesians are big fans of the bidet, as I learned the hard way. On my first day in Jakarta I was in a glitzy shopping mall and a pit stop in the restroom resulted in me getting very wet. Be ware of what "handles" you're pressing!
A lot of Indonesian restrooms will have a small communal dispenser in the main area for tissues so check first for that before going in a stall. Of course, Jakarta, Bali and the more touristy areas will have your standard restrooms.
When we got to more remote locations and in smaller airports, I saw a lot more squat toilets and maybe one western style toilet. Local women carry tissue packs so definitely bring a bundle for your trip to Indonesia! I also recommend packing wet wipes in bulk – they come in handy pre-packed sizes so I just chuck in a couple for each trip.
3. Tampons
Indonesian women prefer feminine napkins so you'll find it difficult to purchase tampons in Indonesia. If you're headed to any of the islands, like Lombok, Gili or Raja Ampat definitely pack these in advance so you can enjoy the beach.
as a tropical country, sometimes there are small showers throughout the day and a small poncho or umbrella will really come in handy. I particularly like this mini option since it doesn't take up much room in my suitcase.
The first time I visited Indonesia, I got EATEN ALIVE. I literally came back looking like I had chicken pox, I had so many bites. Granted, I am particularly attractive / allergic to mosquitoes in general but I would definitely recommend some strong deet-based mosquito spray (I like this one with 40% deet). Bug spray is one item I will never go "organic" or "natural". The second time I traveled to Indonesia, I only got 1 or 2 so I'm not sure if the difference was due to weather or the places.
I also recommend cortizone or benadryl tablets. I itched like crazy and couldn't keep myself from scratching, this stuff really helps. A girl on my tour had these really cool mosquito repellent bracelets – I want to see if I can find some of those for my next trip. They create a small repellent aura around your body.
Indonesia doesn't carry a Zika warning but nearby Southeast Asian country mosquitoes can carry dengue so definitely pack the strong stuff. Some parts of Indonesia also have a warning for malaria so you should check with your doctor if you need malaria pills before you visit.
When we were in Raja Ampat the mosquitoes were especially bad. Each night there would be a torrential down pour while we slept and even though I made sure to wear long sleeves, long pants and cocoon myself in a mosquito net bed I woke up to bites on my face, my stomach, all over. Not fun!
Read more: How to Get to Raja Ampat
---
---
And that's a wrap! My most photogenic outfits from the trip and some suggestions for what to pack for Indonesia. Hope you enjoyed. Do you have any favorite go to clothing sites for vacation items?
Shop for Southeast Asia
---

Fun tours and day trips from Bali:
---
---
Visiting Indonesia – Travel Checklist
Flights | From New York City, there are no direct flights to Indonesia but you can grab reasonably priced flights if you book early. Check often for routes and fares here. I've transferred in Doha and China and prefer Doha's modern airport via Qatar Airways.
If flying to Jakarta, fares will be slightly cheaper and from Indonesia's capital you can explore Bandung, Yogyakarta and Sumatra on short domestic flights. If your focus is Bali, note that flights from the USA will be slightly more expensive and typically will involve a 2nd stopover in Jakarta anyway.
Transportation | You can rent a motorized scooter to get around or book a tour to handle transportation if you're not comfortable. Taxis and Ubers will work in some areas, but not all. Bali especially has terrible gridlock traffic.
Accommodation | I highly recommend 'hotel hopping' Bali – the island is quite large and different neighborhoods have their own characteristics. Bali is also a fantastic place to splurge on a luxury resort – the options are endless, the views are unbeatable and the food is divine. We loved both Alila Villas Uluwatu and the Sofitel Nusa Dua.
Airbnb is a great way to stay in luxurious Balinese resorts for discounted rates – especially if traveling with a group.
Packing | Bring light fabrics and traditional summer wear for Bali along with mosquito spray. If you intend to visit Indonesia's other cities and famous temples, bring modest clothing. Indonesia is the world's largest Muslim country and can view short shorts and mini skirts as impolite. You can read my complete Bali packing list here.
Insurance // Lastly, be sure to visit Indonesia with travel insurance. Whether you get injured and need to be hospitalized, or your phone gets stolen, travel insurance will help when you need it most. I ended up getting seriously ill and visiting the hospital while in Solo, Indonesia and being taken care of was a lifesaver. Get a quote for your trip here.
You Might Also Enjoy:
Indonesia Vacation Planning Articles
Quick Guide: The Ultimate Indonesia Travel Guide
When is the Best Time to Visit Indonesia
At a Glance: 50 Incredible Things You Can Only Do in Indonesia
An Off the Beaten Path Itinerary: 2 Weeks in Indonesia
Indonesian Cities, Sights & Tours We Especially Enjoyed
Yogyakarta : 10 Highlights from Java's Cultural Center
Bandung Don't Leave Without Seeing These 7 Sights
A Raja Ampat Travel Guide: Scuba Diving, Hiking & How to Get There
Sun, Surf & Sea: Visiting Lombok & The Gili Islands
Bali, Indonesia Articles
Bali Packing List: What to Wear in the World's Largest Muslim Country
Where to Stay: Decoding Bali's Neighborhoods
Luxury Resorts in Bali with Epic Swimming Pools
Hotel Review: Alila Villas Uluwatu
Follow Sher She Goes on