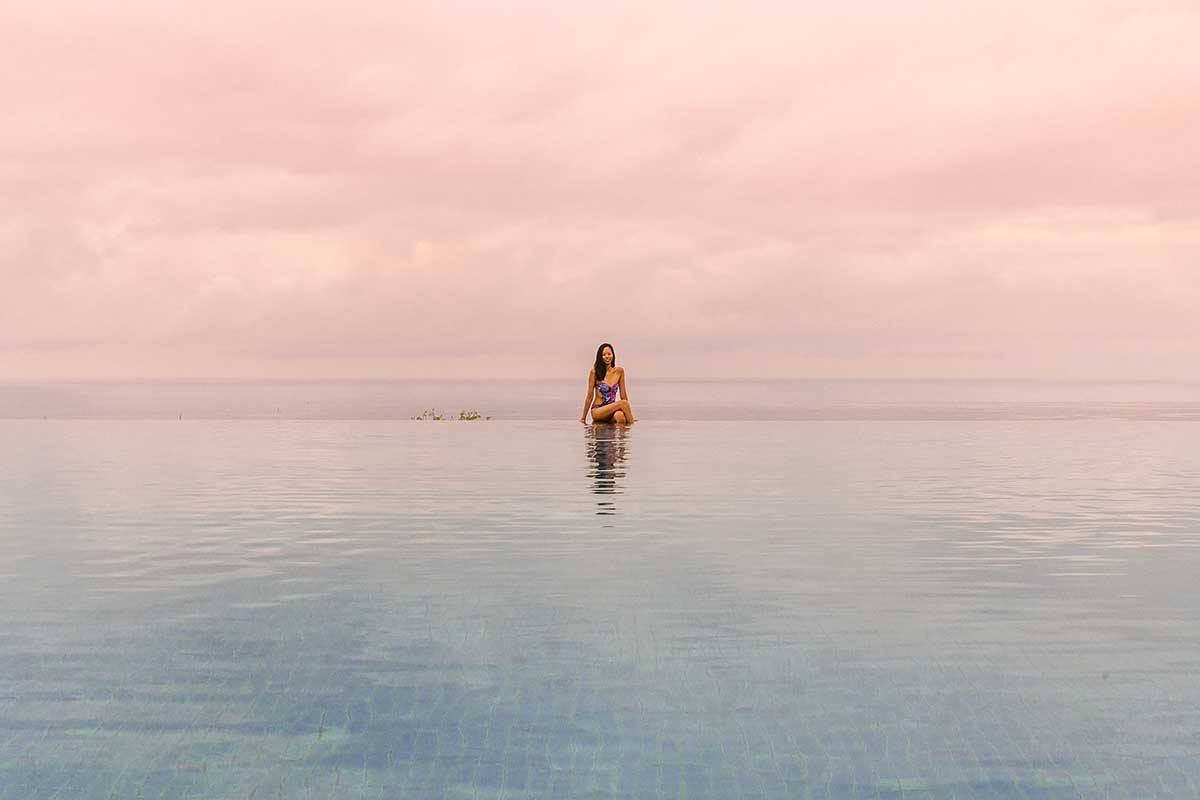 The Most Breathtaking Swim Resorts in Bali
AirBnB Villas with Private Pools, 5 Star Luxury Resorts, Infinity Pools with Epic Views & More
Practically every day I see a gorgeous Bali resort pop up on my Instagram feed.
Usually there's a pretty girl in a bikini, possibly a sun hat and most definitely a stunning pool. I recently returned from Bali and luckily had the opportunity to hotel hop a bit and experience different resorts and neighborhoods so I thought I'd put together a dream list of epic Bali hotels with pools.
These Bali swim resorts represent the best of the best – everything from private pools to ocean view infinity pools to overlapping swimming pools in the jungle!
Yes, most of them are 5 star luxury resorts, it is Bali after all, but you might be surprised to find that Balinese villas can be affordable and come with their own private pools as well.
Keep reading or save this article for later ⇟
---
---
Bali Hotels with Amazing Pools
Here is a quick chart listing our favorite swim resorts and hotels in Bali. Keep reading below for why we think they're unique and worth a stay!
Best Bali Swim Resorts – Summary Chart
Read more: The Ultimate Indonesia Travel Guide – Highlights, Attractions & Logistics
P.S. If you're just looking for a beach resort for the day, check out Sundays Beach Club in Bali. Great food, epic views and perfect for all travelers.
Another option is visiting Lembongan Island on a day trip, to have a beautiful beach entirely to yourself! Organized tours typically include water activities as well, like snorkeling, banana boat rides and round trip transportation. You can find more details here.
---
---
Bali, Indonesia – 7 Swimming Resorts to Soak Up the Sun
Alila Villas Uluwatu
---
---
Sofitel Nusa Dua
There are upgraded suites with direct pool access, a large central pool, beach access and also a swim up bar. We spent hours basking in the sun and enjoying happy hour.
Due to its luxurious villas, incredible swimming pools and discreet service, the Sofitel Nusa Dua is an excellent choice for really any traveler. Families with kids will love the many lounges, pools and hotel activities while couples on their honeymoon should take advantage of the spa and suite options.
---
---
AYANA Resort & Spa
---
---
Villa Ariana
---
---
Resort Munduk Moding Plantation
---
---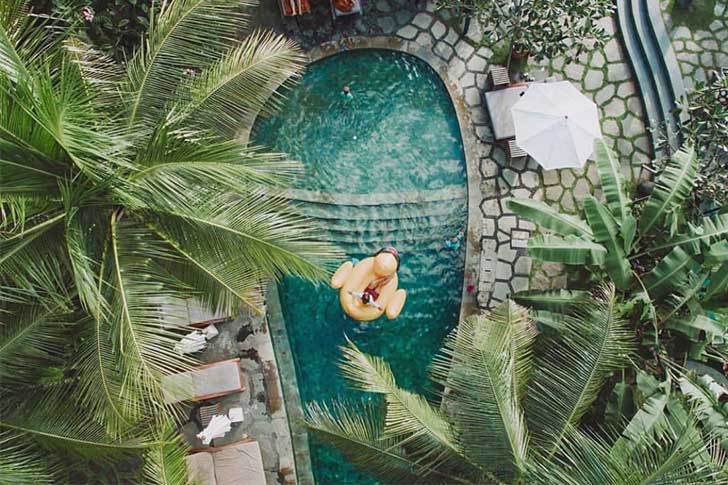 pc: @wynprmn
You Might Also Enjoy:
Indonesia Vacation Planning Articles
Quick Guide: The Ultimate Indonesia Travel Guide
When is the Best Time to Visit Indonesia
At a Glance: 50 Incredible Things You Can Only Do in Indonesia
An Off the Beaten Path Itinerary: 2 Weeks in Indonesia
Indonesian Cities, Sights & Tours We Especially Enjoyed
Yogyakarta : 10 Highlights from Java's Cultural Center
Bandung Don't Leave Without Seeing These 7 Sights
A Raja Ampat Travel Guide: Scuba Diving, Hiking & How to Get There
Sun, Surf & Sea: Visiting Lombok & The Gili Islands
Bali, Indonesia Articles
Bali Packing List: What to Wear in the World's Largest Muslim Country
Where to Stay: Decoding Bali's Neighborhoods
Luxury Resorts in Bali with Epic Swimming Pools
Hotel Review: Alila Villas Uluwatu
Follow Sher She Goes on