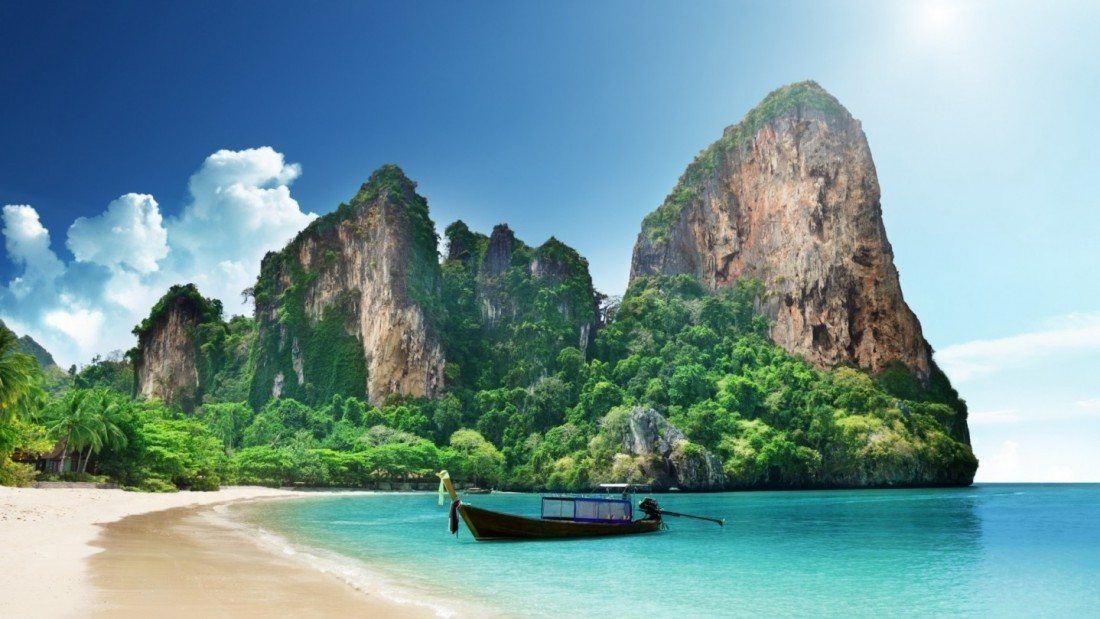 The Best Islands in Thailand
There are so many beautiful islands in Thailand that it can be hard to narrow down which to visit first. If you have 10 days in Thailand or less, I'd recommend picking two islands.
Any more and you'll be rushing from island to island taking overcrowded catamarans and won't leave enough time to relax. The good news is Thailand's islands are all quite different so you'll have plenty to explore and do on any visit!
Below we're covering 9 of our favorite Thai islands whether you like great beaches, scuba diving or local culture.
---
---
Andaman Coast or Gulf Coast?
The first step to deciding where to visit in Thailand is to choose a coast. Thailand has two long coastlines:
Popular Andaman Islands
The Andaman coast is on the outside of the Thai peninsula in the Andamen Sea (near Burma)
Popular Gulf Islands
On the opposite side, to the right of Thailand's peninsula (sheltered by Cambodia) are the islands:
---
---
The Best Thai Islands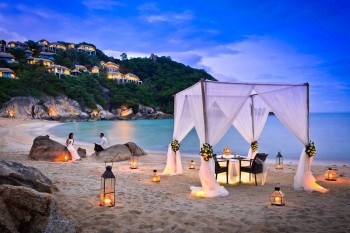 1. Ko Samui
Thailand's Koh Samui Island is for the luxury vacationers. Chaweng, closest to the airport, is the liveliest section of the island with bars, restaurants and sandy beaches. For a secluded paradise, stay in one of the many 5 star resorts with private villas carved into the cliffs – most come with your own infinity pool.
Check here for deals to Thailand's beach resorts.
---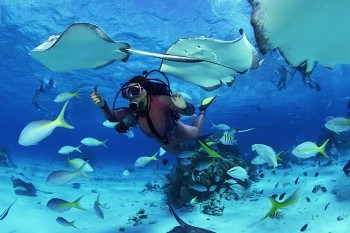 2. Ko Tao
Ko Tao is the scuba training island king, with the highest concentration of quality dive shops in one place creating the world's easiest and most affordable spot to learn how to dive. The water is warm and gentle and the waters hold abundant coral reefs frequented by all sorts of fish to make for an excellent and exciting first time learning ground.
Check here for travel deals to Ko Tao, Thailand.
---
---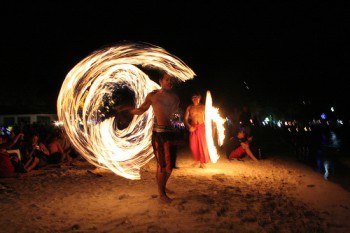 3. Ko Pha Ngan
Famous for the all out crazy sloppy fun Full Moon parties, Ko Pha-Ngan is a party pit stop for the wild backpacking crowd. What was once a sleepy bohemian paradise is now more commercialized, but hammock hangers can grab some peace and relaxation on the northern and eastern coasts and live out their modern castaway fantasies.
Check here for hotel deals to Ko Pha Ngan, Thailand.
---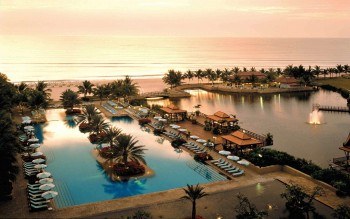 4. Hua Hin
Hua Hin was the ancient island getaway of Thai kings. You'll find plenty of buddhist shrines, Thai culture and delicious Thai eats.
Check here for hotel deals to Hua Hin, Thailand.
---
---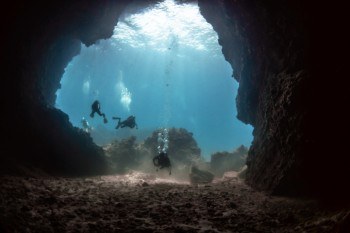 5. Ko Lanta
Penetrate the interior of Ko Lanta to witness beautiful jungle scenery and Muslim fishing villages. Ban Lanta has artsy shops while Ko Lanta Marine National Park has gorgeous natural cafes and endless beaches to hop through. Nearby feeding stations for manta rays and whale sharks make this island a must for diving.
Check here for hotel deals to Ko Lanta, Thailand.
---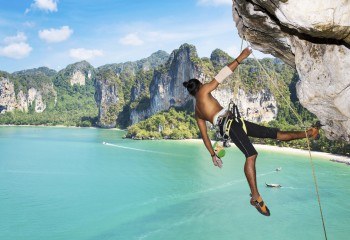 6. Railay
Railay's rock climbing scene is legendary, with over 500 routes of limestone walls overlooking crystal blue waters and white sandy beaches. Climbing beginners have nothing to fear while seasone pros will want to try deep water soloing, where the climb ends with a splash into the waves.
Check here for hotel deals to Railay, Thailand.
---
---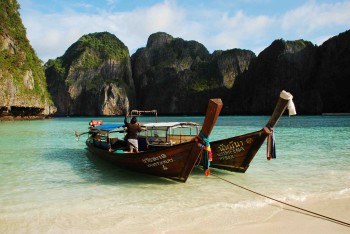 7. Ko Phi Phi
Perhaps Thailand's most famous spot, James Bond Island lives up to all the hype. Stunning turquoise waters, gorgeous beaches and beautiful limestone cliffs make it a paradise for all water sports – diving, snorkeling, even rock climbing. When the sun goes down, the party starts. Tons of bars all over the island and perfect for those seeking sunshine and nightlife.
Check here for hotel deals to Ko Phi Phi, Thailand.
---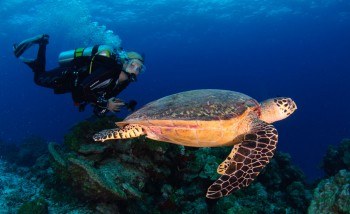 8. Khao Lak
Scuba divers should take a liveaboard (that's a boat where you dive and sleep on board) from Khao Lak and head out to the Surin & Similan Islands Marine National Park to dive all day. Head all the way north to Richelieu Rock to see the manta ray and whale shark feeding grounds.
Check here for hotel deals to Khao Lak, Thailand.
---
---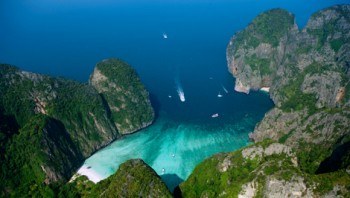 9. Phuket
Luxury in Phuket is all about extreme pampering. A mirror sister to Samui on the opposite coast, you can also dive, hike, kayak and enjoy the waves.
Check here for hotel deals to Phuket, Thailand.
---
When is the Best Time to Visit Thailand?
Here's a quick guide to the best times of the year to visit Thailand.
High Season (Nov – Mar) cool and dry temperatures create a lush landscape and manageable heat. This is the best time to visit the Andaman islands with sunny temperatures and clear diving conditions. Christmas and New Years brings terrible crowds and high prices.
Shoulder Season (Apr – Jun) Generally quite hot and dry in Bangkok but there's a nice sea breeze for relief in the north and coastal areas. This is the best time to visit the Gulf islands.
Low Season (Jul – Oct) Both the Andaman and Gulf coasts take turns getting pummeled by heavy monsoon rains. Some islands shut down completely and boat service to and from the islands is limited.
---
---
Getting Around Thailand's Beaches
You can fly from almost all major airports in the region by connecting through Bangkok. Ko Samui has its own airport with direct flights to Hong Kong, Kuala Lumpur and Singapore. Check here for flight deals and book in advance to save on fares.
For connection between the islands, buy a ticket to the Catamaran. You don't need to buy before you go, but arrive about an hour before the ferry leaves to ensure you'll get a ticket as they can sell out quickly in the high season. The boats themselves are huge and allow you take luggage on board, but can get topsy turvey on the journey.
For my Thailand trip in June, we stuck to the Gulf islands as the weather is best on that side. We visited Koh Samui and Ko Tao and had an amazing time. For a guide to the best of Thailand, you can check out my two week Thailand itinerary here.
Book Transportation for Thailand
---
Did I miss your favorite Thai island? Let me know in the comments below!
Visiting Thailand – Travel Checklist
The most expensive part of the trip to Thailand are flights. Check for flight deals in advance in order to save. For hotel bookings, we relied on Booking.com.
For more help with planning your vacation to Thailand, we relied heavily on Lonely Planet's guide. It covers most Thai cities and there is a separate LP guide on Thailand islands. The local advice for admissions, times, maps and pricing was pretty invaluable.
If you plan to scuba dive, kayak or swim – I recommend bringing along a GoPro to take some fun photos!
Finally, make sure to visit Thailand with travel insurance. Whether you get injured and need to be hospitalized, or your phone gets stolen, travel insurance will help when you need it most. Get a quote for your trip here.
You Might Also Enjoy:
Thailand Vacation Planning Articles
Choosing the Best Thai Islands Andaman or Gulf Coast
How to Plan the Perfect 2 Weeks in Thailand
Sights, Hotels & Tours We Loved
Conspiracy Theories & Thai Mansions at Jim Thompson's House
Classic Bangkok Sights: Wat Pho & the Reclining Buddha
Exploring Bangkok's Temple of Dawn, Wat Arun
Deciding Between 2 Ancient Ruins Sukhothai or Ayutthaya
Checking In: Our Luxurious Private Villa Conrad Koh Samui
Luxury for Less: Staying at the Conrad Bangkok
The Best Thai Food
Chiang Mai Things to Do: Learning to Cook Authentic Thai Food
Here's Where to Find The Best Curry Noodles in Chiang Mai
Follow Sher She Goes on
Bloglovin | Facebook | Twitter | Pinterest | Instagram
---
Read more: A guide to fund your travels on a budget as well as quick guides to Phuket, Ko Lipe & Krabi