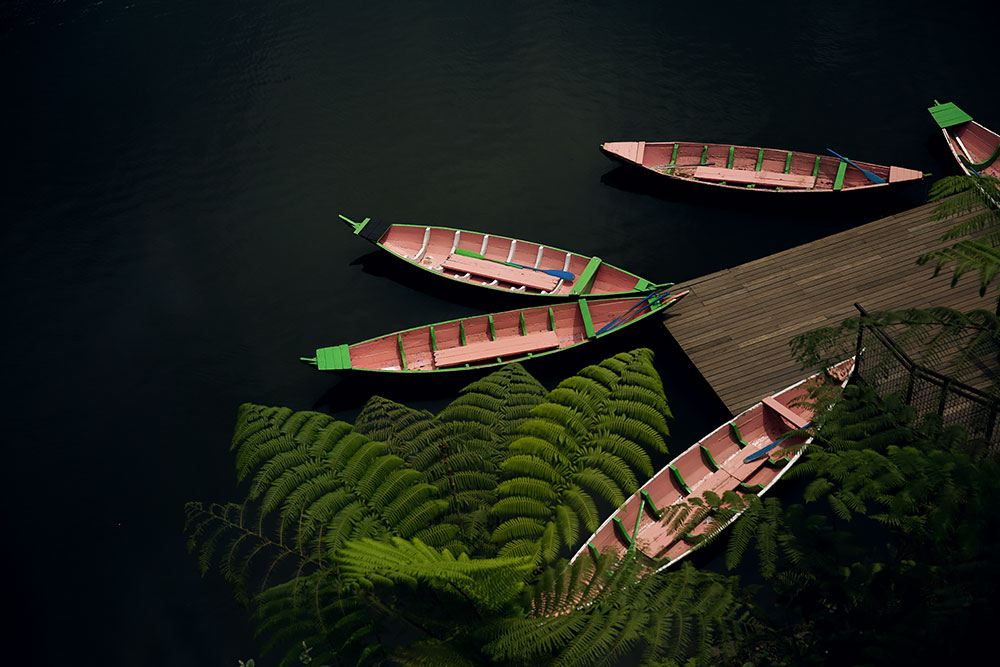 50 Unbelievable Things You Can Only Do in Indonesia
With over 13,000 islands, the archipelago of Indonesia offers something for everyone. I've now spent over a month in this stunning country on multiple separate visits and barely touched the surface of incredible things to do in Indonesia.
As a disclaimer, I haven't done everything in this post but rather put together a collaborative Indonesia travel guide. The result is a comprehensive list of Indonesia bucket list ideas based on suggestions from some of today's best travel influencers, bloggers and instagrammers.
I've organized the guide by type of activity: Indonesia cultural experiences, wildlife interactions and nature & adventure activities. There's also a dedicated section devoted to things to do in Bali! If you have any unforgettable bucket list worthy Indonesia adventures to add, let me know in the comments!
Quickly jump to each section:
Keep reading or save this article for later ⇟
See more photos on my Instagram account @shershegoes
---
The Top Things to Do in Indonesia
---
If you're looking to get right to it, here is my list of 10 can't miss activities to do in Indonesia! These are fun, unique activities that will really make your Indonesia vacation memorable.
1. Enjoy Floating Breakfast in Your Private Villa Pool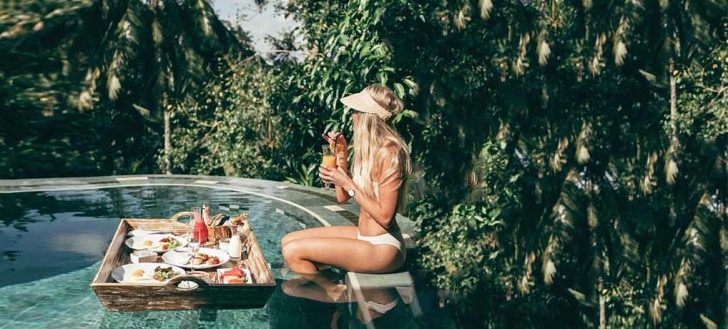 pc: @hilvees
Bali, Indonesia
Some of Bali's most incredible hotels boast stunning infinity pools… and even let guests have a floating breakfast! Here are 3 recommended hotels to book in Bali:
Kamandalu Ubud – designed like a real-life Balinese village, this hotel offers luxury views of Ubud's rice terraces. Check rates on Booking.com or Expedia | Read reviews on Tripadvisor
Aksari Villa – this boutique hotel in Seminyak has just 10 one bedroom villas and all come with private pools & jacuzzis. Check rates on Booking.com Read reviews on Tripadvisor
Hanging Gardens of Bali – can you imagine a hotel where infinity pools are stacked on top of each other? Welcome to the modern world's hanging gardens. Check rates on Booking.com or Expedia and more reviews on Tripadvisor
pc: @shershegoes
2. Watch the sun rise over Borobudur Temple
Java, Indonesia
Borobudur sits dramatically on a hilltop in lush Yogyakarta. Built in the 9th century, this is the world's largest Buddhist monument and an architectural masterpiece. Can you believe it was built without cement or mortar?
For a truly impressive sight, wake up before dawn and climb to the highest level of Borobudur to await the sunrise. Count over 500+ Buddha statues along the way!
Read more: 10 Can't Miss Sights in Yogyakarta
3. Marvel at the largest temple compound dedicated to Shiva at Prambanan
Java, Indonesia
Candi Prambanan is a 9th century Hindu temple dedicated to the goddess Shiva. The tallest temple soars 47 meters high but was once lost to humanity, buried deep in the jungles of Yogyakarta. It wasn't until a Dutchman went looking that the temple compound was discovered in 1733.
How to visit: Prambanan temple is located not far from Borobudur and you can easily visit both temples in one day. Read more about logistical tips and how to make the most of your visit here.
4. Discover that the Dead Live on at Tana Toraja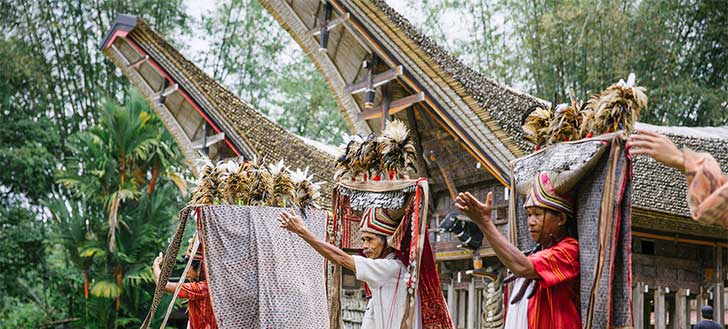 pc: @shershegoes
Sulawesi, Indonesia
The Toraja tribe has some of the most unique burial practices in the world, which may turn upside down everything you've thought about life and death. Instead of believing in death as the ultimate end, Torajans believe death is a celebration and must be heralded with elaborate, extended funeral rites to rejoice in the soul entering paradise. In fact, to ensure that burials can be held with the proper respect and grandeur, Torajans often house the body at home for months to even years while they save enough for the funeral process.
Read more:
5. Practice the Ancient Art of Batik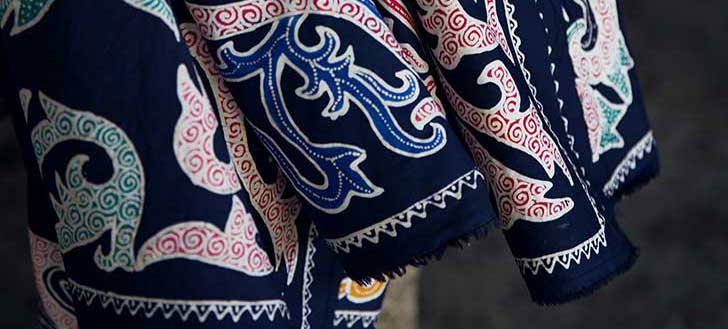 pc: @shershegoes
Java, Indonesia
Batik is a famous, traditional Indonesian cloth and you'll find that many Indonesians wear Batik as part of their modern day clothing. In the ancient city of Surakarta (commonly called Solo), you can learn the art of creating batik fabric, from heating up the dye to carefully drawing intricate patterns.
6. Fire Up Your Taste Buds with Indonesian Food
pc: @alaya hotels, @alice.jp.h
Country wide
Indonesian food will fire up your palate, with an emphasis on spicy and sweet. While nasi goreng (fried rice) and satay (chicken or veggie skewers) are national favorites, you'll find that each region, island and tribe has their own local specialties. Some Indonesian foods to try?
Beef Rendang, a spicy meat dish that's almost curry like. One of my favorite Indonesian dishes!
Tumpeng is the photo in the top left, a cone shaped rice dish with vegetable and meat side dishes
Binte Biluhuta is the photo in the top right, a delicious corn soup. This one is from Gorontalo province and served with Indonesian basil and lime juice
If you're vegetarian, try tempeh and gado gado
If you like sweets, try martabak, a roti-like stuffed and pan fried bread. It's one of the most popular Indonesian street foods and is usually sweet but can also have savory versions.
7. Learn Local Customs and Dress up in Indonesian Outfits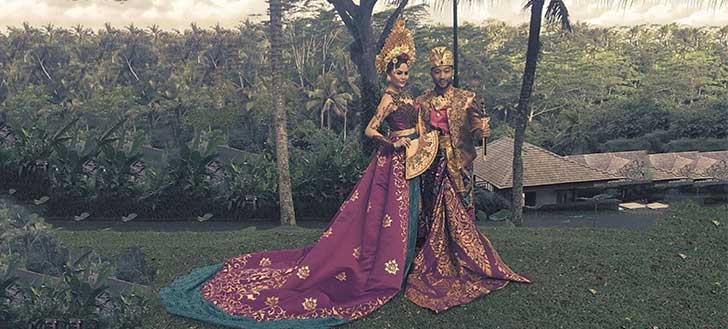 pc: @chrissyteigen
Country wide
Indonesians wear western clothes on a day to day basis but traditional clothing for meetings, festivals and celebrations. Examples include kebaya, which is a blouse dress worn by Indonesian women. For men, peci is a common head dress than Indonesian men wear, it's a variation of the traditional Muslim cap.
Each region again has their own traditional textiles and dress, so it's fun to discover local clothing for each place that you visit. In the photo above, Chrissy Teigen and John Legend are wearing royal Balinese attire.
8. Go to the Ends of the Earth at Devil's Tears Bay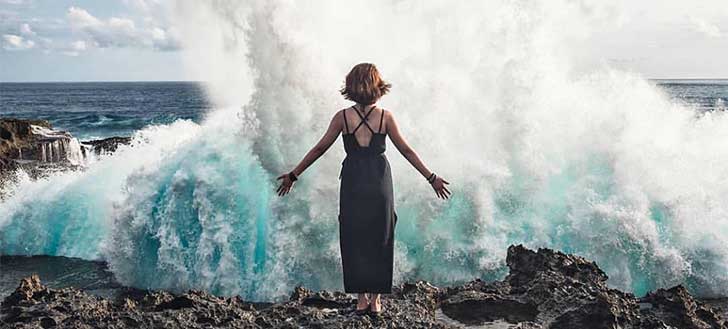 pc: @redcameraguy
Nusa Dua, Indonesia
Indonesia is the perfect place to witness the majesty of the ocean. For a dramatic experience of Mother Nature's power, head to Nusa Lembongan to see the tide and spray from a cave in the cliff, aptly named Devil's Tears.
9. Sign Up for a Surfing Lesson.. or Book a Surf Camp!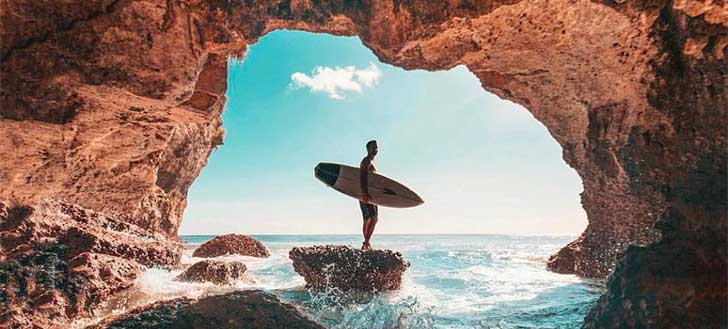 pc: @emmett_sparling
Nusa Dua, Indonesia
Bali is an ideal place to surf. The south coast's rolling waves and serene beaches offer incredible waves for both experienced and beginner surfers. Pros should check out the Bukit Peninsula's outer break while surf camps guide newbies to Bali's gentler lagoons. As a plus, there are so many surf schools, rental shops and surf shops on the island as well!
10. Take the Most Incredible Photos of Your Life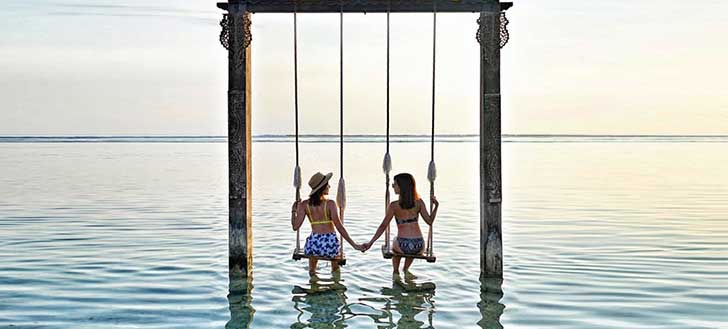 pc: @karenkh0
Everywhere, Indonesia
You might think that visiting one island means you've visited them all but Indonesia holds a special place in my heart because the landscape is so incredibly diverse. You've got volcanic mountains, classic beaches, misty rain forests and a mish-mash of cultures, religions and traditions. Almost everywhere you look, you'll discover something new and I don't think I've ever been to a country where each corner is a new photo opp. Enjoy, snap lots of memories and don't forget the overdone, 'Insta-style' shots too – like the friendship swings!
Fun fact: these beach swings got so popular on Instagram that they've popped up all over various islands in Indonesia seeking tourism and many local companies started adding their logos to the swing tops for branding / advertisement purposes.
---
---
Best Places to Visit in Indonesia for Nature & Adventure
---
Indonesia scenery is some of the most stunning natural beauty I've ever seen. From pink lakes to dramatic rice terraces, from active volcanoes to humid rain forests, Indonesia has one of the world's most beautiful, diverse landscapes that are worth exploring.
11. Stay on Lake Toba, a Natural Blue Lake in the Caldera of a Super Volcano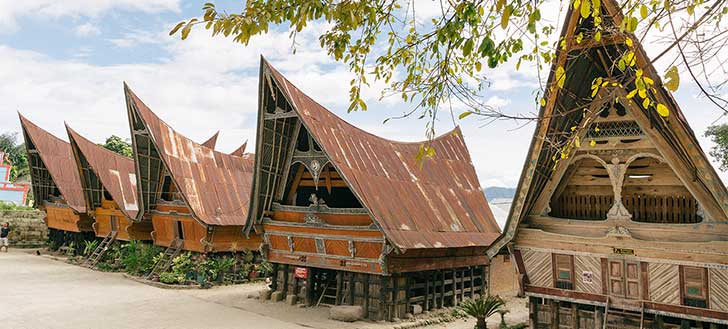 pc: @shershegoes
Sumatra, Indonesia
Lake Toba is the largest lake in Southeast Asia and was formed over 75,000 years ago after a dynamic volcanic eruption. The dynamic explosion holds the terrifying distinction of creating the largest volcanic eruption in the last 25 million years!
Today the lake is quite peaceful and it's worth staying a couple days on the center island, called Samosir. Choose a hotel on the center island, which is in fact larger than the country of Singapore! Debate carefully if you want to go for a swim – Lake Toba is the deepest volcanic crater lake in the world, with an average depth of 450 meters.
Where to Stay: Right on the island of Samosir, suites here are spacious, affordable and offer gorgeous lake views.
Getting here: Fly into North Sumatra's capital of Medan and drive for ~3 to 4 hours.
Things to do on Lake Toba: explore the rich culture of the Indonesia Batak people, a tribe with very unique marriage customs and who were once cannibalistic!
12. Hike Mount Merapi, One of the Most Active Volcanoes On Earth
Java, Indonesia
Mount Merapi is nicknamed Fire Mountain by daring locals who live in the foothills of one of earth's most active volcanoes. The perfectly cone shaped volcano peaks nearly 3,000 meters above sea level and is believed to have caused the rise and fall of the ancient empire of Mataram. If you're in the area, take a lava tour to follow the path of the last deadly eruption or opt for an adrenaline rushing off-road jeep adventure through the devastated areas.
13. Walk Through the Rainforest Canopy in Kalimantan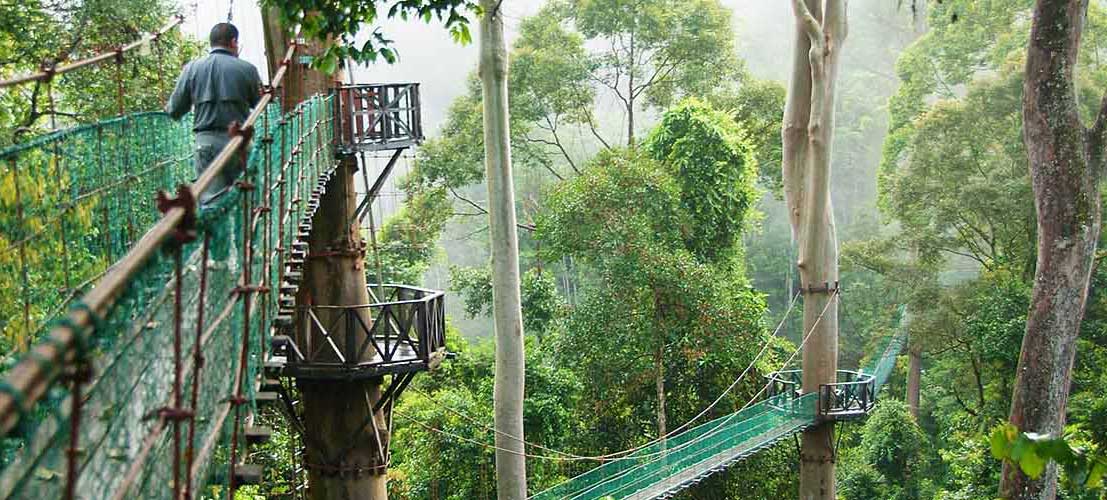 Kalimantan, Indonesia
Take a trek through the rainforest… in the area! The canopy bridge near the entrance is high, high, HIGH up in the forest canopy and you can spot leaf monkeys, macaques, flying gibbons and maroon langur monkeys… that is if you can get one foot past the other on the tiny, twisted rope bridges!
14. Padar Island
Komodo, Indonesia
Padar Island was once home to komodo dragons, until they left in search of more plentiful hunting opportunities. Out of the three islands in Komodo National Park, hikers and photographers will love this one the best – short, incredible treks; rolling beaches and island hills as well as vivid sunsets are just a few things to look forward to. For beach lovers, Padar has both white, pink and black sand beaches. Talk about spoilt for choice!
15. Go Off Roading in Bandung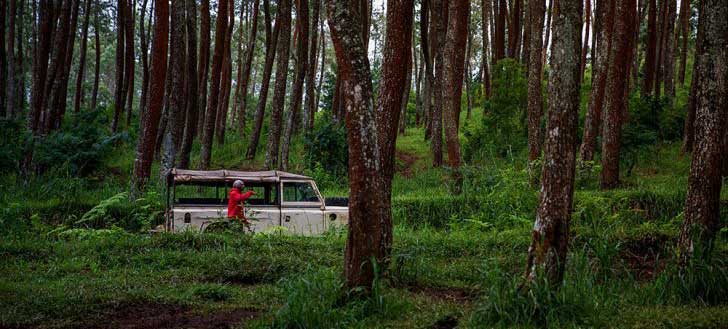 pc: @shershegoes
Java, Indonesia
Bandung is a popular weekend getaway for local Jakartans, as it's located in a cool, leafy mountain region with gorgeous natural scenery and abundant shopping. What else is there to do? Go off roading on an hour long, mud slicking jeep adventure! I talked about my experience doing this in an earlier post h6re.
Read more: Rip Roaring Thrills in Bandung
16. Visit the Strange, Sad Town of Sidoarjo Mud Volcano
Java, Indonesia
The Sidoarjo mudflow is perhaps the oddest attraction in Indonesia. It's exactly what it sounds like, a ongoing flow of hot mud that has continually gushed since May 2006 and buried entire villages in East Java. There are eerie statues of victims trapped in mud throughout the disaster zone which have since become a popular, if odd, tourist attraction for visitors to pose for selfies with.
17. Pink Beach of Komodo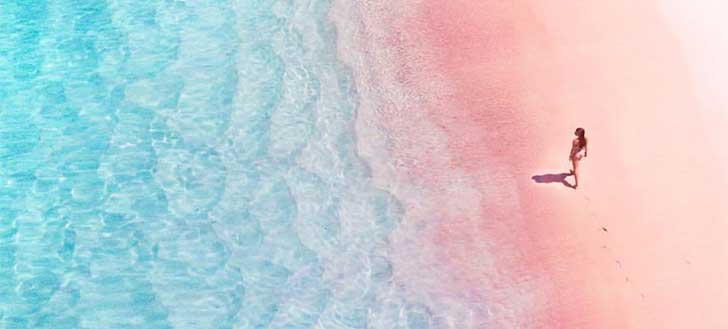 pc: @jordhammond
Komodo, Indonesia
There are just 7 pink beaches in the world and Indonesia has one of them. Head to Pantai Merah for the most striking, naturally tinged, millennial pink beach you'll ever find. The corals and underwater gardens of Pink Beach are fabulous as well.
How to get there: From Bali, take a domestic flight to Labuan Bajo. Hire a cab to drive you the 10 minutes to Labuan Bajo from the airport, then catch a speedboat to the Komodo islands.
18. Dive the Liberty Wreck in Bali
Bali, Indonesia
If you're looking for a fun, unique dive site in Bali check out the USS Liberty Wreck. The ship was hit by a Japanese torpedo during World War II and beached itself onto the shore of Tulamben. After Mount Agung erupted in 1963, lava flow pushed the boat back into the water where it currently lies on its size. The wreck is entirely covered in coral and large fish species and makes for a great dive. If you enjoy scuba diving, night dives are also a popular thing to do in Bali.
19. Chase the Blue Flames at Sulfuric Lake Ijen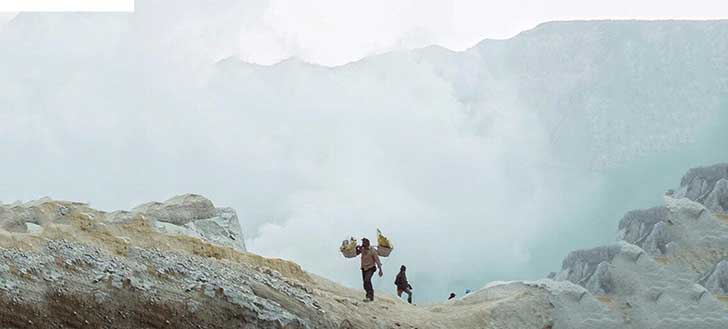 pc: @wynprmn
Java, Indonesia
Active hikers and adventure travelers will want to climb Ijen Crater, a quiet but still active volcano. The landscape is dramatic, smokey and blue tinged as sulfuric fumes rise steadily from volcanic cones all across the plateau.
20. Go Caving in Jomblang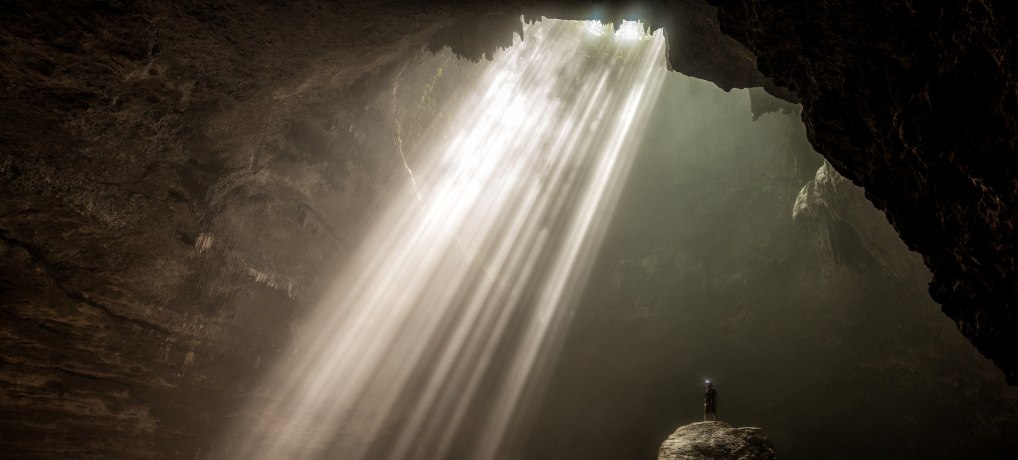 pc: yogya backpacker
Java, Indonesia
Jomblang Cave is part of a mysterious vertical cave system in Yogyakarta, formed over millions of years as underground rivers and rainwater eroded the earth's karst rocks. Here you can rapel 20 meters down a rope through a sink hole and turn the corner to watch heavenly light stream through the ancient cave.
---
---
Travel to Indonesia for Unforgettable Culture
---
21. Watch the Kecak Dance at Uluwatu Temple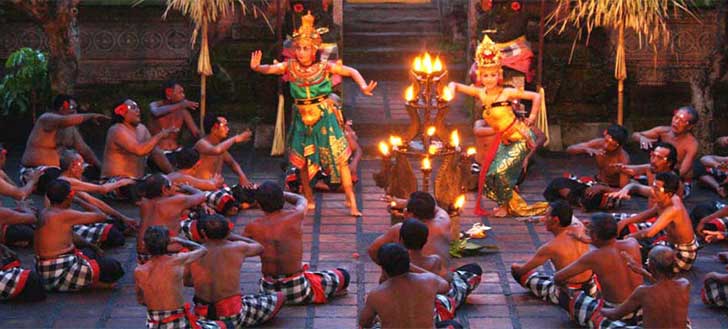 Bali, Indonesia
You can't visit Bali without experiencing sunset and the kecak dance at Uluwatu temple. Held on a small cliff facing the sea, the dramatic dance is performed entirely without music. Instead bare chested men wearing Balinese sarongs chant keh-chak in rhymthic sounds to create an acapella-type performance. There's quite a beautiful story to the entire dance so I recommend this for everyone from families with kids visiting Indonesia to millennial travelers and retirees.
Where to Stay in Uluwatu: Alila Villa Resorts is perhaps the most stunning hotel I've ever been to, where each villa comes with a butler and private infinity pool.
22. Visit an Underground Mosque in Jogja
Java, Indonesia
Sumur Gumuling is a round, circular building with just a single gate at its entrance. The one story building can only be entered via an underwater tunnel. Once inside, five stairs symbolizing the principles of Islam connect to a center platform, which is the site of many popular Instagram shots.
23. Make Traditional Balinese Offerings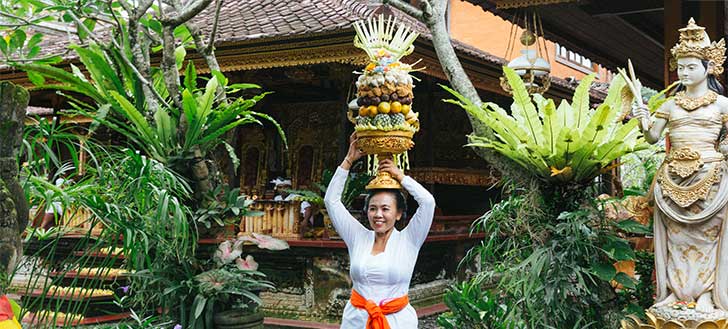 pc: @shershegoes
Bali, Indonesia
Balinese women are considered by many to be the sexiest ethnic group in Indonesia and part of balinese culture involves near constant offerings to the gods. What's incredible about all this is how local women donate the offerings. For ceremonies and large events, they'll walk for miles with elaborate, heavy urns balanced perfectly on their heads. We tried making the offerings and could barely stand upright with them, much less walk!
24. Watch Puppets Come Alive in Samosir
Sumatra, Indonesia
A must do when visiting Lake Toba's Samosir Island is to see a Sigale-gale, or a wooden dance performance. Although traditionally played during funerals, we had the chance to learn some cultural traditions about the Batak people and participate in their dances. According to local beliefs, Batak Indonesians believe that Sigale-gale puppets revive the souls of the dead and are used to communicate with spirits.
25. Explore the Head-Turning Customs of the Dani Tribe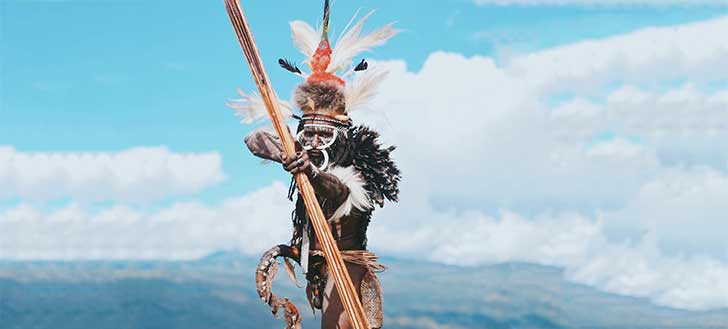 pc: @febrian
Papua, Indonesia
In remote Papua, the Dani tribe wages mock wars once a year as part of their fertility festival. With elaborate instruments, weapons and tribal clothing and even penis sheaths… this is one celebration that's difficult to describe. Another unique cultural heritage? Dani tribe women are expected to amputate part of their finger when relatives die. For anyone interested in unique Indonesian traditions and tribal heritage, make the journey to West Papua.
26. Remember World War II on the Island of Morotai
Maluku, Indonesia
World War II history buffs should check out Morotai, a small island that was once a hive of activity during the fight against Japanese forces in the second world war. Allied forces used Morotai to attack posts across the Philippines and Borneo and was the pivotal site from which General Douglas MacArthur launched the counter invasion against the Japanese Navy.
27. Visit Ulun Danu Beratan, an Iconic Lake Temple in North Bali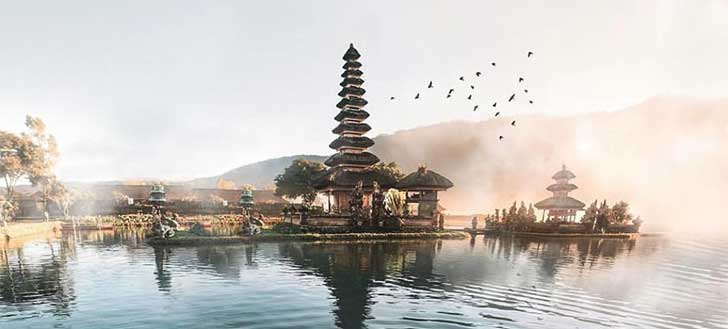 pc: @emmett_sparling
Bali, Indonesia
This stunning water temple sits on Lake Beratan and was built to worship the Goddess Danu, a lake queen according to Balinese beliefs. The temple consits of four sacred buildings according to Hindu Trimurti beliefs. Although a bit far to get to from South Bali, the serene lake and highlands is worth a visit. You might even meditate once you're here!
28. Watch a Concert at Saung Angklung Udjo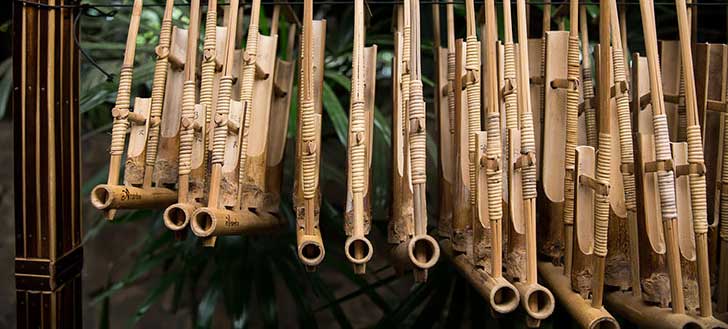 pc: @shershegoes
Java, Indonesia
Saung Angklung Udjo is a cultural center in West Java dedicated to Sudanese culture. If you're traveling to Indonesia with kids, watching a concert here is a must! The show is packed with a number of performances by local children showcasing wayang golek (wooden puppets), traditional dances and colorful rites. The end is the best part: a communal angklung orchestra performance with some unique, intricate sounds.
Read more: Everything You Can't Miss in Bandung
29. Escape Underground at Tamansari Water Castle, a Place to be Hunted by the Sultan

Java, Indonesia
In ancient Yogyakarta, a sultan built an elaborate garden with multiple buildings, bathing pools and underground tunnels. Today the tunnels make for a fun instagrammable spot for tourists while the unique east-meets-west architecture draws culture and history buffs.
30. Relive Dutch Colonial Days in Semarang's Old Town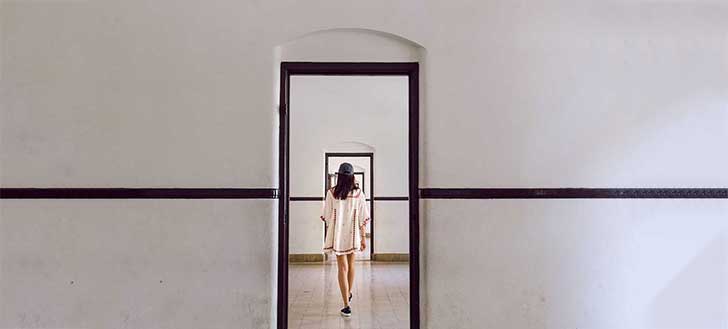 pc: @shershegoes
Java, Indonesia
To understand Indonesia's history and colonial past, visit the Oudstad in Semarang. Nicknamed 'Little Netherlands' for it's well preserved colonial Dutch look and feel, the elegant quarter and distinctive 18th century European architecture are worth a look. Many buildings are crumbling but slowly and faithfully being restored by the local government.
---
---
Where to Go in Indonesia for Wildlife
---
31. Swim with Jellyfish in Lake Kakaban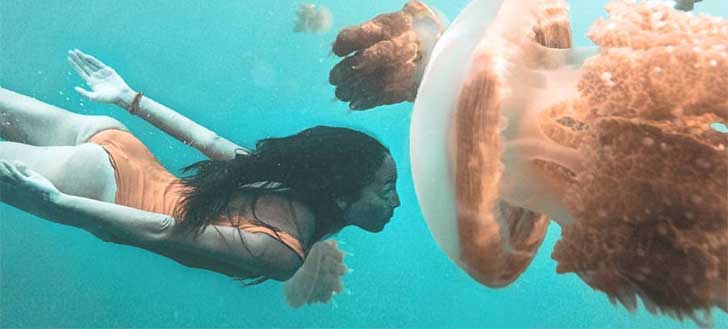 pc: @marisahampe
Kalimantan, Indonesia
There are only TWO places in the world where you can swim with sting-less jellyfish and one of them is in Indonesia. First make your way to the Derawan islands in East Kalimantan, then take a 1.5 hour boat ride to Kakaban. Jellyfish lake was once connected to the ocean but today is cut off by a deep wall of mangroves. Come prepared with a GoPro to capture the four different types of eerie jellyfish and snap a pic!
Useful GoPro accessories: Underwater Kit
32. Catch a Glimpse of the Elusive Orangutan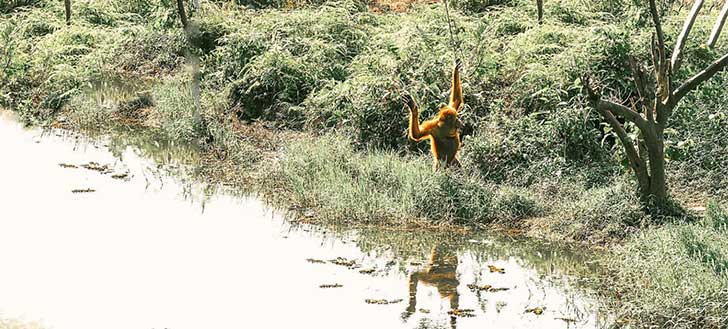 pc: @marisahampe
Kalimantan, Indonesia
The jungles of Kalimantan occupy 75% of Borneo and it's here where you can trek the rainforest for a glimpse of the shy, human like orangutans. These gentle creatures look so human like and can be viewed in nature and conservation parks. Indonesia also has orangutans in Sumatra, but Borneo orangutans are larger with rounder faces and adult Borneo males have cheek fangs.
33. Come face to face with the rare Komodo Dragon
Komodo, Indonesia
Komodo National Park consists of 3 separate islands and is the only place in the world to spot the Komodo Dragon. To see the dragons in their natural habitat, you can walk on designated paths over the hills to see komodos attacking prey or fighting! You can also climb Mt. Ara for a different komodo environment.
34. See the One Horned Javan Rhino, One of the Rarest Animals on Earth
Java, Indonesia
Located in Ujung Kulon National Park on the western most tip of Java, this remote province is home to the one-horned rhinoceros and precious flora & fauna. There are over 700 rare and precious flora, 240 species of birds and 72 species of reptiles so animal lovers will want to check out Banten province!
With only 60 left, Ujung Kulon is one of the last refuges of the Javan rhino and their nocturnal nature have left even locals to look upon them as ancient, legendary myths.
35. Dive with Manta Rays and Whales in Raja Ampat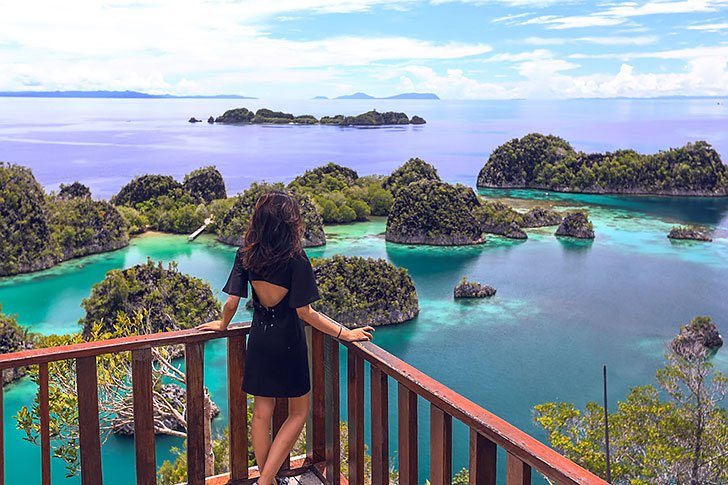 pc: @shershegoes
Papua, Indonesia
The four large islands of Raja Ampat are a mecca for underwater marine life, due to the shifting currents which bring food (plankton!) to the area. You can spot whales near Misool Island, scuba dive with manta rays and just snorkel with the most intact pristine coral reefs I've ever seen!
Stay at Hotel Misool Eco Resort for the best access to scuba diving and marine life.
36. Gaze Upon Your Reflection in the Eyes of a Tarsier
Sulawesi, Indonesia
Tarsiers hold the unique distinction of being the world's smallest monkey… despite not being a monkey at all! These lovable, googly-eyed creatures can be found in their natural habitat at Batuputih Park. If you have no idea what a tarsier monkey is… just picture yoda!
37. See a Sumatra Tiger Before They Disappear
Sumatra, Indonesia
Indonesia was once home to many sub species of tiger, including the Balinese tiger and Javan tiger. Today, only the Sumatra tiger remains and their numbers are rapidly dwindling. Head to Tambling Wildlife Nature Conservation in the Lamung province to better understand local conservation efforts. Only 500 wild Sumatran tigers are estimated to remain.
38. Bathe and Play with Elephants in Lombok
Nusa Tenggara, Indonesia
Sumatra is the only place in the world where tigers, orangutans, rhinoes and elephants share a natural habitat. Four elephants from Lampung, Sumatra have been brought to a newly established Elephant Conservation Park in Lombok, where animal lovers have ample opportunity to get up close with these lovable giants. You can bathe, feed and learn more about their natural habitats on a day trip.
39. Discover the Shy Bekantan Monkey in Borneo
Kalimantan, Indonesia
Proboscis monkeys are reddish brown, long nosed and large bellied monkeys native to Kalimantan. Called bekantans,these funny looking creatures are worth a visit. Head to Bekantan & Mangrove Conservative Park to take photos up close and watch their daily feeding times around lunch (they love bananas!)
40. Go on Safari in Bogor
Java, Indonesia
Did you know Indonesia has three safari animal parks? A collection of white tigers, elephants, komodos, rhinoceros, sun bears and various flora and fauna have been collected for conservation efforts in this modern zoo garden. You'll need your own car and can drive throughout the park to see the animals up close. Just make sure not to open the windows or doors!
---
---
Best Things to Do in Bali, Indonesia
---
A Bali vacation is what dreams are made of. The sand is soft, the beaches are stunning and the scenery is achingly beautiful. What surprised me about my first visit to Bali was just how large the island is. Most of the tourist scene is concentrated in South Bali, where you have backpacker hangout Kuta, upscale Seminyak and luxury 5-star Nusa Dua. For a complete guide to where to base yourself in Bali, you can check out my Bali neighborhood guide here.
Read more: You Have to Check Out The Pools at These Stunning Bali Resorts
Another thing that shocked me quite a bit about Bali is that it's congested and crowded. Be prepared to inch along in car traffic, unless you dare to rent a motorcycle. While the coastal beaches are gorgeous and pristine, you can easily get frustrated by the long winding roads and how long it takes to get from section to section if you don't plan in advance.
I've outlined some of the most popular and fun things to do in Bali below. There's a mix of food, culture, adventure etc to hit all the popular reasons people travel to Bali.
P.S. Curious about the best time to travel to Bali?
If you're looking to meet up with other adventurous backpackers or digital nomads, high season in July and August bring the crowds and fun. If you want to escape the hoards and perhaps save some money on accommodation, the best time to come to Bali is during Christmas, January and February when Australia has it's own summer season and the bulk of the Aussie tourists stay home.
41. Enjoy a Day at a Luxury Spa with Ocean Views… for $25?!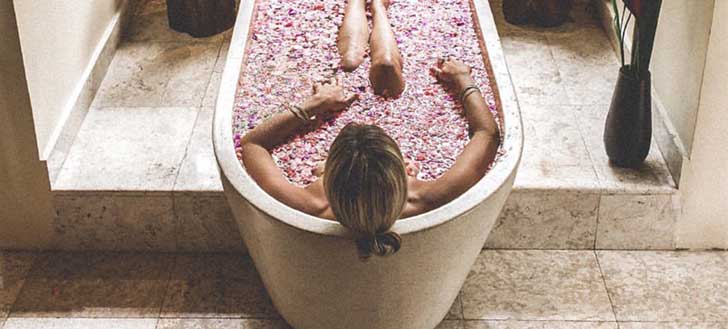 pc: @xkflyaway
Bali, Indonesia
Permata Ayung Private Estate Spa – this spa is unreal. Located in Ubud, the spa offers therapeutic treatments in circular floating massage beds that hover over the Ayung river. Also make sure to check out the bamboo cathedral and natural stone pools! Check current prices here.
La Joya Villas – enjoy an open air spa treatment with the most incredible sea views over Jimbaran Bay. Spa guests can also use a personal-sized circular plunge pool overlooking the ocean! Classic Balinese massages start at $15 an hour. Check current prices here.
42. Climb Mount Batur
Bali, Indonesia
Mount Batur is an active volcano on the island of Bali and a popular, strenuous activity for those who want to challenge themselves to climb it. Get picked up before dawn and hike for a couple hours to make it to the peak in time for sunrise. Shout I'm king of the world when you make it to the top!
43. Watch the Sun Rise over Ubud's Rice Terraces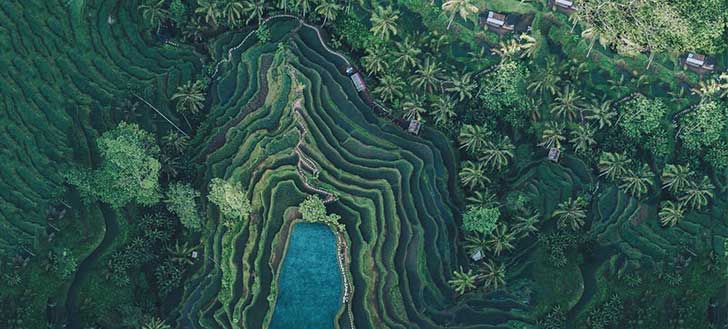 pc: @kendallmartin
Bali, Indonesia
Tegallalang is Ubud's most famous setting for its dramatic rice paddies. It's a great place to spend the day, taking photos, walking through the fields and having coffee or lunch neaby for the dramatic views. The rice terraces are worked by local farmers and you will likely be asked to contribute a small donation.
44. Have a Romantic Seafood Dinner on the Beach of Jimbaran Bay
Bali, Indonesia
Jimbaran Bay is the spot for dinner if you're a guy looking to impress your girl. It's right by the sea and restaurants all along the beach organize seafood dinners where your table is heaped with a pile of crustaceans and other seafood. Make sure to haggle over the price before you sit! The listed menu prices are tourist prices and meant for negotiation :)
45. Meet mischievous monkeys in Ubud's Sacred Monkey Forest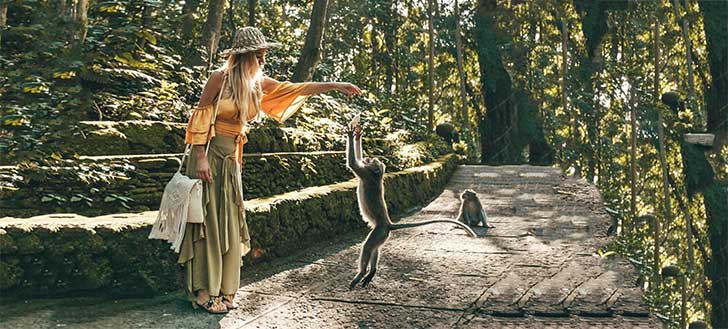 pc: @travel_inhershoes
Bali, Indonesia
The Ubud Sacred Monkey Forest is a Hindu temple and nature reserve. If you're scared of monkeys, don't come here! These mischevious critters will jump for anything resembling food and are great fun to watch if you like monkeys. Just be sure to remove all jewelry, watches, food, drinks etc.
I saw a monkey grab the reading glasses off a man at Uluwatu Temple – just to give you an idea of how quick & aggressive these Balinese monkeys can be!
46. Purify the Body and Mind at One of Bali's Many Unique Temples
Bali, Indonesia
Balinese people follow the Hindu religion and can be seen creating offerings and visiting their temples many times throughout the day. Each of Bali's temples are quite unique; here are 3 of the most popular. Note that they can get quite crowded so try to come at off peak hours or during low season.
Tirta Empul Temple: This water temple is one of the largest, dedicated to Vishnu. Visitors can ritually cleanse themselves in the purification pools.
Goa Gajah Temple: Enter through the cavernous mouth of a demon; also known as the Elephant Cave in Bali. Try to get here before 10am
Tanah Lot Temple: Meaning 'Land in the Sea', this temple sits offshore and isn't directly accessible. Instead, come around sunset to witness to see the shrine glow brilliantly.
47. Shop till You Drop in Seminyak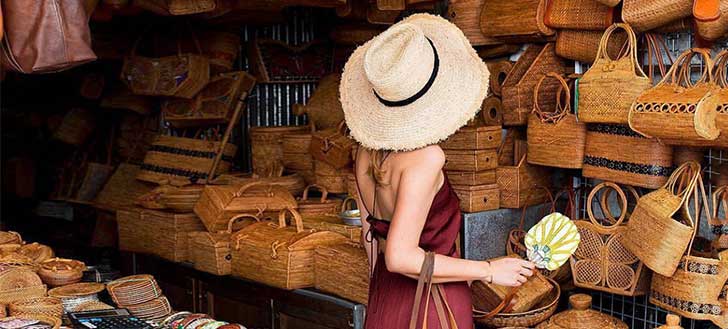 pc: @samishome
Bali, Indonesia
Seminyak is riddled with unique boutiques selling everything from inexpensive boho clothing to high end designer goods. Another great neighborhood to explore is Ubud, where you'll find wooden carvings & furniture, Balinese art and silver jewelry antiques.
48. Escape to East Bali for Black Sand Beaches
Bali, Indonesia
The beaches of East Bali are black, volcanic and rocky due to an eruption from Mount Agung in 1963. While there isn't a lot to do here, Amed beach is the perfect beach to relax in blissful peace and get away from Bali's crowds. This remote beach in Bali is shared mostly by local coral fisherman and colorful fishing boats.
49. Chase Hidden Waterfalls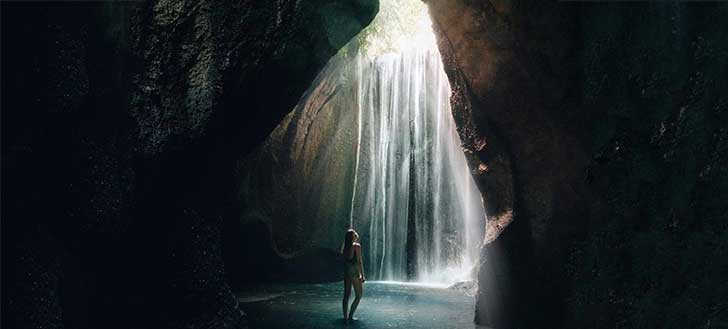 pc: @timwehrle
Bali, Indonesia
Bali has incredible waterfalls, some easily reached and some that require a bit of a hike!
50. Fill Up on the Best Brekkie Outside of Oz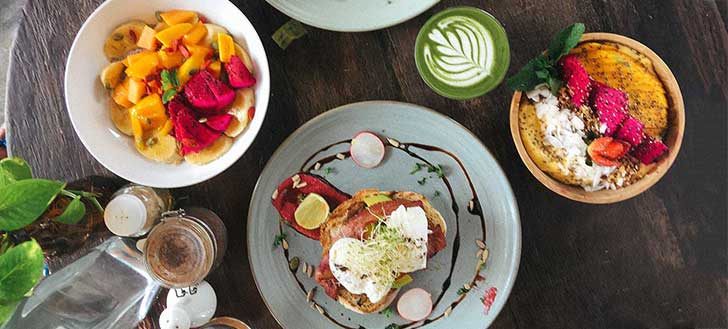 pc: @shershegoes
Now normally I wouldn't advocate international food as a must-do in a country… but there are SO many Australian visitors, travelers and expats in Bali that "acai bowl, smoothie and avocado smash" seem to be the breakfast of choice for everyone in the area. If you want to taste what all the fuss is about, make sure you don't miss trying the top restaurants in Bali for healthy food!
---
Let me know in the comments below if you've traveled to Indonesia and have additional recommendations!
You Might Also Enjoy:
Indonesia Vacation Planning Articles
Quick Guide: The Ultimate Indonesia Travel Guide
When is the Best Time to Visit Indonesia
At a Glance: 50 Incredible Things You Can Only Do in Indonesia
An Off the Beaten Path Itinerary: 2 Weeks in Indonesia
Indonesian Cities, Sights & Tours We Especially Enjoyed
Yogyakarta : 10 Highlights from Java's Cultural Center
Bandung Don't Leave Without Seeing These 7 Sights
A Raja Ampat Travel Guide: Scuba Diving, Hiking & How to Get There
Sun, Surf & Sea: Visiting Lombok & The Gili Islands
Bali, Indonesia Articles
Bali Packing List: What to Wear in the World's Largest Muslim Country
Where to Stay: Decoding Bali's Neighborhoods
Luxury Resorts in Bali with Epic Swimming Pools
Hotel Review: Alila Villas Uluwatu
Follow Sher She Goes on