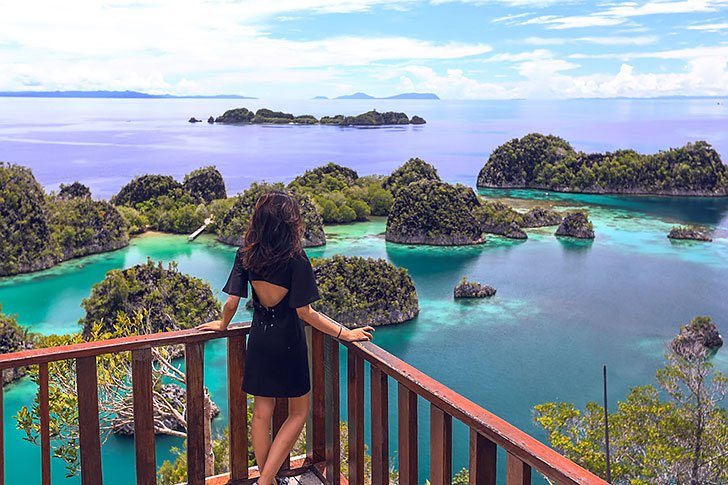 Indonesia Travel Guide
Indonesia is a destination that I always dream of returning to, due to the nation's diverse landscape, incredibly friendly people and unique wildlife. Straddling the equator between Asia and Australia, Indonesia reads like a factbook of largesse: the world's largest archipelago, the world's most populous muslim nation, the only place in the world to see the komodo dragon etc.
With over 13,000 islands to explore, I've put together this quick guide to the best places to visit in Indonesia. It will focus more on what to do outside of Bali, as I think there's enough written on that!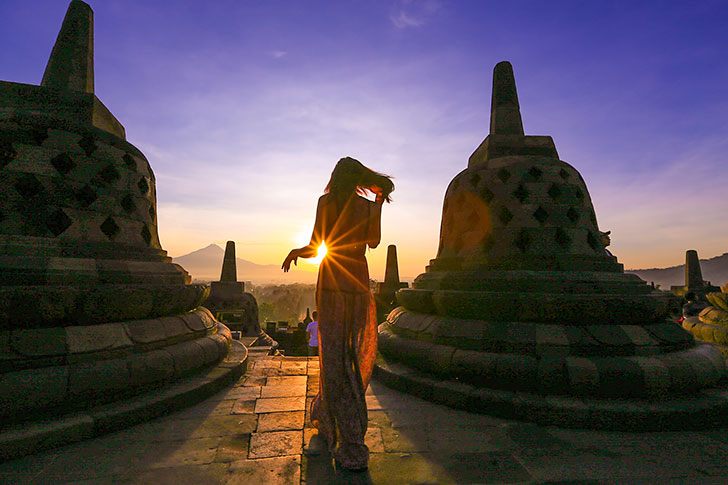 A Quick Guide to the Islands of Indonesia
Facts About Indonesia
Location: Southeast Asia
Language: Bahasa Indonesian
Currency: Indonesian Rupiah
Electrical Outlet: Types C and F but why worry about this? Grab a universal plug adapter!
When To Go: Discover the best time to travel to Indonesia, including seasons, weather and travel deals here.
Where to Stay: I also have a dedicated article on the best hotels in Bali here and some seriously insane Bali resorts with pools here.
Transportation
Flights to Indonesia from New York are expensive and long, there's no way around it. I've flown both China Southern Airlines and Qatar Airlines and unfortunately there's no current direct flight from NY to Jakarta. However, the difficult journey is worth it! You can check current flights options and fares here.
Getting Around Indonesia: the easiest way to explore different Indonesian provinces and cities is via air. Many regular and low cost carriers connect Indonesia's large cities like Jakarta, Bali, Medan, Padang, Bandung, Solo, Yogyakarta, Surabaya and Makassar.
Domestic Indonesia Airline Carriers

:

I've flown Garuda Airlines (the national carrier and the best option), Lion Air, Sriwijaya, Wings Air and Malindo Air. Inter-country flights in Indonesia are rarely longer than an hour or two yet be prepared for frequent flight delays.
Fly into Jakarta or Bali? Flights to Jakarta are often more expensive as it's the nation's capital and a strong hub for international business travelers. If you plan to vacation in Bali, it's often cheaper to enter the country directly into Bali's airport, Ngurah Rai International. However, if you plan to explore the rest of Indonesia, fly into Jakarta as domestic connections are available and just stay in a hotel near Jakarta's Soekarno-Hatta International Airport.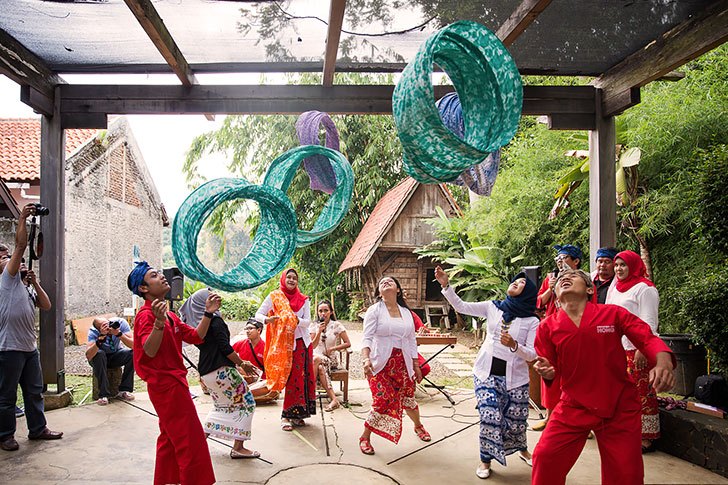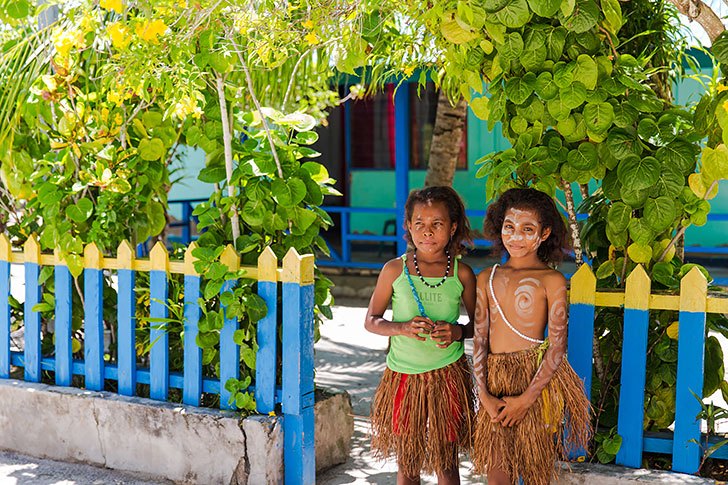 At a Glance: Indonesia Map with Regions
---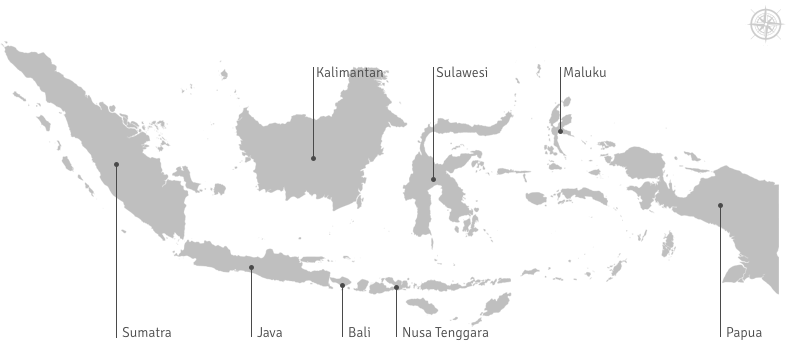 Capital City: Jakarta
Major Cities in Indonesia: Bali, Yogyakarta, Bandung, Makassar, Medan
Time Zone: Indonesia is a spread out archipelago and spans 4 times zones, from UTC +7 to +9
Here's a map of the main Indonesia provinces that visitors traveling to Indonesia should explore. These are famous hot spots for wildlife, nature, adventure travel and beaches:
Sumatra is a large Indonesian island to the west of Jakarta, closest to Malaysia. Visit Sumatra for incredible natural scenery, where active volcanoes stand guard over massive crater lakes, lush jungles are shared by tigers, rhinos & elephants and idyllic beaches remain pristine and unpopulated. The people here are incredibly diverse, from Batak Christians around Toba to devout muslims in Aceh.
Main Indonesia cities and points of interest: Lake Toba, Medan, Padang, Aceh, Samosir
Java is Indonesia's heart, both geographically and economically. Home to Indonesia's capital of Jakarta as well as mega cities like Bandung, Yogyakarta and Solo, it is the most populated island in the country and home to over 50% of the Indonesian population. Java's landscape is dotted with volcanoes and remnants of Indonesia's colonial past, making it a popular attraction for both adventure seekers and culture lovers.
Main Indonesia attractions: tea plantations and volcanoes in Bandung, ancient Hindu and Buddhist temples Prambanan and Borobudr in Jogja, royal heirlooms and batik in Solo.
Kalimantan is the Indonesian slice of Borneo, (the island is shared by Indonesia, Malaysia and Brunei). The name 'Kalimantan' is derived from a Sanscrit word meaning burning weather island and this Indonesian island occupies a unique geographic position atop the equator. Buffered from tsunamis and devoid of volcanoes, Indonesian scenery on Kalimantan is dominated by steamy jungles, ancient rain forests and countless rivers.
What to do in Indonesian Borneo: wildlife here is the main attraction, home to prehistoric hornbills, majestic orangutans and acrobatic gibbons. Culture lovers should visit the Dayak villages, an indigenous people once feared for their fierce headhunting traditions.
Bali & Nusa Tenggara: There's a reason everyone flocks to Bali. The island of the gods is home to rich Balinese culture and a tropical paradise unlike any other, attracting surfers, hippies, families, and everyone in between.
Must see things to do in Bali: visit religious cliff side sites like Uluwatu Temple, enrich the body and mind at yoga retreats in Ubud, party away in Kuta's lively dive bars, climb Mount Batur for sunrise, relax with family at Nusa Dua's luxury beach resorts
Sulawesi's unique island shape has graced it with a particularly lengthy coastline, pristine sandy beaches and gorgeous coral reefs. Sulawesi is a must visit for scuba divers and anyone interested in underwater wildlife. This Indonesian island has dramatic topography with impenetrable mountains and as a result, some particularly fascinating cultures have flourished here over time, cut off from the rest of the world.
A must visit attraction in Sulawesi is visiting the people of Toraja. Tana Toraja highlanders have some of the most dramatic and elaborate funeral practices in the world.
Maluku & Papua are far flung islands to the east of Indonesia, home to the original Spice Islands and coastal waters teeming with exotic marine wildlife. Papua is a must-visit for any avid scuba diver while nature lovers will enjoy visiting its rain forests, home to ethnic Melanesians tribes (who are distinct from other Indonesian peoples). A visit to this final frontier can be a journey in and of itself but the paradise and remote beauty of Maluku and Papua are worth the trek!
Remarkable Indonesian destinations: Raja Ampat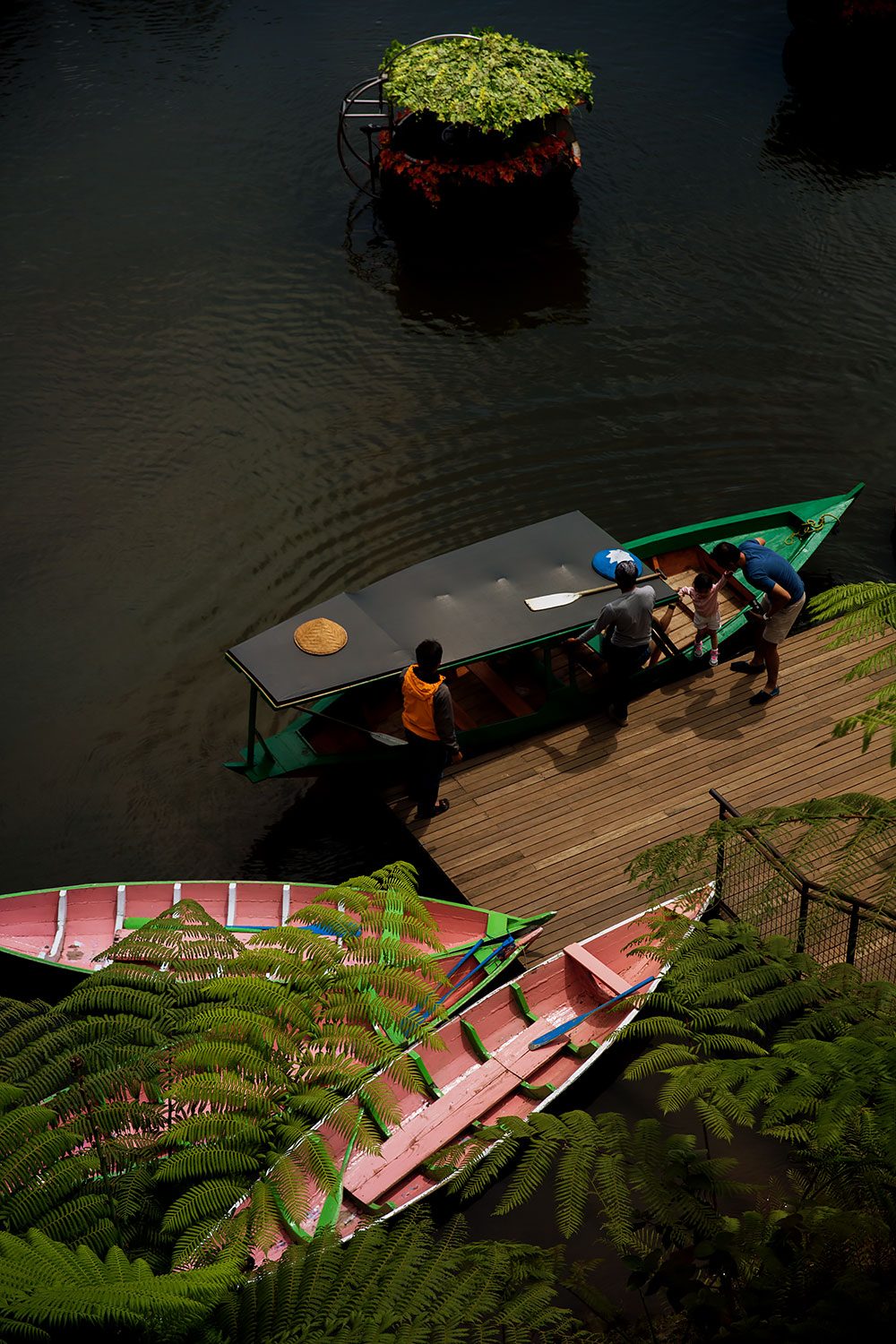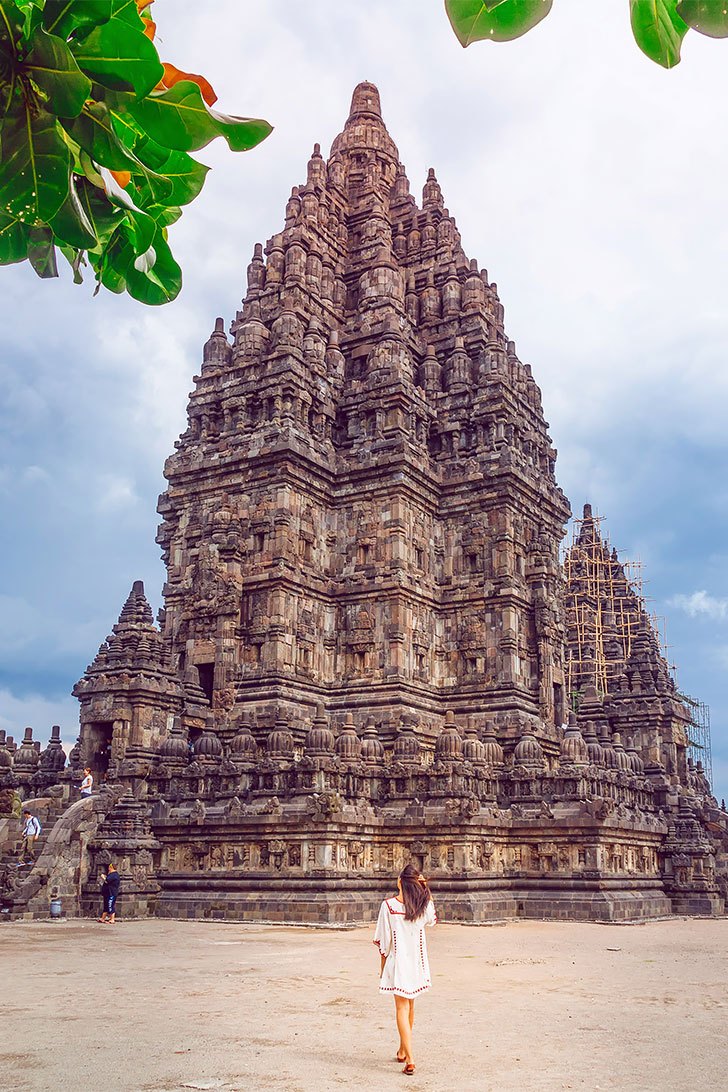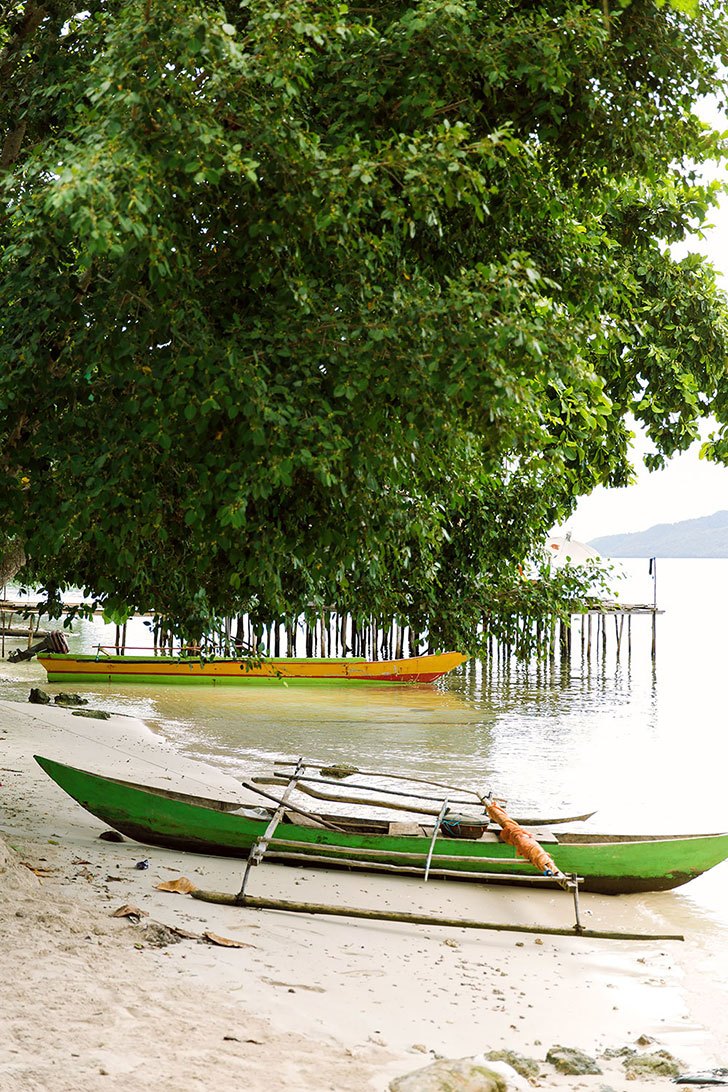 Cities in Indonesia
---
---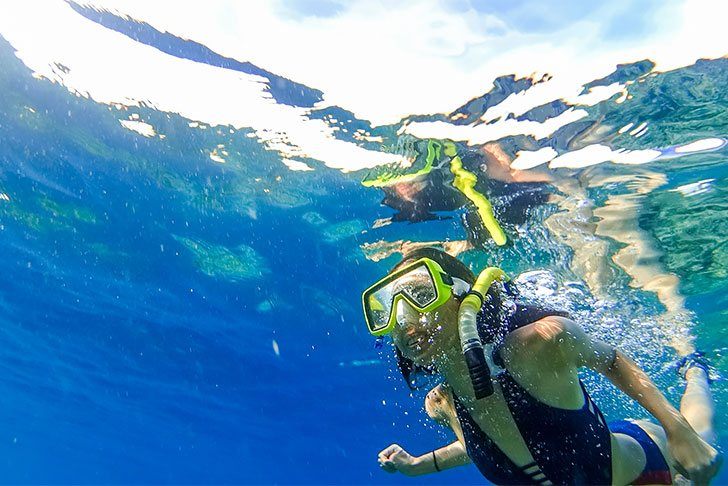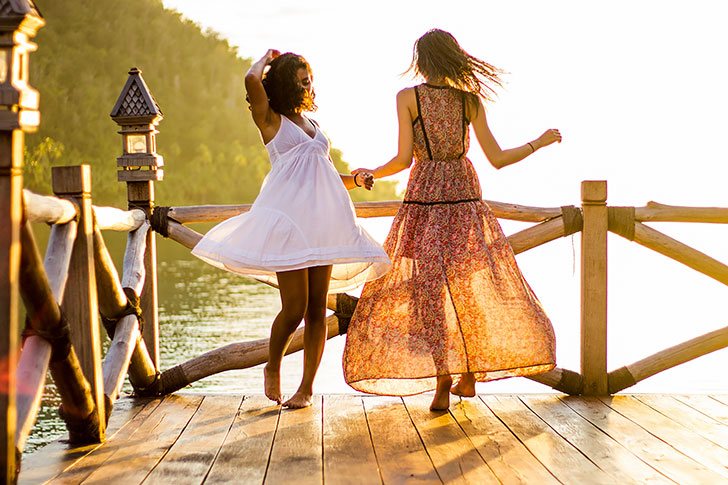 Plan Your Indonesia Vacation
---
Everything you need to know about planning your trip to Indonesia, including travel tips, tourist info and sample itineraries for exploring the best of the country outside of Bali. Read more.
Indonesia is the world's largest Muslim country and locals are quite conservative. Not sure what to expect? Here are some helpful packing tips and stylish outfit suggestions for what to wear in a tropical country while remaining respectful. Read more.
Booking Resources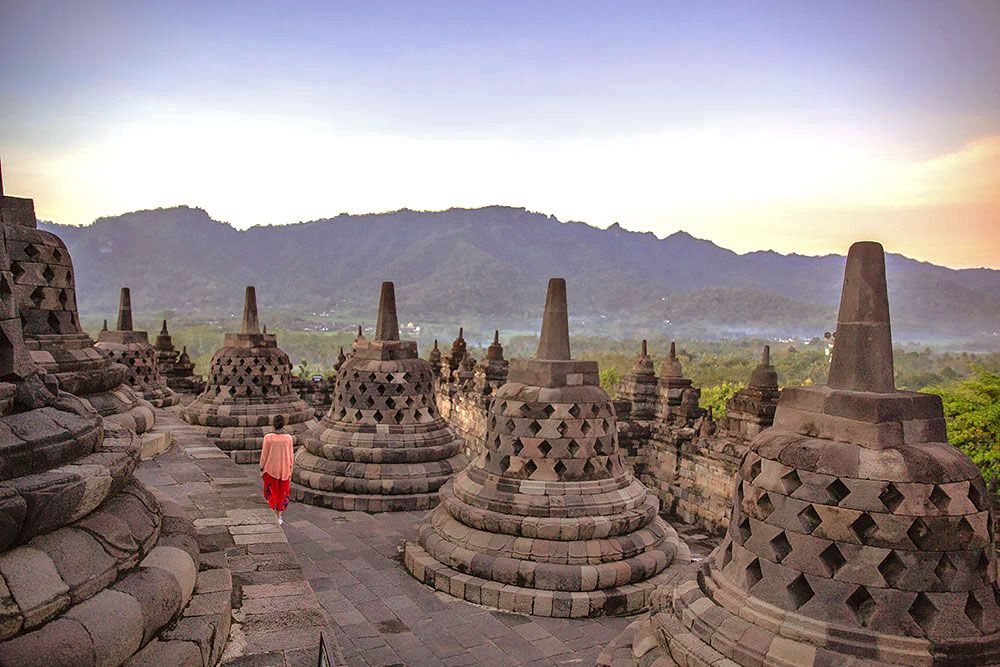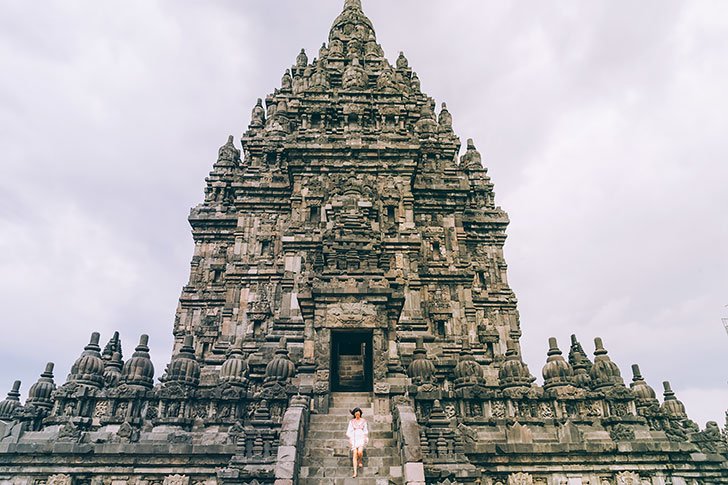 ---
---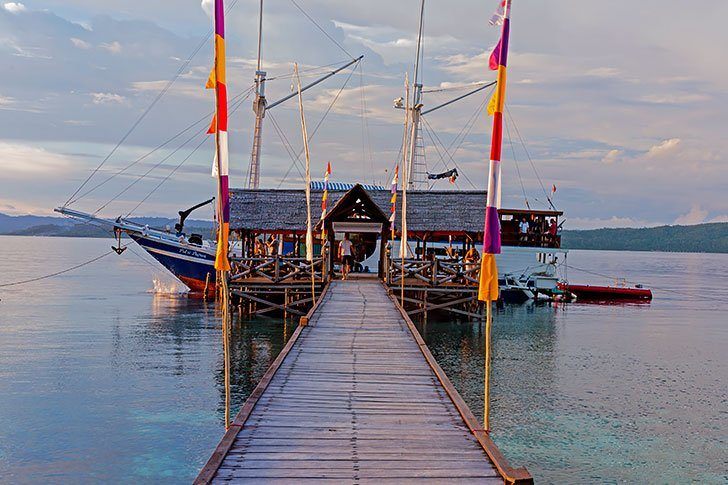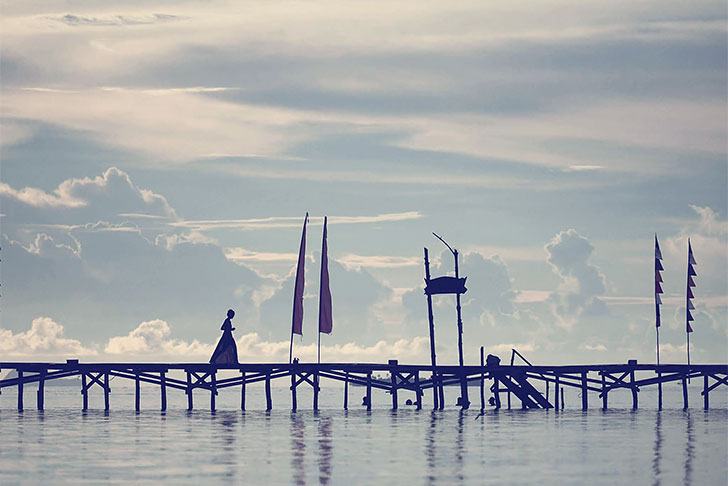 ---
Visiting Indonesia – Travel Checklist
Flights | From New York City, there are no direct flights to Indonesia but you can grab reasonably priced flights if you book early. Check often for routes and fares here. I've transferred in Doha and China and prefer Doha's modern airport via Qatar Airways.
If flying to Jakarta, fares will be slightly cheaper and from Indonesia's capital you can explore Bandung, Yogyakarta and Sumatra on short domestic flights. If your focus is Bali, note that flights from the USA will be slightly more expensive and typically will involve a 2nd stopover in Jakarta anyway.
Transportation | You can rent a motorized scooter to get around or book a tour to handle transportation if you're not comfortable. Taxis and Ubers will work in some areas, but not all. Bali especially has terrible gridlock traffic.
Accommodation | I highly recommend 'hotel hopping' Bali – the island is quite large and different neighborhoods have their own characteristics. Bali is also a fantastic place to splurge on a luxury resort – the options are endless, the views are unbeatable and the food is divine. We loved both Alila Villas Uluwatu and the Sofitel Nusa Dua.
Airbnb is a great way to stay in luxurious Balinese resorts for discounted rates – especially if traveling with a group.
Packing | Bring light fabrics and traditional summer wear for Bali along with mosquito spray. If you intend to visit Indonesia's other cities and famous temples, bring modest clothing. Indonesia is the world's largest Muslim country and can view short shorts and mini skirts as impolite. You can read my complete Bali packing list here.
Insurance // Lastly, be sure to visit Indonesia with travel insurance. Whether you get injured and need to be hospitalized, or your phone gets stolen, travel insurance will help when you need it most. I ended up getting seriously ill and visiting the hospital while in Solo, Indonesia and being taken care of was a lifesaver. Get a quote for your trip here.
You Might Also Enjoy:
Indonesia Vacation Planning Articles
Quick Guide: The Ultimate Indonesia Travel Guide
When is the Best Time to Visit Indonesia
At a Glance: 50 Incredible Things You Can Only Do in Indonesia
An Off the Beaten Path Itinerary: 2 Weeks in Indonesia
Indonesian Cities, Sights & Tours We Especially Enjoyed
Yogyakarta : 10 Highlights from Java's Cultural Center
Bandung Don't Leave Without Seeing These 7 Sights
A Raja Ampat Travel Guide: Scuba Diving, Hiking & How to Get There
Sun, Surf & Sea: Visiting Lombok & The Gili Islands
Bali, Indonesia Articles
Bali Packing List: What to Wear in the World's Largest Muslim Country
Where to Stay: Decoding Bali's Neighborhoods
Luxury Resorts in Bali with Epic Swimming Pools
Hotel Review: Alila Villas Uluwatu
Follow Sher She Goes on