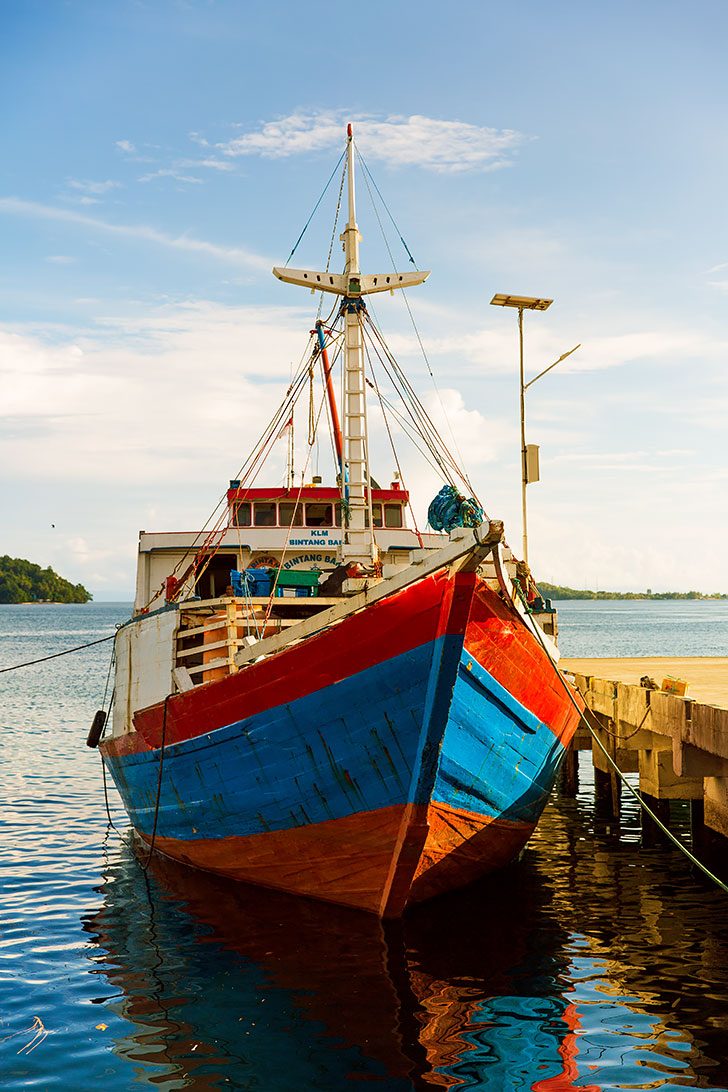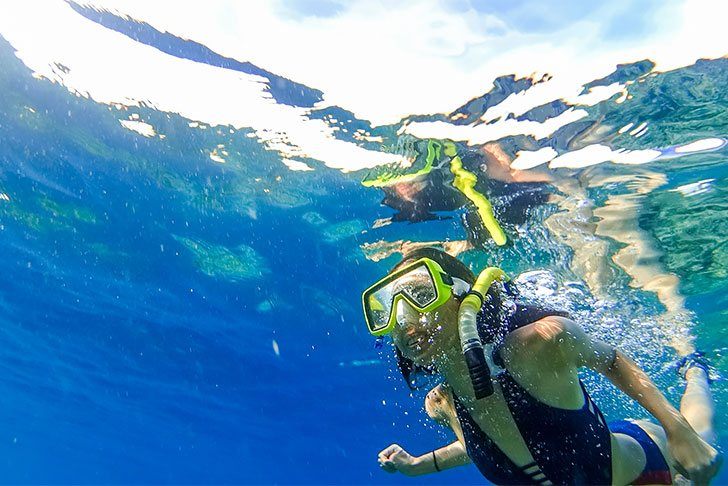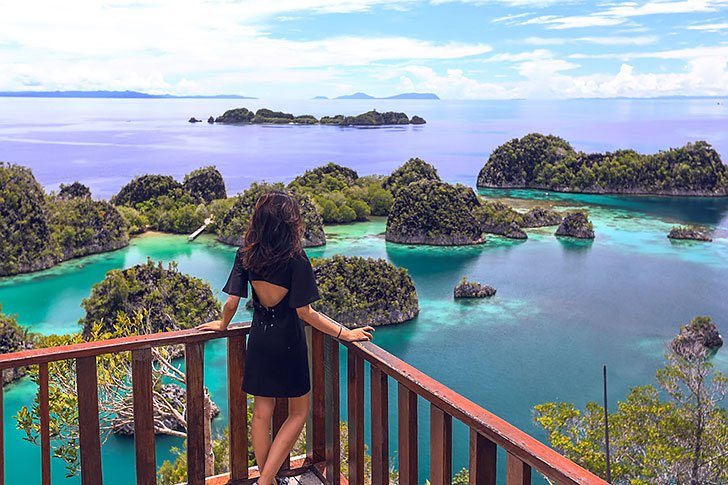 The Raja Ampat Islands
Discovering the Hidden Papua Paradise Formerly Known Only to Scuba Divers!
Unbelievably dramatic sunsets, thousands of sparkling darting fish and grinning locals are what I remember the most about my brief but unforgettable time in Raja Ampat.
Raja Ampat means Four Kings in Indonesian, and the four major islands are Waigeo (the capital where you'll most likely enter), Misool (home to ancient rock paintings), Salawati, and Batanta. Beyond the main four, there are thousands of other islands, both inhabited and uninhabited. Here's a look at what we got up in Raja Ampat!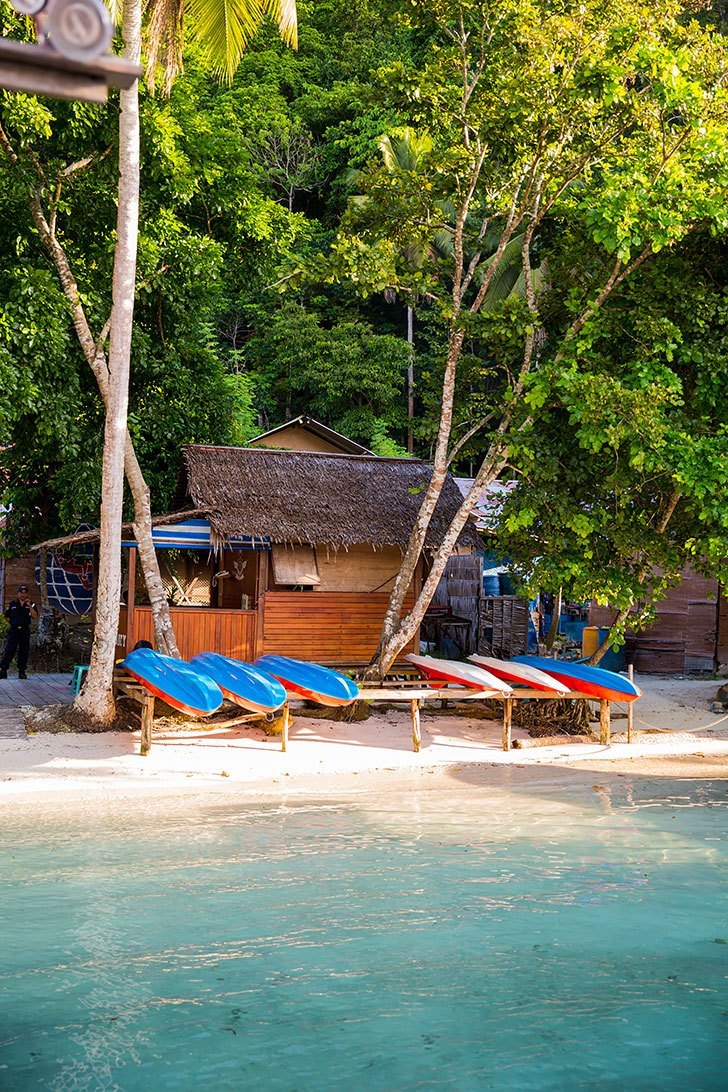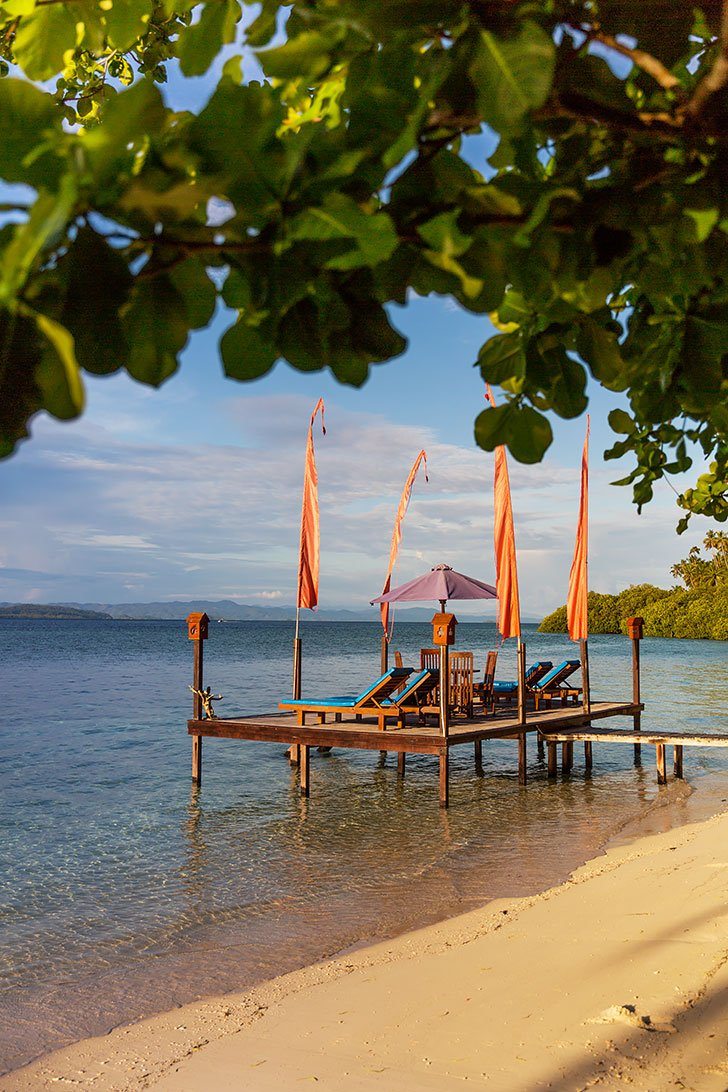 ---
---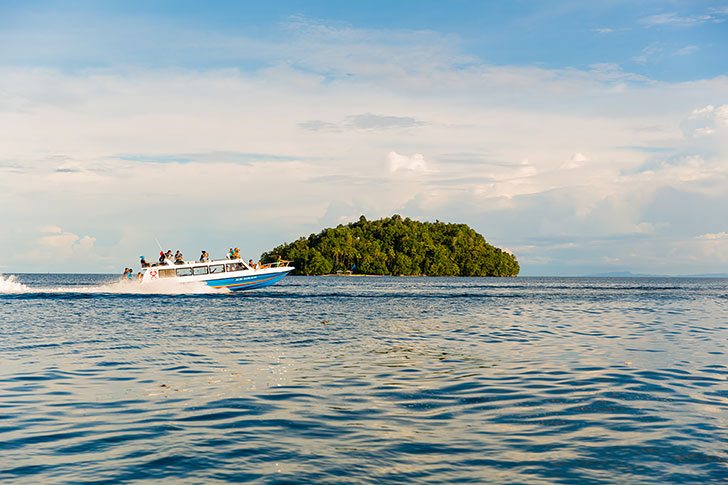 Where is Raja Ampat?
The Raja Ampat islands lie in the Coral Triangle of East Indonesia, perhaps one of the last remaining biodiverse marine ecosystems on the planet. While I was slowly making my way to the islands (it's a long journey to get there, but more on that later), I watched a short manta ray documentary on the flight.
"You'll see perhaps 150 species on a dive in the Great Barrier Reef" the narrator explains. "In Raja Ampat, it's not uncommon to see more than 300 species on your first"
From corals resembling Murano vases to darting clownfish, you'll see more just dipping your head three steps into West Papuan waters than on your 10th dive to the Caribbean.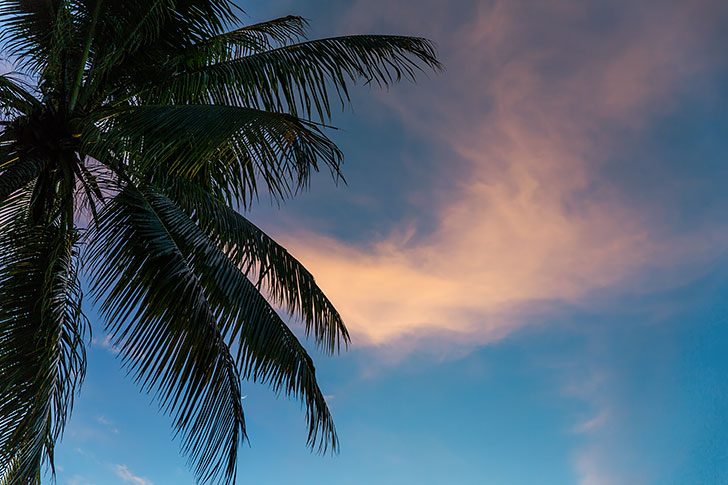 ---
---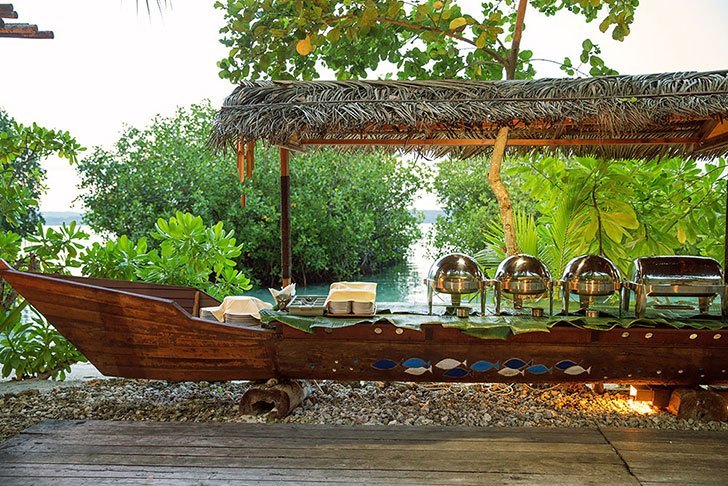 Raja Ampat, Indonesia
Raja Ampat lies just off the western coast of Papua, an island closer to Australia than Jakarta. The people of West Papua voted to become part of Indonesia in a common vote in 1969 and in 2003, the territory was divided into two separate provinces, West Papua and Papua, where the eastern half belongs to the independent state of Papua New Guinea.
Together the island is commonly referred to as Papua New Guinea. Locals resemble Fijians more than their Javanese counterparts and are warm, friendly and fond of a gummy tree sap root in their diet.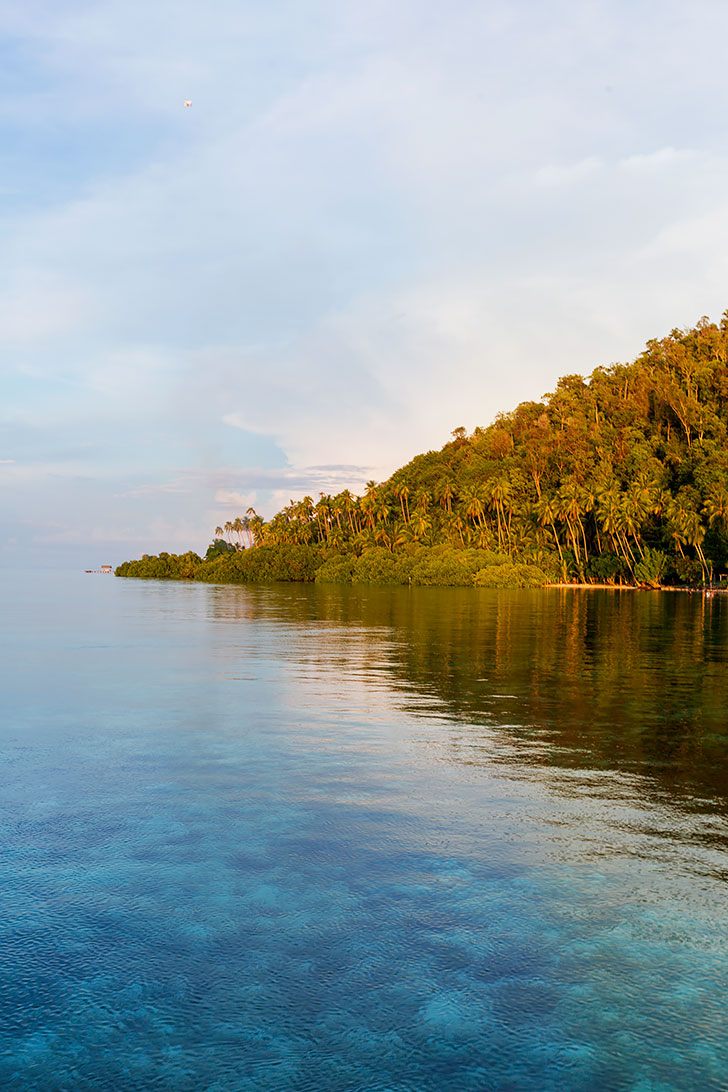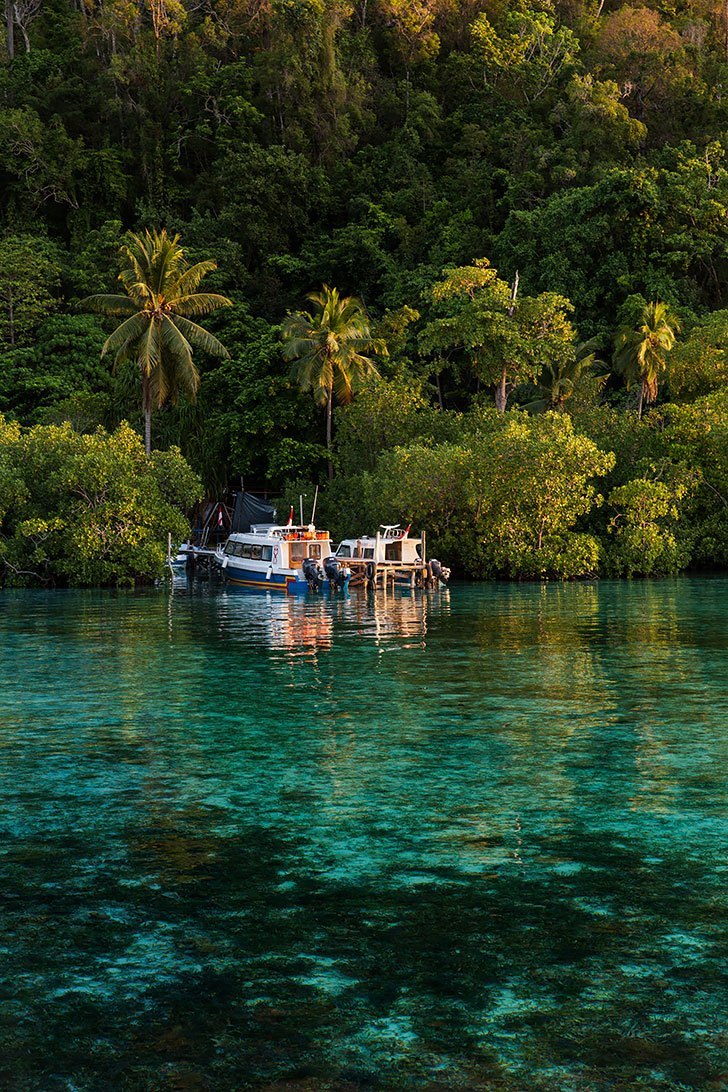 ---
---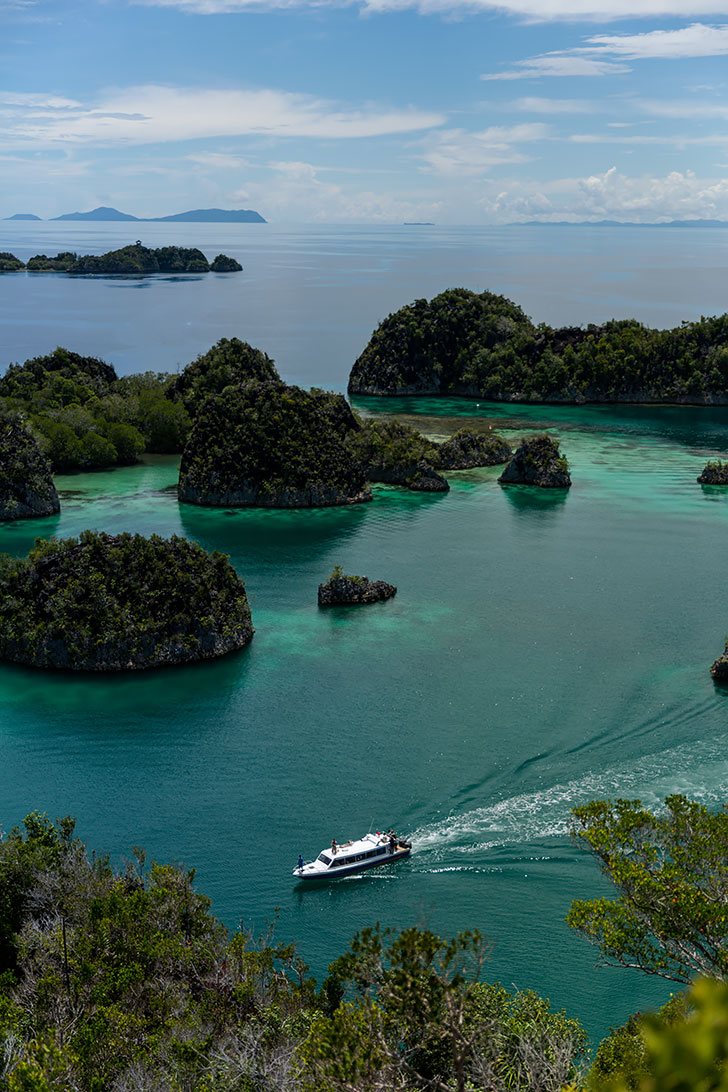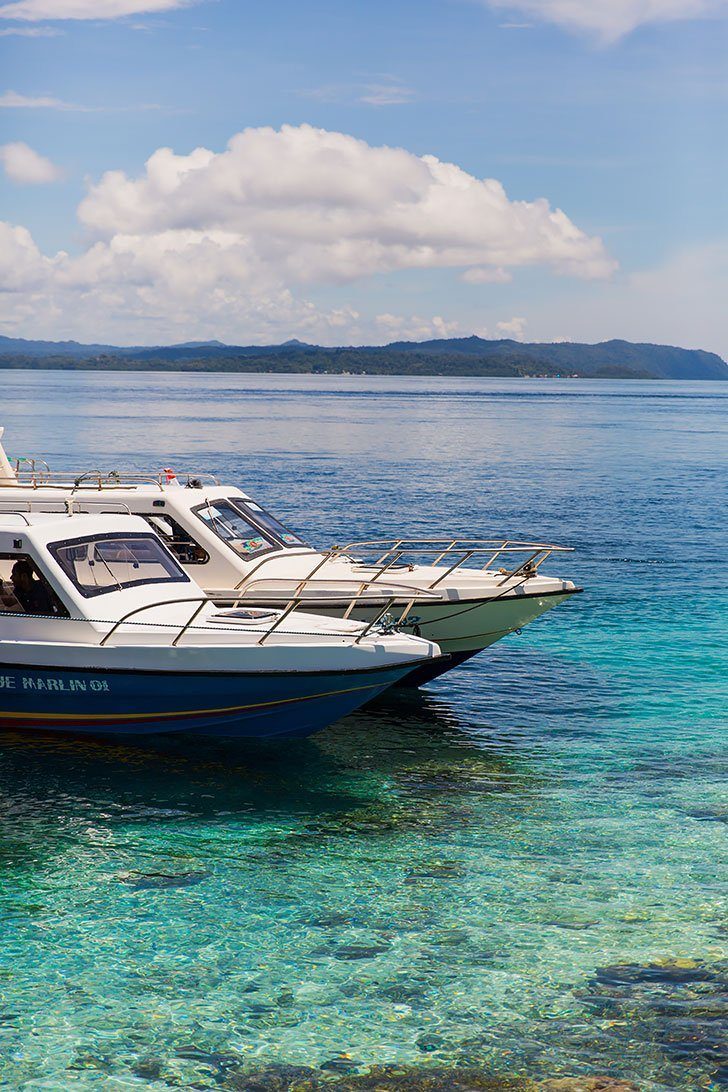 How to Get to Raja Ampat Island
To get to Raja Ampat requires patience, about 8 direct hours (although in reality about two days due to flight and schedule differences) and a knack for sleeping anywhere.
First, get to Jakarta and take a 4 hour direct flight to Sorong – there are 1 to 2 scheduled flights per day, depending on the season. If you can't hop on the direct, you can stopover in Makassar, on the island of Sulawesi between Java and Papua and then continue on to Sorong, on the northwest part of Papua.
We had a long layover in Jakarta airport and held fort over the Airport lounge cafeteria for 8 hours – although you could also book a room at the nearby Jakarta Airport Hotel for more comfort.
After flying into Sorong, catch a bus or taxi to the town's port (about a 30 minute drive) and then take a 2 hour ferry to the main island of Waisai, the capital of Raja Ampat which is located on the largest island Waigeo. Waigeo has a couple small cottages and most of the local government and administrative activities take place around Waisai. The indigenous people of Raja Ampat are spread across many islands though.
From Waisai, catch a smaller speedboat to whichever island you've booked a stay for on Raja Ampat. We stayed at the Raja Ampat Dive Lodge which arranged a speedboat pickup – it was about a 1 hour fast boat ride to the local island. There are some islands on Raja Ampat that will take 4 hours to get to from Waisai so try to plan your accommodation in advance.
If you're coming from Bali to Raja Ampat, the process is similarly difficult. More about how to get to Raja Ampat in this post.
Overall, the journey takes a solid day and a half… but the look on your face when you first step out on the wooden jetty will be priceless!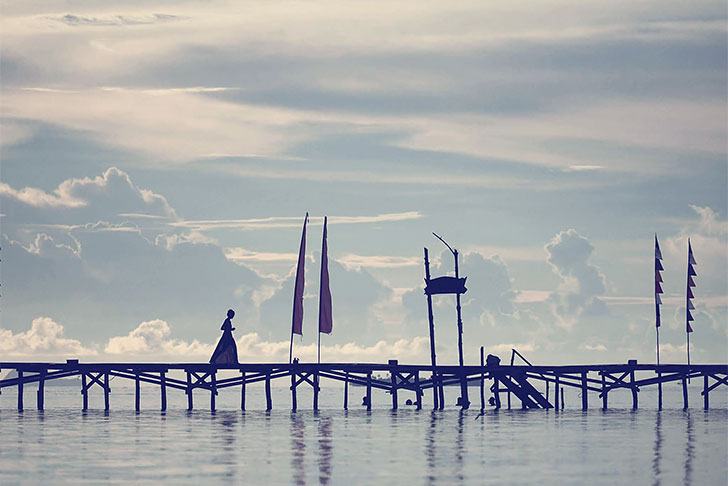 ---
---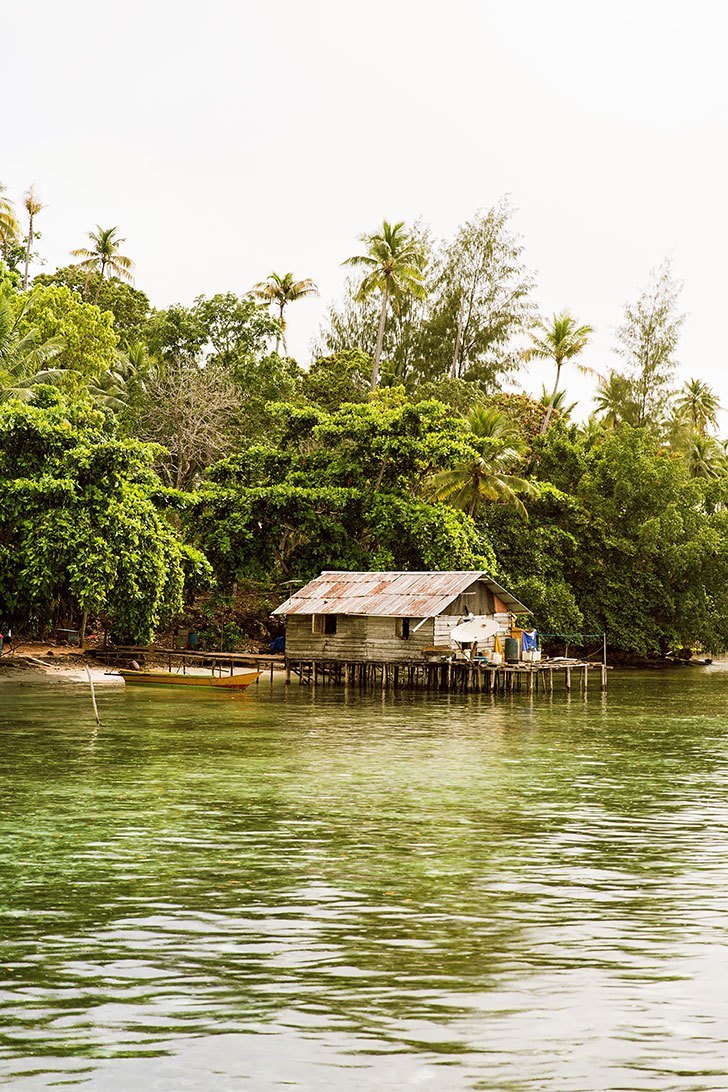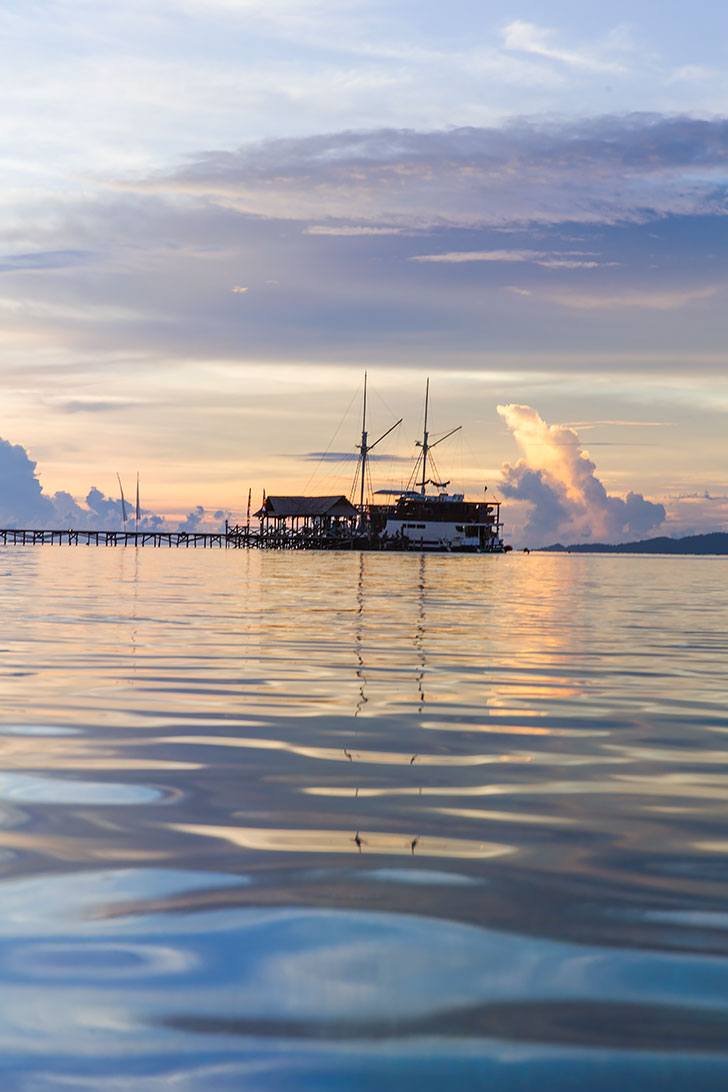 Where to Stay in Raja Ampat
Raja Ampat is composed of many islands, some of which are home to local communities and others which are completely private and relatively uninhabited. Most of these are far from Waisai, the main capital island where the ferry stops.
There are no public ferries to the smaller islands so arrange a pickup transfer from your hotel. Fuel for speedboats is very expensive and the distance to many of the homestay islands is quite long (an hour or more) so expect to pay around $150 for a return trip.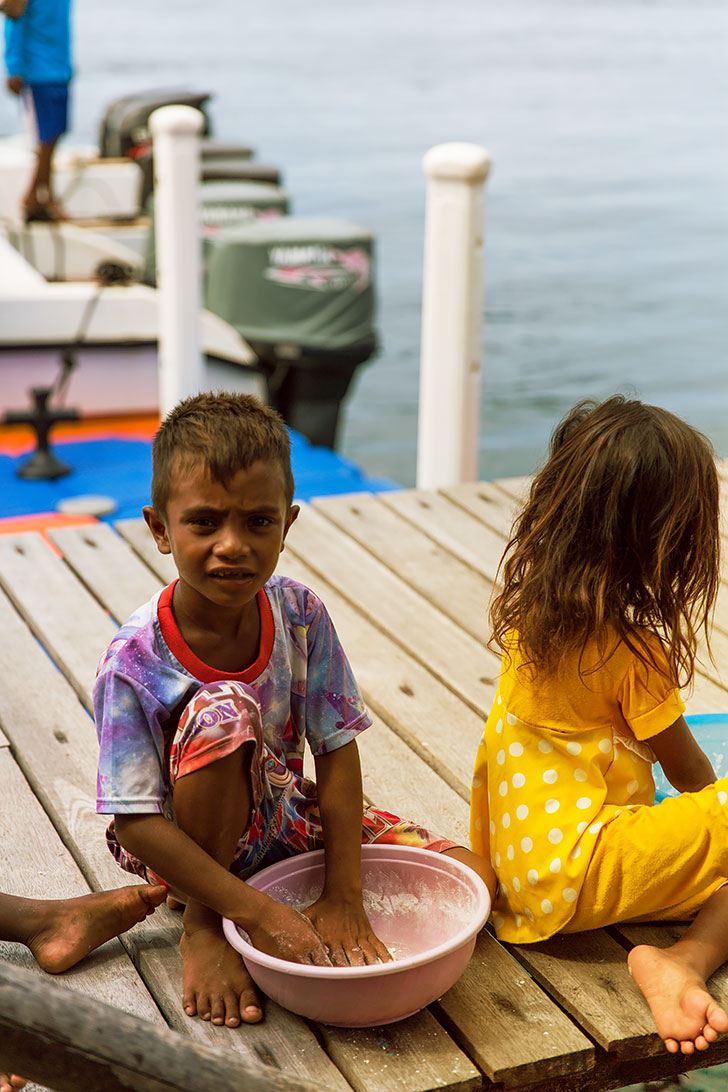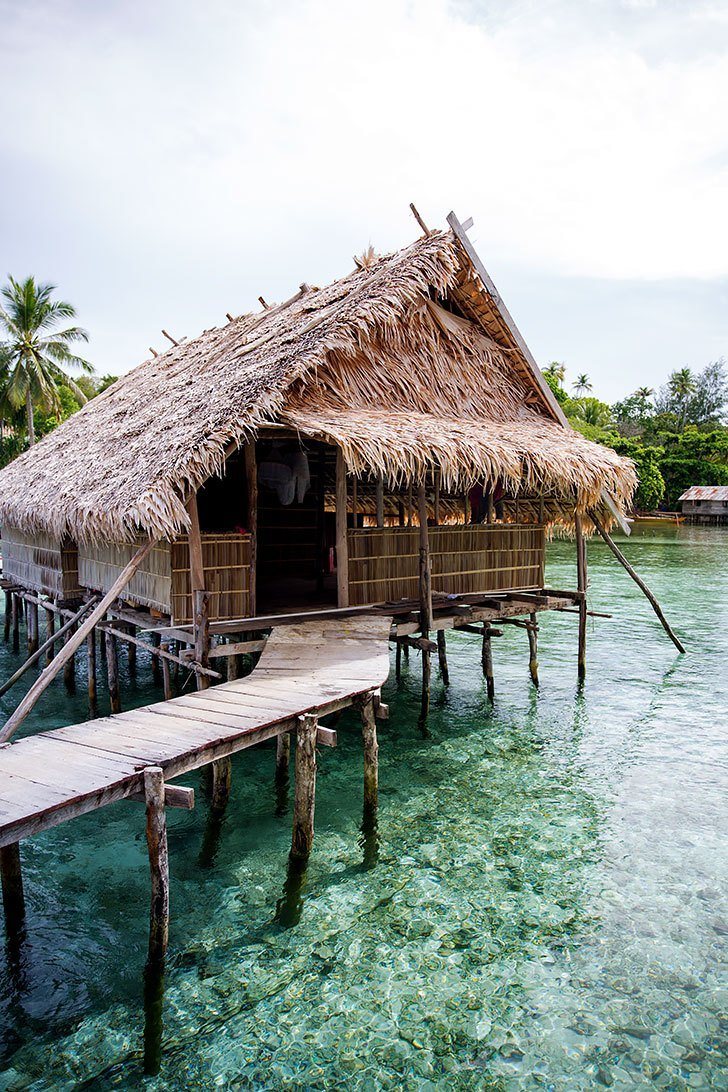 ---
---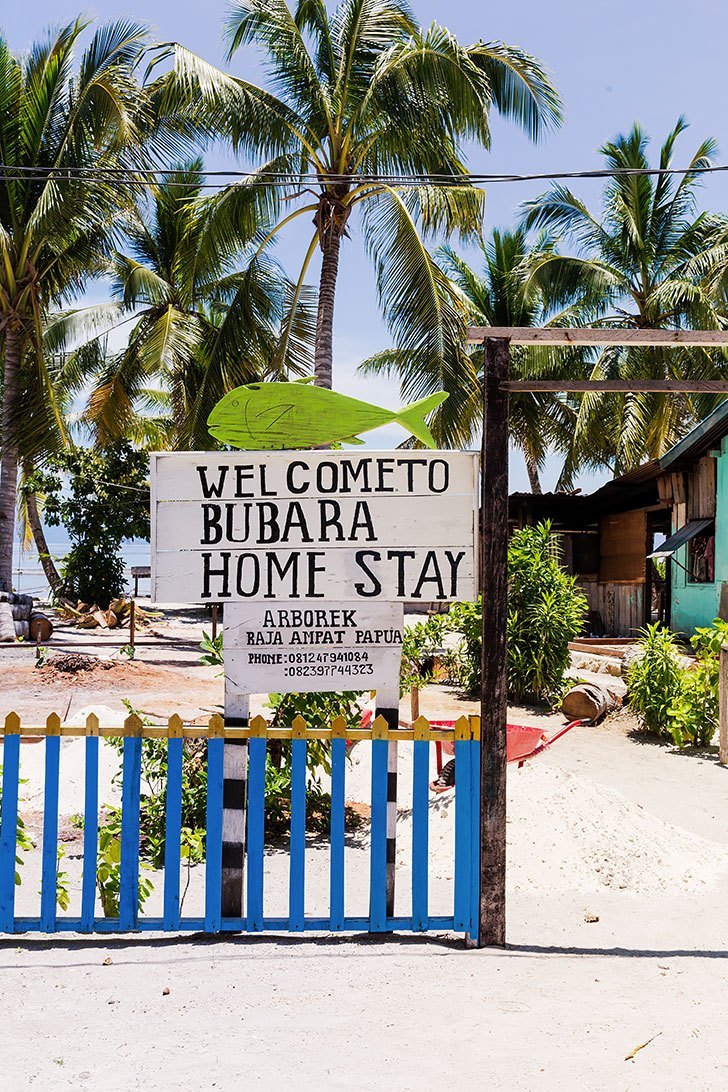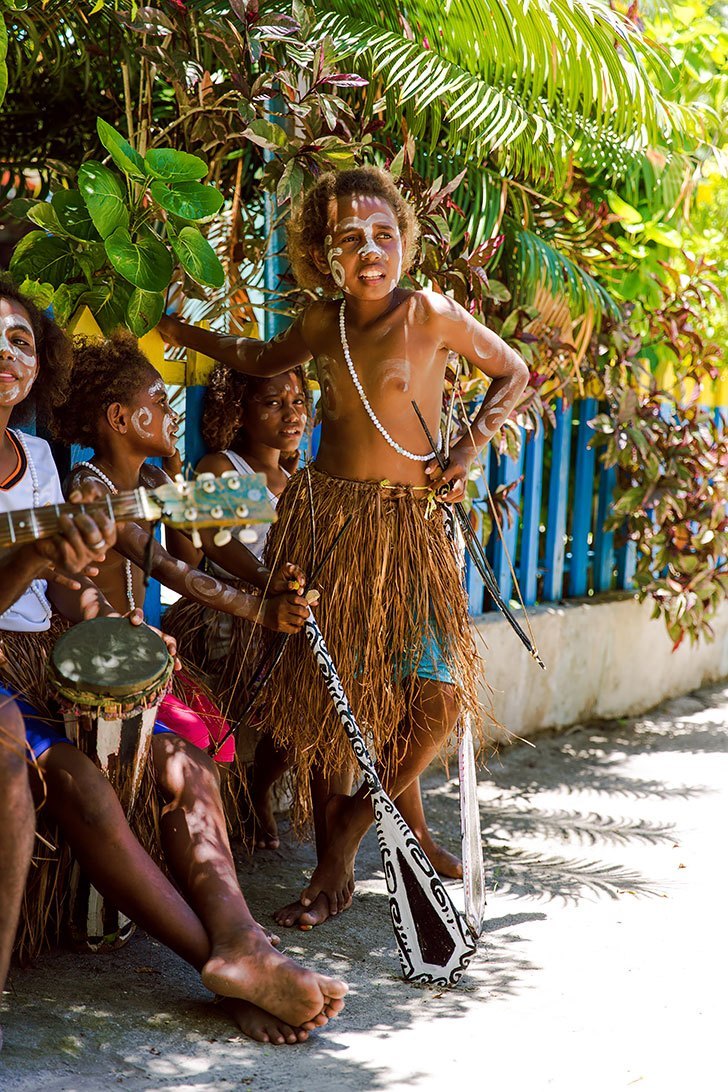 Here are some of the best hotels in Raja Ampat:
1 | Raja Ampat Dive Lounge is a luxury resort located at the heart of the most spectacular diving in northern Raja Ampat. The dive lodge is situated on a private island surrounded by natural beauty and minutes from the manta ray sites and fish filled dives at the western edge of the Dampier Strait. The pier is the perfect spot to settle in for perhaps the most stunning sunsets I've ever witnessed while just underneath the jetty teams with darting colorful fish and prickley sea urchins. Snorkle, dive or kayak from the on-site dive shop.
Compare rates on: Booking.com and Agoda
2 | Waiwoo Dive Resort is a laid back resort on Waigeo Island, the largest island in Raja Ampat. Snorkelers will love the island's coral reef (gear available for guests)
Compare rates on: Booking.com | Hotels.com | Agoda and Read reviews on TripAdvisor
Note: When searching for hotels, I like to compare across all the hotel aggregation sites as they seem to bid competitively to offer the cheapest rate. I've found that these hotel OTA sites can often have better pricing than the direct hotel site.
My usual go to is Booking.com for its flexible cancellation policy, Hotels.com for its generous rewards program with free stays for every 10 bookings and Agoda for its huge range of Asian hotels.
---
---
Visiting Raja Ampat on a Budget
Accommodation on Raja Ampat is quite pricey given the remote distance. There's everything from luxury resorts to ecological overwater bungalows. If you're on a budget, you can do on an island homestay. It's also a great way for tourism dollars to directly help local communities.
Piaynemo Homestay is a good pick for budget accommodation. The reality is that Raja Ampat is very far and very expensive to get to. If you're on a limited budget, this homestay is a great option as it's located on Piaynemo, an island in Raja Ampat home to one of the most breathtaking views I've ever seen. Check availability here.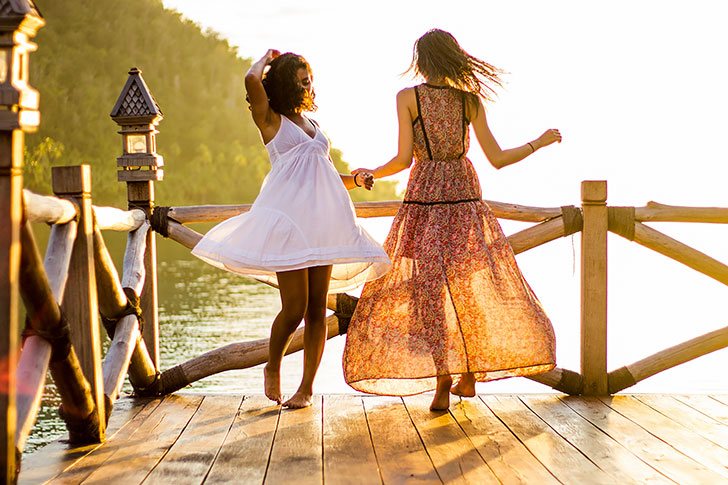 ---
---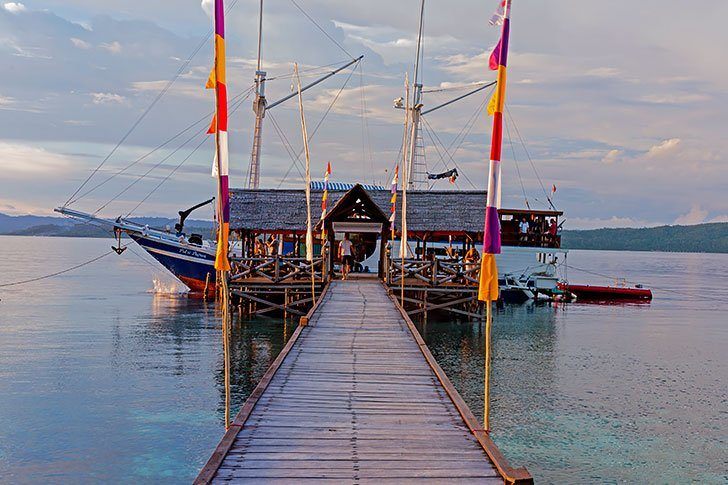 Diving in Raja Ampat
Pretty much all the islands have amazing local coral reefs and colorful darting fishes right under the jetty. There are also many unique dive spots on Raja Ampat that the local dive shop can recommend if you're looking for specific marine creatures.
If you're focused exclusively on scuba diving in Raja Amapt, a liveaboard is your best bet. No matter where you choose, anticipate an unplugged getaway as wifi is virtually nonexistent and spotty. No worries – there's plenty to keep you occupied!
8 Day, 7 Night Raja Ampat Dive Package
Want to visit Raja Ampat but concerned about the difficulty getting there? This 8 day Raja Ampat package includes round trip transfers from Sorong Airport, all meals and a beautiful water bungalow balcony room on Birie Island.
Papua Paradise has 16 overwater villas and its reefs are home to the unique local species like the wobbegong shark and flamboyant cuttlefish.
Divers can choose the dive package option, which includes 4 scuba dives per day with a PADI certified scuba instructor from Gangga Divers. Check availability here.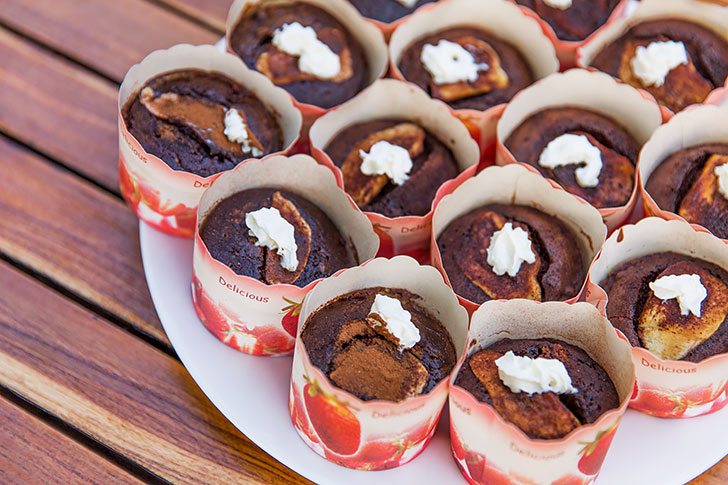 ---
---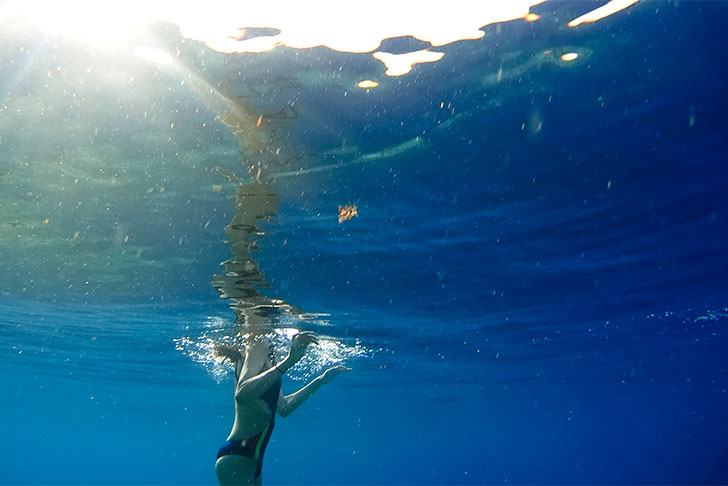 The Best Things to Do in Raja Ampat
Here are some sights and attractions in the Raja Ampat islands to keep you busy for at least 3 to 4 days!
snorkle in the deep blue – any of the wooden jettys on any island are teeming with local coral and reef life
for advanced divers, head out into the open sea for some pristine marine adventures. Raja Ampat is a manta ray and shark sanctuary and you'll see all sizes of creatures in these waters
taste jumbo prawns grilled on an open fire
settle in for the most vivid sunsets
feed the fish at Sawinggrai village
meet the local community at Arborek village
hike Pianyemo islands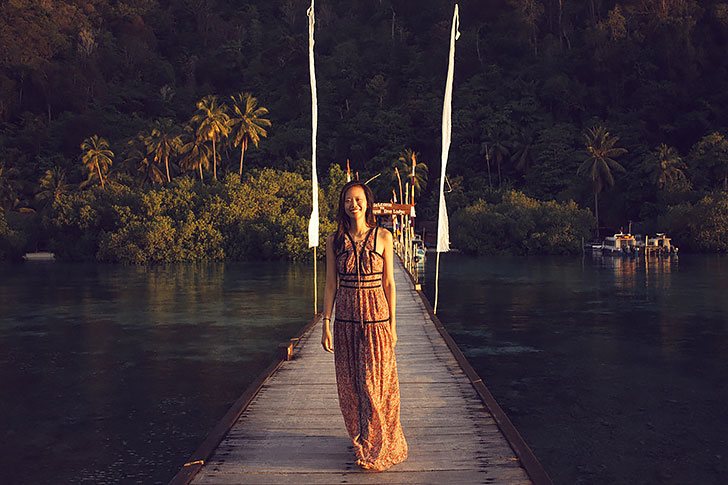 ---
---
Is Raja Ampat on your bucket list?
Visiting Indonesia – Travel Checklist
Flights | From New York City, there are no direct flights to Indonesia but you can grab reasonably priced flights if you book early. Check often for routes and fares here. I've transferred in Doha and China and prefer Doha's modern airport via Qatar Airways.
If flying to Jakarta, fares will be slightly cheaper and from Indonesia's capital you can explore Bandung, Yogyakarta and Sumatra on short domestic flights. If your focus is Bali, note that flights from the USA will be slightly more expensive and typically will involve a 2nd stopover in Jakarta anyway.
Transportation | You can rent a motorized scooter to get around or book a tour to handle transportation if you're not comfortable. Taxis and Ubers will work in some areas, but not all. Bali especially has terrible gridlock traffic.
Accommodation | I highly recommend 'hotel hopping' Bali – the island is quite large and different neighborhoods have their own characteristics. Bali is also a fantastic place to splurge on a luxury resort – the options are endless, the views are unbeatable and the food is divine. We loved both Alila Villas Uluwatu and the Sofitel Nusa Dua.
Airbnb is a great way to stay in luxurious Balinese resorts for discounted rates – especially if traveling with a group.
Packing | Bring light fabrics and traditional summer wear for Bali along with mosquito spray. If you intend to visit Indonesia's other cities and famous temples, bring modest clothing. Indonesia is the world's largest Muslim country and can view short shorts and mini skirts as impolite. You can read my complete Bali packing list here.
Insurance // Lastly, be sure to visit Indonesia with travel insurance. Whether you get injured and need to be hospitalized, or your phone gets stolen, travel insurance will help when you need it most. I ended up getting seriously ill and visiting the hospital while in Solo, Indonesia and being taken care of was a lifesaver. Get a quote for your trip here.
You Might Also Enjoy:
Indonesia Vacation Planning Articles
Quick Guide: The Ultimate Indonesia Travel Guide
When is the Best Time to Visit Indonesia
At a Glance: 50 Incredible Things You Can Only Do in Indonesia
An Off the Beaten Path Itinerary: 2 Weeks in Indonesia
Indonesian Cities, Sights & Tours We Especially Enjoyed
Yogyakarta : 10 Highlights from Java's Cultural Center
Bandung Don't Leave Without Seeing These 7 Sights
A Raja Ampat Travel Guide: Scuba Diving, Hiking & How to Get There
Sun, Surf & Sea: Visiting Lombok & The Gili Islands
Bali, Indonesia Articles
Bali Packing List: What to Wear in the World's Largest Muslim Country
Where to Stay: Decoding Bali's Neighborhoods
Luxury Resorts in Bali with Epic Swimming Pools
Hotel Review: Alila Villas Uluwatu
Follow Sher She Goes on