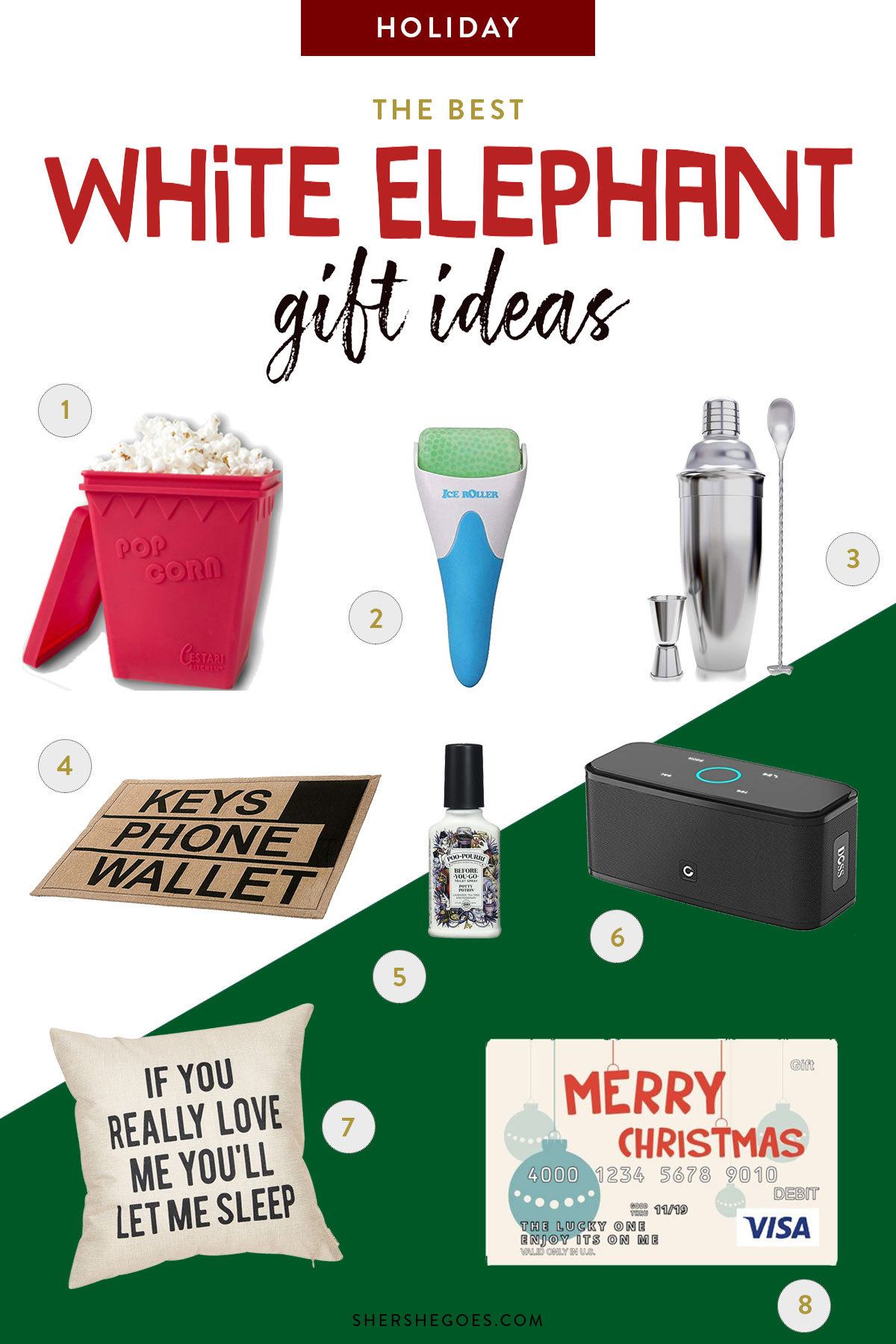 Microwave Popcorn // Ice Roller // Cocktail Set // Funny Door Mat // Poo Pouri // Portable Speaker // Funny Pillow Cover // Personalized Visa Gift Card
The Best White Elephant Gifts
Don't be the person that brings the gift no one wants. We've got you covered for all the White Elephant exchanges this holiday season – whether it's your office colleagues, book club friends or drinking buddies!
Here are the best white elephant gifts that will be subject to multiple steals! As a bonus, most everything listed below, whether funny, useful or serious, is under $30.
Browse white elephant gift ideas
ADVERTISEMENT
What Are White Elephant Gifts?
Whether you call it – Yankee Swap, Dirty Santa or White Elephant – the general gist is the same. Everyone brings a wrapped gift and draws a number.
The gifts are piled together and each guest chooses a gift in order of their number. The first person chooses from the pile, but each next person can choose to either 'steal' an opened gift or choose a new wrapped present. The game keeps going until the last person goes! If your gift is stolen, you can either choose another wrapped gift or steal someone else's present.
White Elephant parties are fun, but only if you end up with the right mix of gifts – some funny, some cool and some useful. The point is to get some friendly competition going!
ADVERTISEMENT
---
---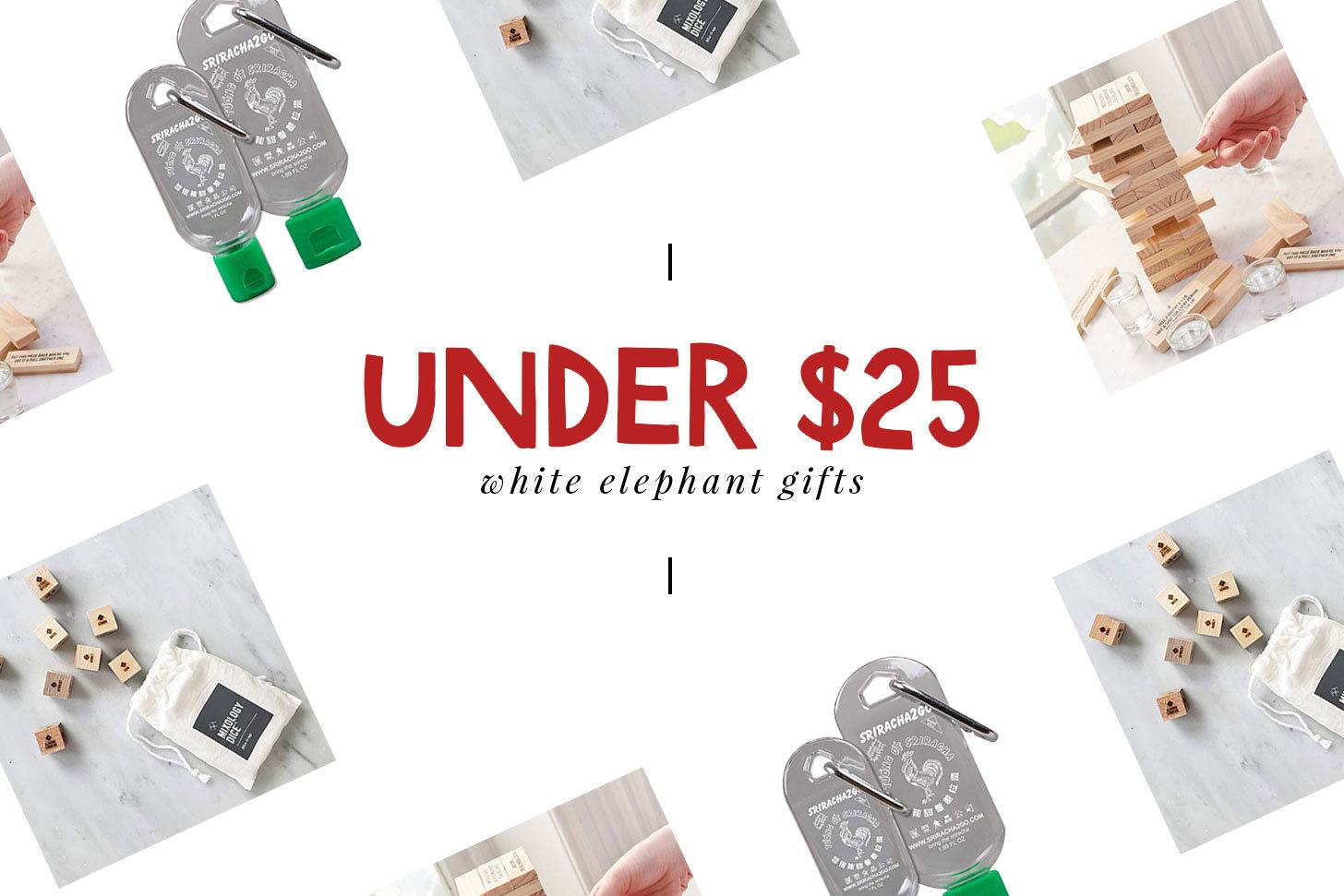 Best White Elephant Gifts Under $25
Whether you're hunting for cool, quirky or cheeky, here are our top picks for white elephant gifts between between $20 – $25.
1. Mixology Dice
---
2. If You Love Me You'll Let Me Sleep Pillow Cover
---
---
3. Siracha Keychain
---
4. Stumbling Blocks Game
ADVERTISEMENT
---
---
---
ADVERTISEMENT
---
---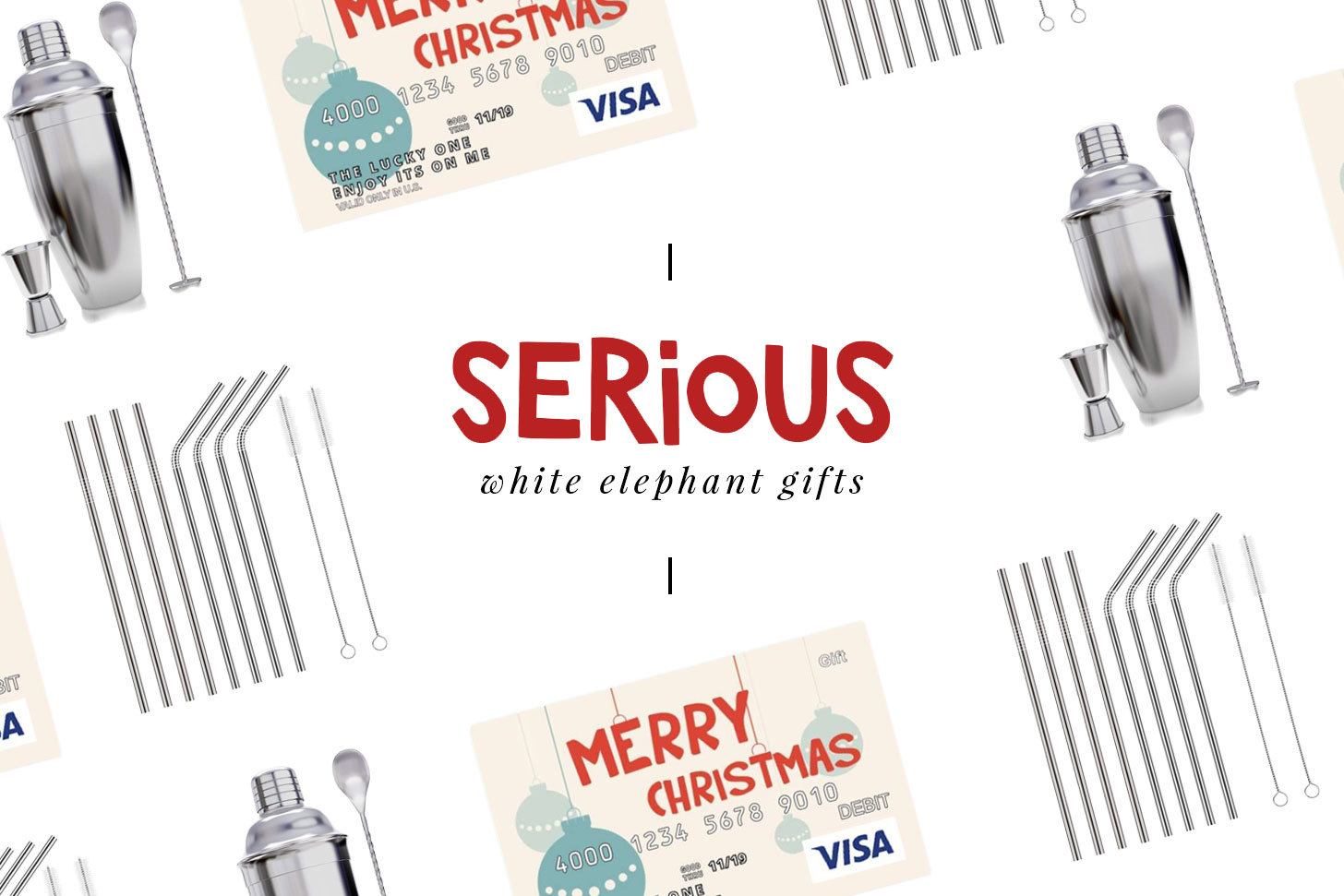 Serious White Elephant Gift Ideas
While we always appreciate a funny white elephant gift, sometimes you don't quite know the humor level of the crowd. Maybe it's an office party.. maybe it's family members.. if you don't know who the recipient will be, sometimes you need a serious white elephant gift that will actually get used or be appreciated.
Here are classy and useful white elephant gifts everyone will fight for! And hey, we won't judge if you steal your own gift for yourself :)
7. Cocktail Shaker Bar Set
---
8. Personalized Visa Gift Card
ADVERTISEMENT
---
---
9. Stainless Steel Straws
---
10. Personalized Water Bottle
ADVERTISEMENT
---
---
11. Large Ice Cube Trays
---
12. Aromatic Shower Tables
ADVERTISEMENT
---
---
13. Disposable Camera
---
14. Airpod Silicone Case
ADVERTISEMENT
---
---
15. Skincare Gift Set
---
16. Resuable Organic Bags
ADVERTISEMENT
---
---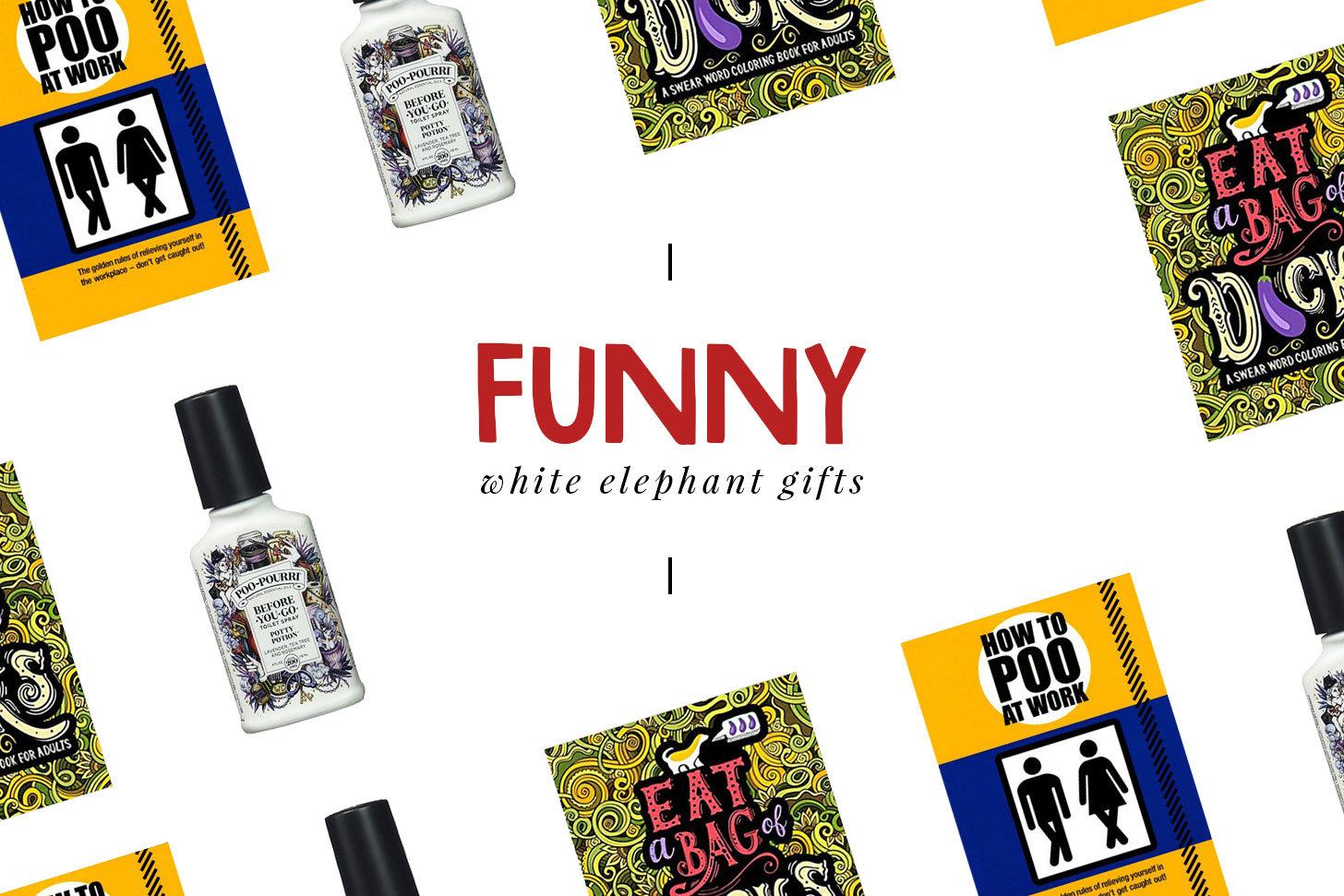 Funny White Elephant Gifts
If you want to get a laugh, here are some hilarious white elephant gifts the whole group will die for:
17. Fortune Baking Cups
---
18. Desktop Cornhole
ADVERTISEMENT
---
---
19. Llama Tea Diffuser
---
20. Dinosaur Desk Phone Stand
ADVERTISEMENT
---
---
21. How to Poo at Work
---
22. Swear Word Coloring Book
ADVERTISEMENT
---
---
23. Bathroom Guest Book
---
24. Funny Reminder Door Mat
ADVERTISEMENT
---
---
25. Poo Pourri Potty Potion
---
26. World's Smallest Vacuum
ADVERTISEMENT
---
---
27. Shot Glass Roulette Drinking Game
---
28. Gracula Garlic Twist Crusher
ADVERTISEMENT
---
---
29. The Voting Game
---
30. Sushi Pushpins
ADVERTISEMENT
---
---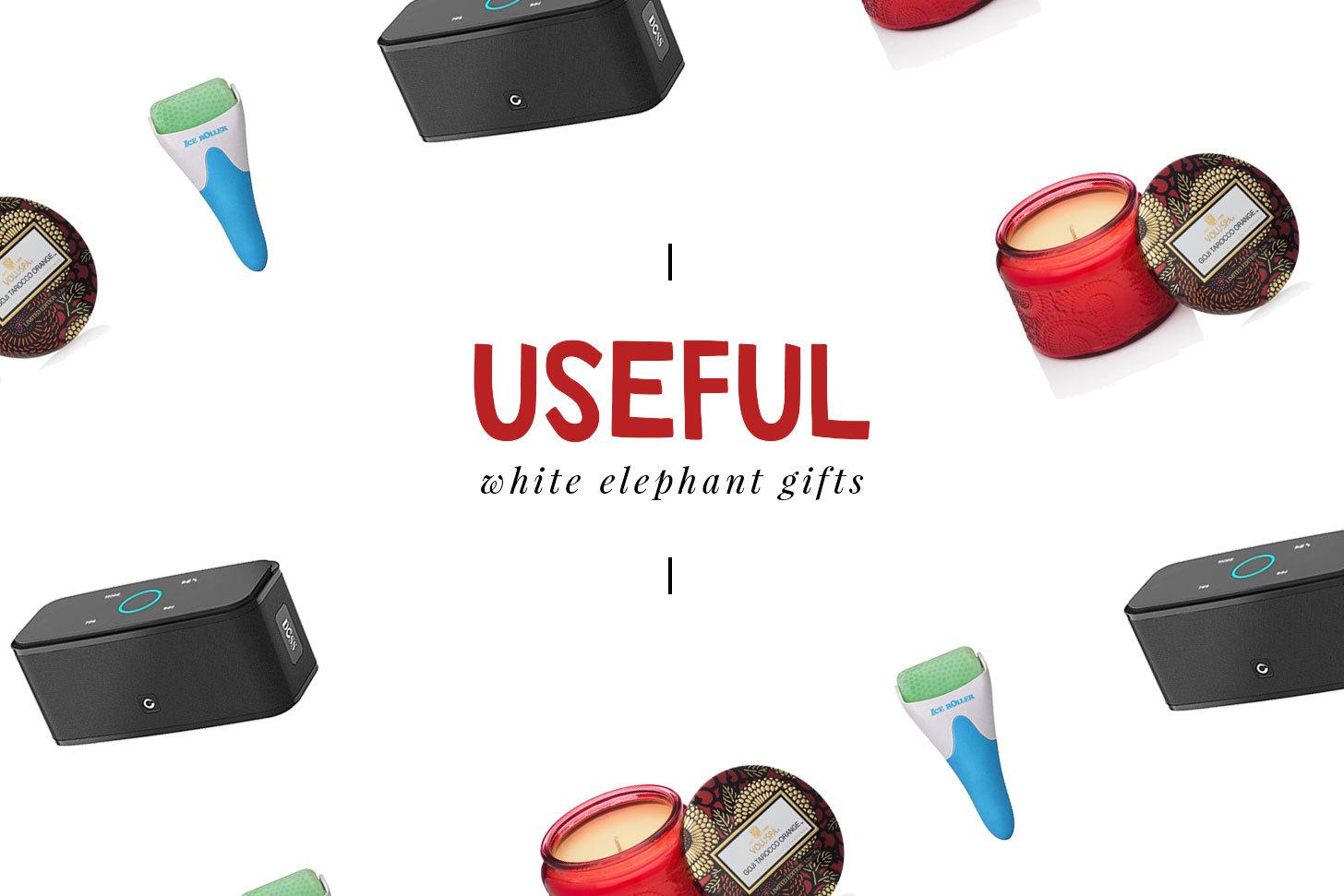 Useful White Elephant Gifts
Don't waste money on a gift people will throw away – get them something affordable and useful that they'll love! Here are our suggestions for practical, great white elephant gifts.
31. Portable Speaker
---
32. Ice Roller
ADVERTISEMENT
---
---
33. Fancy Candle
---
34. Microwave Popcorn Popper
ADVERTISEMENT
---
---
35. Whiskey Stones
---
36. Bulletproof Glass
ADVERTISEMENT
---
---
37. Novelty Bottle Stopper
Let us know the best gift you've snagged from a White Elephant party in the comments!
We know how difficult finding the perfect present can be! Browse gift guides for everyone on your list:
Affordable Gift Guides
Secret Santa Gift Ideas for Guys Under $25
The Best White Elephant Gift Ideas - Useful, Funny & Quirky
Gift Guides for Her
Monogram Gift Ideas - Personalized Gifts for Everyone on your List
The Best Beauty Advent Calendars to Count Down Christmas
Gift Guides for Him
The Best Christmas Gifts for Dad
Useful Gifts for The Guy that Has Everything
Gift Guides for Parents
Gift Ideas for Parents (who have everything)
Insanely Good Gift Ideas for your Boyfriend's Mom
The Best Gifts for your Boyfriend's Parents
Black Friday
Black Friday Shopping Tips - retailers DON'T want you to know!
Holiday Parties
The Best Matching Christmas Pajamas - for the whole family!
The Best Christmas Socks - cozy & festive!
The Best Holiday Dresses You Won't Believe are on Amazon
The Best Cute Christmas Sweaters for Classic Winter Style
The Best UGLY Christmas Sweaters for a Holiday Party
Ugly Christmas Sweater Party Invitations
The Best Winter Cocktail for Holiday Parties - Looks Fancy, but Easy to Make!
Decorating for the Home
The Best Amazon Christmas Decorations (Stylish + Affordable!)
Rustic Christmas Tree Decor Ideas
Cozy Chic Christmas Gifts for the Home
Follow me @Sher She Goes on