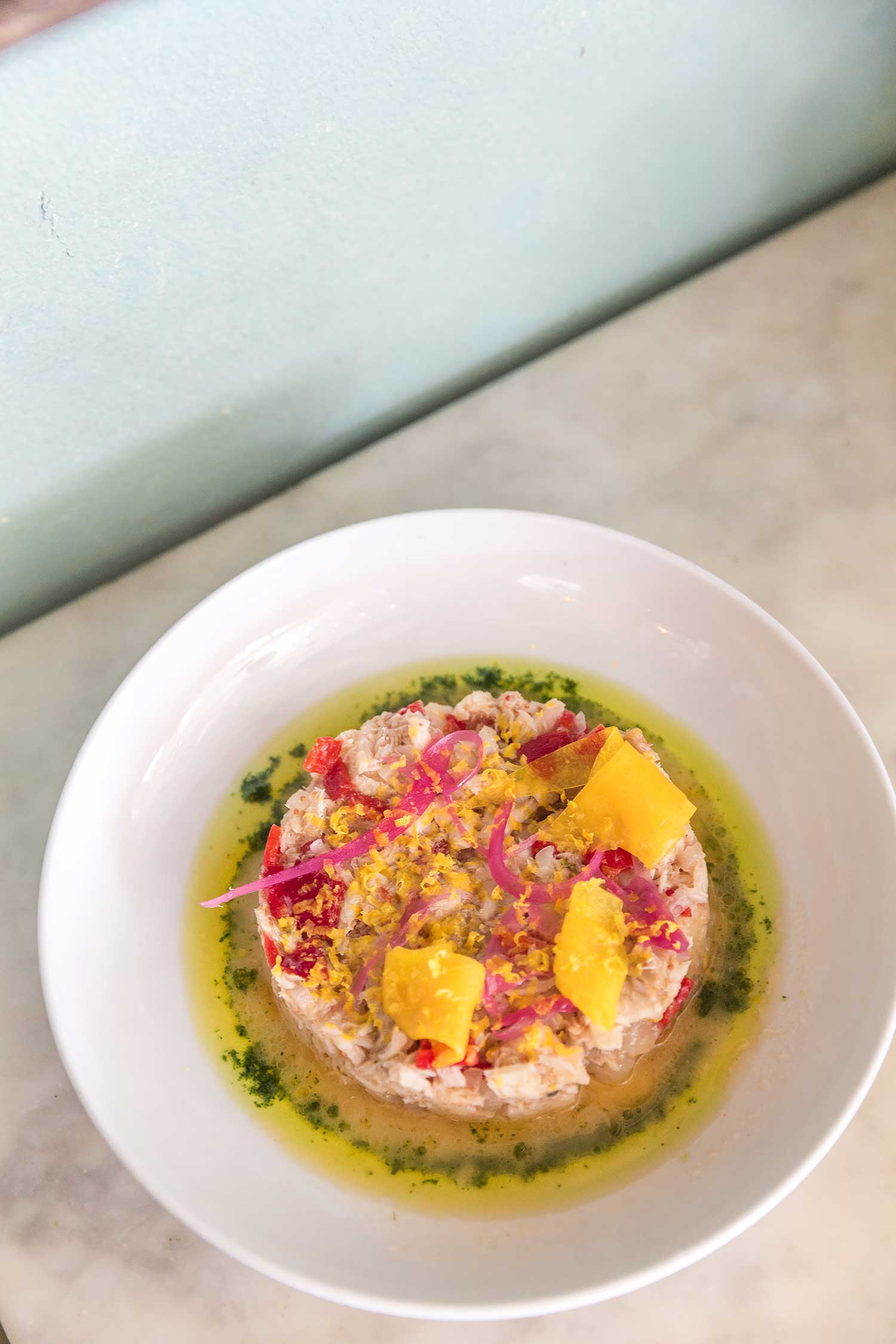 Eating in San Juan, Puerto Rico
Puerto Rico cuisine is a lively fusion of Tahino Indian, Spanish and American influences. On our trip to Puerto Rico, we ate our stomachs out every night and loved the mix of Caribbean flavors, colors and cultures.
Today's guide is all about great restaurants in San Juan!
Keep reading or save this article by pinning it ⇟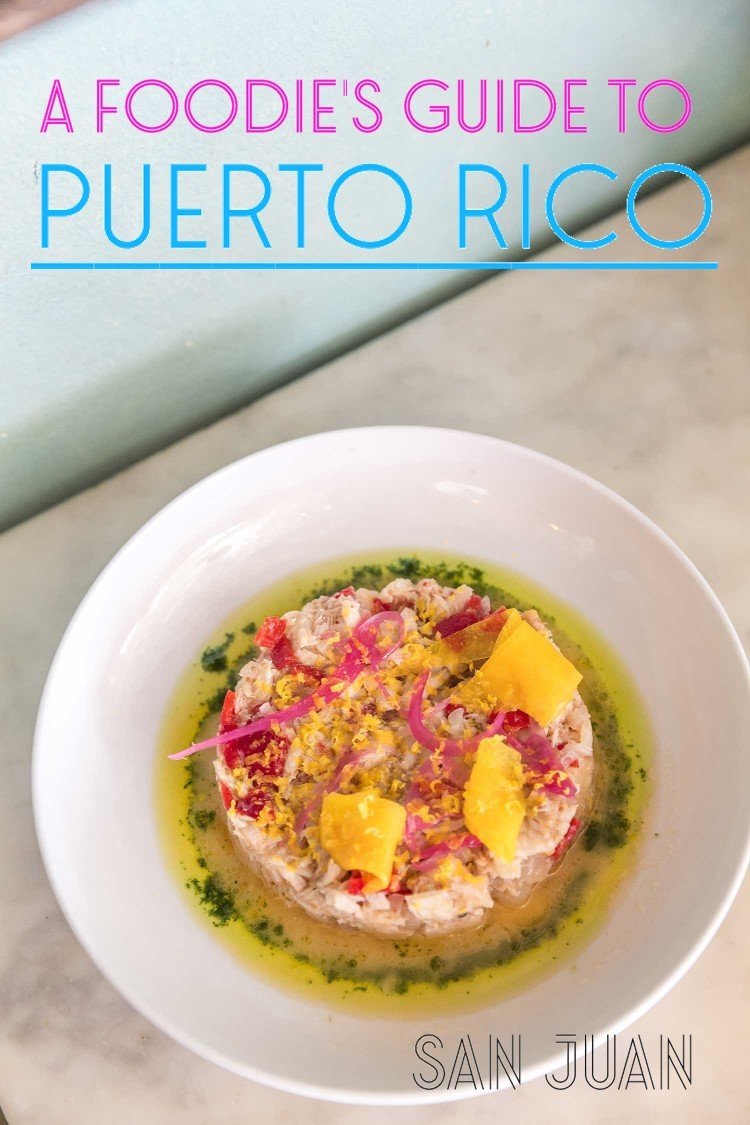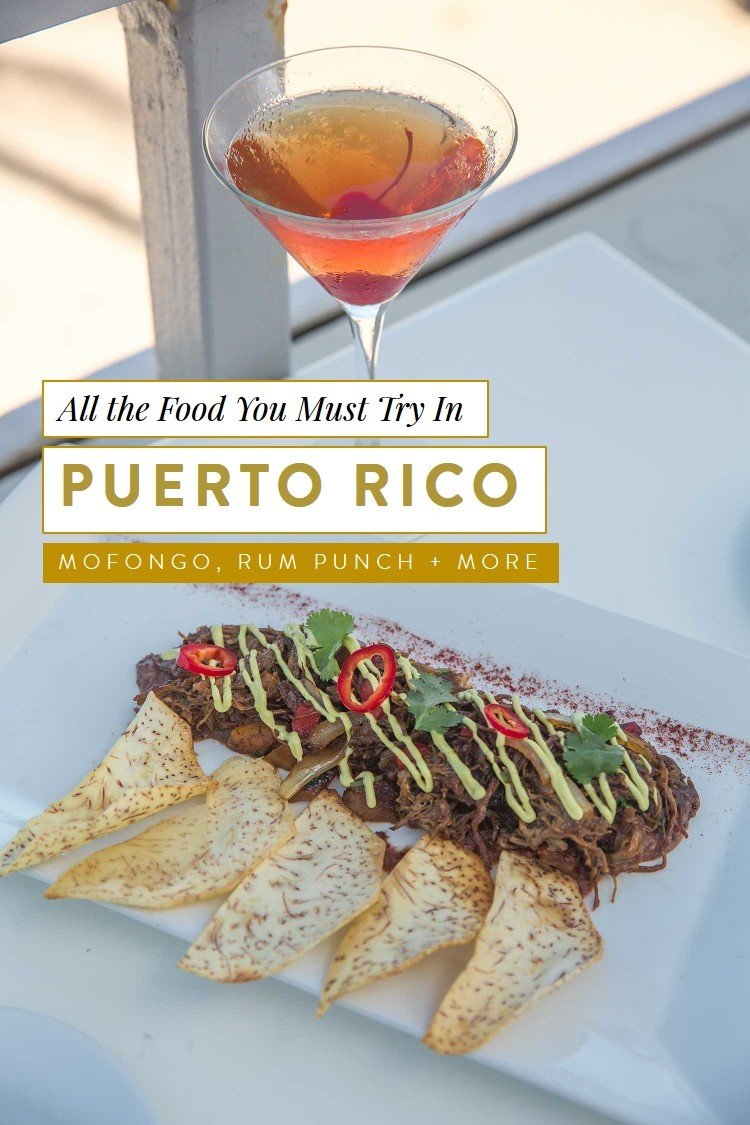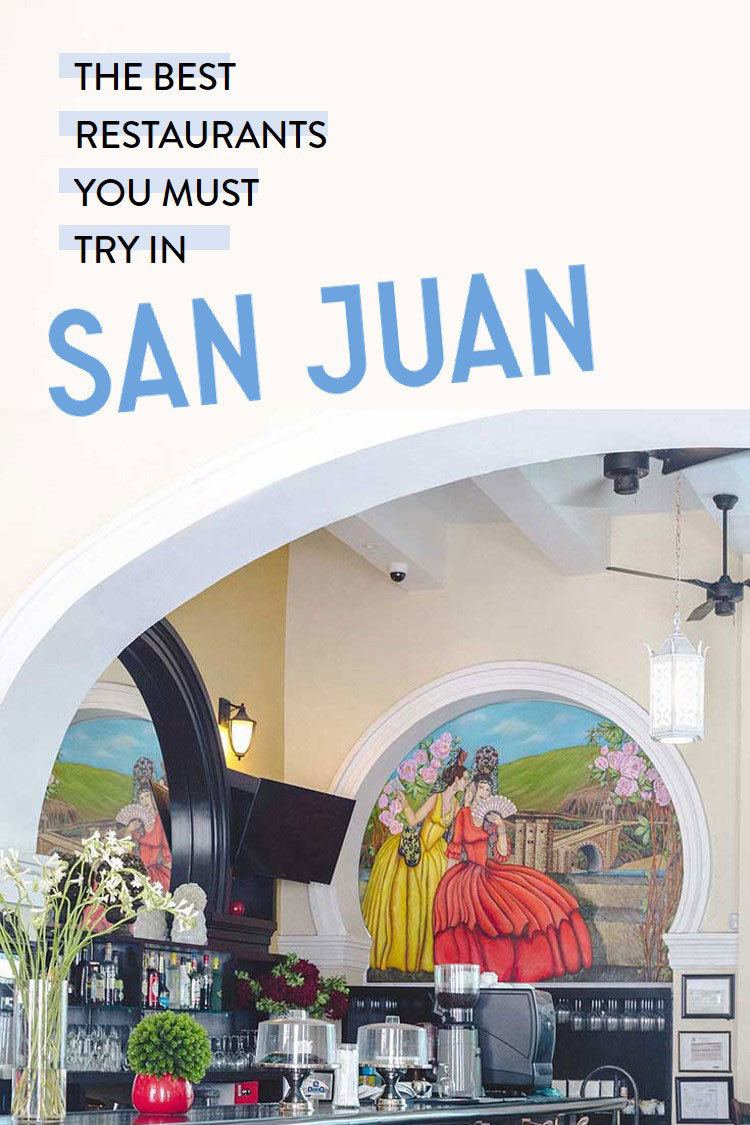 ADVERTISEMENT
---
---
6 of the Best Restaurants in San Juan
The best part about eating in Puerto Rico?
The drinks!
I love a good cocktail and in Puerto Rico, the local bartenders are mixologists dedicated to their craft! Many participate in local competitions and love to create their own cocktail off the menu if you ask!
Here is a round up of some of our favorite restaurants in San Juan so that you can have some great eats too!
1. Boronia
First up, we had dinner at Boronia in Old San Juan. This local spot serves Puerto Rican classics like mofongo and seafood, all in huge portion sizes. We shared a trio of appetizers like the fried cotija cheese, fried corn dogs and rice balls all of which hit the spot!
With 2 stories of seating, Boronia is like your family friendly neighborhood favorite. A couple nights of the week, there's a live salsa band where everyone joins in to spontaneously dance.
Great food and great prices!
Read more:
When to Visit Puerto Rico
ADVERTISEMENT
---
---
2. Water & Beach Club
Water & Beach Club is a hotel on Isla Verde that recently renovated their rooftop and changed the menu at their on-site restaurant, Zest. We had a 6 course dinner and cocktail pairing where each course was better than the last.
After starting with a ceviche stuffed avocado and munching on chicharrones chips (pork rinds), we had lobster topped mofongo and a delicious slow cooked pork shoulder. For dessert we had a coconut panna cotta and pineapple ice pop from Senor Paleta!
Don't forget the cocktails! We were happy to have the bartender concoct his own drinks as everything came out delicious!
Read more:
Puerto Rico's Best Hotels, by Neighborhood
ADVERTISEMENT
---
---
3. Oceania
Oceania was recommended to us many times, by everyone – from taxi drivers to tour guides to locals in the street. It seemed quite popular so we stopped by for lunch! When we got there, we realized how close it was to our hotel, La Concha and laughed because we had driven but it was less than a 5 minute walk.
Oceania is a stunning 2 story restaurant overlooking the Atlantic Ocean. The menu is focused on fresh Puerto Rican and American classics like, ropa vieja with plantain chips, and fish of the day. We also saw others order teeteringly tall burgers which looked amazing.
We found out later that post Maria, Oceania was one of the first restaurants to change up their menu and cater to local tastes with more wallet friendly prices. The ambiance here is unbeatable and the cool white interiors felt very trendy!
Read more:
9 Fun Things to Do in Puerto Rico
ADVERTISEMENT
---
---
4. Lote 23
If you want to know where the locals go, Lote 23 is it! Lote 23 means lot 23, as the unused space sat empty for a while. Enterprising locals decided to transform the space into food truck heaven, similar to Smorgasborg in Brooklyn.
We saw trucks selling everything from coffee, tacos, beer, pizza, ice pops and more. There are plenty of tables for seating and on the night we went, there was even a chef battle center stage! Since this is quite a popular spot with local Puerto Ricans, brush up on your Spanish.
Most stalls spoke a bit of English but some not at all. Try to bring cash too if you have on hand.
Read more:
Epic Puerto Rico Day Trips from San Juan
ADVERTISEMENT
---
---
5. Verde Mesa
On a sunny afternoon in Old San Juan, we were starving but craving something light. The whole city was hot, humid and packed with people celebrating Sanse so when we found this unassuming restaurant on the fringes of town, we were quite surprised!
Verde Mesa is a vegetarian / pescetarian restaurant with some unique decor. Styled with a vintage, French country-chic decor and a beautiful tin roof, this restaurant would be quite at home in Brooklyn! We opted for 3 courses of light, but delicious food like a kale salad in coconut creme, fish in olive oil with pickled vegetables and a chocolate mousse.
Their house made drinks are really refreshing! Try the tamarind juice or tamarind cocktails if you're thirsty. My only slight complaint is that portions are really small.
Read more:
How to Spend a Perfect Vacation in Puerto Rico
ADVERTISEMENT
---
---
6. SAKI
If you're craving Japanese or Asian food, SAKI really hits the spot. Situated in the Intercontinental Hotel San Juan in Isla Verde, SAKI has a fun shareable menu featuring Asian fusion cuisine. We tried the deconstructed sushi roll, dumpling in broth and beef fried noodles. The bartender whipped up 3 delicious cocktails for each course, which all hit the spot!
The standout was the pineapple rum cake for dessert which tasted incredible – and that's coming from someone who typically doesn't like bread puddings!
Read more:
What to Pack for Your Trip to Puerto Rico
ADVERTISEMENT
---
---
So many great food options in Puerto Rico, no matter what kind of cuisine you like. Let me know in the comments if you have a favorite restaurant in San Juan to add!
Visiting Puerto Rico – Travel Checklist
Many U.S. airlines offer daily, direct flights from select US cities. We flew Jet Blue from New York City's JFK airport. Puerto Rico is offering cheap flights to encourage visitors to the island – you can set an alert flight deals here.
Traveling to Puerto Rico as an American citizen is incredibly convenient. All you need is your license, no passport required, as the island is a U.S. territory. Likewise, no need to bring a travel adapter, exchange currency or purchase a SIM card. American phones, dollars and plugs work just fine throughout the island.
As a result of Hurricane Maria, life in Puerto Rico has changed. We visited in mid January 2018 and found that electricity was up and running throughout the capital of San Juan. Select hotels and restaurants are open; we've listed the hotels we visited and used here. Check here for great deals on accommodation.
Lastly, be sure to visit Puerto Rico with travel insurance. Whether you get injured and need to be hospitalized, your phone gets stolen, or a flight delay leaves you with nothing but the clothes on your back, travel insurance will help when you need it most. Get a quote for your trip here.
You Might Also Enjoy:
Puerto Rico Vacation Planning Articles
Planning a Trip to San Juan: 1 Week Puerto Rico Itinerary
A Neighborhood Guide to Where to Stay in Puerto Rico
THIS is the Best Time to Visit Puerto Rico
Packing Checklist: What to Wear in Puerto Rico
Puerto Rican Sights, Activities & Tours We Especially Enjoyed:
9 Incredible Sights in San Juan You Simply Can't Miss
Puerto Rico Day Trips You Need to Take!
Where to Eat in Puerto Rico: 6 Restaurants to Try!
Follow me @Sher She Goes on