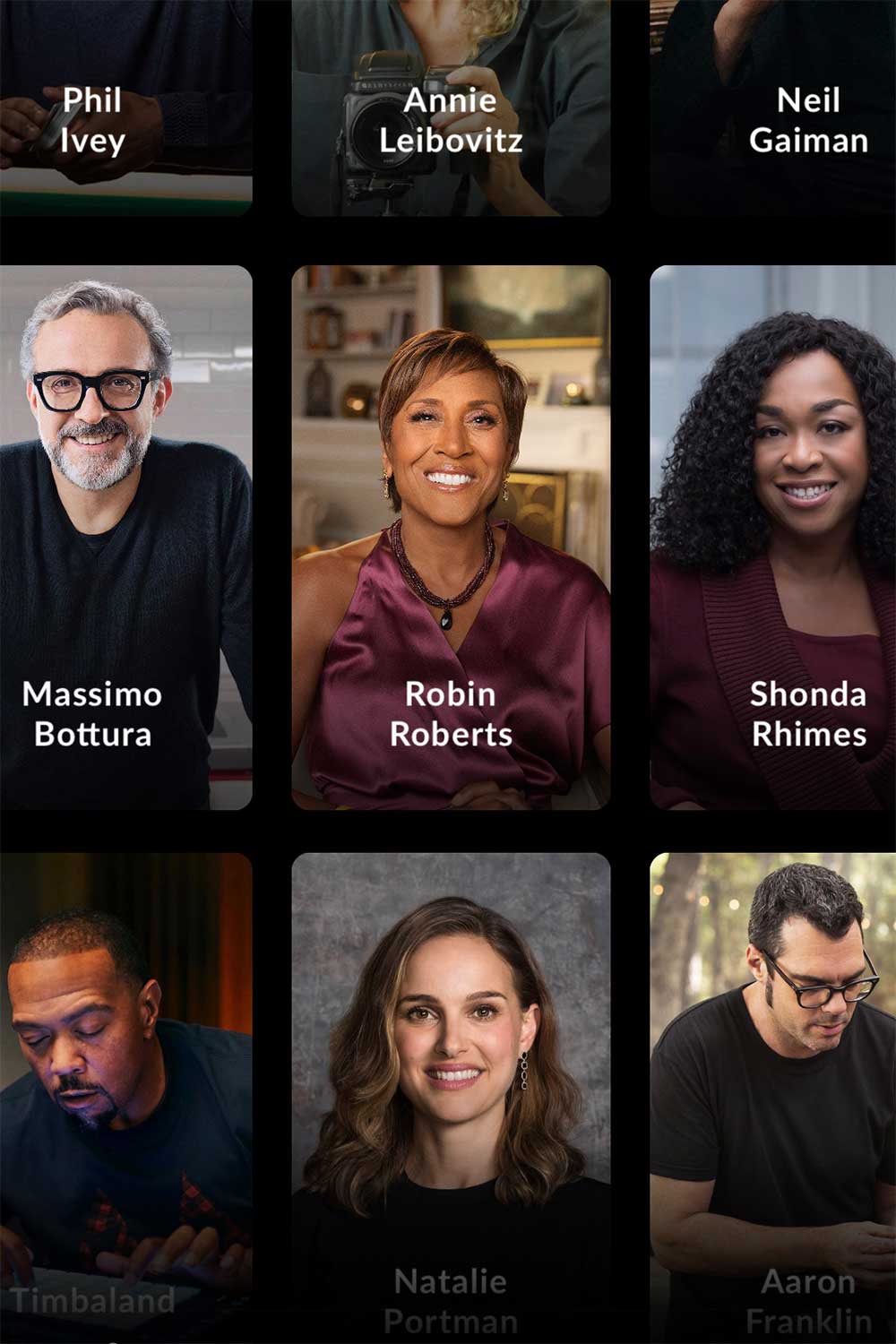 Masterclass Review
For someone who has a high hurdle to pay for subscriptions, I was quite skeptical of the value in instructional videos by "experts". The Internet is awash with content, and how-to videos are no exception.
And let's face it, I watch more Youtube than cable at this point.
Nevertheless, after perusing a few previews of the celebrity contributors on Masterclass and getting hit with tons of promotional ads, I decided to give it a try. A few months into the broader, crazy new environment, I can definitely say Masterclass has grown on me!
Here's my review of the Masterclass annual subscription and the classes I've taken and recommend!
ADVERTISEMENT
Keep reading, or pin this post to read later ⇟
How Much Does MasterClass Cost?
Originally, Masterclass offered two pricing options.
You could purchase one instructor's class for $90 and have forever access. Or, you could pay $180 for an annual subscription, which would allow unlimited access to watch all the Masterclass courses for a one year period, after which access would end.
In mid 2020, Masterclass updated their platform and switched entirely to a subscription based model. I went with the annual subscription that costs about $15 a month, and for roughly the same price as Netflix, this is much more educational!
Since I purchased Masterclass a couple months ago, the company has released a TON of new courses, all of which have been right up my alley.
For example, Kelly Wearstler's interior design class, the mixology class, Ron Finley's gardening class and Robbin Roberts' communication class were all new releases in early 2020. In December, Masterclass released Poilane's Baking masterclass on mastering bread making and I devoured that one!
So I think the annual subscription is fantastic!
ADVERTISEMENT
---
---
Is MasterClass worth the Money?
For me – definitely yes!
While I like Netflix as much as the next person, it's easy to feel like you've wasted a weekend just binging tv. Watching Masterclass is an elevated way to relax, but also learn.
The sheer amount of courses that are on the platform (I only covered a fraction of what's offered) is great value for the price. And the video production and quality on Masterclass is unparalleled.
I especially like how easy it is to digest. There's a Masterclass app for mobile phones and ipads, as well as desktop access. I usually watch on my iPad.
You can watch the courses over and over within the annual membership, and I love how even on the phone you can play the classes on in the background (like you would listen to a podcast) and even watch double speed.
Check out Masterclass and even if you learn just 1 thing from each instructor, the subscription is well worth it!
ADVERTISEMENT
---
---
Masterclass
While I was concerned by the limited initial batch of contributors, Masterclass has continuously added more original, interesting content across verticals that keep me going back to the platform!
Below are a few of my reviews on the courses I've taken:
Click the link to jump to each individual review, or keep reading below!
I'll keep updating this post as I take more classes, but let me know if there are any specific Masterclasses you're interested in in the comments.
ADVERTISEMENT
---
---
Thomas Keller Teaches Cooking Techniques
58 Lessons
Watch Time: About 2-3 days
Thomas Keller Masterclass Review
ADVERTISEMENT
---
---
Gabriela Cámara Teaches Mexican Cooking
13 Lessons
Watch time: About ½ day
Gabriela Camara Masterclass Review
ADVERTISEMENT
---
---
Massimo Bottura Teaches Modern Italian Cooking
14 Lessons
Watch time: 1 day
Massimo Bottura Masterclass Review
ADVERTISEMENT
---
---
Lynnette Marrero & Ryan Chetiyawardana Teach Mixology
17 Lessons
Watch time: 2 days
I don't know about you, but I've been making tons of drinks during quarantine.
And I'm happy to say that thanks to Lynnette Marrero and Ryan Chetiyawardana, I'd be more than comfortable to invite my friends over once this all ends for happy hour!
Mixology Masterclass Review
ADVERTISEMENT
---
---
Chris Voss Teaches the Art of Negotiation
18 Lessons
Watch Time: 1 day
Never Split the Difference was one of the most influential books I've read over the last decade.
It's a book about negotiation techniques written by an ex-FBI hostage negotiator.
While I certainly have no plans to be in a crisis situation quite like that, Chris Voss' techniques are incredibly useful in all sorts of tense situations – whether it be a boardroom at work or leveraging concessions from your parents.
So when I saw that Chris Voss had his very own Masterclass, it was a no-brainer to watch!
Chris Voss Masterclass Review
ADVERTISEMENT
---
---
Malcolm Gladwell Teaches Writing
24 Lessons
Watch Time: 1-2 Days
Malcolm Gladwell Masterclass Review
ADVERTISEMENT
---
---
Daniel Negreanu Teaches Poker
38 Lessons
Watch Time: About 1 day
Daniel Negreanu Masterclass Review
ADVERTISEMENT
---
---
Phil Ivey Teaches Poker Strategy
12 Lessons
Watch Time: About ½ day
Phil Ivey Masterclass Review
ADVERTISEMENT
---
---
Kelly Wearstler Teaches Interior Design
17 Lessons
Watch Time: 1-2 days
Kelly Wearstler Masterclass Review
ADVERTISEMENT
---
---
Bobbi Brown Teaches Makeup
19 Lessons
Watch time: 2 days
Bobbi Brown Masterclass Review
ADVERTISEMENT
---
---
Ron Finley Teaches Gardening
10 Lessons
Watch time: 1/2 day
Lately gardening is the hobby I've taken up that I haven't actually practiced.
Well, I've nurtured my baby Aerogarden but I'm still waiting for the day that I have some outdoor space to plant a proper veggie garden.
In the meantime, I've been reading and watching tons of gardening content so when Ron Finley's masterclass came out, I was super excited.
Ron Finley Masterclass Review
ADVERTISEMENT
---
---
Read More in my cozy at home series:
Loungewear
Amazon Fashion Finds: Comfortable Loungewear
The Cutest Matching Loungewear Sets
Comfortable Jumpsuits & Rompers to Work from Home In
The Best Pajamas to Netflix & Chill
Matching Pajama Sets that Still Look Stylish
Cozy & Comfortable Bralettes
Fun Tie Dye Lounge Wear Outfits
10 Work from Home Outfit Ideas
Everlane Bralette Review
Athleisure
The Best Athleisure Outfits You Can Grab on Amazon
6 of the Best At Home Workouts - Currently Free!
Comfy Faux Leather Leggings that Work with Any Outfit
Everlane Legging Review
Comfortable Shoes
The Best Minimalist White Sneakers
Cute Casual Sneakers to Wear Anywhere
Slip on Sneakers for Casual Days
The Best Comfy Slippers for Women
The Best Comfy Mens Slippers
The Most Comfortable Boots to Wear All Winter Long
Cozy Home
How to Program Smart Lights to Act as a Sunrise Clock
The Coziest Home Decor to Create a Sense of Hygge
How to Dress a Bed as Luxuriously as a 5 Star Hotel
Follow me @Sher She Goes on