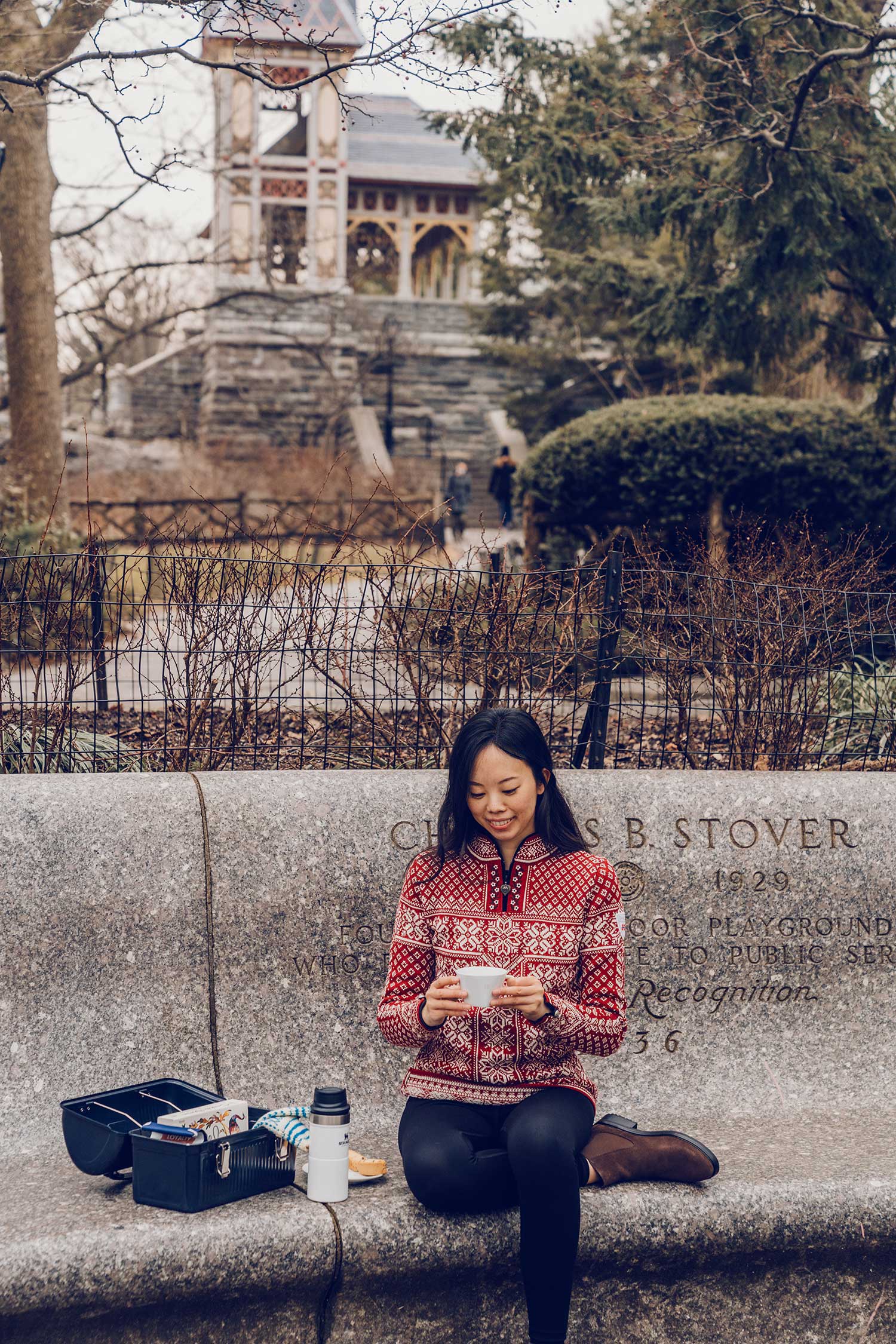 Thank you to Stanley for sponsoring this post!
Winter Picnic
This time last year, I was in Norway.
Most people don't visit Scandinavia in winter, but that road trip ended up being the highlight of last year. The pandemic hit just a couple weeks after I got back home and well, staying cooped up in a tiny apartment for months on end had me thinking back to it quite often.
We hiked in the rain, drove on sheets of ice in the pitch black and saw locals skiing as the snow fell. I remember being amazed at how outdoorsy everyone was and hearing a Norwegian phrase often – "There's no such thing as bad weather, just bad clothing".
And during months of quarantine, social distancing and working from home, I realized just how right they were.
A walk a day does wonders for your mental health and mood. And now that it's winter, a particularly grey and dreary time in the city, I've started to make a consistent effort to go outside every day – no matter the weather.
And while a quick walk in the park is nice, I thought I'd also try having a picnic.
Yep – even in the winter!
ADVERTISEMENT
Keep reading, or pin this article to save it for later ⇟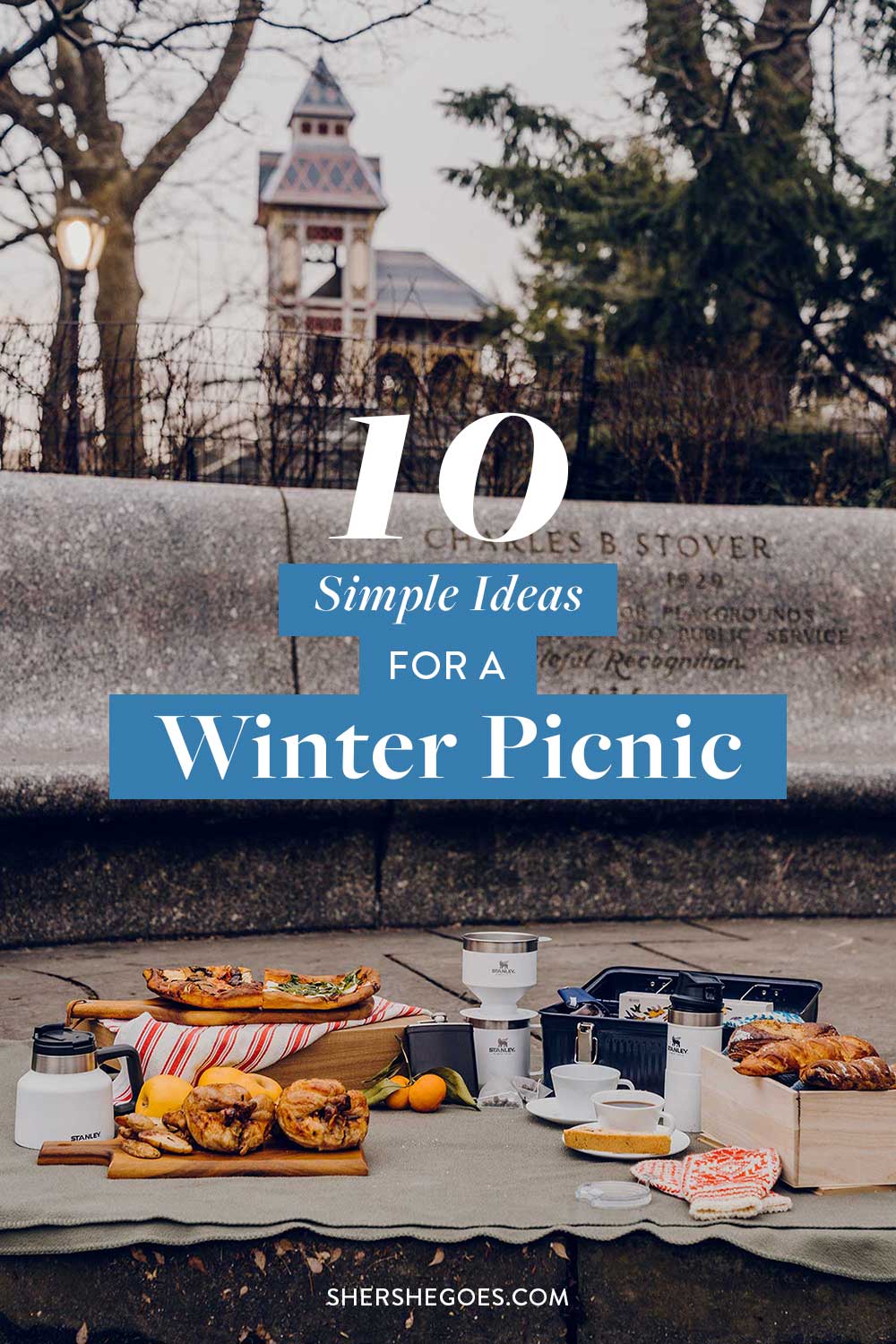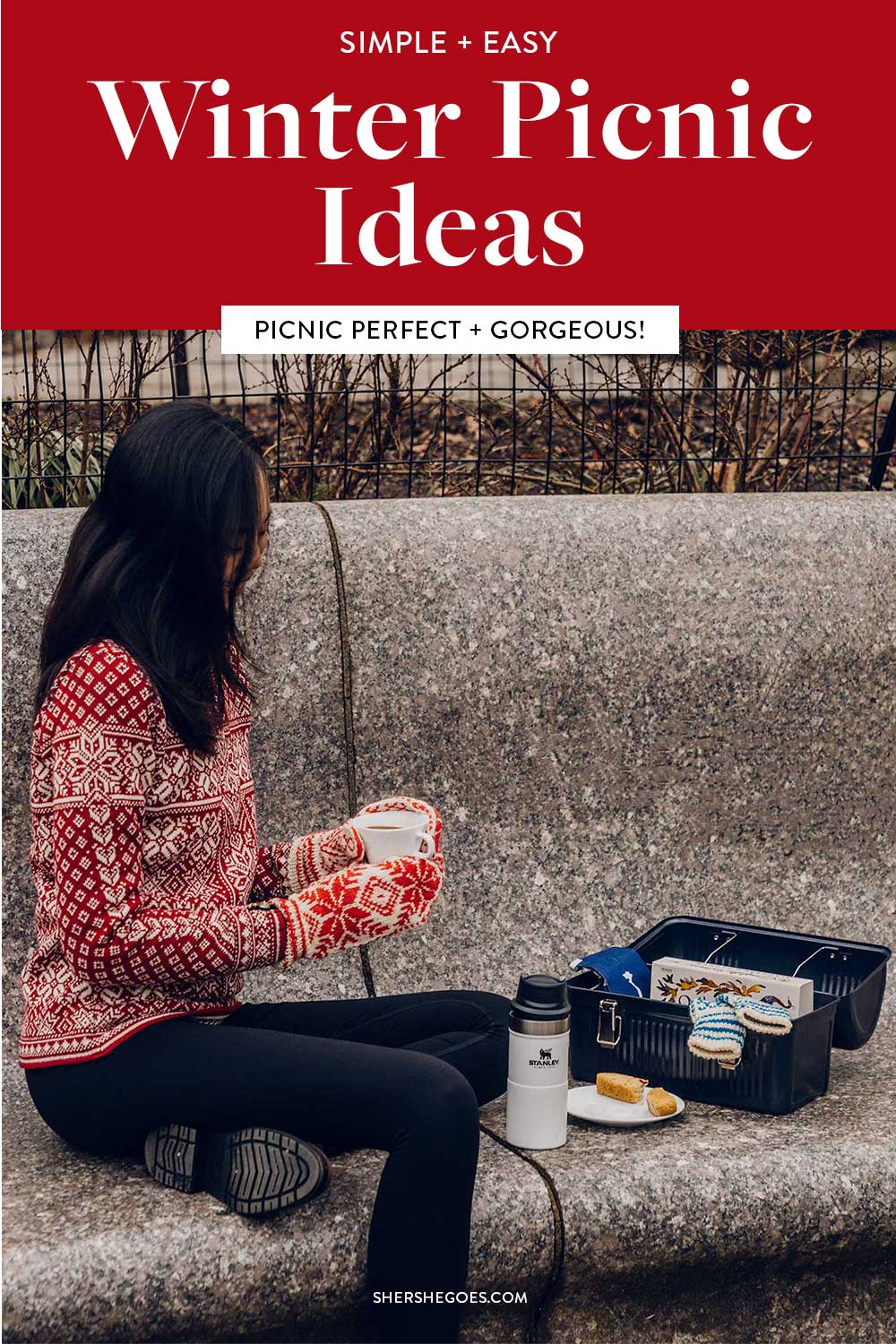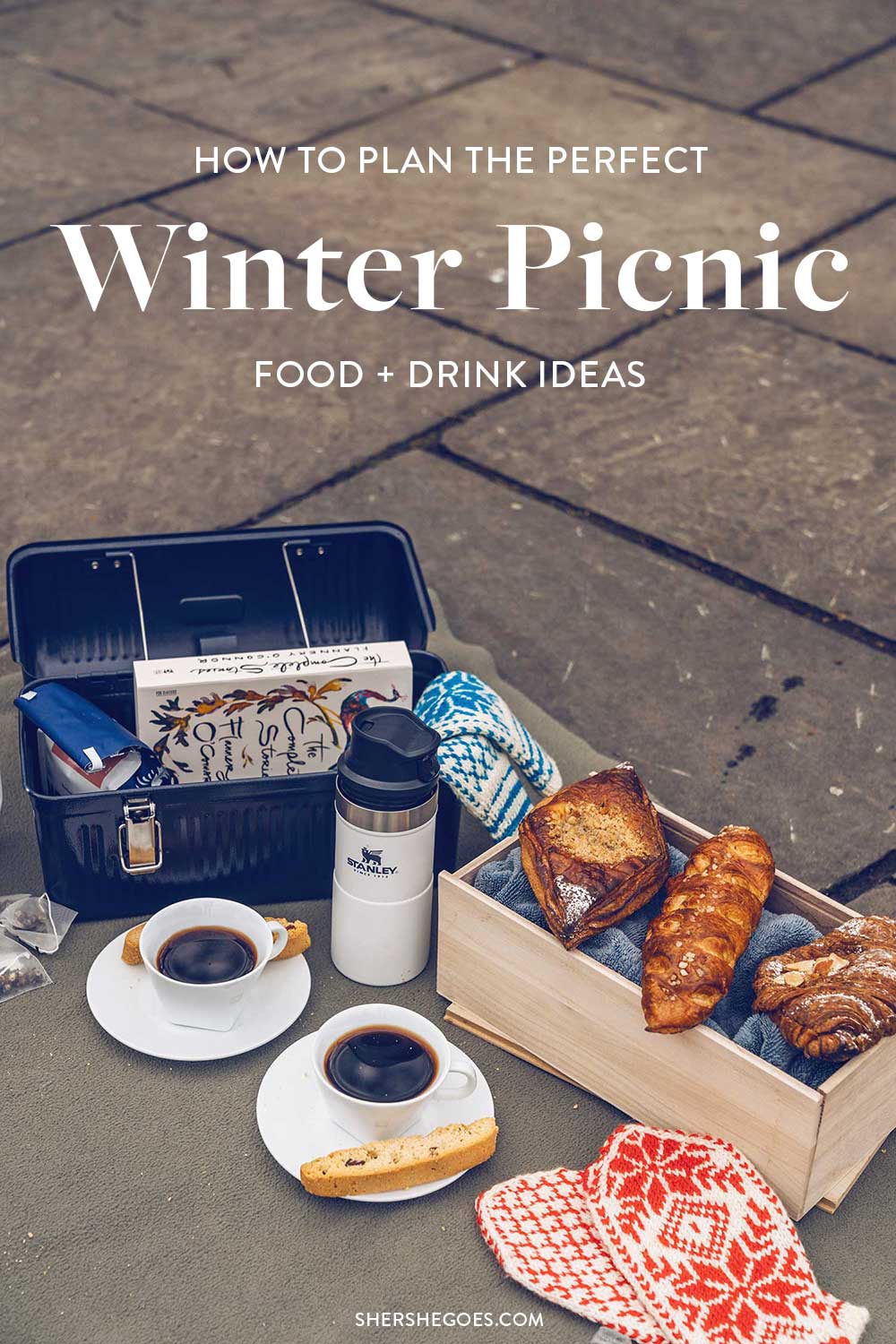 ADVERTISEMENT
---
---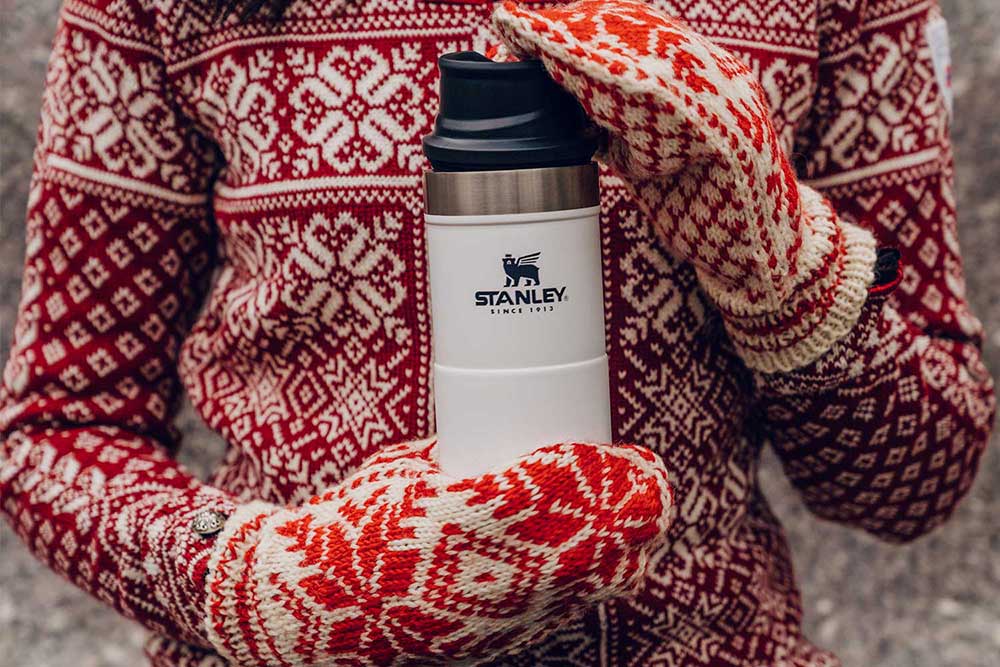 Winter Picnic Ideas
I had tons of picnics in the park in spring and summer. But really, who says a brisk fall day or cool blue winter sky can't bring people together too?
A wintertime picnic can be just as fun, with a little planning.
I recommend getting vacuum walled cups and jars to store hot drinks and foods. I love insulated mugs, because they work all year round. In the winter, they'll keep hot foods hot for longer and in the summer, they'll keep your cold drinks icy cold for longer!
If you have multiple mugs, you can fill them with all your favorite drinks – hot cocoa, some piping hot coffee or even a spiced drink!
ADVERTISEMENT
---
---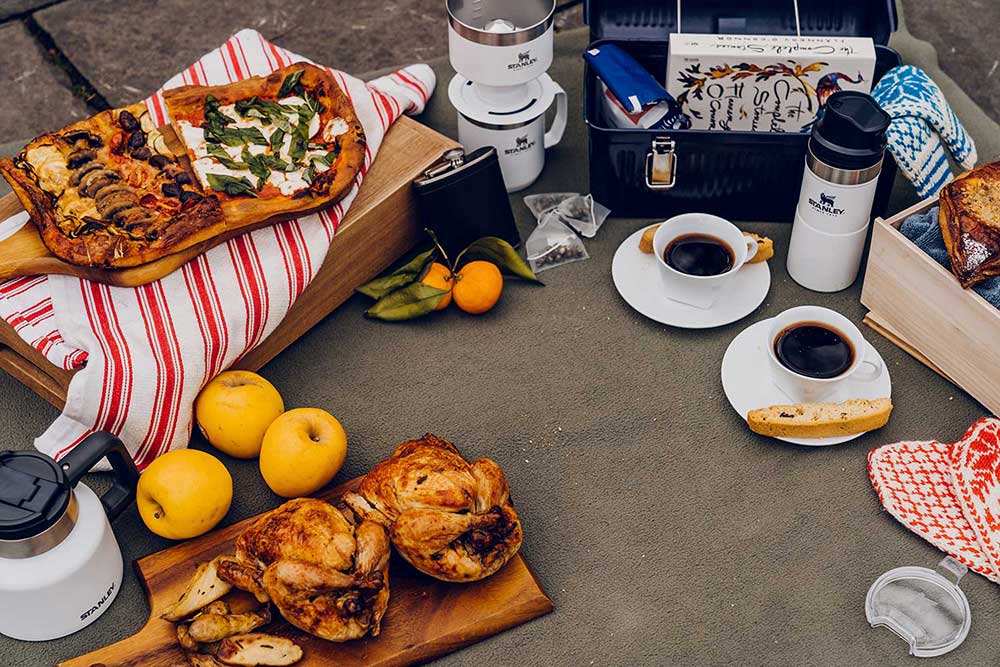 Tip:
To prep your vacuum walled cups and keep your drinks extra hot, you can fill the mug with hot water first while you're heating up your drinks. Then, pour out the water and transfer in your hot drink and you'll be amazed at how toasty warm everything stays outdoors!
You can use the same method for adding any food that you want to stay warm as well – say oatmeal, soups, chili or stews.
ADVERTISEMENT
---
---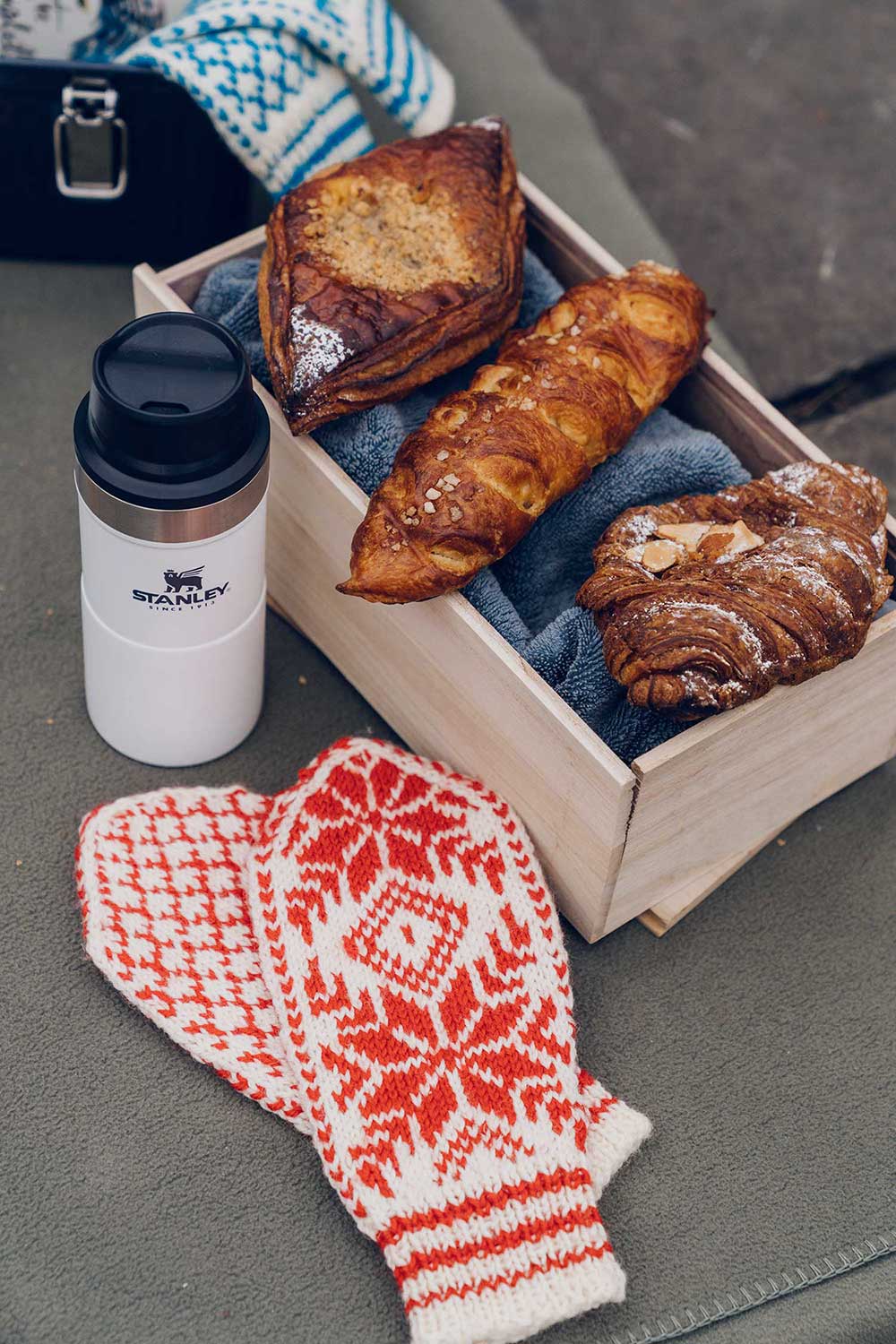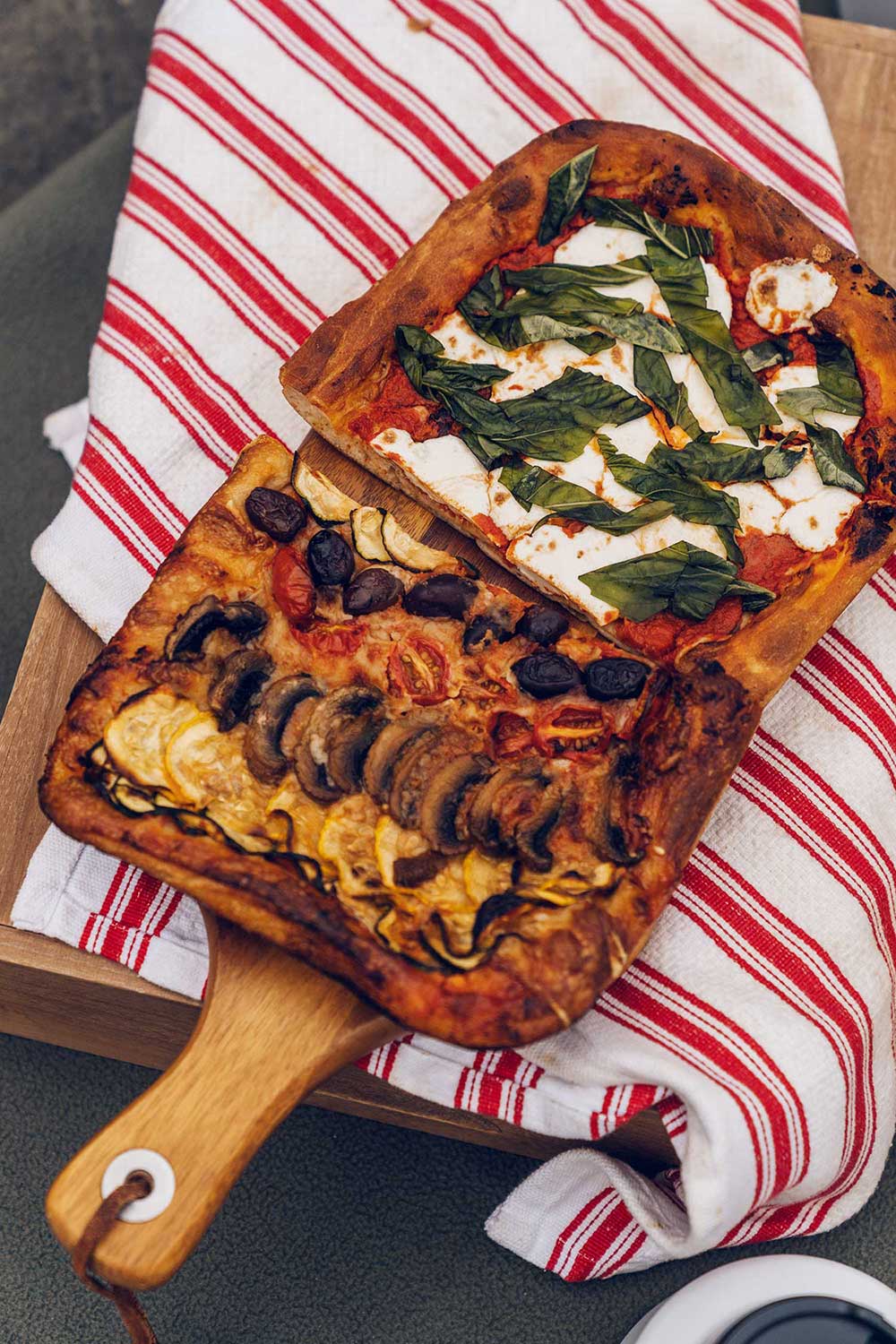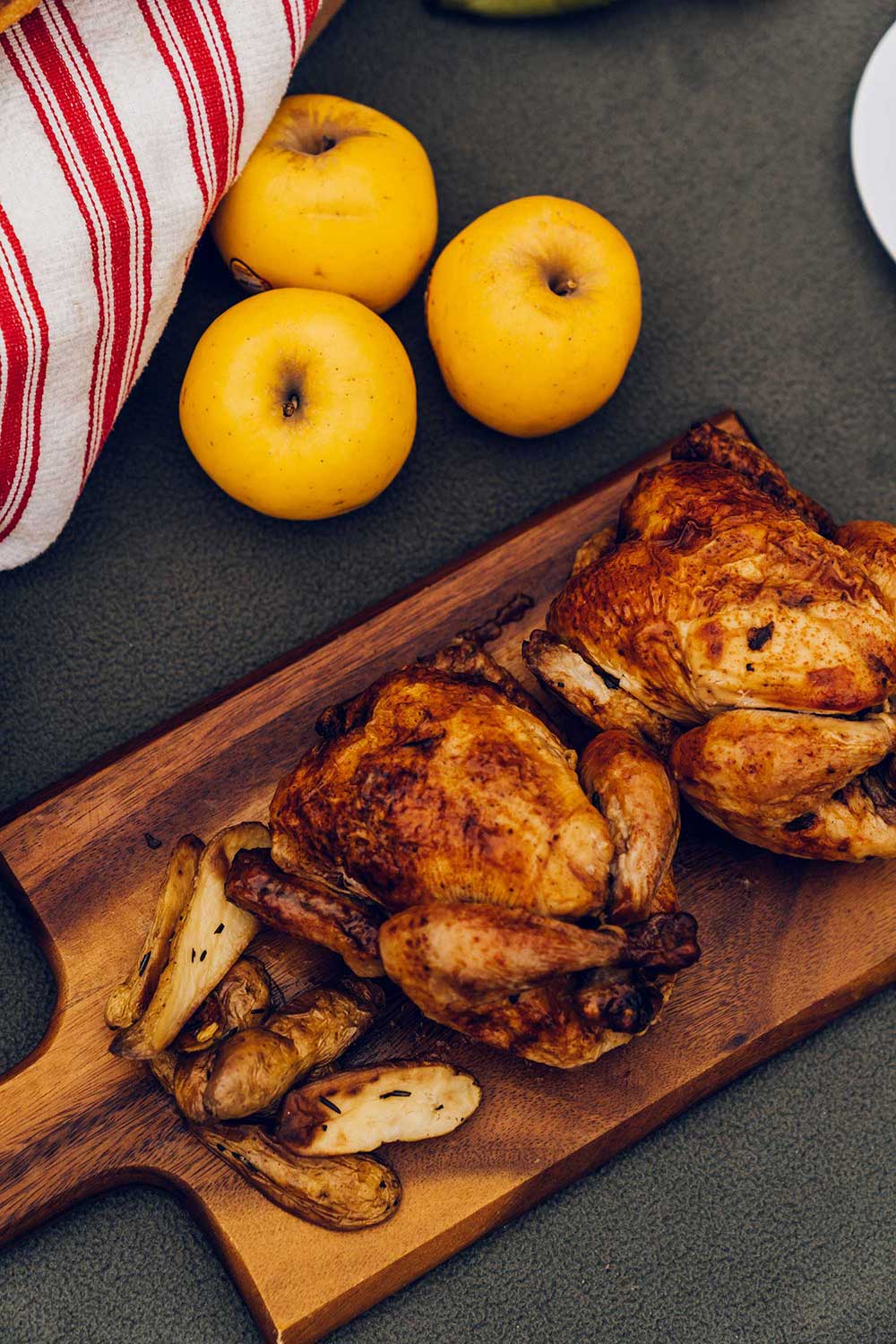 Winter Picnic Foods
Here are some suggestions for winter picnic foods to have an enjoyable (and adventurous) outdoor meal!
Soup
Hearty soups and stews transition easily from the stovetop to a double walled cup. Try chili, beef stew, lentil soup, tomato soup or a creamy vegetable soup.
Sandwiches
Any food that's typically eaten cold is great for a winter picnic. Try cold sandwiches, a bagel breakfast or cold cuts.
Appetizers
Similarly, cold apps are a great idea. Try charcuterie and cheese boards for an early evening picnic or salad and quiches.
Snacks
You could also pack a small on the go picnic to enjoy after a hike outside. Snack options like granola bars, muffins, pastries, cookies and brownies are lightweight and easily packable in a lunchbox.
Drinks
There's nothing like a hot drink to warm you up, even in cold temperatures. I love mulled wine, apple cider, hot chocolate, coffee, tea or even a warm cocktail in the winter.
Healthy Winter Picnic Foods
Dips can be made ahead of time and are a great side for a wholesome vegetable spread. Try roasted red pepper hummus, cream artichoke dip or a white bean spread along with an array of vegetables, pita chips and crisps.
Hearty Winter Salads
I also love grain bowls and salads, both of which can be prepared ahead of time and will keep well. Try roasting sweet potatoes, carrots, beets or squashes and mixing them into a quinoa bowl, or kale and spinach salad mix.
ADVERTISEMENT
---
---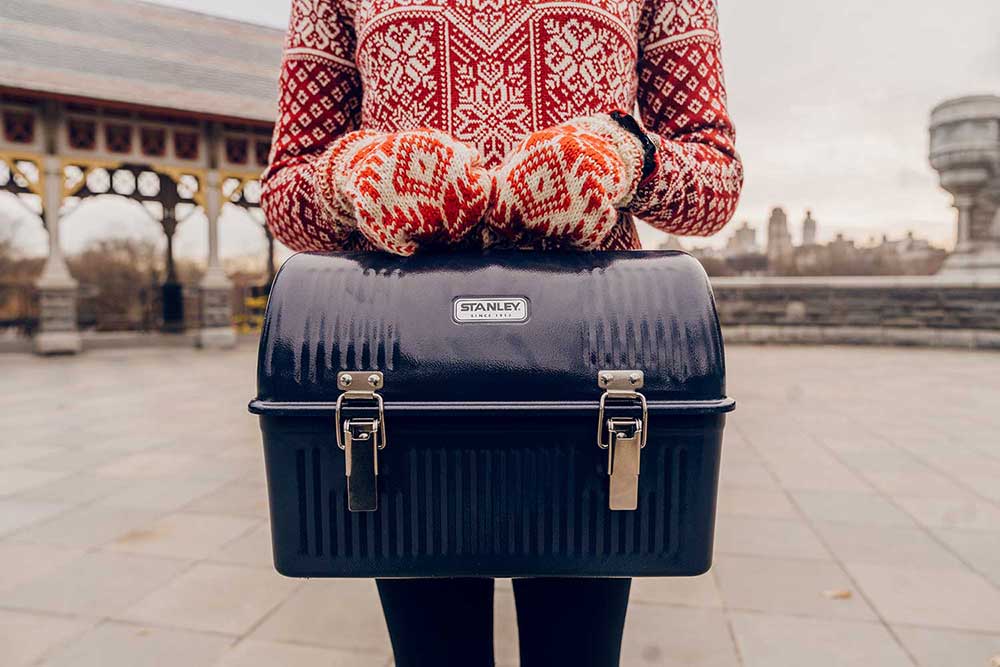 I recently picked up a few Stanley products, which really elevated my winter picnic experience.
The brand makes all shapes and sizes of cups, mugs and jars – and all of their products are double walled for extra insulation. From large-mouth food jars to travel friendly mugs… Stanley makes it all. In fact, they even have pour over coffee sets, beer growlers and outdoor cookware!
Here are a couple of Stanley favorites:
Stanley Classic Lunch Box
A picnic isn't complete without a stylish picnic basket.
This vintage lunch box from Stanley checks all the boxes – a timeless look, durable finish and multi-functional storage. The interior can hold a sandwich, snack and even a book and the lid doubles as a secure shelf for your drink!
The metal bracket inside the lunchbox lid can securely hold a full size Stanley vacuum bottle or mug (or any tumbler).
Stanley Admiral's Mug
I'm obsessed with this extra large admiral's mug.
It has a stylish retro shape and stays put no matter where you set it down – car dashboard, wobbly sled, or moving boat. And if you're like me and want to leisurely sip your coffee all day long, the 20 oz capacity is the perfect size.
Stanley Travel Mug
Of course, for an outdoor picnic, the more jars and mugs, the better.
Stanley's 12 oz travel mug is great for anyone on the go. It has an easy trigger action opening so you don't need to fiddle with lids or caps to sip your drink.
And, thanks to a durable vacuum insulated body, it can keep hot drinks hot for 5 hours, cold drinks cold for 8 hours and iced drinks icy for 20 hours!
Stanley Classic Pour Over Set
Finally, the most unique drinkware of them all.
This stylish pour over set makes it easy to have a cup of coffee no matter where you are in the world. The set includes a reusable filter, pour over and camp mug that nest together perfectly.
Just bring your own medium ground coffee and hot water, and you'll have the perfect cup of piping hot coffee in minutes!

ADVERTISEMENT
---
---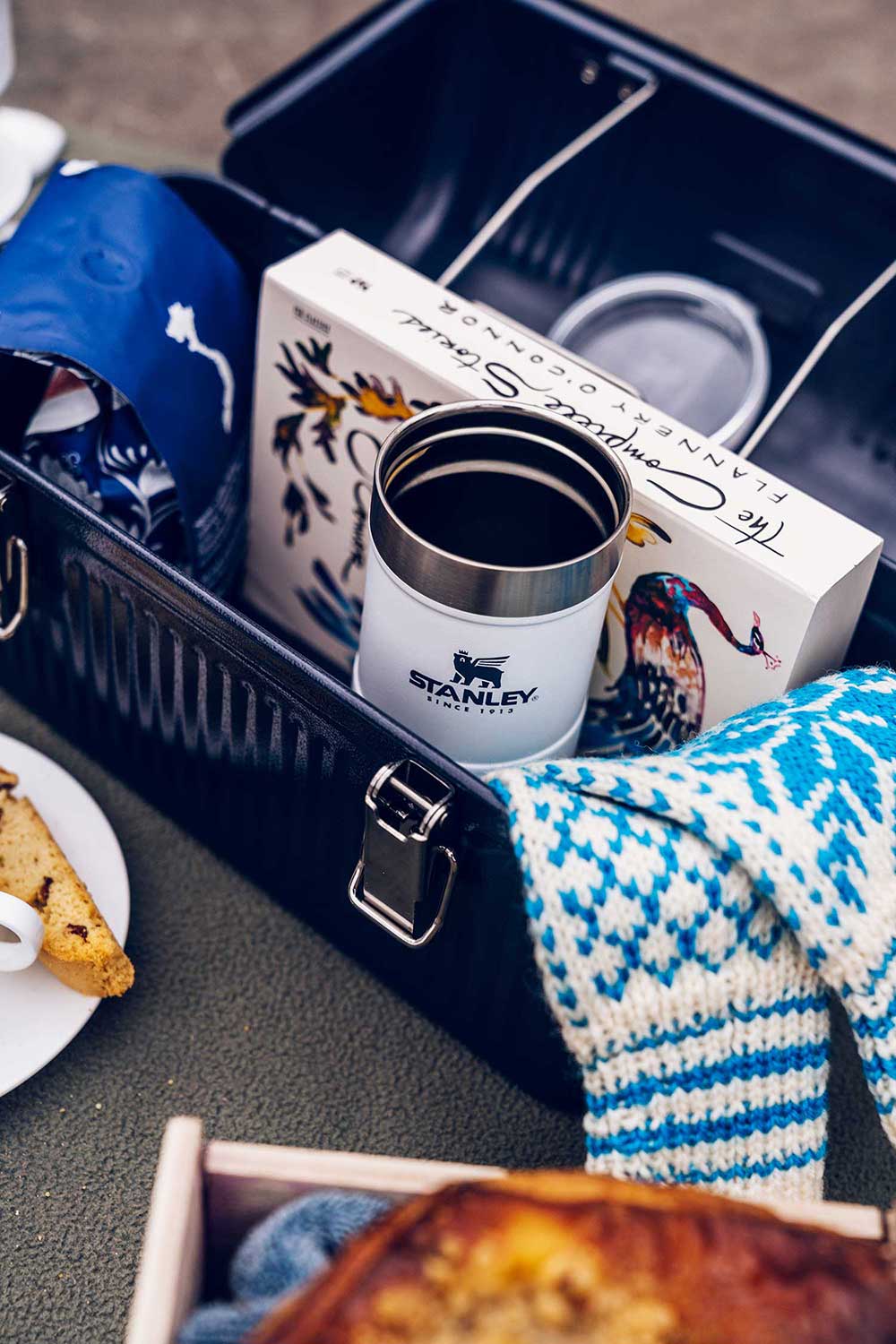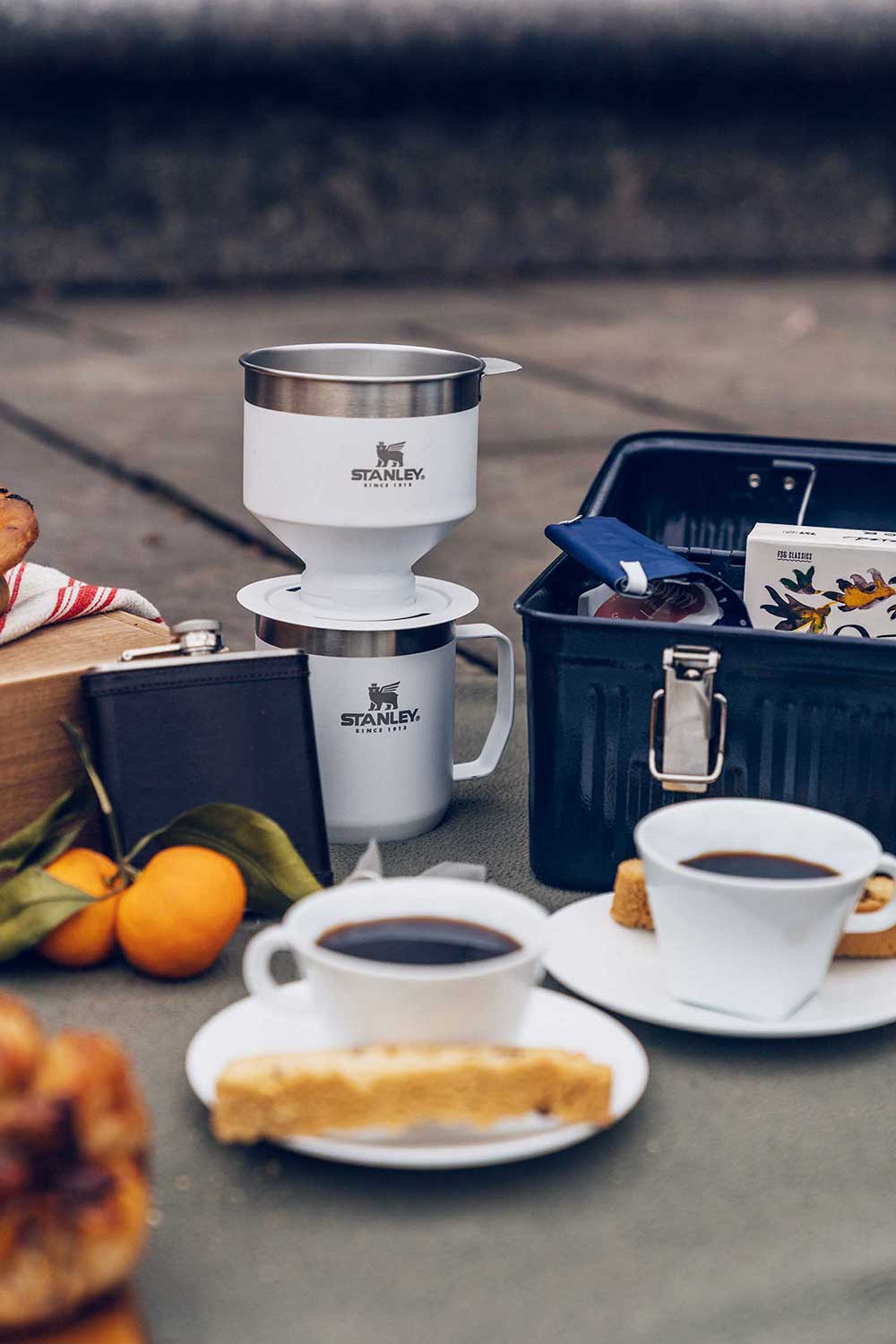 Picnic Must Haves
Whether you have a nice roomy backyard, or are planning to head out to a park or campground, you'll want a couple extra amenities to stay comfortable in cooler temperatures.
Thick Blanket
A comfy cushy picnic blanket is a must!
Dish Towel or Napkins
Don't forget to bring something to clean up any spills or messes. We discovered reusable napkins a couple months ago and have loved them. They're the size of napkins, but when they get wet, they have the absorbency and thickness of a dish rag.
And best of all, you can throw them in the wash to clean and reuse!
Garbage Bags
For trash or anything to dispose of.
Sanitizing Wipes
Just in case, it's great to re-sanitize before you eat.
Tissues
Picnic-ing in the cold weather might make noses run, so packing some tissues can't hurt.
Sunscreen
Even though it's winter, don't forget SPF! The sun shines year round and can actually reflect off white snow.
Lantern
Optional, but if it gets dark early where you are (like it does in New York City), add some lanterns for both ambience and light!
Or even a solar collapsible lantern if it's your own backyard!
Rechargeable Hand Warmers
If you get really cold, these will warm you up in a pinch.
Foam Stadium Cushion
Don't want to sit directly on the ground? Bring out some portable cushions.
Lightweight Portable Fire Pit
If it's your own backyard, a fire pit can create a nice ambience.
ADVERTISEMENT
---
---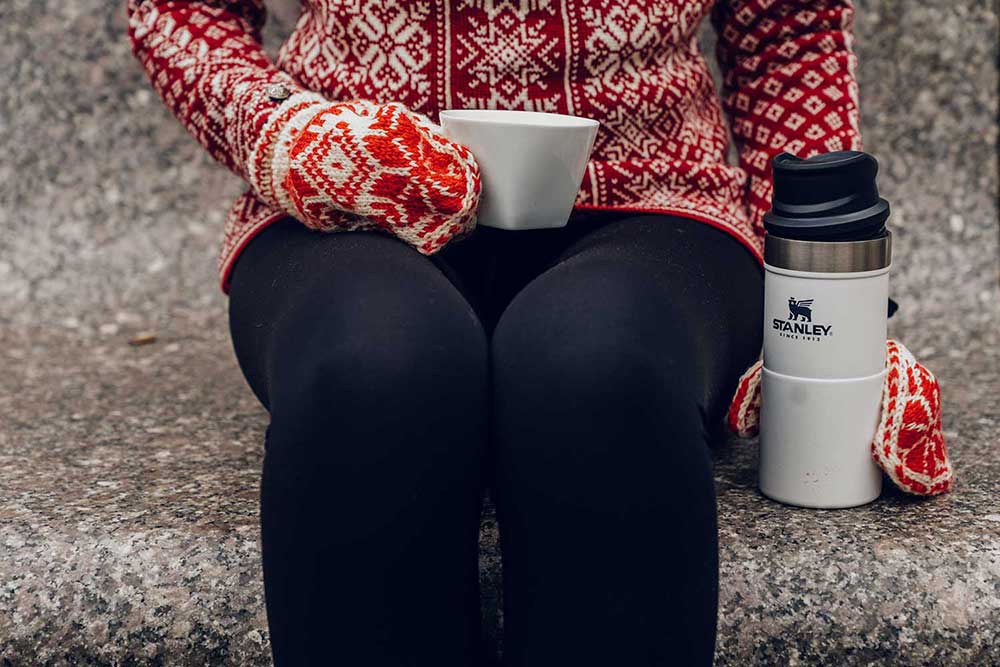 Stay Warm
And of course, you'll want to dress warmly!
Base Layer
Base layers are so simple, but they really keep you SO warm. Definitely make sure to layer appropriately for an outdoor picnic in the cold!
Thick Wool Sweater
Obviously wear whatever is most comfortable, but it might be fun to get out of the sweatshirts and sweatpants and into some normal clothes!
I've been obsessed with thick wool sweaters for a while now, and didn't have any festive Christmas or holiday plans to wear this Nordic sweater… so picnic it was!
Mittens
Something I learned when I visited Antarctica… is that mittens are warmer than gloves!
Mittens create room for warm air pockets to circulate between your fingers. I guess it makes sense why little kids always wear mittens!
Anyway, I picked up these adorable hand knit mittens on my trip to Norway and highly recommend throwing a pair of mittens or gloves in the picnic basket. When you're done eating, you can still enjoy a hot mug without freezing your fingers.
Scarves
A cozy scarf to keep warm.. and maybe to color coordinate for a photo?
Cozy Shoes
Whether you plop on heavy duty snow boots or shearling lined shoes, just make sure to wear winter appropriate shoes.
ADVERTISEMENT
---
---
Shop Stanley
---

Follow me @Sher She Goes on