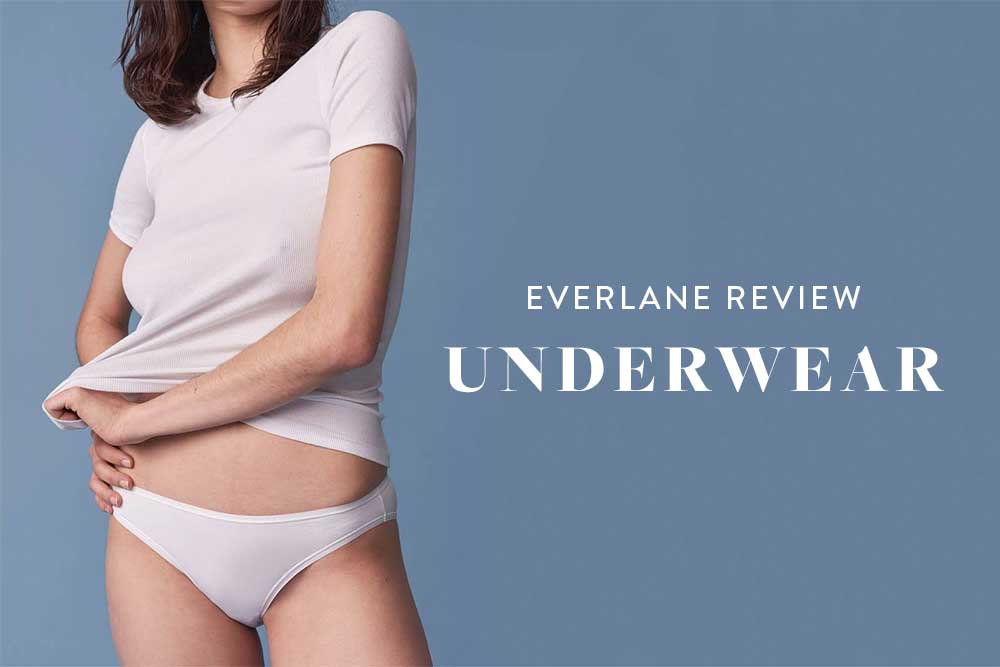 Everlane Underwear
When it comes to underwear, I have a feeling women fall into one of two camps:
Either they love shopping for lingerie and have a complete dresser full of every type of bra imaginable… or they put off bra and undie shopping until the existing stuff falls apart.
I think of underwear as a similar category to jeans I suppose. Either you have a full on wardrobe of denim because it's your closet staple, or you stick to your trusty 2-5 pairs that you found after years of searching.
ADVERTISEMENT
I'm definitely in the "can't be bothered" group when it comes to lingerie, underwear, or whatever you want to call it. Just please not 'panties' because whenever I hear that word I cringe.
I don't need much in the way of "support" and most American brands don't make bras in my size. And I find universally all bras to be uncomfortable and annoying to wear.
Actually that's one great thing about quarantine. Working from home and only seeing people on rare occasions means very infrequent bra wearing days ha!
Staying indoors for such a long period made me realize I didn't really own any bralettes. So after seeing a couple people rave about Everlane underwear, I decided to try them out.
Keep reading, or pin this post to read later ⇟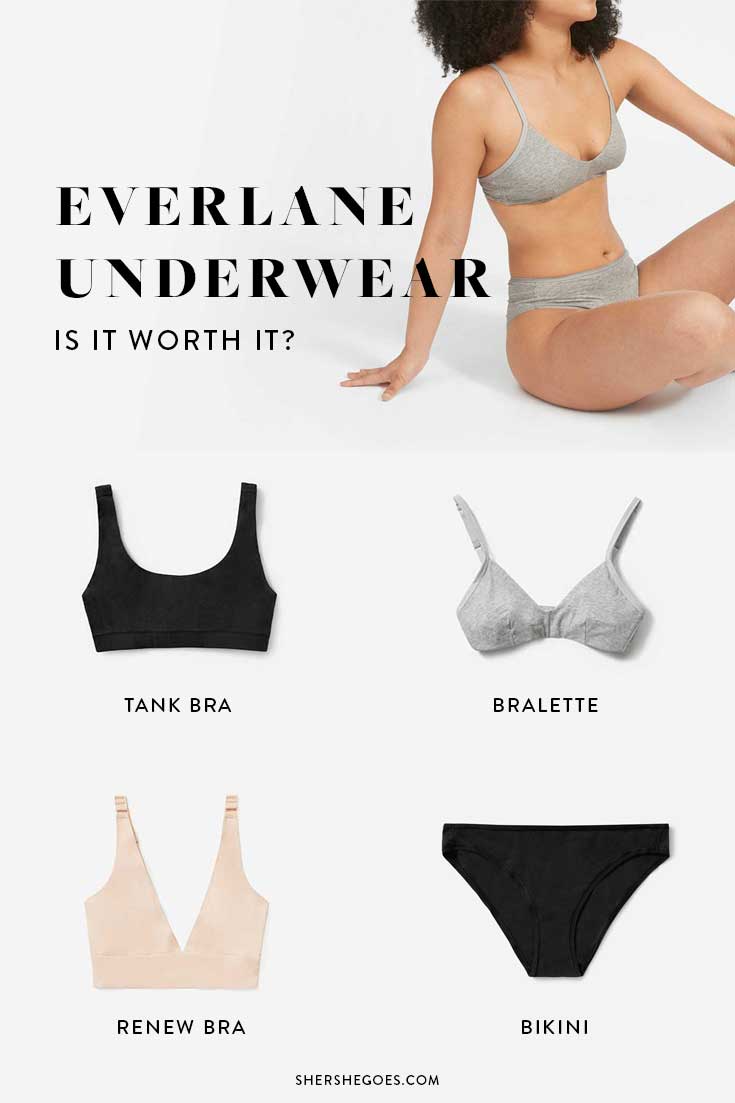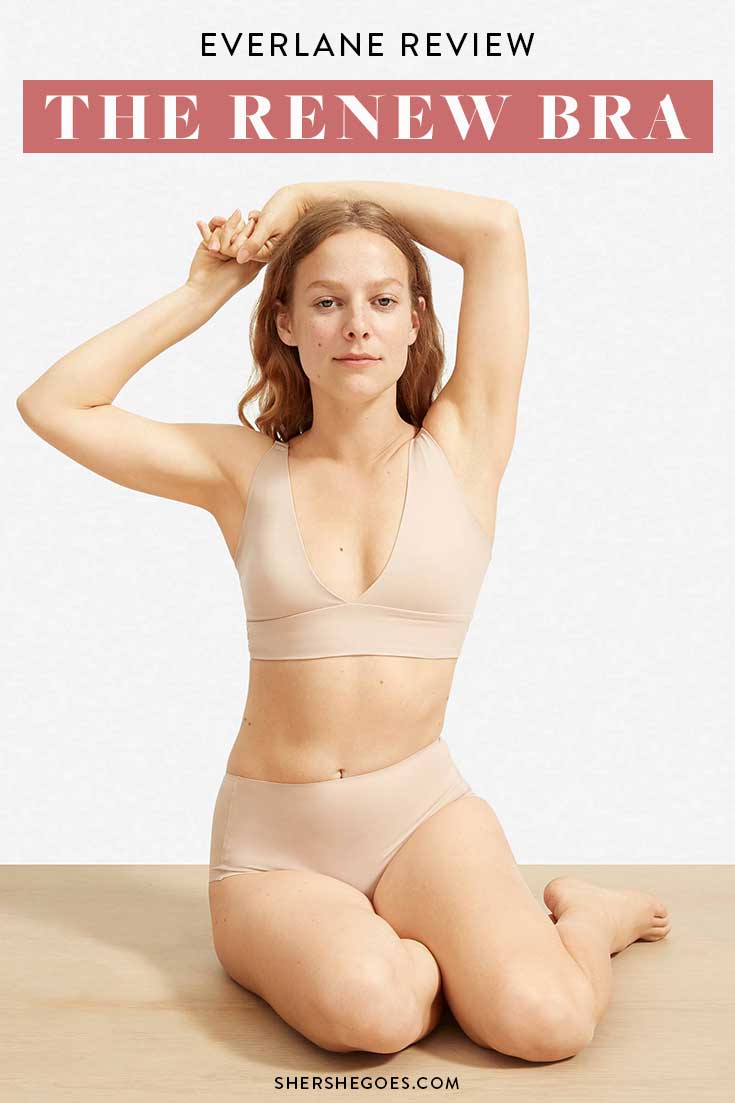 ADVERTISEMENT
---
---
Everlane Intimates
Here's what's available in Everlane's underwear collection:
2 bralettes
1 bra
7 bottoms
The company also includes bodysuits and their Pima cotton tops in their Intimates section (and I like a couple of their one pieces) but I'll save my review on those for a separate post since I don't consider them underwear.
ADVERTISEMENT
---
---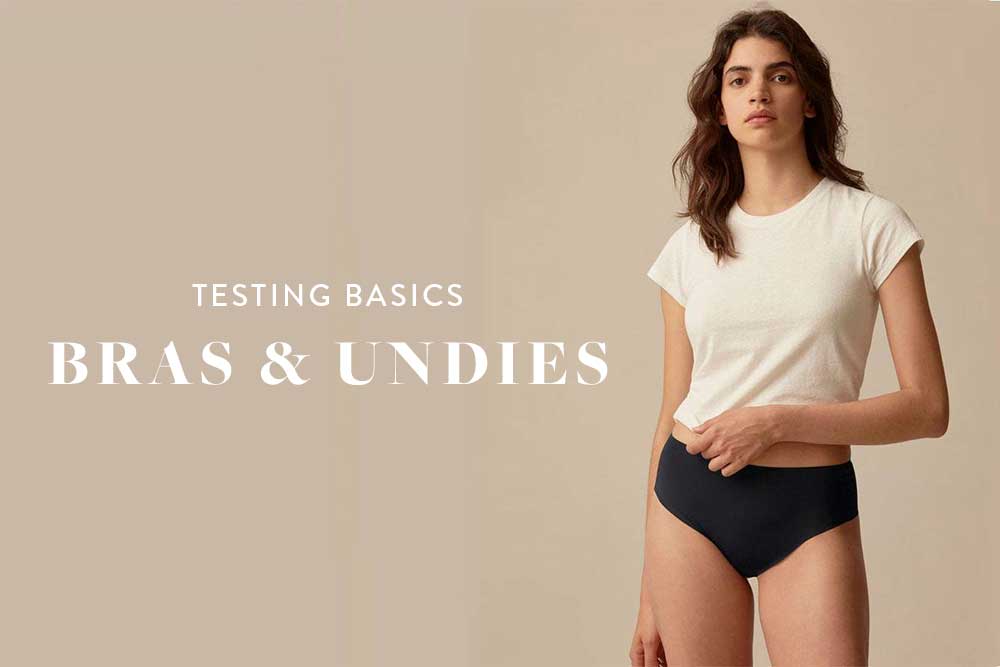 Everlane Underwear Review
Overall it seems to be a pretty minimalist underwear offering, with sizing offered between XXS to XL.
Prices range from $22-25 for the bras/bralettes and from $12-15 for the bottoms. But you can also mix and match 3 bottoms for $27, making them $9 each.
The pricing seems in line with other widely available brands like Aerie or Victoria Secret, but the quality seems to be nicer.
Almost all of Everlane's underwear is made from Supima cotton, a lightweight, breathable and super soft fabric that will maintain its shape and hold up well over time.
Read more:
Everlane Review: The Good, The Bad, the Just OK
ADVERTISEMENT
---
---
Everlane Bra & Bralette Review
I ordered one each of the 3 bras and bralettes to try out.
I figured if I liked the bras I could always go back and order the matching underwear, but for me, the true test of a company's undergarments is if the bras fit because they're so much harder to get right.
Here's my thoughts on each:
The Next to Nothing Bra
Everlane Next to Nothing Bra Review
The ReNew Bra is a seamless bralette made from recycled plastic bottles.
The recycled nylon fabric feels similar to other seamless underwear in that it has a performance fabric like texture. This one definitely is as soft and smooth as the website claims – the bra completely lies flat against the skin.
I was looking for a flesh colored bralette to wear under white tops or thin t shirts and it fits the bill. Just note – it's a bralette without structure so it won't necessarily make your chest look it's best.
I do wish there was some kind of cup or extra fabric layer because I feel like you can potentially nip through this. But for wearing at home or in the fall/winter, I like this Everlane bralette.
The 'next to nothing' name is exactly what it is: thin, silky soft fabric that's comfortable enough to wear even in humidity. It's tight without being restricting, and it gives support while feeling like you're wearing nothing.
If you have a smaller chest, this is a great everyday bralette!
Available on Everlane (3 colors)
ADVERTISEMENT
---
---
The Tank Bra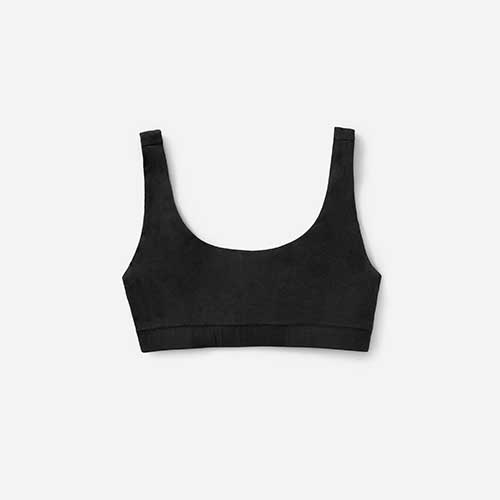 Everlane Tank Bra Review
This is a soft, double layered comfy bra made from supima cotton.
Everlane claims the elastic band provides the 'perfect fit' with supportive coverage that doesn't slip and slide, but also won't pinch or restrict.
When I first tried on all 3 bras, this was my favorite. It is incredibly comfortable to wear and perfect if you are small chested. The only caveat is it's unlined.
I really like the simple design of the Tank Bra.
It doubles as a sports bra for light workouts like pilates or yoga, which is typically what I'm doing at home these days.
But the scoop neck back and front tank style make it look like a crop top from far away (or zoom screen), so it's easy to layer underneath a button down shirt or cardigan sweater.
So I think of this as the perfect WFH bralette!
Available on Everlane (3 colors)
ADVERTISEMENT
---
---
The Bralette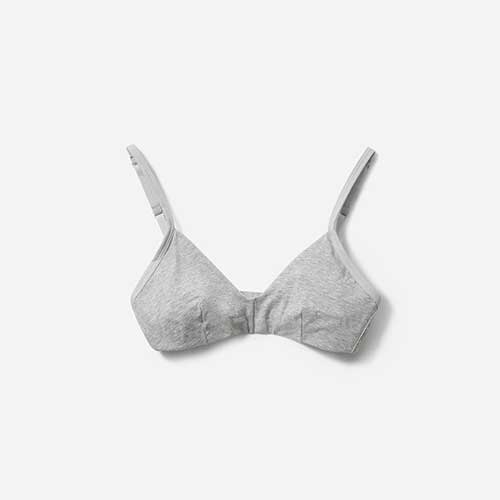 Everlane Bralette Review
Everlane describes this as their everyday bra.
It has no underwire so the double layer Supima cotton sits comfortably without pinching or chafing. I did think it was super soft and I liked that both the band and straps were adjustable.
Unfortunately this one didn't work for me.
I think it would work better on average to larger chests – on me, the darting in the cups created these weird triangle cone shapes.
Available on Everlane (3 colors)
ADVERTISEMENT
---
---
So, Is Everlane Underwear Good?
Overall, I'd say Everlane underwear is great quality, but a little utilitarian in design. It certainly doesn't scream sexy but as they do with everything, Everlane makes great quality basics.
I look at it as a more ethically made and better quality alternative to Calvin Klein.
The fabric is great quality, the seams are nicely sewn in and overall it's very comfortable to wear either at home or out and about. Supima cotton is considered premium cotton, but with Everlane it's sold at a very reasonable price point.
From reading the website reviews, it seems like the people who like Everlane's underwear the most have small to mid sized chests, which makes sense since these are underwire free bras and bralettes that don't offer significant support.
The color range though, in my opinion, is a little bare bones. Most of the line is offered in just black, grey or pink. I wish there were more nude shades!
And I would love to see the brand come out with sports bras, since Everlane seems to be branching out into the leggings and active wear category.
Read more:
Does the Everlane Legging Perform?
ADVERTISEMENT
---
---
Have you tried Everlane's bras, bralettes or underwear? What did you think?
Read More: Everlane reviews:
Everlane Reviews
Everlane Brand Review: Hits, Misses & Favorite Pieces
Everlane Flats - These 5 Pairs are Extra Comfortable
Everlane Denim: Thoughts on 3 of the Brand's Best Selling Jeans
Everlane Cashmere: Is It Worth It? (with Outfit Photos)
How do the Everlane Leggings Perform?
Everlane Underwear Review: Bra & Bralettes
Everlane Bodysuits: Reviewing a Wardrobe Staple
Everlane Outfits
10 Work from Home Outfits, featuring Everlane
Everlane Choose What You Pay Sale - Spring Try On Haul
Everlane Try On Haul Videos
Everlane Summer Basics Try On
Follow me @Sher She Goes on