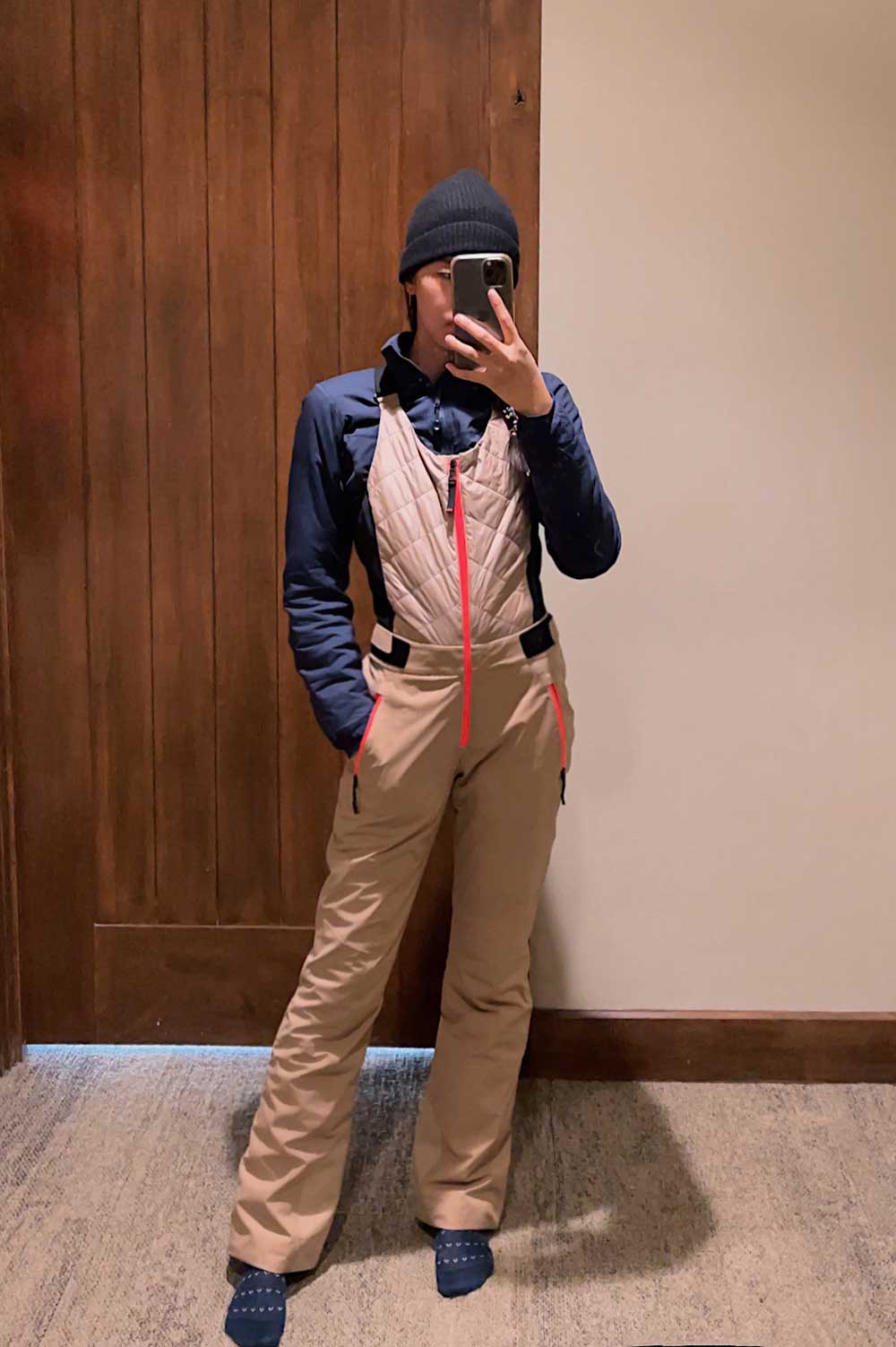 Bogner Ski Wear
I've been on the hunt for flattering, functional snow pants and bibs.
Surprisingly, they're hard to find! And… they're not cheap.
So I set out to try ski and snowboard clothes from all sorts of brands. I'm doing quick reviews and first impressions of every ski pant and bib that I try. All the reviews are here if you want to search by brand.
After trying out tons of options from affordable brands, I started to get really curious about designer ski wear. Would they look that much better?
Were luxury ski pants functional, or more to be 'seen'?
Today's review is of Bogner's Ivie women's ski bib.
Keep reading, or pin this article to save it for later ⇟
ADVERTISEMENT
---
---
Bogner Fire and Ice
Bogner is a European luxury ski wear brand.
Founded in Munich in 1932, Willy Bogner Sr created a company to import skis, ski equipment and Norwegian knit wear into Germany. The company became the official outfitter of the German Olympic team in 1936.
It wasn't until his son Willy Bogner Jr and his wife Maria took over the company though that Bogner began to expand globally.
Maria designed several styles for the brand, including a stretchy stirrup pant. At the time, there wasn't much flattering ski clothing for women so movie stars like Marilyn Monroe and Elizabeth Taylor began rocking the stirrup pant on the slopes.
Willy Bogner Jr meanwhile, was a successful Olympic ski racer whose true passion lay in film making and photography. He retired from skiing to focus on the cinema, and was involved in several action films.
Most famously, Bogner Jr. coordinated ski action scenes for the 1969 Bond movie 'On Her Majesty's Secret Service' and four other Bond films. Then in 1986 he produced 'Fire and Ice', which became one of the most successful sports movies of all time.
Today, Bogner has a main luxury clothing line as well as Fire + Ice, a sportswear line.
The namesake line focuses on sweaters, shoes and luxury clothing while Fire + Ice was created to make performance and active wear.
I picked up a couple ski pants and bibs from the Fire + Ice collection and was really curious to see how they'd fit.
ADVERTISEMENT
---
---
Bogner Fire and Ice Ivie Ski Bib
I always prefer a one piece ski suit to ski pants.
There's just something that feels comforting about being tucked in to a one piece. And personally, I don't feel like they're that much more difficult to go to the bathroom in… (which always seems to be people's #1 question ha!)
I first spotted Bogner's ski bibs at a ski shop on Stowe mountain.
I was immediately drawn to the Ivie ski bib, because it wasn't in black or white and had a cute color blocking design. I love all black, don't get me wrong, but sometimes it's nice to find a colorful option for the mountain.
As for white, my biggest fear is blending in with the snow and getting hit by another skier!
Plus it seems like everyone wears black on the mountain so it's a little easier to spot your friends and avoid being run into if you wear some color.
Here's what I thought of the Ivie ski bib.
ADVERTISEMENT
---
---
Bogner Ive Ski Bib Review
Fit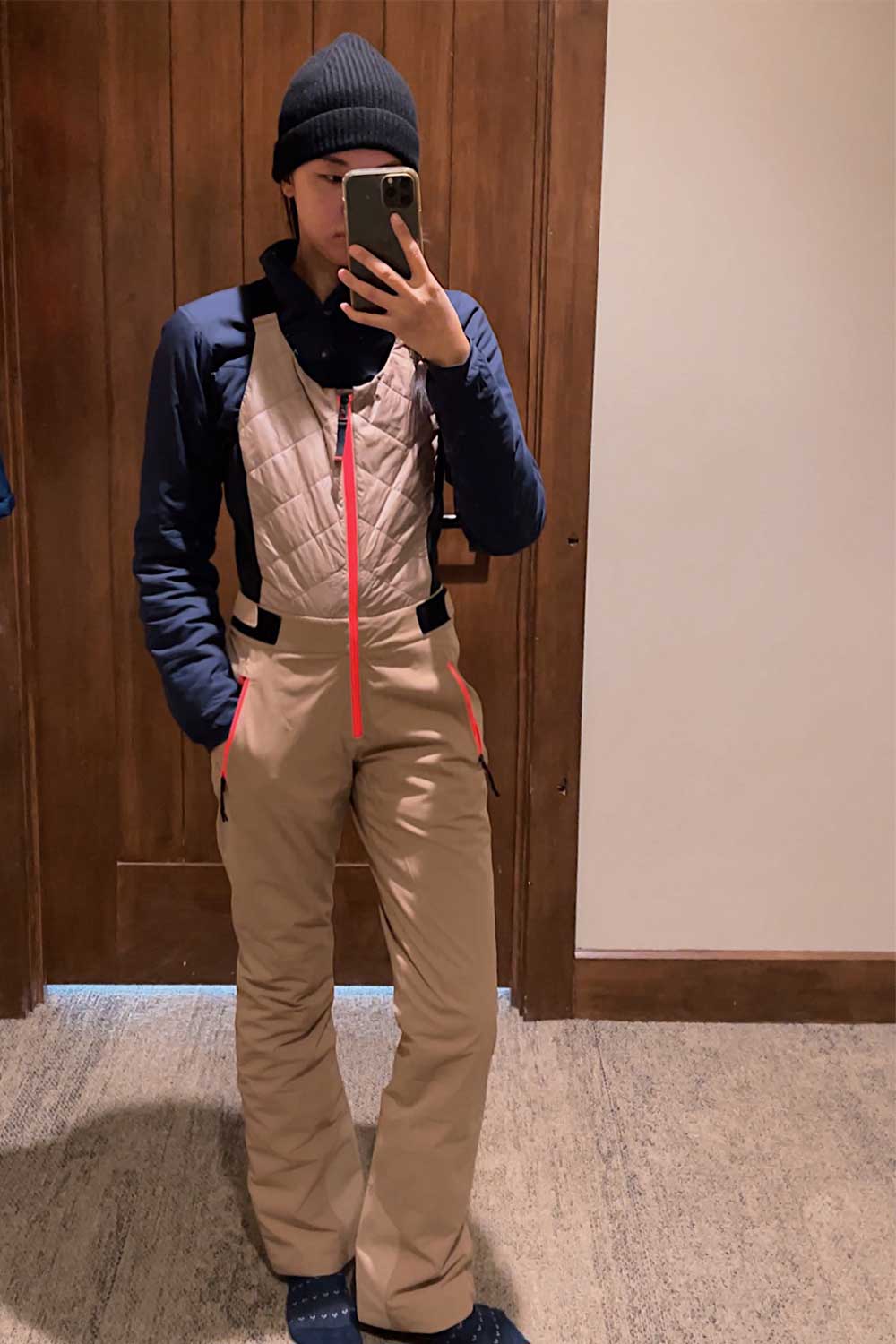 Bogner's Ivie ski overalls are brand new for the 2022 season.
They have a really slim fit silhouette and are made from a cool technical material. This bib immediately felt so comfortable on – breathable, lightweight, but warm and waterproof.
The Ivie has fully-adjustable shoulder straps.
Since I have a short torso, I almost always shorten ski bibs to their shortest setting and I was comfortably surprised that the Ivie ski bib still fit nicely.
There are also adjustable tabs at the waist to further tighten the fit.
ADVERTISEMENT
---
---
Straps
Bogner Fire + Ice's ski bib has a zip fly and double snap closure, with belt loops at the waistband.
I've never actually seen someone belt ski pants, but it's always handy to have belt loops!
The bib is insulated, with an extra 60g of Freudenberg insulation for additional warmth. I always wear a set of base layers under my ski outerwear and felt very comfortable and mobile in this.
In particular, I like how Bogner's ski bib has fabric that comes high on the chest. I feel a little more secure in high ski jumpsuits and I find that it also helps block out the wind, compared to the 'pants with suspenders' type of bibs.
The bib is made of 4 way stretch and has a 20,000 mm waterproof rating. It's efficient, sleek and well made to perform in all types of ski conditions!
waterproof rating: 20,000 mm
breathability rating: 20,000 g/m²/24h
ADVERTISEMENT
---
---
Pockets
The Ivie ski bib has lots of pockets.
There are two deep front pockets on the waist that zipper shut to securely hold whatever you need to carry. On the back, you have another two pockets over the butt.
The bib comes in 2 colors, a beige pink color block option, or all black. For reference, I'm wearing a size 4 (French size 34).
ADVERTISEMENT
---
---
Legs
The Ivie is a really comfortable, relaxed (but not sloppy) ski suit.
I was able to wear not only my merino wool thermal underwear, but also my mid layer down jacket under the bib. Sometimes ski bibs can be designed for a super tight fit, so I like that the Bogner option is roomy!
The legs are just tapered enough with a subtle flare on the bottom. They also have hidden zippers on the back of the legs to fit over your boots.
Like all ski jumpsuits, these have snow guards to keep out wetness and reinforced cuffs for durability against your skis or snowboard.
ADVERTISEMENT
---
---
Overall, I could see why Bogner's ski wear is priced at a premium. The Ivie ski bib fit great, had an eye catching design and felt so lightweight and comfortable to wear!
If you have the budget for designer ski bibs, I'd check these out.
Shop Bogner Fire & Ice on Zappos, Bogner, Net A Porter, Shopbop, Farfetch, Backcountry & Amazon
Shop Women's Ski Pants
---

ADVERTISEMENT
---
---
Ski Wear Haul
SKI CLOTHING TRY-ON HAUL: do cute ski pants exist ?? | women's ski pants + bibs review
ADVERTISEMENT
---
---
ARE DESIGNER SKI PANTS WORTH $$$? | luxury ski pant try-on (bogner, cordova, holden, helly hansen)
I posted a couple try-on hauls of all the ski wear brands that I've tried. You can check them out on my Youtube channel here.
I also did a livestream on Amazon Live chatting all about dressing for the cold.
I talk about winter fashion essentials, ski gear and cute (but affordable) ski clothes that you can shop on Amazon!
Watch a recap of the video here. Make sure to follow my Amazon shop page to join future livestreams!
ADVERTISEMENT
---
---
Ski Wear Haul
I posted a couple try-on hauls of all the ski wear brands that I've tried. You can check them out on my Youtube channel here.
ADVERTISEMENT
---
---
ADVERTISEMENT
---
---
ADVERTISEMENT
---
---
Read More: in our ski style series:
Ski Trip Packing Essentials
What to Wear Skiing: Packing List Must Have's
The Best Ski Pants for Women (Stylish & Functional)
I Found the CUTEST Women's Ski Pants (Video)
Are Designer Ski Pants Worth It? (Try-On Haul)
The Best Ski Sweaters for Apres-Ski 
Planning the Perfect Ski Trip
What to Know Before Skiing in Vermont for the First Time
Ski Trip Recaps + Mountain Guides
Lake Tahoe, California: Heavenly, Kirkwood & Northstar
Montana: Big Sky
Vermont: Stowe
Catskills, New York: Belleayre Mountain
Quebec, Canada: Mont Tremblant
+ More Ski Vlogs on Youtube
Follow me @Sher She Goes on