Thank you to Stitch Fix for sponsoring this post and providing a complimentary Stitch Fix for me to review.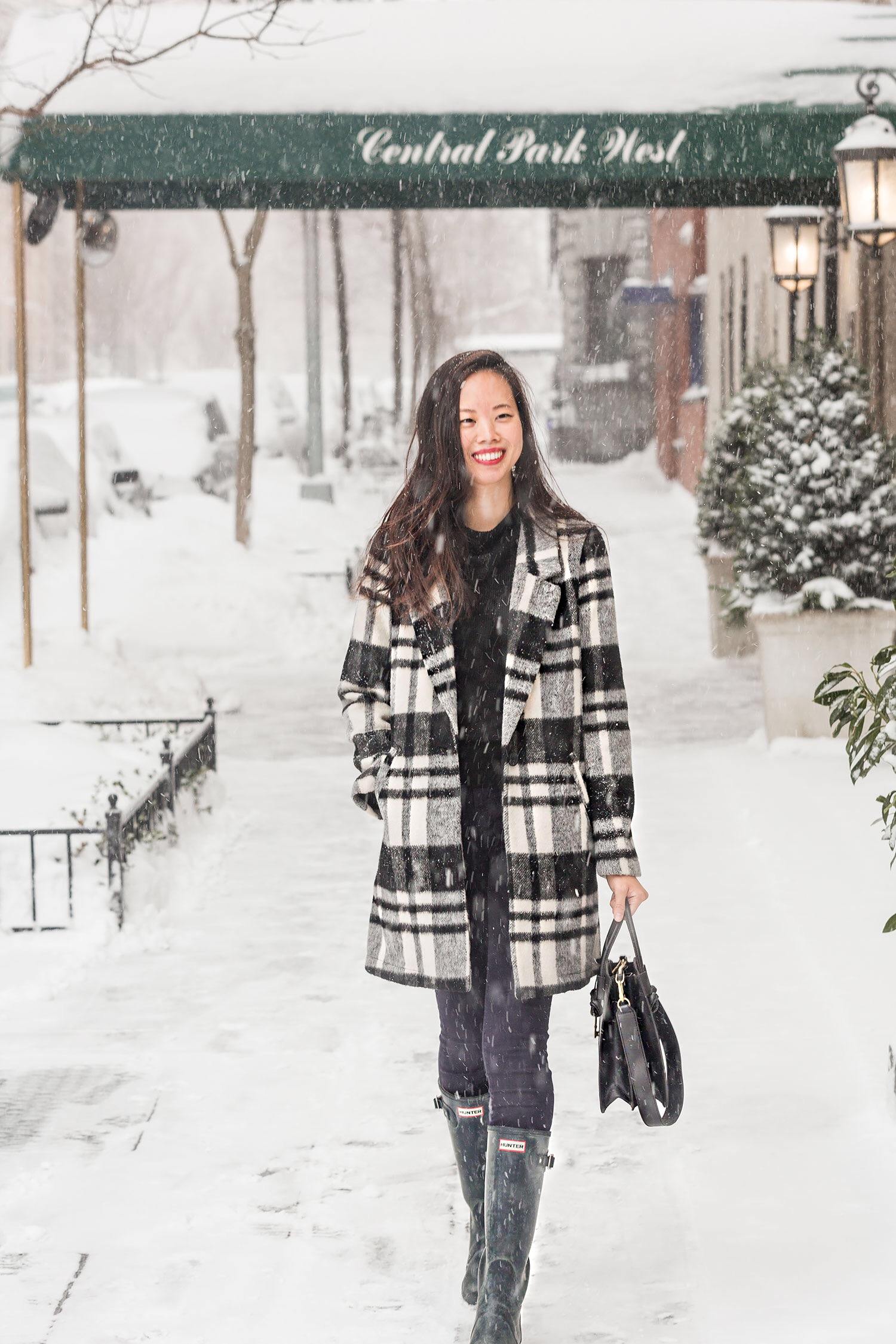 ---
Wearing:
Hoop Earrings (love these and these too)
Black Handbag – perfect for work and comes in 7 colors
Black Sweater – love the dolman neckline
---
Bomb Cyclone's Call for Bomb Outfits
Late last week, a major snowstorm hit New York City! Every storm gets a name and this one was apparently called the Bomb Cyclone. Despite the crazy amount of snow pouring down, I couldn't wait to wear this plaid coat from Scotch & Soda so we went outside anyway!
The coat was part of a 5 piece clothing package I got from my first Stitch Fix order. I'd heard about Stitch Fix from friends – essentially a stylist curates 5 items (a mix of clothing, shoes and accessories) for you on a monthly basis – and was curious as to how I'd like the service.
Here's what else was in my Stitch Fix order and what I thought of Stitch Fix!
ADVERTISEMENT
Stitch Fix Review
How Does Stitch Fix Work
Stitch Fix is an online stylist service. You fill out a quick questionnaire about your personal style, the types of brands you love as well as your sizing and preferred price point.
The company has a team of incredible stylists who hand pick 5 items (a mix of clothing, shoes and accessories) that they think you'll love. After you choose a shipment date, your stylist will start selecting your items and ship you your first box.
I'm very much an online shopper nowadays so it was really nice to be able to hand off the sorting to someone else and then try everything on in the comfort of my own home. The best part, is that the shipment comes with a prepaid label and envelope to make it easy if there's anything you wish to return. I love convenience!
ADVERTISEMENT
---
---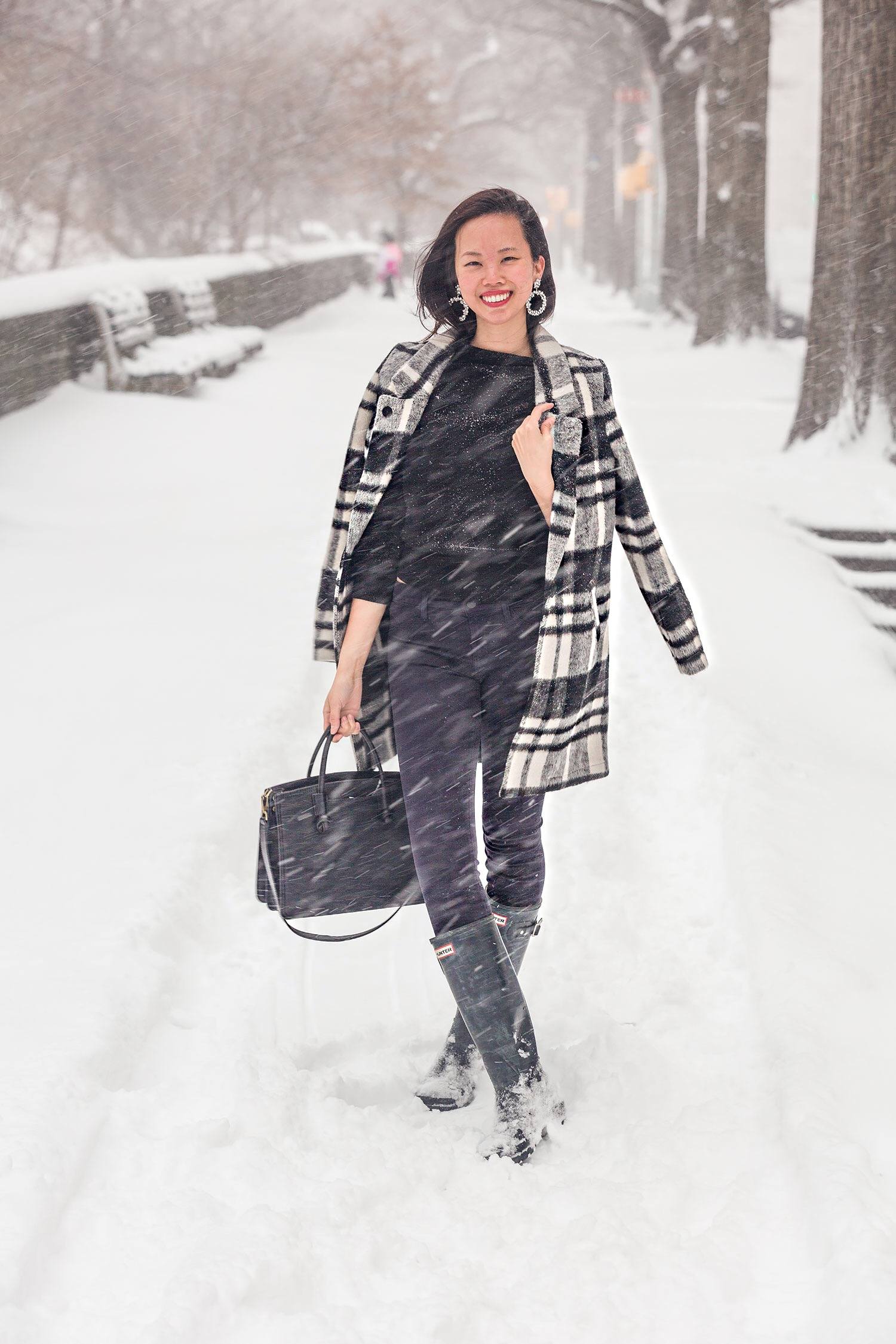 What Brands Does Stitch Fix Carry?
I was really curious to see which brands would be in my Stitch Fix. On their website, Stitch Fix says they work with 250+ brands, some established and some up and coming.
They don't name the brands specifically, but I had seen in a press release last summer that contemporary labels were added to their mix, (Theory, Steven Alan, Kate Spade, Rebecca Minkoff, Alice & Olivia and JBrand) so that was a huge draw for me.
I live in Theory during the work week and JBrand on the weekends!
Here's what I got in my box:
I have to say, I'm really impressed with how closely my stylist got it! Since this initial order, I've receive a couple more Fixes, with brands like Theory, Soia & Kyo, J Brand.
ADVERTISEMENT
---
---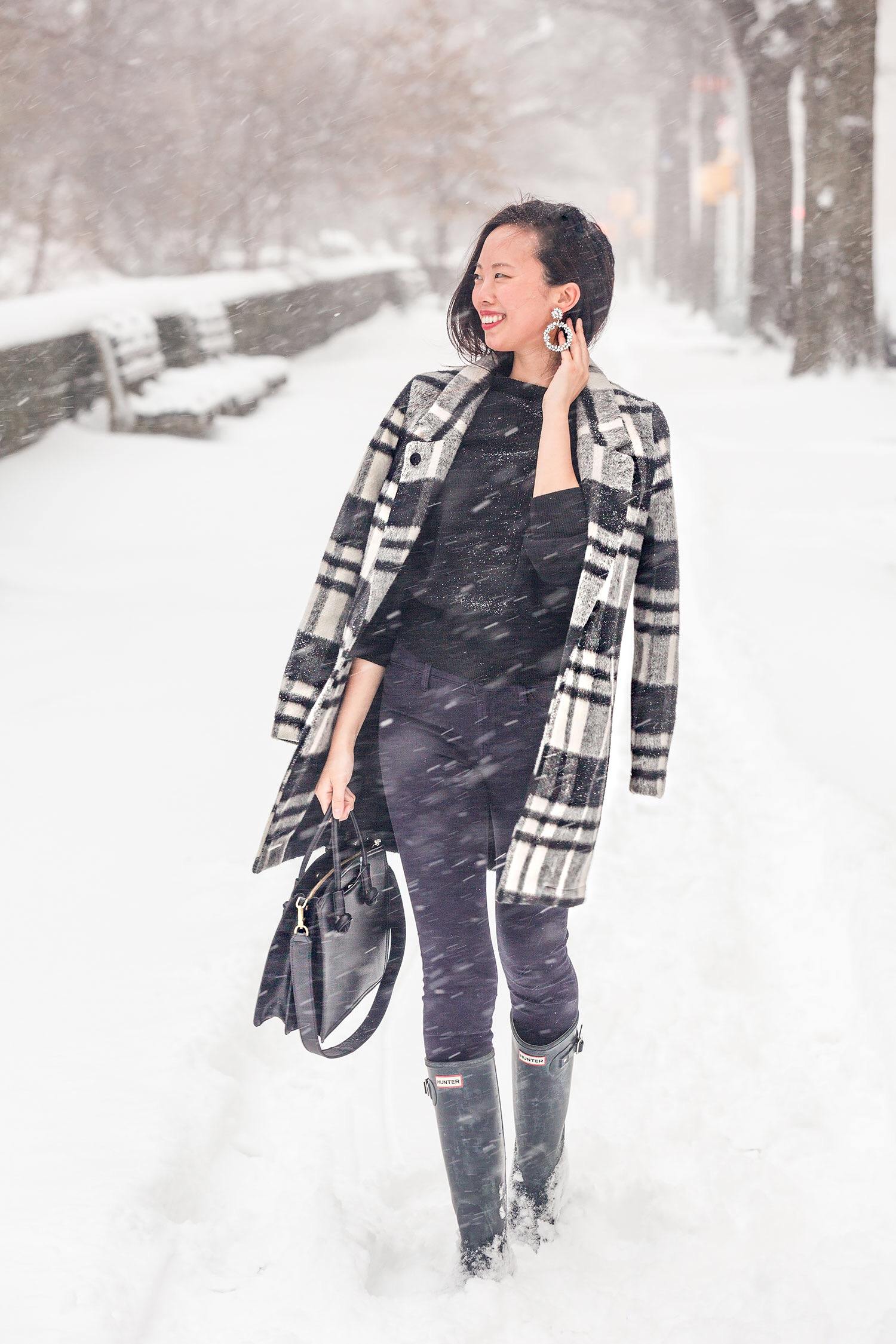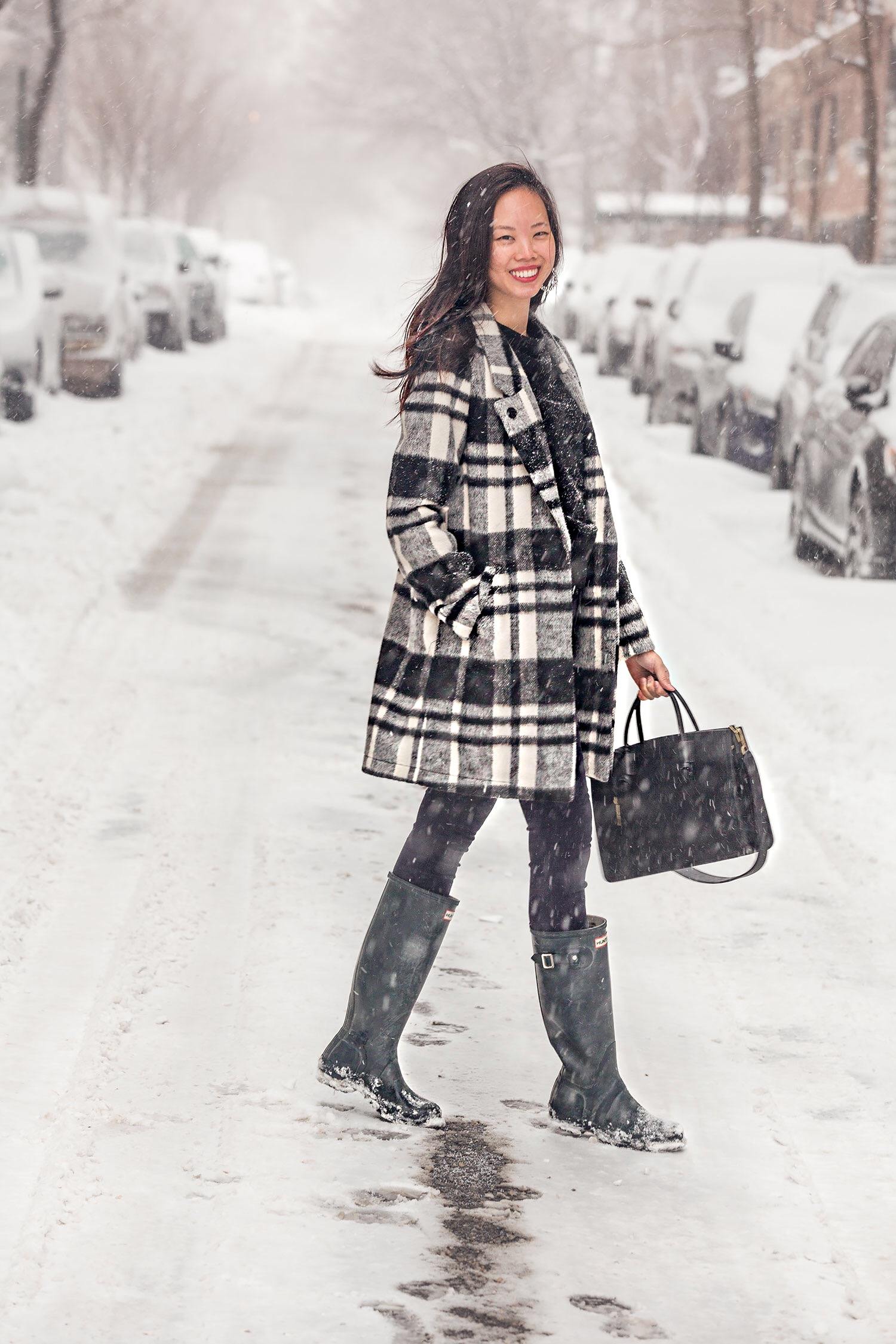 Jeans // I'm a huge fan of J Brand and have several pairs of their jeans because the fit is incredible. Coated jeans are very popular lately so I liked the opportunity to try a new wash! The jeans look black in person but photographed like a dark navy. Shop here.
Shoes // I actually own a very similar pair of Rag & Bone boots in grey so it's incredible how accurate Stitch Fix's stylists pinpoint your style from just the questionnaire. Because I have the exact pair already, I sent these back.
Coat // Finally, I recently discovered Scotch & Soda (there's a store in my neighborhood) so I love that I got to try out the new brand in my Stitch Fix. The coat is lined and looks beautiful on! For the snow it wasn't the best choice but it is pretty warm. Shop here.
Top // I have to say my favorite item was the sweater. It's a quintessential 'New Yorker' black sweater, made from a thin ribbed knit with slightly puffed 3/4 sleeves and a boat neck top. I liked how it looks on it's own (the dolman neck makes it different) and it also looks great layered (I tried the sweater over the sleeveless Jason Wu dress, for a sweater/skirt look). It's the kind of sweater that would be work appropriate and transition easily to the weekend. Shop here.
Dress // The only thing that didn't quite work for me was the Jason Wu dress, because it's a very tight ribbed dress and.. well, I prefer shift dresses because I like to eat :) But, if you have an excellent figure, this would really show it off! It's also very work appropriate and would look great over a white button down. Shop here (on sale!).
ADVERTISEMENT
---
---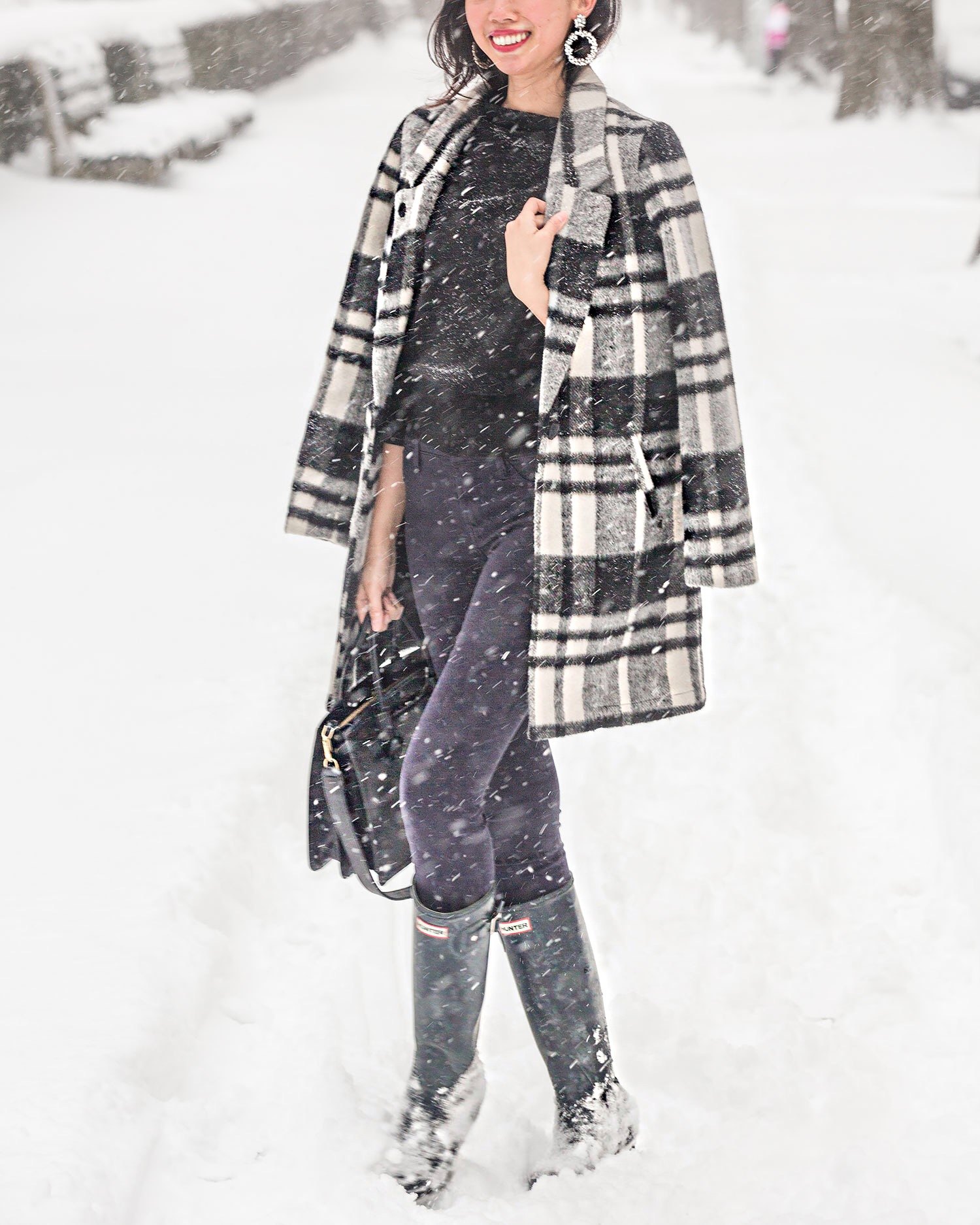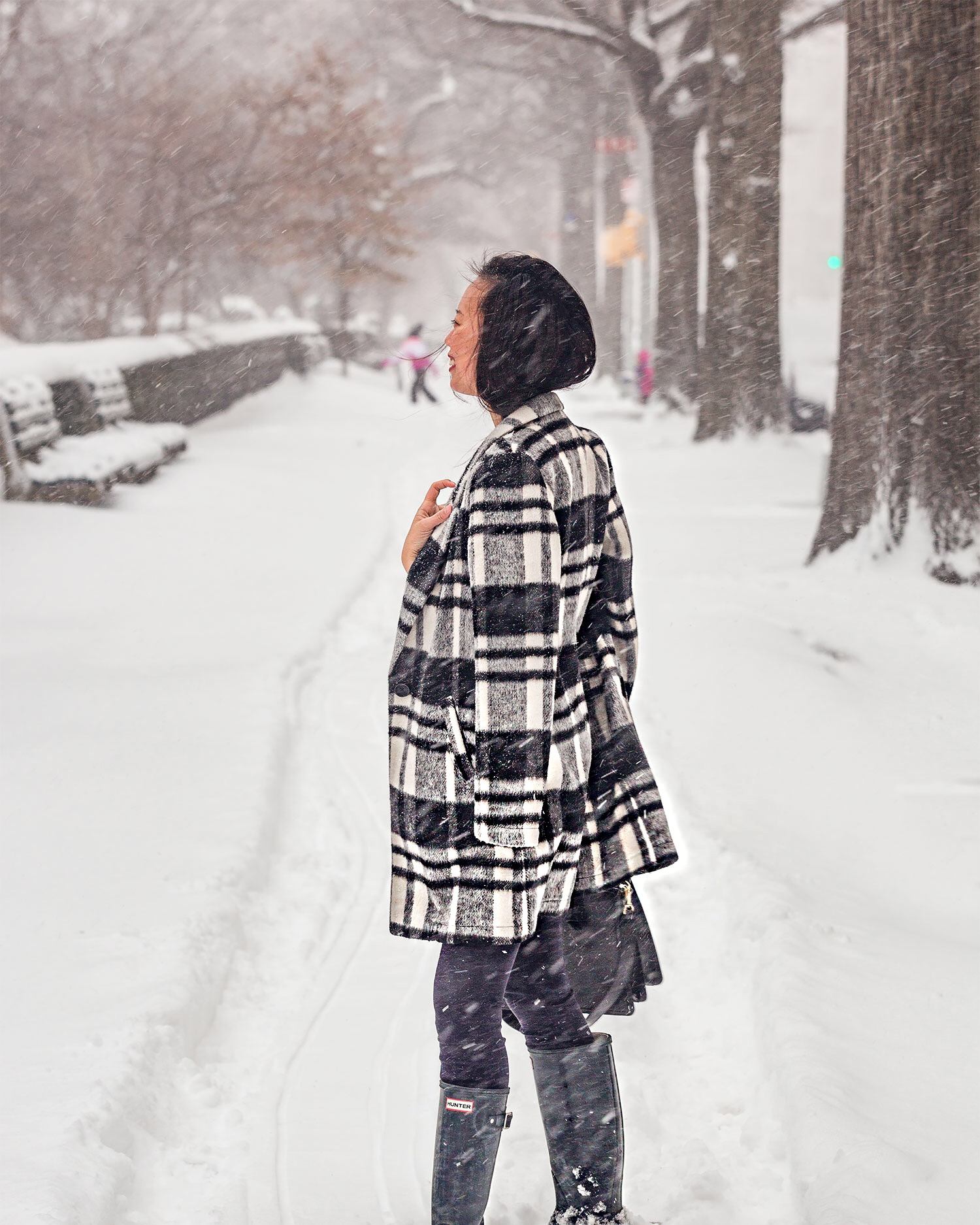 How Much Does Stitch Fix Cost
Each Stitch Fix monthly box carries a $20 styling fee, but the fee is applied as a credit to anything you purchase from your shipment. If you decide to keep all 5 items, you also get 25% off the entire purchase!
The average price of a Stitch Fix item is $55, but you can specify in your profile what your comfortable price point is.
Examples of Stitch Fix Clothes
Stitch Fix has really broadened their range and they now carry mens, womens and kids clothing. For womens, they also have petite sizing and maternity! I was really pleased with the assortment of items.
There's a great mix of things to try but at the same time, all the items kind of go together so you could wear it as 1 outfit if you wanted a fuss-free look.
I also appreciate how accommodating they are to your preferences. After your box arrives, Stitch Fix sends you an email to remind you to review each item, where you can provide detailed feedback regarding each item's fit, price, quality etc.
If you prefer machine washable only clothes, you can note that. If you feel strongly about clothes manufactured in the USA, you can request that. They don't guarantee that they can fulfill all requests, but make every effort to.
Stitch Fix Coupon
If you want to give Stitch Fix a try, you can use my referral link here to get your first box free! The $20 styling fee will be waived if you order within 7 days so essentially you get a free trial to test out Stitch Fix!
ADVERTISEMENT
---
---
Have you tried Stitch Fix? If so, I'd love to see your Stitch Fix outfit!
Follow me @Sher She Goes on