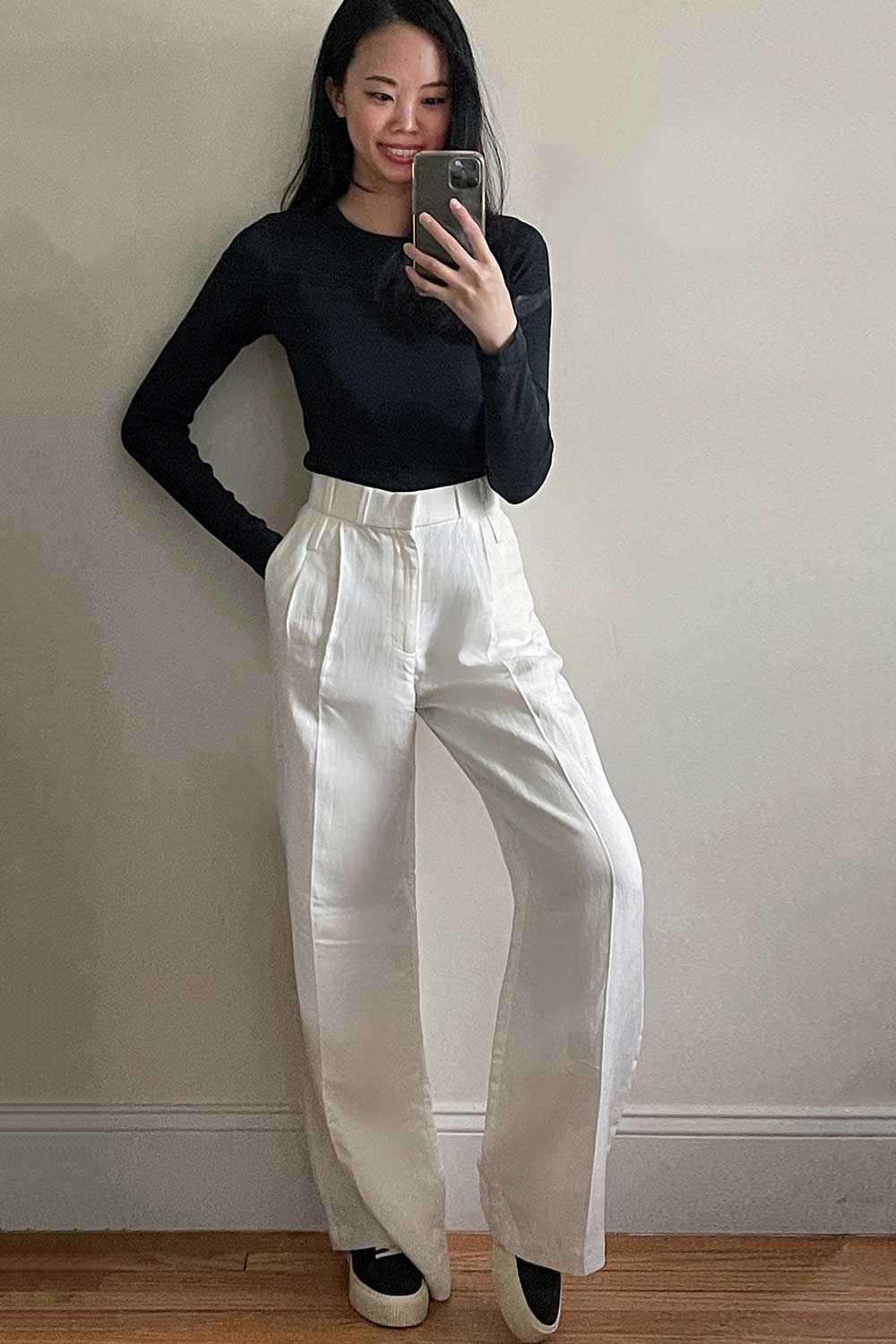 wearing long sleeve tee, linen trousers & platform sneakers
Spring Neutral Outfits
I'm a big fan of neutral colors.
They're so effortlessly easy to mix and match, always look clean and polished and help to brighten up your look.
It's also a great way to make your wardrobe look a lot more expensive than what it may have really cost!
Here are some of my go-to neutral looks for spring and summer.
Keep reading, or pin this article to save it for later ⇟
ADVERTISEMENT
---
---
Neutral Outfit Ideas
Here are 10 neutral outfit ideas for spring! Watch the video below or on Youtube here.
ADVERTISEMENT
---
---
How to Style Neutrals
The one tricky thing about neutral outfits?
They can feel a little too basic or boring, especially if you wear variations on the same look over and over again. Here are some tips for styling neutrals to always look good!
Mix Textures and Fabrics
I always like dressing in one color, because it's easy to do but looks really polished. To take a monochrome outfit to the next level, try mixing fabrics and textures.
So a ribbed knit top with smooth dressy pants – all in white.
Or shiny satin blazers mixed with matte cottons.
ADVERTISEMENT
---
---
Stick to 3 Colors
I like wearing color, but it can definitely be trickier to match clashing colors and prints. So instead, try sticking to just 3 colors and creating color 'sandwiches' in your outfit.
The old rule was to match your shoes with your handbag.. but you could also match your accessories with say your pant color. Just stick to no more than 3 different colors (say, white black and tan) for an easy, polished formula.
Try Color Variations
Even though you're sticking to a limited neutral color palette, you can add dimension and visual interest by mixing shades and tones of a color.
For example, browns and greens pair nicely together. You can wear a clayish brown trench coat with a khaki t-shirt and dark green trousers.
Or pair light blue jeans with cooler purple colors like a lavender greyish tee.
Shop Neutral Outfits
---

ADVERTISEMENT
---
---
Read More: in our summer style series:
Summer Essentials
Everything You Need for a Classic Summer Wardrobe
The Best White T Shirts in Every Style
The Best Classic White Button Down Shirts
Summer Dresses
7 Easy, Comfortable T Shirt Dresses for Summer
The Most Chic Slip Dresses to Dress Up or Down
The Best Fit and Flare Dresses
The Best White Dresses on Amazon
25 Cute & Affordable Amazon Dresses
Summer Shoes
The Most Comfortable Summer Sandals
The Best Minimalist Strappy Sandals
The Best Classic White Sneakers
Review: Olukai Sandals
Review: Everlane Flats
The Best Chanel Espadrille Lookalikes
Summer Accessories
The Best Sun Hats that Offer Full Sun Protection
7 of the Cutest Straw Basket Bags
Summer Linen
The Cutest Linen Dresses for Hot Summer Nights
The Best Men's Linen Pants - Summer Casual
The Best Women's Linen Pants for Coastal Chic Style
The Best Women's White Linen Pants - Simple, Clean & Breathable!
Summer Swim
The Best Online Sites to Shop for Swimwear
The Best Swimwear Brands at Every Price Point
The Best Swimsuits for Small Busts
Amazon Fashion Finds: Modest Swimsuits
The Best High Waisted Bikini Bottoms to Keep Everything Tucked In
Follow me @Sher She Goes on