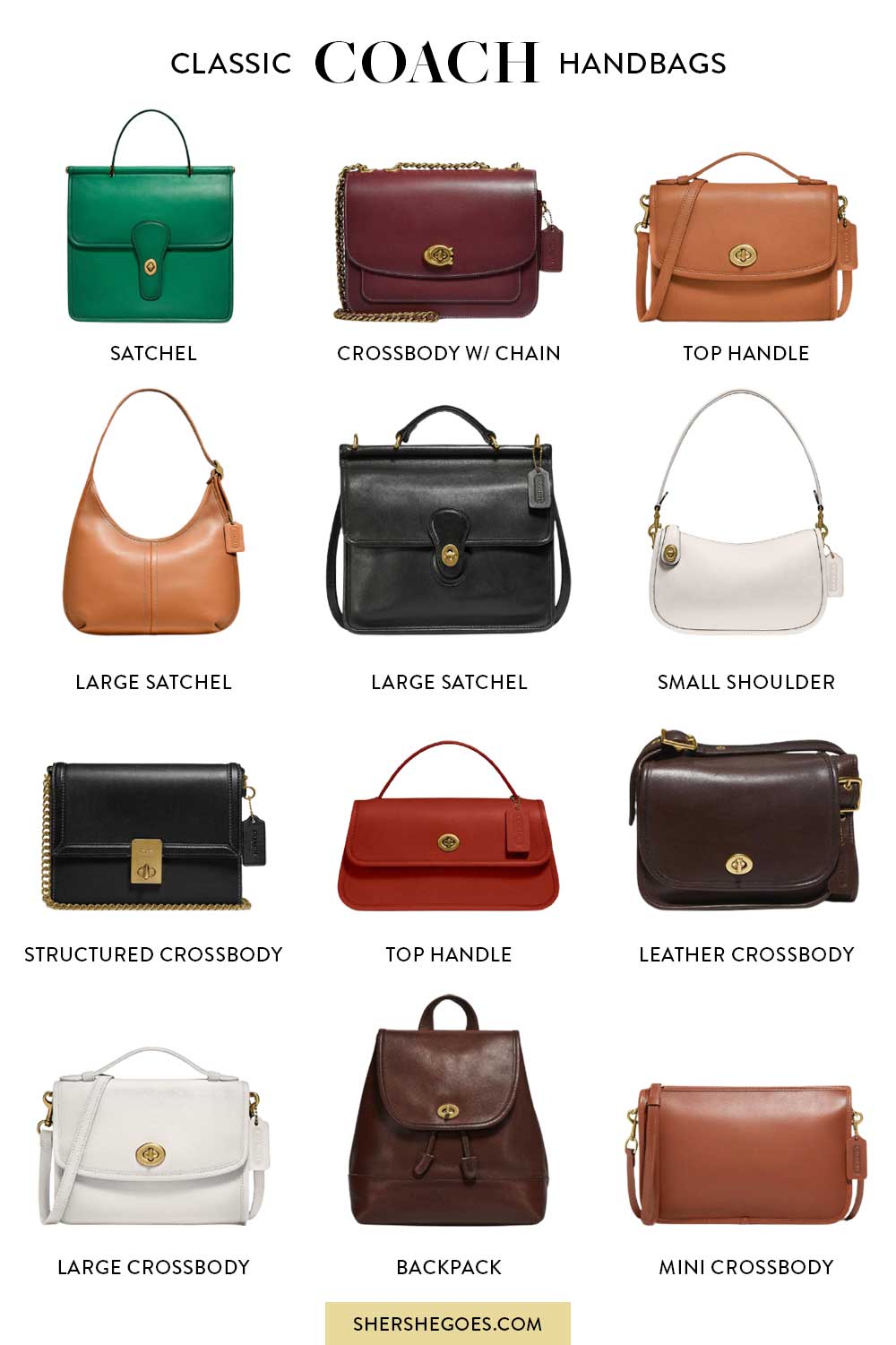 Vintage Coach Bags
I've always had a nostalgic feeling about Coach bags, since I distinctively remember going with my parents to shop for a classic Coach bag as a child.
I was bored in the store and had pulled down the bucket of coach tags to innocently play with while they discussed which handbag style to buy…when a sales associate noticed the missing item from the shelf and put the store on high alert.
Oops! Turns out it was just me..
The Coach bag my mom bought has since made it's way to my closet and I still also have the lilac shoulder bag I got as a high school graduation present. It's crazy how fashion comes and goes in cycles and no brand has really embodied the rise and fall of an 'IT' brand than Coach.
Here are all the classic Coach handbags that are still timeless, to this very day!
ADVERTISEMENT
Keep reading, or pin this article to save it for later ⇟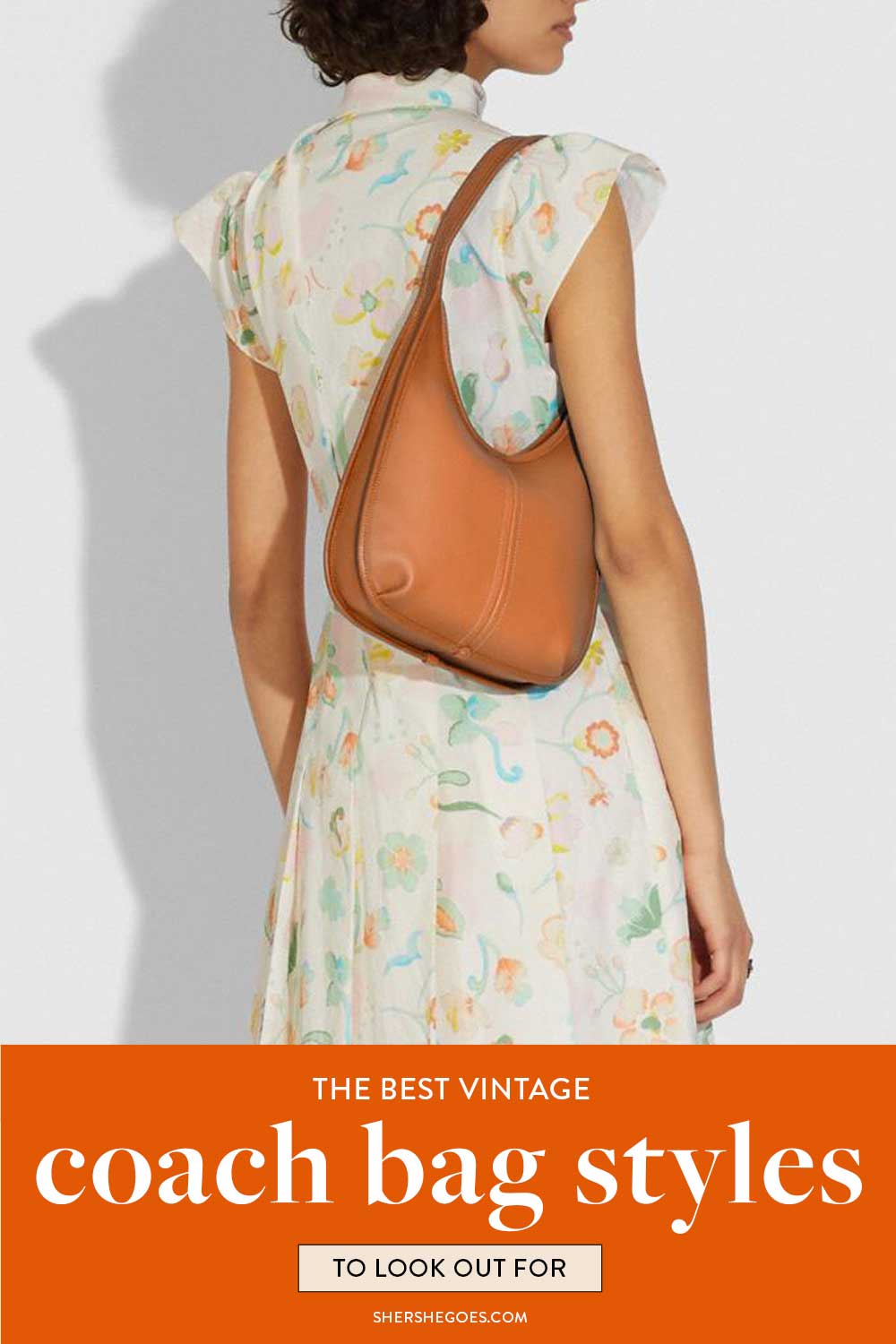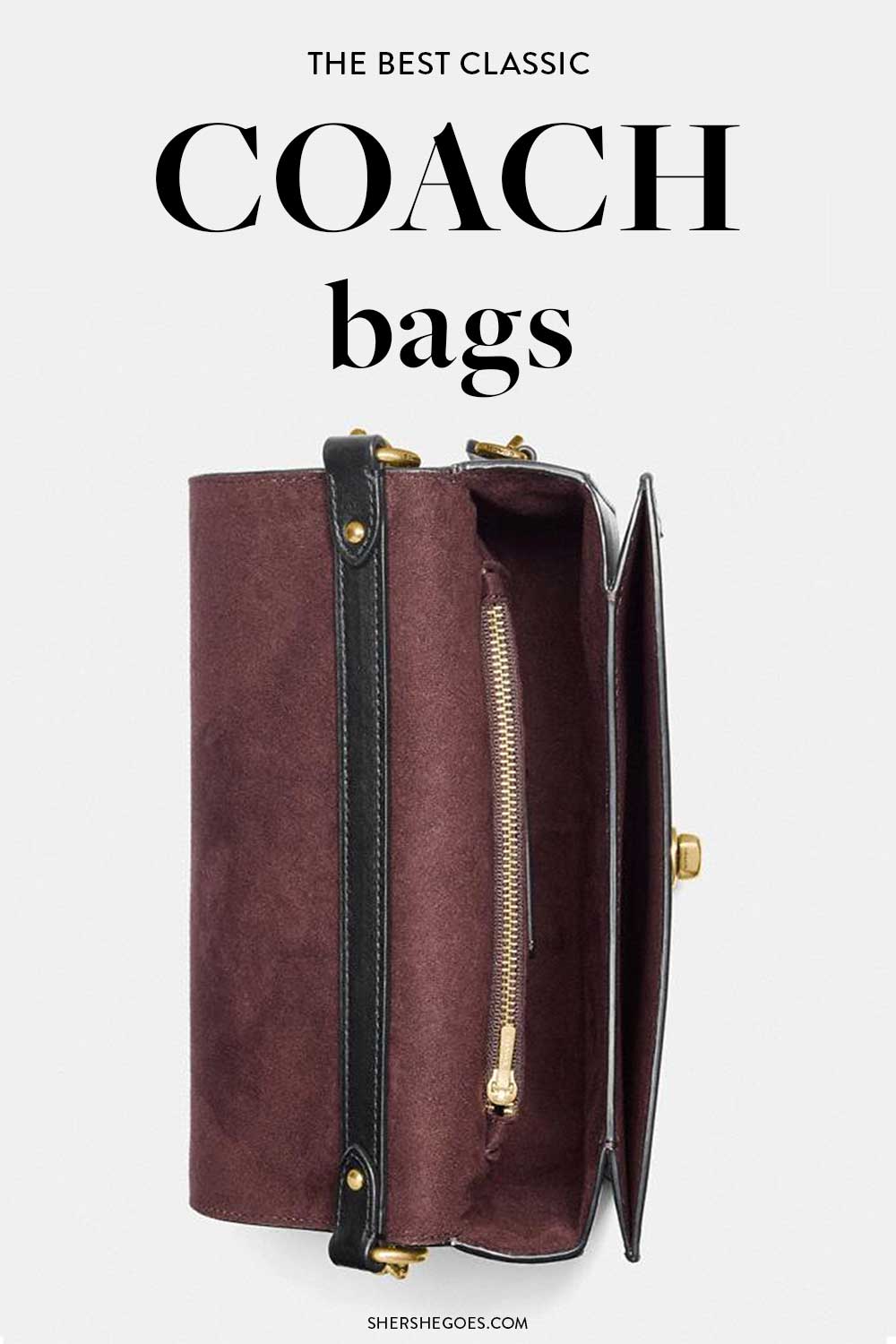 ADVERTISEMENT
---
---
Coach Vintage Bags
Although true vintage Coach bags from the 70s, 80s and 90s are really hard to find, you can get lucky searching on Ebay or Vestiare Collective. But these days, with so many fakes (or as some women like to call it, 'replicas') floating around, I don't really trust second hand stores.
Luckily, Coach understands their Vintage bags hold much more appeal and they've started to re-introduce their classic styles in newer handbags.
Here are some of Coach's most beloved silhouettes that you can buy either brand new, or look out for in vintage markets!
Classic Coach Bag Styles
ADVERTISEMENT
---
---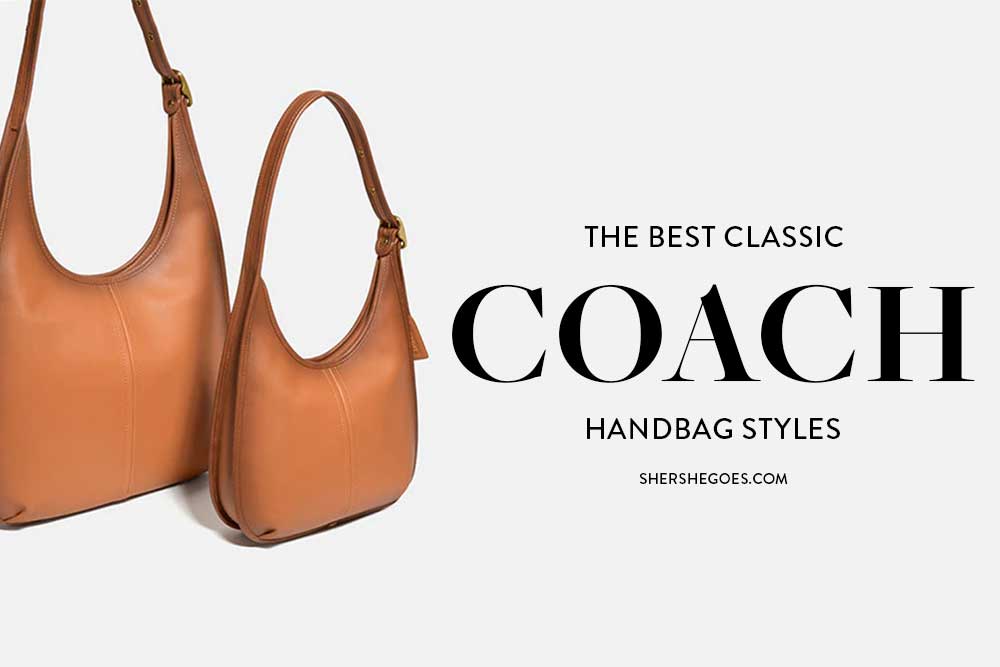 Signature Coach Handbags
Classic Coach Crossbody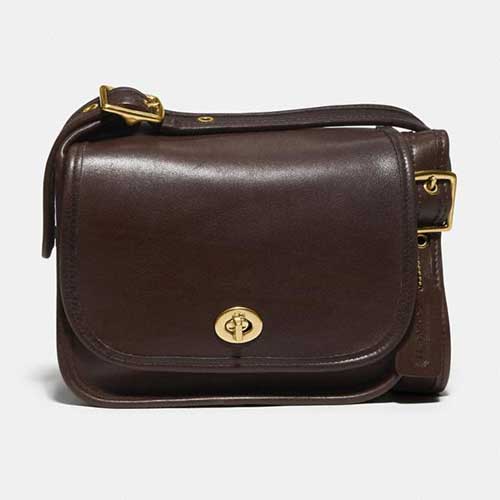 How stunning is this vintage style Coach crossbody?
It features an adjustable strap, dual side slip pockets and a gold-tone turn lock closure.
There's a single zipper pocket inside the bag for organization, as well as a branded key chain that was standard with all vintage style Coach bags.
If you're looking for a medium sized bag with leather that will wear beautifully throughout the years, check out this saddle option!
ADVERTISEMENT
---
---
Classic Coach Shoulder Bag with Chain Strap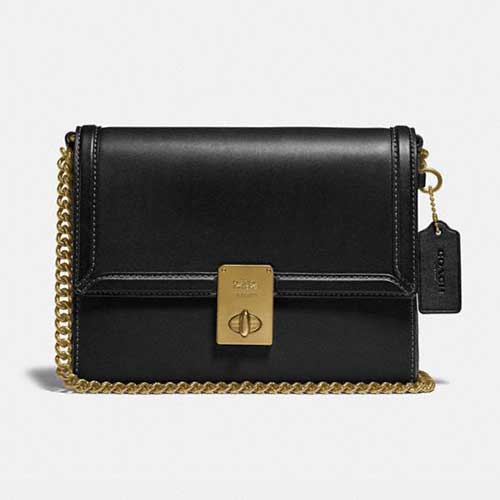 Personally, I love structured bags.
The Hutton is a modern update to an old Coach classic. The shoulder bag features glossy smooth calf leather and has not only an outside slip pocket, but an inside zip pocket as well.
The chain strap is also super stylish and can toggle between a shoulder strap to a hand strap!
ADVERTISEMENT
---
---
Classic Coach Saddle Bag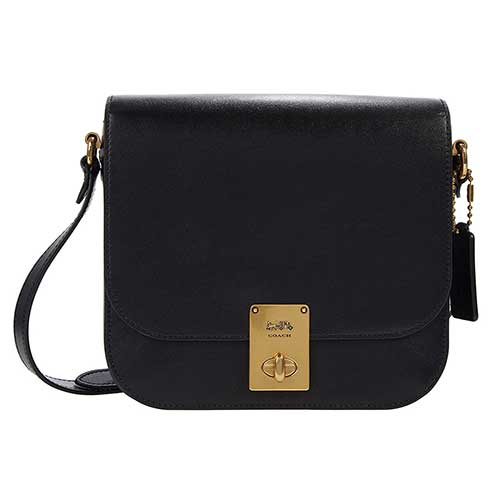 If you like the vintage Coach crossbodies but want a sleeker, more modern finish, check out this saddle bag.
It has a turn lock front closure, rounded corners and smooth calf leather. I think it looks like a much more affordable version of the Celine box bag!
ADVERTISEMENT
---
---
Classic Coach Small Shoulder Bag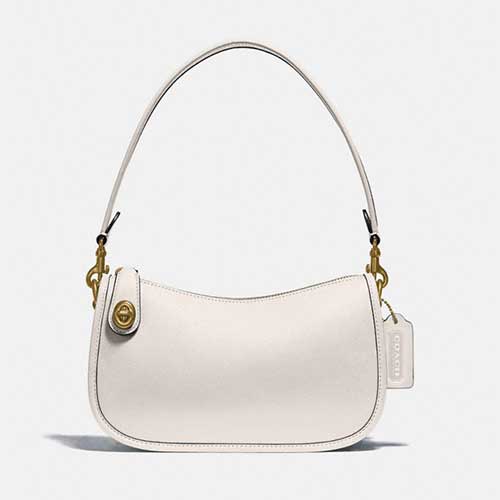 Tiny shoulder bags are all the rage these days!
Grab this Coach originals swinger that's been recreated from the brand archives. It has a top zipper closure, brass tone hardware and short over-the-shoulder strap.
But, it also comes with a longer detachable shoulder strap should you wish to wear it crossbody!
This gorgeous bag is also made from full-grain leather, like the vintage Coach bags of old.
If you've been hunting around for one of the original Coach raw hide bags, this is a brand-new option that has the same high quality materials and design… and you can verify the authenticity!
ADVERTISEMENT
---
---
Classic Coach Large Shoulder Bag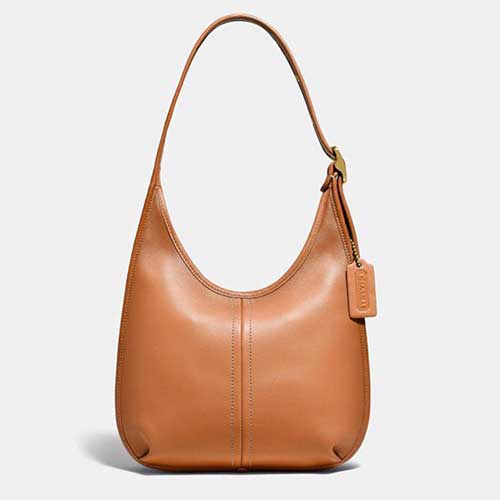 Another remake of the Coach Originals, this large hobo style bag is based on an iconic bag silhouette from the 1990s.
It's crafted from buttery soft, glove tanned leather and is roomy enough to fit everything you need for the day. With its wide strap, zip closure and classic design, it's one bag you'll have forever!
ADVERTISEMENT
---
---
Classic Coach Bucket Bag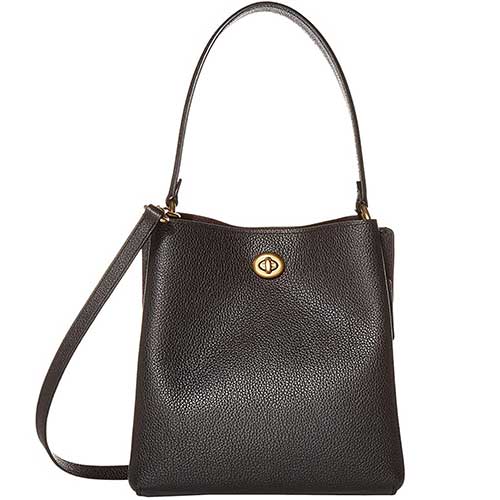 This adorable bucket bag looks straight out of the Coach's archives.
The turn lock closure, polished pebble leather and thin strap are all features iconic to Coach's vintage handbags. We especially love this dark brown shade!
ADVERTISEMENT
---
---
Coach Pillow Bag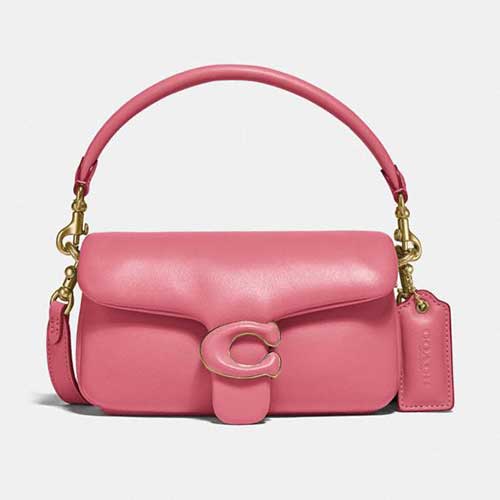 Now technically this puffy Pillow Shoulder Bag isn't a Coach classic.
Yet.
The Coach Tabby is all. the. rage. this spring and we have a feeling it will quickly become a Coach classic in years to come.
In fact, it's simply a modern refresh of an archival 1970s Coach design! The old structured silhouette has been given a face lift in extra plush, ultra soft leather where even the signature C logo is wrapped.
Like the vintage shoulder bags, this Pillow bag comes in the short strap as well as the detachable longer strap so you have the option to wear it two ways.
ADVERTISEMENT
---
---
Shop Classic Coach Purses
---

ADVERTISEMENT
---
---
Read More of the best Designer Inspired Finds
Amazon Fashion
The Best Designer Lookalikes on Amazon: Handbags, Jewelry, Shoes & Accessories
Chanel Inspired
6 Classic Handbags Inspired by Chanel
The Best Cap Toe Ballet Flats to Get the Chanel Look, for Less
Classic Chanel Inspired Slingbacks (Two Toned)
The Best Chanel Inspired Espadrilles to Rock All Summer
Manolo Blahnik Inspired
The Best Manolo Blahnik Lookalikes
Stuart Weitzman Inspired
The Best Over the Knee Boots that Rival Stuart Weitzman Lowlands!
Where to Get Stuart Weitzman Boots ON SALE
Follow me @Sher She Goes on