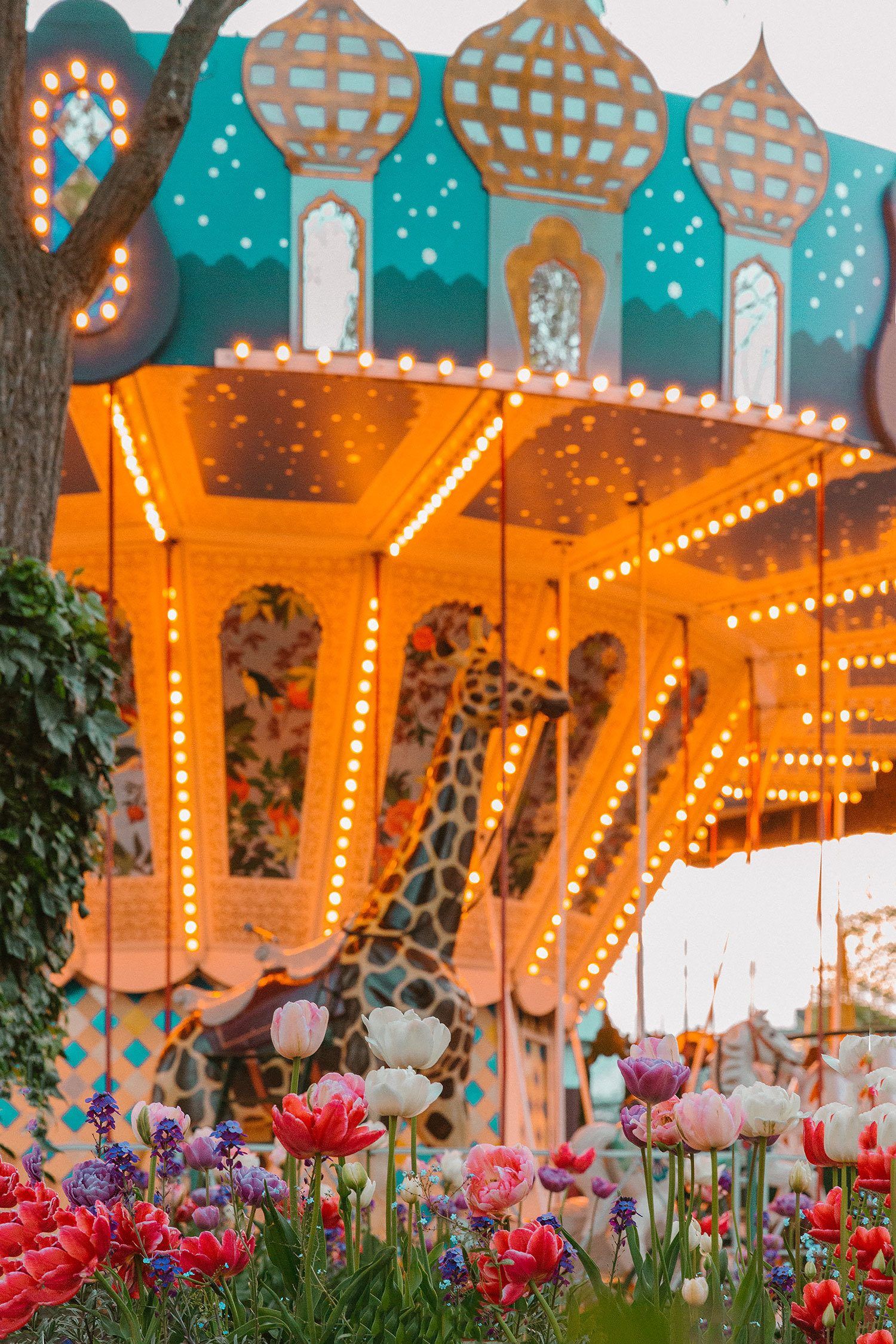 What to Do in Copenhagen
I feel like I have written a gazillion articles on Copenhagen by now… but it is such a beautiful city that I have more to share!
Copenhagen was never really on my radar (I think most Americans want to see Paris, London and Italy) so everything about Denmark felt refreshingly new.
In a lot of ways, I think the Danes live a superior quality of life than we do in America so whether you enjoy food, design, architecture or culture, there is lots to be impressed by.
ADVERTISEMENT
We spent a week in Copenhagen and weren't bored in the least – there is an endless amount to see and do.
Today's post will be more of an inspirational post to show you everything there is to do in Copenhagen so you can narrow it down for your own trip!
Or save this article to read later by pinning it ⇟
Quickly jump to each section:
ADVERTISEMENT
---
---
See more photos on Instagram @shershegoes
Top 5 Things to Do in Copenhagen
If you're looking to get right to it, here is my list of 5 fun things to do in Copenhagen! These are the best things, that are on every travel guide checklist and will really make your Copenhagen vacation memorable.
1. Have the Time of Your Life at Tivoli Gardens
Fun for the whole family, Tivoli is like an amusement park on steroids. Half Six Flags roller coasters and half Disney's It's a Small World, this open air park is not to be missed. Hop on a ride, grab cotton candy or take a boat on the lake.
Tivoli Gardens has rides, games, restaurants, theatres and dance halls. There's a classic Japanese Garden, an aquarium, Friday night fireworks and sometimes the gardens have live ballet & music performances!
The only downer is that it's quite expensive – there's both an entrance fee and additional fees for rides. We got in free with our Copenhagen Card and went around sunset to enjoy the lights and action at night.
Read more:
Should You Buy the Copenhagen Card?
ADVERTISEMENT
---
---
2. Visit the Little Mermaid
The Little Mermaid is one of those must visit sights in Copenhagen. Based on the Hans Christian Anderson fairy tale, it makes for a pretty photo opp and is especially convenient if you're on a cruise in Copenhagen, as it's located in northeastern Copenhagen, near the cruise ship harbor. It's a bit out of the way from downtown Copenhagen.
My tip? Take a canal tour from Nyhavn to explore Copenhagen from the water. The canal boats take you all the way north for a look at the Little Mermaid statue so you don't have to make the hike yourself!
ADVERTISEMENT
---
---
3. Marvel at Rosenborg Castle
This is one of the prettiest castles in Copenhagen to visit. Built during the Dutch Renaissance, each room at Rosenborg is richly decorated and quite unique. There's also the crown jewels and fun hedges in the King's Garden to explore!
All of the castles in Denmark are phenomenal but if you're looking to visit just one in Copenhagen, make it Rosenborg. Admission is included with the Copenhagen Card.
Read more:
5 Copenhagen Castles You Won't Want to Miss!
ADVERTISEMENT
---
---
4. Taste Copenhagen on a Classic Food Tour
This 4 hour food and walking tour takes you through the history of Danish cuisine where you'll taste your way through Copenhagen's best local eateries. Everything is seasonal, so you know it'll be fresh and delicious, and you also get to try Danish apple wine!
This is one of the best food tours in the city, especially if you want to sample classic Danish foods like hot dogs and smørrebrød.
Check availability and rates here.
ADVERTISEMENT
---
---
5. Snap a Photo at Colorful Nyhavn
Nyhvan is a small port in the center of Copenhagen with beautiful, colorful little houses. In the summer, Nyhavn is a popular spot for locals to hang out on the quay sharing drinks or for visitors to have a cozy dinner.
All the old houses have been renovated into fancy restaurants with outdoor seating – talk about some great ambiance! Definitely make sure to snap a picture of the charm and color here or hop onto one of the canal boats for a leisurely, comprehensive tour of the city.
Read more:
The Best Neighborhoods to Stay in Copenhagen
Foodie Things to Do in Copenhagen
6. Try New Nordic Cuisine
Prior to 5 or 10 years ago, I don't think anyone was talking about Nordic cuisine. But after claiming the home of the Best Restaurant in the World for several years running, it's hard to deny that Nordic cuisine is having a moment.
Danish food prides itself on organic, sustainable and local products and even the most basic of foods was delicious. I can't stress enough how good the bread, porridge and jams were at our hotel in Ibsens! Make sure you try smorrebrod, grod and black bread on your trip to Denmark.
There are so many great restaurants in Copenhagen to try that I wrote a separate, dedicated post, which you can check out HERE.
ADVERTISEMENT
---
---
7. Explore a Food Hall
Copenhagen's supermarkets are less like Whole Foods and more like food halls. Whether you visit Torvehallerne, which has 60+ stands selling fresh fish to gourmet chocolate or Papirøen, which has some trendy small bite shops, Copenhagen's food markets are worth a sampling! You can try everything from Japanese sushi to Spanish tapas and Danish porridge.
Also worth a visit: Rebel Food which does a "pop up" of food trucks in locations throughout the city and WestMarket a grocery / market / hip hangout spot in Vesterbro
Read more:
Where to Eat in Copenhagen
ADVERTISEMENT
---
---
8. Visit Carlsberg
Carlsberg Group is the world's fifth largest brewing company in the world, and its founder J. C. Jacobsen, was one of Denmark's most famous citizens.
His enormous wealth actually funded the restoration of several of Copenhagen's castles and museums! When you walk to Carlsberg, you'll see a massive brick archway flanked by lion statues – it gives just a peek of his influence and success!
The Carlsberg Brewery offers a fun tour at the location of its very first brewery. There's interactive exhibits, a peek at the original machines and a showcase of the world's largest collection of beer bottles. The best part is that admission comes with complimentary beer! I tried a raspberry beer which was delicious. Admission is included with the Copenhagen Card.
ADVERTISEMENT
---
---
9. Dine at a Michelin Star Restaurant
Copenhagen has 18 stars across 15 restaurants. Whether you try a 3 star restaurant like Geranium for its ambience or a more casual gastronomic experience at Relae, there are fabulous food options in Copenhagen. We opted for dinner at Marchal, which has a beautiful, modern dining room and Nordic / French menu.
Read more:
A Michelin Star Dinner at D'Angleterre's Marchal
ADVERTISEMENT
---
---
10. Try Danish pastries
Danes know how to make some excellent bread! There are so many incredible bakeries in Copenhagen that you have to try – from gourmet cookies at Leckerbaer to delicious bread at hip Kihoskh to sourdough at Mirabelle.
Meyers Bageri is my favorite. Here you can get the very best breads & cakes like cinnamon snail rolls (called kanelsnurrer)!
Cultural Things to Do in Copenhagen
11. Ride a Bicycle Around the City
The second you step foot into Copenhagen, you'll get a true taste for the Danes' avid biking culture. There are huge biking lanes all over and what better way to get a taste for life in Copenhagen, than to join in?
Even the postmen get around on bike! Danes view the bicycle as freedom of movement. Check out this fun bike tour of the city for your trip.
ADVERTISEMENT
---
---
12. Visit Hamlet's Castle
Shakespeare's many plays were a huge part of the English curriculum at my middle and high schools, so I was pretty excited to check out Hamlet's Castle! The castle's real name is Kronborg and it's easily viewable on a day trip from Copenhagen.
The castle itself is a minimalist masterpiece, with views of nearby Sweden. It's the underground dungeons that are the (eerie) highlight! Make sure to wear comfortable shoes and take the plunge into the deep! For those who want easy access, you can take this classic Copenhagen Castle tour here.
Read more:
5 Fun Day Trips from Copenhagen
ADVERTISEMENT
---
---
13. Marvel at the Louisiana Museum of Art
Another worthwhile day trip from Copenhagen, the Louisiana Museum of Art is a unique indoor / outdoor space dedicated to modern art. From kooky sculptures to tranquil ocean views, we found it quite calming to visit! Even non art lovers will be impressed.
ADVERTISEMENT
---
---
14. Enjoy Art & Atmosphere at Glyptoket
Glypoket is one of the coolest museums I've ever been to. The museum has a garden courtyard with some tasty pastries if you want to people watch. Or, walk through the museum for a look at ancient Roman and Greek sculptures, modern art, and views over Copenhagen. Glypoket was built to showcase J. C. Jacobsen's art collection (the gazillionaire founder of Carlsberg beer)
Read more:
A First Timer's Guide to Visiting Copenhagen
ADVERTISEMENT
---
---
15. Watch the Changing of the Royal Danish Guard
The Queen resides at Amalienborg palace and it's here that the Royal Life Guards keep watch. Every day around 12pm, you can watch the changing of the guard with a parade around the Life Guard Barracks and march to Amalienborg. It's quite a parade, with musicians, drummers and 36 guards all marching in beat.
Unique Things to Do in Copenhagen
16. Shop on Stroget
Strøget is one of the longest pedestrian streets in Europe and conveniently located in Indre By, or Downtown Copenhagen. With everything from high street to luxury brands to quaint coffee shops, you'll find anything and everything you could want here from both Danish and international brands. Plus the people watching is great!
ADVERTISEMENT
---
---
17. Palace Hop Like a Royal
Copenhagen has many incredible castles – and I visited 5 of them. Each palace is slightly different, with unique architecture, history and furnishing. I highly recommend checking them out during your trip to Denmark!
18. Visit Freetown Christiana
Christiana is a famous hippie commune in Copenhagen. Car free and with a green mindset, it was established by hippies who occupied some abandoned military barracks on the site and created their own independent society. The area is open to the public and worth checking out but follow the do's and don'ts (like no photos allowed).
It wasn't my sort of thing, but is a unique area so give it a go while in Copenhagen!
Read more:
Copy this Essential Copenhagen Itinerary
ADVERTISEMENT
---
---
19. Circle the Round Tower for a Sky View over the City
The Rundetaarn was built during the 17th century, at the height of Copenhagen's astrological prowess. The observatory is a fun way to see the city and the oldest functioning observatory in Europe. Climb all the way to the top for a dizzying view of Copenhagen!
20. Visit Copenhagen Coffee Lab
Have a brilliant cup of coffee at this laboratory cafe. From advanced brewing techniques to flasks over bunsen burners, you're guaranteed to try a quirky but delicious cup of joe here. Serious coffee lovers will want to check this spot out!
Things to Do in Copenhagen in Winter
PC: Visit Copenhagen
21. Enjoy Christmas at Nyhavn
Nyhvan is the coziest, prettiest spot to soak in the Christmas vibes. The streets are lit with lights, the restaurants serve Danish Christmas delicacies and the streets are packed with Christmas market stalls! It's one of the best ways to enjoy a Nordic Christmas.
Make sure to spot house No. 9, which is the oldest house on the block (from 1681) and No. 20, where Danish fairytale writer Hans Christian Andersen once lived. He moved around a bit and also lived in No. 67 and No. 18
22. Try CopenHot, a Unique Spa Experience
We didn't do this because I didn't know about it at the time, but this would be first on my list of fun things to do in Copenhagen in winter. You can cruise the Copenhagen canals in a SPA BOAT or sit in a heated barrel spa at Nyhavn harbor. There are saunas, baths and ice showers for you to try hot and cold experiences and really immerse yourself in Nordic wellness.
Read more:
This is the Best Time to Visit Copenhagen?
ADVERTISEMENT
---
---
PC: Visit Copenhagen
23. Go Ice Skating at Frederiksberg Runddel
This is a great activity for everyone! The entrance to Frederiksberg Garden becomes a charming ice rink in the winter and admission is free if you have your own skates! Or rent a pair and join in on the fun.
ADVERTISEMENT
---
---
PC: Visit Copenhagen
24. Have a Danish Christmas Dinner
There are lots of cheery hygge food experiences to have in Copenhagen in winter. Try smørrebrød & schnapps at Øl & Brød, a traditional Danish Christmas Lunch at Kronborg or enjoy a glass of gløgg (mulled wine) by the open fire in Nimb.
For a fun winter gastronomic experience, head up to the roof at Gro Spiseri. This is Denmark's first rooftop farm (situated on top of a former car auction house) and the small but special restaurant serves beautiful flower dishes from the farm while overlooking the city below. They serve twists on classic Danish Christmas meals!
Read more:
A Mini Guide Copenhagen's Most Unique Museums
ADVERTISEMENT
---
---
PC: Royal Copenhagen
25. See the Royal Copenhagen Christmas Tables
One of the most popular exhibits to check out in Copenhagen during the winter is the Royal Copenhagen Christmas Tables. Think of it like the department store window displays in New York City.. except royal and food focused.
Each year the tables are set by different artists and celebrities and displayed at the Royal Copenhagen flagship store in Strøget. From iconic dinner ware to figurines to collectibles, each year the display changes!
---
And that's it! Our list of the best sights and attractions in Copenhagen.
Planning a Trip to Denmark – Travel Checklist
Go | Many European airlines will offer flights to Denmark with a stopover. Flights from New York weren't cheap, but booking in advance helps. Check for flight deals here.
See | We spent a week in Copenhagen and as it was our first time visiting Denmark, we wanted to see the sights. Purchasing the 5-day Copenhagen Card saved us quite a bit on admission prices but do check their list of included attractions here to make sure that it's worth it for your visit.
Stay | Lastly, we decided to switch hotels to explore Copenhagen's different neighborhoods. The city is quite large so it was nice to base ourselves in different districts! Hotels get quite expensive (well, Copenhagen as a whole is wallet shattering) so check hotel availability and book in advance. Check here for great deals on accommodation.
Or, give Airbnb a go. There are some beautiful Danish apartments available for rent!
Protect | Our bags were left behind for 3 days due to an airport-wide tech issue in Amsterdam. We knew when we pulled up to the airport that something was wrong because the lines were complete chaos and everyone stood still at the baggage drop off. Once they told us to put our bags through baggage drop, we did it and I immediately had a bad feeling about it – wish we had went carry on only! Luckily, we had travel insurance which reimbursed us for out of pocket expenses.
Whether you get injured and need to be hospitalized, your phone gets stolen, or a flight delay leaves you with nothing but the clothes on your back, travel insurance will help when you need it most. Get a quote for your trip here.
You Might Also Enjoy:
Copenhagen Vacation Planning Articles
A First Timer's Guide to Visiting Copenhagen
When Is the Best Time to Visit Copenhagen?
A Neighborhood Guide to Where to Stay in Copenhagen
25 Incredible Things to Do in Copenhagen Before You Die
Denmark for First Timers: Essential Itinerary
Copenhagen Sights, Activities & Tours We Especially Enjoyed:
Will a Copenhagen Card Save You Money? We Weigh the Pros & Cons
Gorgeous Fairy Tale Copenhagen Castles - Don't Skip These!
Cool Copenhagen Museums That Are Worth a Visit
Denmark Restaurant & Hotel Reviews
Danish Food Guide: Best Restaurants in Copenhagen
A Michelin Star Dinner in Copenhagen: Marchal at D'Angleterre
Ibsens Hotel Review: Is This the Best Hotel in Copenhagen?
Follow me @Sher She Goes on