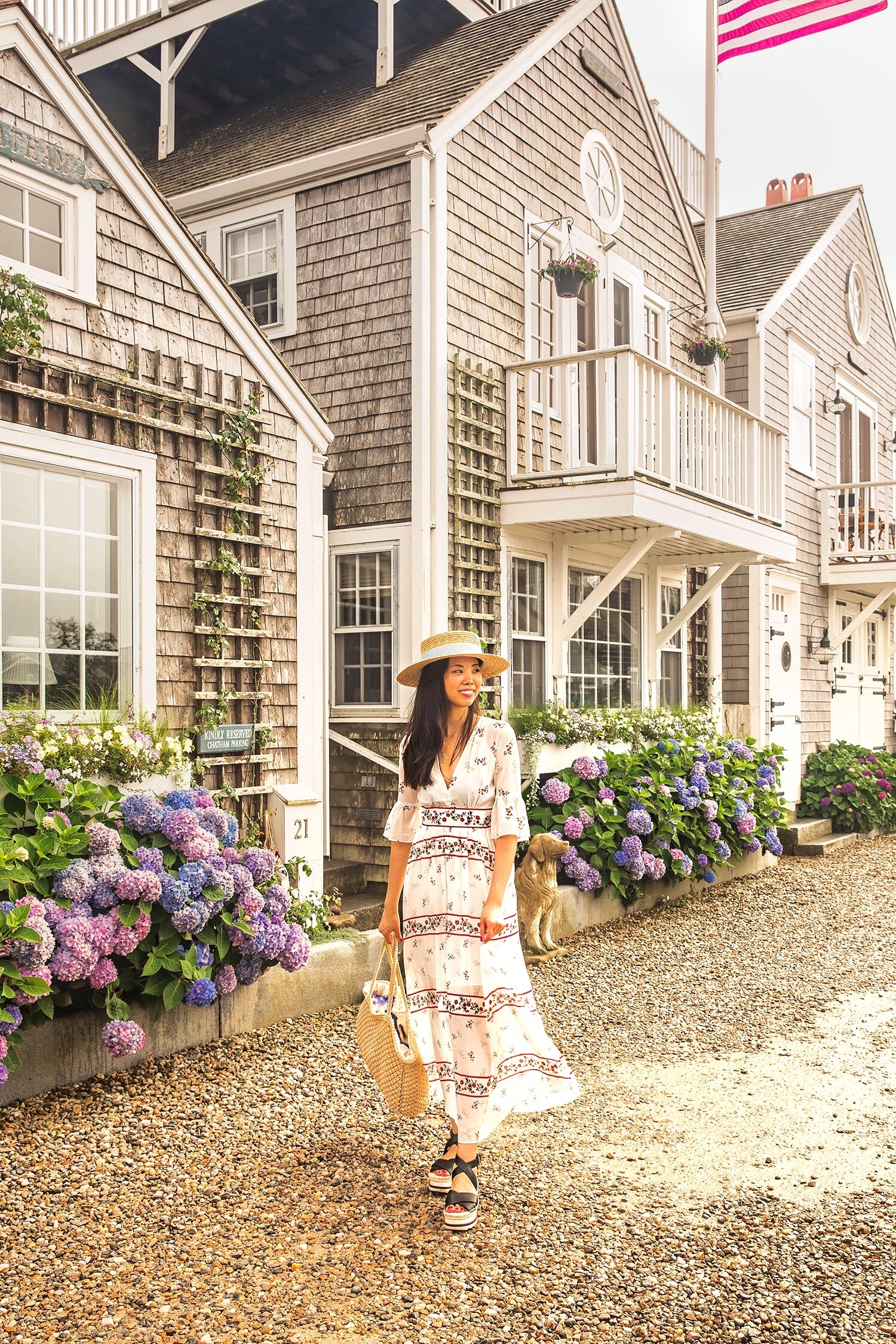 The Best Things to Do in Nantucket
Nantucket lies thirty miles out to sea, off the coast of Cape Cod.
It's the perfect romantic escape, whether you have just a weekend or the entire summer season! We recently got back from our first visit to Nantucket island and fell in love on the first day.
From buttery lobster rolls, to soft sandy beaches, boutique shopping and charming seaside cottages, Nantucket is the most picturesque place I've ever seen.
Here's our guide to the best things to do in Nantucket, Massachusetts!
ADVERTISEMENT
Keep reading or save this article for later ⇟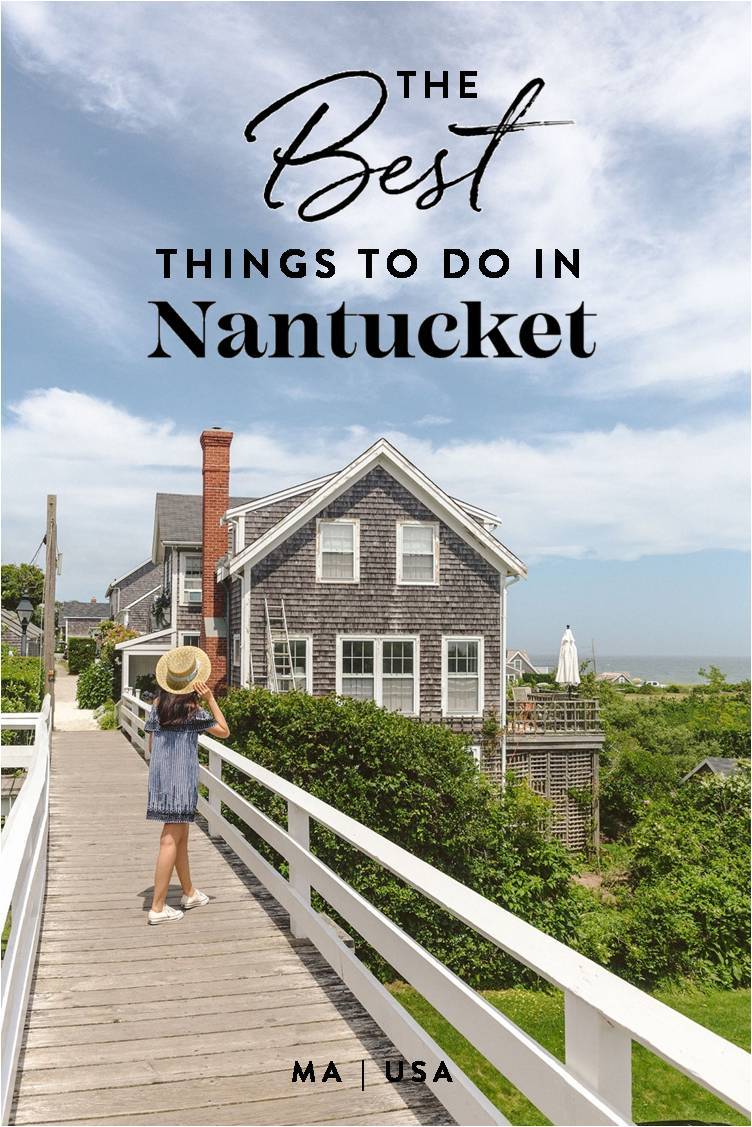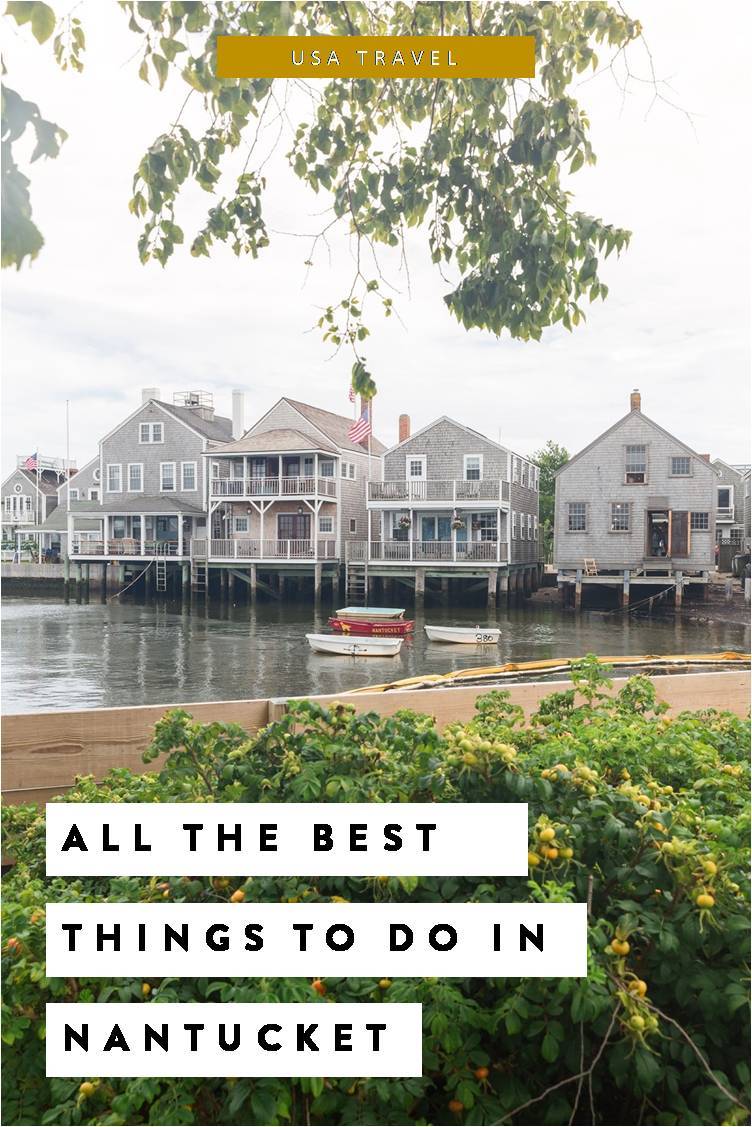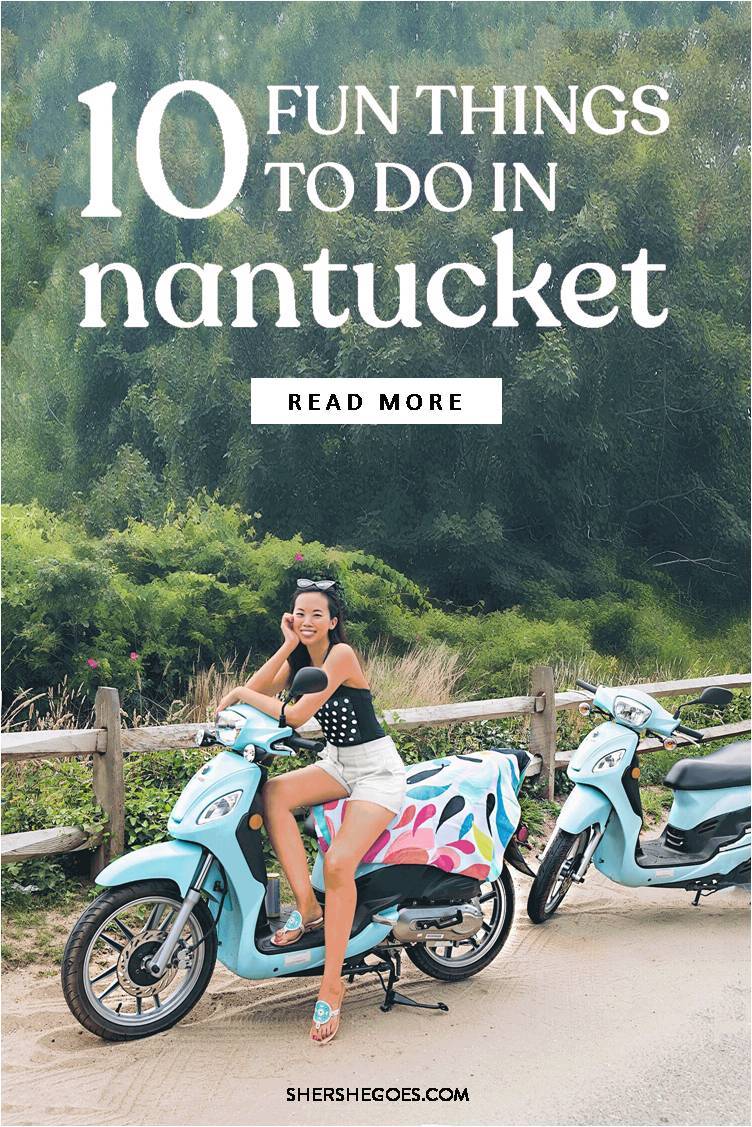 ADVERTISEMENT
---
---
Fun Things to Do in Nantucket (Without a Car!)
Nantucket is a small town destination that feels remote and scene-y, at the same time. The island is frequented by CEOs and socialites, with swanky restaurants and high price tags to match – but it's also beautifully rustic, with windblown sand dunes and quaint lighthouses.
The best part about visiting Nantucket is that you can do as much or as little as you like. Sleep in, have a fabulous brunch, spend the day at the beach, or learn about the island's historic past – it's all up to you!
Here are 10 fun things you must do in Nantucket!
1. Rent Bikes to Explore the Island
One of the best ways to see the island is on bike! There's several bike rental companies on the island (some hotels even provide bikes for their guests) and you can even rent scooters.
Best of all, they're all adorably cute, with baskets to hold a beach bag and colorful pastel shades!
I really appreciated how Nantucket has separate paved, flat bike paths parallel to its streets for anyone who wishes to bike. Because of the dedicated bike lanes, I think biking around is a great way to explore Nantucket's beaches, dunes and wetlands.
If you're staying slightly outside downtown Nantucket, cabs can be limited in high season and are pretty expensive.
A great scenic (and easy) loop is to bike from downtown Nantucket to Sconset. It's about 40 minutes biking one way.. but you can drop some snacks into your bike basket and pedal leisurely!
ADVERTISEMENT
---
---
2. Take the Sconset Bluff Walk
Once you've biked down to Siasconset, you can't skip the Bluff Walk.
This is an adorable walking path made from white sea shells, that meanders leisurely around the village and quaint homes of the area.
Start right after 21 Front street, head up on the walkway and enjoy all the beautiful cottages! The grey shingled homes that line Sconset Bluff Walk are incredible – ivy wrapped walls, circular trellises and flowers everywhere!
Also nearby is Sconset Beach, which is a chill, pretty empty beach, and Sconset Market, a nice local farmer's market where you can pick up some sandwiches, homemade granola and pastries for a snack.
Sconset Bluff Walk continues all the way down to Sankaty lighthouse. The entire path is spectacular!
ADVERTISEMENT
---
---
3. Admire the Architecture
One of the prettiest things about Nantucket are the homes.
Unlike Martha's Vineyard, Nantucket was carefully planned by developers to create an upscale, controlled town and as a result, many of the historic homes have the same look and feel.
There are over 800 pre-Civil War houses on the island that have been carefully restored and you can't help but admire the quaint cottages and simple Federal houses all over town.
If you visit in peak summer, around July, all the island will be in bloom. It seems like everyone has either a green thumb or a master gardener because the careful landscaping is bursting with lots of color, tons of hydrangea and curved rose trellis.
Don't forget your camera! In one afternoon I took like 300 photos of the flowers and shingle cottages!
ADVERTISEMENT
---
---
4. Cruise the Harbor
Nantucket has some of the best sunsets in the world, so a perfect afternoon activity is to cruise around the harbor.
There are quaint tug boats, larger whale watching cruises and sleek schooners to pick from – whatever suits your fancy.
A fun family friendly cruise is the sightseeing ice cream cruise, where everyone gets an ice cream cone.
We booked a tug boat in late afternoon, which came with cocktails and charcuterie. It's a 2 hour cruise that loops around Brant Point Lighthouse and is a scenic sail along the pretty harbor front.
Best of all, it includes a drink choice (champagne mimosas, bloody marys, Cisco Brewery beer or Fishers Island lemonade cocktails) and some light bites! There's also a sunset option with oysters – mhmm.
ADVERTISEMENT
---
---
5. Go Fishing
Nantucket has lots of game fish so if you're a serious fisherman, visit Nantucket from May to November for prime fishing season.
Supposedly the south bay between Great Point and Nantucket Harbor is a good spot! We also saw some fisherman giving it a go at Sankaty Head lighthouse.
You can also rent a dedicated charter from Nantucket Harbor for big game fish, like tuna, marlin and mahi mahi.
I've always wanted to try that after watching too many episodes of Wicked Tuna!
ADVERTISEMENT
---
---
6. Visit the Whaling Museum
If it happens to rain during your trip to Nantucket, a perfect indoor activity is to visit the Whaling Museum.
It's located in downtown Nantucket, right across from Juice Bar (get an ice cream cone while you're at it!)
Nantucket first got its start through the whaling industry, and this interactive museum is entirely dedicated to explaining the island's maritime history and past economy.
Even if you've been before, the museum updates its exhibits regularly with different short films and old artifacts, so it's worth visiting again! From jars of whale oil to a 46 foot skeleton of a giant sperm whale, you never know what to expect!
Fun fact: Herman Melville was a Nantucket tourist and wrote Moby Dick loosely based on his island experience.
ADVERTISEMENT
---
---
7. Have a Clam Bake
We cheated a bit and ordered a lobster feast to eat at our rental house but you have to try seafood while you're on Nantucket.
From cracking your own lobster to clam bakes and fresh oysters at happy hour, you've got lots of options!
Some of the most popular seafood restaurants on Nantucket are:
Cru for seafood with a view
Brant Point Grill for their surf and turf
Sayle's for a filling fried seafood platform
Straight Wharf Fish Store for casual fish sandwiches
ADVERTISEMENT
---
---
8. See the Lighthouses
For a small island, Nantucket offers 3 beautiful lighthouses – all of which are worth a visit. They are:
Brant Point Lighthouse: This is the closest lighthouse to town, so it's the perfect spot to watch sunrise or sunset. Get an ice cream cone from the spot, Juice Bar, then walk down to the lighthouse. You'll recognize it by the white walkway and American flag painted on its side.
Great Point Lighthouse: This one is a little harder to get to, as it's out on Great Point. You'll need to rent a jeep with an over-sand vehicle permit and 4 wheel drive, since you drive over the sand. Since it's a bit of a trek, pack yourself a picnic to have lunch once you arrive!
Sankaty Lighthouse: I think this is the cutest lighthouse on Nantucket, as it has a distinctive white and sandy red stripe pattern. Sankaty Head is on the easternmost point of Nantucket, in Siasconset.
ADVERTISEMENT
---
---
9. Take the Brewery Tour at Cisco
Luckily, our rental house was right around the corner from Cisco Brewers so we spent a couple of hours here before the sunset.
It's a brewery, winery, distillery all in one.. complete with food trucks, live music, and open air seating!
We first tried some of the different beers on tap. One of the most popular is the Grey Lady beer with a shot of blueberry vodka. I tried the watermelon basil sangria which was delicious and not too sweet.
There's a couple different food trucks parked around, and we each ordered a mix of lobster rolls, crab legs, deep-fried mac & cheese egg rolls and sweet potato fries to share.
Afterwards, we signed up for a tour.
Cisco has an onsite winery and distillery so in addition to beer they produce flavored vodkas, whiskeys and wine. Some beers are only available on the island, like Island Reserve.
You shouldn't skip this spot – it's perfect for families since there's live music and dogs are allowed. Cisco offers a free shuttle from town or you can bike your way over like we did!
ADVERTISEMENT
---
---
10. Lay Out on the Beach
Pretty much everywhere along the coast is a stunning beach and all of Nantucket's waters are open to the public.
But, you probably want a lifeguard on duty, easy access to roads and clean bathrooms, so you'll find most people like a couple of spots.
Here are some of the best beaches in Nantucket:
Jetties Beach (North shore): has umbrellas for rent, a beach shop and picnic tables
Surfside Beach (South shore): this one has bigger waves and a family friendly children's beach
Madaket Beach (Southwest shore): equally great for surfing and a calm swim, since there's a quiet bay. It's also one of the less crowded beaches but there's still a restaurant nearby!
Sconset Beach (Eastern shore): less crowded, near Sconset Market. The drop off here is a little steep since it faces the Atlantic ocean
Cisco Beach (South shore): easily accessible since there's a bike path! Great views but no food or bathrooms, lots of surfers and kite surfers instead.
Ladies Beach (South shore): popular for surfers, since there are some great waves
ADVERTISEMENT
---
---
Enjoy Nantucket! Fair warning… once you arrive, you may never want to leave!
Visiting Nantucket – Trip Planning Checklist
Flight Deals | Jet Blue offers nonstop flights from NYC to Nantucket. The flights are short and affordable, but occasionally fog disrupts routes. Alternatively, you can fly to Boston and then take the ferry. Set a fare alert here to be notified of discounts. September is a great time to visit to avoid the crowds!
Accommodation | Nantucket is a pricey weekend escape, so book hotels in advance to save, or check here for last minute deals. Not sure whether to pick a boutique or b&b or even what part of town to stay in? Read my Nantucket accommodation guide.
If you have a group of people, rent a house on Airbnb. It's not only more charming and affordable, it's more fun! 
Insurance | Lastly, be sure to visit Nantucket with travel insurance. Whether you get injured and need to be hospitalized, or your phone gets stolen, travel insurance will help when you need it most.
Nantucket's reputation as the Grey Lady means flights are delayed often. In our case, our flight was canceled and then our rebooked flights were delayed for 12 hours! Get a quote for your trip here.
You Might Also Enjoy:
Nantucket Vacation Planning Articles
The First Timer's Guide to Visiting Nantucket
Don't Miss: 10 Best Things to Do in Nantucket
The Ultimate Guide Where to Stay in Nantucket
The Best Nantucket Airbnbs: Oceanfront, Cottages, Group Rentals & More
3 Days in Nantucket: A Classic Long Weekend Itinerary
What to Wear in Nantucket Hint: Think Preppy
Boston Vacation Planning Articles
Boston Travel Guide: 7 Wicked Cool Things to Do in Boston
Where to Stay in Boston: A Neighborhood & Accommodation Guide
Where to Eat in Boston
4 Incredible Restaurants You Must Try in Boston
Don't Miss Boston's Breweries: Our Day at Harpoon
Greater New England
Sailing in Maine: Our Windjammer Experience
Follow me @Sher She Goes on