Best Money Belts for Travel
ADVERTISEMENT
Money Belts
Efforts to learn the language, culture, and generally avoiding appearing like a "tourist" during your vacation are admirable.
Unfortunately, the moment you feel most integrated with your new surroundings… also seems to be the exact time you're most likely to lose your valuables!
Whether through negligence or theft, there's lots of options to protect your things on vacation.
ADVERTISEMENT
---
---
Travel Money Belts
There are many differing opinions regarding the best way to secure valuables during vacation.
Some believe you should strategically spread out where your valuables are located – if you lose your backpack that contained some cash, at least you still have your cards and passport in your travel wallet.
Others believe you should have everything centrally located so that you always know exactly where all your cash and valuables are.
Forgo fashion – some swear by traveling fanny packs, claiming that valuables kept in a waist money pouch will prove too difficult for thieves.
For my money, (see what I did there!), money belts are a great way to secure your cash and valuables because they're often comfortable, hidden, and, in many cases, look and function like regular belts.
Plus, today's money belts have the latest technology, including RFID-blockers to prevent remote theft.
Keep reading for the best money belts for travel!
ADVERTISEMENT
---
---
Keep reading, or pin this article to save it for later ⇟
ADVERTISEMENT
---
---
Best Travel Money Belts (2023)
Best Basic Travel Money Belt: Hopsooken
ADVERTISEMENT
---
---
Best RFID Money Belt for Travel: Alpha Keeper
ADVERTISEMENT
---
---
Best Black RFID-Blocking Money Belt: Zero Grid
ADVERTISEMENT
---
---
Best Women's Travel Money Belt: Venture
ADVERTISEMENT
---
---
Best Large Travel Money Belt: Raytix
ADVERTISEMENT
---
---
Most Stylish Money Organizer: Royce New York
For something a bit more elevated, try Royce's RFID blocker travel organizer.
I have the leather identity theft pouch and love how practical and chic it is! There are four zippers and inside the compartment can be organized to hold your passport, currency or any other important travel documents.
ADVERTISEMENT
---
---
Best Bra Pouch Money Belt: Pacsafe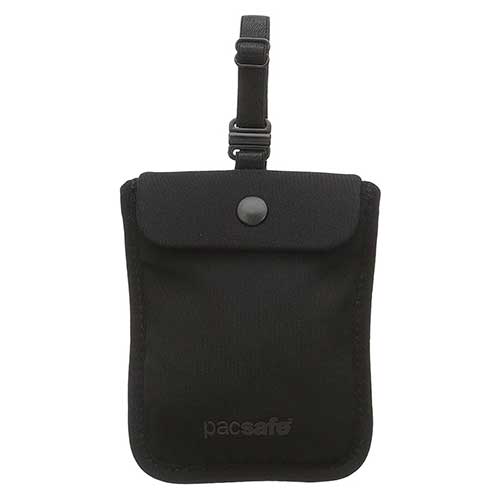 Prefer to keep your valuables close to your chest?
Then grab this Pacsafe secret bra pouch. You attach it to the band of your bra so your passport, credit cards and cash will be just a hand away.
The pouch itself is made from soft touch nylon with a bit of spandex. It's lightweight, very comfortable to wear and super secure!
ADVERTISEMENT
---
---
Best Travel Money Clip: Bosca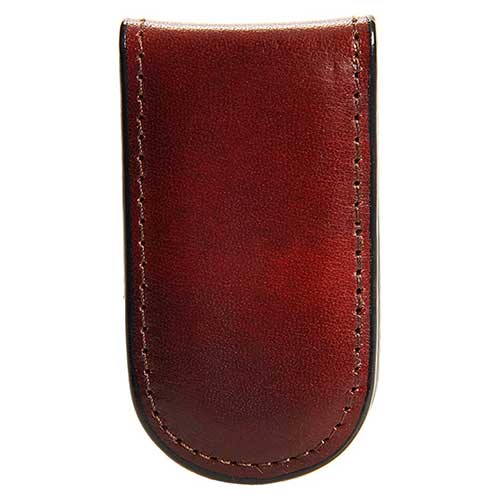 Men will love the simplicity of this Bosca money clip.
The gorgeous leather is hand-dyed by sponge, according to a centuries old Tuscan technique. It's outlined with beautiful stitching and would also make a great gift for a travel-loving dad, brother or spouse!
ADVERTISEMENT
---
---
Shop Money Belts
---
ADVERTISEMENT
---
---
Read More   in my travel packing checklist series:
Best Travel Luggage
The Best Carry on Luggage for 2021
The Best Packing Cubes for a Perfectly Organized Bag
The Best Lightweight Luggage for Overpackers
The Best Hard Luggage Sets for Stylish Travelers
The Best Underseat Luggage for Minimalists
The Best Carry On Bags for Men - Rugged + Durable!
Business Travel
The Essential Business Packing List
The Best Business Travel Luggage
The Best Laptop Cases for Working Women
The Best Laptop Bags for Men
Packing Hacks
The Best Travel Wallets for All Your Vacation Essentials
The Best Jewelry Cases Never Untangle a Necklace Again!
The Best Toiletry Bags to Clean Up Quick
Travel Packing Lists
The Best Travel Jackets for All Types of Weather
The Best Duffel Bags for Your Next Weekend Trip
The Best Travel Backpacks to Hold Everything You Need
Follow me @Sher She Goes on