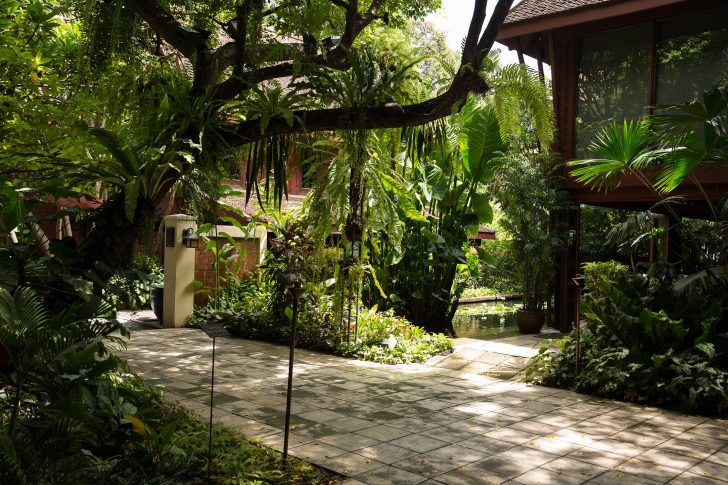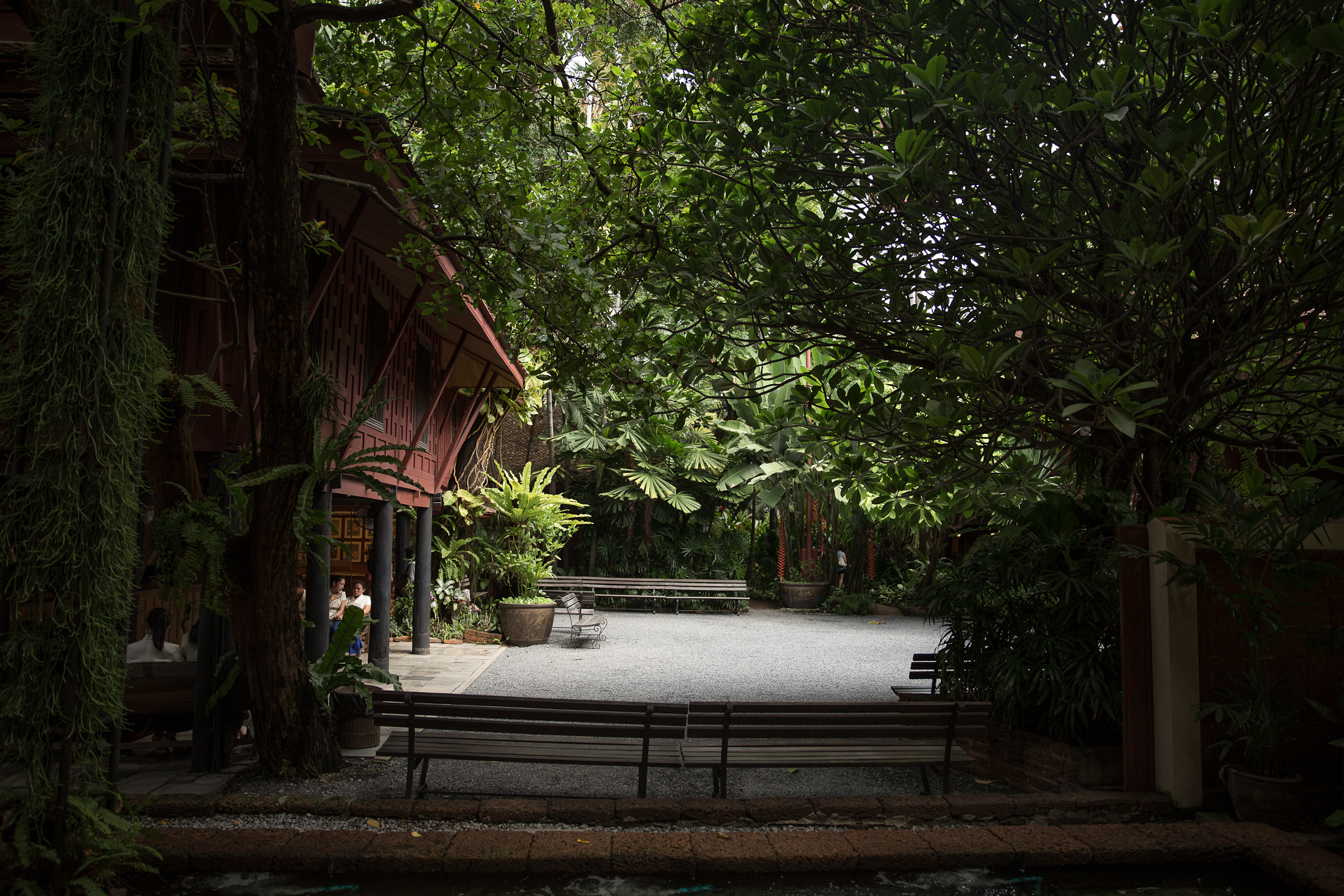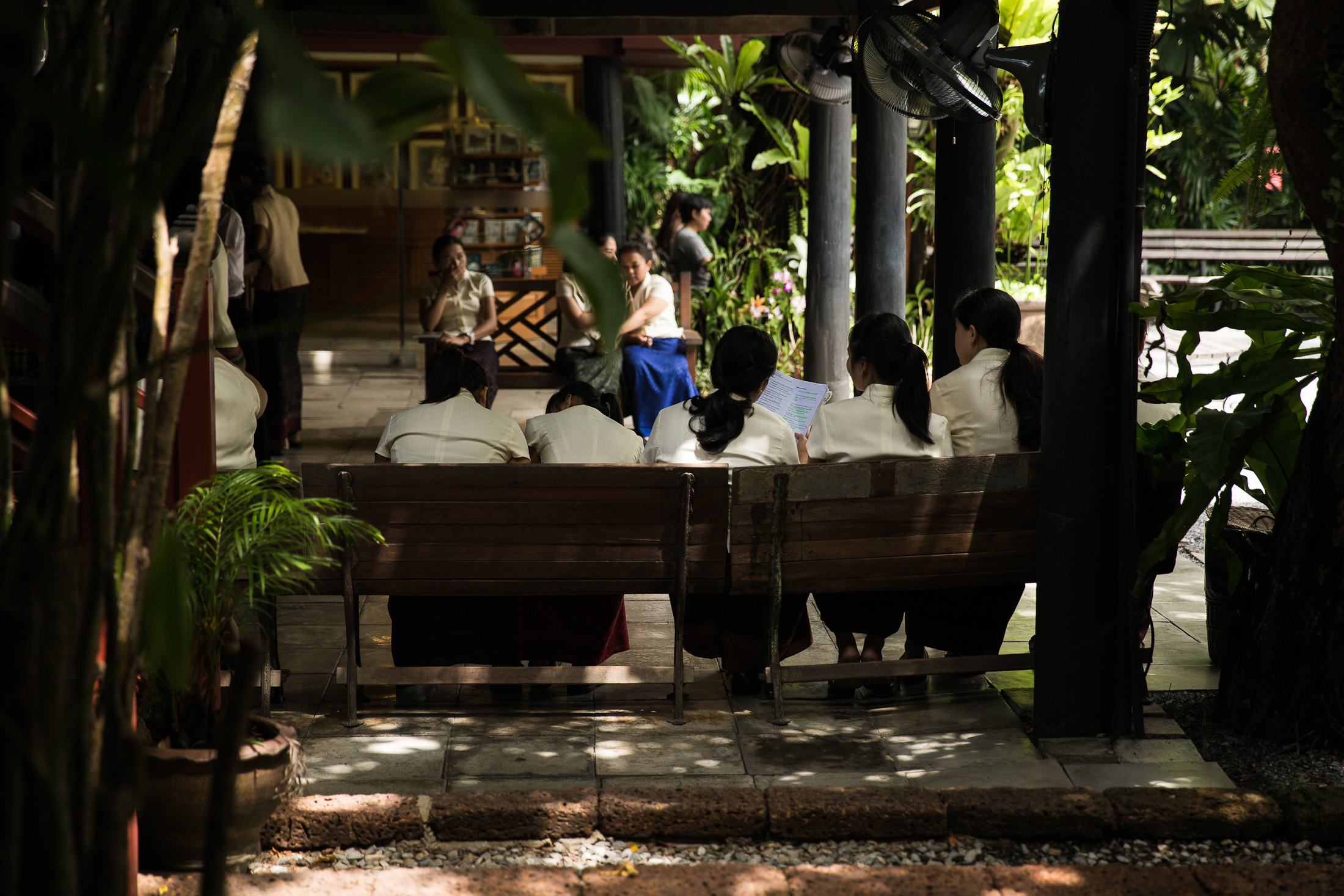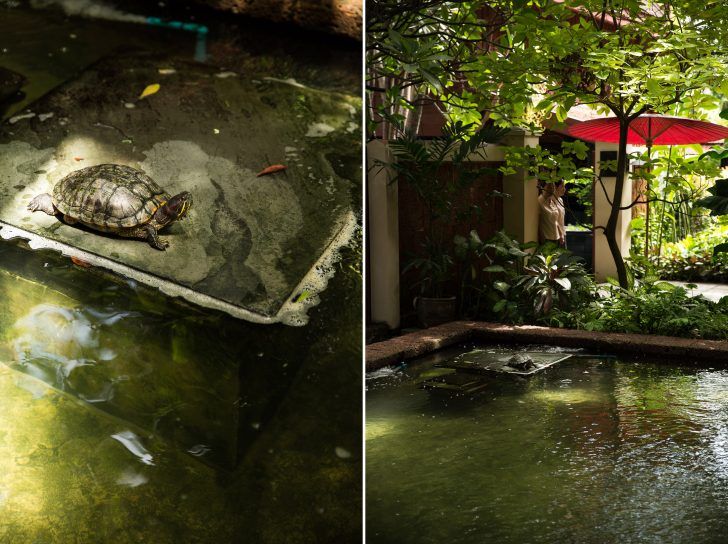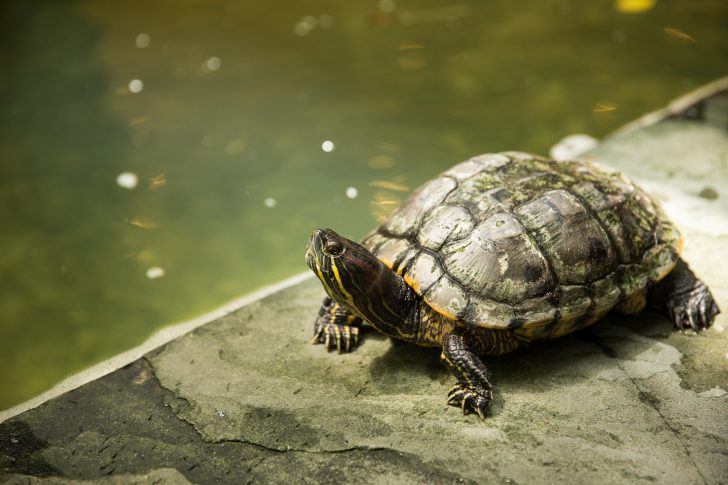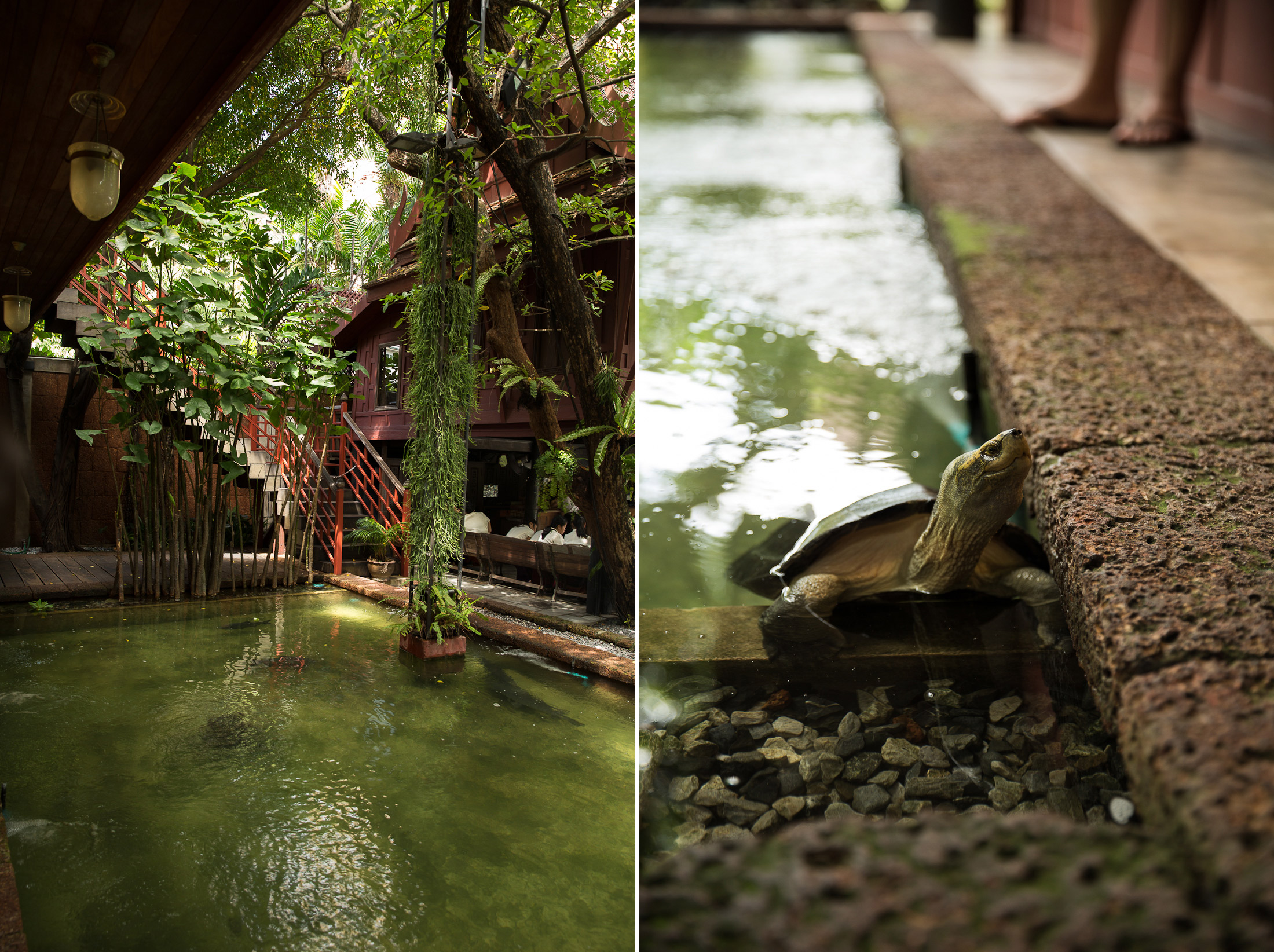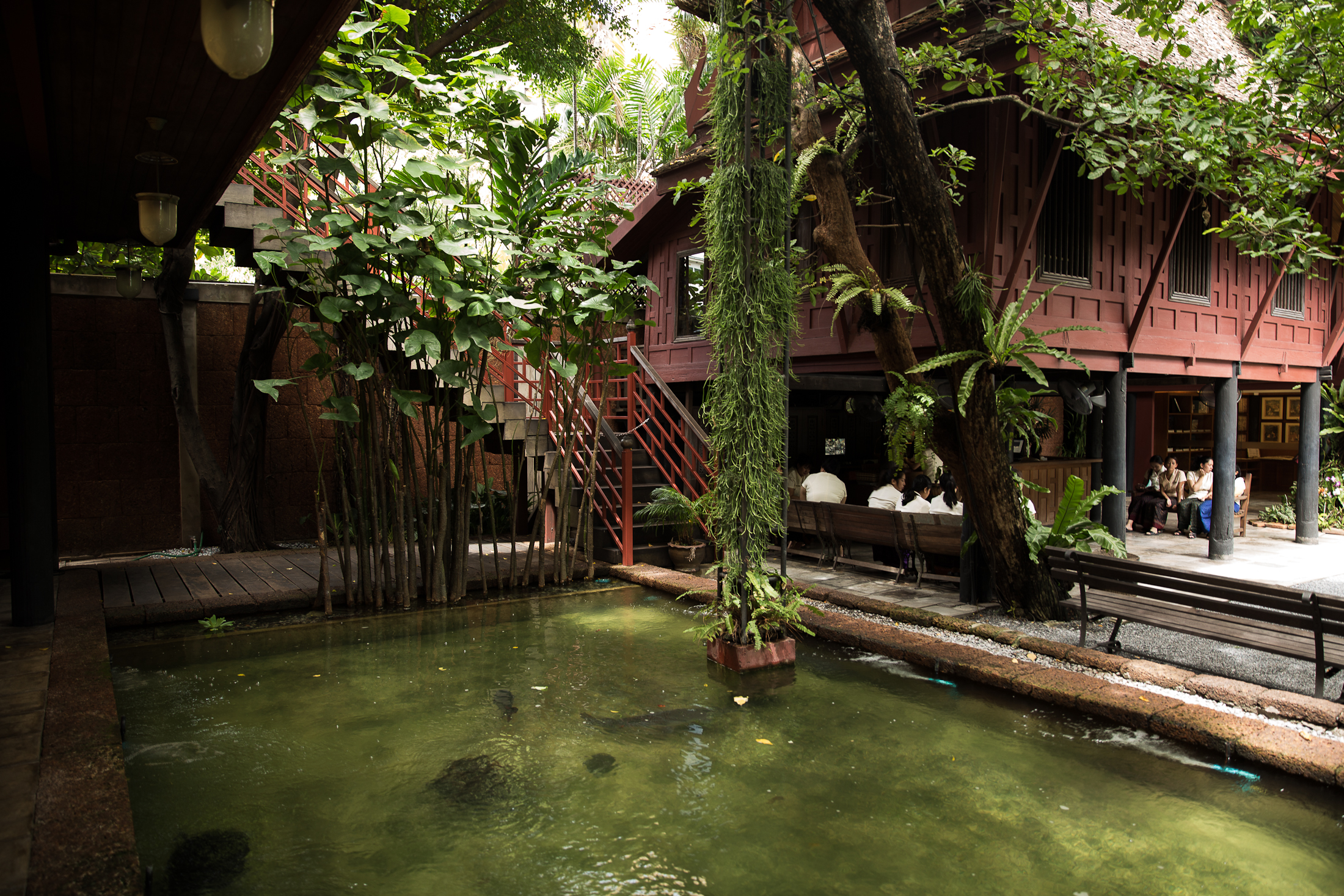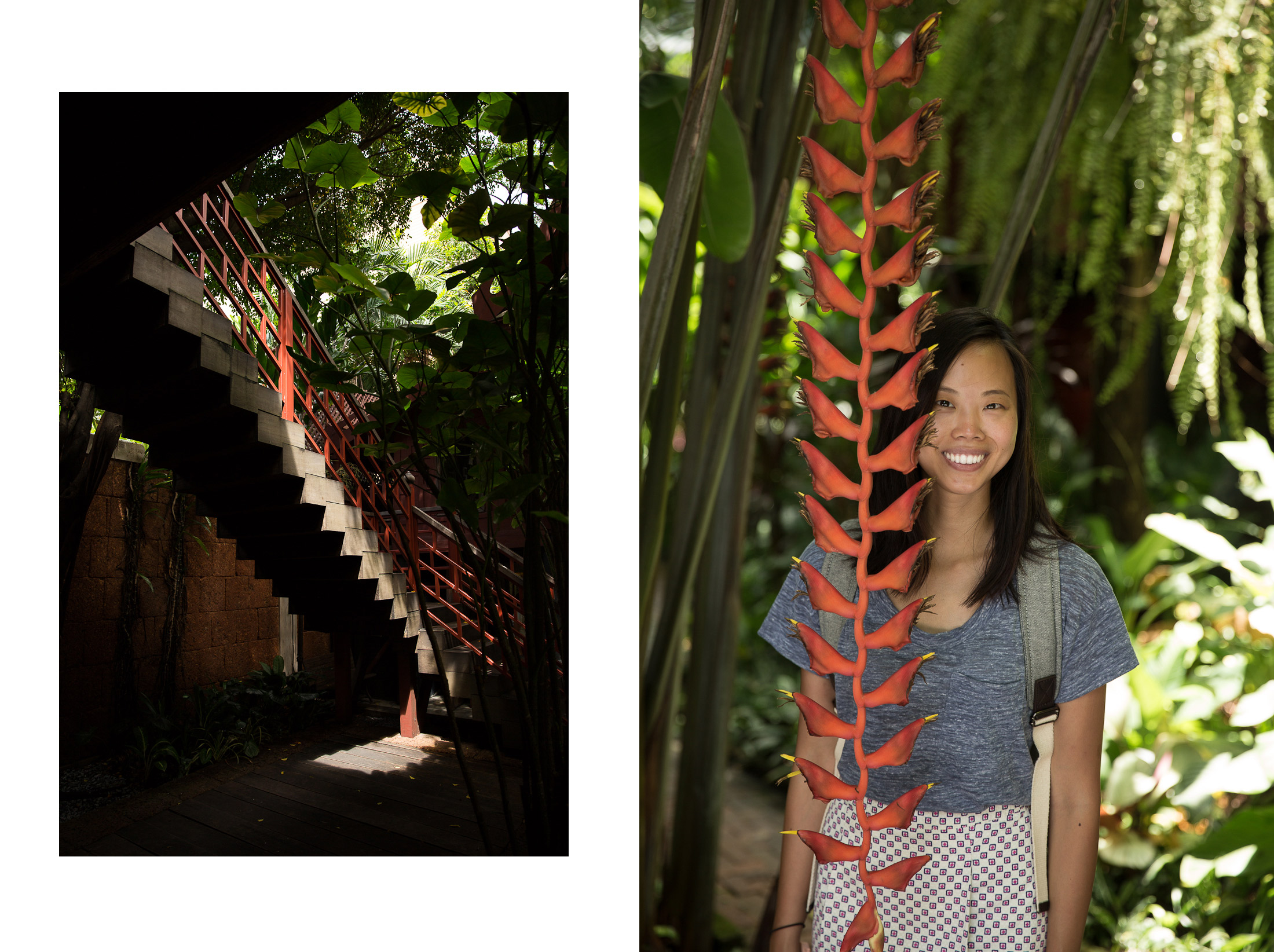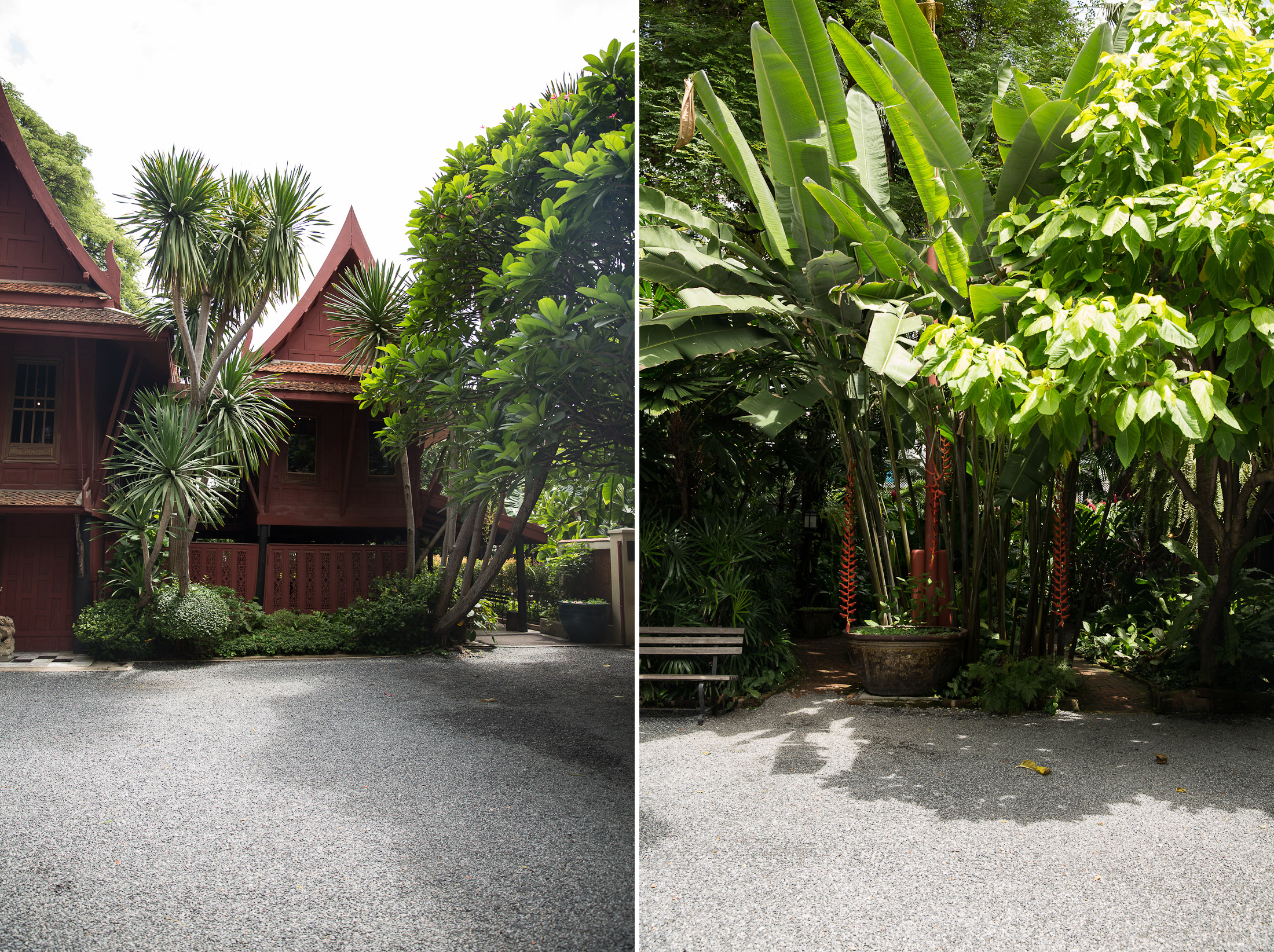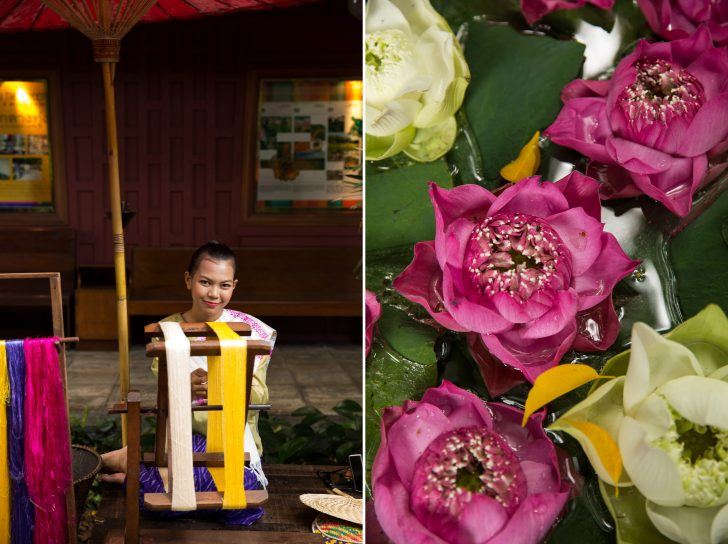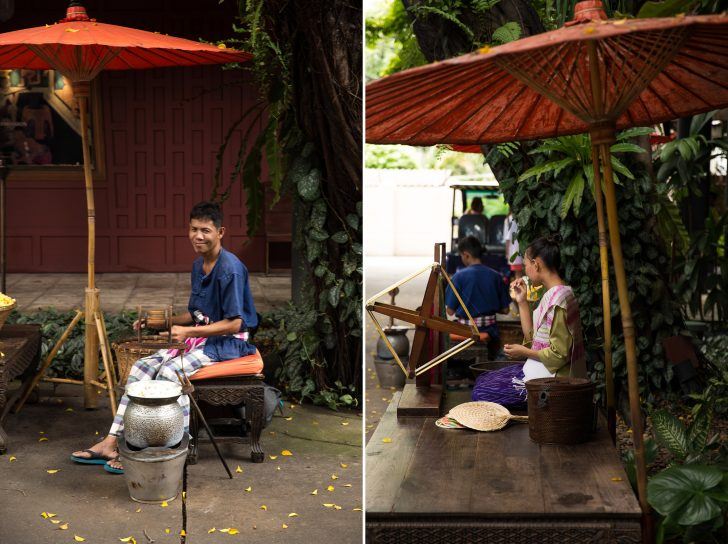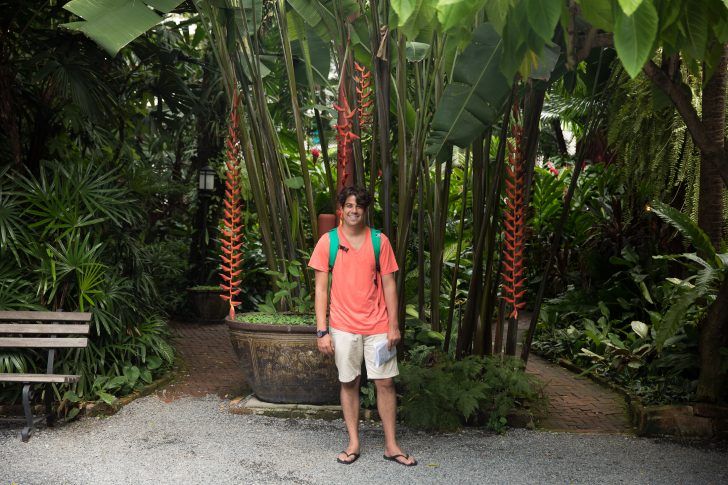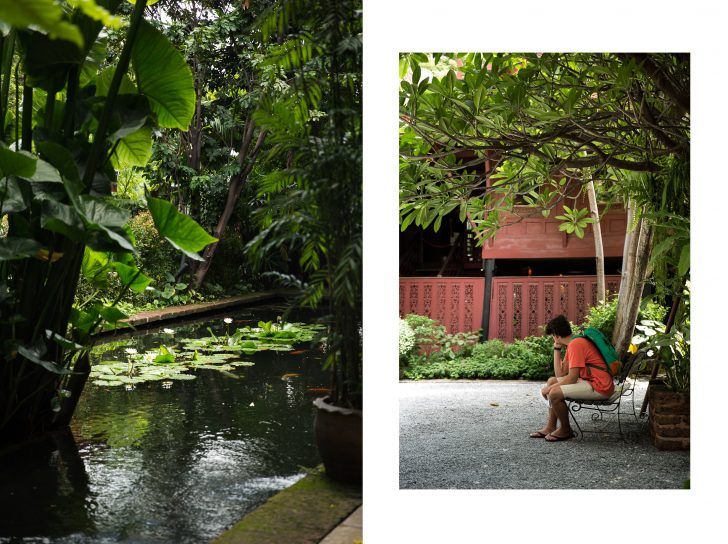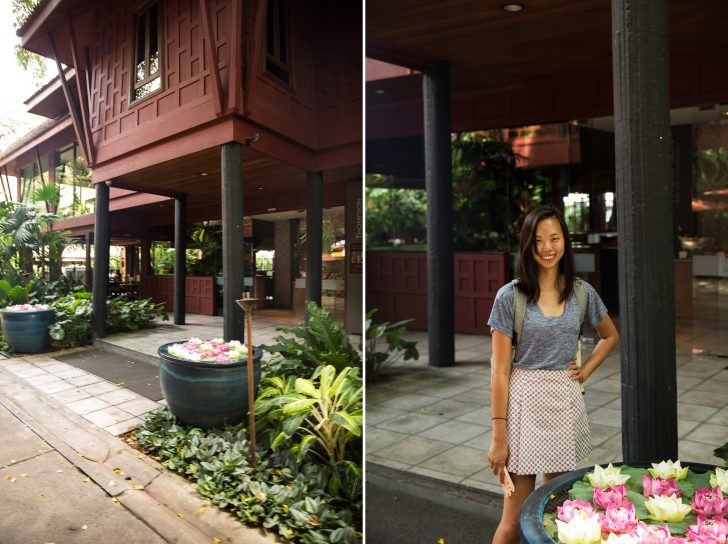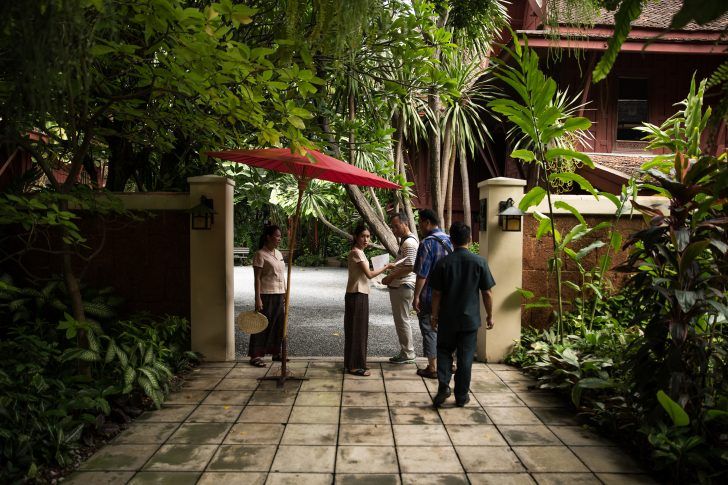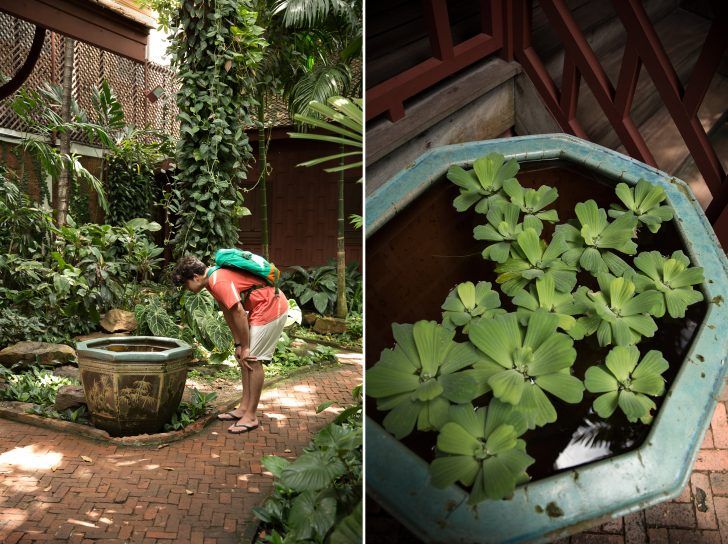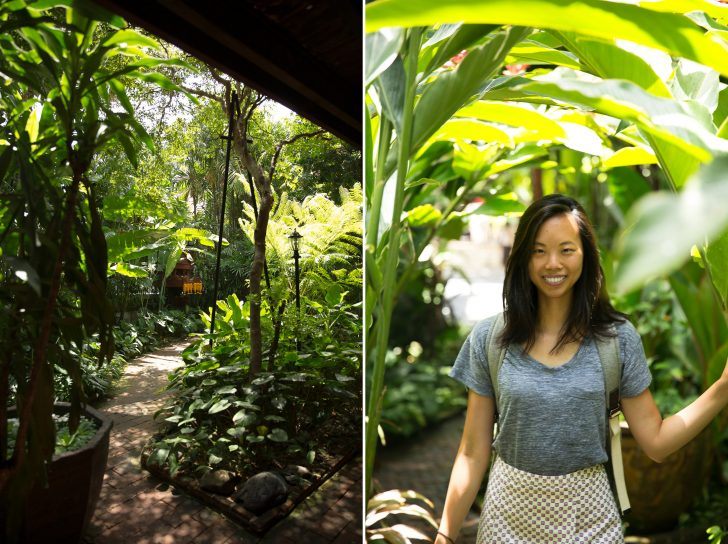 Jim Thompson, International Man of Mystery
"Why does everyone want to go there?" – perplexed local taxi driver upon hearing we planned to visit Jim Thompson's house.

Maybe it's the mystery of the man's disappearance, maybe it's the beautiful compound or maybe it's just the chance to see live silkworms and discover the process of creating silk – but Jim Thompson's house is one of the top attractions in Bangkok for foreign tourists to visit. Jim Thompson was an American businessman who helped revitalize the Thai silk industry in the '50s and 60's. I don't necessarily think he's a household name but for those in the fashion and textile industry, he is widely credited for "singlehandedly saving Thailand's silk industry from extinction" by exporting the country's vivid, jewel-toned silks all over the world. Vogue magazine's feature on Thompson and his oriental silk fabrics took the fashion world by storm.
Prior to settling in Thailand and setting up his silk company, Jim Thompson was recruited to join the OSS by William Donovan during during World War II (The OSS being the predecessor to today's CIA). He worked with the French resistance forces in North Africa, aided war efforts in Europe and eventually was transferred to present-day Sri Lanka to work with the pro-Allied Free Thai movement with the aim of liberating Thailand from it's Japanese occupiers.
After the war ended and Japan officially surrendered, Thompson moved to Thailand to organize the Bangkok OSS office and served as the military attaché to the U.S. Minister to Thailand. By 1946, Thompson officially discharged from the army and headed back to the United States. However, he returned to Thailand and by 1948 founded the Thai Silk company. The company employed local Thai silk weavers who relied on ancient silk crafting techniques. The industry was an ingrained part of local life, where women wove enough silk for each household. Thompson however, had an eye for foreign consumption and purposefully developed dramatic color patterns to appeal to world markets. By 1951, the firm achieved notable success when the fabrics were featured in Rodgers and Hammerstein's musical production of The King and I.
"(I must say) that silk in itself possesses a great deal of glamour. It has an aura of exotic mystery and richness about it. For centuries it has been the fabric of kings and queens. From the way our sales are going, everyone must be dressing like royalty." – Jim Thompson
After finding monumental success in his adopted homeland, Jim Thompson suddenly disappeared in the highlands of Malaysia in March 1967 on a vacation with friends. He set out for a walk in the jungle and never returned. Despite a massive organized search effort, he was never found again… Conspiracy theories abound as to what happened to Thompson. Some believe he might have faked his own disappearance or that it could be connected to his wartime CIA activities.

The Thompson Compound
We visited Jim Thompson's house on our last day in Thailand and had a great time exploring the grounds. Near the entrance are two local Thai weavers simulating the process of weaving brightly colored silk from silkworm cocoons. There's also two large ponds, one with fish and the other, featuring three turtles and some exotic looking reptile fish. Organized tours of the house are offered with admission. Each tour is organized by language and led by a local Thai who explains the significance of the housing structures.
Thompson's house is unlike any other in Southeast Asia – as an American, ex-spy, ex-architect and silk merchant, his house was built as a showpiece of sorts to highlight his antiques. "House" isn't quite the correct term. Thompson brought over six ancient Thai teak wood dwellings from Ayutthaya and connected them together via elevated walking planks to form one large structure. This masterpiece estate sits in a quiet section of Bangkok on the banks of the Saen Saeb Canal. Visitors entering via boat (as they would have in his time) would dock up to the pier and enter via the gardens. Meanwhile, his foreign visitors arriving by car would arrive on the opposite side of the compound and brought into a grand foyer. The entire house is constructed without nails!
I thought it was quite beautiful to see how Jim Thompson designed his mansion as a blend of east and west. Each 'house' is elevated a full floor above the ground, in custom with local Thai houses to safeguard the structures against flooding and provide for greater air circulation. However, Thompson added a central staircase indoors, against local tradition of keeping it outdoors. He also reversed the wall panels to face indoors so that their unique detailing would be visible. Throughout, Thompson prominently displayed his collection of art – Chinese Ming porcelain, Belgian glass, Cambodian carvings, Victorian chandeliers, Thai stone images and Burmese statues decorate his rooms. It's definitely a showstopper home and uniquely his. Even though he's long gone, the compound is very quiet and lush with greenery. It almost felt like we exited the hustle and bustle of Thailand's capital and stepped back in time.
If you're in town, Jim Thompson's house is a great place to visit. The guides do a great job detailing the architecture of his home while the compound itself is beautiful. We went on a sunny afternoon and had a great time exploring! To see the silk company today, check out the Jim Thompson Fabric instagram for some beautiful examples of their silk products.
To Visit
6 Soi Kasemsan (2) Song on Rama I Road |
แขวง วังใหม่ เขต ปทุมวัน | Bangkok 10400 Tel: (662) 216 – 7368 Open daily: 9am – 5pm Last guided tour at 5pm Admission: Adult 100B, Students and under 25, 50B Conveniently located near the BTS skytrain 'National Stadium' stop. They also have golf cart vehicles that on departure, offer to drive you to the skytrain stop. From our hotel at the
Conrad Bangkok
, this was a super short and convenient taxi ride!