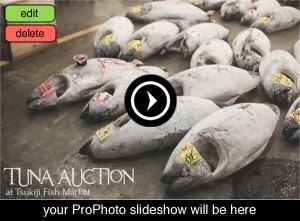 Today is a very exciting day as I'm finally getting around to showing pictures from my week and a half long trip around Japan…from a year and a half ago. I planned pretty much every minute of this trip and was very, very excited to experience the food, shrines, sake and basically every aspect of Japan's unique culture. First stop – Tokyo!
Tsukiji Fish Market
I made a special visit to the Tsukiji Fish Market and took so many images that I'm experimenting with the gallery feature. Click on the play button for a slideshow of of tuna, octopus and fish market shots (or you can click the right arrow to move at your own pace).
Tsukiji (pronounced like ski – ji) is the world's largest fish and seafood market and embodies the heart, soul and stomach of Tokyo. The market handles over 400 types of seafood from inexpensive seaweed to premium caviar, from tiny sardines to 300kg tuna. If you're interested in visiting, hopefully you're either jet lagged or an early bird – Tsukiji is most active around 5:30am – 8:00am.
---
---
How to See the Tuna Auction at Tsukiji Fish Market
Where: reserve a spot at the fish info center inside Kachidoki Gate
Map: here
How: be one of the first 120 people
When: Group 1 (60 people) see an auction at 5:25am / Group 2 (60 people) see an auction at 5:50am
The highlight of visiting Tsukiji Market is the tuna auction. Public (tourist) access is limited to 120 people (in two shifts of 60) and on a first-come, first-serve basis. Registration begins at 4:30am at the fish information center (Osakana Fukyu Center) inside the Kachidoki Gate off Harumi Street. Check out this map for an idea of the marketplace layout and how to find the gate.
Make sure to wake up early! And I mean EARLY. The first time we tried, we aimed to arrive at 4:30am and that was too late. A really friendly old Japanese man zoomed us around on his motor cart to help us find the info center. Alas, those carts max out at 20 miles an hour… so we didn't make it.
The number of visitors to the tuna auction builds fast, and is strictly capped at the 120 person maximum. It takes some time to find the right gate so definitely build in some additional travel time. The tokyo metro won't be open until 5:00am so you'll definitely need to take a cab and Tokyo cab fare is astronomically wallet shattering, so try to wake up sufficiently early and avoid taking two trips to Tsukiji like I did. I think i spent like $140 on the two cabs (ugh).
Once you arrive at the fish info center, you'll stand in line until the room is full and be asked to wear a vest to identify you as part of the group (neon green for group 1, blue for group 2). Then, the group is herded single file to the auction site to see one entire auction.
---
---
Group 1 will see an auction at 5:25am while Group 2 will see a later auction at 5:50am. The attendants herd effectively; wandering is not allowed. In other sections of the warehouse, other auctions occur simultaneously. Most of the tuna is frozen and the bidders inspect part of the tail flesh to determine quality.
It gets a bit crowded as the fish market creates this tight lane for tourists and most likely your group will have several photographer enthusiasts, so there is some jostling and elbowing for a good view. The best part, in my opinion, is when the auction is over and you're let loose out of the warehouse. Gone are the herding guardsmen and I was able to get some closer shots and peek into the other warehouse sections!
I highly recommend going but if you'd rather sleep in, or haven't the nose for fish, check out the gallery above for some scenes from the tuna auction.
Sushi Breakfast at Tsukiji
After the auction, we went to get a sushi breakfast at Sushi Daiwa. It was perfect timing, since the restaurants open at 5am. There was a line but it we waited maybe 45 minutes?
The two most popular restaurants at Tsukiji are Sushi Dai and Sushi Daiwa. They are near each other so I'd go to whichever has the shorter line – they serve the same omakase set menu of about 10-12 pieces of fish. I went in 2012 and remember it costing around $50 USD so it's a definite steal given how fresh the sushi is!
For more on Tsukiji, check out the various fish stalls and sushi breakfast options! Or feast your tastebuds in Osaka.
---
---
Want to know what else to do in Tokyo? Check out my full Japan series: