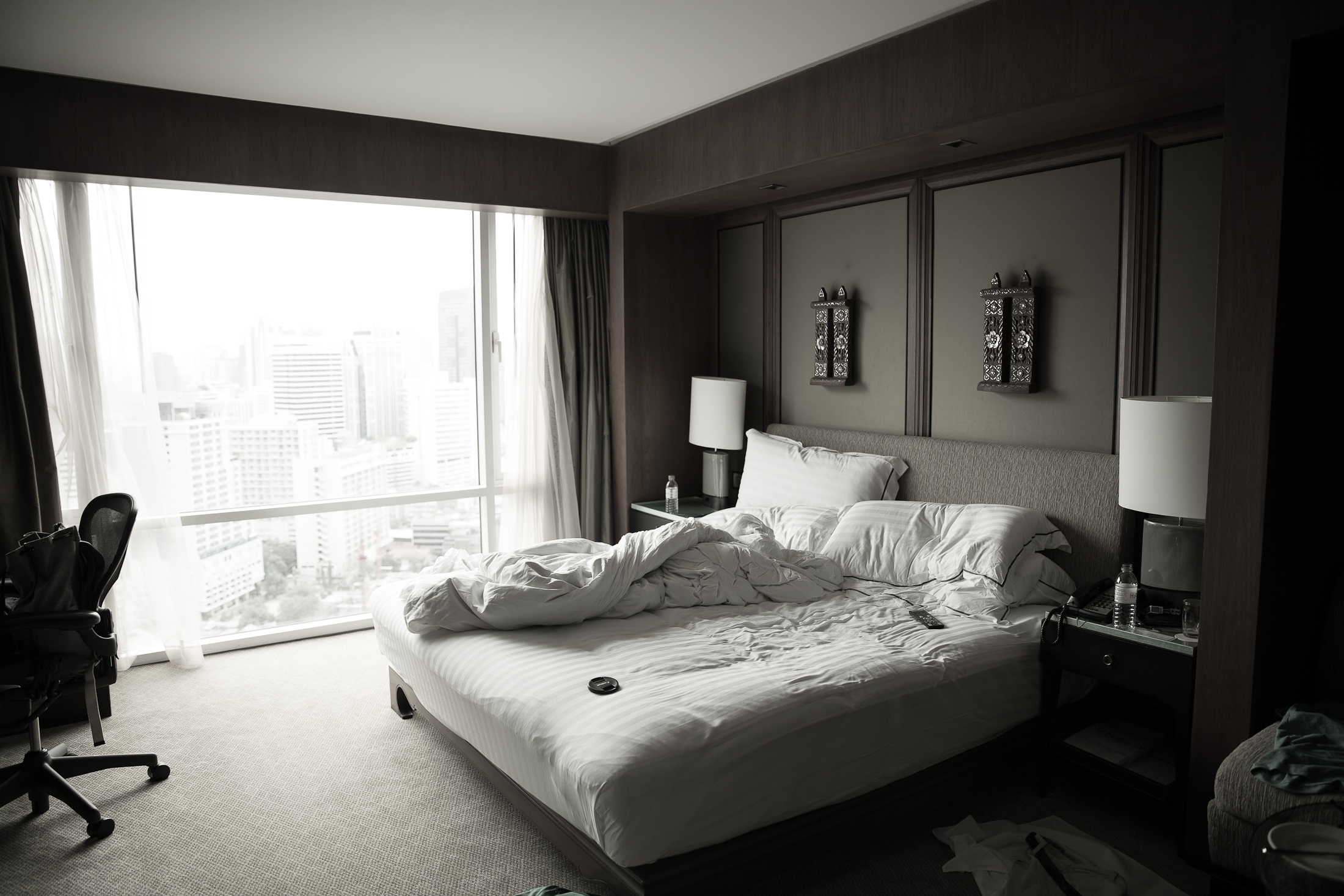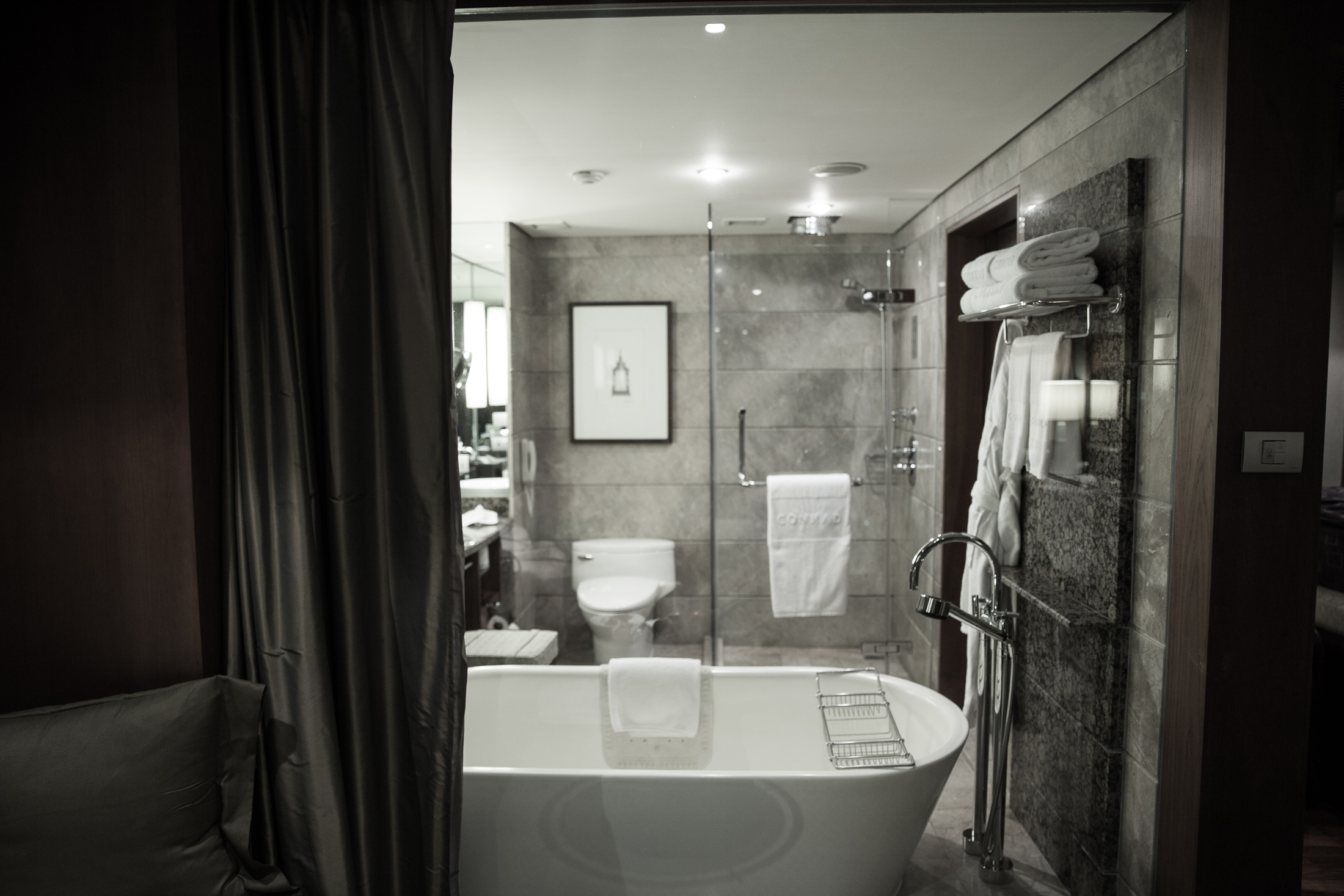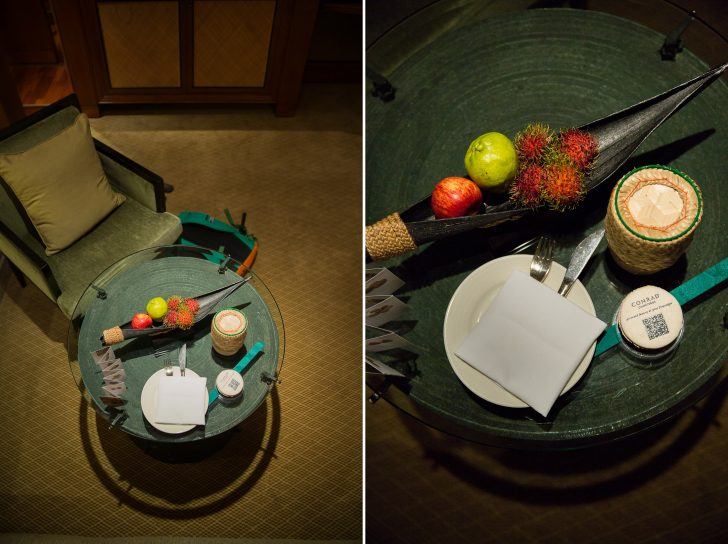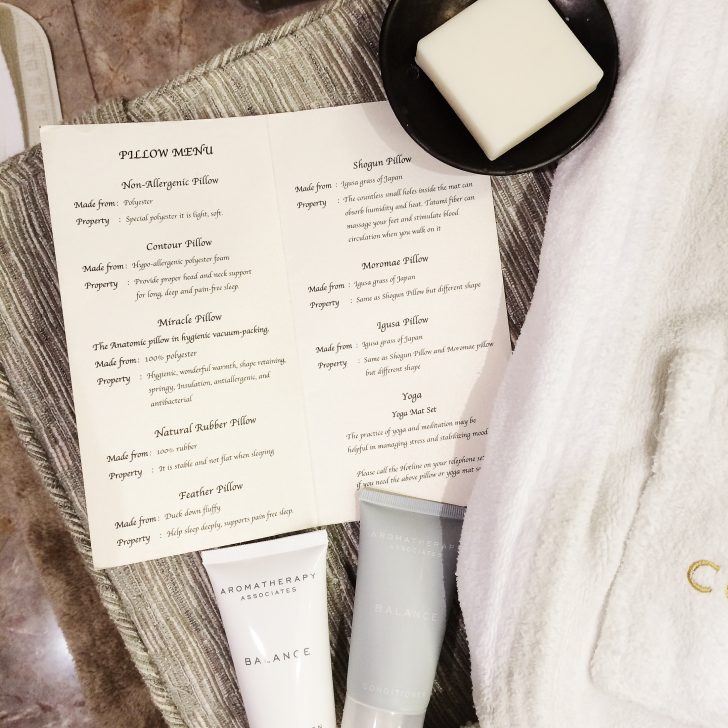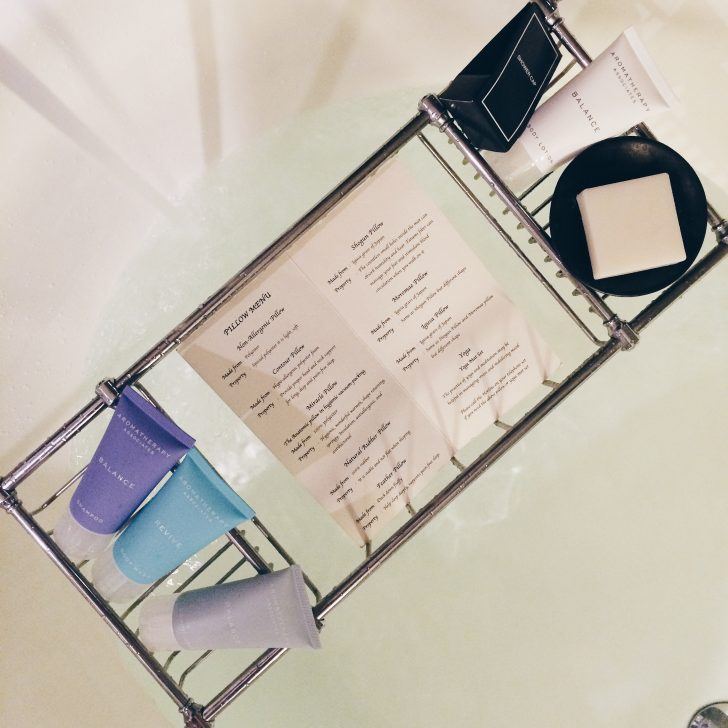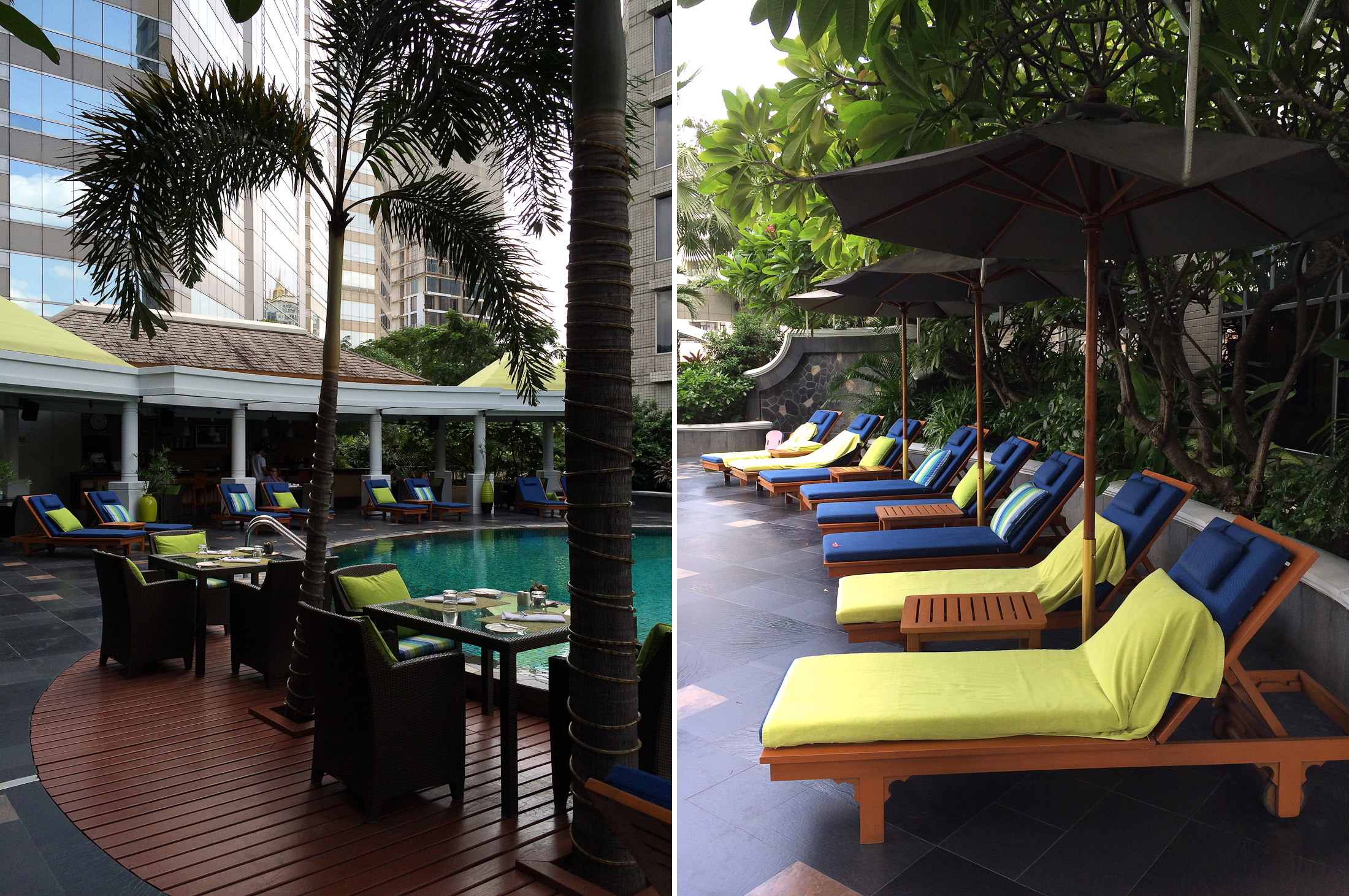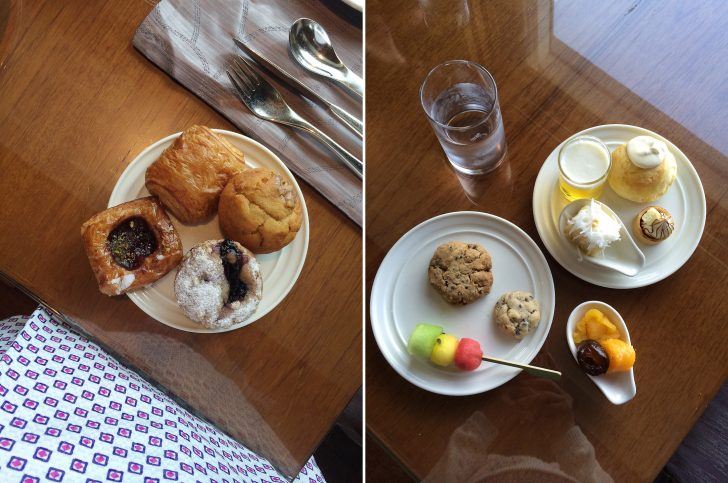 Conrad Bangkok
The Conrad Bangkok is a beautiful, grand hotel located in the Central Business District. It's certainly very plush and spacious and we had the most relaxing stay. The lobby itself is huge while the entire second floor dedicated to conference rooms and meeting spaces, so I got the feeling it caters primarily to business travelers.
Our room itself was comfortable and featured a large soaking tub, which we took advantage of to wash away the Bangkok heat and stickiness. We were also given a welcome gift of fruits native to Thailand, along with a little instruction manual identifying them (it was the first time I got to try guava and rambutans). I had always heard that tropical nations were blessed in the fruit department and Thailand is no exception. Practically every day of the trip we had a pineapple fruit smoothie or bottle of guava juice – they literally just grind up the fruit along with tons of ice; no sugars or additives and it tastes SO amazing. Since we've been back I've attempted to make my own smoothies and frozen, pre-picked fruit in the States just don't cut it in comparison. Oh well..
We also got a giant macaron emblazoned with the Conrad logo and those scanner things on it. I honestly have no idea what those bar codes are used for – does anyone actually scan them? It's quite amazing that they thought to put it on food. The macaron itself was delicious, a blend of vanilla on one side and raspberry on the other.
The Conrad is so comfortable we spent the majority of our time relaxing in the room, watching American movies and basking in air conditioning since it was the end of our Thailand trip (our 2 week Thailand itinerary is available here if you're looking for ideas).
If you're up for exploring, the hotel is about a 5 minute walk to the skytrain, which gets you to all the large shopping malls nearby (or you can take advantage of the hotel's complimentary shuttle to the skytrain station). There's also a nice pool on the 7th floor.
Oh! I almost forgot to mention. If you are lucky enough to get access to the Executive Lounge, a heaping breakfast buffet, afternoon tea and evening drinks await. The best part about the entire stay is how affordable it all is. Conrads are usually way out of my budget but for whatever reason, the cost of a stay in the Conrad Bangkok is cheaper than most suburban chain hotels in the US. We also stayed at the Conrad Ko Samui which was probably the nicest hotel I've ever stayed at in my life!
FYI – a handy budget tip: for all our hotels in Asia, we book through Agoda.com to get the best rate as they guarantee and price match. The site also allows you to earn reward pints without having to commit to one hotel brand so I like that one-stop shop nature to it.
Conrad Bangkok Hotel
Check the latest prices here | Read reviews on Tripadvisor
P.S.: If you do stay at the Conrad Bangkok, taxi drivers will try to demand 200 B from you for a ride as they associate the Conrad name with "gullible traveler with excess cash". Politely insist on using the meter (as cabs are legally required to anyway..) and you'll find that it only costs 30-40 B (to and from the shopping centers close by) and 60-70 B (from the train station across town).
Also on our last night, I wanted to visit a local night market for some snacks and cart food. I asked the concierge to recommend one close by, and she did – but it ended up being the local call-girl and "ping pong show" area as well. That was a bit of a surprise and not at all what I had in mind…