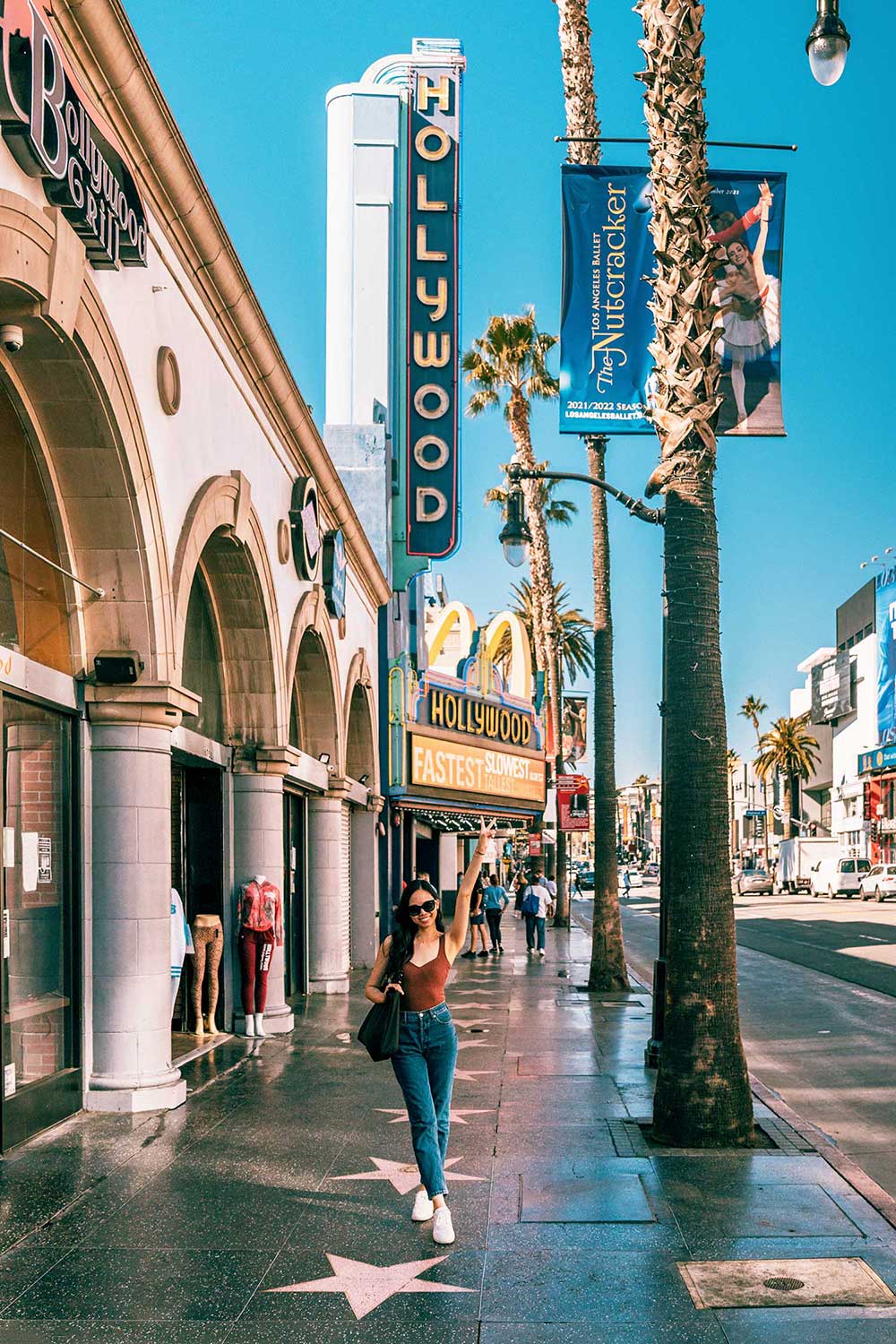 Hollywood Boulevard
If it's your first time visiting Los Angeles, you can't skip a walk down Hollywood Boulevard!
The famous street is full of iconic museums, theaters and landmarks that immortalize the city's movie-making status.
It's definitely touristy, but there's also so much history and landmark architecture that it's worth spending a half day to explore the neighborhood.
Here's everything to see and do in Hollywood.
ADVERTISEMENT
Hollywood Boulevard is one long stretch, so make sure to wear comfortable shoes when you visit!
I wore this bodysuit, some loose straight leg jeans and white sneakers for our day around the Hollywood Hills.
White sneakers are such a closet staple – they match any outfit and these Margaux ones in particular are super comfortable, so they're great for a full day of sightseeing on your feet.
Even though we visited Los Angeles in mid November, the city was so much warmer than I expected. I'd ditch the jeans honestly and opt for shorts!
There isn't much shade on Hollywood Boulevard so wear layers and be ready to sweat under the hot California sun!
Shop this look and more winter favorites on Zappos here.
ADVERTISEMENT
---
---
Best Things to Do in Hollywood Boulevard
Don't have time to read through? Here are some LA tours that will guide you to the best spots on Hollywood Boulevard and greater Los Angeles to help you make the most of your day!
ADVERTISEMENT
---
---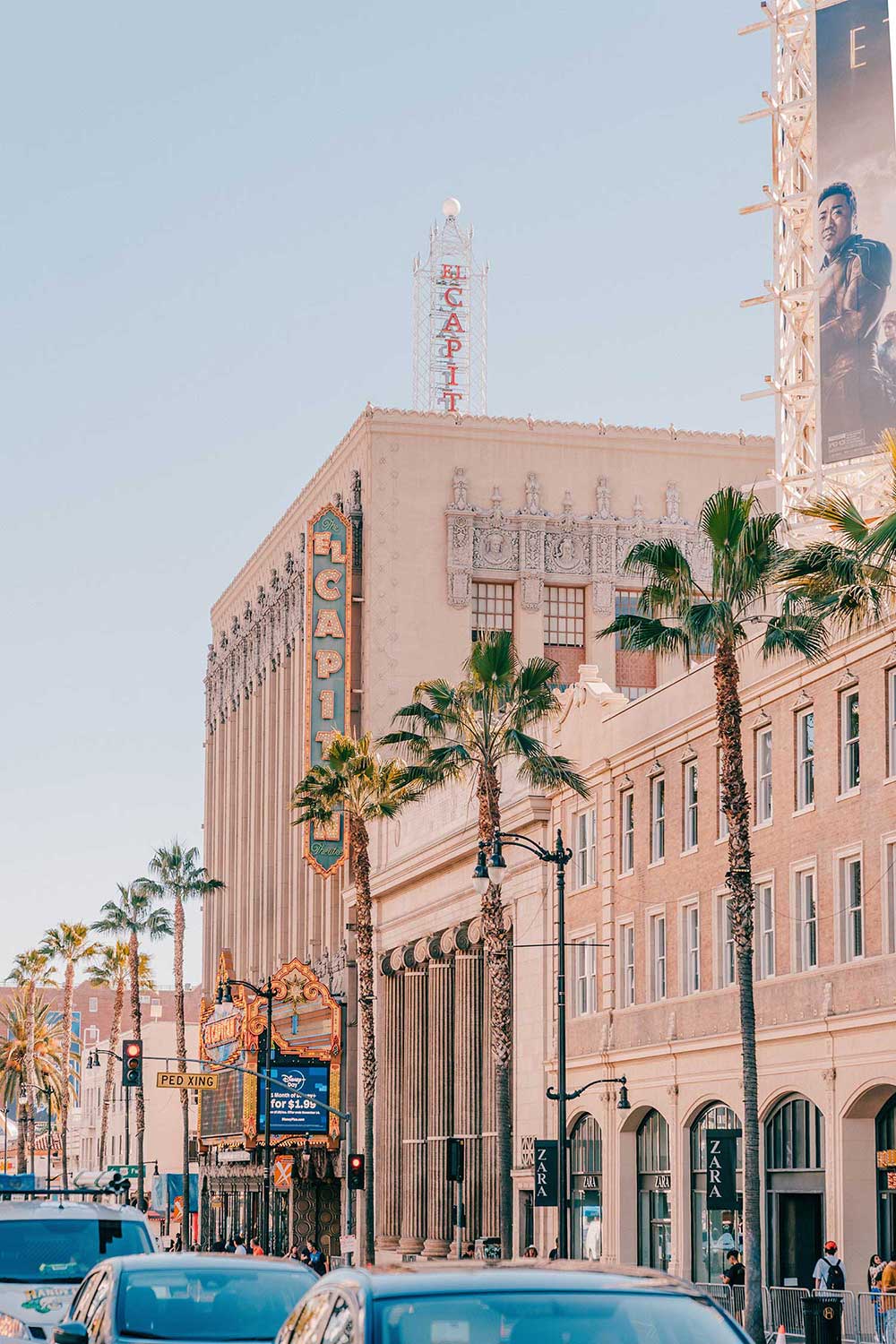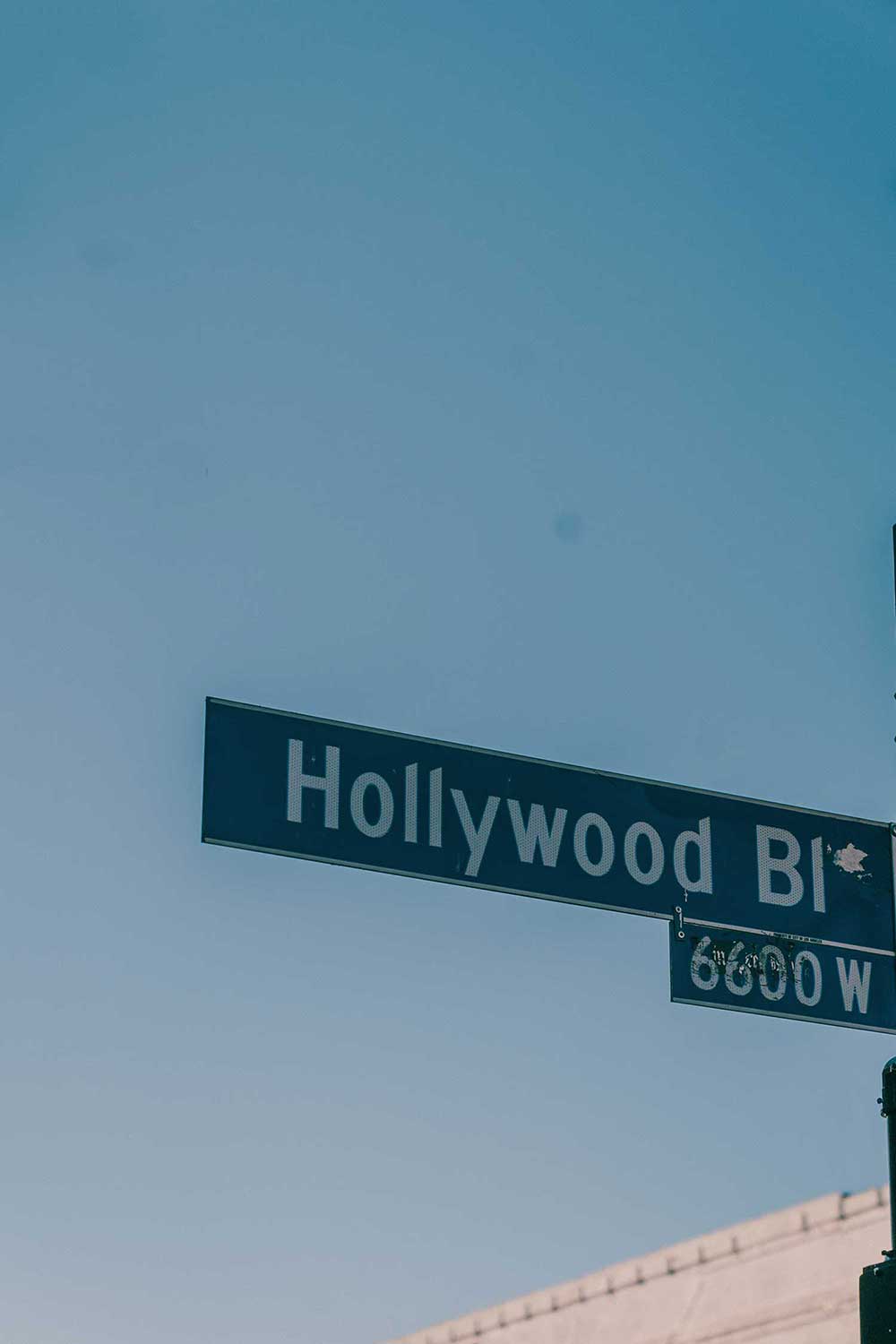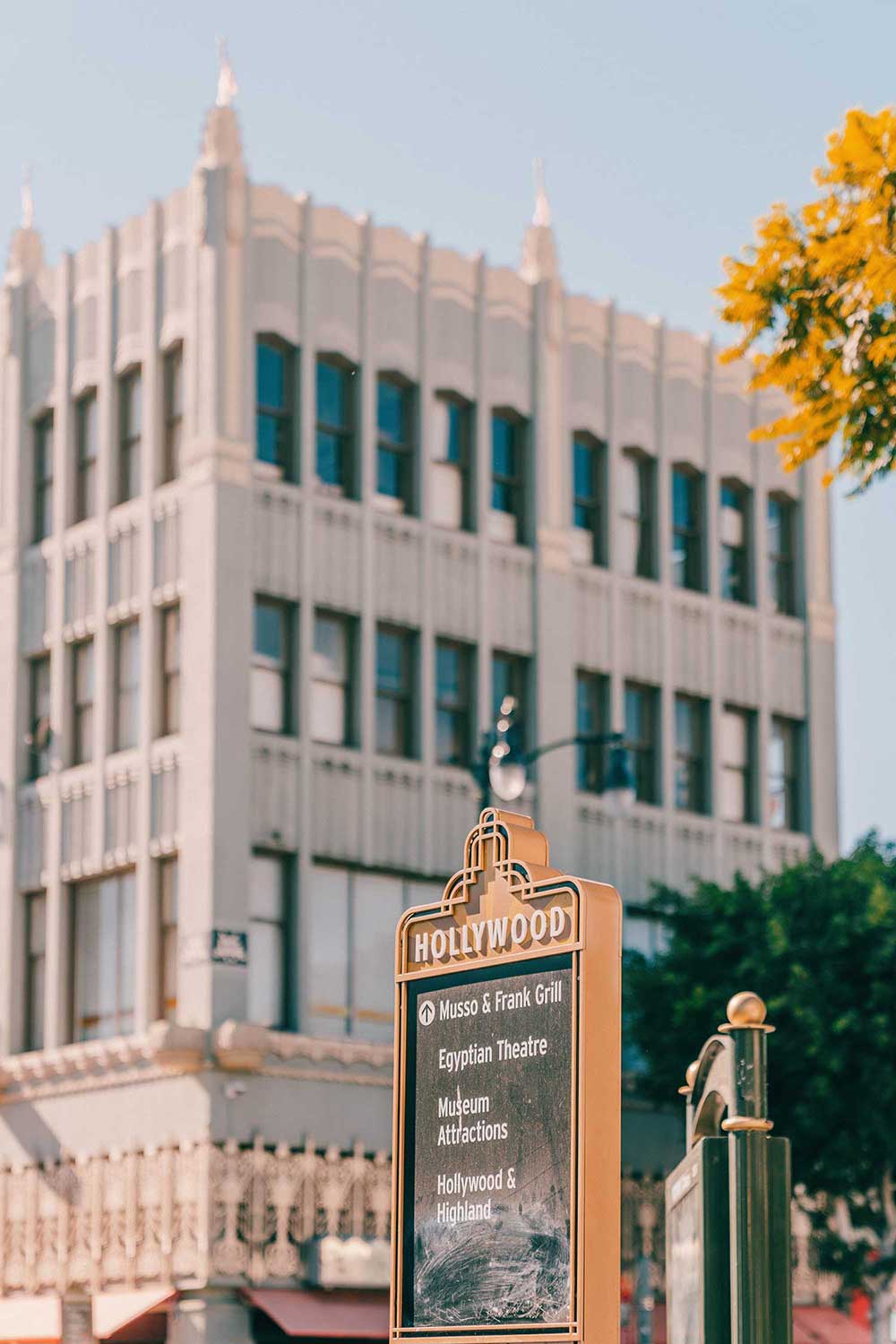 Directions to Hollywood Boulevard
We road tripped down the Pacific Coast Highway from San Francisco to Los Angeles, so we had a rental car for our time in LA.
I highly recommend having a car. Even with all of LA's notorious traffic, it's so much easier to get around if you have your own car, rather than relying on Uber or public transit.
We had a great experience renting through Hertz after checking rates on RentalCars.com.
Check rental cars for your dates here.
There's also convenient access to Hollywood on the metro rail.
Take the Red Line to arrive right in the heart of Hollywood Boulevard! We stayed at the Intercontinental in Downtown LA which was really convenient, as there's Red Line access between the two neighborhoods.
Read our complete hotel review here, or check rates for your stay here.
ADVERTISEMENT
---
---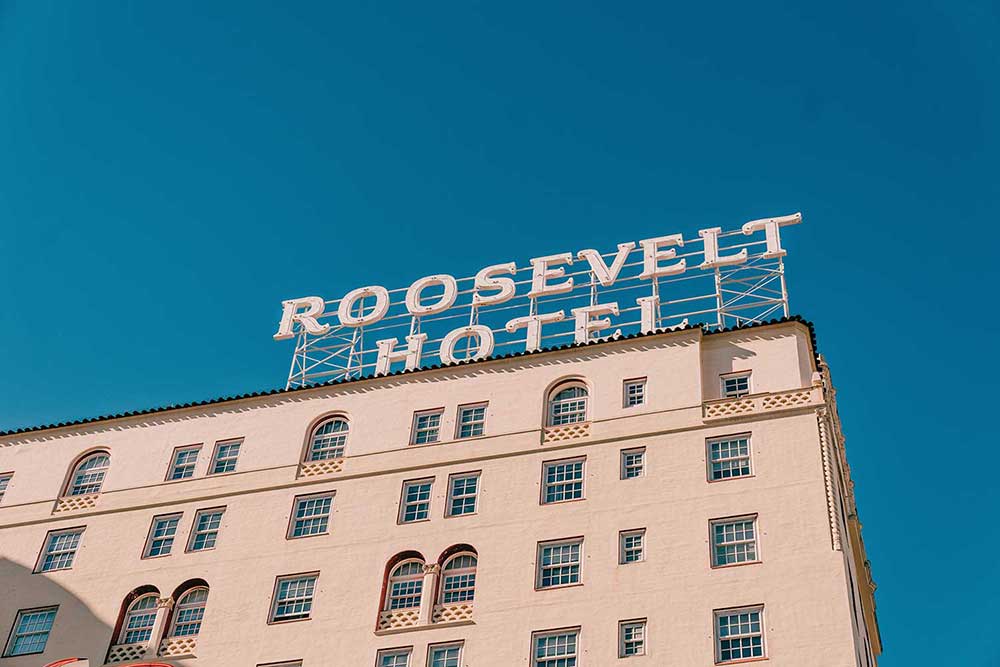 Hollywood Blvd
Real estate developer Charles E. Toberman essentially 'created' Hollywood in the early 1920s.
He had a grand vision of a thriving theater district and was involved in multiple projects in the area, like the Roosevelt Hotel, the Hollywood Masonic Temple and Max Factor Building.
Perhaps most famously, he (with partner Sid Grauman) helped to create 3 themed theaters in Hollywood: the Egyptian, El Capitan ('The Captain') and the Chinese Theater.
At its peak, Hollywood Boulevard and its side streets were a a major shopping district for Tinseltown's film studios, with rows and rows of clothing stores, accessory shops, wig salons and makeup boutiques.
ADVERTISEMENT
---
---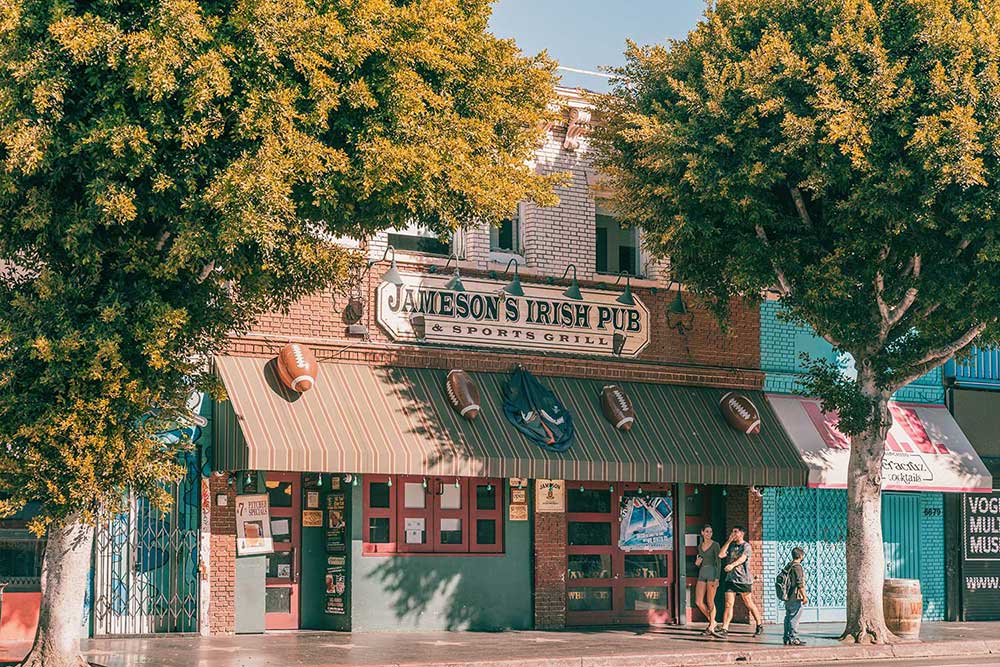 Unfortunately, the area later faced competition from other Los Angeles shopping neighborhoods – like Wilshire Boulevard and Beverly Hills.
Today, Hollywood Boulevard feels a little touristy and run down.
There are lots of characters, pan handlers and homeless in the area so it's a good idea to keep your belongings close and to avoid veering too far off the main street.
At night, there's a thriving club scene if you're looking to party!
ADVERTISEMENT
---
---
Things to Do in Hollywood Blvd
Grab a Hop On, Hop Off Bus Pass
If you're not sure what to see in Hollywood first, or don't have a car, get a Hop-on, Hop-off bus pass.
The classic double decker buses take you through the best parts of Hollywood and pick up / stop on Hollywood Boulevard.
They'll also drive by movie star homes and other famous LA landmarks, like the Hollywood sign!
Buy hop-on, hop-off bus tickets here.
ADVERTISEMENT
---
---
Hollywood Boulevard Stars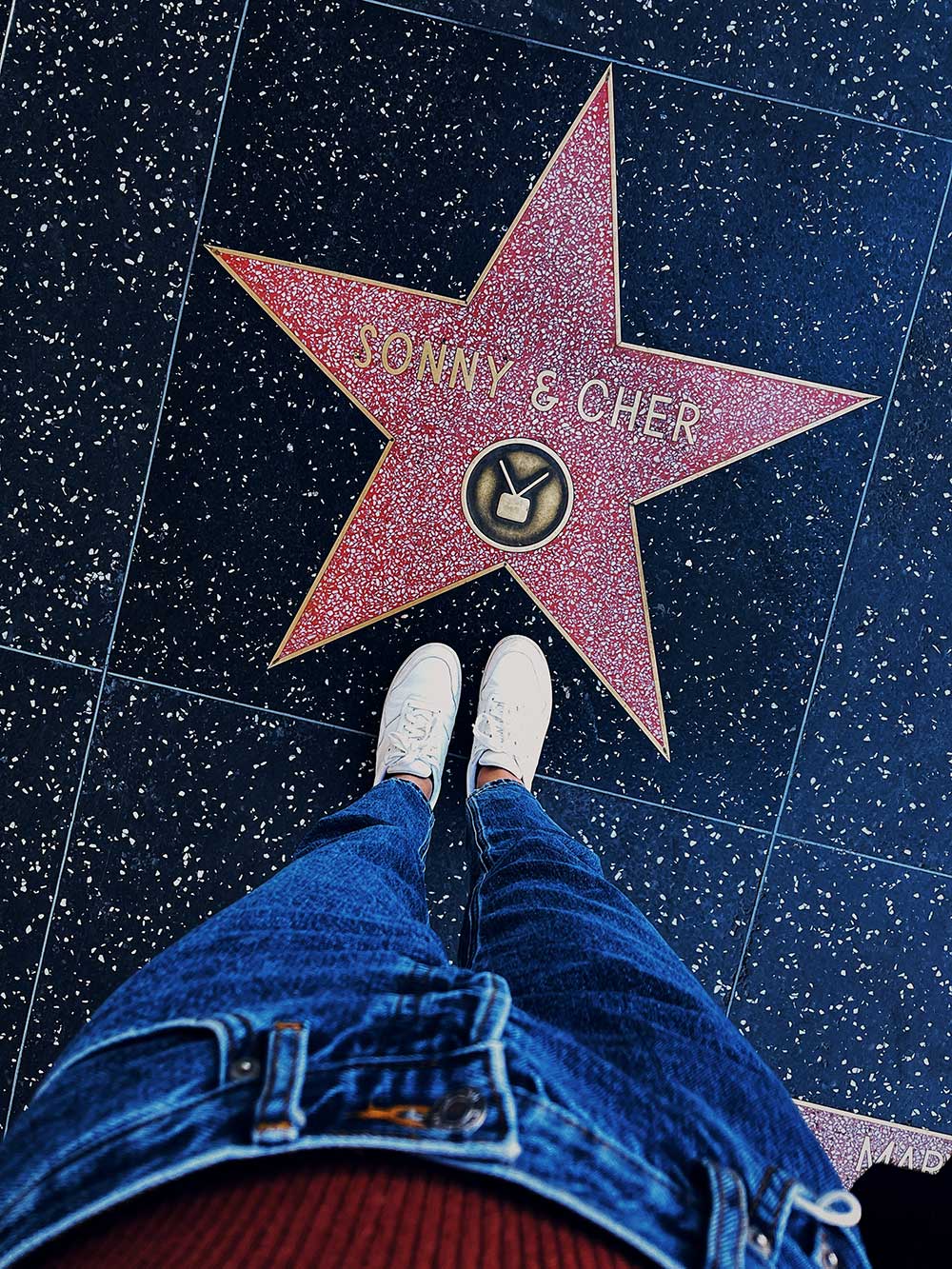 As you walk down the Boulevard, you'll notice brass stars celebrating the biggest names in entertainment.
The Walk of Fame was inaugurated in 1960, where 2,500 blank stars were placed along sidewalks in the Hollywood area.
Each star immortalizes celebrities who've left their mark in the entertainment industry. There's a whole mix of actors, directors, musicians, producers, musical and theatrical groups… and even fictional characters!
Take a stroll down the Walk of Fame to see if you can find your favorite celebrity. Today, there are 2,704 stars and counting, spaced out in 6 foot intervals.
Hundreds of nominations are made to the Hollywood Chamber of Commerce each year, but only about 20 are actually chosen.
ADVERTISEMENT
---
---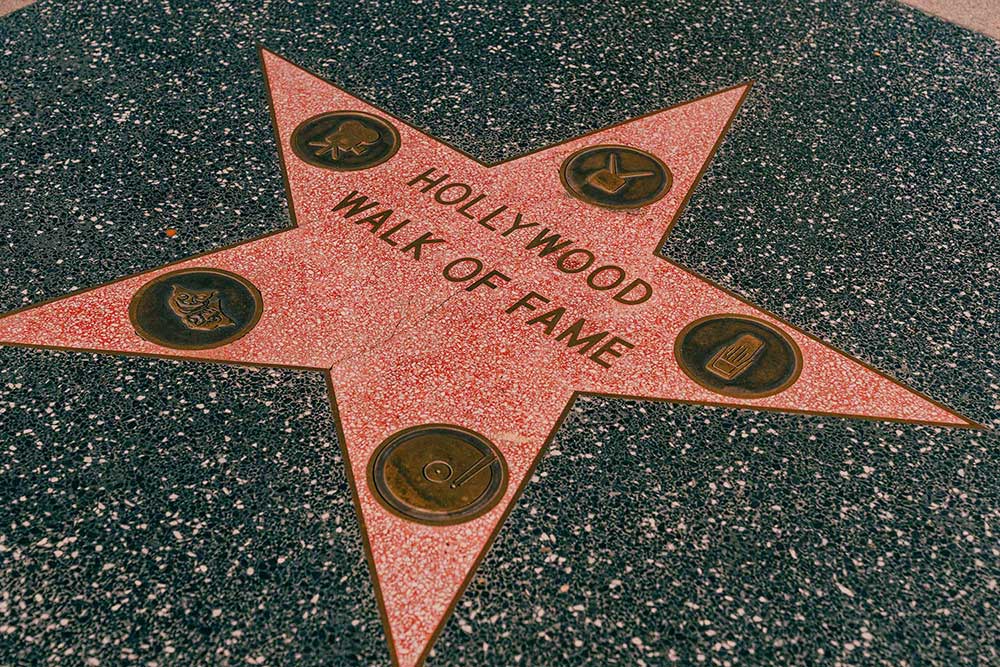 Who Has Five Stars Along Hollywood Boulevard
Curious who has the most stars?
Gene Autry is the only entertainer to be awarded five stars on the Hollywood Walk of Fame. He has one each for motion picture, television, radio, live performance and recording.
Talk about an overachiever!
ADVERTISEMENT
---
---
Check out Pantages Theatre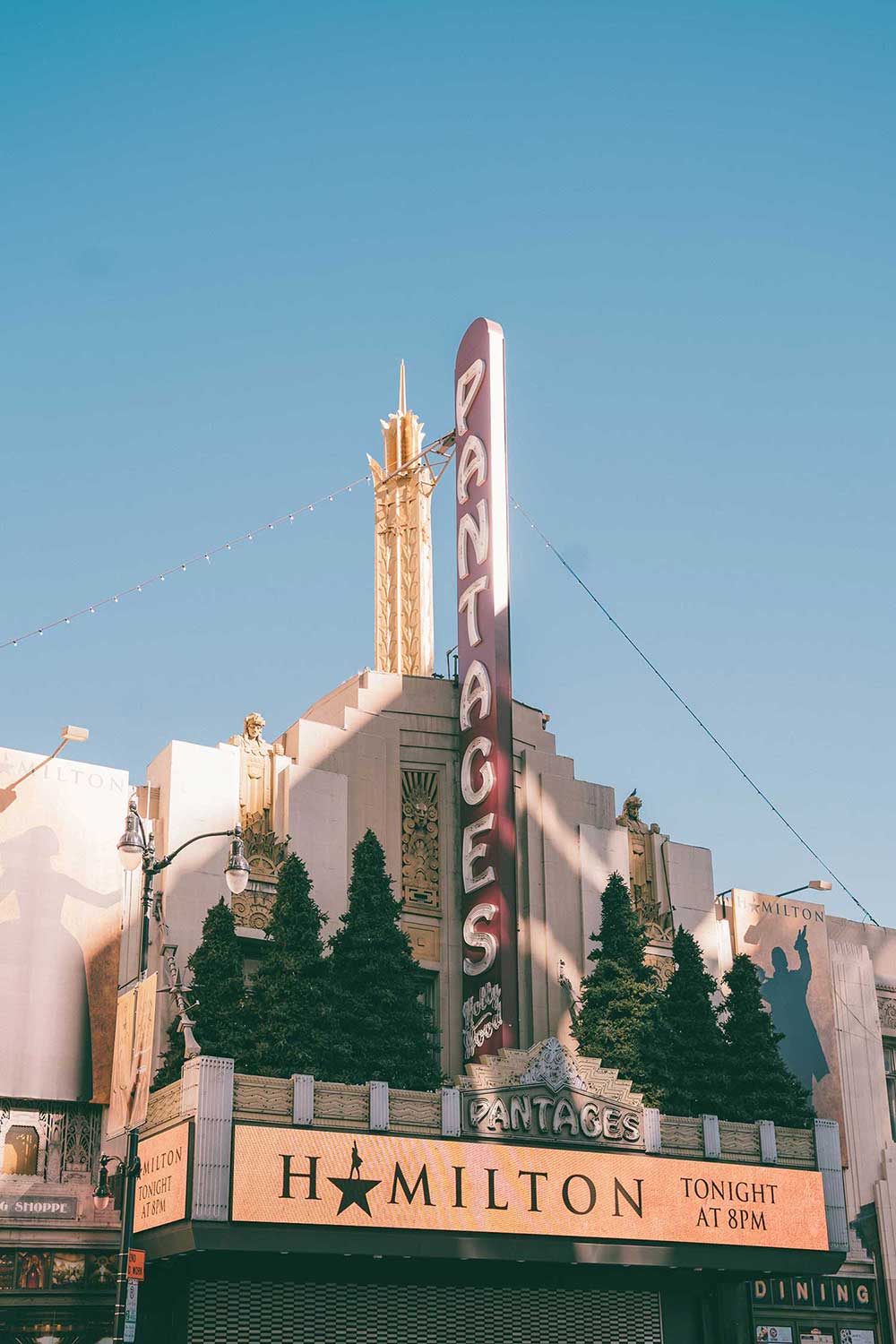 Look out for Pantages Theatre on your walking tour.
Today, the theater runs Broadway shows but in its history, has put on an array of programming, from vaudeville acts in its early years to movies and live theater.
ADVERTISEMENT
---
---
Visit the Chinese Theatre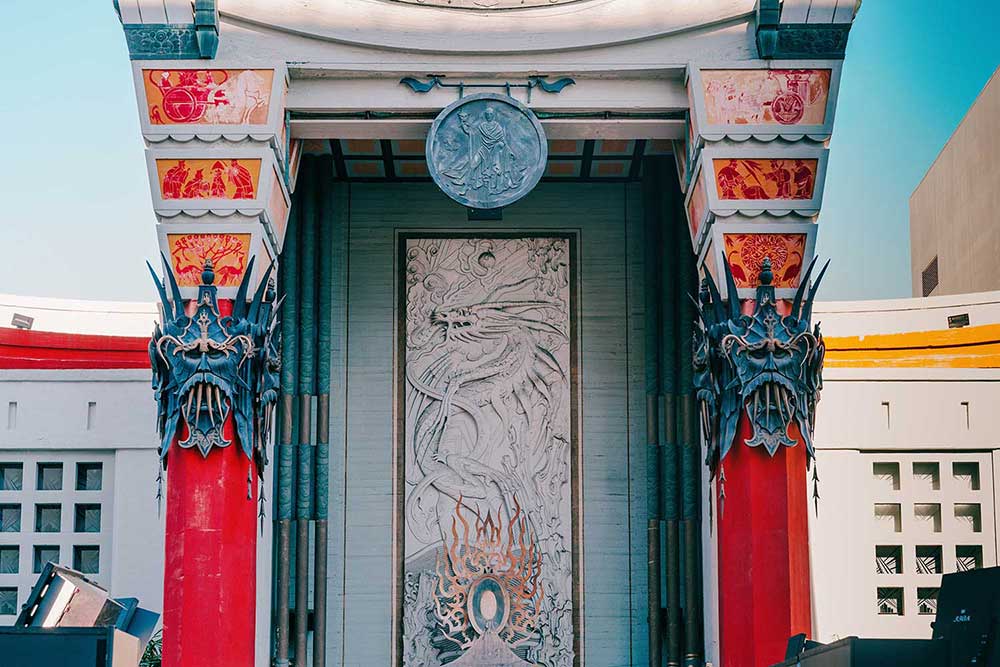 The TCL Chinese Theatre is one of the most eye catching theaters on the street.
Built to resemble a Chinese opera house, the theater has been the site of countless movie premieres and has one of the largest IMAX auditoriums in the world.
What the Chinese Theatre is most famous for though, is its cement forecourt.
Countless celebrities have placed their hands and footprints in the courtyard, from Marilyn Monroe to Jack Nicholson.
ADVERTISEMENT
---
---
Stop at the Dolby Theatre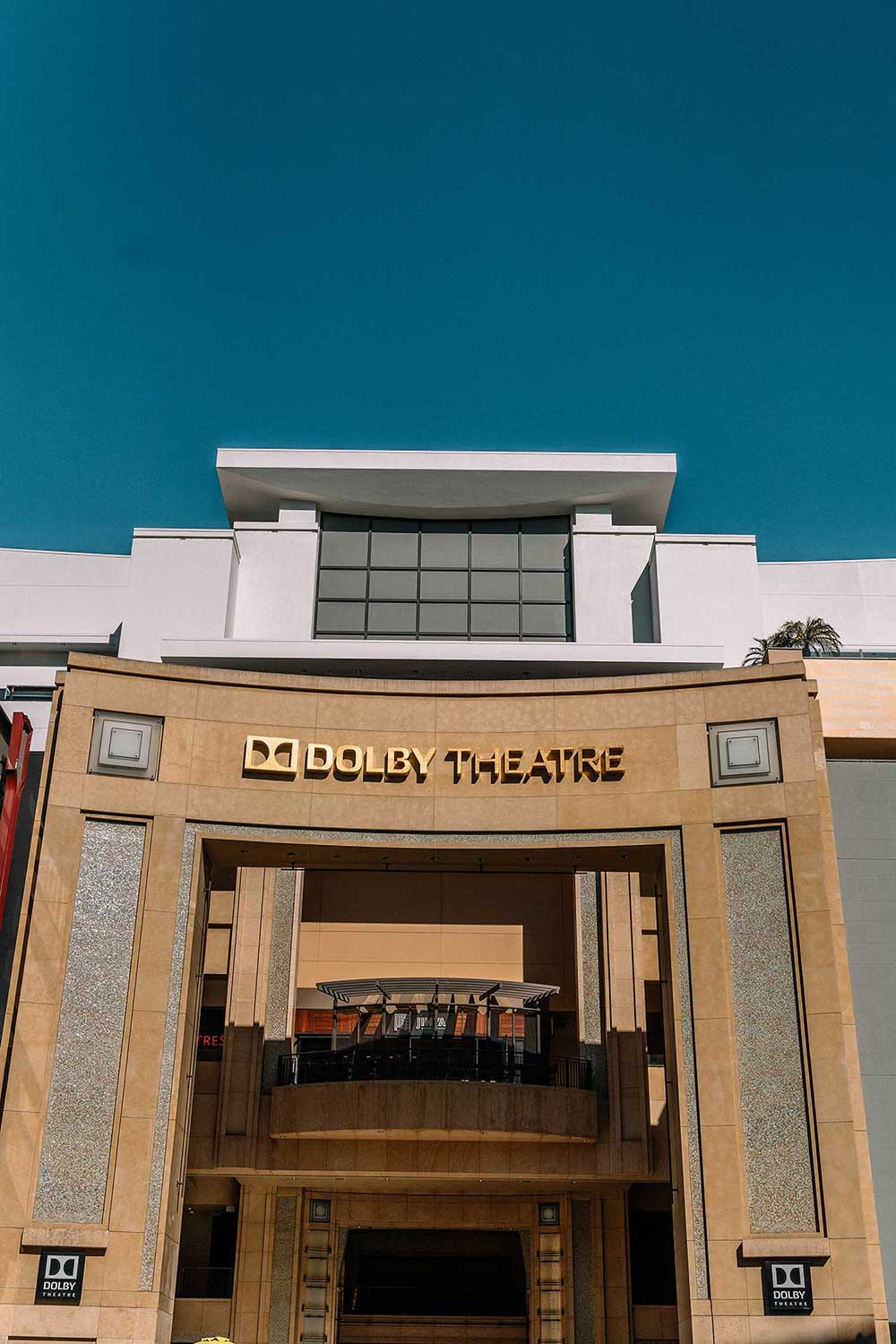 The Dolby Theatre is where the Academy Awards show is held every year, so it's another landmark stop on Hollywood Boulevard.
But you don't need to be an Oscar nominated actor to visit the Dolby!
Head to the box office to buy tickets and enjoy a show at one of the most technologically advanced theaters in the world. They offer weekend shows, concerts, ballets, comedy shows, etc and have over 3,400 seats!
Tours are also available as well.
ADVERTISEMENT
---
---
Shop at Hollywood & Highland
Behind the Dolby Theatre is a giant shopping complex full of restaurants, mall stores and even a night club and bowling alley.
After walking down Hollywood Boulevard in the hot sun, you'll probably want a break.
There are over 70 shops and 25 dining options inside Hollywood & Highland so it's a great place to rest and refuel. Or to do some retail therapy!
It's also quite convenient to get to, since the Metro Rail Red Line station runs right underneath the mall. If you're driving, you can validate your parking ticket within one of the restaurants for a great deal.
P.S. It's also a great place to snap a pic with the Hollywood sign! Check out all my photo spot recommendations for the Hollywood letters here.
ADVERTISEMENT
---
---
Tour El Capital Theatre
If you're a Disney fan, you have to check out El Capitan Theatre!
Located across from Hollywood & Highland, the theater was restored in 1989 by The Walt Disney Company and Pacific Theatres. The theatre underwent a two year archeological dig and now hosts live stage shows, world premieres as well as classic Disney movies.
Late night comedy host Jimmy Kimmel also appears at El Capitan!
ADVERTISEMENT
---
---
See the Stars at Madame Tussauds
If you've come to Los Angeles to see celebrities, you'll want to check out Madame Tussauds.
No, they're not quite the real thing… but you'd be hard pressed to tell the difference!
The wax museum is one of the most famous museums in the world, with life-like figures of celebrities like Arnold Schwarzenegger, Leonardo DiCaprio and Miley Cyrus. Whether you want to see an action hero, athlete or pop icon, they're all on display at Madame Tussauds Hollywood!
ADVERTISEMENT
---
---
Tour the Hollywood Museum
For movie buffs, the Hollywood Museum is a hidden gem.
It contains over 10,000 props and artifacts from the world's most iconic movies spanning over 3 stories. There's everything from the Dungeon of Doom to Marilyn Monroe and Lucille Ball exhibits.
Find it just behind the Ripley's Believe It or Not museum.
ADVERTISEMENT
---
---
Planning a Trip to California- Travel Checklist
Flights | California has two main hubs – San Francisco International Airport (SFO) in the north, and Los Angeles International (LAX) in the south.
From New York City, we flew nonstop on United for about $500. Set a fare alert and browse airfare for your dates here.
See + Do | My favorite experience was road tripping the Pacific Coast Highway, one of the most scenic coastal drives in the United States. It's a great way to see San Francisco, Los Angeles and a number of quaint coastal towns in one trip. 
For more on what to see, do and eat on a classic California road trip, check out our PCH itinerary post. 
Accommodation | California has a great range of options, from luxury hotels to family friendly vacation rentals. Accommodation is very expensive, so book in advance to save. Check here for current hotel deals.
If you have a group of people or want more affordable housing browse VRBO. 
Insurance | Lastly, be sure to visit California with travel insurance. Whether your flight is delayed, you get injured and need to be hospitalized, or your phone gets stolen, travel insurance will help when you need it most! Get a quote for your trip here.
You Might Also Enjoy:
California Travel Guides
Pacific Coast Highway
The Ultimate Guide to Planning a Pacific Coast Highway Road Trip
The Perfect 7 Day PCH Itinerary
Road Tripping California's Highway 1: What to Know Before You Go
The Best Pacific Coast Highway Stops You Shouldn't Miss
Is 17 Mile Drive Worth Visiting?
Small Towns
Los Angeles
How to Spend 1 Day in Los Angeles
The Best 3 Day LA Itinerary
The 11 Best Spots to Take a Photo of the Hollywood Sign
The Most Iconic Spots in Hollywood Boulevard
San Francisco
The Best San Francisco Day Trips
The Ferry Building & Embarcadero
Follow me @Sher She Goes on