Cordova
I've been on the hunt for cute (but practical!) ski clothes for a couple seasons now when I came across Cordova.
The Idaho-based brand is a small clothing company that focuses on stylish ski wear and I immediately fell in love with their designs.
The brand is super popular and their ski pants and ski bibs always sell out so quickly. So I ordered some ski bibs, pants and jackets to test the fit and functionality and thought I'd share a quick review!
Here's what I thought of Cordova's ski clothes.

Keep reading, or pin this article to save it for later ⇟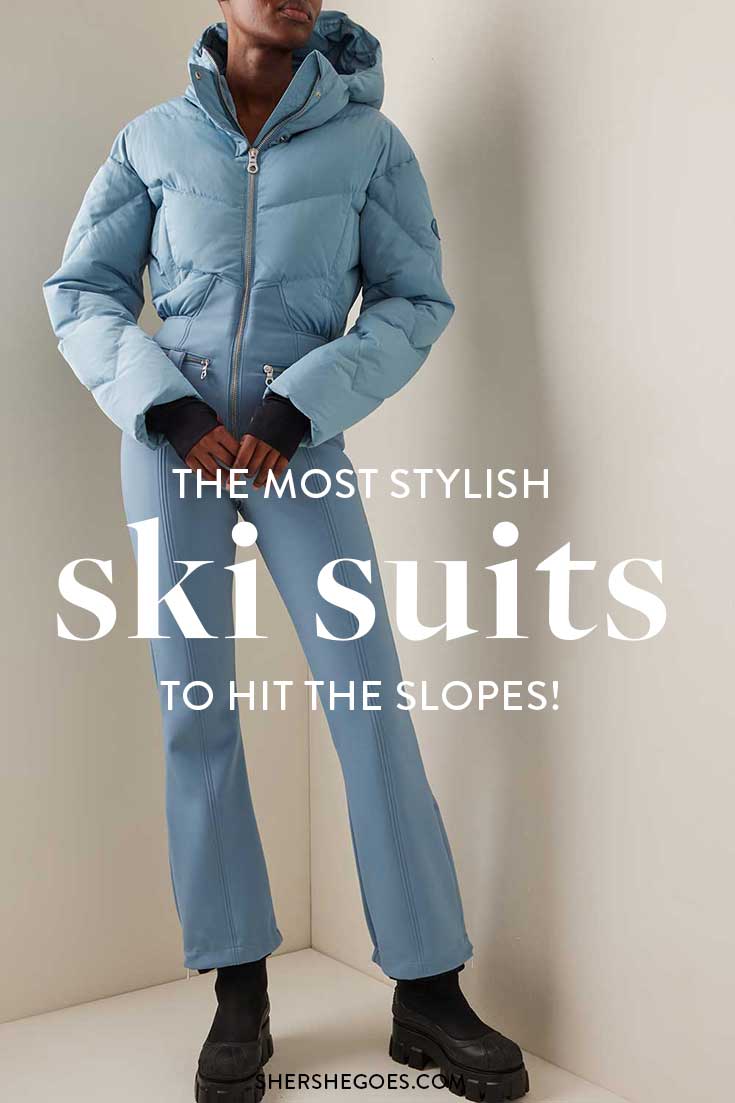 click the image to shop
ADVERTISEMENT
---
---
Cordova Ski Clothing
Cordova was founded in Sun Valley, Idaho in 2014 by husband and wife duo, Jane and Cody Seim.
The avid skiers wanted to create glamorous but modern ski essentials and all of their jumpsuits and ski jackets are designed to flatter the body.
The label is BlueSign certified meaning their textiles are safe for the environment, workers and customers. Everything is sourced from European artisans and manufactured in Romania.
Read more:
Planning a Ski Trip? Here's Everything You Need to Know
ADVERTISEMENT
---
---
Cordova Review
While I loved the look of Cordova ski wear (especially their ski suits, which they seem most known for), I was curious about their functionality!
I love skiing and let's face it – stylish ski bibs often are worn by those who can't ski, just learned to ski, or ski a run or two before popping into the lodge.
I wanted a stylish ski suit that would also be functional on the mountain, all day, in most weather conditions.
Here's my first impressions of Cordova's ski suits!
Read more:
The 10 Best Luxury Ski Clothing Brands
ADVERTISEMENT
---
---
Cordova Try On
Unfortunately I forgot to take photos of each piece of Cordova skiwear that I tried on… but I did film a quick video!
Watch the Cordova try-on haul below or on Youtube:
DESIGNER SKI CLOTHES: cordova, smartwool, le bent + more ski outfit ideas
ADVERTISEMENT
---
---
Cordova Ski Suit
Available in 2 colors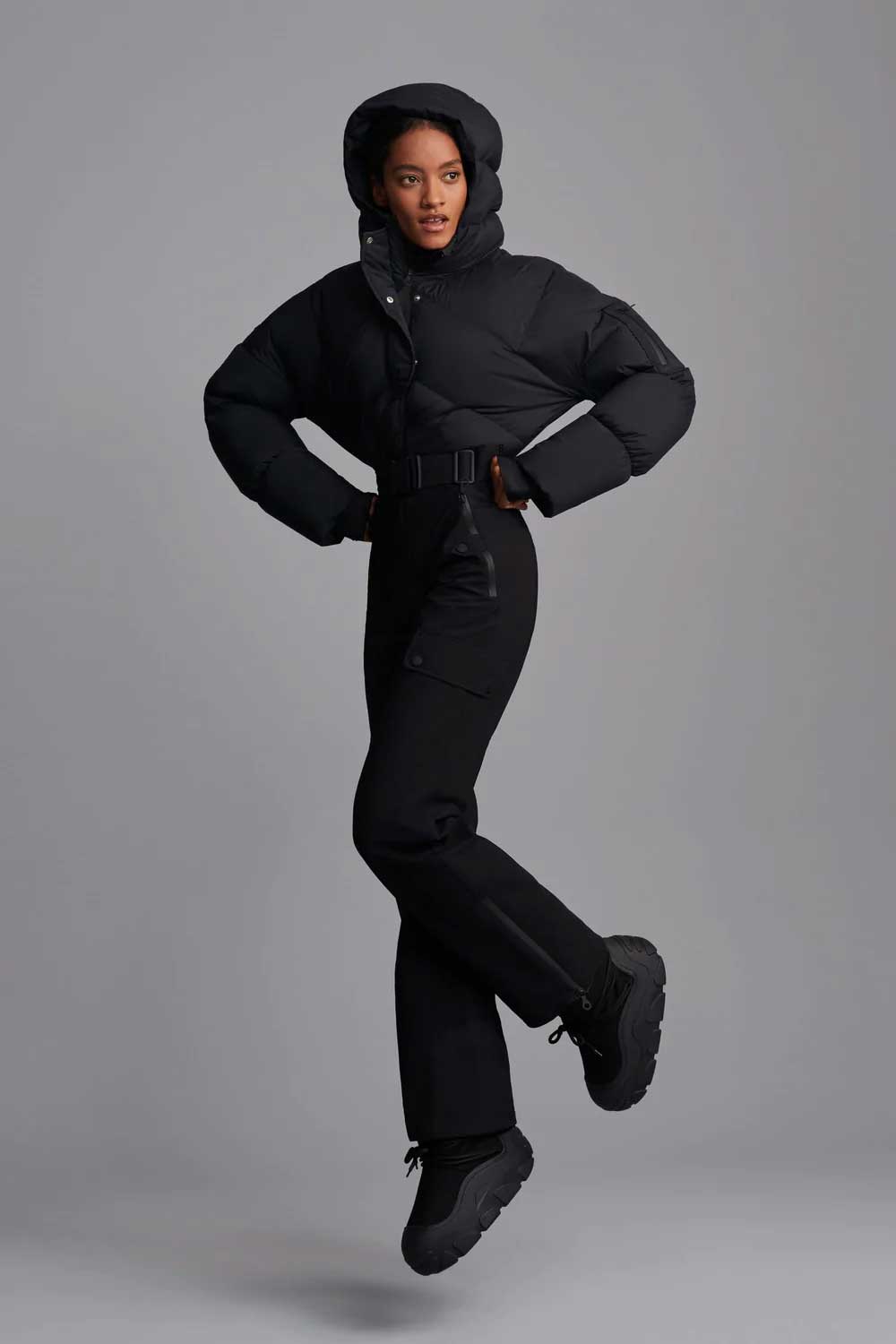 ADVERTISEMENT
---
---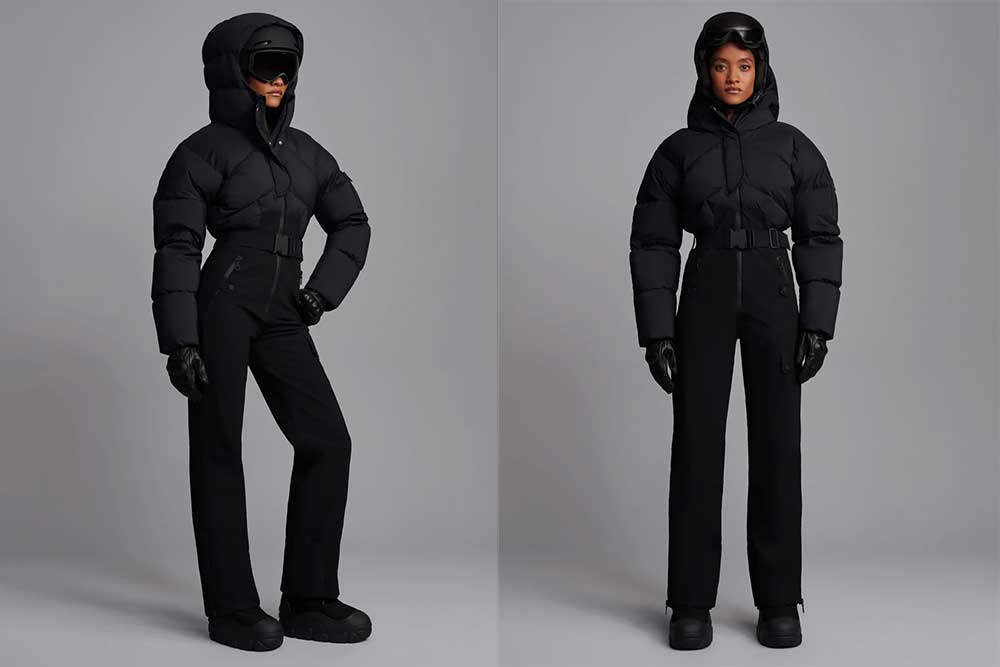 Sommet Ski Suit Review
Cordova first caught my eye for their ski suits.
There aren't many brands that make cute and practical ski suits, so Cordova really stood out! I tried this Sommet ski suit that has a puffer jacket style top and straight leg bottom.
ADVERTISEMENT
---
---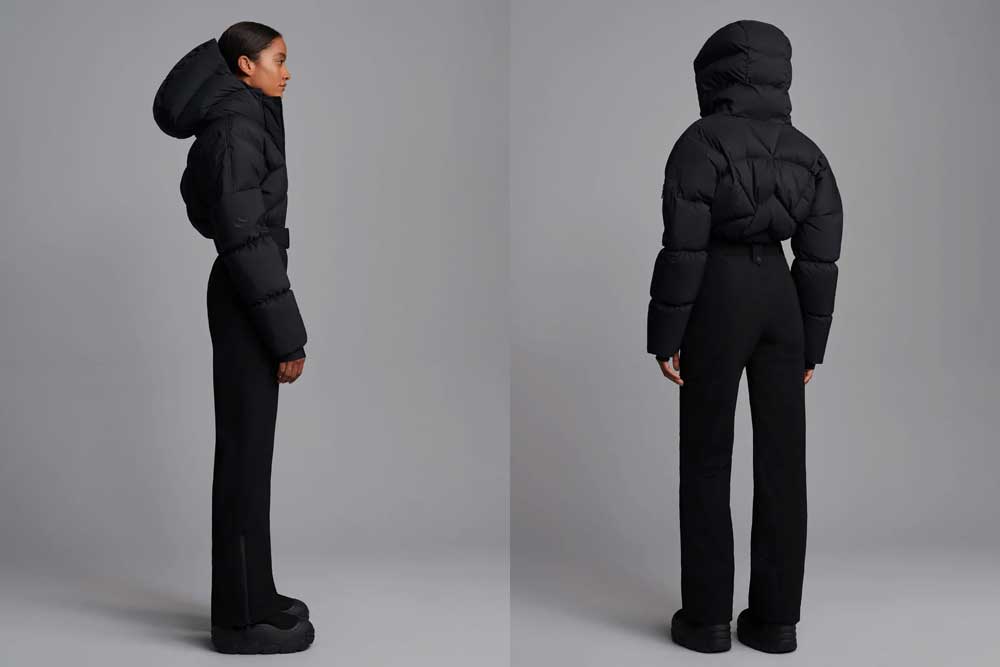 The ski suit comes in a couple colors but I opted for the fun neon yellow and white combo.
It may not be to everyone's taste, but I personally love bright colors on the mountain. It makes it easier to stand out and find your friends (well, really for them to find me) and also is safer.
I can't tell you how many times I've skied in white out conditions where you can barely see 10 feet in front of you.
My biggest fear is someone crashing into me and bright colorful ski jackets just make it easier for others to spot you!
ADVERTISEMENT
---
---
Style
I loved the style of this Cordova ski suit.
It's not too tight and not too baggy, so it looks stylish whether you ski or snowboard.
The straight leg pants are smartly designed with tons of pockets that both zipper and button shut – keeping snow out and ensuring your things are secure.
ADVERTISEMENT
---
---
Function
The bottoms of the snow pants feature reinforced cuffs to prevent any wear and tear from the hard plastic of your ski boots as well as snow guards to block out snow.
The pant legs also expand by zipper so that they can easily slide over boots.
I also thought the ski suit was really practical!
The puffer on top is insulated with down and quite warm and the pants are waterproof and windproof. It's also machine washable, which is a must when you ski often in all sorts of weather conditions.
ADVERTISEMENT
---
---
Fit
Fit wise, I think this suits taller girls best.
The pant legs were a little too long for me, so I think if you're around 5'8″ or above, Cordova's ski suit would work!
But I do see they sell a Petite option, so maybe next time I'll try that out!
ADVERTISEMENT
---
---
Cordova Ski Pants
Available in 2 colors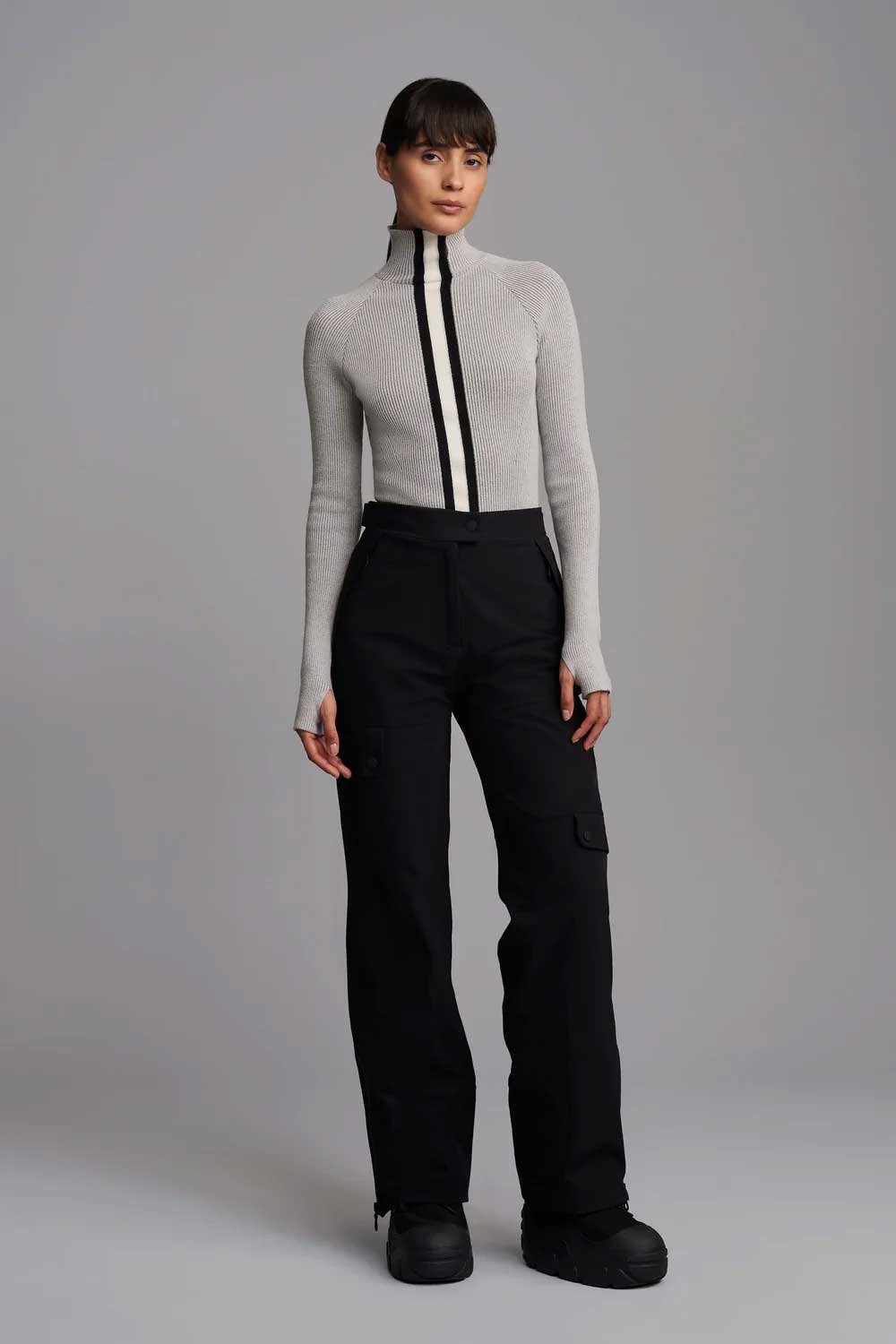 ADVERTISEMENT
---
---
Zurs Ski Pants Review
Cordova recently expanded their ski pant styles and I was really drawn to the Zurs!
These Cordova ski pants are a straight leg style – not too baggy but also not skin tight.
I especially liked that these are highly technical. They're made from a breathable Italian fabric that's both waterproof and windproof.
ADVERTISEMENT
---
---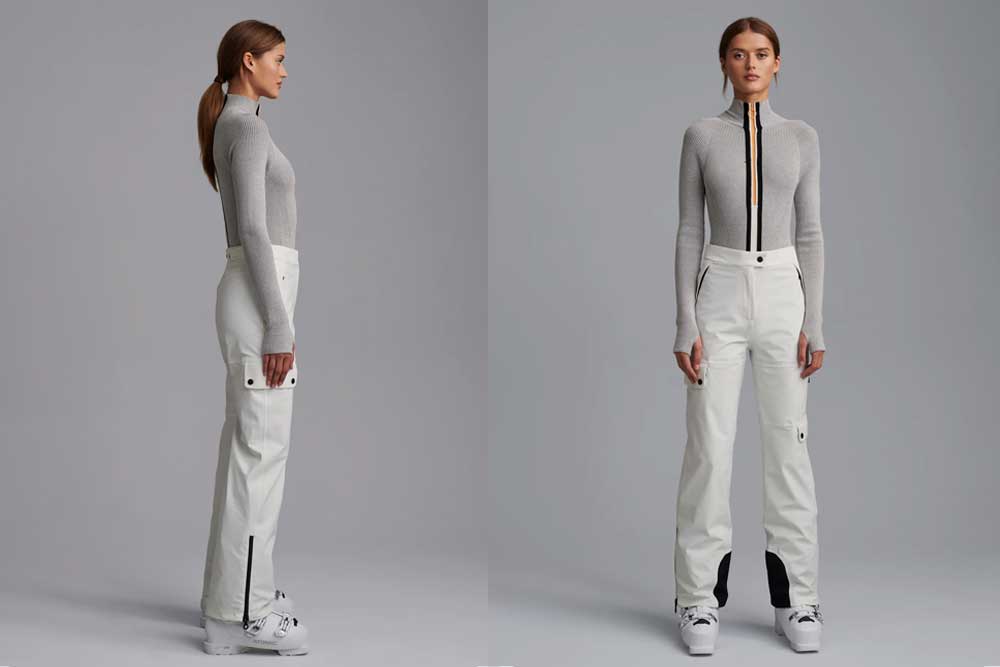 Function
There are so many pockets it's crazy – 2 waist pockets and 3 leg pants' pockets, including two deep cargo style pockets that are extra large.
I really appreciate how Cordova makes all their pockets very secure with both zipper and button closures.
And of course, these ski pants have reinforced cuffs, zippers to expand and interior snow guards.
ADVERTISEMENT
---
---
Fit
I bought these pants in a size small, which was slightly loose in the waist for me.
But, there are two long velcro adjusters at the waist so I was able to get a great fit!
I like that the Cordova ski pants are pretty versatile so that depending on how many layers I wear (or if I've eaten a big lunch ha) I can still fit into these high-waisted ski pants.
And I love the style of Cordova's pants – the attention to detail, hardware and functionality make these a really high quality pair of pants.
ADVERTISEMENT
---
---
Cordova Ski Bib
Available in 2 colors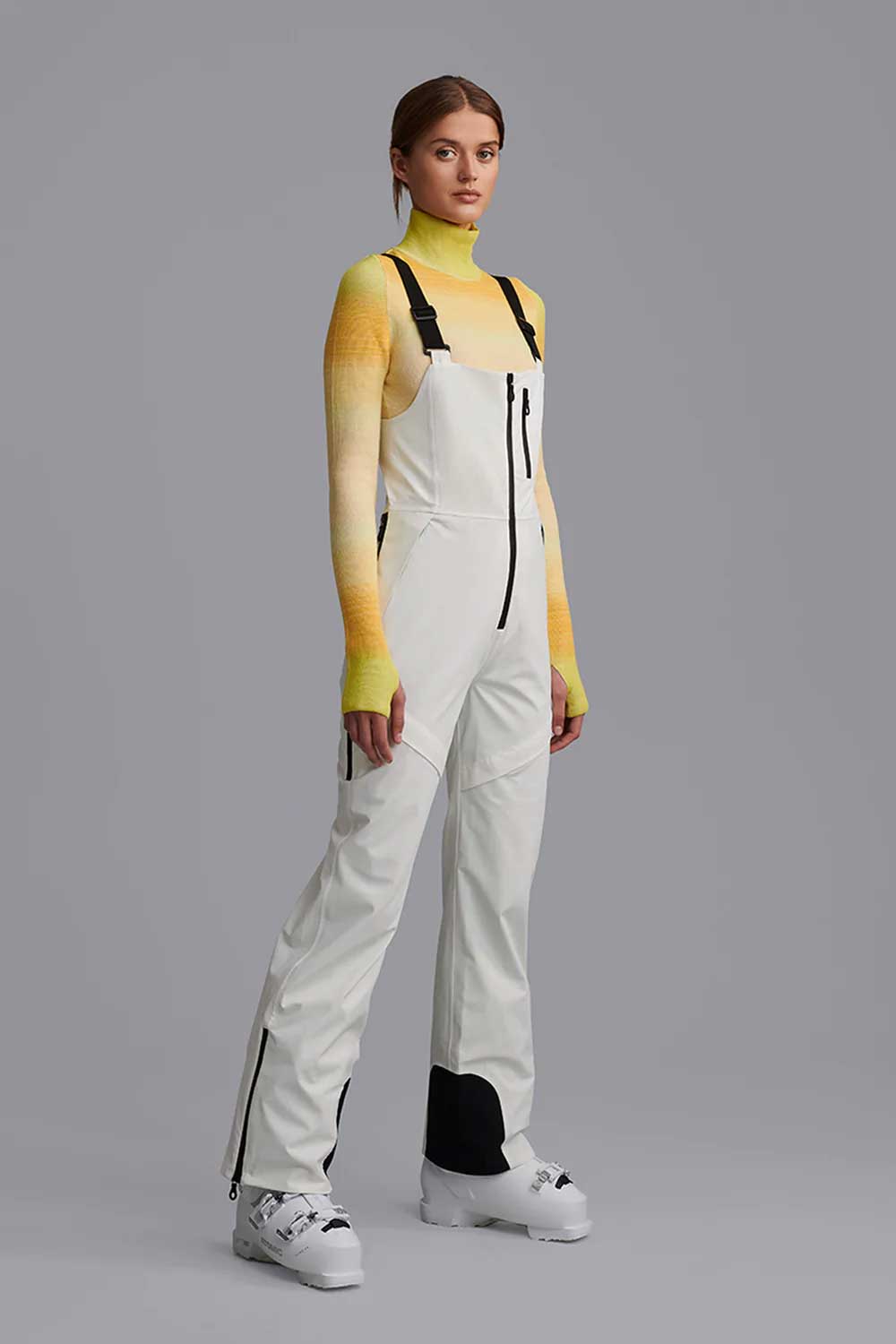 ADVERTISEMENT
---
---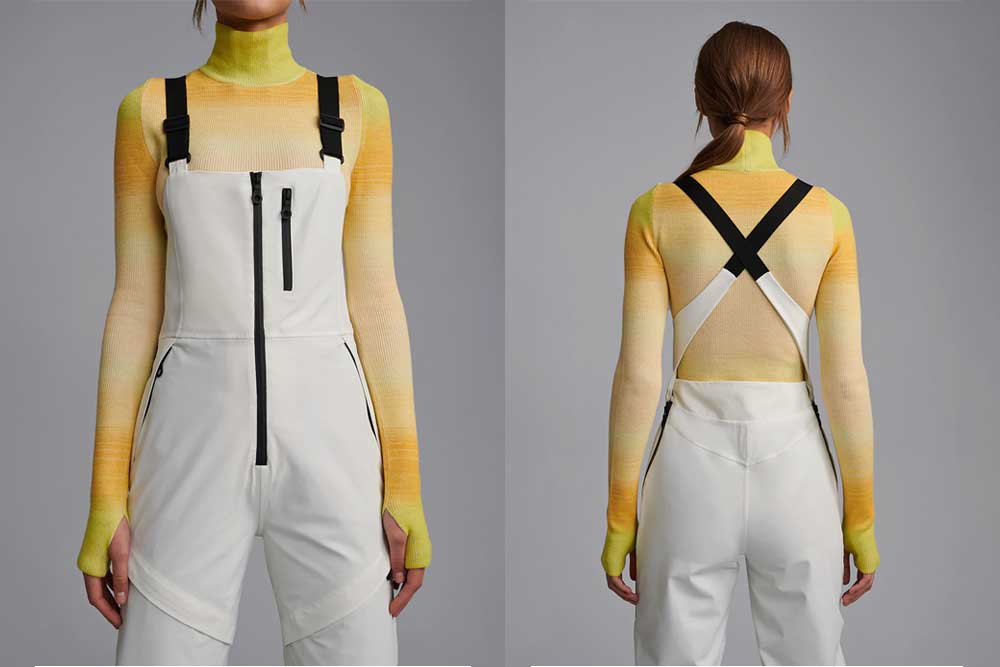 Borah Ski Bib Review
I'll always prefer a ski bib to ski pants.
Cordova has a lot of fantastic ski bib options in all different styles and colors.
I tried out the Borah ski bib, which is a highly technical option that's not too tight but still sleek and fitted. It comes in several colors and I went for the white, with contrast black hardware.
ADVERTISEMENT
---
---
Function
I love how functional this bib is! It's a waterproof and windproof shell that still feels very breathable.
There's also one key feature that I think all ski bibs should have: a drop seat!
I love my Obermeyer ski bib but my one main complaint is it's incredibly annoying to go to the bathroom in it and have to take all my layers off.
With two deep side zippers from hip to thigh, the Cordova ski bib allows you to easily expose the backside and makes it much more functional for a day on the mountain.
ADVERTISEMENT
---
---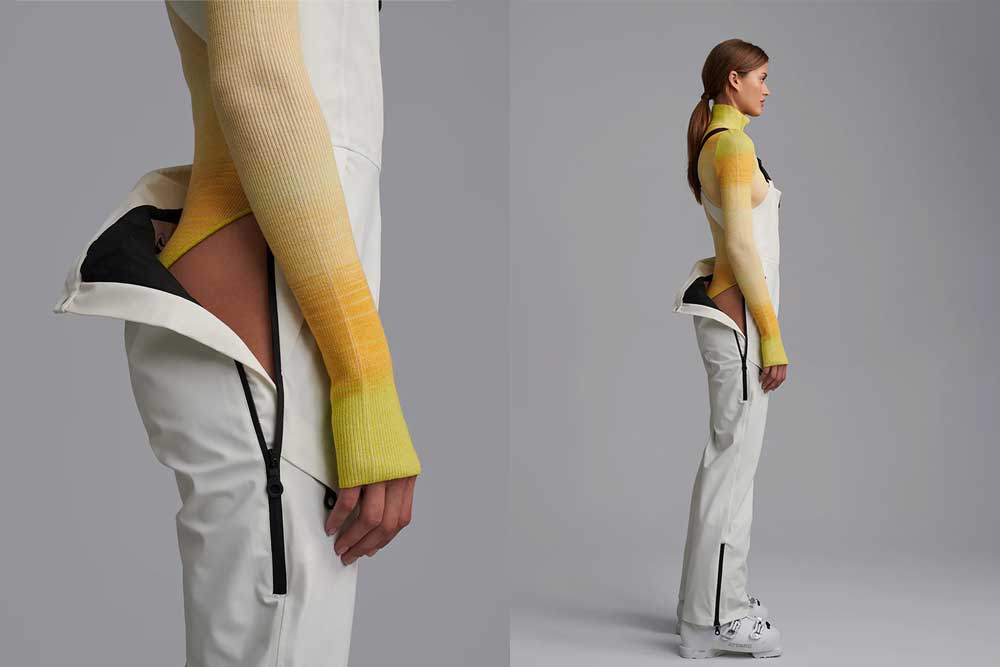 This ski bib has plenty of pockets – there's a small chest pocket and two pockets at the thigh, plus an extra two at the waist.
I can tell Cordova pays attention to small details, because the waist pockets have a hidden look with fabric that covers the zipper hardware.
Everything is seam sealed to block out rain and snow and there are both ski guards and gaiters on the pant legs.
ADVERTISEMENT
---
---
Fit
Finally, Cordova's ski bib fits great thanks to adjustable shoulder straps!
It also has room in the hips and chest so if you're curvier this ski bib should fit great.
And unlike Cordova's ski pants and ski suits, this bib seemed a little shorter in the legs. I think if you're anywhere from 5'4″ to 5'8″ the ski bib should fit well since the straps are also adjustable.
ADVERTISEMENT
---
---
Cordova Ski Jacket
Available in 2 colors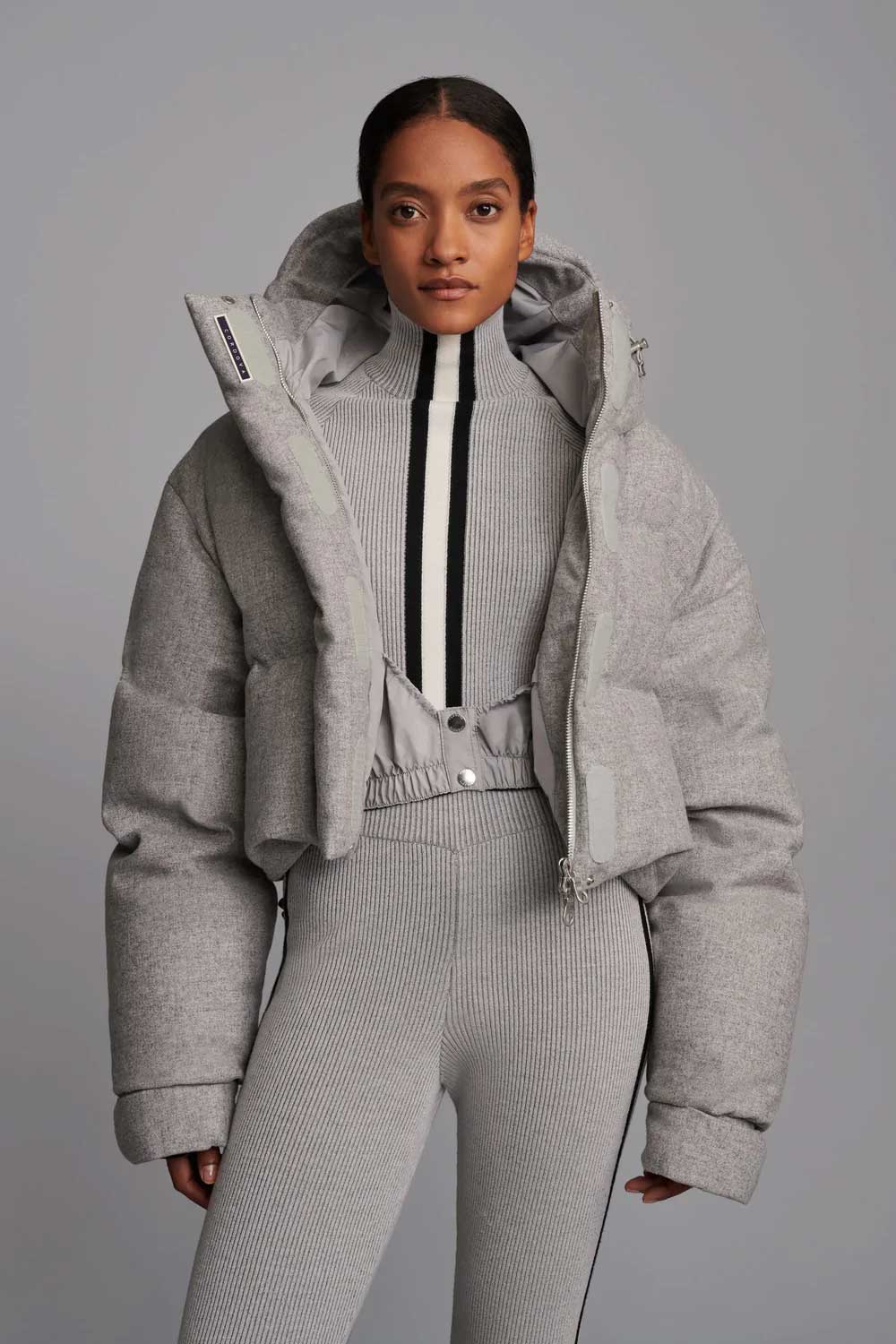 ADVERTISEMENT
---
---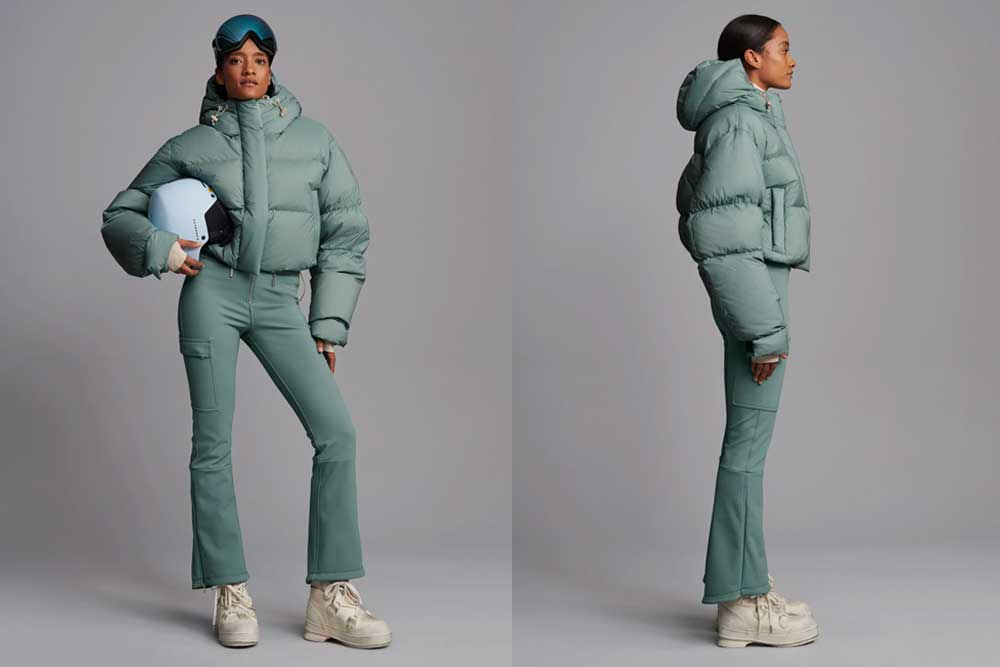 Aomori Ski Jacket Review
I've been skiing in my trusty affordable ski jacket for a couple seasons now. It's super functional, but I was looking for a new ski jacket that would be a little sleeker and more stylish.
So when I saw Cordova's ski puffers I was intrigued.
The brand makes this in a variety of fun colors, but I opted for the minimalist grey wool.
ADVERTISEMENT
---
---
Style
The Aomori ski jacket is a stylish exaggerated puffer that's super plushy. It's extremely oversized, with long sleeves, a puffy hood and a cropped silhouette.
I'm obsessed with the look of a giant ski jacket on top and sleek pants on the bottom, so I ordered this to try immediately.
The jacket is insulated with down and really warm. It also has waterproof zippers and a small snow guard on the inside to block out snow in case you fall.
ADVERTISEMENT
---
---
Function
The sleeves have gaiters to keep your hands a little warmer without gloves, and there's also a hidden sleeve pocket to hold your lift ticket on the left arm.
If that wasn't enough features, the down puffer also has two front pockets and sleek metal zippers with a stylish O ring design.
I also really love the shape of the velcro closure – they kind of remind me of bandaids ha.
ADVERTISEMENT
---
---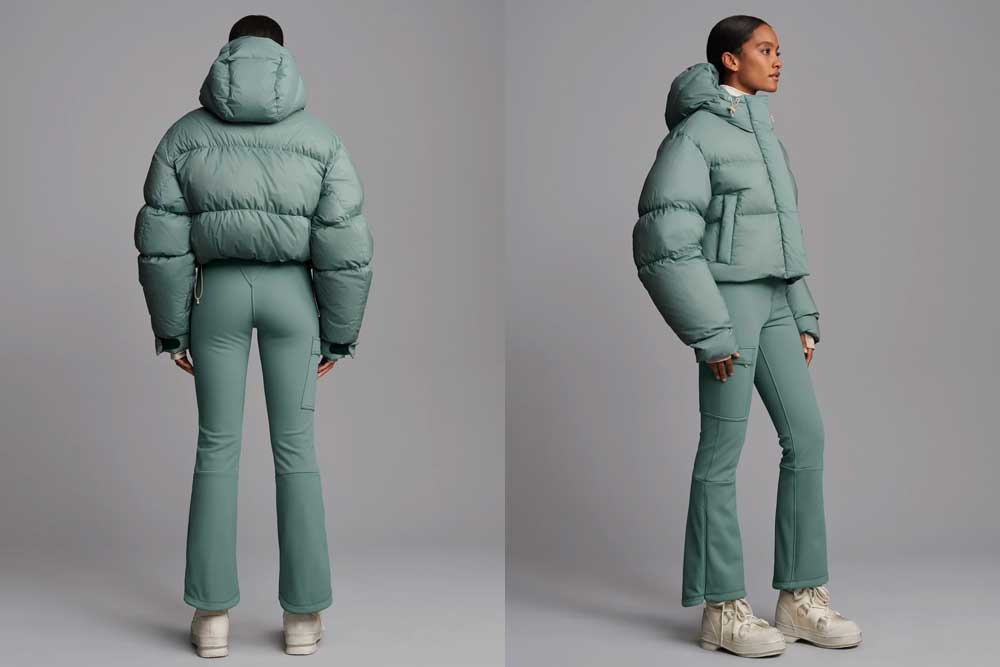 Durability
Cordova makes this ski jacket in tons of colors but I went for the soft grey wool.
It's been treated to be waterproof which was important to me, because I wanted to be able to wear it on and off the slopes. But, I realized unfortunately that the grey melange color, specifically, can't be machine washed (only dry cleaned).
All the other colors in traditional polyamide can be machine washed though!
ADVERTISEMENT
---
---
Fit
I think this jacket looks especially great if you're on the more petite side. It's a cropped jacket, so quite short in the front, so probably best suited if you have a short to average torso.
I will say – the sleeves are super long!
I have pretty long arms and the sleeves were long even on me. If you're looking for an exaggerated oversized type jacket, then this one's for you.
If you want something streamlined and fitted, you may want to look elsewhere.
ADVERTISEMENT
---
---
Shop Cordova Ski
---

ADVERTISEMENT
---
---
Ski Wear Haul
I posted a couple try-on hauls of all the ski wear brands that I've tried. You can check them out on my Youtube channel here.
ADVERTISEMENT
---
---
ADVERTISEMENT
---
---
ADVERTISEMENT
---
---
Read More: in our ski style series:
Ski Trip Packing Essentials
What to Wear Skiing: Packing List Must Have's
The Best Ski Pants for Women (Stylish & Functional)
I Found the CUTEST Women's Ski Pants (Video)
Are Designer Ski Pants Worth It? (Try-On Haul)
The Best Ski Sweaters for Apres-Ski 
Planning the Perfect Ski Trip
What to Know Before Skiing in Vermont for the First Time
Ski Trip Recaps + Mountain Guides
Lake Tahoe, California: Heavenly, Kirkwood & Northstar
Montana: Big Sky
Vermont: Stowe
Catskills, New York: Belleayre Mountain
Quebec, Canada: Mont Tremblant
+ More Ski Vlogs on Youtube
Follow me @Sher She Goes on