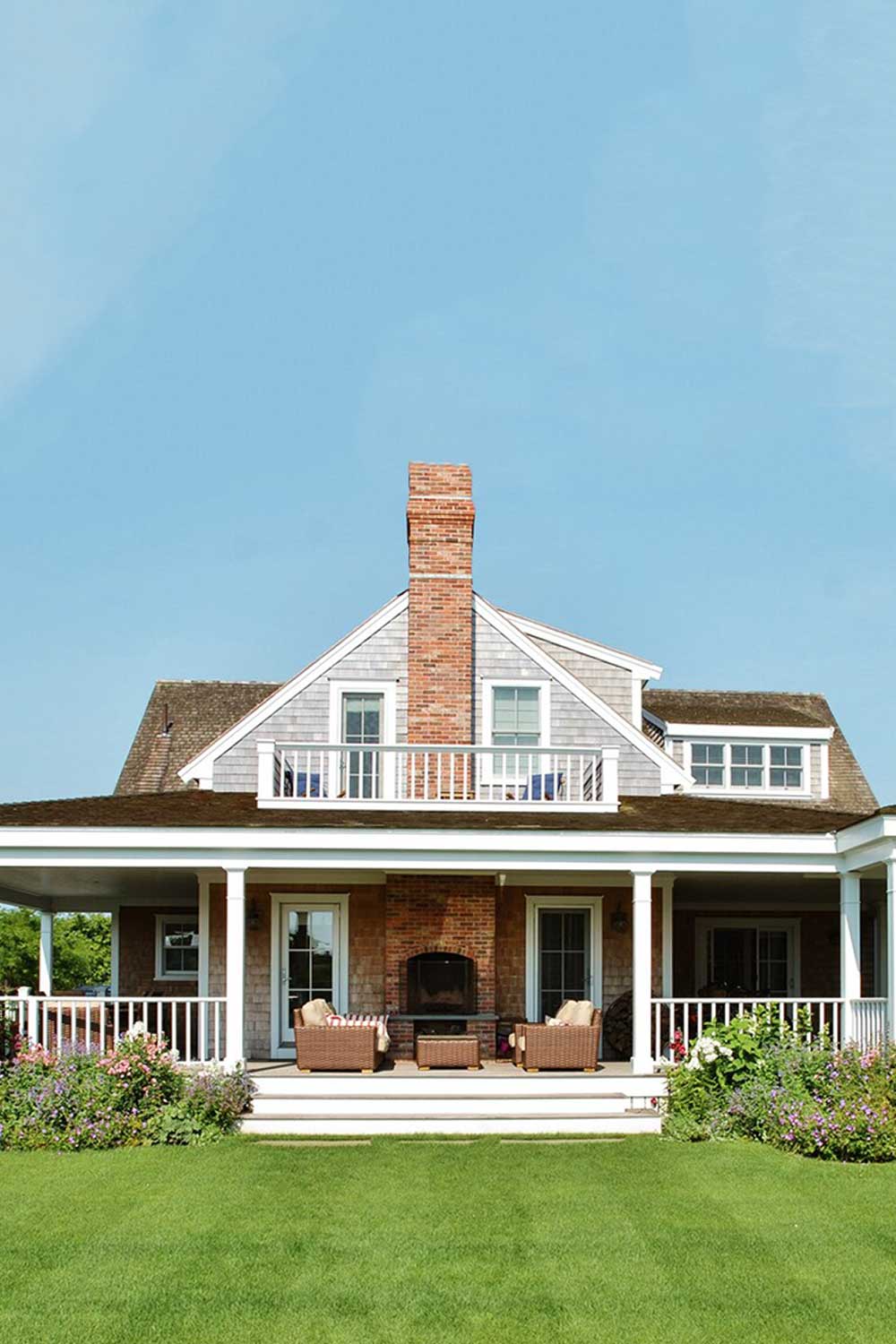 Nantucket Summer Rentals
Planning a summer vacation to Nantucket and looking for the best airbnb or summer home? I've got you covered in today's Nantucket accommodation guide.
Thirty miles out to sea, the quaint island of Nantucket is a must visit at least once in your lifetime. Charming cobblestone streets, rose covered pathways and grey shingled cottages are dotted throughout downtown.
Most Nantucket airbnb rentals are located mid-island, a convenient location in between Downtown and Sconset. Staying in one of these small cottages or guest houses is a great option for a romantic getaway or family trip.
But if you have the budget, some epic Nantucket villas are also available to rent! These grand estates often have lavish pools, outdoor gardens and luxuriously renovated interiors that are great for large groups and big family reunions.
Here are the best airbnbs in Nantucket for a relaxing summer getaway.
ADVERTISEMENT
Or save this article to read later by pinning it ⇟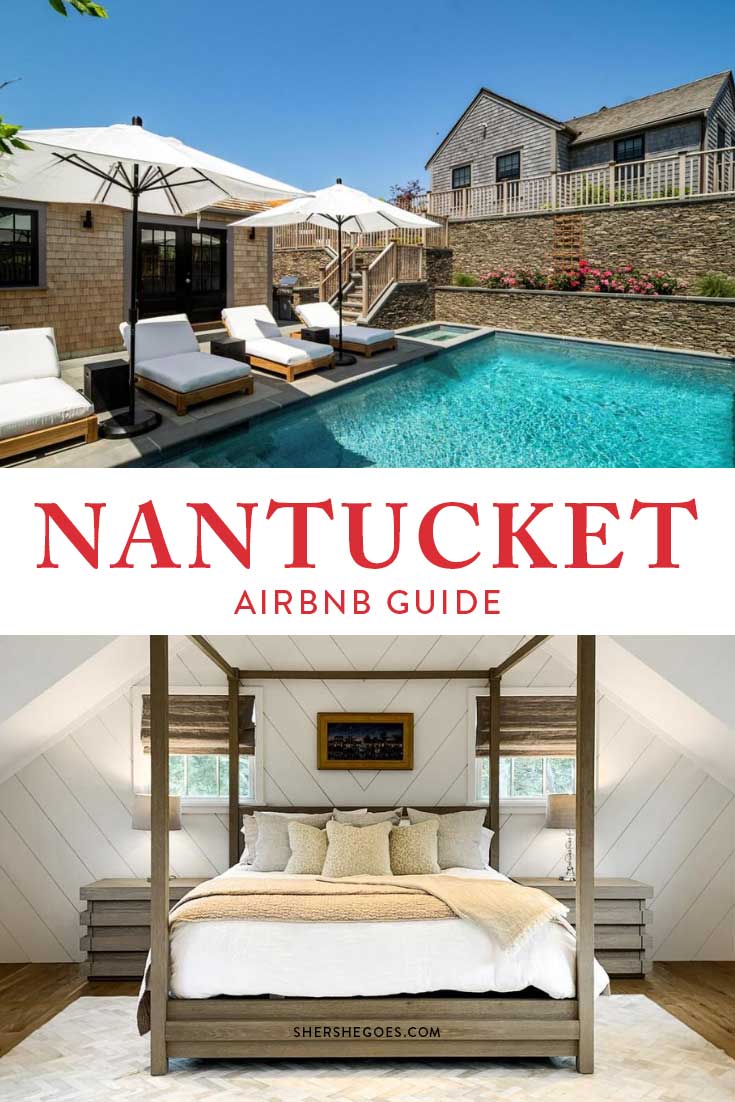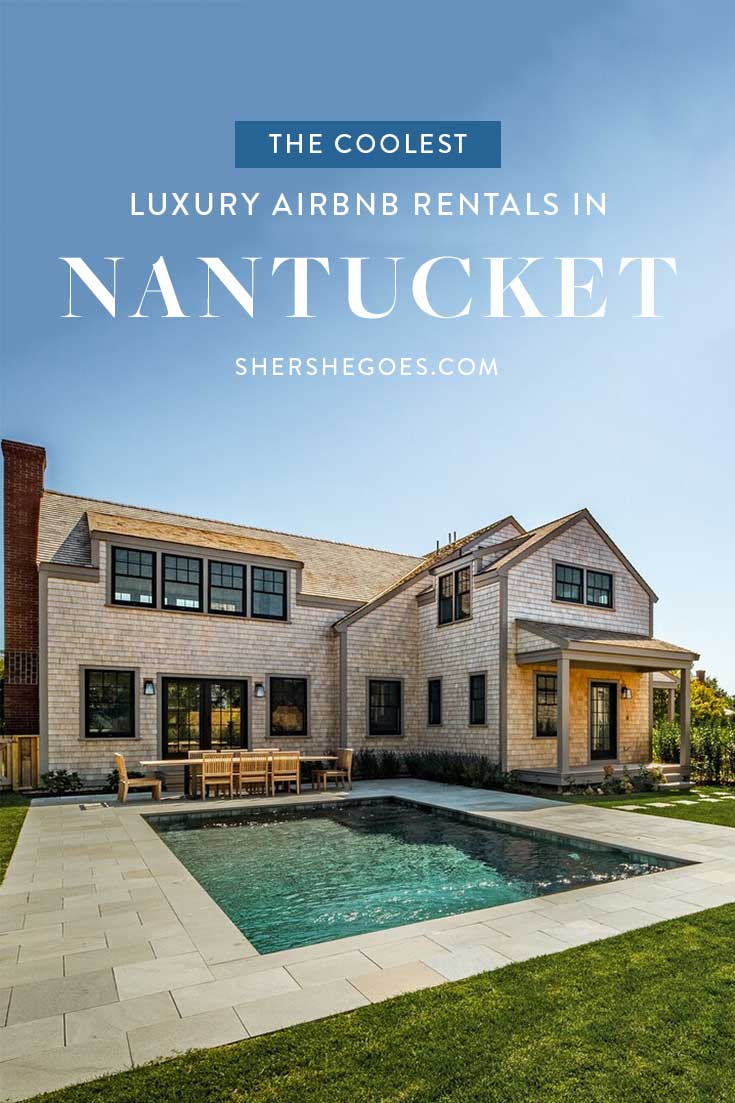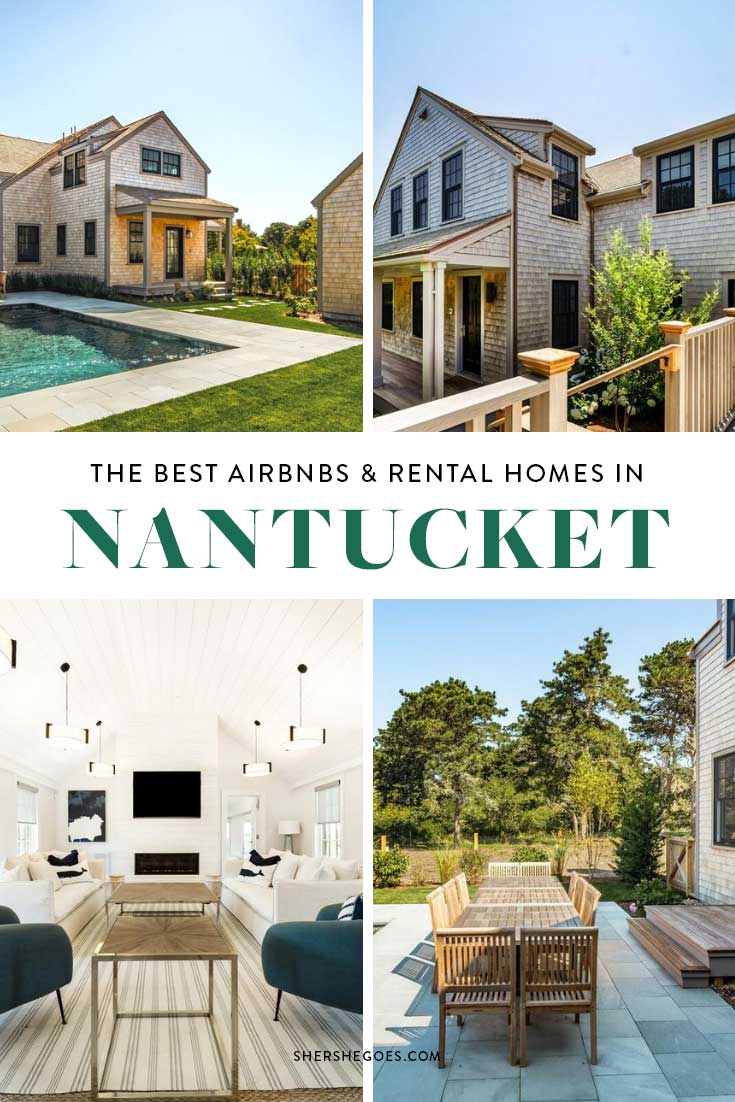 Best Home Rentals in Nantucket
Here are some of the best options for airbnb homes in Nantucket. While the island is small, there's lots of choice when it comes to neighborhood, amenities and vacation rental size.
You can book both affordable Nantucket apartments (perfect for a short couple's retreat) and luxurious historic Nantucket homes (if you're doing a big group getaway!) – so we've included a mix!
Keep reading for more info on each option and why we recommend them.
Read more:
The Best Things to Do in Nantucket
ADVERTISEMENT
---
---
Nantucket Airbnb & Rentals
If you were to book a hotel in downtown Nantucket, you'd need a small fortune. Why not try living like a local instead?
Here are 9 excellent Nantucket airbnbs that offer a great view, for a fraction of the cost.
1. Classic Nantucket Cottage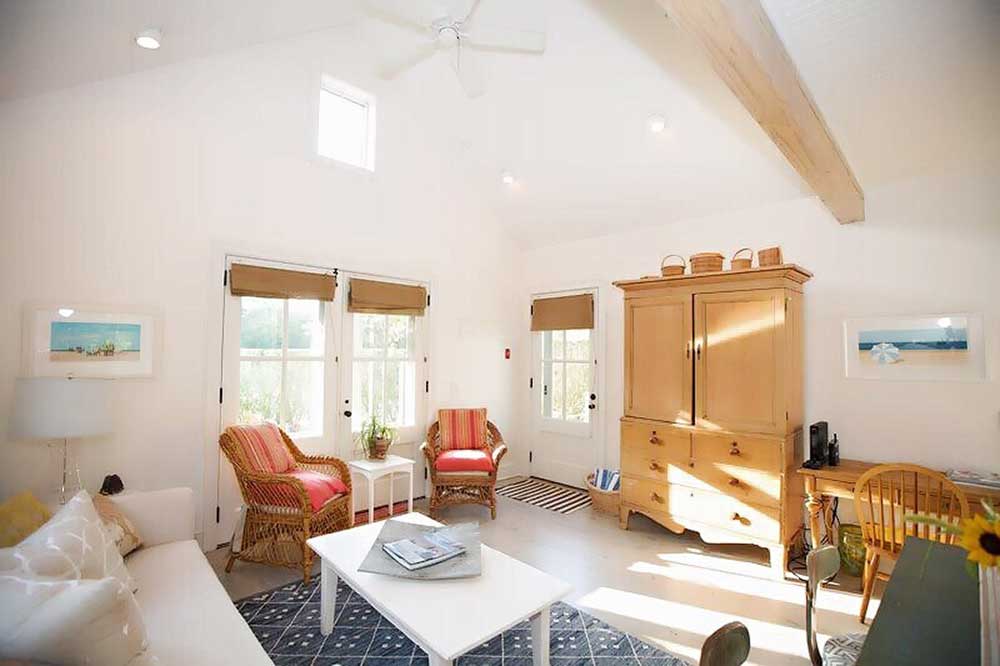 This one bedroom cottage is perfect for couples and small families.
It has a great location near Surfside Beach (one of the top rated beaches on the island) and is a private cottage on the owner's property, separated from the main house by high privet hedges.
The guest cottage has a gorgeous airy feel, thanks to a high cathedral ceiling and pretty French doors. It comes well stocked with everything you'd want for a day on the beach (chairs, coolers, shampoo, towels, etc) and even has an outdoor shower!
Check rates: Airbnb
ADVERTISEMENT
---
---
2. Quiet Mid Island Retreat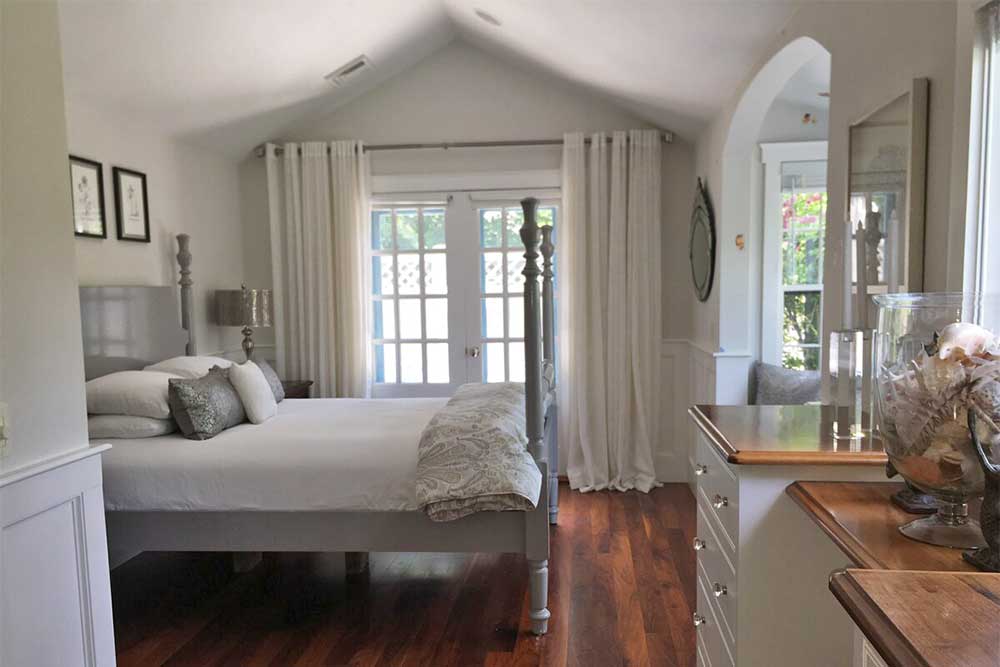 Want to stay in an affordable Nantucket rental close to all the action?
Then this 1 bedroom airbnb is perfect – it's conveniently just a bike ride or walk away from town, Surfside Beach and Cisco brewers.
The accommodation is a guest suite off the main house, separated by a locked door and with its own entrance. The backyard has lovely gardens and there's even a kitchen if you want to have your own clam bake.
Stay on this mid island Nantucket airbnb for a fabulous summer!
Check rates: Airbnb
ADVERTISEMENT
---
---
3. Luxury Nantucket Shingle Home with Pool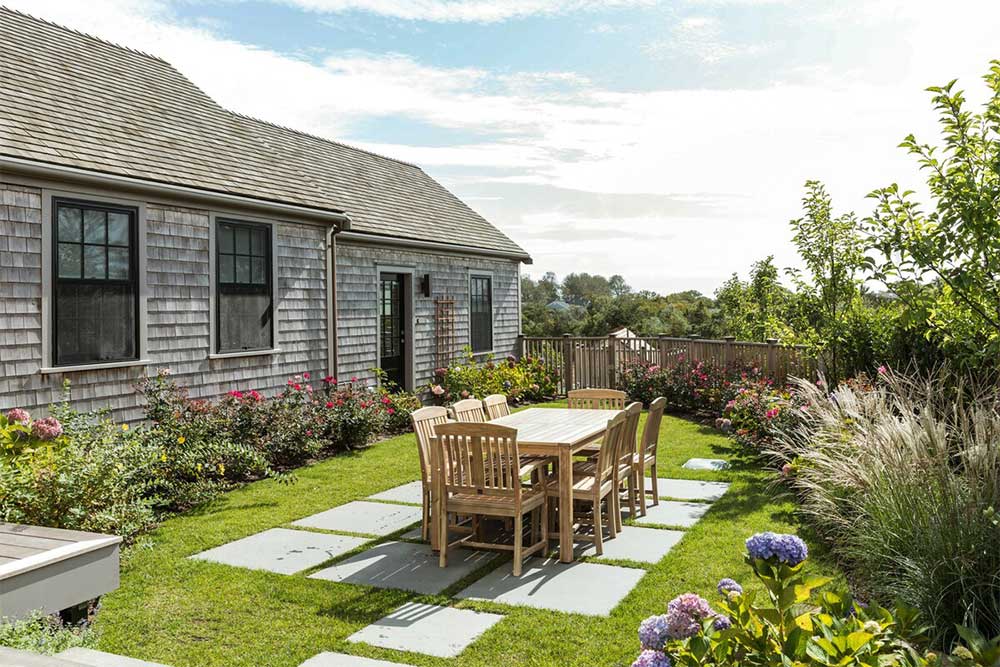 if you're looking for the quintessential Nantucket house to rent, this old farm house is for you.
On the outside, grey shingles and rose bushes mark it as a classic Nantucket house, but the inside is beautifully renovated with modern appliances, subtle nautical decor and two spacious bedrooms.
There's a pool and hot tub out back with an upper level deck and fire pit. Meanwhile the garden has a pretty al fresco dining area to relax for dinner. The villa is well located in town, close to all the restaurants, cafes and ice cream shops.
This is a great airbnb for families and groups! With 6 bedrooms and 6.5 baths, it can fit up to 14 people.
Check rates: Airbnb
ADVERTISEMENT
---
---
4. Minimalist Nantucket Apartment with BBQ Deck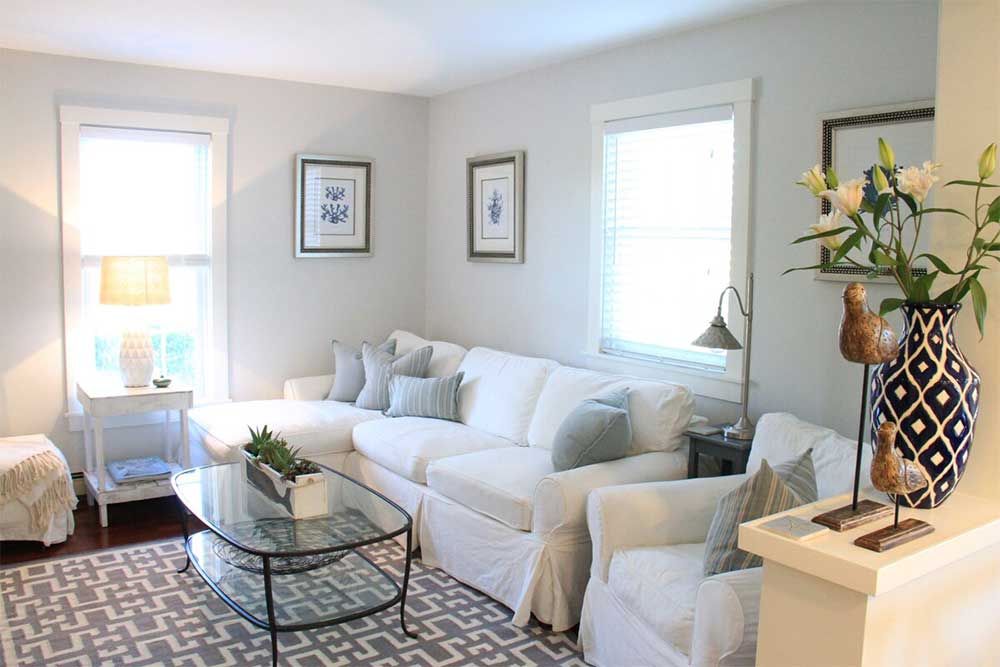 Stay at this house for a long weekend in Nantucket.
This cottage is clean, quiet and newly renovated with enough room for a family or small group of friends. Although the rooms are cozy, it can fit up to 5 people!
There's an outdoor shower, deck for BBQ and even parking which makes it very convenient. Don't plan to drive? Take advantage of the bus stop by the corner.
Location wise, it's solidly mid island – about a mile and a half from town or a reasonable walk to Miacomet and Surfside Beach.
The home is newly renovated and almost everything you need is provided. If you have a larger group, you can rent the owner's second floor apartment and backyard studio to all stay together.
Check rates: Airbnb
ADVERTISEMENT
---
---
5. Eastern Nantucket House with a View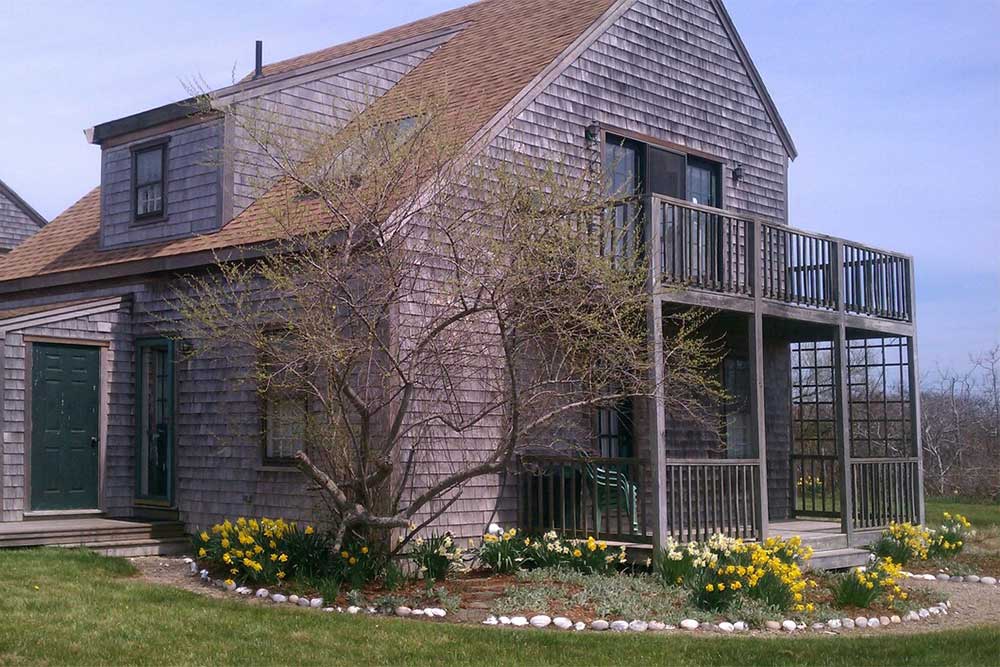 If you prefer a roomy Nantucket house, this 2,000 square foot property is perfect.
It's located in quiet eastern Nantucket, with great views of the sunset and ocean from the upstairs deck. Bike to Sconset Village easily, go fishing or relax with a round of golf – there's lots of activities to take advantage of without the crowds.
This roomy Nantucket airbnb can fit 6-8 guests and is ideal for anyone outdoorsy.
Check rates: Airbnb
ADVERTISEMENT
---
---
6. Charming Cottage on the Cape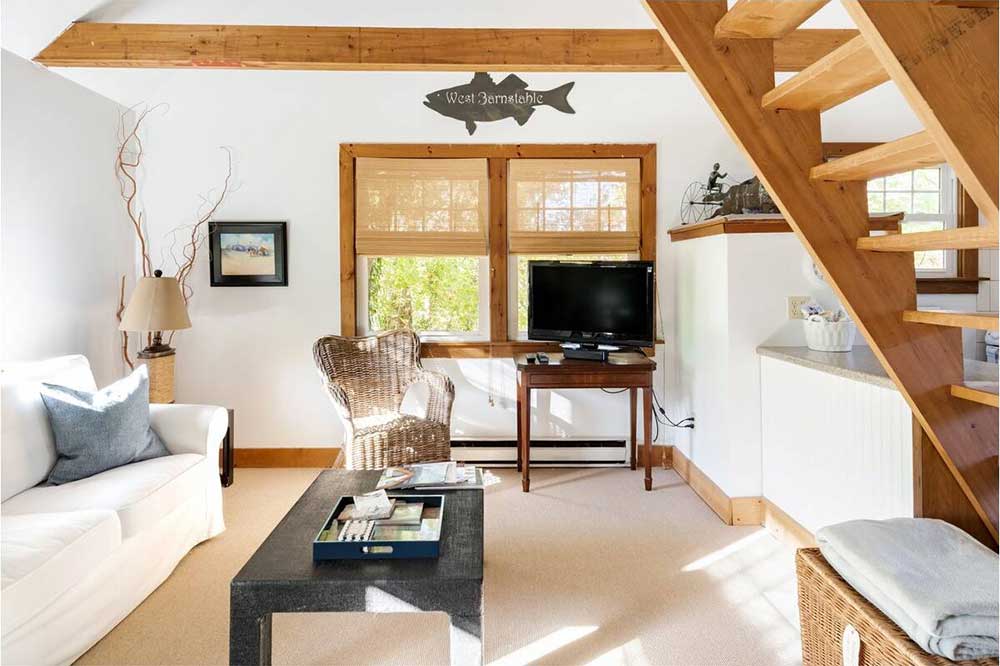 If you're driving through the Cape area and plan to visit both Nantucket and Martha's vineyard, you might prefer a rental in a great location without the high price tag of being 'on' island.
If that's you – this well designed, cute Cape cottage in Barnstable is where you should stay.
It's decorated with beachy minimalist decor, has a ship ladder style staircase, lofted bedroom and gorgeous vaulted ceilings. Spend the day out on the cape and relax at night in this cottage!
It's also very reasonably priced and great for couples!
Check rates: Airbnb
ADVERTISEMENT
---
---
7. Idyllic Nantucket Country House for Large Groups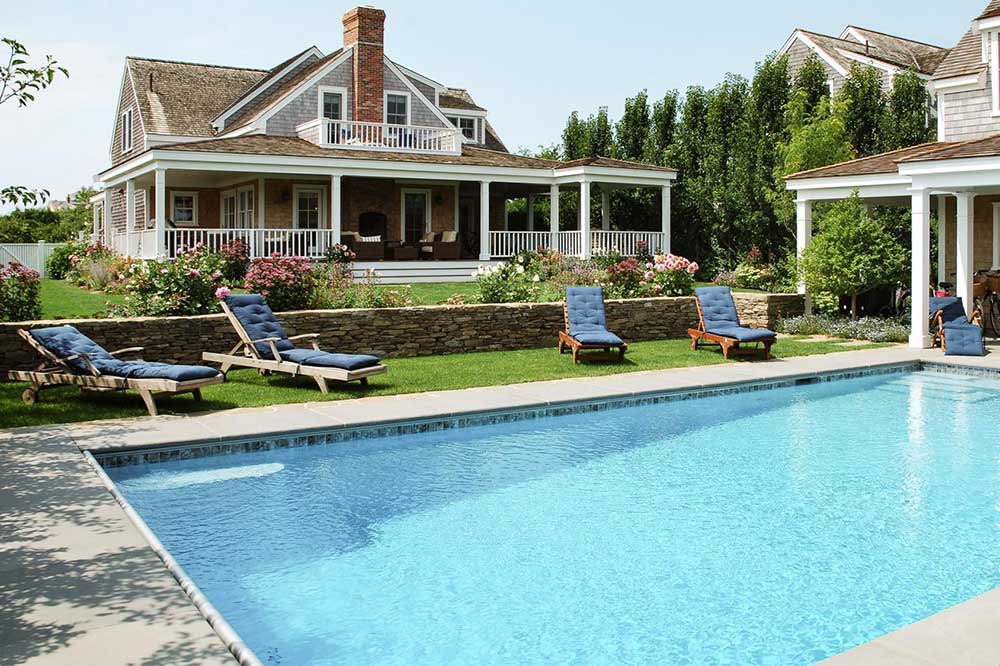 Want true luxury? Stay at this gorgeous Nantucket summer rental, perfect for large family reunions and groups.
The picture perfect property has beautifully manicured lawns, blooming flower beds and a pristine salt water pool. Inside, there's a fully equipped massive kitchen, modern bedrooms and a roaring fireplace. The house has 7 bedrooms and there's even a guest cottage out back, to comfortably fit 16+ guests.
Big family reunions and gatherings will love this rental!
It's also well located, just a short walk to the town restaurants, bars and ice cream shops. Most of Nantucket's best beaches are a short 5-10 minute car ride away.
Check rates: Airbnb
ADVERTISEMENT
---
---
8. Quaint Nantucket Apartment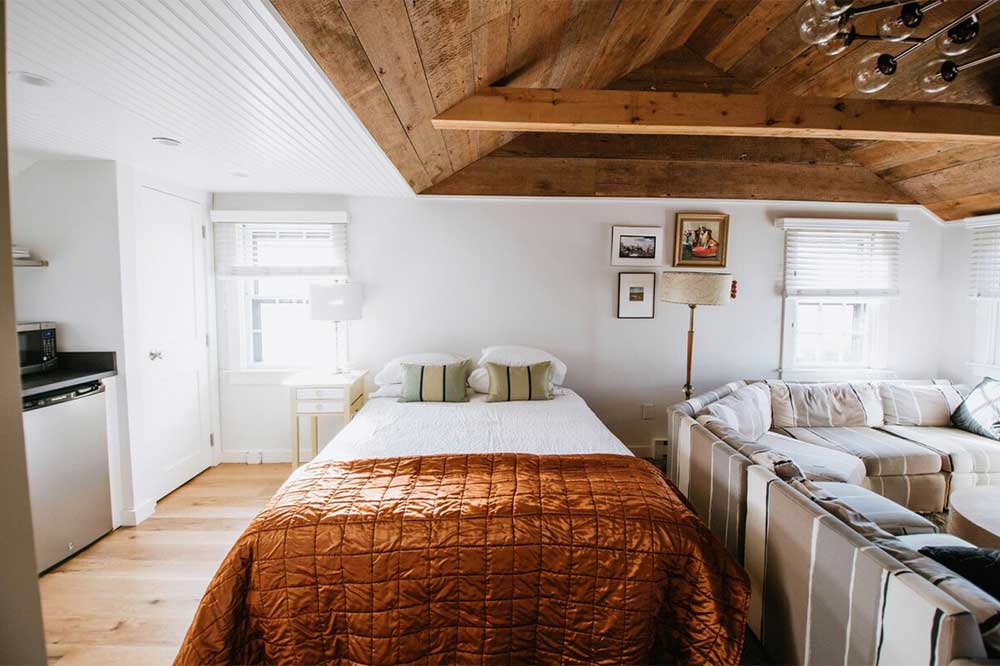 This cozy second floor apartment is an excellent getaway for couples visiting Nantucket for the first time.
Just a mile from town and Cisco brewery, it has a super convenient location so you can take advantage of everything the island has to offer. The sunny apartment space is newly renovated, with a modern bathroom and brand new kitchen. There's even outdoor space to relax in!
You can rent bikes or take advantage of the shuttle stop across the street. Perfect for short stays.
Check rates: Airbnb
ADVERTISEMENT
---
---
9. Historic Nantucket House with a Pool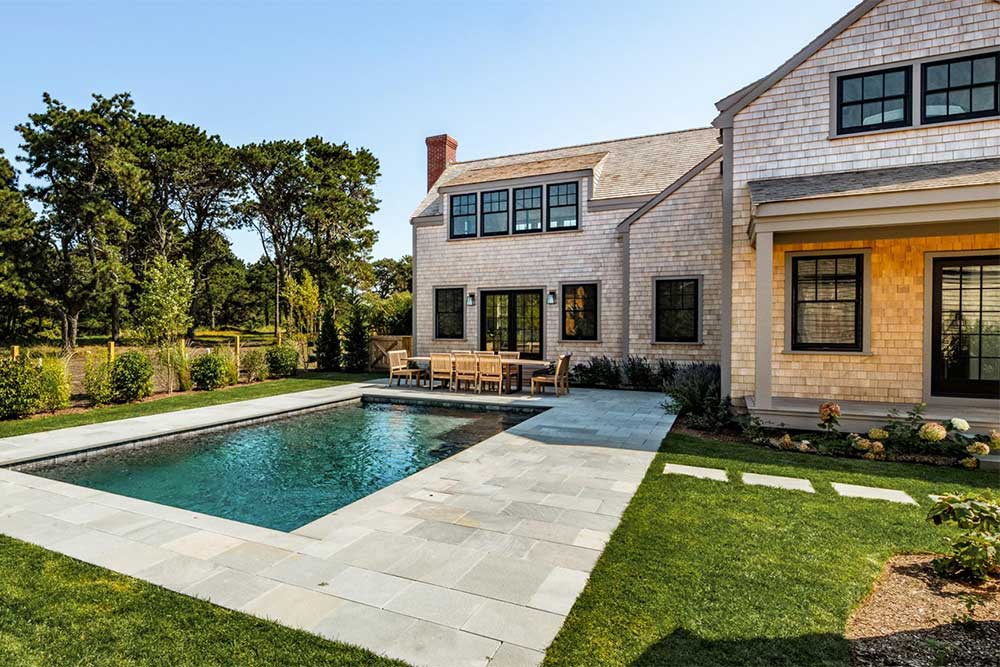 If you'd prefer a new, modern home this Nantucket airbnb is the best option.
It's beautifully designed to look like Nantucket's historic homes with a sheltered front porch, relaxing pool, and gleaming kitchen. Both Miacomet and Surfside Beach are a close walk away if you like to surf and sunbathe.
Town with all it's restaurants and the local brewhouse are also conveniently nearby! This roomy airbnb has 5 bedrooms and fits up to 10 guests.
Check rates: Airbnb
ADVERTISEMENT
---
---
Nantucket Airbnbs: Know Before You Book
Nantucket is a popular summer getaway and most rentals on the island book out incredibly early. If you're thinking of visiting, make sure to sort out your accommodation first.
If it's your first time on the island, I recommend staying either in Town or Mid Island. That way, you'll be close to all the restaurants and downtown activity, but not too far from the beach!
Overall, Nantucket is pretty small. The easiest way to get around is via bike, since taxis can be limited and in high demand.
Read more:
The Best Boutique Hotels in Nantucket
ADVERTISEMENT
---
---
Nantucket Neighborhoods
Here's a quick guide to other popular neighborhoods in Nantucket:
Brant Point is adjacent to Town with a shoreline along Jetties Beach. Its lighthouse is one of the most photographed spots on the island. Rental homes in this area can vary between cute cottages to grand oceanfront estates. Jetties Beach has public restrooms, a calm beach and small restaurant.
Madaket is another popular beach area, famous for its spectacular sunsets.
Siasconset, or 'Sconset, was once a haven for fishermen. Its narrow lanes are home to gorgeous rose covered cottages and is one of the most picturesque neighborhoods. If you're traveling as a couple, these tiny classic cottage rentals are a quintessential Nantucket option.
Tom Nevers is a quiet neighborhood with relatively newer, larger homes. Residents and visitors love the privacy of this area, as nearly 70% of it is conservation land. The annual Nantucket Island Fair is held here in the fall, while in the summer visitors can expect lovely quiet beach days.
Read more:
Nantucket in a Long Weekend: The Perfect 3 Day Itinerary
ADVERTISEMENT
---
---
Visiting Nantucket – Trip Planning Checklist
Flight Deals | Jet Blue offers nonstop flights from NYC to Nantucket. The flights are short and affordable, but occasionally fog disrupts routes. Alternatively, you can fly to Boston and then take the ferry. Set a fare alert here to be notified of discounts. September is a great time to visit to avoid the crowds!
Accommodation | Nantucket is a pricey weekend escape, so book hotels in advance to save, or check here for last minute deals. Not sure whether to pick a boutique or b&b or even what part of town to stay in? Read my Nantucket accommodation guide.
If you have a group of people, rent a house on Airbnb. It's not only more charming and affordable, it's more fun! 
Insurance | Lastly, be sure to visit Nantucket with travel insurance. Whether you get injured and need to be hospitalized, or your phone gets stolen, travel insurance will help when you need it most.
Nantucket's reputation as the Grey Lady means flights are delayed often. In our case, our flight was canceled and then our rebooked flights were delayed for 12 hours! Get a quote for your trip here.
You Might Also Enjoy:
Nantucket Vacation Planning Articles
The First Timer's Guide to Visiting Nantucket
Don't Miss: 10 Best Things to Do in Nantucket
The Ultimate Guide Where to Stay in Nantucket
The Best Nantucket Airbnbs: Oceanfront, Cottages, Group Rentals & More
3 Days in Nantucket: A Classic Long Weekend Itinerary
What to Wear in Nantucket Hint: Think Preppy
Boston Vacation Planning Articles
Boston Travel Guide: 7 Wicked Cool Things to Do in Boston
Where to Stay in Boston: A Neighborhood & Accommodation Guide
Where to Eat in Boston
4 Incredible Restaurants You Must Try in Boston
Don't Miss Boston's Breweries: Our Day at Harpoon
Greater New England
Sailing in Maine: Our Windjammer Experience
Follow me @Sher She Goes on