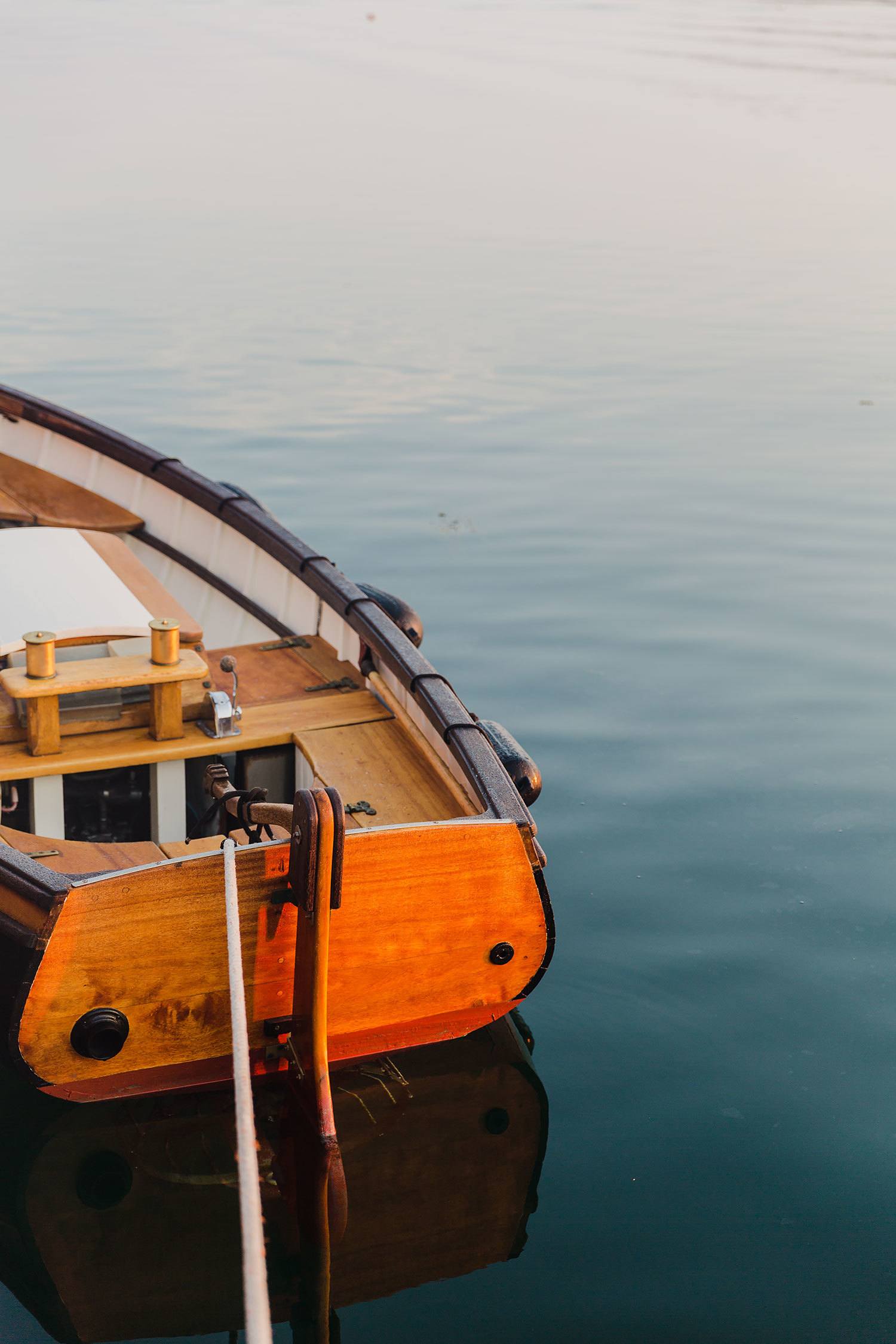 Sailing in Maine on a Windjammer Cruise
In early August, we departed muggy New York City for an entirely different type of adventure: sailing!
We've always taken predominantly 'urban' vacations so when the chance arose to unplug and explore Maine's beautiful coastline, we jumped at the opportunity.
Neither of us are particularly outdoorsy, but we love trying new things.
The sailing itinerary we picked centered around lobsters and lighthouses, which sounded right up our alley. We rented a roomy SUV, charted a road trip along some of Maine's most famous towns, and set off.
ADVERTISEMENT
Our ultimate destination?
Rockland, Maine.
Rockland is famous for its lobster fishers and up and coming art scene, but it's also where Maine's windjammer fleet docks each summer.
We booked 4 days on board the J & E Riggin schooner and set off for a leisurely journey in and around Penobscot Bay, Maine. If you've ever been curious about taking an unplugged vacation or wanted to set sail wherever the wind takes you, taking a windjammer cruise might be for you!
Here's everything to know about sailing aboard a Maine windjammer, covering:
Keep reading or save this article for later: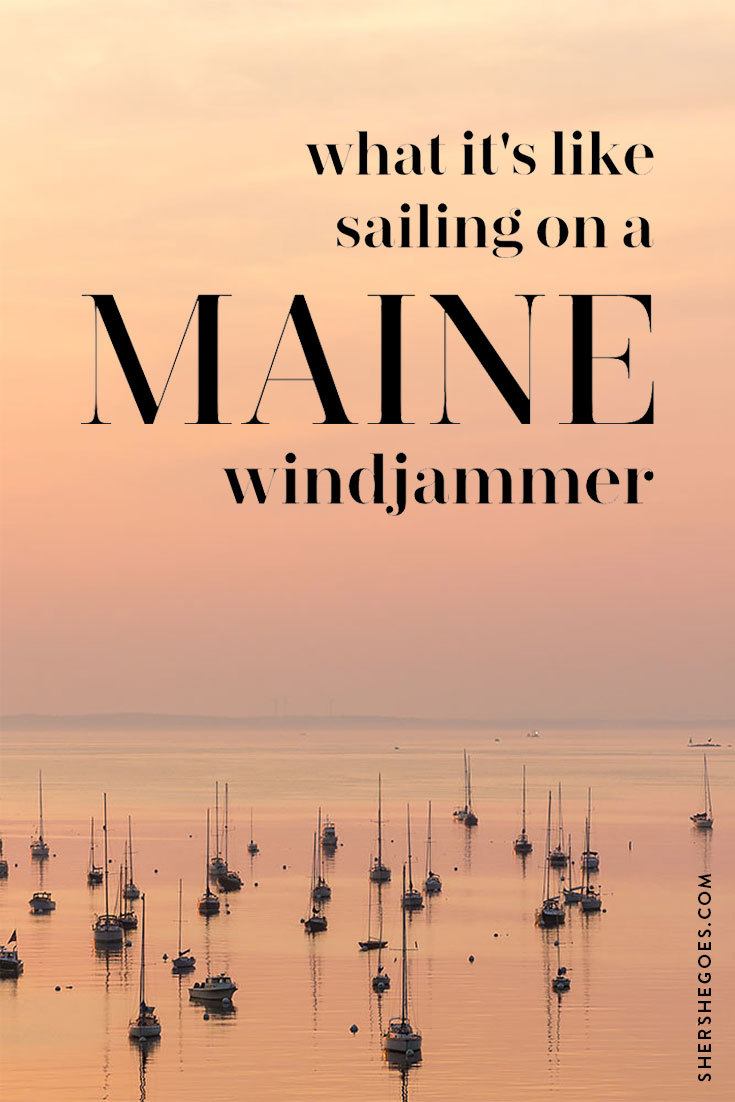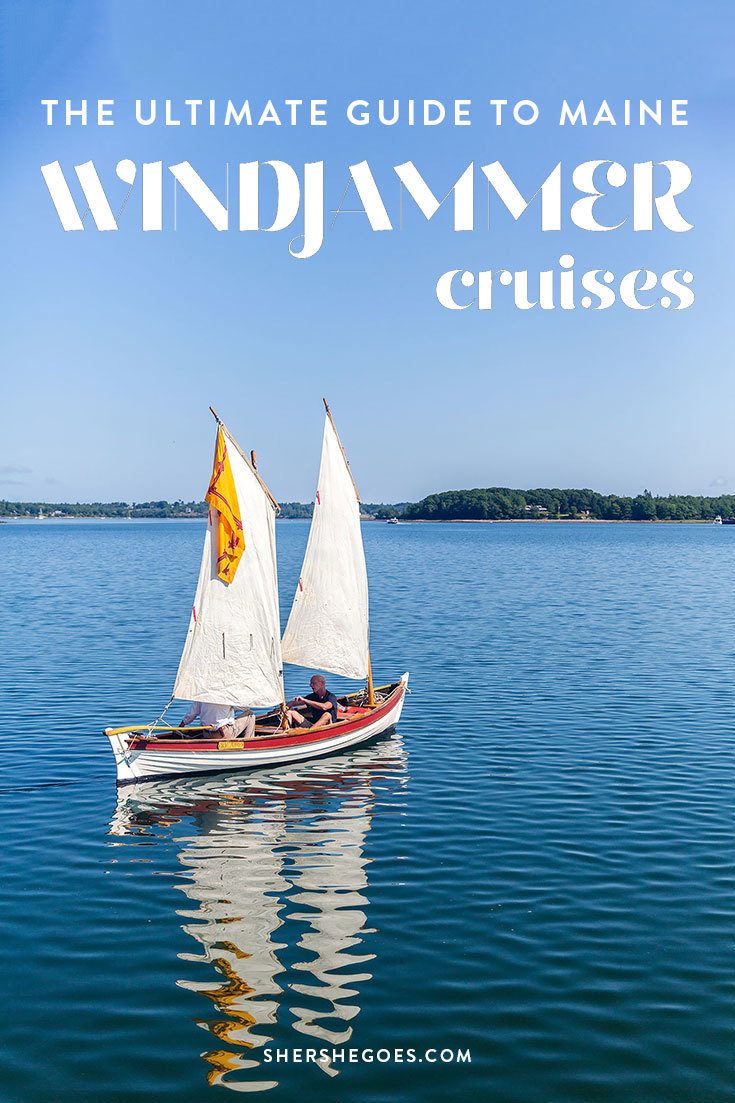 ADVERTISEMENT
---
---
Maine's Historic Windjammers
Windjammers were originally large sailing ships built in the 19th and early 20th century to carry bulk cargo.
Today, most windjammers have been converted to small ship passenger cruises, carrying anywhere from 10-30 passengers on intimate sailing journeys either in the Caribbean or around Maine.
The experience is refreshingly intimate compared to huge ocean liners. We spent most of our time aboard getting to know the other passengers, helping with the sails or relaxing on deck.
ADVERTISEMENT
---
---
No Wifi
It's also quite an unplugged vacation.
We left our phones in our cabins for the entire journey, got up at sunrise to watch the sun come up with a warm mug of coffee, read a book on deck or gazed out on the Maine coastline.
Sailing on a windjammer is perfect for travelers who like to savor a destination leisurely!
Fishing vessels have filled Maine's harbors since the late 1800s, so sailing aboard a windjammer is a bit like journeying back in time. Many of the schooners in Maine's windjammer fleet were originally commercial vessels and are considered national historic landmarks.
ADVERTISEMENT
---
---
The Unique Way to See Maine's Coast
Sailing offers an unforgettable experience to soak in Maine's rustic, scenic coastline.
With hundreds of miles of rocky shore, tiny inlets and isolated islands, one of the best ways to savor Maine from sunrise to sundown is from the sea.
Read more:
What to Know Before Booking a Windjammer Cruise
ADVERTISEMENT
---
---
The J & E Riggin
Our windjammer for the week? We were invited to sail by husband and wife team Jon Finger and Annie Mahle on their beautiful schooner, the J & E Riggin.
The family-run cruise is led by Captain Jon and fed by Chef Annie and their seasoned crew each summer. They offer journeys to suit any interest and varying journey lengths.
We opted for the 4 day Lobsters & Lighthouses traditional journey and arrived to Rockland in the early evening. The first night is docked in the harbor, so you have some time to get acquainted with the other passengers and with the schooner!
ADVERTISEMENT
---
---
The Cabins
Our cabins were below the main deck, near the bow.
Although quarters are tight, we had just enough room to stow our duffel bags, make our bunk beds and wash up at the small sink.
We figured out how to operate the 'heads' (the schooner's bathrooms) and then munched on a fabulous fruit and cheese plate while the crew welcomed us aboard and set out the experience for the week.
Read more:
An Itinerary for the Perfect Coastal Maine Road Trip
ADVERTISEMENT
---
---
Our Windjammer Cruise Itinerary
There's no set itinerary that the ship follows. Instead, Captain Jon chartered our course each day depending on the direction of the wind and weather. Here's how our week looked:
Day 1: Warren Island
On our first night, we visited Maine's most remote state park, Warren Island.
This beautiful, isolated island has a handy access ramp from the sea so we piled into the schooner's yawl boat and easily walked to shore. The calm, glassy shores, crunchy crustacean shells and towering green spruce trees were everything we had pictured when we envisioned our Maine sailing trip.
We dipped our toes in, took in the views on a short hike, and settled around the campfire while the crew prepared a smokey sausage and pepper paella.
Then we settled in to feast on an epic all-you-can-eat lobster boil, slow cooked with salty seaweed pulled right from the shoreline. Afterwards, just before sunset, we each experimented with making our own smores and chocolate concoctions.
ADVERTISEMENT
---
---
Day 2: Castine
On our second day, we had a pit stop at Castine, one of the oldest towns in New England and home to Maine's Maritime Academy.
Day 3: At Sea
Our last day was sunny and windy – the perfect atmosphere for a day of full sails. We over-nighted in a calm bay along a couple other schooners and spent the next morning paddle boarding, row boating and swimming.
For longer journeys, the ship has more wiggle room to sail farther along Penobscot Bay.
ADVERTISEMENT
---
---
Life On Board a Windjammer
Life on board gradually fell into a rhythm.
We'd wake up early, grab our mugs of coffee and sleepily greet the sunrise. Breakfast was always a hearty feast, and then we'd all pitch in to assist with setting up the sails.
Overall, sailing on a windjammer felt a bit like camping on a boat. Our cabin quarters were cozy, with a small window and sink, but the twin bunks left no room for lounging about.
Showers were limited as fresh water needs to be carried on board, but one of the bathroom 'heads' doubled as a hose shower if we really needed.
ADVERTISEMENT
---
---
Who It's Best For
There's also no electricity or outlets, so we took advantage of the harbor electricity on the first night to charge up our camera batteries and left our phones in our rooms for the trip.
In the end, we settled into a comfortable rhythm on deck, watching the waves pass us by and shouting out whenever we caught sight of a porpoise or lighthouse. Some well-planning passengers brought outdoor chairs to relax in while others packed books to pass the time.
Overall, the experience is perfect for avid campers or adventurous spirits, who don't mind roughing it a bit in exchange for beautiful ocean views, the salty sea breeze and spectacular sunrises.
Read more:
Our Maine Packing List
ADVERTISEMENT
---
---
Sailing with the Crew
The J & E Riggin is a two masted schooner that can hold up to 24 passengers and 6 crew members. Luckily, our voyage is at near capacity, with around 30 people on board, so there's ample hands to help with sailing!
Each morning, the crew guides us in helping to raise the sails and each evening, the men assist with the weighty task of lowering the anchor chain.
The daily rituals don't take too long and in the process, we all become well acquainted with just how heavy the ship's horsepower can weigh.
It's tough work!
ADVERTISEMENT
---
---
Food on a Maine Windjammer
Luckily, Chef Annie Mahle kept our energy levels high with delicious cuisine.
Each day we were treated to a gloriously decadent 3 meals a day and hot coffee and tea were always at the ready. Not only was the menu varied, with influences from cuisines around the world, it was also healthy – no mean feat!
ADVERTISEMENT
---
---
Here's a sample of what our menu looked like throughout our journey.
Breakfast
Buttermilk Pancakes / Bagels with Lox / Hearty spiced oatmeal
Lunch
Mexican-style Tacos / Bibimbop Rice Bowls / Italian-style Stromboli
Dinner
Wild Scottish Salmon / Sausage Paella / Seaweed Steamed Lobster Boil
Dessert
Peaches and Cream / Espresso Crème Brûlée / Chocolate Tart
ADVERTISEMENT
---
---
Maine Food & Cookbooks
Chef Annie's cooking is truly incredible.
We often couldn't stop ourselves from grabbing seconds and were delighted to find that we could attempt to recreate our favorite dishes with her cookbooks!
She has 3 fantastic cookbooks filled with her recipes, stories and sailing traditions which you can pick up here.
ADVERTISEMENT
---
---
After 4 nights, we had arrived back to our starting point.
We disembarked in Rockland harbor and continued on with our Maine road trip, but with a newfound appreciation for Maine's pristine natural beauty and the joys of sailing.
Maine's windjammer cruises range from 2 to 7 day voyages beginning in late May until the end of the season in early October. You can try the classic itinerary we chose, or opt for a specialty voyage. Themes range from music to photography, cooking to knitting.
ADVERTISEMENT
---
---
Have you ever gone sailing before?
Visiting Maine – Trip Planning Checklist
Road Trip | We rented a car for our 10 day road trip. It ended up being a great and cost-effective way to explore Maine, as our hybrid Volvo XC 60 really maximized every mile of the 800 mile route. We only had to fill up on gas twice! Check the latest deals on car rentals here.
Accommodation | Maine has some beautiful boutique hotels along its popular coastal towns. Summer is peak season in Maine, so book hotels in advance to save, or check here for last-minute deals. Alternatively, get a fun group together and rent a house on AirBnB for a slightly more budget friendly option.
Insurance | Lastly, be sure to visit Maine with travel insurance. Whether you get injured and need to be hospitalized, or your phone gets stolen, travel insurance will help when you need it most. Get a quote for your trip here.
You Might Also Enjoy:
Maine Vacation Planning Articles
A Classic Maine Road Trip: Lobsters, Lighthouses & Coastal Views
What to Wear in Maine: The Ultimate Packing List
Coastal Maine
Our Windjammer Cruise Sailing Experience: J&E Riggin Review
7 Things to Know Before Joining a Windjammer Cruise
Portland
Follow me @Sher She Goes on