Macy's Thanksgiving Day Parade
Living in New York, seeing the Macy's Thanksgiving Day Parade up-close has become a cherished annual tradition of mine.
The celebrities.
The marching bands.
The elaborate balloons!!
All these elements and more of the Macy's Thanksgiving Day Parade are such an important part of ringing in New York's holiday season, one of the most magical times and places to be anywhere in the world.
ADVERTISEMENT
Fun fact: did you know that, while easily America's most famous Thanksgiving Day Parade, the Macy's Parade is actually not the oldest?
Having started in 1924, the Macy's Thanksgiving Day Parade (and also Detroit's Thanksgiving Day Parade) are tied for the 2nd-longest Thanksgiving Day Parade in America, Philadelphia's having started 4 years earlier.
While the Macy's Thanksgiving Day Parade heralds plenty of things that are fantastic about New York's holiday season, it also brings something else that's quintessential New York.
Crowds.
ADVERTISEMENT
---
---
Or jump to
Macy's Thanksgiving Parade
To beat the crowds and have the best day ever, here are 5 ways to maximize the Macy's Thanksgiving Day experience!
1. Know the Route
This one may seen obvious, but I can't tell you how many of my New York friends have, over the years, misjudged where, exactly, the Macy's Thanksgiving Day Parade Route lies.
Knowing the 2019 route is also made more important by some slight modifications compared to previous routes.
This year, the 2019 Macy's Thanksgiving Day Parade begins at 9:00 in the morning at the corner of West 77th Street and Central Park West.
From there, the Parade travels south along Central Park West until Columbus Circle, at which point the parade travels east along Central Park South until 6th Avenue (in prior years the Parade traditionally traveled along Broadway after reaching Columbus Circle).
At 6th Avenue, the Parade will travel South until 34th Street, at which point the route makes its final turn west to Herald Square, where the flagship Macy's department store is located!
Macy's has some excellent information on the route detail and other Parade matters, but it's important to note that the only stints of the route realistic for public viewing are between 75th and 59th Streets along Central Park West and between 59th and 38th Streets along 6th Avenue.
ADVERTISEMENT
---
---
2. See the Balloons Being Inflated the Night Before
While not exactly a secret, one of the lesser-known aspects of the Macy's Thanksgiving Day Parade are the festivities that take place the night before.
All of the extravagant balloons we all see each Thanksgiving Day morning are actually inflated the night prior near the starting point of the Macy's Thanksgiving Day Parade route.
Between 1:00 and 8:00 on Wednesday, November 27, the inflating of all Parade balloons will be open to the public in the area surrounding the American Museum of Natural History, which lies between 77th and 81st Streets and between Central Park West and Columbus Avenue.
This event is also very crowded, but not nearly as much as the Parade itself. Just remember that the New York sun sets by 5:00pm in late November, so be sure to get there early for the best views!
In recent years, companies have used the balloon blow up to give out free samples of new products, fun polaroids, etc. No guarantees, but it's a nice surprise!
ADVERTISEMENT
---
---
3. Plan on Getting Up Very Early
And speaking of early.
Officially, the Macy's Thanksgiving Day Parade route is traversed between 9:00 in the morning and 12:00 noon.
I feel like you probably already know this, but, if you want to catch the parade, your day is going to have to start much earlier than that!
Seating along the public viewing sections of the Parade route is first-come, first-served, and Macy's recommends that viewers arrive as early as 6:00am for adequate seats.
In reality, I've heard of some people only finding decent seats if they arrived at 4:00am, and it's not unheard of for people to wait throughout the night for an opportunity to view the Parade!
Regardless of when you get there or where you're located, make sure you bring chairs and blankets (the grandstand seating section of the Parade route is closed to the public), warm clothing layers, snacks, and, if it was me, plenty of coffee!
Everything is first come, first serve – Macy's does not sell tickets to the event.
ADVERTISEMENT
---
---
4. Consider a Hotel with Parade Views
If you want to beat the crowds or the cold, there is another option.
Unfortunately this option will beat up your wallet pretty good, too – but hey, if you have the means or just a hankering to splurge, you only live once, right?!
Yup, you guessed it – a hotel.
If you're traveling to New York for Thanksgiving week you'll probably want a hotel anyway, so why not make the experience particularly memorable with a hotel that offers stunning views of the Macy's Thanksgiving Day Parade Route.
Nearly all hotels along the Macy's Thanksgiving Day Parade Route offer special Thanksgiving Day packages, some of which include things like special Thanksgiving Day breakfasts or VIP viewing areas of the Parade!
Best NYC hotels with Parade views
Mandarin Oriental: directly overlooks Columbus Circle so you can see the floats coming around!
JW Marriott Essex House overlooks Central Park from Central Park South, but make sure to get a room with a view
1 Hotel Central Park a luxury eco-friendly option that also overlooks Central Park from Central Park South. Why not order the in-room Thanksgiving breakfast feast?
These are definitely pricey options, but could be worth it for the prime views, warm heat and lack of crowds. If your're on a budget, no worries!
Check out our NYC neighborhood guide to figure out where to stay and our affordable New York City hotels guide.
ADVERTISEMENT
---
---
5. Don't Miss a Thing!
Amid all your planning and dissecting of the 2019 Macy's Thanksgiving Day Parade route, don't be afraid to look up every once a while and enjoy the parade itself!
The 2.5 mile parade route will feature over 1,500 dancers (including Radio City Music Hall's famous Rockettes), over a dozen marching bands (including one from the New York City Police Department), and 30 parade floats (new additions this year include a strawberry & pistachio ice cream cone and Astronaut Snoopy 2.0)!
Once you get in and get settled, make sure you sit back, bundle up, take a sip of that coffee, and enjoy one of the best days New York has to offer at the Macy's Thanksgiving Day Parade!
ADVERTISEMENT
---
---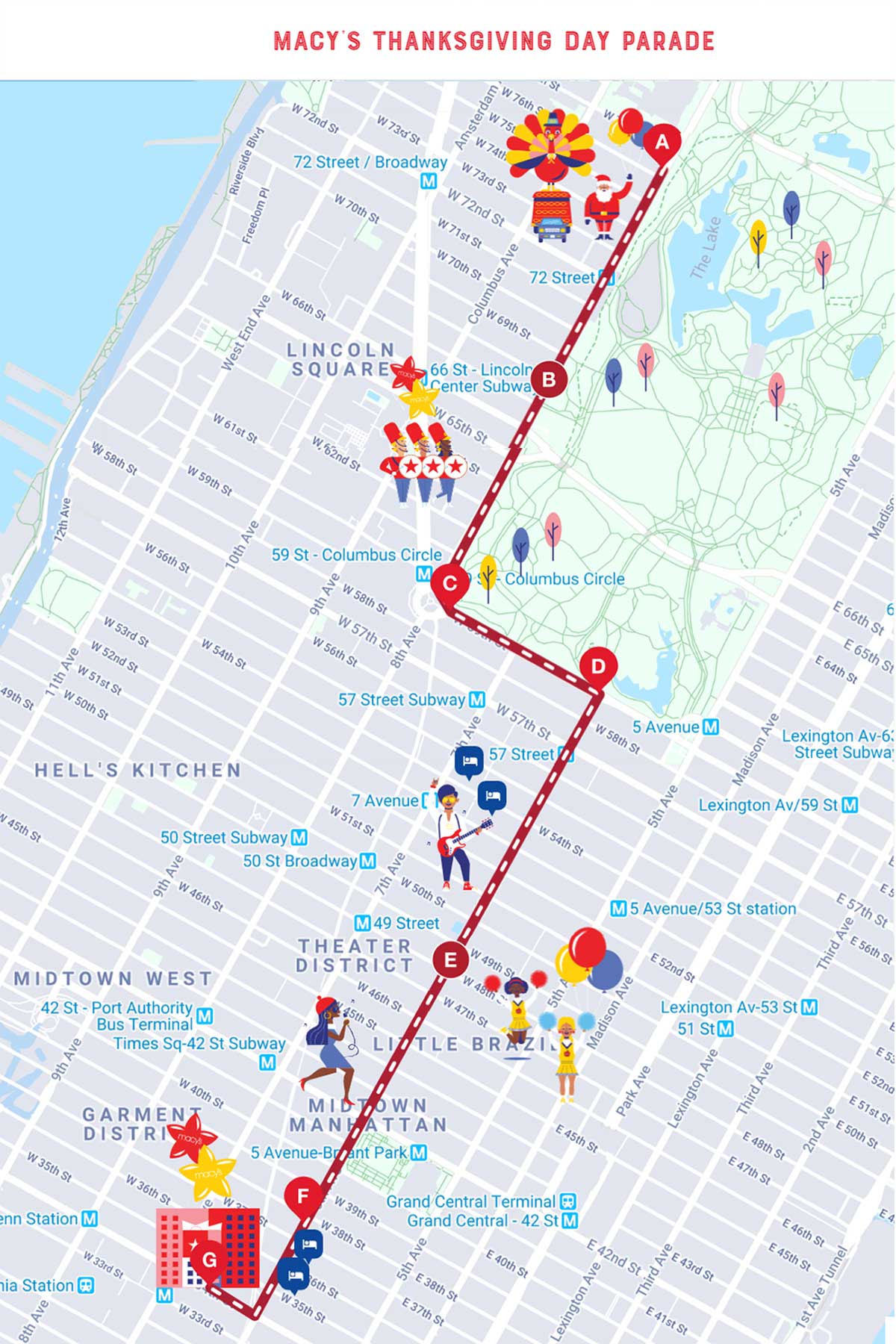 Macy's Thanksgiving Day Parade Route
The Macy's Thanksgiving Day Parade 2019 will cover 2.5 miles on Thursday, November 28th.
For great views, head to:
B. Central Park West from west 59th to west 75th
D. Central Park South & 6th Ave
E. 6th Ave from west 38th to west 59th
ADVERTISEMENT
---
---
What to Wear to the 2019 Macy's Thanksgiving Day Parade
The weather is cold in New York City by late November, so you'll want to dress warmly in lots of layers. Here's our Thanksgiving Parade packing checklist:
Read more:
Everything to Pack for NYC in Winter
ADVERTISEMENT
---
---
Things to Do in New York City
If you'll be in New York for Thanksgiving to see the parade.. why not stick around for a bit after? Typically, the Rockefeller Christmas Tree lighting takes place 6 days after the parade, so get in a festive mood and explore NYC during the holidays!
Check out these fun things to do in NYC in winter:
See the Radio City Rockettes
If there's one show in New York you have to see during the holidays, it's the Radio City Christmas Spectacular. Every year the 90 minute show changes it up, with over 100 performers, singing, dancing and festive music!
Check dates and prices here.
Go up the Empire State Building
Whether you snap a photo of the famous skyscraper from the ground or are brave enough to travel to the top, the Empire State Building is a must-see whenever your family visits the Big Apple. Pick up a CityPass for discounts on multiple NYC attractions.
Check dates and prices here.
Holiday Lights & Movie Sites Tour
Want to see the apartment where Buddy the Elf lived in Elf and stand where Kevin McAllister reunites with his mom in Home Alone II: Lost in New York? Get tickets to the Holiday Lights & Movie Sites Tour and do something unique in New York!
Check dates and prices here.
ADVERTISEMENT
---
---
Where to Eat
You'll likely be and hungry after that early morning start! Here are some of my favorite places on the Upper West Side, Columbus Circle and Midtown:
Casual Lunch Spots: Burger Joint, Between the Bread (healthy), Momofuku Noodle Bar (Asian), Totto Ramen, Halal Guys, Melt Shop, Xi'An Famous Foods
Dinner: Danji (korean), Torishin (omakase), Quality Italian, Marea (seafood), Hatsuhana, Del Fiscoes
Fine Dining: Per Se, Jean Georges and Asiate are all around Columbus Circle
Dessert: Serendipity, Bouchon Bakery, Plaza Food Hall
ADVERTISEMENT
---
---
We know how difficult finding the perfect present can be! Browse gift guides for everyone on your list:
Affordable Gift Guides
Secret Santa Gift Ideas for Guys Under $25
The Best White Elephant Gift Ideas - Useful, Funny & Quirky
Gift Guides for Her
Monogram Gift Ideas - Personalized Gifts for Everyone on your List
The Best Beauty Advent Calendars to Count Down Christmas
Gift Guides for Him
The Best Christmas Gifts for Dad
Useful Gifts for The Guy that Has Everything
Gift Guides for Parents
Gift Ideas for Parents (who have everything)
Insanely Good Gift Ideas for your Boyfriend's Mom
The Best Gifts for your Boyfriend's Parents
Black Friday
Black Friday Shopping Tips - retailers DON'T want you to know!
Holiday Parties
The Best Matching Christmas Pajamas - for the whole family!
The Best Christmas Socks - cozy & festive!
The Best Holiday Dresses You Won't Believe are on Amazon
The Best Cute Christmas Sweaters for Classic Winter Style
The Best UGLY Christmas Sweaters for a Holiday Party
Ugly Christmas Sweater Party Invitations
The Best Winter Cocktail for Holiday Parties - Looks Fancy, but Easy to Make!
Decorating for the Home
The Best Amazon Christmas Decorations (Stylish + Affordable!)
Rustic Christmas Tree Decor Ideas
Cozy Chic Christmas Gifts for the Home
Follow me @Sher She Goes on