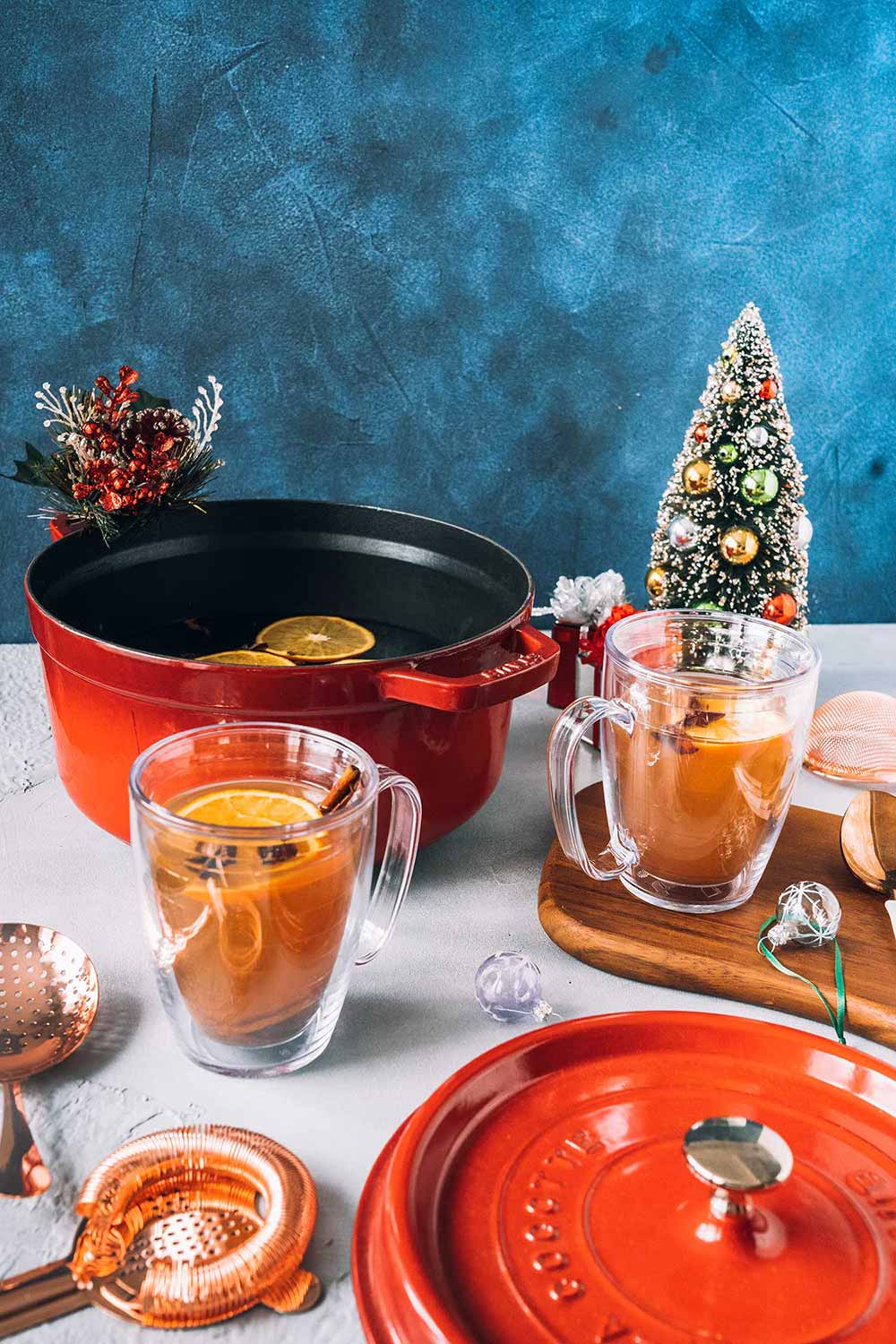 Thank you to Tervis for sponsoring this post!
The Best Winter Cocktail
A friend of mine was in town recently and we met up at Eataly to grab a drink. If you haven't been to their Flatiron rooftop bar, it's a great one to pop into throughout the year, as they do a great job decorating it for the seasons.
I ordered a cup of mulled wine and was pretty blown away! It was a freezing cold day and the warm, spiced white wine was like a cozy hug. Usually I love a cup of piping hot chocolate in the winter, but now I'm obsessed with mulled wine!
Luckily, mulled wine is the easiest drink to create at home. Today's post is all about the recipe and how perfect it is to make for holiday get togethers.
ADVERTISEMENT
How to Make Mulled Wine
The best thing about this recipe is that most if not all the ingredients are likely already in your pantry. Better yet, it's perfect for groups and parties since you can easily whip up a large batch. No need to wear your arms out with a cocktail shaker!
Ingredients
Dry Wine
You can use either red or white wine. One bottle serves 4, so if you're planning a party use 2-3 bottles. I usually drink red but for mulled wine, white is perfect for me. Slowly simmered with cider and spices, it tastes delicious.
Apple Cider
If you have fall cider it's a great complement to the wine but orange juice or simply water can be used.
ADVERTISEMENT
---
---
Something Sweet
A touch of honey or sugar (to taste) helps balance out the spices. I make a batch of simple syrup every now and then for cocktails, so I typically add 1/2 cup of sweetener for every 1 bottle of wine.
Spices
A handful of cloves, cinnamon and star anise are all that you need. Star anise is often used in Asian cooking so I had some on hand. It's available in Asian markets as well as regular grocery stores.
If you have fancy Ceylon cinnamon, they'll add a nice depth to the mulled wine and the cinnamon sticks are great as a garnish.
Fruit
You can use any fruit you like. Traditionally, apples, oranges and cranberries work well.
ADVERTISEMENT
---
---
Other Add Ins
If you have guests who want an extra kick, feel free to add a splash of rum, brandy or cognac! Add this at the end though, after the mulled wine is done simmering.
Insulated Mugs
Since this is a drink best served hot, you'll want to serve them in double walled mugs. I recommend Tervis' clear, chic 16 oz mugs.
Not only do they hold a nice pour, they're made from BPA free plastic and are insulated to keep your drinks warm or cold for as long as they take to enjoy!
So you can invite your friends and family over and everyone can chat away without you worrying about reheating the drinks.
ADVERTISEMENT
---
---
Insulated Tervis Cups
Did you know that Tervis was the first company to make insulated tumblers? They've been perfecting drink ware all the way back to 1940!
They sell all kinds of holiday cups, from beer mugs to wine glasses, water bottles, tumblers and thermoses. They also offer tons of customization options: you can add a name, photo, logo or design which would make a great gift for your guests.
But wait! Tervis has given me a great discount code to share with all of you..
What I like best about Tervis is their commitment to high quality plastic drinkware that lasts longer. Should any product be deemed defective, Tervis upcycles them into new, usable materials to avoid contributing to waste.
And of course, Tervis replaces the tumbler with a new one!
With more and more people using reusable straws and cups, it's great to see a brand that is equally passionate about the oceans and sustainability.
Tervis Discount Code
Tervis has some fantastic discounts for the holidays. Right now, get 20% off everything plus a mystery bonus item until December 17th.
And… just for my readers, you can use code SHERSHEGOES to receive an extra 10% off your order for a total of 30% off!
Tervis Coupon Code 30% Off
ADVERTISEMENT
---
---
Mulled Wine Recipe
In large dutch oven or sauce pan, add wine, cider, sliced fruit and spices
Bring to a low simmer for at least 15 minutes
Add sweetener to taste, if desired
Remove from heat and strain
Add fresh fruit and cinnamon sticks for garnish
Add a splash of rum, brandy or cognac, if desired
We always celebrate the holidays with my extended family. This year, it's my turn to host! So you bet I'll be making this easy and delicious mulled wine for the group of us :)
What's your favorite winter cocktail?
ADVERTISEMENT
---
---
We know how difficult finding the perfect present can be! Browse gift guides for everyone on your list:
Affordable Gift Guides
Secret Santa Gift Ideas for Guys Under $25
The Best White Elephant Gift Ideas - Useful, Funny & Quirky
Gift Guides for Her
Monogram Gift Ideas - Personalized Gifts for Everyone on your List
The Best Beauty Advent Calendars to Count Down Christmas
Gift Guides for Him
The Best Christmas Gifts for Dad
Useful Gifts for The Guy that Has Everything
Gift Guides for Parents
Gift Ideas for Parents (who have everything)
Insanely Good Gift Ideas for your Boyfriend's Mom
The Best Gifts for your Boyfriend's Parents
Black Friday
Black Friday Shopping Tips - retailers DON'T want you to know!
Holiday Parties
The Best Matching Christmas Pajamas - for the whole family!
The Best Christmas Socks - cozy & festive!
The Best Holiday Dresses You Won't Believe are on Amazon
The Best Cute Christmas Sweaters for Classic Winter Style
The Best UGLY Christmas Sweaters for a Holiday Party
Ugly Christmas Sweater Party Invitations
The Best Winter Cocktail for Holiday Parties - Looks Fancy, but Easy to Make!
Decorating for the Home
The Best Amazon Christmas Decorations (Stylish + Affordable!)
Rustic Christmas Tree Decor Ideas
Cozy Chic Christmas Gifts for the Home
Follow me @Sher She Goes on