Thank you to Immaculate Baking for sponsoring this post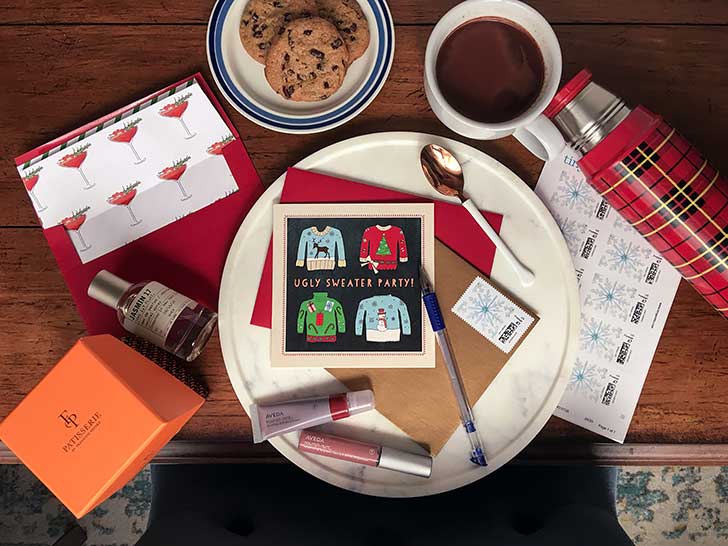 Mason Jar Gift Ideas
When I first got a new job in midtown, I had to find a whole new set of my favorite seamless restaurants. It was surprisingly harder than I thought until I discovered a healthy sandwich and smoothie shop that delivered a huge array of amazing juices, shakes and smoothies in the cutest mason jars.
I was hooked!
I can't even remember what that seamless restaurant was called. I do remember it was a strange restaurant because there were 3 very similar restaurants with different names.. yet oddly similar restaurants and they all delivered their drinks in mason jars and a side of complimentary healthy popcorn.
Anyway, I digress.
I ordered from there so many times that I had this gigantic exploding collection of glass jars piling up at my work desk and one night I took them all home.
ADVERTISEMENT
I am a sucker for any kind of cute container and I gave away half the jars to my mom, who I inherited the magpie tendency from.
For the remaining 30+ jars.. I needed a functional way to use them so what better way than the ever popular hot chocolate in a jar recipe?
I love giving these as small gifts during Christmas and the holidays since they're edible and functional. I love functional anything!
ADVERTISEMENT
---
---
Hot Chocolate in a Jar
To make, I recommend using this decadent hot cocoa recipe and if you have additional time, these extra fluffy, extra large marshmallows.
Mhm the absolute richest, most decadent hot chocolate in NYC is from City Bakery. Anytime I'm in Chelsea, I pop in for a cup of hot cocoa (they add in one giant marshmallow) and a pretzel croissant.
ADVERTISEMENT
---
---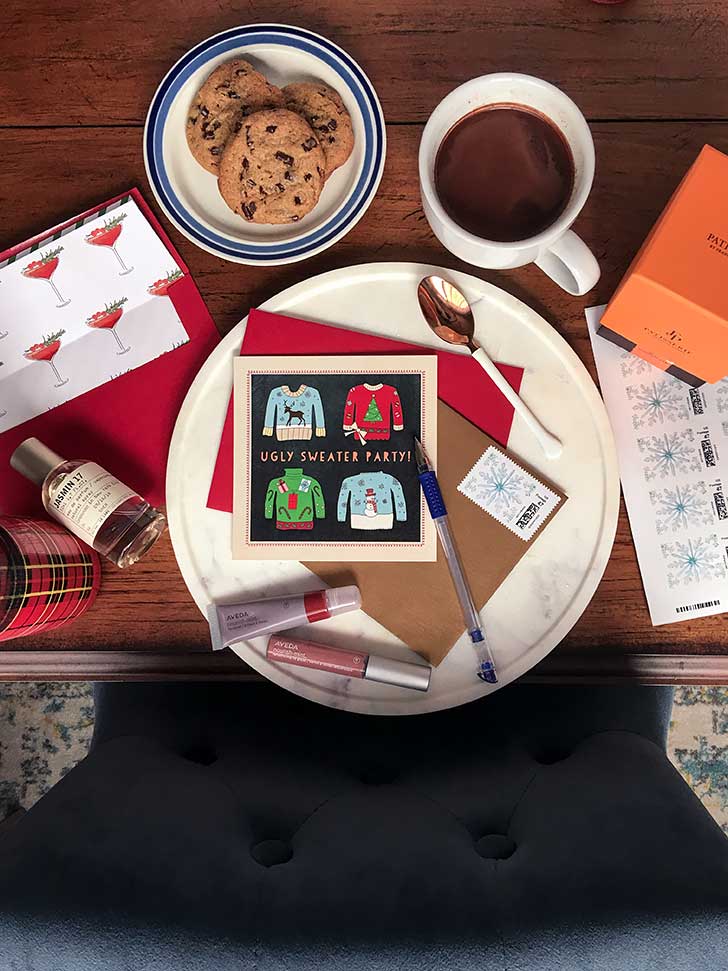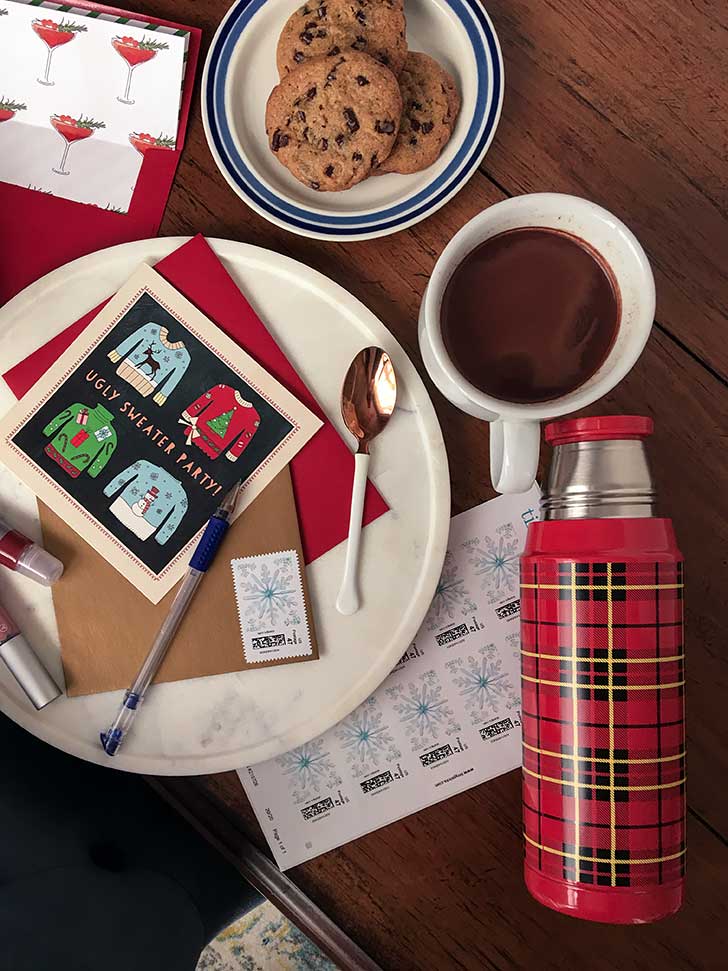 Mason Jar Christmas Gifts in 5 Easy Steps
For this gift, I like to whip up a huge batch of the chocolate mix, a tray of marshmallows and a thick stack of chocolate chip cookies. After prepping the first two, my kitchen is pretty much destroyed and I'm tired of doing dishes so I love this easy chocolate chip baking set from Immaculate Baking.
Immaculate Baking is easily available at whole foods and has a whole range of options – chocolate chip, extra dark chocolate chip and gluten free varieties.
Step 1: Make Your Filling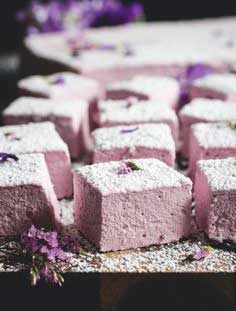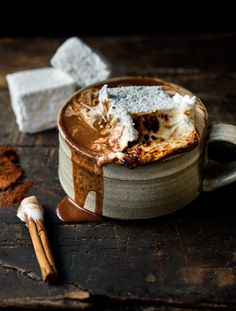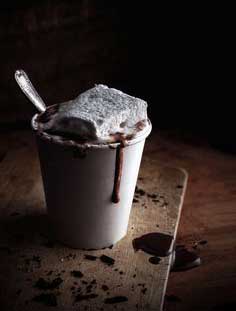 For the filling, I recommend this decadent hot chocolate mix recipe and these extra fluffy giant marshmallows. I also wholeheartedly recommend treating yourself as you blend the mix and wait for the marshmallows to rise!
The best pairing?
These Immaculate Baking chocolate chip cookies which are pre-made and refrigerated so they just take 10 minutes in the oven. I picked mine up from Whole Foods and they also have a gluten free variety, ginger snap version, croissants, scones and more.
Once all your mixes are ready, it's time to tackle the jars!
ADVERTISEMENT
---
---
Step 2: Bottle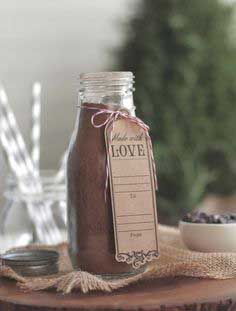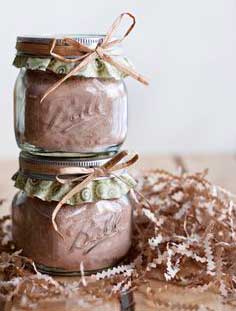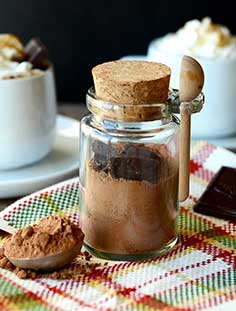 Holiday Gift Container Options
Any mason jar will work although I personally love the Ball jars that come with a twist off lid and a tight seal to preserve the food ingredients inside.
I love the classic Ball mason jars if you want to create full sized gifts that will last the recipient through the winter.
If you are giving these away as holiday party favors and need to create holiday gifts en masse, I suggest the smaller mini mason jars – they're adorably cute and much more manageable to fill in bulk!
For a more creative option, I love these glass jars that come with the flip lid as well as these mini glass jars with cork stoppers! How adorable.
ADVERTISEMENT
---
---
Step 3: Decorate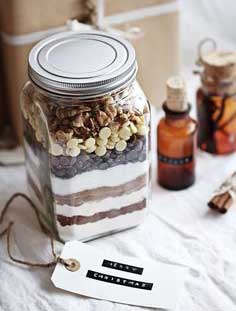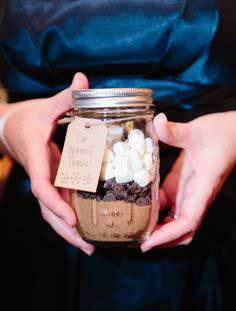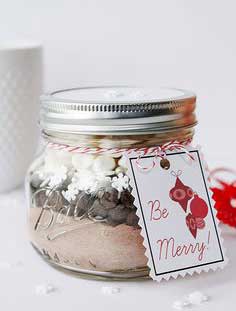 How to Fill
You can leave the jar clear and fill the recipe ingredient by ingredient, to create a pretty layered look. This works best if you plan to add ingredient toppings like crushed candy canes, chocolate chips and mini marshmallows.
My personal favorite is the giant cube marshmallow and I would recommend sealing those separately in a plastic gift bag tied with twine.
Keep in mind how you'll be transporting the jars. If you are traveling and the contents will likely shift, you can spray paint the outsides of the mason jars and pre-mix all the ingredients together without worrying about "layers".
Read more: You Need to Make This Decadent Hot Chocolate Recipe
ADVERTISEMENT
---
---
Step 4: Packaging It All Together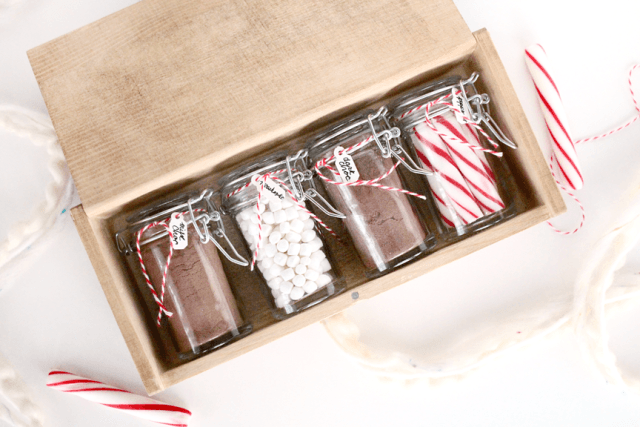 Mini mason jars with flip lids in a box
If you're giving full size jars, I love the look of all white mason jars with a small evergreen bough and twine, or a "Christmas rainbow" of red mason jars, dark green mason jars and white mason jars.
For mini jars, I love the idea of picking up a fun holiday box and adding in two mason jars with a bundle of marshmallows for a beautifully packaged gift.
Home Goods / TJ Maxx, Etsy and Michael's are my go-to for adorable and affordable holiday decor. I picked up a number of horizontal rectangular boxes for ~$3 a piece and smaller square boxes for around ~$2 each.
Cardboard Santa Boxes | Christmas Boxes with Bow | Nesting Gift Boxes | Decorative Gift Boxes | Candy Cane Boxes
ADVERTISEMENT
---
---
Step 5: Adding a Twist
Extra Flavors
Want to get creative? In addition to your classic rich hot chocolate try adding in these flavors for a great, personal twist:
mocha hot chocolate (add in some espresso powder to the basic recipe)
mint hot chocolate (substitute mint extract for the vanilla extract)
mexican hot chocolate (add chile powder, cayenne and cinnamon for a warm kick)
I recommend printing out directions on card stock and threading a ribbon or twine through to attach them to the mason jar. Alternatively, if you think hot chocolate is a no brainer, you can keep the jars pretty with just simple ribbon!
I also like to package the marshmallows separately if you're making the extra large kind so that they don't get crushed. You can buy small plastic bags from Home Goods or Michaels and slip in 3 of the Immaculate Baking chocolate chip cookies and another bag with the marshmallows.
Tie it all together in a pretty bow! If you are buying store mini marshmallows, you can crush in peppermint candy canes and a sprinkle of chocolate chips for a layered look in your mason jar. Get creative!
For an extra cute package, you can add wooden tablespoon scoops and ladles. Merry gifting!
ADVERTISEMENT
---
---
We know how difficult finding the perfect present can be! Browse gift guides for everyone on your list:
Affordable Gift Guides
Secret Santa Gift Ideas for Guys Under $25
The Best White Elephant Gift Ideas - Useful, Funny & Quirky
Gift Guides for Her
Monogram Gift Ideas - Personalized Gifts for Everyone on your List
The Best Beauty Advent Calendars to Count Down Christmas
Gift Guides for Him
The Best Christmas Gifts for Dad
Useful Gifts for The Guy that Has Everything
Gift Guides for Parents
Gift Ideas for Parents (who have everything)
Insanely Good Gift Ideas for your Boyfriend's Mom
The Best Gifts for your Boyfriend's Parents
Black Friday
Black Friday Shopping Tips - retailers DON'T want you to know!
Holiday Parties
The Best Matching Christmas Pajamas - for the whole family!
The Best Christmas Socks - cozy & festive!
The Best Holiday Dresses You Won't Believe are on Amazon
The Best Cute Christmas Sweaters for Classic Winter Style
The Best UGLY Christmas Sweaters for a Holiday Party
Ugly Christmas Sweater Party Invitations
The Best Winter Cocktail for Holiday Parties - Looks Fancy, but Easy to Make!
Decorating for the Home
The Best Amazon Christmas Decorations (Stylish + Affordable!)
Rustic Christmas Tree Decor Ideas
Cozy Chic Christmas Gifts for the Home
Follow me @Sher She Goes on