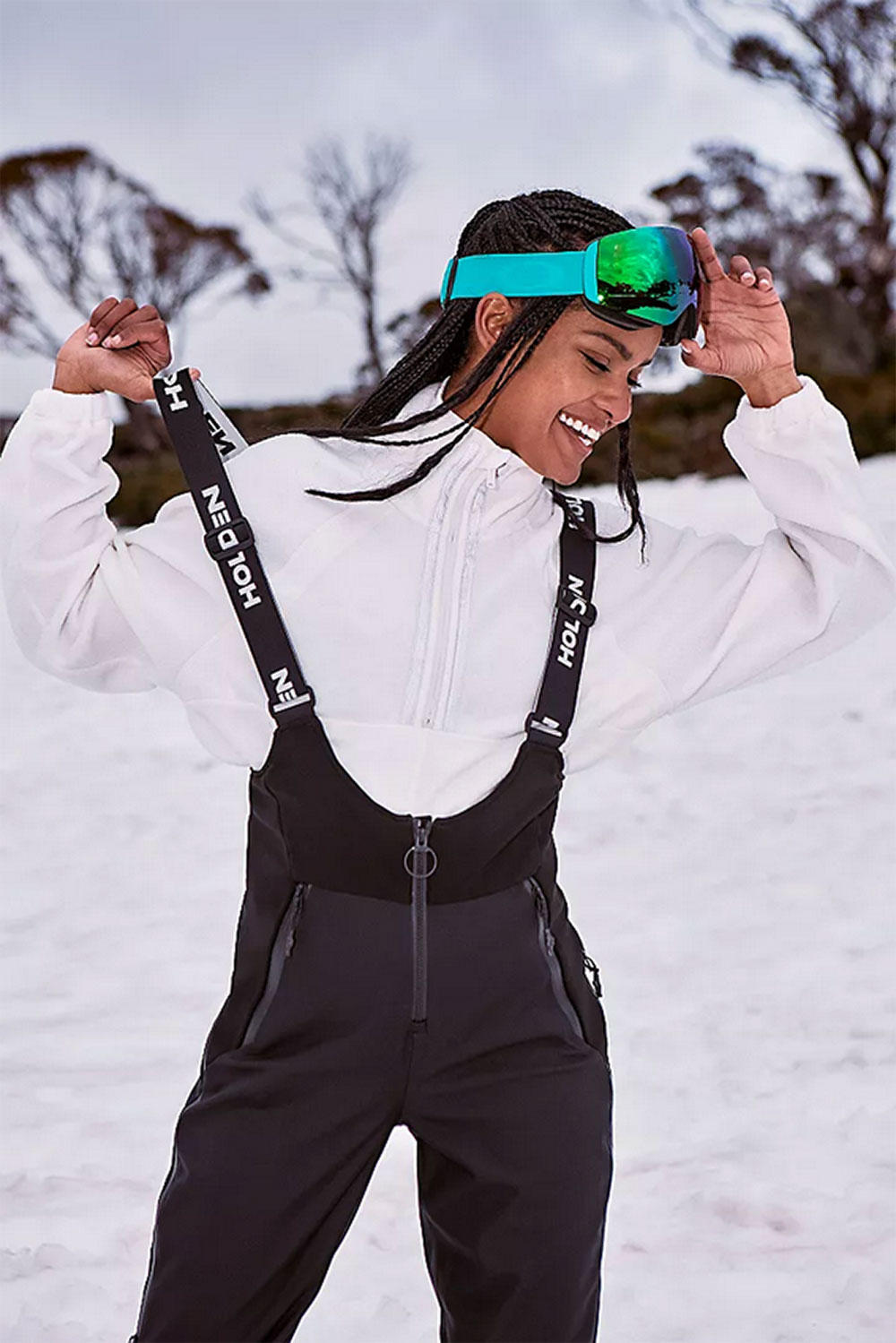 Holden Clothing
I love an all black outfit.
It's simple, it's chic and effortless to throw on.
But on the mountain, everyone wears black. It can be a bit boring blending in like ants on a molehill, and functionally, it makes it difficult to find your group when everyone wears head-to-toe dark colors.
Then I discovered Holden Clothing's ski wear.
They make high quality designer ski clothes in simple styles (with lots of blacks, navy's and creams) but with subtle differences that make an outfit stand out.
I've tried their ski pants, bibs, sets and everything has been incredible quality.
So today's post is a review of Holden's ski wear for women.
Keep reading, or pin this article to save it for later ⇟
ADVERTISEMENT
---
---
Holden Ski
Holden is an American ski brand that flies under the radar.
Based in Venice, California, they make modern performance wear with luxury materials, but sustainable principles.
All of their ski clothes are made with Bluesign approved fabrics.
Bluesign is a sustainable manufacturing designation that signifies clothes are made in safe work environments. It also means the products have been made in facilities that reduce their manufacturing impact on the environment.
Not only is Holden's ski wear high quality, it's made with ethical standards in mind!
ADVERTISEMENT
---
---
Holden Review
Holden Sadie Bib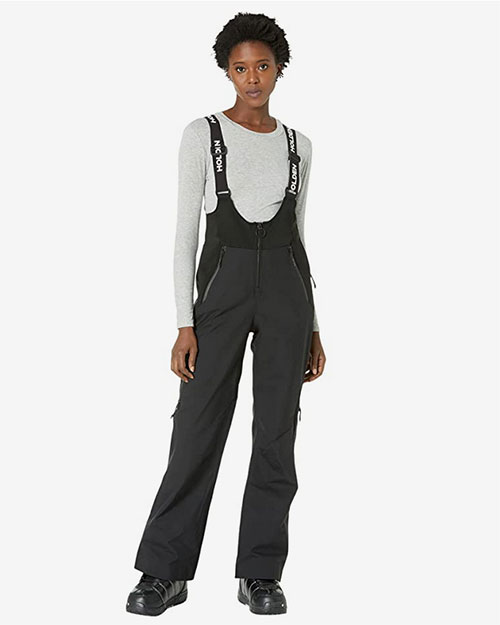 I was pleasantly surprised by Holden's bib.
The Sadie ski bib has a relaxed fit and is made from a high quality waterproof fabric. The legs are a comfy straight style that sits loose through the hips and thighs, so it fits all body types and has enough room to layer underneath.
The entire bib is fleece lined, so you stay warm, and the top has two stretchy suspender-style straps.
The best feature is the drop-seat design, which opens on the thigh and butt. It makes it easy to take on and off, and especially to use the bathroom!
If you're looking for a black ski outfit with a bit of flash, you'll love this! The repeated logo on the straps is just bold enough to make a statement.
Shop on: Zappos, Net A Porter, Farfetch, Free People, Revolve, Backcountry & Moosejaw
Read my in-depth review of the Sadie bib here.
ADVERTISEMENT
---
---
Holden High Waisted Ski Pants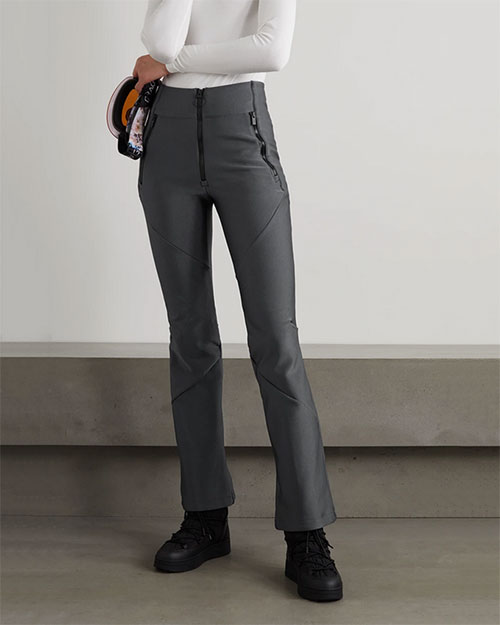 Holden's ski pants are a stretchy, almost yoga-pant like material.
They're a softshell design, so they offer a ton of give and movement. But, they do run slightly small so I recommend sizing up so you can layer thermal leggings underneath.
I also love the zipper detail. One of Holden's signatures is a circular ring zipper design, which adds just a unique element of interest.
If you like a sleek, fitted ski pant to elongate your legs and keep you warm and dry on the mountain, check these out!
Shop on: Zappos, Net A Porter, Farfetch, Free People, Revolve, Backcountry, Moosejaw
Read my in-depth review of Holden's ski pants here.
ADVERTISEMENT
---
---
Shop Women's Ski Pants
---

ADVERTISEMENT
---
---
Ski Wear Haul
SKI CLOTHING TRY-ON HAUL: do cute ski pants exist ?? | women's ski pants + bibs review
ADVERTISEMENT
---
---
ARE DESIGNER SKI PANTS WORTH $$$? | luxury ski pant try-on (bogner, cordova, holden, helly hansen)
I posted a couple try-on hauls of all the ski wear brands that I've tried. You can check them out on my Youtube channel here.
I also did a livestream on Amazon Live chatting all about dressing for the cold.
I talk about winter fashion essentials, ski gear and cute (but affordable) ski clothes that you can shop on Amazon!
Watch a recap of the video here. Make sure to follow my Amazon shop page to join future livestreams!
ADVERTISEMENT
---
---
Read More: in our ski style series:
Ski Trip Packing Essentials
What to Wear Skiing: Packing List Must Have's
The Best Ski Pants for Women (Stylish & Functional)
I Found the CUTEST Women's Ski Pants (Video)
Are Designer Ski Pants Worth It? (Try-On Haul)
The Best Ski Sweaters for Apres-Ski 
Planning the Perfect Ski Trip
10 Tips to Plan the Ultimate Ski Trip to Stowe
What to Know Before Skiing in Vermont for the First Time
Ski Trip Recaps
Skiing in Lake Tahoe at HEAVENLY (resort review)
Everything You Should Know Before Skiing Northstar (lake tahoe)
Our Lake Tahoe Ski Trip to Kirkwood (mountain guide!)
Skiing Canada! Our Trip to Mont Tremblant
5 Things to Know Before Skiing at Belleayre Mountain, in the Catskills
+ More Ski Vlogs on Youtube
Follow me @Sher She Goes on