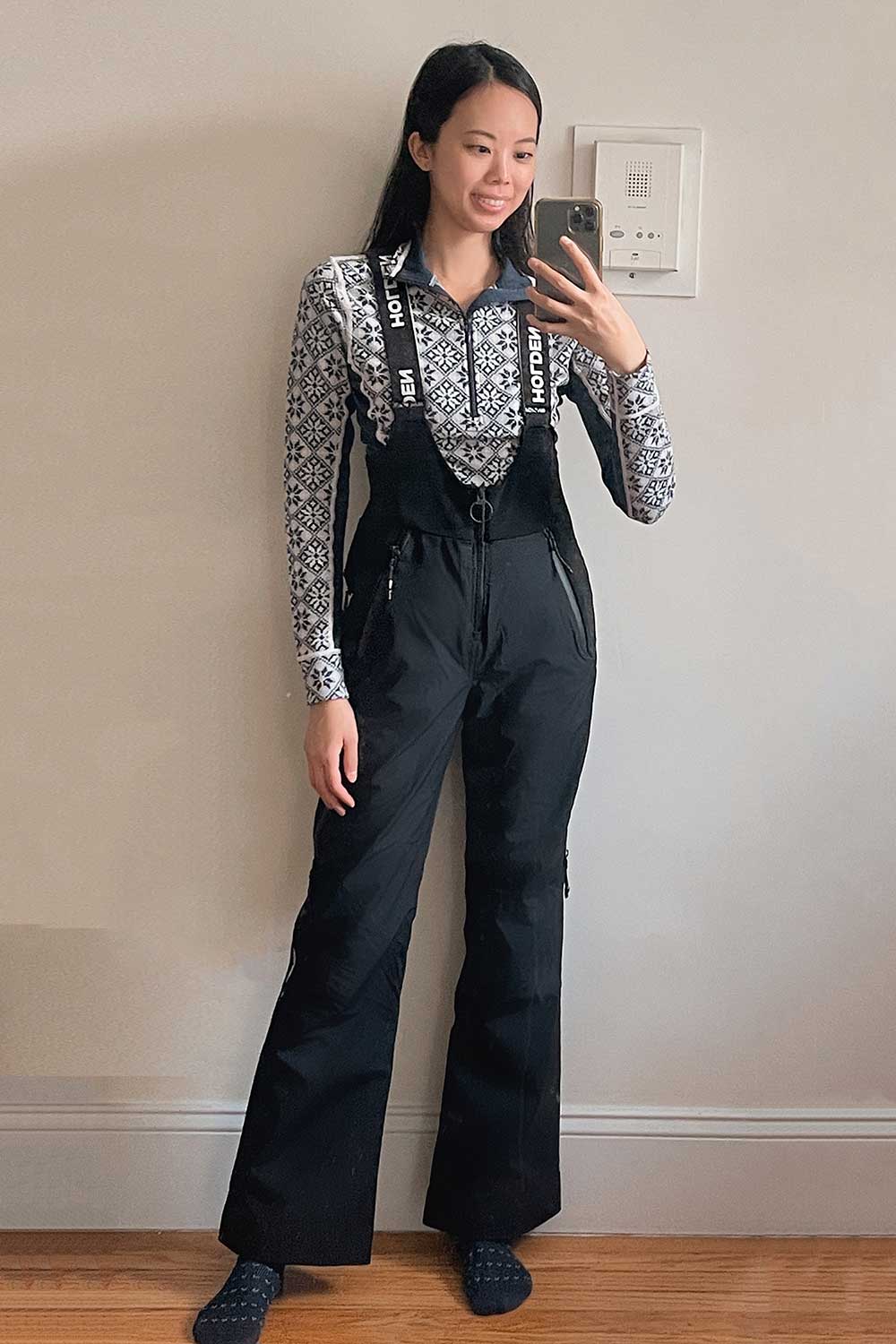 Holden Clothing
After trying tons of snow pants and bibs from all different brands, I started to get curious about the designer ski wear market.
You can find all my previous ski pant reviews here for reference.
In general, everything about skiing is pretty pricey. So with 'regular' ski pants easily costing $150-300, I was curious if spending a little bit more on luxury skiwear would make a visible (and functional) difference.
I've taken several ski trips so far and have a couple more planned this year, so I figured investing in one incredible pair of ski pants might be worth the investment.
But are designer ski pants just for looks?
Or do they hold up to all day activity on the slopes…
Here's my review of the Holden Sadie ski bib.
Keep reading, or pin this article to save it for later ⇟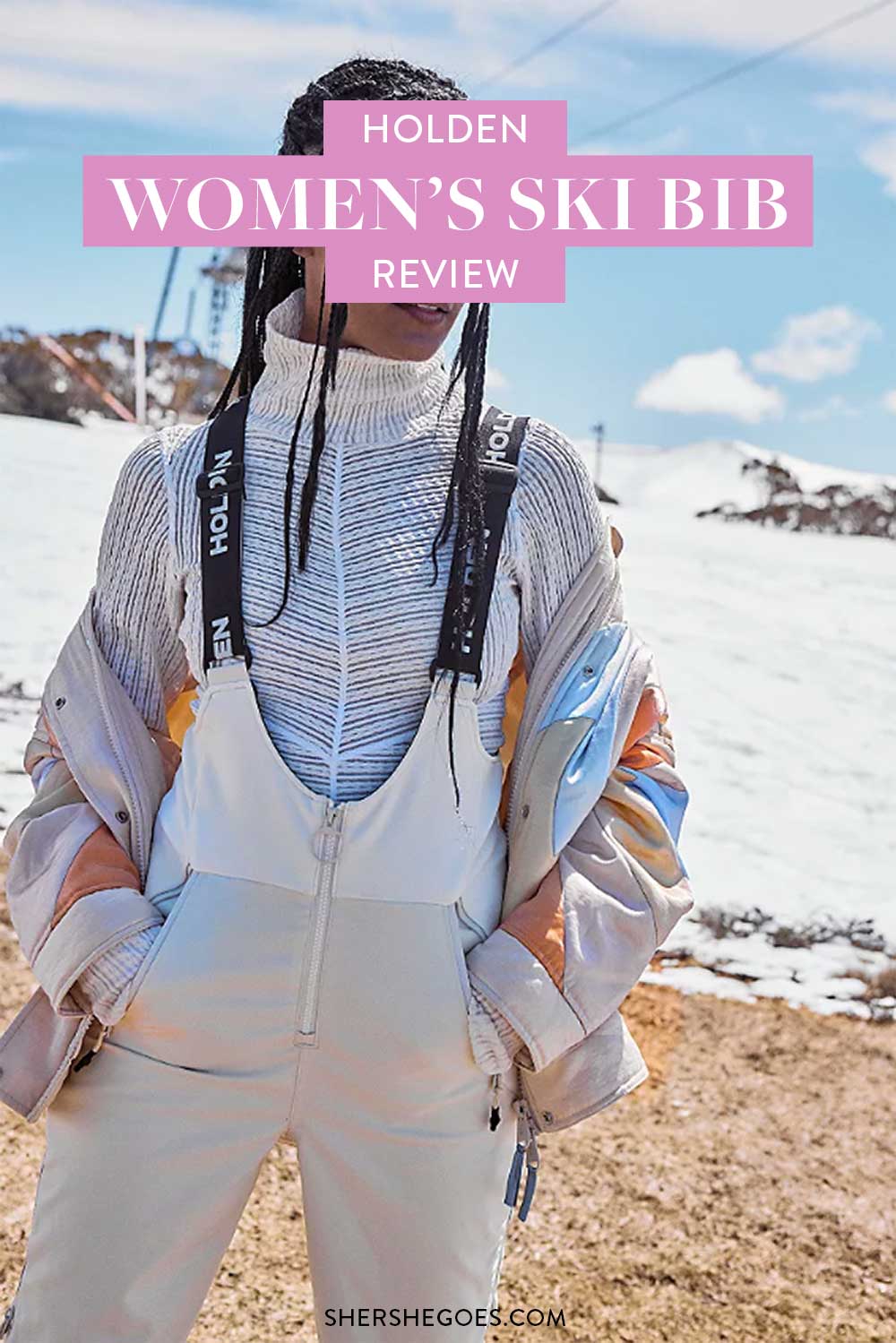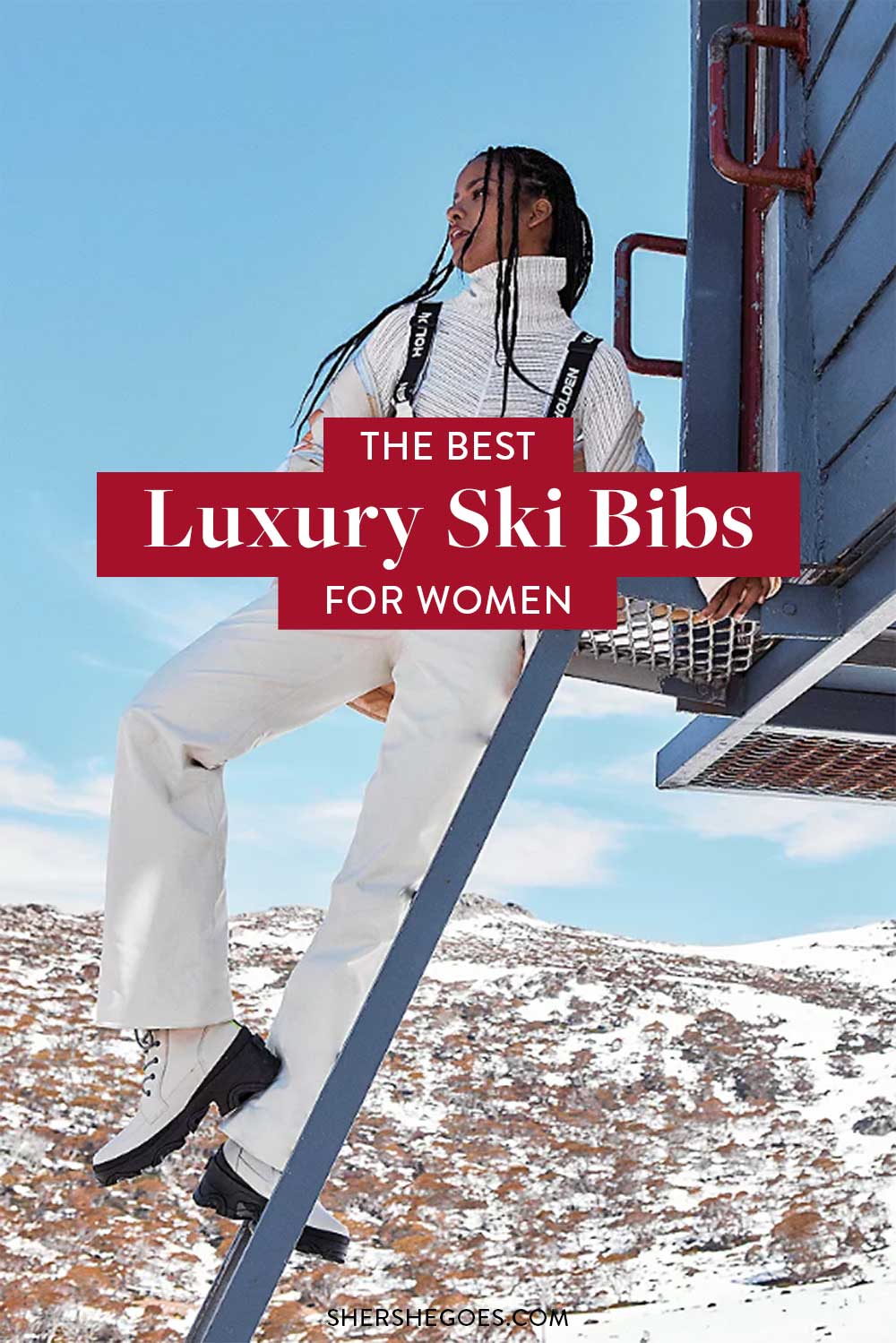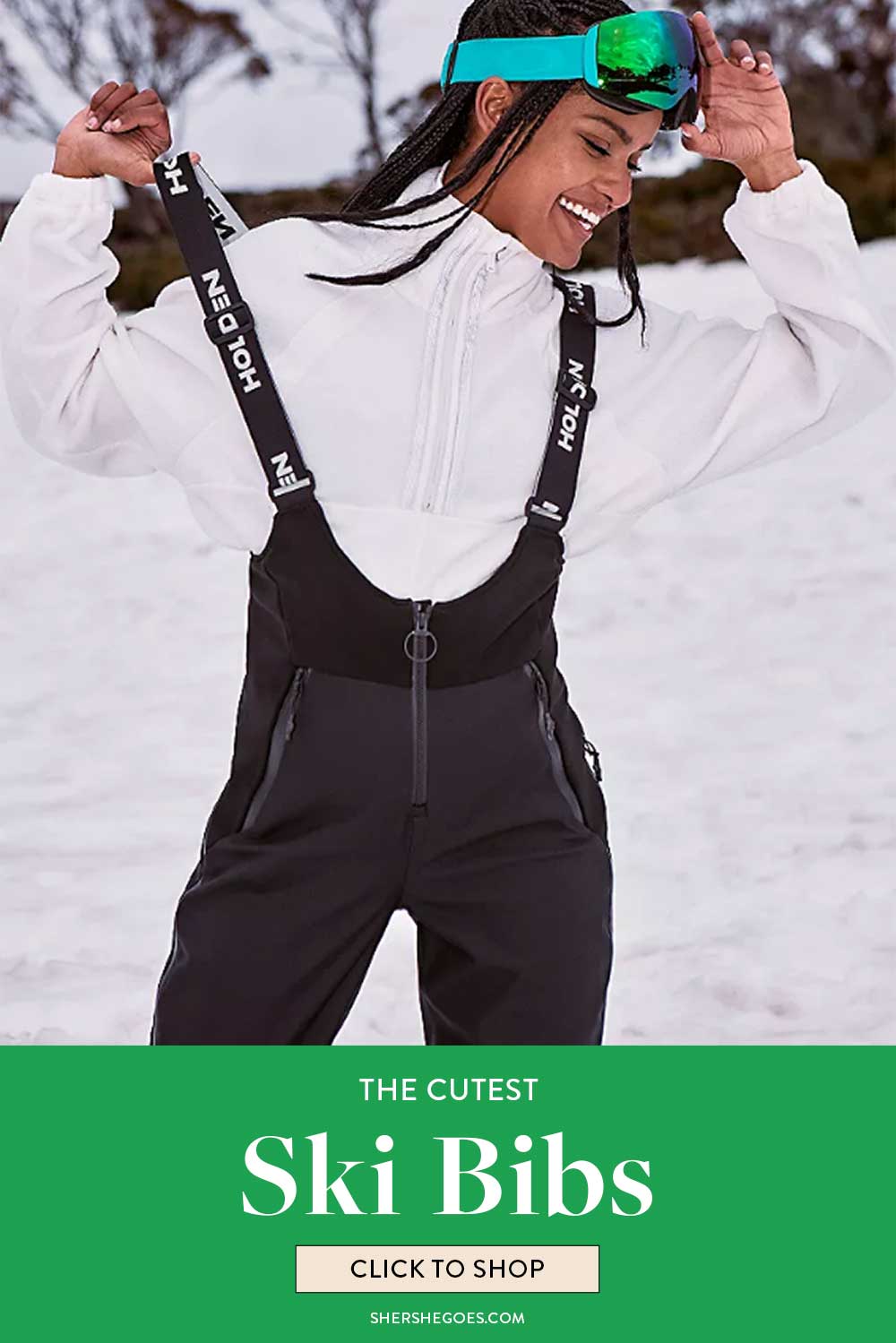 ADVERTISEMENT
---
---
Holden Clothing
Holden is an American ski brand based in Venice, California.
There's not much info about them, but they seem to be a modern performance brand that makes fashionable ski clothes.
What I liked was the company makes an effort to blend luxury materials with sustainable principles.
ADVERTISEMENT
---
---
Holden Sadie Ski Bib
I ordered one ski bib and one ski pant to try, and both were made of Bluesign approved fabrics.
Bluesign is a sustainable manufacturing designation that signifies clothes are made in safe work environments.
It also means the products have been made in facilities that reduce their manufacturing impact on the environment.
Here are my thoughts on the Holden Sadie bib.
ADVERTISEMENT
---
---
Holden Sadie Bib Review
Fit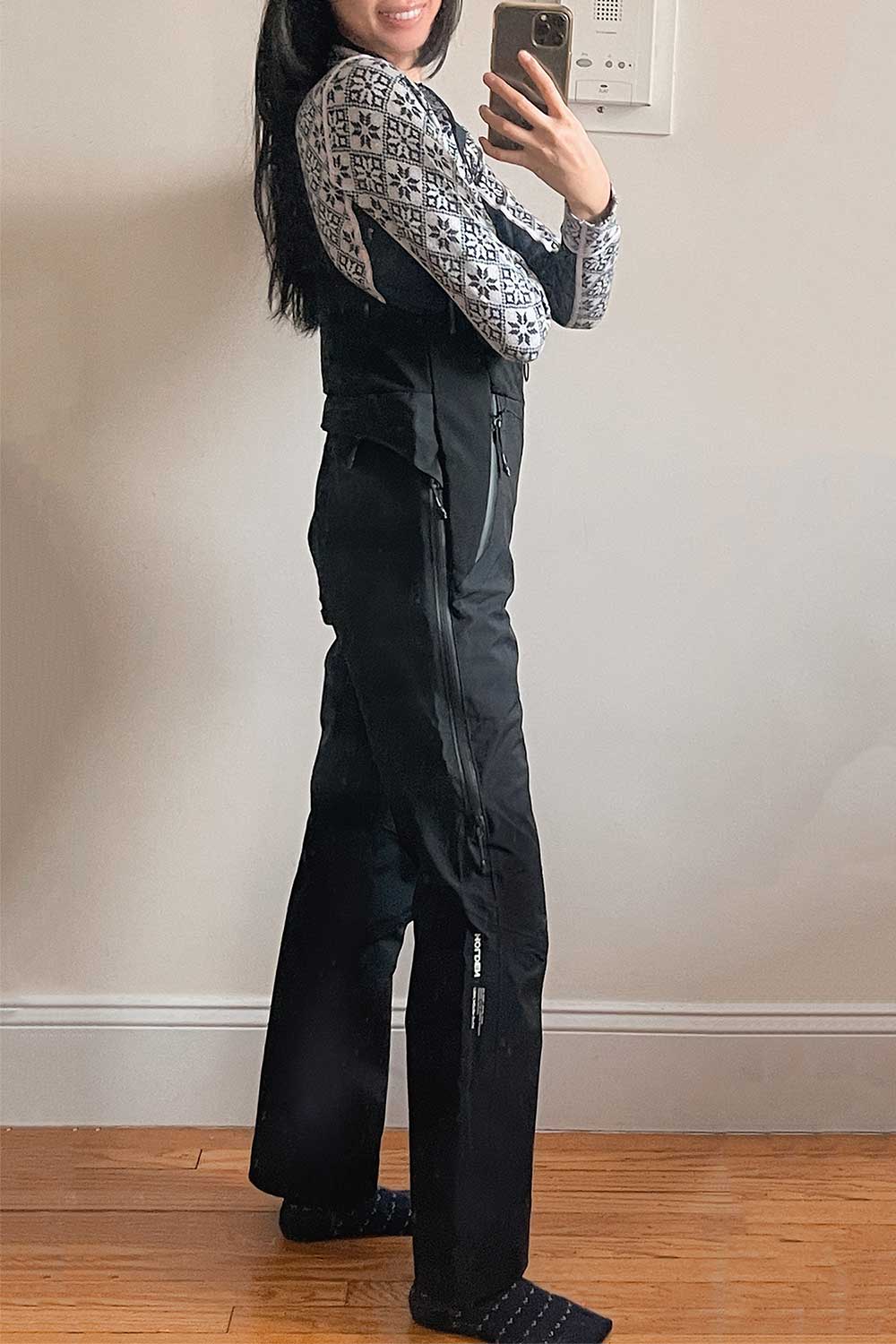 Holden's Sadie bib is a relaxed style fit.
When I put it on, I could immediately tell that the ski bib was made from high quality materials. It has a waterproof rating up to 10,000 mm and a comfortable, straight leg style.
The ski bib was a loose fit through the thighs and hips, so I think this would be great for all body types – whether you're straight up and down, or curvy.
It's entirely lined with fleece as well, to ensure that you're warm on the mountain.
ADVERTISEMENT
---
---
Straps
Holden's ski bib is one of those pants-with-suspender types.
There are two stretchy straps that are completely adjustable, but most of your torso is left uncovered compared to a bib that has a high neck front.
Although personally I like a more overall-style of bib, the pants-with-suspender types are great for layering. You can easily fit a full set of base layers under the Sadie bib, and even add a mid-layer (like a wool sweater or thin down jacket) for extra warmth.
The straps themselves have the Holden logo repeated in a pattern.
This is a flashier, more 'fashion' style of ski outfit!
I also love the zipper detail. One of Holden's signatures is a circular ring zipper design, which adds just a unique element of interest.
ADVERTISEMENT
---
---
Pockets
The bib is weatherproof, with fully taped seams and two front hand warmer pockets.
There's a discreet drop seat zipper in the back, so you can easily un-zip the pants section to go to the bathroom without taking off the entire jumpsuit.
Meanwhile, the thighs have zippered vents to lent out excess air and ensure that you don't overheat on the slopes.
I wish all bibs were made to this standard!
ADVERTISEMENT
---
---
Legs
The Sadie bib has straight legs that flare out just so slightly on the bottom.
The pants have reinforced kick patches to prevent tears, and snow gaiters with hooks to keep out moisture.
Sizing ranges from XXS to XL, and for reference I ordered the XS. I thought the fit was great and the length was perfect. If you're around 5'5″ to 5'7″, I think the Sadie bib's length would be perfect.
It comes in black and white, and looks so stylish but simple at the same time.
This is a great waterproof bib for both skiing and snowboarding. It's breathable, highly functional and looks great both on the slopes and at the lodge.
ADVERTISEMENT
---
---
Shop Women's Ski Pants
---

ADVERTISEMENT
---
---
Ski Wear Haul
SKI CLOTHING TRY-ON HAUL: do cute ski pants exist ?? | women's ski pants + bibs review
ADVERTISEMENT
---
---
ARE DESIGNER SKI PANTS WORTH $$$? | luxury ski pant try-on (bogner, cordova, holden, helly hansen)
I posted a couple try-on hauls of all the ski wear brands that I've tried. You can check them out on my Youtube channel here.
I also did a livestream on Amazon Live chatting all about dressing for the cold.
I talk about winter fashion essentials, ski gear and cute (but affordable) ski clothes that you can shop on Amazon!
Watch a recap of the video here. Make sure to follow my Amazon shop page to join future livestreams!
ADVERTISEMENT
---
---
Read More: in our ski style series:
Ski Trip Packing Essentials
What to Wear Skiing: Packing List Must Have's
The Best Ski Pants for Women (Stylish & Functional)
I Found the CUTEST Women's Ski Pants (Video)
Are Designer Ski Pants Worth It? (Try-On Haul)
The Best Ski Sweaters for Apres-Ski 
Planning the Perfect Ski Trip
10 Tips to Plan the Ultimate Ski Trip to Stowe
What to Know Before Skiing in Vermont for the First Time
Ski Trip Recaps
Skiing in Lake Tahoe at HEAVENLY (resort review)
Everything You Should Know Before Skiing Northstar (lake tahoe)
Our Lake Tahoe Ski Trip to Kirkwood (mountain guide!)
Skiing Canada! Our Trip to Mont Tremblant
5 Things to Know Before Skiing at Belleayre Mountain, in the Catskills
+ More Ski Vlogs on Youtube
Follow me @Sher She Goes on