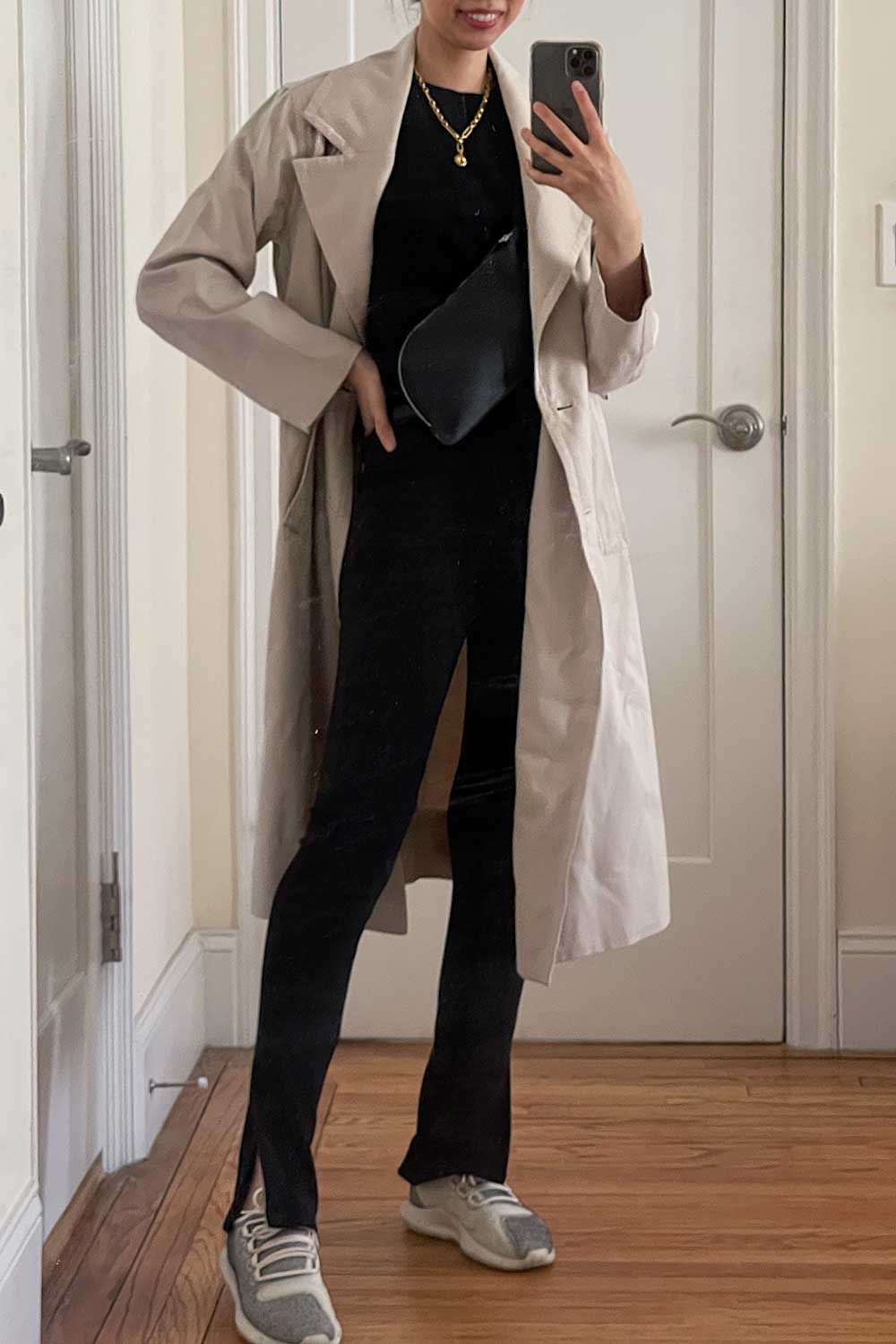 Everlane Leather Sling
I'm a pretty minimalist person.
Wallet, keys, headphones and iphone.. that's all I need when I leave the house. Maybe lipstick if I'm going out.
So I'm a huge fan of changing handbags every time I go out, and I love tiny handbags because I really don't need to fit all that much.
When Everlane came out with their sleek leather sling bag a couple months ago, I picked one up! It looks a bit chicer than a fanny bag and it stays close enough to the chest so you can slip it over a giant sweatshirt, or wear it underneath a big puffer jacket.
Here's a quick review of Everlane's sling bag – pros and cons!
ADVERTISEMENT
Keep reading, or pin this article to save it for later ⇟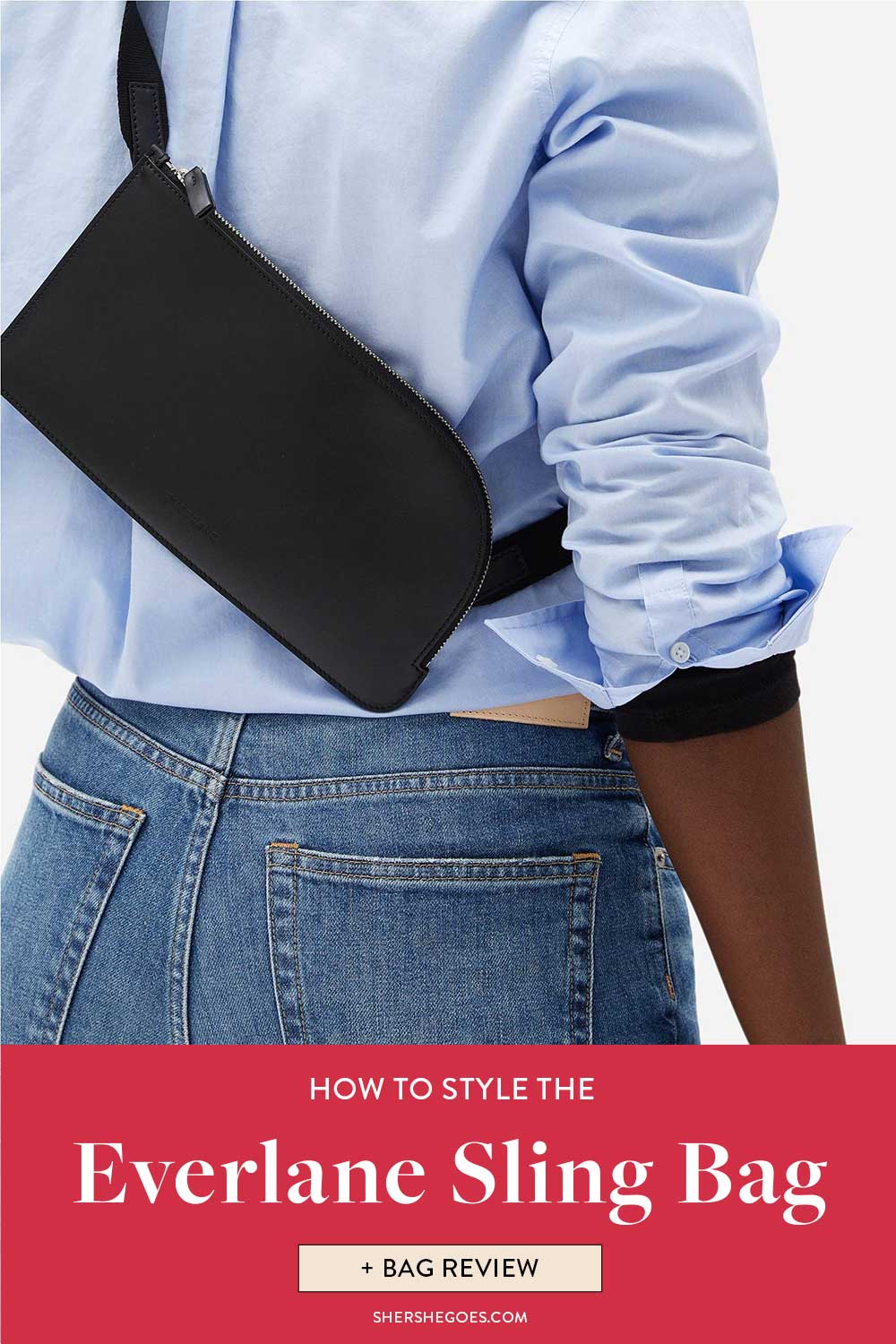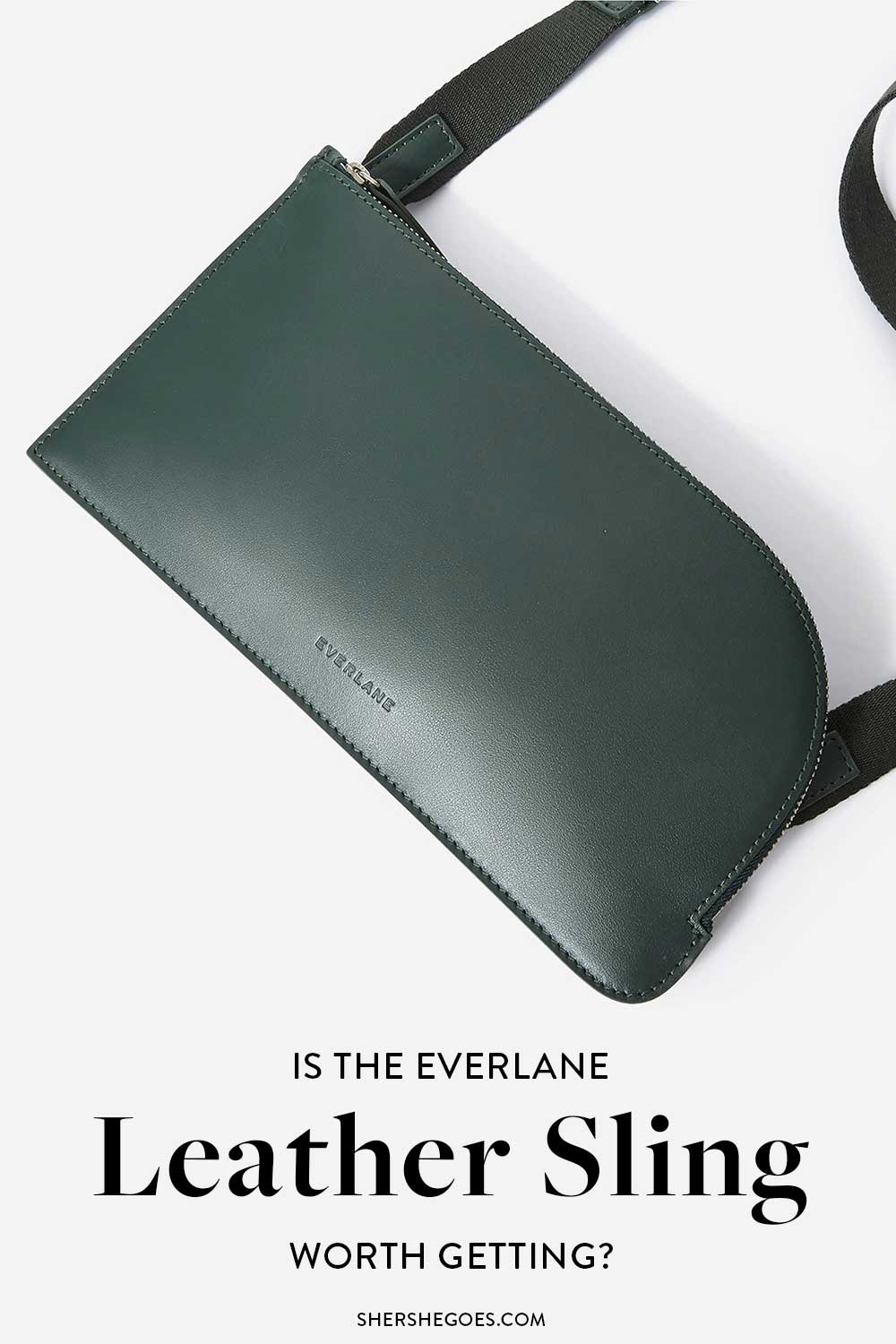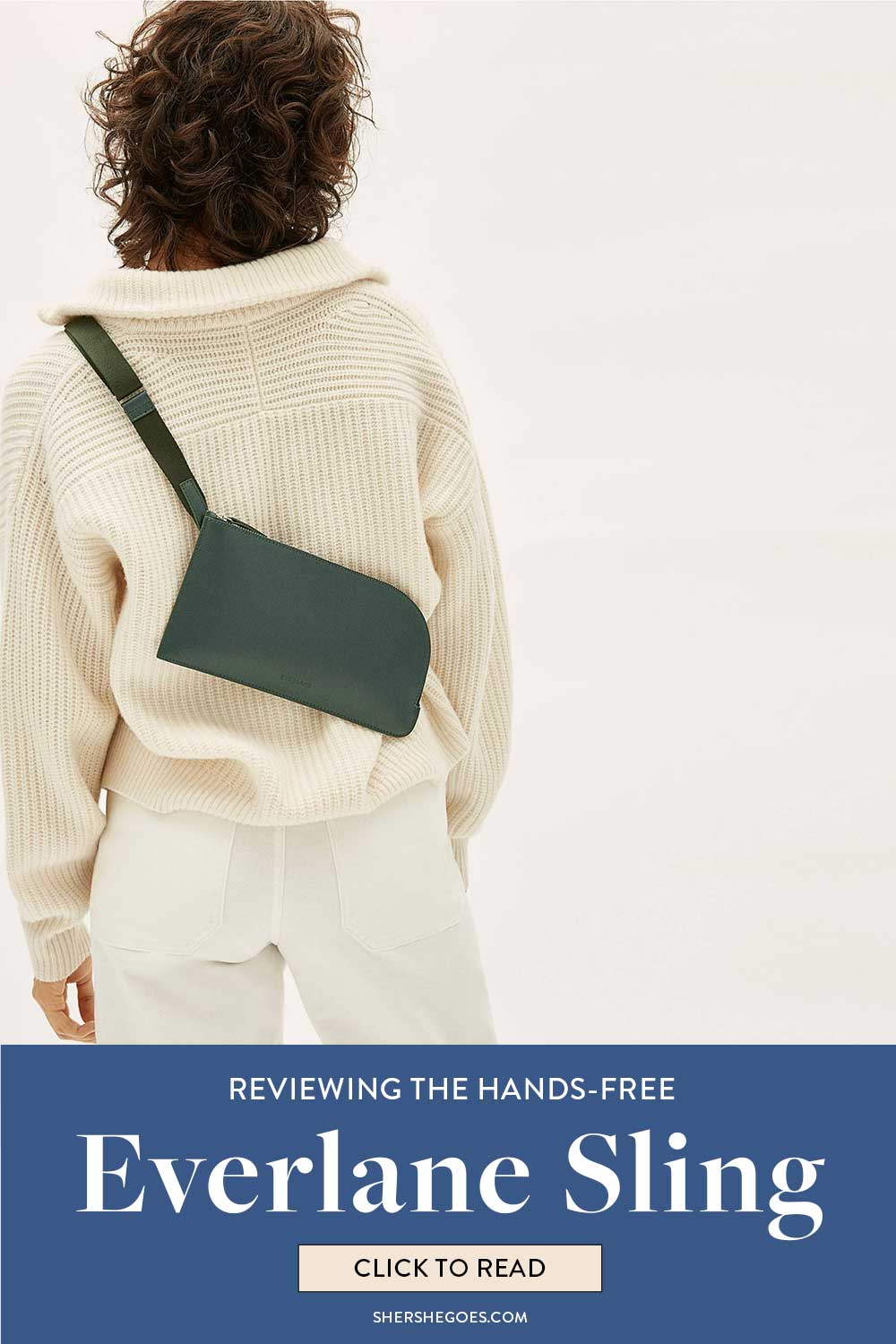 ADVERTISEMENT
---
---
I don't know about you, but the pandemic has changed my normal routine and typical sense of 'fashion' quite a bit.
I used to hate walking… and now my day doesn't feel complete without circling the block a couple times or heading to the park.
And normal clothes?
I'm only just starting to squeeze back into them. I still love a matching sweat set (easy, comfortable and put together) and most days when I head out, I really don't need to carry more than the essentials (really just my phone and headphones, honestly).
So the thin leather sling bag has been the perfect accessory for the 'new normal'.
ADVERTISEMENT
---
---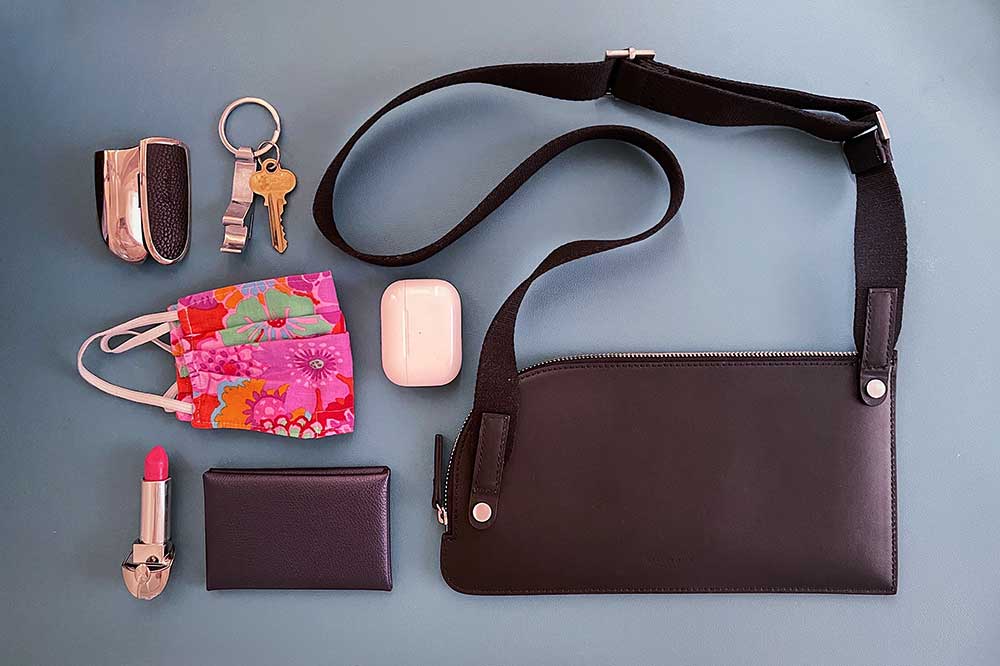 Leather Sling Bag
But first, what is it.
The Everlane sling bag is a thin crossbody bag that's made of 100% Italian leather.
It's not a crossbody in the usual sense, but more of a cross-chest bag. It has a short, adjustable nylon strap so you can sling it across your body and go completely hands free.
It's the perfect size bag if you only plan to carry the essentials. For me, that's my airpods, keys and wallet.
(I use a small cardholder as my wallet so if you do the same, that can totally fit. Large wallets will not.)
ADVERTISEMENT
---
---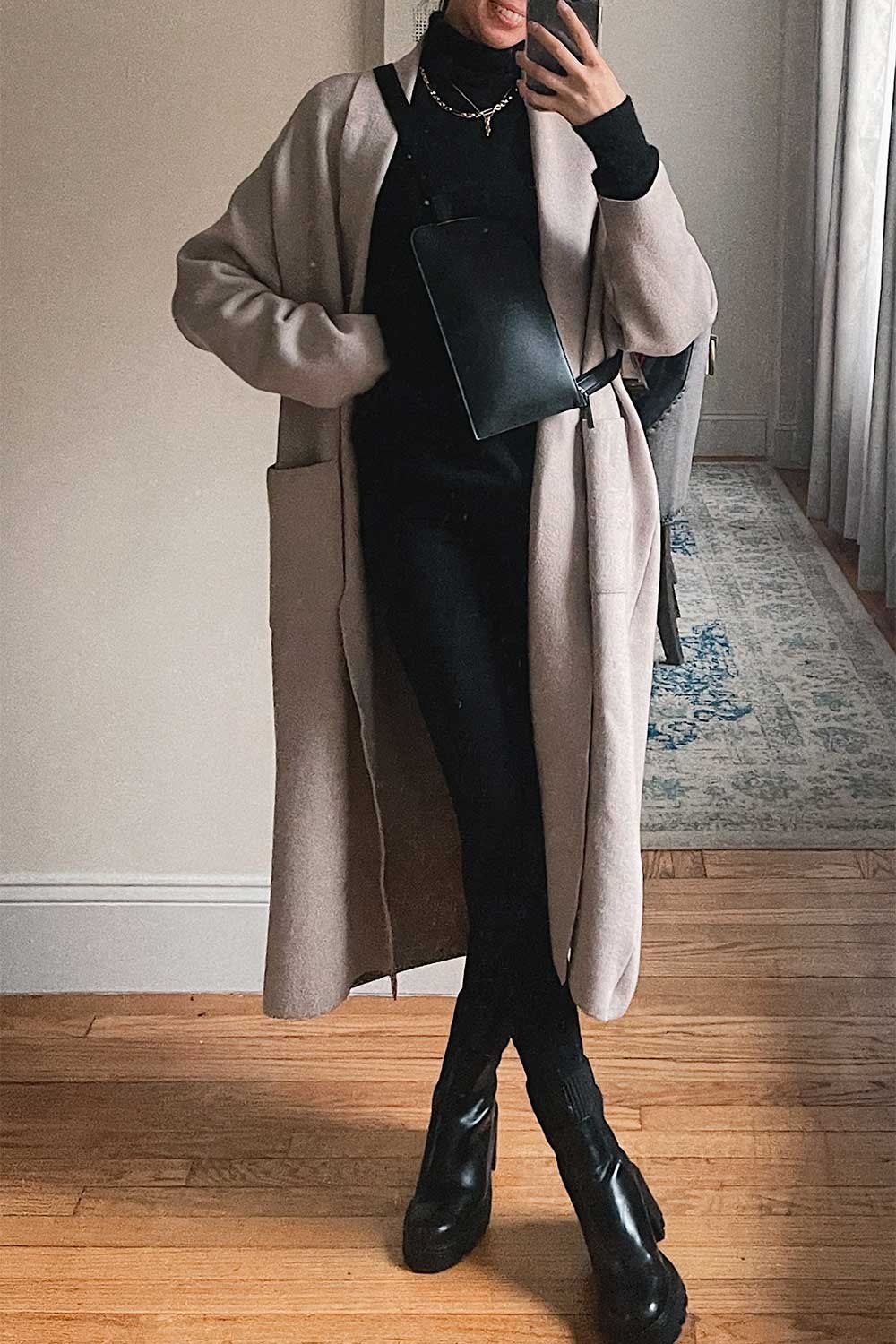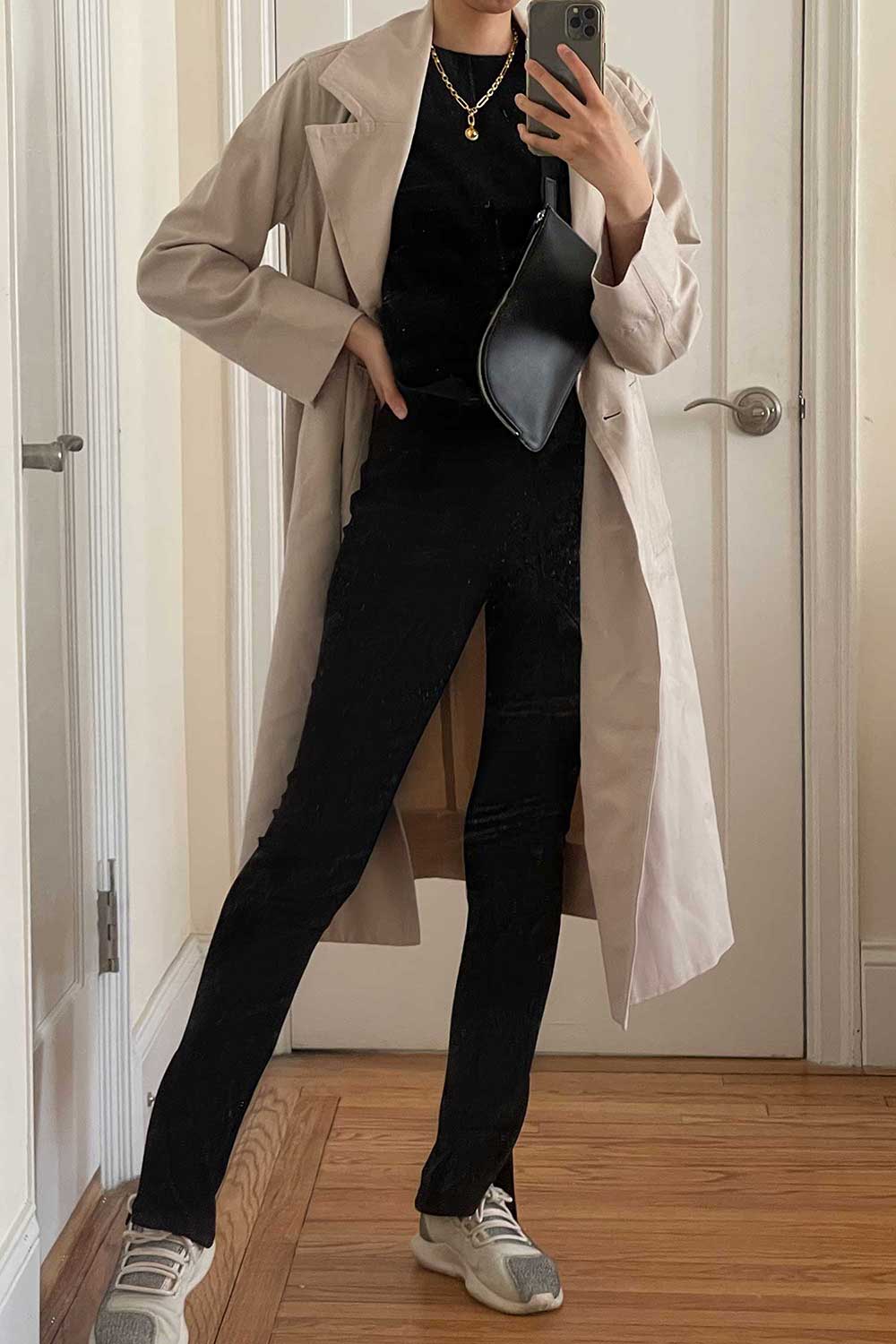 I also think it looks really cute with almost any outfit.
I've worn it over sweatpants and sweatshirts, with leggings and a trench.. even with an oversized wool sweater and straight leg jeans.
The sling bag doesn't have any bright hardware or flashy logos, so it's a very sleek looking, minimalist accessory.
I went for black, but it comes in 5 different colors!
ADVERTISEMENT
---
---
Everlane Leather Sling Review
So far, I've gotten a ton of use out of this little bag so I think it's a good buy.
When travel picks up again, I also think the leather sling bag would come in handy. I usually pack a makeup pouch that can double as an evening clutch, but this leather sling would be a little more functional.
You could fit some cash, a credit card and hotel card.. and be good to go!
ADVERTISEMENT
---
---
Whichever way you wear the bag, the strap will be twisted over itself.
Personally I would have preferred it to lie completely flat and straight. But maybe that is just my OCD-ness kicking in.
Secondly, I think the zippered opening could be designed just slightly better. The sling bag is curved at one end, so you have to be a little careful in how you open the bag (or how you wear it) to make sure nothing falls out.
ADVERTISEMENT
---
---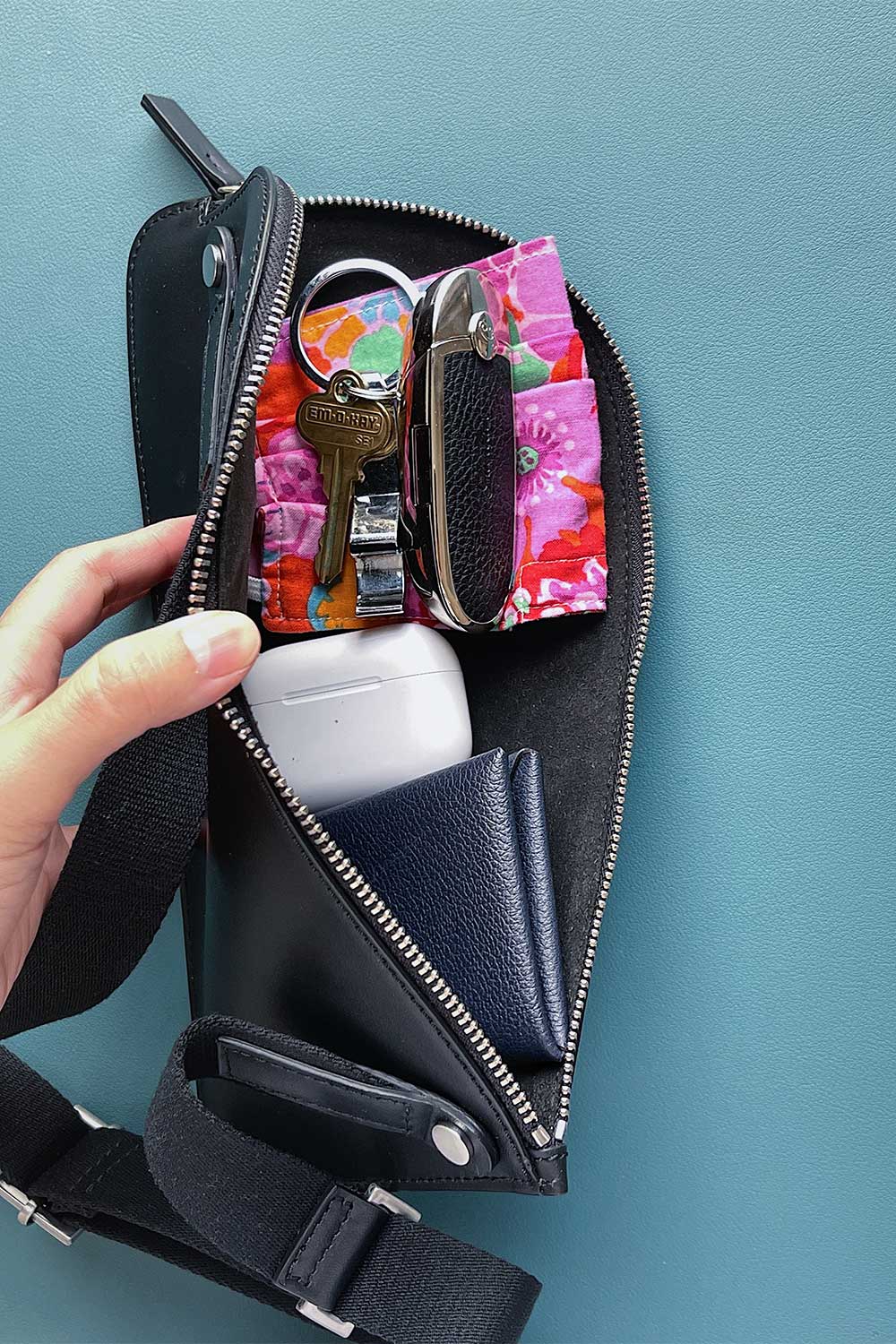 I usually wear the bag over my right arm, with the curved part tilting up towards my left shoulder. I'm right handed and this way, when I open the bag, I slide the zipper up so that everything still stays inside the bag.
But if I were to reverse wear it over my left arm, the zipper would open downwards and the contents might fall out.
So the curved portion of the bag could be tweaked to be more functional. Maybe if the company added an accordion flap inside, or didn't have the zipper extend so far…
ADVERTISEMENT
---
---
Those two complaints aside.. I really like the Everlane sling!
I get a ton of wear out of it, and it's so easy to throw on when you're on the go. It's lightweight, looks great and is perfect for running errands where you don't want to be bogged down by stuff.
If you're looking for a minimal, sleek fanny-pack style bag, try this!
Available on Everlane in 5 colors.
Shop Everlane
---

ADVERTISEMENT
---
---
Read More: Everlane reviews:
Everlane Reviews
Everlane Brand Review: Hits, Misses & Favorite Pieces
Everlane Flats - These 5 Pairs are Extra Comfortable
Everlane Denim: Thoughts on 3 of the Brand's Best Selling Jeans
Everlane Cashmere: Is It Worth It? (with Outfit Photos)
How do the Everlane Leggings Perform?
Everlane Underwear Review: Bra & Bralettes
Everlane Bodysuits: Reviewing a Wardrobe Staple
Everlane Outfits
10 Work from Home Outfits, featuring Everlane
Everlane Choose What You Pay Sale - Spring Try On Haul
Everlane Try On Haul Videos
Everlane Summer Basics Try On
Follow me @Sher She Goes on