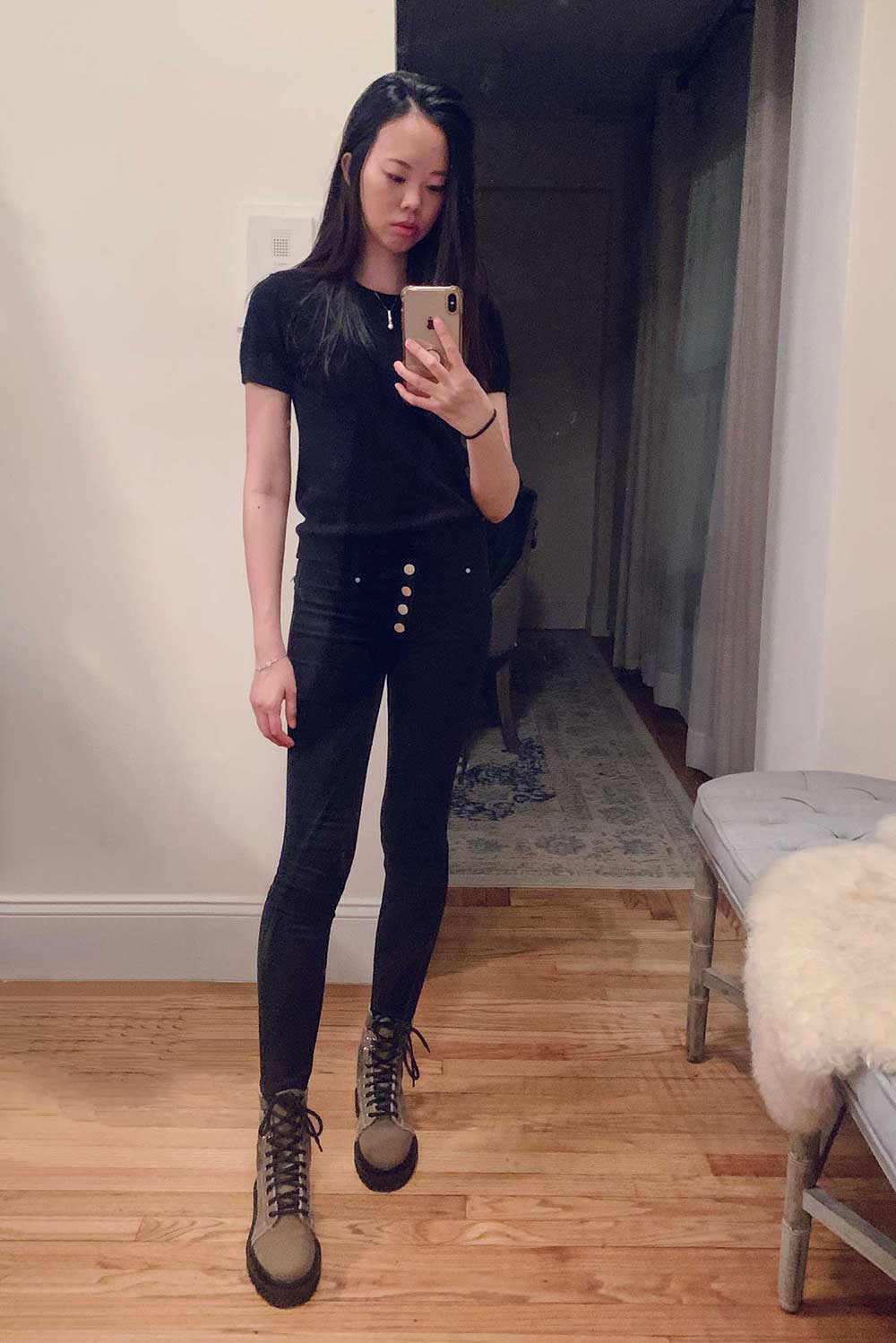 Everlane Cashmere
Every winter I live in cashmere sweaters. Good quality, super soft cashmere can keep you warm and last for years.
So when I heard that Everlane was offering affordable cashmere knits, I was intrigued. Would it hold up to my pricier sweaters? And what exactly was this ReCashmere line?
Over the last six months, I've tested out a couple different Everlane cashmere pieces, from both the womens and mens line. Some I loved so much that I have them in multiple colors! Others… well they were OK but I probably wouldn't reorder.
Here's my quick Everlane cashmere review.
Pin this post to read later ⇟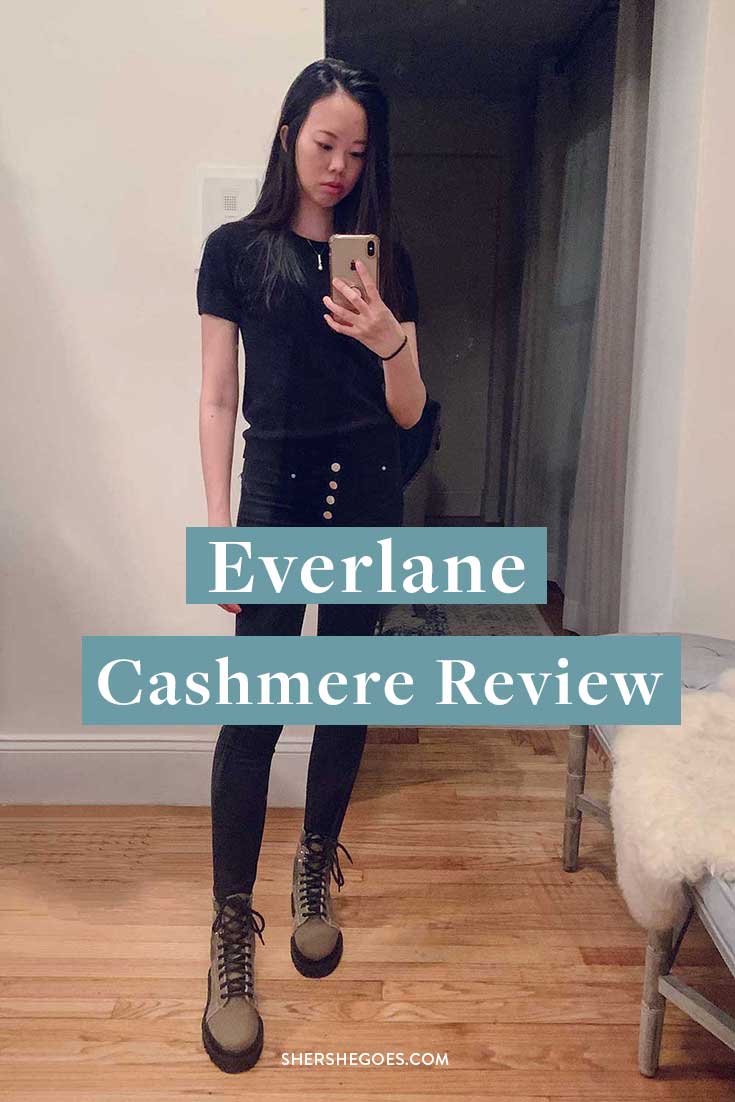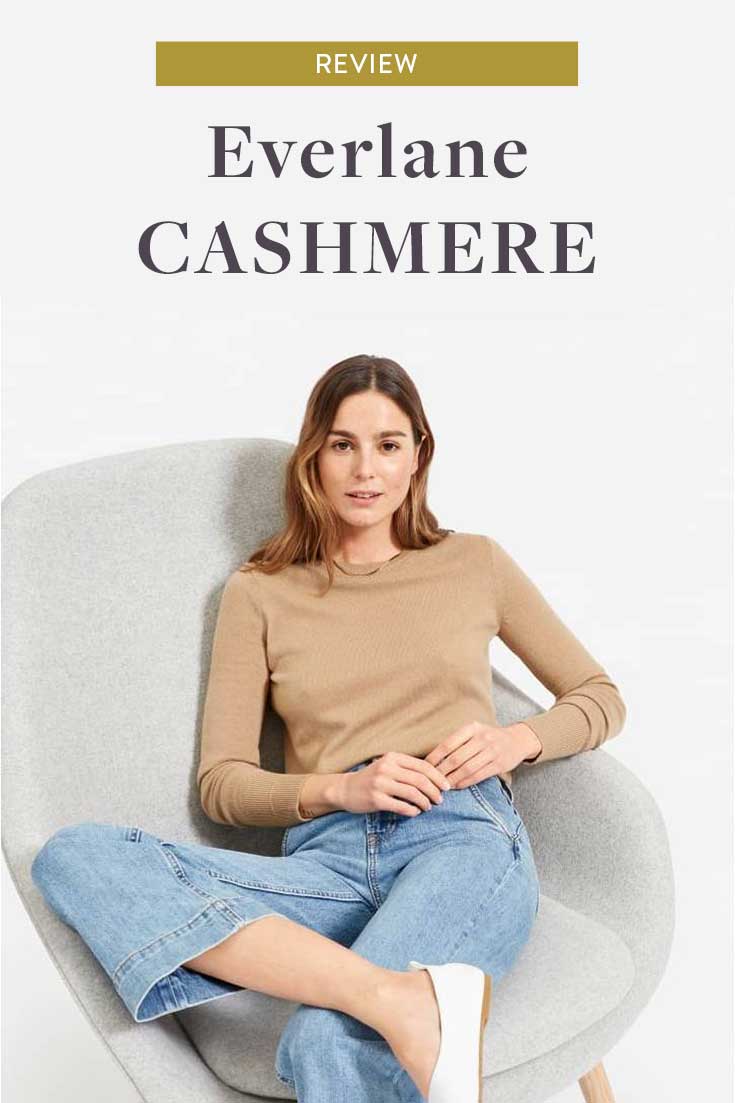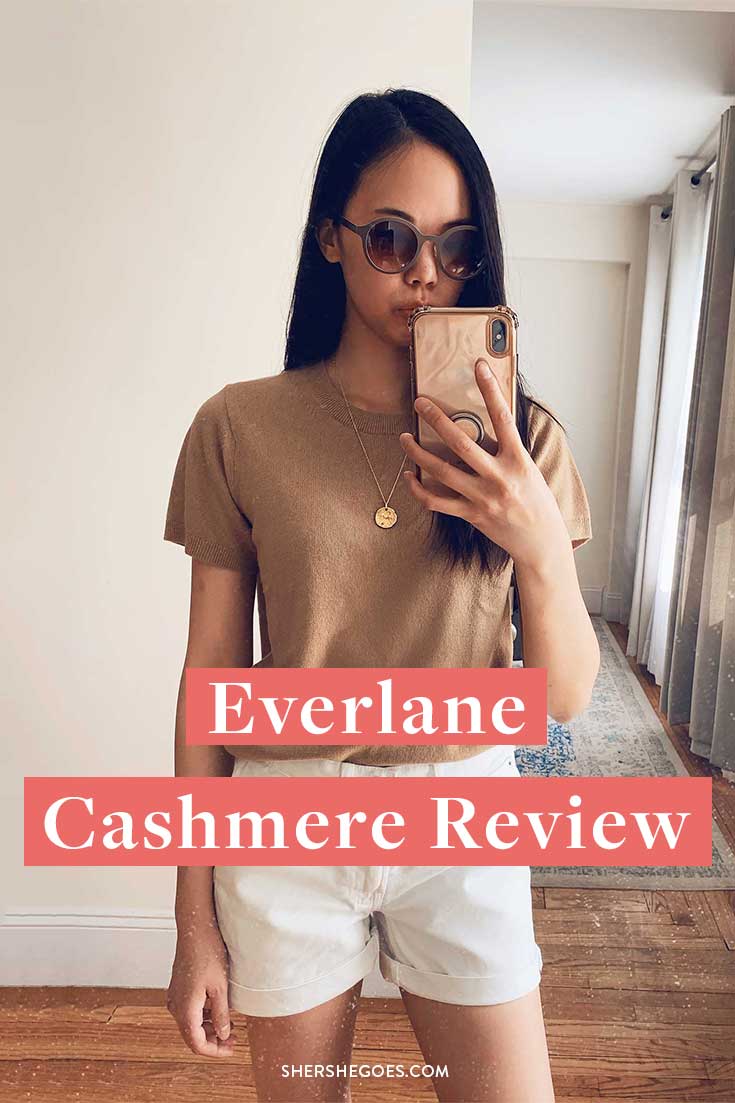 ADVERTISEMENT
---
---
Everlane Cashmere Reviews
Cashmere Tee
in Black with Abercrombie jeans and Balmain boots
Everlane's Cashmere Tee is one of my favorite items from the brand.
Made from 100% Grade A Cashmere, the extra soft tee is somehow lightweight yet warm. I wear this in fall, winter, spring… maybe I can even keep wearing it this summer ha!
I love 'luxurious basics' – the kinds of clothes that match any outfit yet feel elegant and timeless. The Cashmere Tee is really great quality for the price. It's super soft and not itchy – and I have very sensitive skin.
Best of all, it comes in a rainbow of colors!
Shop Cashmere Tee (8 colors)
---
Cashmere Tee
in Camel with Eyebobs sunglasses, Everlane shorts & Monica Vinader necklace
I loved the Cashmere tee so much I got it in another color!
The camel is a pretty, soft brown shade and just as comfortable and classic as the black. I've worn these cashmere tees with practically everything in my closet.
They dress down a silky midi skirt and pointy flats and elevate an everyday jeans and boots look. You can also layer them under a wool blazer or motorcycle jacket… they're so versatile!
Shop Everlane Cashmere Tee (8 colors)
ADVERTISEMENT
---
---
ReCashmere Button Mockneck
in Bone with Everlane leggings and Jimmy Choo boots
I've worn this cashmere henley to death this winter.
Part sweater, part henley, this is the top to wear if you like slightly dressed up basics.
The best details: a stand up collar, wide sleeves, pocket and boxy fit. Slight cons: it runs a little short. I recommend sizing up at least one size – I went up two sizes.
It's also a little see through so I often wear the Everlane bodysuit underneath. I wish the Bone color was more opaque because I hate when you can see the outline of a bra.
The mockneck is part of Everlane's ReCashmere line, made from 60% Grade A cashmere and 40% recycled Italian wool, for half the carbon foot print.
I love the style and environmental positives, but I do find that it's not as soft as the regular Cashmere line.
Shop Cashmere Henley (4 colors)
---
Heavyweight Cashmere Hoodie
in Oatmeal worn with Amazon Pants and Birdies Loafers
I've been living in this cashmere hoodie while working from home.
It's made from a thicker, 7 gauge cashmere and incredibly soft and warm. I love the contrasting detailing on the sleeves, slouchy relaxed fit and heavier weight.
It tucks in nicely to jeans and the quality is fantastic – no piling and extremely comfortable to wear even without anything underneath.
I went up one size in the Everlane cashmere hoodie for a slouchy fit. Finally, I love all the muted, soft colors too – they're all gorgeous, unisex shades and I eventually picked up the grey as well!
Shop Everlane cashmere (5 colors)
ADVERTISEMENT
---
---
Cashmere Rib Crew
in Ivory
This crewneck sweater has a modern classic design.
Made from what Everlane calls Grade-A Mongolian cashmere, it features a ribbed knit design and rounded collar. I find it very easy to wear, as it's a mid-weight thick sweater that's quite warm when layered over a base layer, yet thin enough to wear under a fall jacket.
But, after a couple months of wear, I can already tell it needs some de-fuzzing. And I don't find this to feel as luxurious as real cashmere, so I think it's a bit expensive for the price.
Shop Everlane Cashmere Sweater (4 colors)
---
Cashmere Scarf
in Bone
This is the perfect scarf if you love simple, minimalist looks.
The cashmere is luxuriously soft and the scarf design is simple – a thin, long rectangle that drapes really nicely. It's not too long and not too short – the perfect length to throw around your neck or loosely wrap once.
I wore this throughout my trip to Norway under my Canada Goose parka. I'd recommend it if you wear heavy duty puffer coats regularly and want a scarf that will keep you warm without adding bulk.
Shop Everlane Cashmere Scarf (3 colors)
ADVERTISEMENT
---
---
Best of Everlane
---

ADVERTISEMENT
---
---
Read More: Everlane reviews:
Everlane Reviews
Everlane Brand Review: Hits, Misses & Favorite Pieces
Everlane Flats - These 5 Pairs are Extra Comfortable
Everlane Denim: Thoughts on 3 of the Brand's Best Selling Jeans
Everlane Cashmere: Is It Worth It? (with Outfit Photos)
How do the Everlane Leggings Perform?
Everlane Underwear Review: Bra & Bralettes
Everlane Bodysuits: Reviewing a Wardrobe Staple
Everlane Outfits
10 Work from Home Outfits, featuring Everlane
Everlane Choose What You Pay Sale - Spring Try On Haul
Everlane Try On Haul Videos
Everlane Summer Basics Try On
Follow me @Sher She Goes on