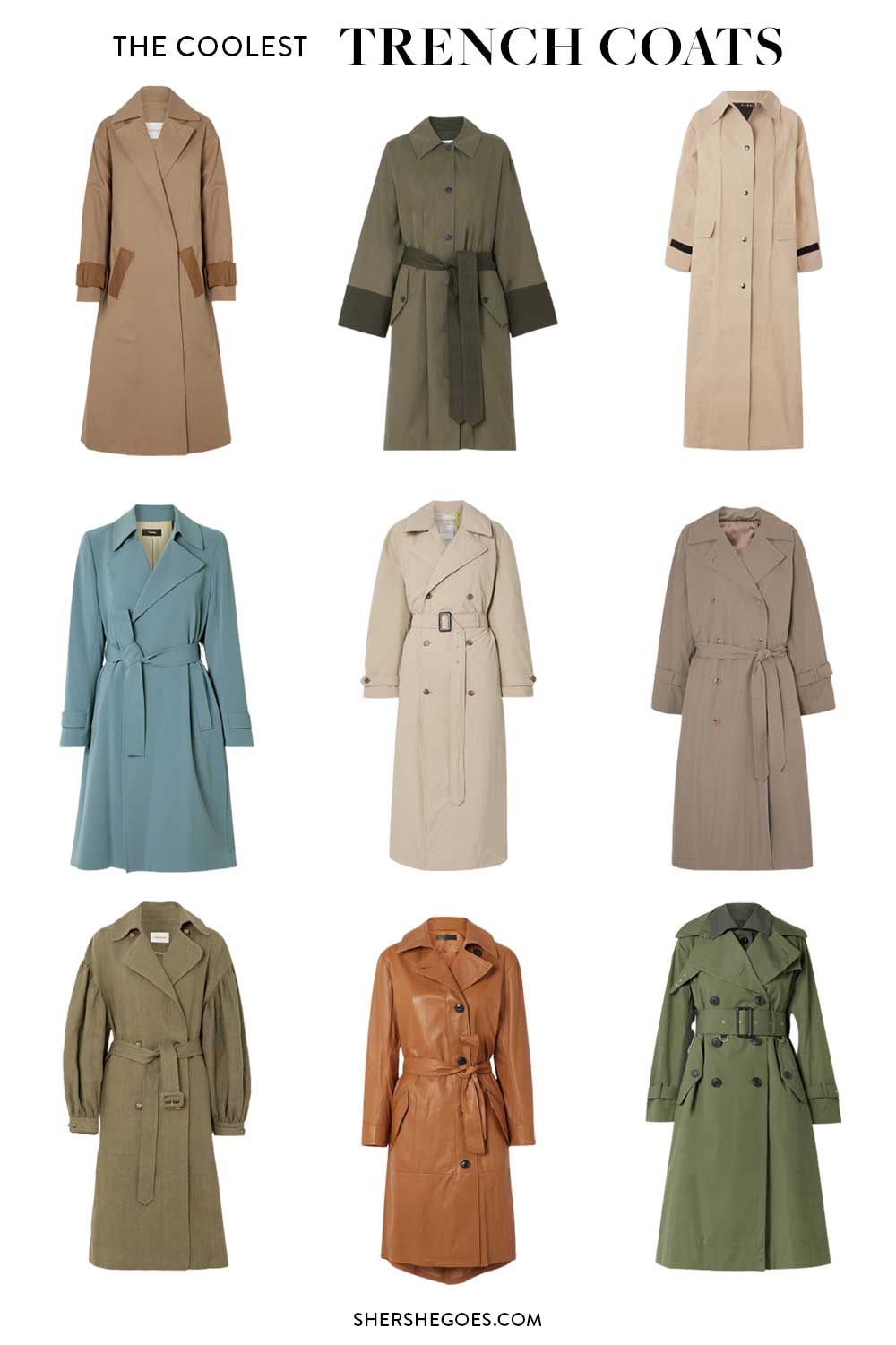 The Best Women's Trench Coats (2021)
If the rules classifying the differences among camel coats, duster coats, cocoon coats, and trench coats have you dazed and confused, we completely understand!
After all, every one of these coats has the same basic job – to keep you warm, right?
Anyway, when it comes to trench coats, there's a common misconception that a small army of specifications are needed to properly classify any given coat as a "trench".
As is almost always the case with common misconceptions, this is simply not true.
In fact, the only universally-accepted trait of trench coats is waterproofing. The fabric type, coat length, and even whether the coat is single- or double-breasted are inconsequential to the moniker.
So, now that we know trench coats are basically just slightly classier rain coats, we can explore all the versatility and breadth of this essential component of any spring weather wardrobe!
Keep reading for our 8 favorite women's trench coats of 2021!
ADVERTISEMENT
Keep reading, or pin this article to save it for later ⇟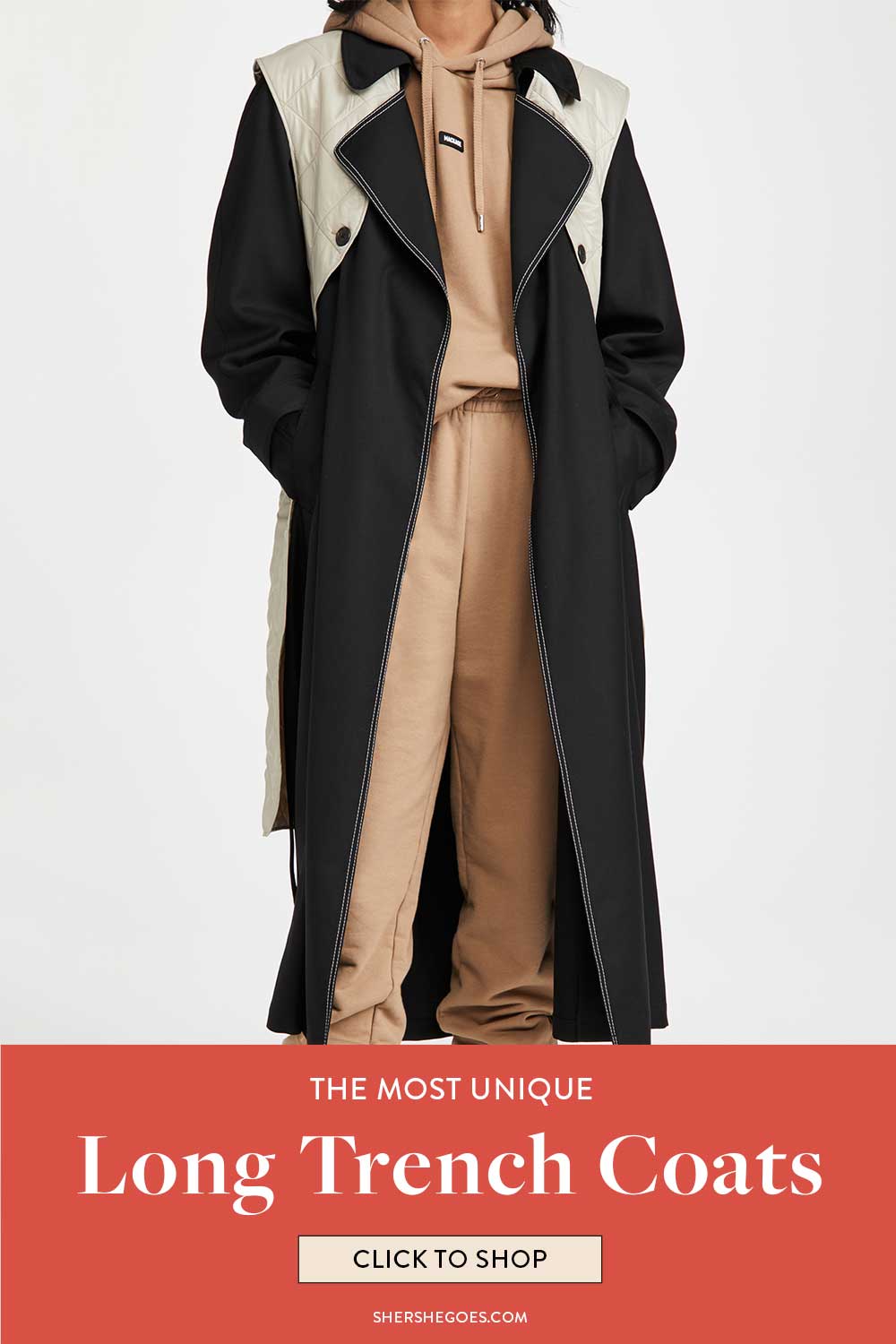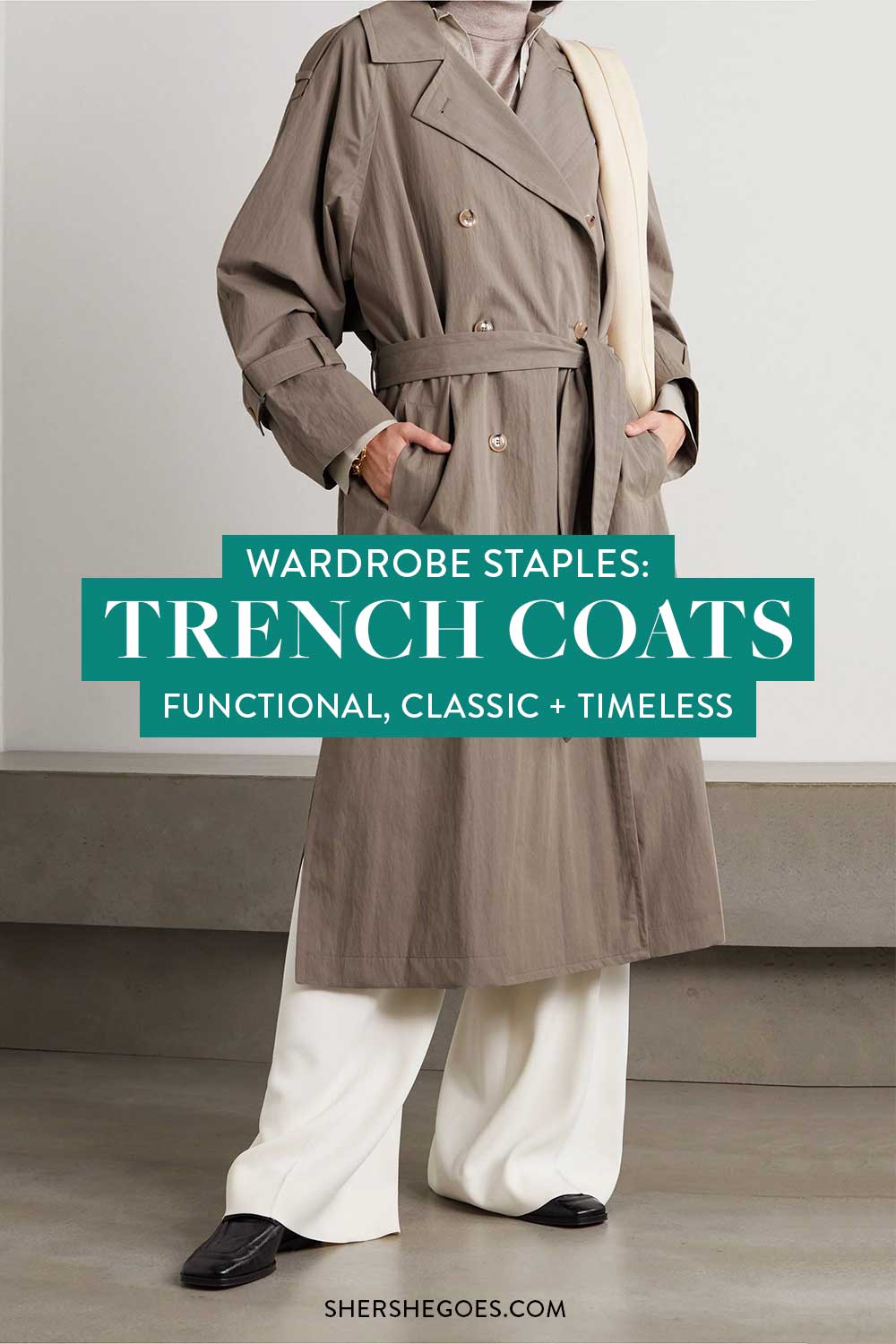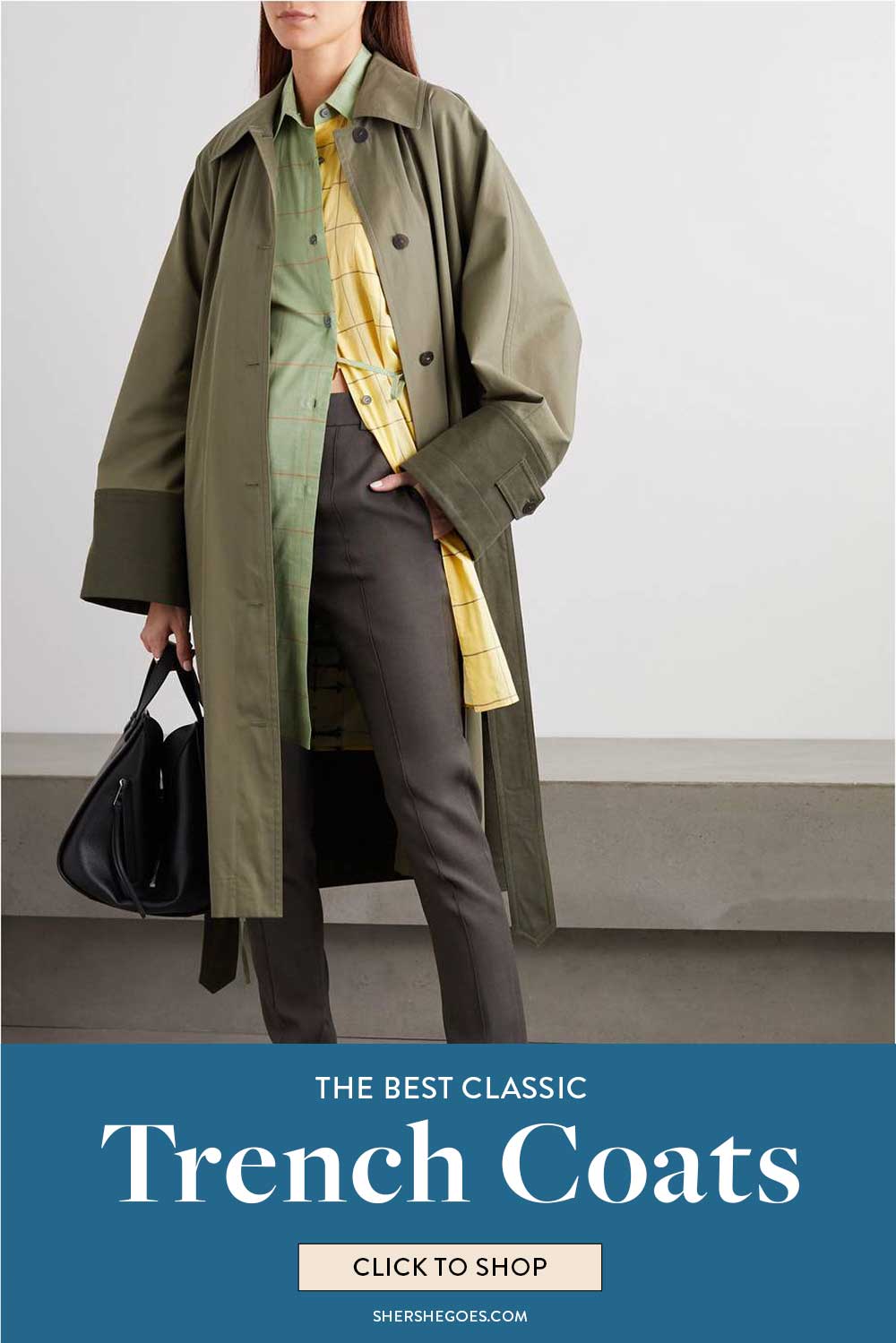 ADVERTISEMENT
---
---
The Best Women's Trench Coats (2021)
Waterproof, thick fabric, long, and usually double-breasted. That's basically trench coats in a nut shell! Check out some of the most stylish options of this versatile coat!
Top Trench Coats
ADVERTISEMENT
---
---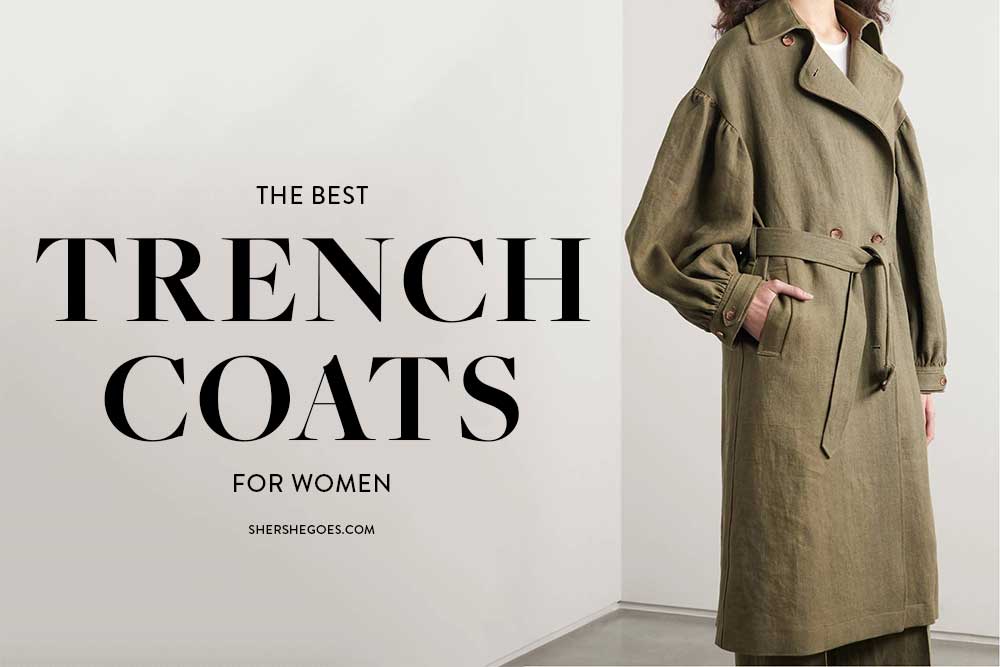 The Best Trench Coats for Women!
Best Classic Trench Coat: M.M. LaFleur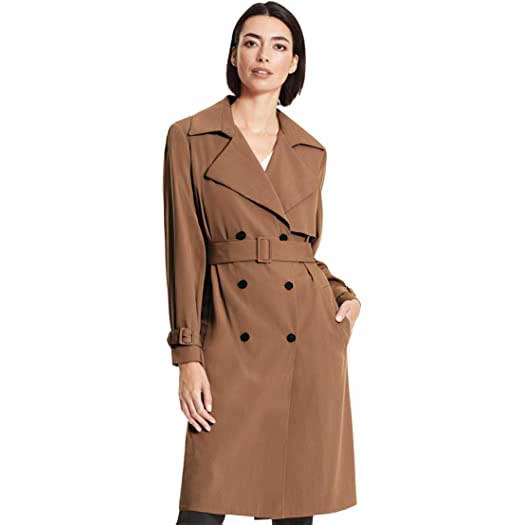 M.M. LaFleur is quickly becoming one of my new favorite modern luxury brands, so I'm not surprised to see many of the trench coat's "traditional" elements.
Made with a wool-nylon fabric blend, this trench coat also features classic elements including a removable adjustable buckle belt, trapunto quilted collar, and double-breasted button closure.
ADVERTISEMENT
---
---
Best Faux Leather Trench Coat: Amazon The Drop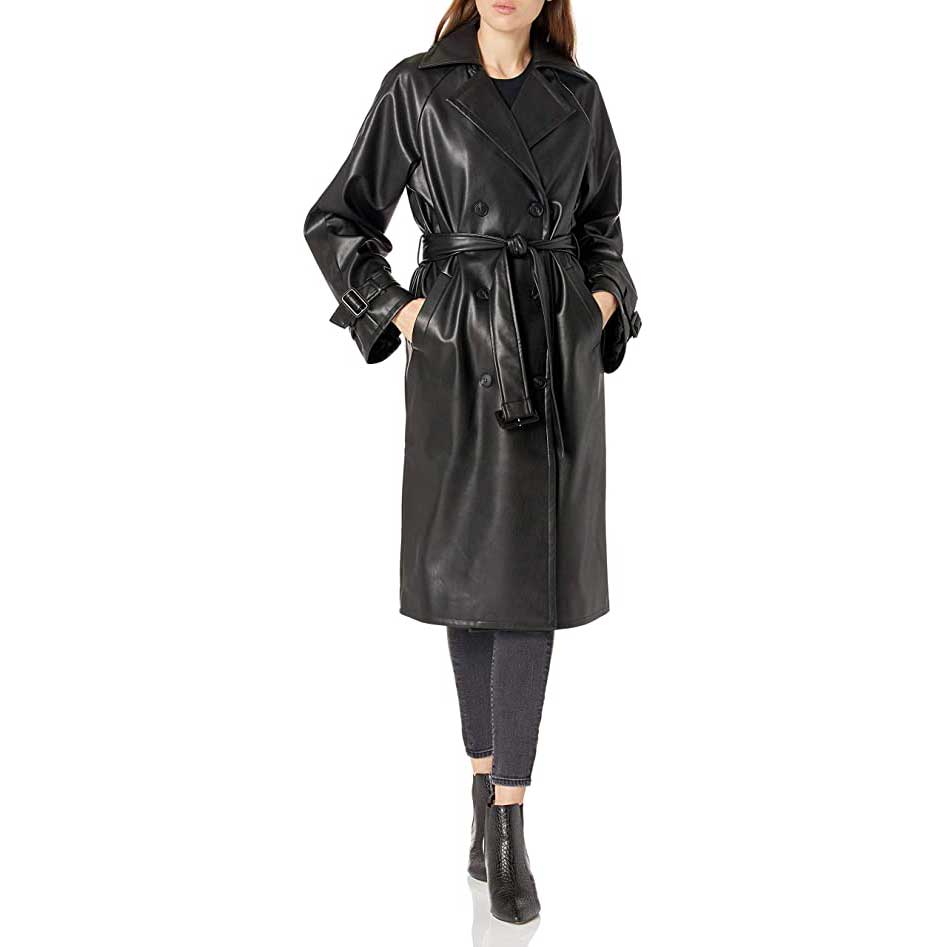 If you're unfamiliar with the name, The Drop is Amazon's latest private fashion label, designed to be more elegant, expensive, and stylish than Amazon Basics.
The Drop's trench coat is highlighted by a sleek faux leather fabric and a comfortably loose (but not baggy) fit!
ADVERTISEMENT
---
---
Best Khaki Trench Coat: J. Crew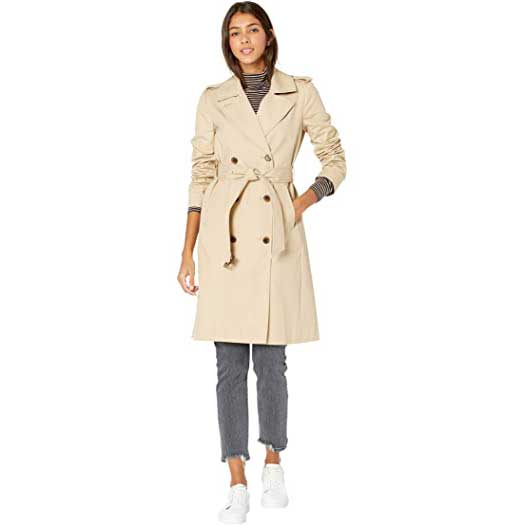 Everything from the classic color to the modern style makes this khaki trench coat from J. Crew the perfect warmer weather trench coat option!
Featuring 100% cotton, a flaunted spread collar, removable waist belt, and an en vogue single-breasted button closure, this trench coat is the perfect balance between legacy tradition and current style!
ADVERTISEMENT
---
---
Best Olive Green Trench Coat: Helly Hansen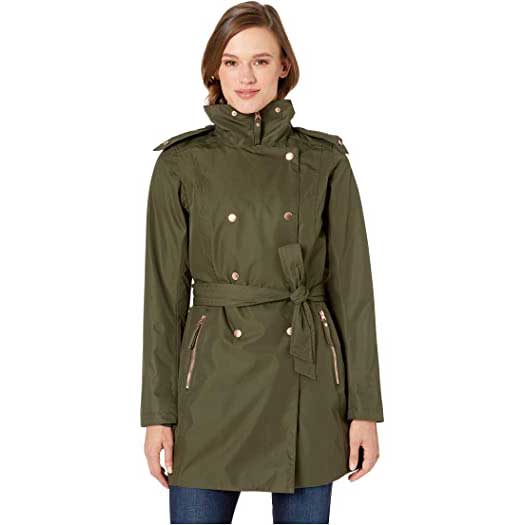 Something about olive green just goes perfectly with rainy weather, right?
Normally known for producing technical, high-performance outerwear, it's very refreshing to see revered rainwear brand Helly Hansen delve into high fashion with this lovely line of olive green trench coats!
ADVERTISEMENT
---
---
Best Navy Blue Trench Coat: Ralph Lauren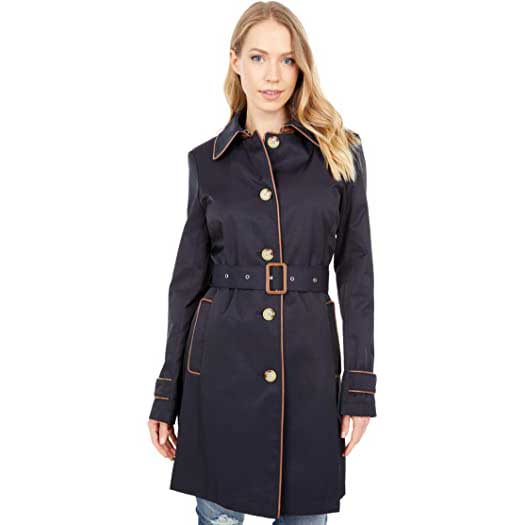 This sleek navy blue trench coat from Ralph Lauren features the ideal balance of performance and form.
Built with a durable yet comfortable cotton-polyester fabric blend, this coat also offers cute buttoned cuffs, an exaggerated single-breasted closure, and elegant faux leather trims.
ADVERTISEMENT
---
---
Best Red Trench Coat with Hood: Tribal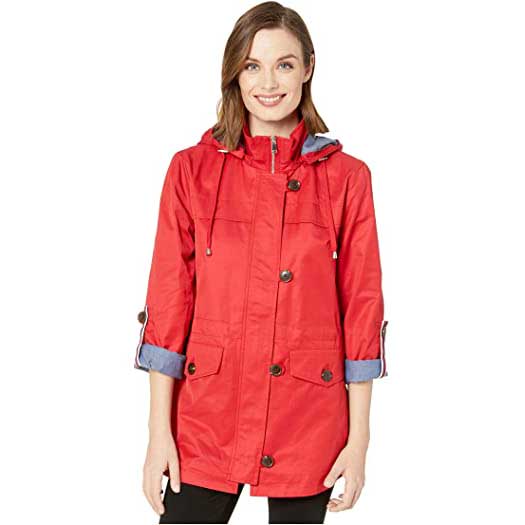 I don't know whether people want to look like Little Red Riding Hood or simply stand out from the crowd, but red trench coats with hood options are insanely popular right now!
Designed with the harshest elements in mind, the Tribal trench coat includes a detachable hood, front & rear storm vents, and complete windproof and waterproof protection!
ADVERTISEMENT
---
---
Best White Trench Coat: Ilse Jacobsen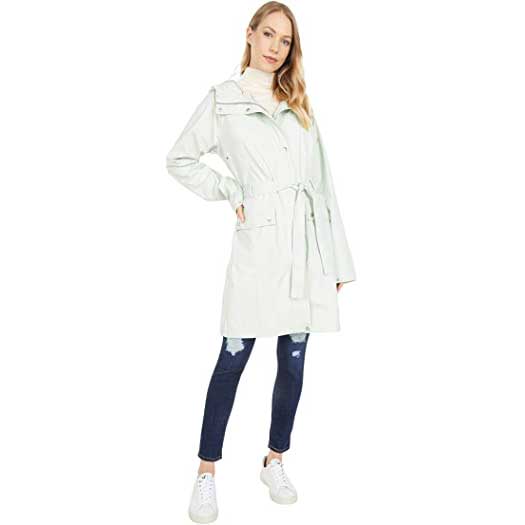 Normally white is not a color you see anywhere near trench coats, but this modern take on a classic from Ilse Jacobsen makes it work!
What appears to be a simple and stylish belted white trench coat is actually that very trench coat bonded to an inner fleece layer that is both breathable, waterproof, and highly insulating!
ADVERTISEMENT
---
---
Best Casual Trench Coat: Cole Haan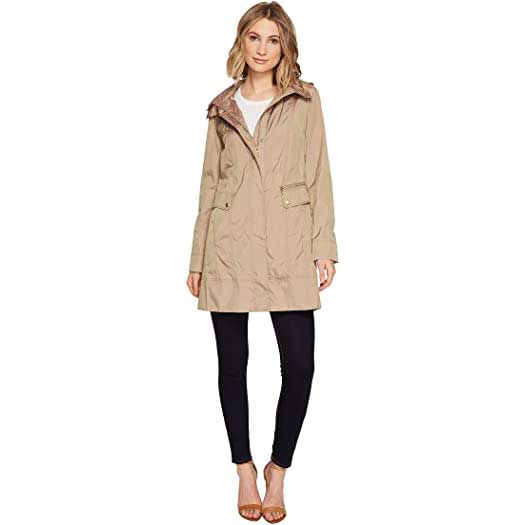 Although probably the option closest to a traditional rain coat, the Cole Haan trench coat does feature some telltale characteristics, including full waterproof treatment, a single-breasted closure, and snap-button flaps.
One major advantage this piece holds over the other trench coats we've covered? It's ultra-lightweight and designed to be packable, making it perfect for traveling or any on-the-go lifestyle!
ADVERTISEMENT
---
---
Shop Women's Trench Coats
---

ADVERTISEMENT
---
---
Read More of the best Designer Inspired Finds
Amazon Fashion
The Best Designer Lookalikes on Amazon: Handbags, Jewelry, Shoes & Accessories
Chanel Inspired
6 Classic Handbags Inspired by Chanel
The Best Cap Toe Ballet Flats to Get the Chanel Look, for Less
Classic Chanel Inspired Slingbacks (Two Toned)
The Best Chanel Inspired Espadrilles to Rock All Summer
Manolo Blahnik Inspired
The Best Manolo Blahnik Lookalikes
Stuart Weitzman Inspired
The Best Over the Knee Boots that Rival Stuart Weitzman Lowlands!
Where to Get Stuart Weitzman Boots ON SALE
Follow me @Sher She Goes on