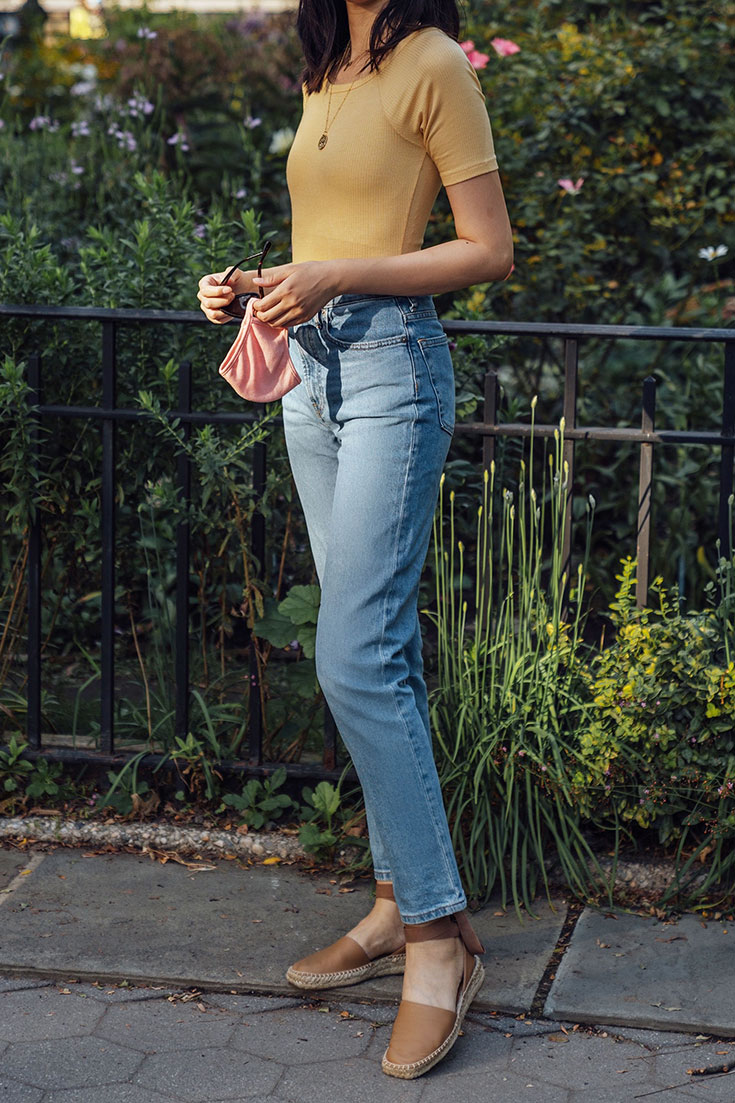 Thank you to Everlane for sponsoring this post.
wearing ribbed bodysuit, straight leg jeans & espadrilles
I love bodysuits.
They're simple, match with any kind of pant and can be dressed up or down, layered or worn on their own.
So really, what's not to love?
I recently got a new super soft bodysuit from Everlane and it made me realize, I've never talked about the brand's bodysuits before so I thought I'd do a quick comparison post.
Here are all the Everlane bodysuits I own and which I'd recommend!
ADVERTISEMENT
Short Sleeve Crewneck Bodysuit
in white, size xs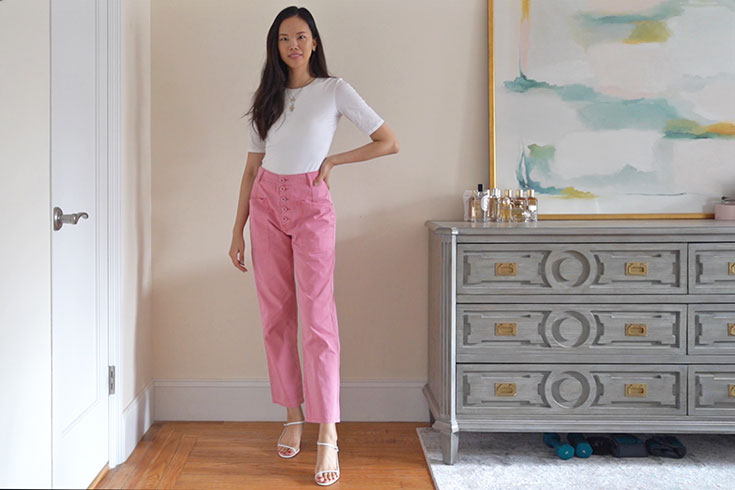 also wearing it in this video and this video
Everlane White Bodysuit Review
This is my favorite Everlane bodysuit and the one I reach for most often.
I like the slightly-longer short sleeves and simple design. It matches literally anything, and goes especially nicely with any type of mom jean, wide leg jean or baggy aladdin style pants – all of which are super popular right now.
My favorite quality is that the white isn't see through. So many brands cut corners and make inexpensive see through white tops nowadays!
The Everlane short sleeve crewneck bodysuit is made from a thicker cotton that avoids that issue. It also gives a slight compression effect!
And finally, I like that the same bodysuit comes in two different bottom options: bikini or thong, depending on your preference.
If you like the fabric of this bodysuit, but prefer a different style, it also comes in a long sleeve v neck bodysuit option or tank top bodysuit option.
Shop on Everlane (4 colors)
ADVERTISEMENT
---
---
Luster Mockneck Bodysuit
in pastel green, size xs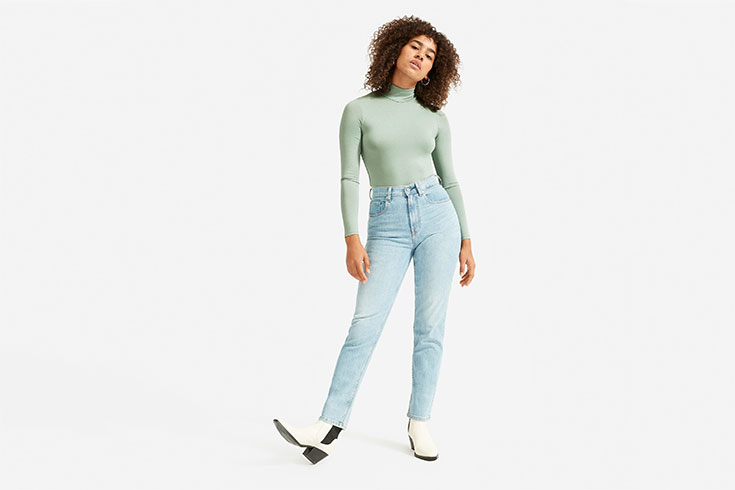 oops thought I had an outfit photo but i'll have to take one! until then..
Everlane Luster Mockneck Bodysuit Review
Since I liked Everlane's crewneck bodysuit so much, I got this long sleeve bodysuit to try out a couple months later.
This one features a mockneck design which is just high enough to look like a turtleneck but low enough so that it doesn't choke your neck.
It's a great layering bodysuit for the winter, and made from a very comfortable but entirely different fabric – a sort of slinky lyocell. It's very cooling and breathable, and of course soft!
This bodysuit also has a button closure at the bottom, but comes only in a bikini option.
Fit wise, I would recommend this for anyone with a normal to long torso. The fabric is actually slightly too long on my short torso and bunches at the bottom.
If I were to compare this to the short sleeve cotton crew, I reach for the short sleeve bodysuit more often, because the simple design is more versatile. On the other thand, the Lyocell bodysuit is more comfortable to wear since it doesn't have any compression effect, but the slight shine to the fabric and non traditional color (I got it in green) are just harder for me to match.
Shop on Everlane (2 colors)
ADVERTISEMENT
---
---
Everlane Super Soft Crew Bodysuit
in Harvest Gold, size xs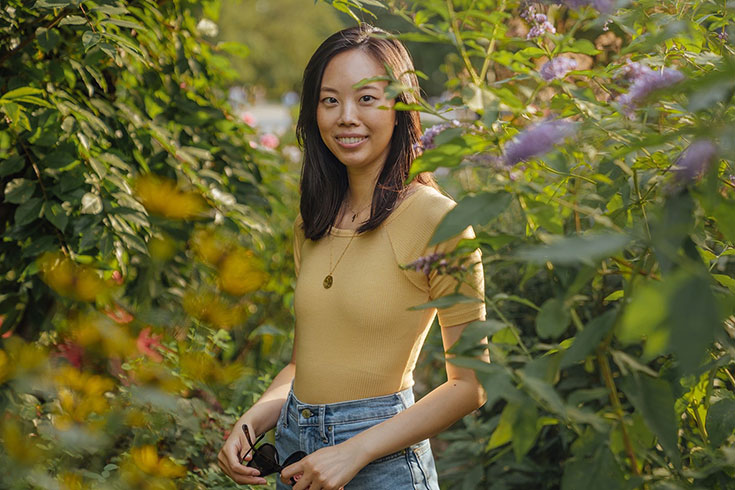 Super Soft Bodysuit Review
Most recently, I picked up this summer-y yellow bodysuit!
This ribbed scoop neck bodysuit totally lives up to it's name – it's incredibly soft and comfortable. It's made from eco friendly tencel and the fabric is very lightweight and thin.
The ribbing is pretty subtle and the neckline is a classic scoop neck. It only comes in one bottom option, sort of like a high cut, narrow bikini.
I love the soft subtle colors and think this is a great everyday basic. I'd recommend a nude bralette or sticky bra underneath this, because it is a slightly thinner fabric.
Overall, it makes for a great summer bodysuit (even in humidity!) but if you want the feeling of being held in more tightly, then go for the cotton bodysuit.
Shop on Everlane (3 colors)
Shop Everlane
---

ADVERTISEMENT
---
---
Read More: Everlane reviews:
Everlane Reviews
Everlane Brand Review: Hits, Misses & Favorite Pieces
Everlane Flats - These 5 Pairs are Extra Comfortable
Everlane Denim: Thoughts on 3 of the Brand's Best Selling Jeans
Everlane Cashmere: Is It Worth It? (with Outfit Photos)
How do the Everlane Leggings Perform?
Everlane Underwear Review: Bra & Bralettes
Everlane Bodysuits: Reviewing a Wardrobe Staple
Everlane Outfits
10 Work from Home Outfits, featuring Everlane
Everlane Choose What You Pay Sale - Spring Try On Haul
Everlane Try On Haul Videos
Everlane Summer Basics Try On
Follow me @Sher She Goes on