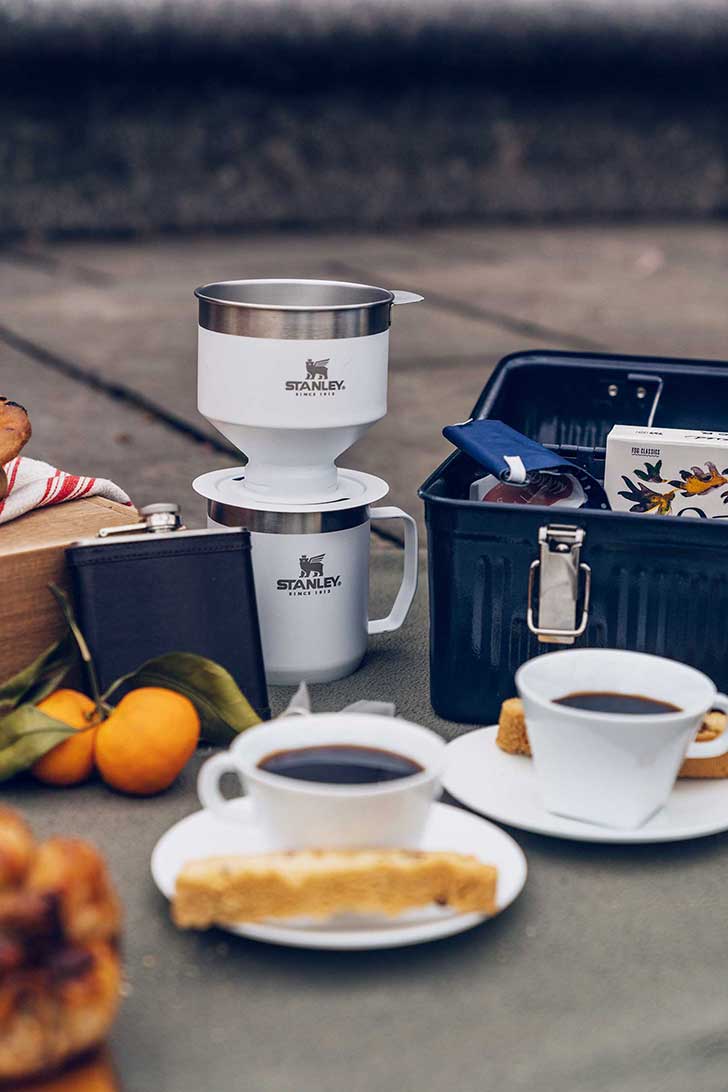 my Stanley pour over coffee filter + travel mug!
Best Travel Mugs
ADVERTISEMENT
---
---
Best Mugs for Travel
I know, I know, I know.
You must be thinking, how many different types of travel mugs could there be?
All they should do is hold liquid and be easy to drink from, right? Well, as my good friend François would say,
Au contraire, mon frère!
Technology may not have solved all the world's problems (like how to make 4 hours of sleep feel like 10!), but technology has done wonders to the world of travel mugs.
Today's mugs are more lightweight, insulated, and durable than ever.
Keep reading for our 8 favorite travel mugs to bring on your next trip!
ADVERTISEMENT
---
---
Quickly jump to brand:
ADVERTISEMENT
---
---
Keep reading, or pin this article to save it for later ⇟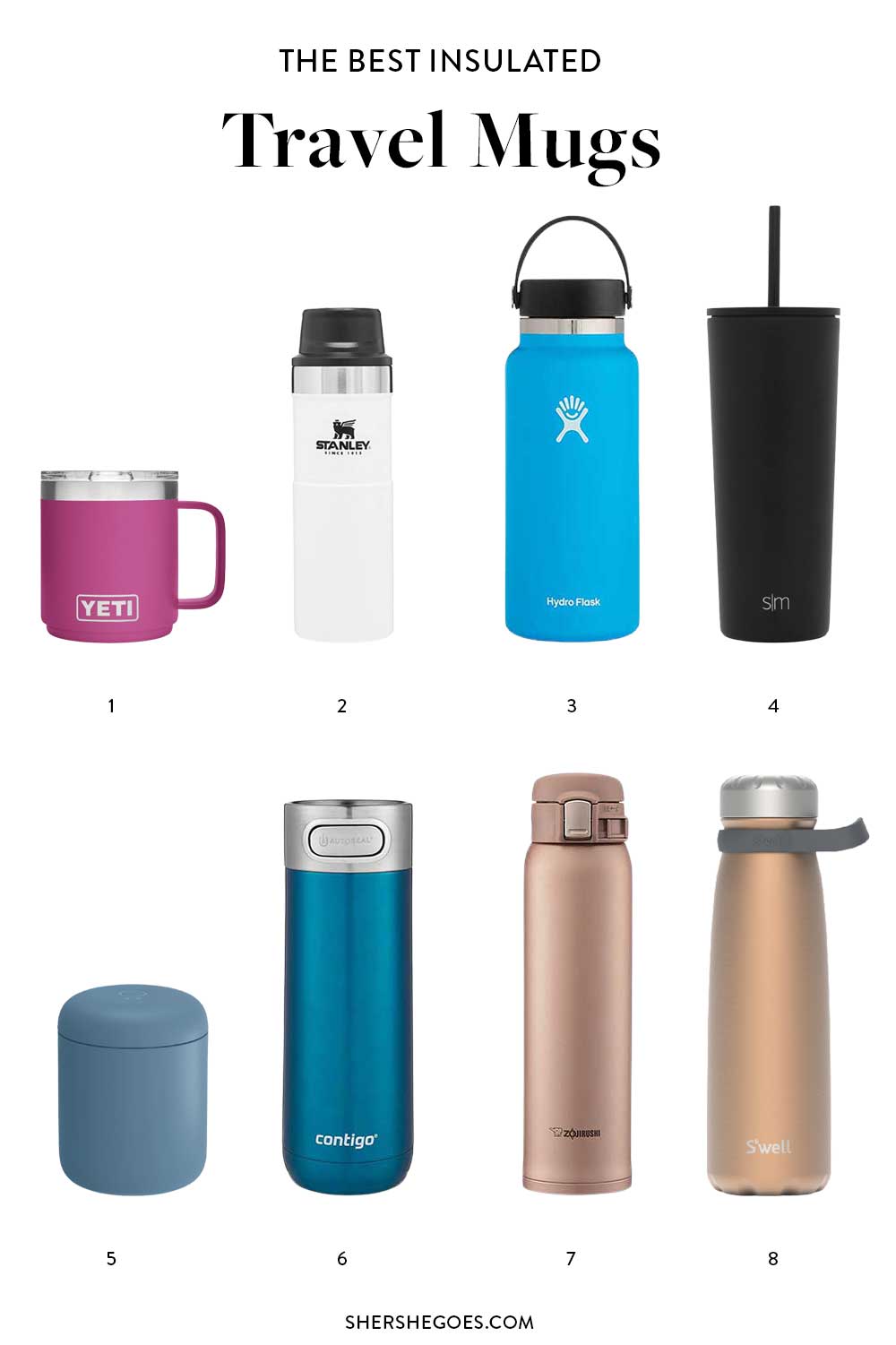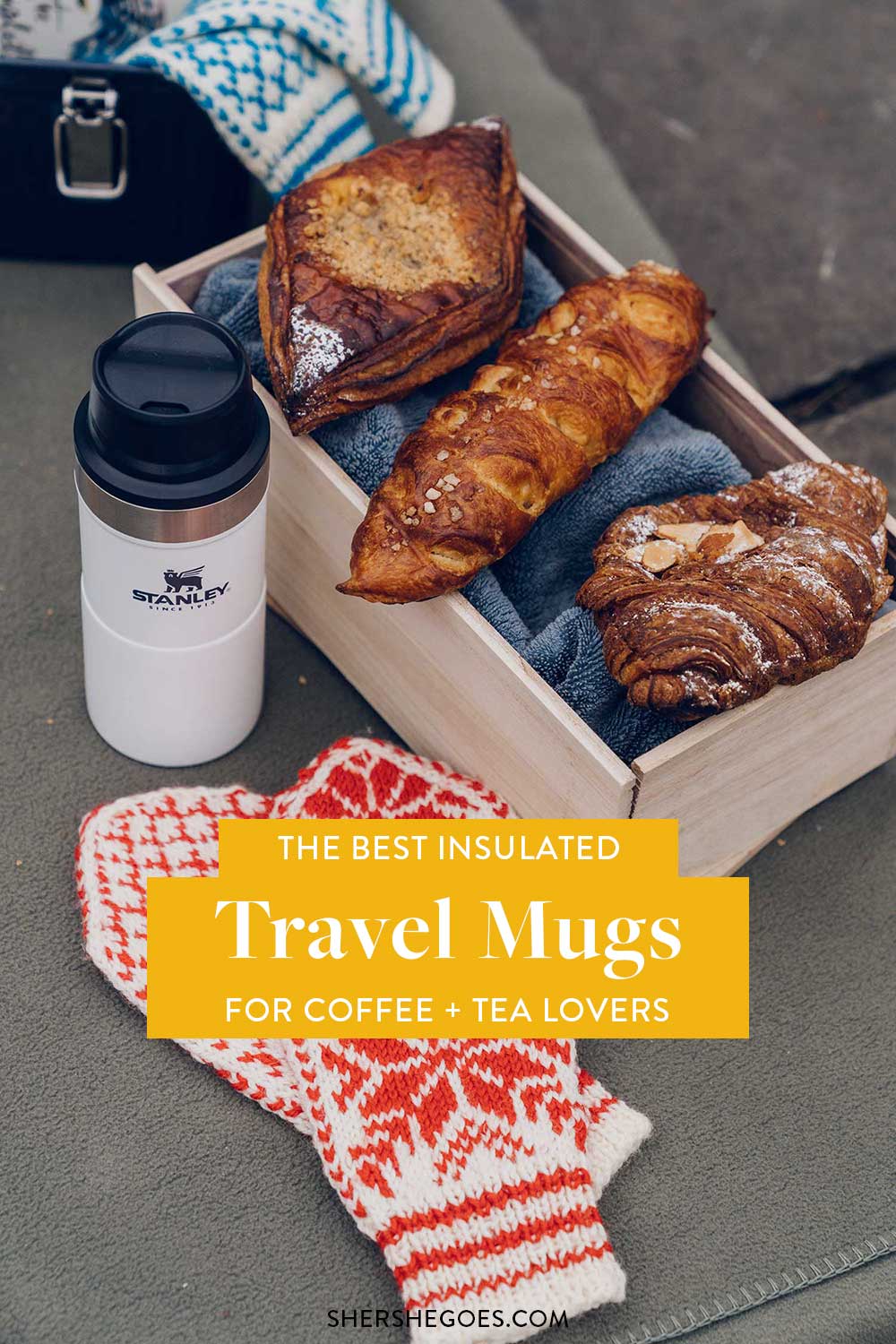 ADVERTISEMENT
---
---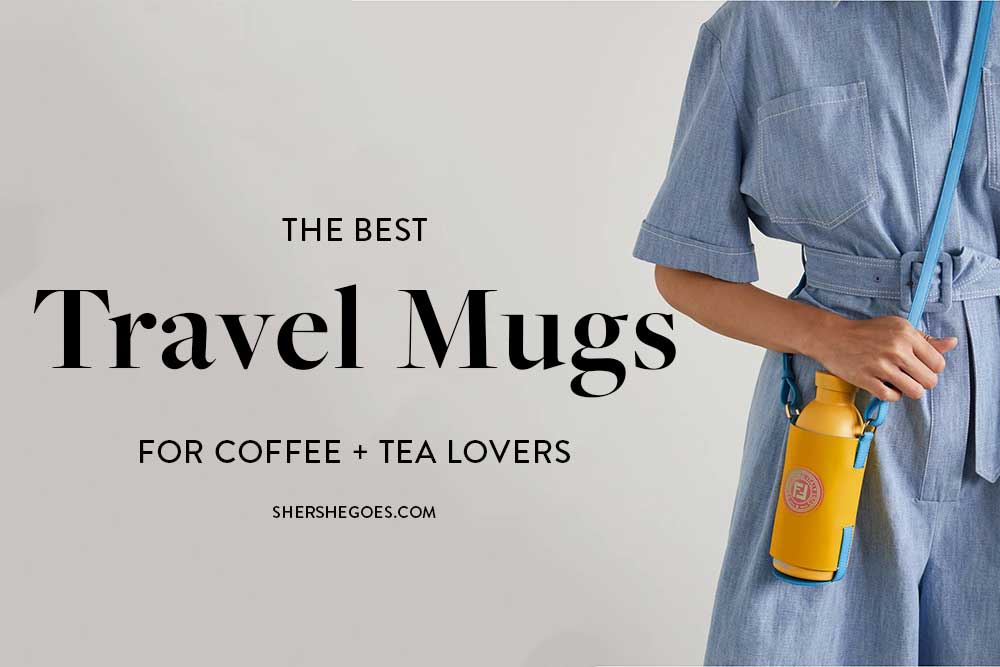 The Best Travel Mugs
Whether you're a coffee addict needing the best insulated coffee travel mug, a traveler on the go wanting the best insulated travel mug, or an Instagram girl needing the best ceramic travel mug for aesthetics, we've got you covered!
ADVERTISEMENT
---
---
Best Coffee Travel Mug: Stanley
I also have their large, roomy admiral's mug which has a wide bottom brim and can securely stay stable on moving trains, cars or boats!
And if you're a coffee addict like me, and absolutely need a cup of jo the second you crave it, grab Stanley's pour over filter! It lets you turn any regular cup or mug into coffee. Just add fresh coffee grounds and hot water!
I even have Stanley's lunch box to easily pack together all my various tumblers and mugs. It makes it easy to throw together impromptu picnics on road trips!
Finally, Stanley's mugs are very well insulated. They can keep cold drinks cold for 12 hours, hot drinks hot for 9 hours and iced drinks refreshingly cool for 40 hours!
ADVERTISEMENT
---
---
Best Tea Travel Mug: Thermos
I have the Thermos holiday mug, which has the cutest red, black and yellow plaid print. It's so festive for colder months.
Here's a handy tip to maximize Thermos' technology: pre-chill the mug in your fridge before using it to extend the life of cold drinks or fill it with hot water for 10 minutes, empty it and fill with your hot beverage for extra hot insulation.
ADVERTISEMENT
---
---
Best French Press Travel Mug: Bodum
Simply place coarse coffee or a tea bag in the reservoir, add hot water, and you're all set!
You can have your very own french press on the go so I think of it as a 2-in-1 souped up travel coffee mug.
Finally, it's stainless steel double wall design means hot drinks stay hot and cold drinks stay cold. Everyone makes fun of me for "grazing" food so I find this feature particularly handy so I can take my time and enjoy my drinks.
ADVERTISEMENT
---
---
Best Stainless Steel Travel Mug: Camelbak
It also has an intuitive design that only requires one hand to open and close – perfect for the modern multi-tasker!
The 360 degree cap allows you to drink from any side of the bottle and the sweat-proof insulation means this travel mug stays dry and slip free.
It's also dishwasher friendly which I like for easy cleaning.
Finally, the tight seal cap is really handy for messy travelers like myself who are always running on the go and want to prevent spills and clothing stains.
The best part?
The CamelBak is the perfect travel mug for coffee as its vacuum insulation has been tested to keep beverages cold for 24 hours and hot for 6 hours!
ADVERTISEMENT
---
---
Best Dishwasher Safe Travel Mug: Contigo
ADVERTISEMENT
---
---
Best Wide Mouth Travel Mug: Hydro Flask
ADVERTISEMENT
---
---
Most Stylish Travel Mugs: Zojirushi
ADVERTISEMENT
---
---
Best Travel Mug with Handle: Yeti
ADVERTISEMENT
---
---
Shop Travel Mugs
---
ADVERTISEMENT
---
---
Read More   in my travel packing checklist series:
Best Travel Luggage
The Best Carry on Luggage for 2021
The Best Packing Cubes for a Perfectly Organized Bag
The Best Lightweight Luggage for Overpackers
The Best Hard Luggage Sets for Stylish Travelers
The Best Underseat Luggage for Minimalists
The Best Carry On Bags for Men - Rugged + Durable!
Business Travel
The Essential Business Packing List
The Best Business Travel Luggage
The Best Laptop Cases for Working Women
The Best Laptop Bags for Men
Packing Hacks
The Best Travel Wallets for All Your Vacation Essentials
The Best Jewelry Cases Never Untangle a Necklace Again!
The Best Toiletry Bags to Clean Up Quick
Travel Packing Lists
The Best Travel Jackets for All Types of Weather
The Best Duffel Bags for Your Next Weekend Trip
The Best Travel Backpacks to Hold Everything You Need
Follow me @Sher She Goes on